If you're new to email marketing, chances are you've considered AWeber's – fairly limited – free plan. But did you know that GetResponse also offers a trial where you can test the platform without restrictions for 30 days? Both AWeber and GetResponse will indeed serve you well – they get the job done. But for marketers who've been experimenting with email campaigns for a while,
additional features and increased customizability make all the difference.
 The truth is that if you have specific requirements and are looking for a service that will bring the best results for your brand, you need to dive a little deeper. To help you decide, I tested both AWeber and GetResponse over the past few weeks.
GetResponse wins the fight by a tiny margin.
 It's easier to use, and it comes with a more robust automation system, even if it lacks a bit in the analytics department.
Features
GetResponse Ticks Almost Every Box, but AWeber's Keeping Up
I need to begin by saying that both services are designed to get your emails out nice and fast. Their features are comparable, but GetResponse comes out ahead. Let's take the selection of templates as an example. The first thing I noticed was that even though AWeber came with more templates, a few looked like they traveled in time all the way from 2007. Yes, there are many good ones in there too, but no one wants to spend hours scanning through dated email templates.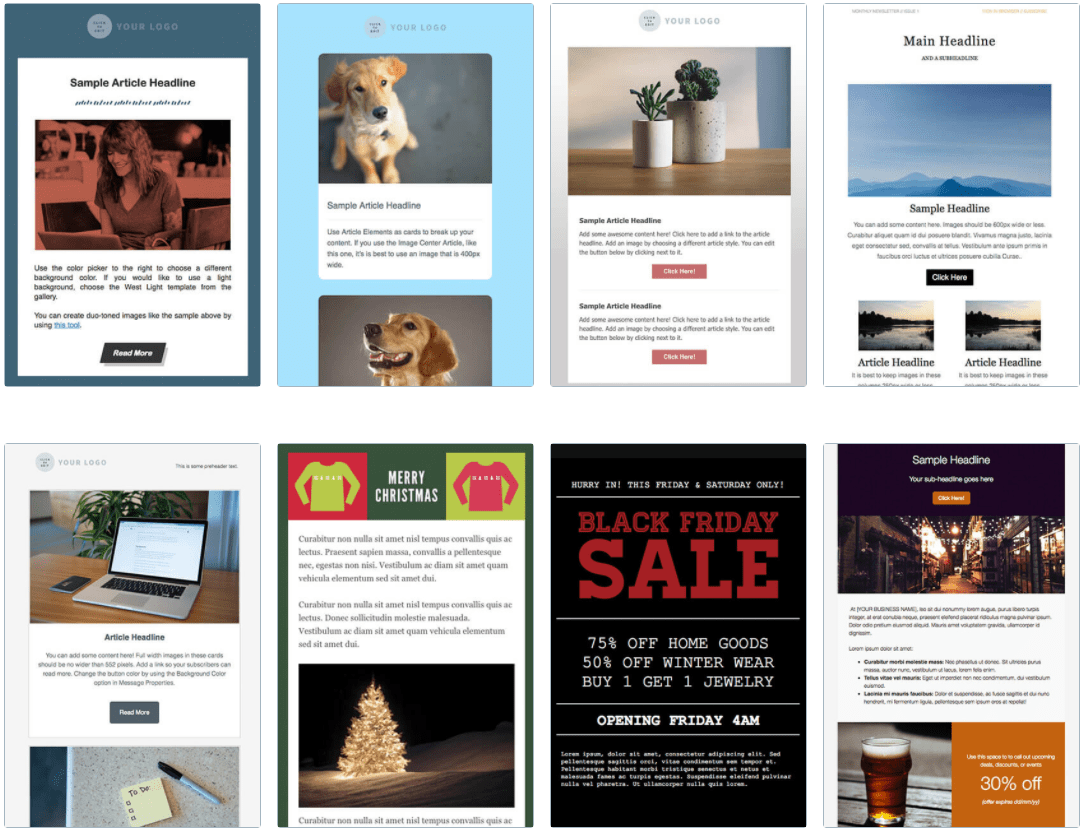 Compare this to GetResponse's templates and you'll see quite a difference. Both services offer plenty of personalization choices, but
 GetResponse's selection is a bit more extensive.
For example, GetResponse lets you choose from a wide range of fonts, while AWeber comes with only a few basic choices.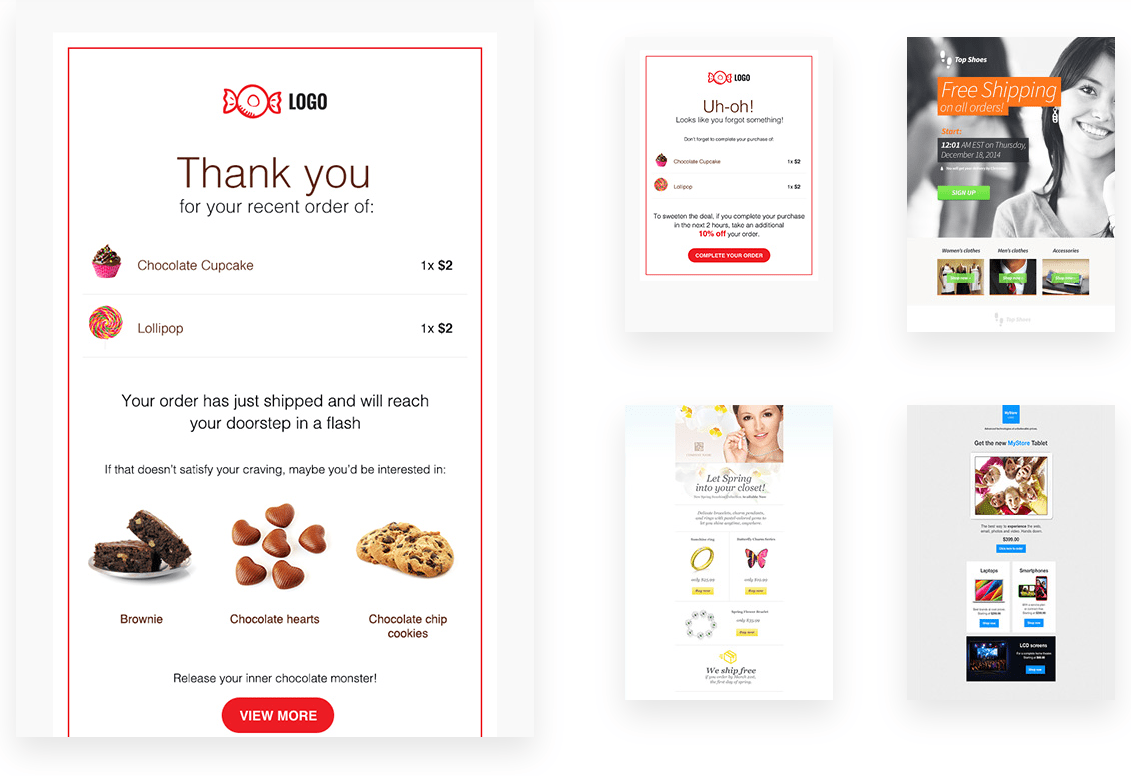 When it comes to automation, GetResponse wins once again. In just a few minutes, I managed to use one of GetResponse's automation templates to set up a simple newsletter campaign. With
GetResponse's mid-tier plan
, you gain access to the service's complete arsenal of automation tools. You can, for example, trigger a very specific mailout including a special offer targeted only at women under age 35 who actively open your newsletters.
 AWeber offers similar automation tools, albeit with fewer customization options
 – the menu isn't as responsive and easy to use either.
One thing that AWeber does a little better than GetRespone is A/B testing
. GetResponse's A/B interface is well-designed and easy to use, but AWeber offers more testing options. For example, AWeber allowed me to test email variants with multiple elements, something that really impressed us in
our AWeber review
. Whereas with GetResponse, I was limited to only testing one thing at a time – either subject headers or copy.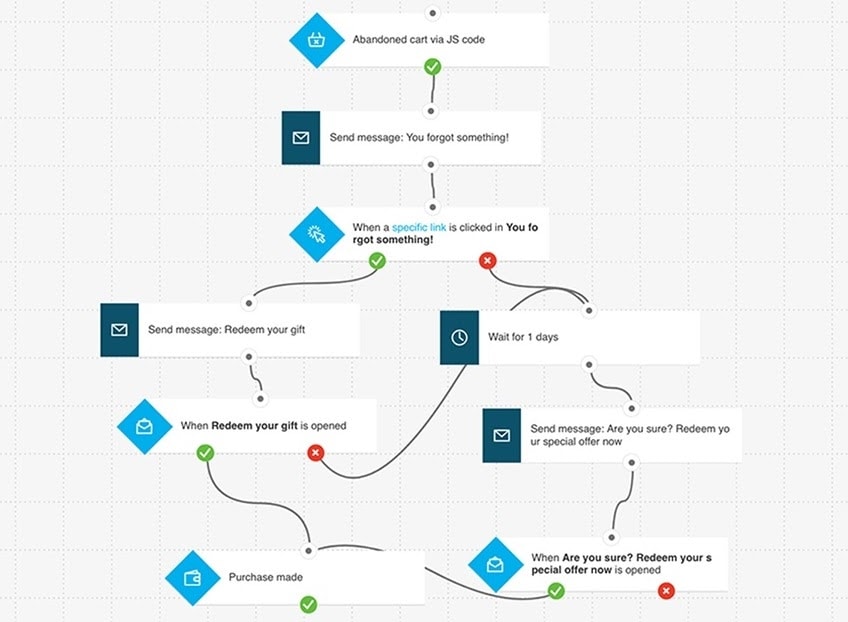 Continuing to compare GetResponse vs AWeber, an autoresponder review is in order. I used both platforms to test 'drip' style campaigns. AWeber did alright, but with its
advanced "Marketing Automation Builder," GetResponse was on a whole different level.
Instead of the traditional triggers, such as joining a list, making a purchase, or having a birthday, GetResponse allows for more customization. For example, I could send emails to specific lists and segments based on their interaction with past newsletters, link clicks, particular product purchases, and so on.
Ease of Use
AWeber Is Easy to Use, but GetResponse Is Easier
Let's say you want to import data into one of the two platforms. Both AWeber and GetResponse support the most common file types, and they also allow you to import data from third-party services. Setting up my test campaign was easy on both. I could also easily segment subscribers on my lists based on particular criteria, but AWeber only let me send emails to one segment at a time.
With GetResponse, I could select multiple segments each time
– no need to create new ones or repeat the process manually. AWeber and GetResponse feature simple drag-and-drop editors that simplify the email design process and add plenty of customization. It's hard to pick a winner here, so let's call it a draw. If you're looking for an easy way to build embedded sign-up forms, both platforms can help. However,
GetResponse's interface is a bit cleaner
 and offers more variety with the addition of exit pop-ups and other interactive forms.
Deliverability
It's Not Just About Percentages
Will your emails actually reach your subscribers' inboxes? This might be one of your biggest concerns when comparing AWeber vs GetResponse. Deliverability is more than just about percentages. Percentage figures are unreliable and don't really say much about the platform I use. If anything,
a low deliverability rate may indicate that something's wrong on my end.
Both AWeber and GetResponse will do their best to make sure my emails reach my recipients' primary inboxes. That's what they're designed to do, after all. So, if deliverability has nothing to do with the email marketing service you use,
what can you do to boost your deliverability rate?
 First, you need to make sure that the EMS you choose offers a
DKIM authentication check
 and has a
strict policy against spam.
Both AWeber and GetResponse allow advanced DKIM authentication.
 The DomainKeys Identified Mail standard basically helps email service providers verify that the emails you send are really sent from the domain you've specified.
Neither platform tolerates spam.
 Sending out spam will likely result in account termination, which is always a good thing as it keeps the platform clean for everyone else. I tried uploading some junk contacts to my main email list, and both services refused to comply – another great sign of spam control.
Both AWeber and GetResponse allow affiliate marketing,
 but that shouldn't set off alarm bells as there are strict guidelines in place and constant checks are performed. The best way to ensure a high deliverability rate is to send your emails from a dedicated IP. In this case, GetResponse wins,
but
the option is only available with the most expensive plan.
 AWeber doesn't offer dedicated IP addresses.
Reporting and Analytics
AWeber Gives Its All…GetResponse Holds Back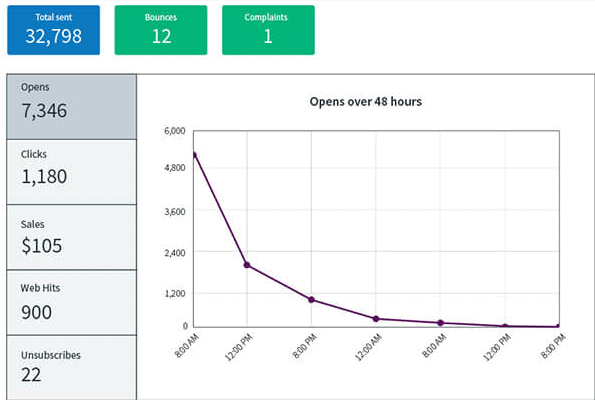 As a marketer, statistics and metrics are crucial to your work. How else can you tell whether something's working or if changes are in order? While both services provide an analytics suite,
 AWeber wins this round without question.
AWeber offers statistics on how your emails and landing pages are performing. You can instantly access information related to email opens, link clicks, and contact location from the reports tab.
Detailed trend reports for daily, weekly, and monthly subscriber growth are also available – and that's just on the AWeber free plan.
 The Pro plan comes with even more statistics, insights, and ways to measure your campaign performance – truly impressive!
GetResponse's response to AWeber's excellent analytics suite is, well, underwhelming.
GetResponse does a lot of things well, as you'll see in our
GetResponse review
– and it often does them slightly better than AWeber – but reporting isn't one of those things. Its analytics board shows only how many contacts opened, clicked, unsubscribed, or bounced. And that's pretty much it. Sure, analytics won't make or break your email campaigns, but it's always good to know what's going on.
Pricing
AWeber Wins the Battle of Free Plans, but GetResponse Wins the Price War
Price matters. When I tested AWeber vs GetRespone, pricing was one of the main things I wanted to know more about. There's a lot of information here, so bear with me.
AWeber – Here's What You Get for Free
The first thing I need to mention here is that
AWeber offers a free plan
 – GetResponse doesn't. This alone should make AWeber a more attractive choice for marketers with a small number of contacts looking to try out automated email marketing. But here's the catch:
AWeber will only send your emails if you have fewer than 500 subscribers on your list, and your newsletters will feature AWeber adverts
 – yeah, not quite what I had in mind, either.
AWeber – Here's What You Get If You Pay
The AWeber Pro plan unlocks all of the platform's main features,
and the pricing structure scales based on the number of subscribers. For example, it costs
$
12.50
 to send an unlimited number of emails to up to 500 subscribers, all the way to $149 per month for 25,000 subscribers. If your list is bigger than that, you'll have to contact AWeber support. You can also save a few dollars by purchasing an annual plan. That's the short answer.
We've also put together a detailed price breakdown of all AWeber's plans
 if you want to find out more.
GetResponse – Here's What You Get for Free
GetResponse doesn't offer a free plan, but it does offer an unrestricted 30-day free trial.
In most cases, that'll be enough time to figure out whether the platform is the right choice for you.
GetResponse – Here's What You Get If You Pay
There are four GetResponse plans you can choose from.
They all have a starting price, and they scale based on the number of contacts on your list. The basic plan starts at
$
0
per month and supports an unlimited amount of emails sent to up to 1,000 subscribers. The Plus plan starts at
$
15.58
for the same number of subscribers, while the professional plan starts at
$
48.38
. Finally, the Max plan is a flexible and personalized plan based on your specific email marketing needs.
You can save up to 18% and 30% by paying upfront for one or two years, respectively
– by all means, quite a generous discount. It's worth noting that neither of the two providers offer a money-back guarantee, but AWeber may issue a prorated refund for canceled annual plans. And as with AWeber,
we've written a detailed GetResponse pricing plan breakdown
 which will help you decide which plan is best for you, and the tricks you need to know so you avoid overpaying.
AWeber vs GetResponse Price Comparison Table
AWeber Free
GetResponse Basic 
AWeber Pro 
GetResponse Plus
Price

$

0

$

0

$

20.00

$

15.58

Number of emails/month
3,000
Unlimited
Unlimited
Unlimited
Number of subscribers
0-500
1,000
2,501-5,000
Up to 2,500
Split testing
No
Yes
Yes
Yes
Branded links and adverts
Yes
No
No
No
Discount for annual plans
Free
18% ($12.30)
14.9% ($46.15)
18% ($48.38)
Discount for biannual plans
Free
30% ($10.50)
14.9% ($46.15)
30% ($41.30)
Support
It All Comes Down to Phone Support
AWeber and GetResponse are both known for their impeccable support. I approached both support teams simultaneously with the same question and received an answer within minutes.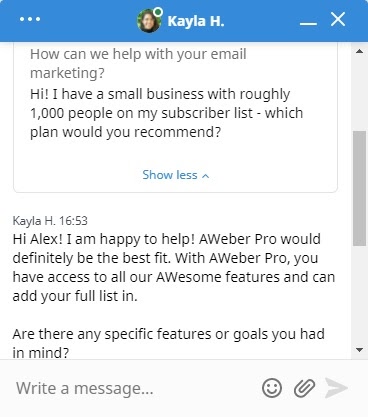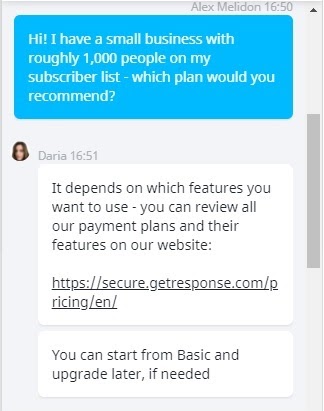 That's seriously impressive.
Kudos to both support teams for their swift and to-the-point replies!
Now, unless you're on
GetResponse's Max plan
, phone support won't be available to you.
AWeber, on the other hand, offers phone support across all plans.
 Support teams can resolve most issues through chat or email, but it's always good to know there's a number you can call when you're short on time. If you'd prefer support in a different language, GetResponse might be the better choice for you.
You can email the support team in 7 more languages, including Spanish, Russian, Italian, French, German, French, and Portuguese
. AWeber only supports English.
AWeber vs GetResponse – The Verdict
You've likely noticed that the AWeber vs GetResponse battle raged on fiercely. Each of these email marketing platforms boasts its own set of strengths and weaknesses. Having said that,
 it seems like GetResponse offers just a little bit more than AWeber.
 Some things that instantly come to mind are its modern template selection, innovative automation system, and slightly cleaner interface. Don't get me wrong. AWeber is great for marketers who are just getting started with automated email marketing and can't – or don't want – to invest too much.
But, overall, GetResponse's plans will give you more bang for your buck.
AWeber does win the analytics battle
, so it may be the better choice if you need detailed statistical analyses. It also excels at comprehensive A/B testing.
FAQ
Is AWeber Free?
Yes, AWeber offers a free plan, however it is a little restricted. You can use it to send a maximum of 3,000 emails to up to 500 subscribers. However, if you want to access every feature available on the platform, you'll have to upgrade to a Pro plan. Make sure you have a look at our coupons page first to find coupons and deals on AWeber and other email marketing services.
Which Is Better, AWeber or GetResponse?
I spent some time with both services, and was happy with what the two platforms could do. However, GetResponse comes out as the winner. It's more competitively priced and offers better automation tools to maximize your email marketing efforts.
Which Is Better, Mailchimp or AWeber?
AWeber wins in our Mailchimp vs AWeber comparison. Although Mailchimp's automation system is a bit more sophisticated, AWeber is the better choice for most email marketing as it's cheaper, easier to use, and offers better support.
Which Is Better, Mailchimp or GetResponse?
GetResponse comes out as the clear winner in our Mailchimp vs GetResponse comparison. Aside from being cheaper than MailChimp, it comes with considerably more features – including webinars, conversion funnels, and sophisticated landing page design. Plus, unlike Mailchimp, GetResponse doesn't limit the number of emails you can send. I'd recommend seeing how they stack up against each other in our list of the very best email marketing services in 2023.