Jump down to find out how you can hire an experienced designer for just $5.
Like getting your hands dirty? Then I'll show you the best way to DIY with my top recommended logo maker. But first, get inspired by some of my favorite farm logos.
9 Best Farm Logos
Get an Original Farm Logo for a Great Price
Close your eyes and picture your ideal farm logo. What does it look like? Is it a barn with a mountainous background? Does it feature animals or a basket of fresh veggies? What about the color tones and font style? There's a lot to think about when it comes to creating a logo that looks good and stands out from your competitors. That's where the pros come in. On Fiverr, you can hire a freelance graphic designer who can elevate your design ideas into an original and memorable farm logo – and all for the tiny starting price of $5.
To find a new logo for Website Planet, we searched the web and tested the most popular design services. The results were impressive and surprising! Read all about the process and check out the winning logo in my colleague's
full comparison of logo design services.
How Fiverr Works
Finding a great designer on Fiverr is simple.
Go to the Fiverr homepage
 and start by typing a relevant keyword (e.g., farm logo) in the search bar.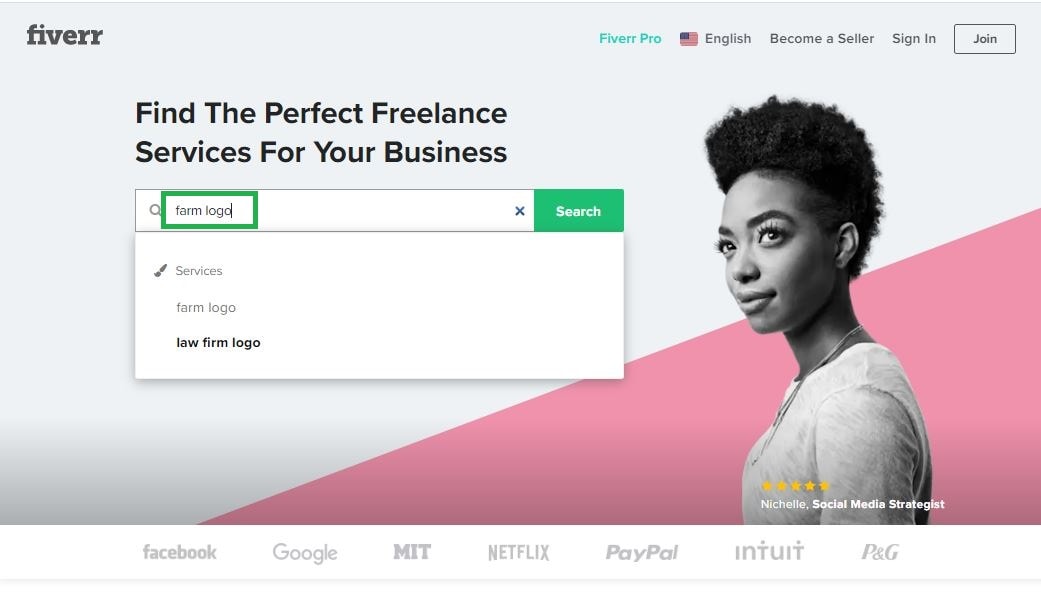 Click to expand the
Category
menu from the filters at the top of the results page, then choose
Logo Design
.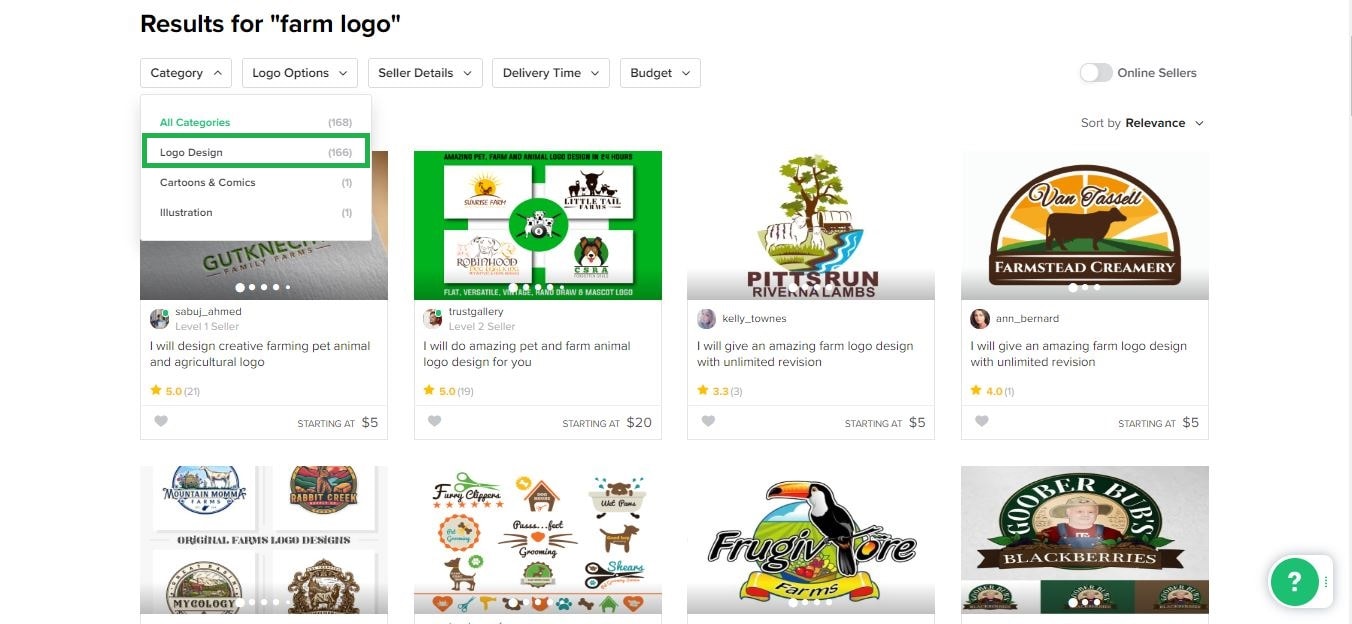 There are so many designers on Fiverr, it's a good idea to use the advanced search filters to narrow down your options. You can specify the logo styles you like, seller details, preferred delivery time, and price range.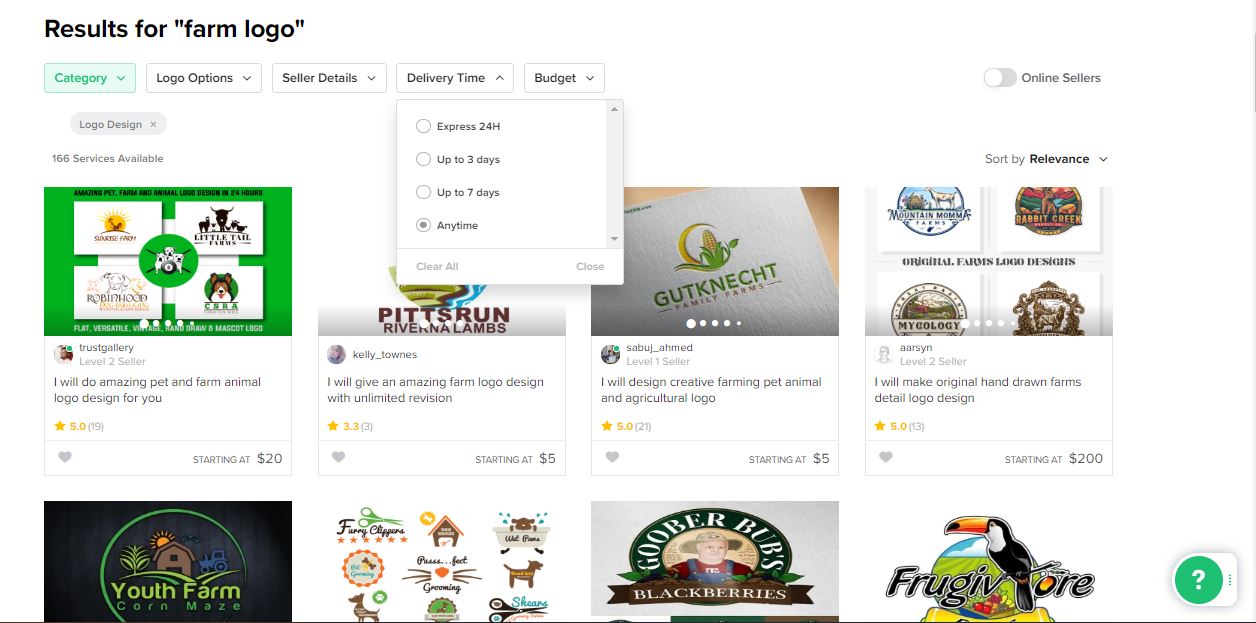 Spot something you like? Click on the image to access the designer's profile. Here, you can view their ratings, portfolio, and packages, and even contact them before buying a gig.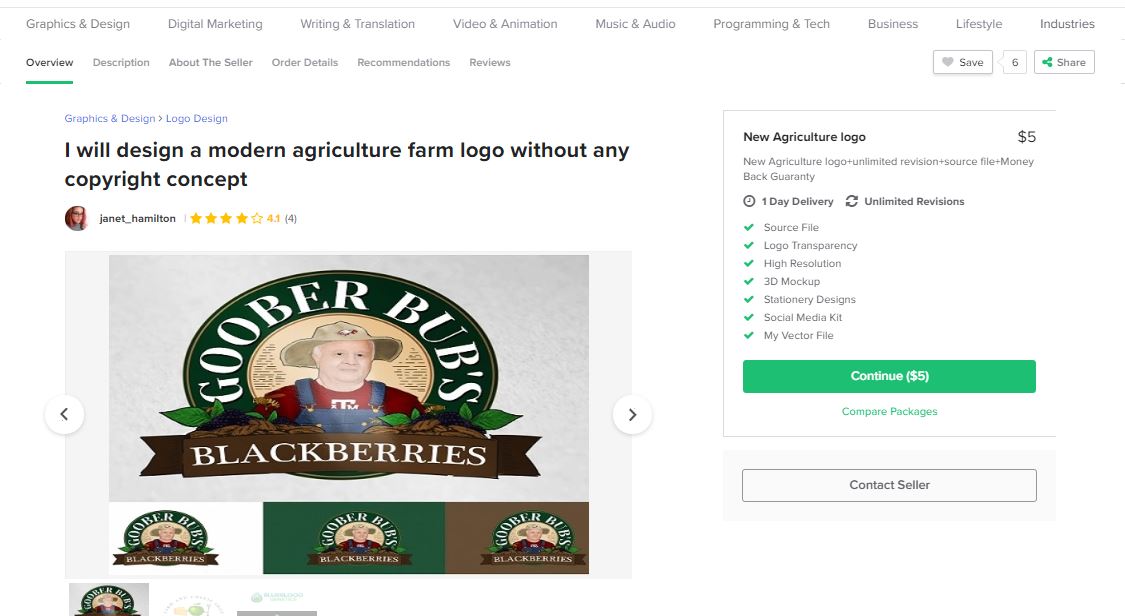 Interested in working with a freelance pro? Get more tips from our experts on hiring the right designer in our
in-depth Fiverr review
.
More Features from Fiverr
Secure transactions – When you pay for a gig upfront, your money is held safely by Fiverr until your project is delivered and you're satisfied with the design.
Fast delivery – Most designers on Fiverr complete logo projects in a couple of days, but if you're pushed for time, many offer an express 24-hour option for an additional fee.
Free Fiverr app – Fiverr has its own free app for mobiles with a built-in messenger where you can contact the seller before committing to the gig and stay in touch throughout the process.
Huge variety – There are tens of thousands of different logo designers so you're guaranteed to find a freelancer who matches your desired style and budget requirements.
How to Make Your Own Farm Logo
There are lots of online logo makers out there, each claiming they can make designing your own logo as easy as pie. While most tools are simple to use, you'll still need a creative eye to design something original that complements your brand. It's also worth considering that while these tools are free to sign up to and use, you'll have to pay to download your finished design in high-resolution. If you still want to channel your inner artist, I think Wix Logo Maker is the best place to start. Its easy-to-follow process can help you come up with an attractive design in minutes.
Creating a Logo with Wix Logo Maker
Go to Wix Logo Maker's homepage
, click
Start Now
and create a free account.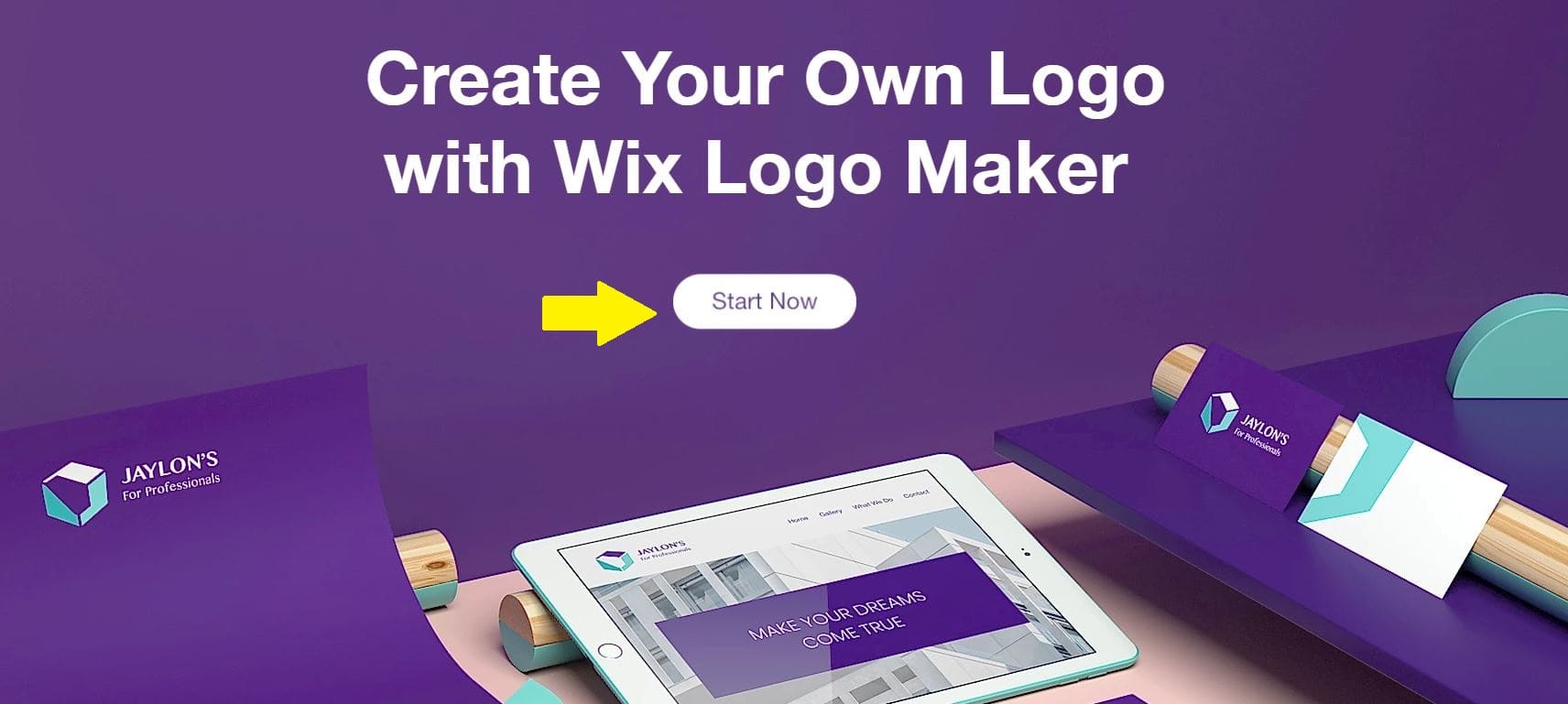 Next, you'll be asked to provide some information about your business and style choices. This is so the artificial intelligence (AI) that powers Wix Logo Maker can learn all about you and your brand. The first few questions ask for your industry, brand name, and tagline.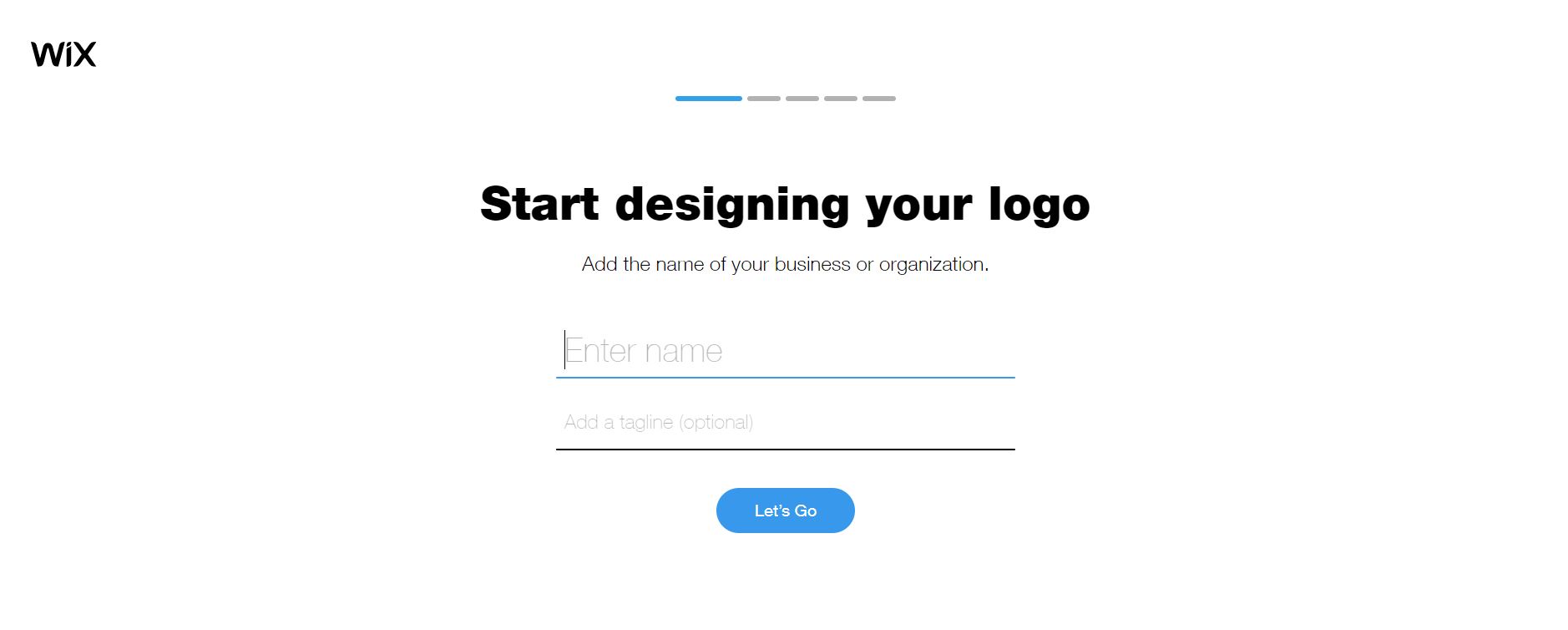 The next few questions help the AI wizard discover your preferred logo style. It'll ask you to choose between two different logos to narrow down which elements you like best.
Based on your answers, the AI will generate a range of logo templates for you to browse through. Some of the templates will feature images, which you can manually refine by clicking on
Replace Icon
at the top of the page and typing in a relevant keyword (e.g., farm, cow, barn, etc.). You can then apply your chosen icon to all of the results.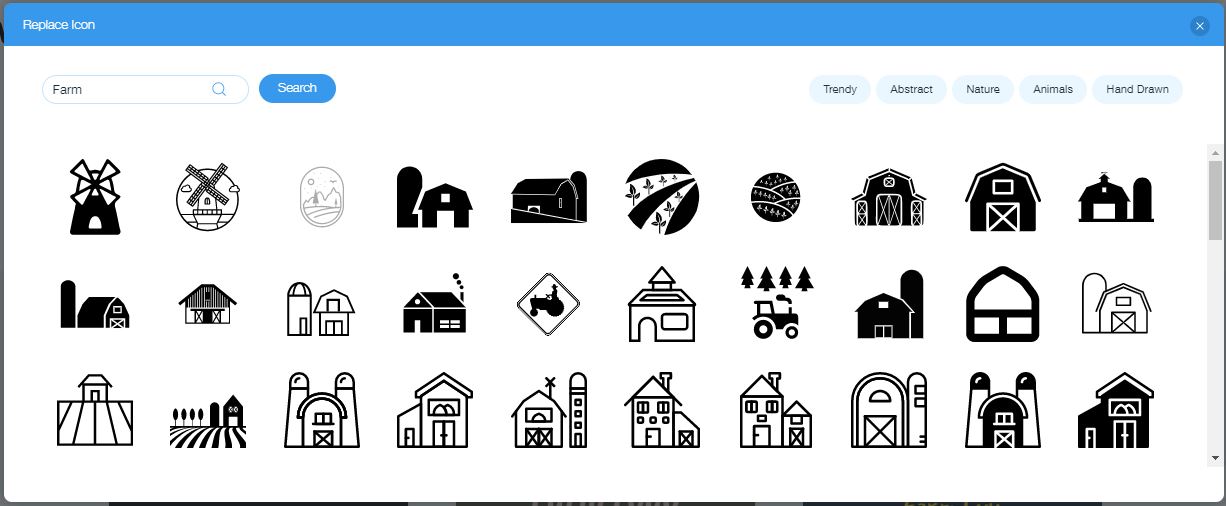 Scroll through the updated list of templates and choose the one that's closest to your preferred style. It doesn't matter if there are some elements that aren't quite right because you're about to customize it! The next step takes you to the logo editor where you can adjust almost everything about the logo, including colors, fonts, background, and more.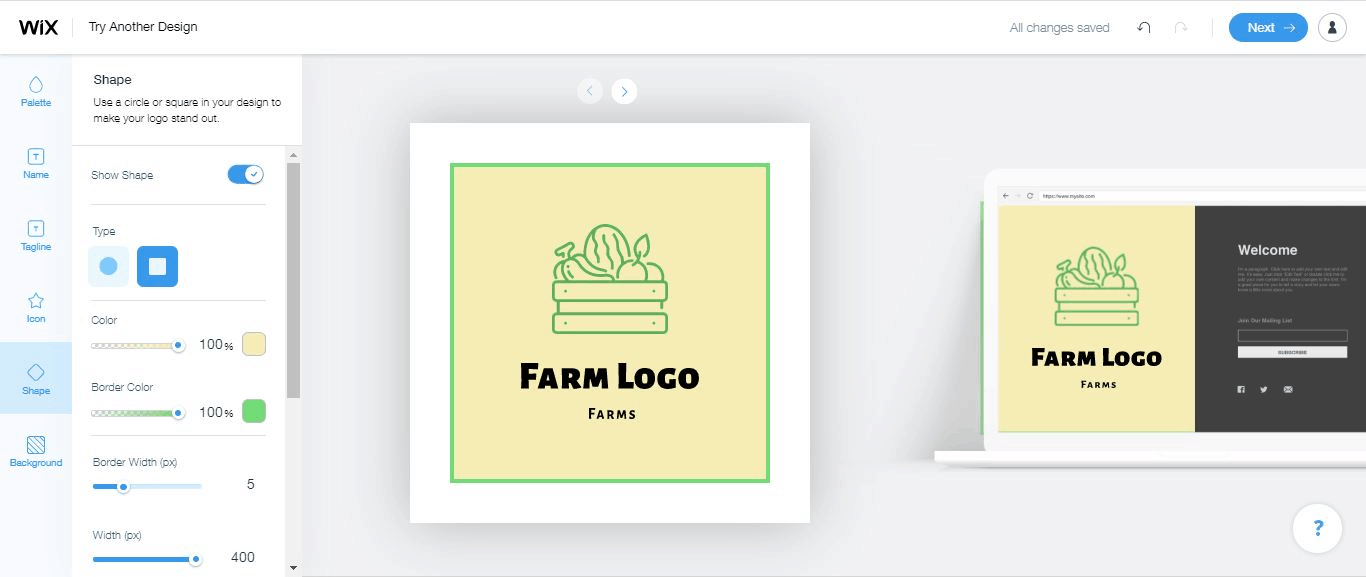 Once you're happy with your design, click
Next
where you can download a free low-res sample of your farm logo or pay for one of the usable, high-quality formats. Want to know more? Read our
expert Wix Logo Maker review
 to see some more logo samples.
Alternatives to Wix Logo Maker
Looka is ideal for those of us who are prone to indecisiveness. For 72 hours after creating your logo and paying for it, you can return and make an unlimited number of revisions for free. Read our in-depth Looka review to learn more about the platform.
LogoMaker is simple to use and great for beginners. It also sells domain names and website-related branding so you can create your logo and get your website up and running all in one place. Find out if this is the right platform for you in our full Logomaker review.
My Final Thoughts
Your farm logo's purpose is to visually identify your brand and assure customers of the quality of your produce. Hiring a creative logo designer can help pin down both of those key elements, and help your business grow.
I always recommend Fiverr
 – for $5 it's the easiest way to get your hands on a high-quality, professional design. If you want to tap into your creativity, but don't have a background in logo design,
I recommend using Wix Logo Maker
 to DIY your farm logo. All it takes is just a few clicks and with the help of the AI, you'll have a nice-looking logo. If you have an eco-friendly or organic brand, you might like to check out our list of the
best nature logos
to see what color palettes and icons work best. Still on the hunt for the best design service for you? Check out our expansive
list of the best logo design services
.