I turn to an experienced logo designer, and you can do the same for as little as $5!
Jump ahead to learn my secret.
I'll also show you how you can create your own logo. But first, you can chew on nine of my favorite dog logo designs to get inspired.
9 Best Dog Logos
How to Get a Custom Dog Logo for a Great Price 
By using different dog breeds, color palettes, fonts, and layouts, the eye-catching logo designs above capture each company's unique personality. So how can you tap into that kind of logo expertise without straying beyond your budget? My answer: Fiverr. Fiverr gives you access to tens of thousands of designers from around the globe. And with logo design project ("gig") prices starting at just $5 US, the platform puts unique logo design within everyone's reach. In fact,
hiring a Fiverr designer is often cheaper than
creating your own animal logo with a DIY logo maker
.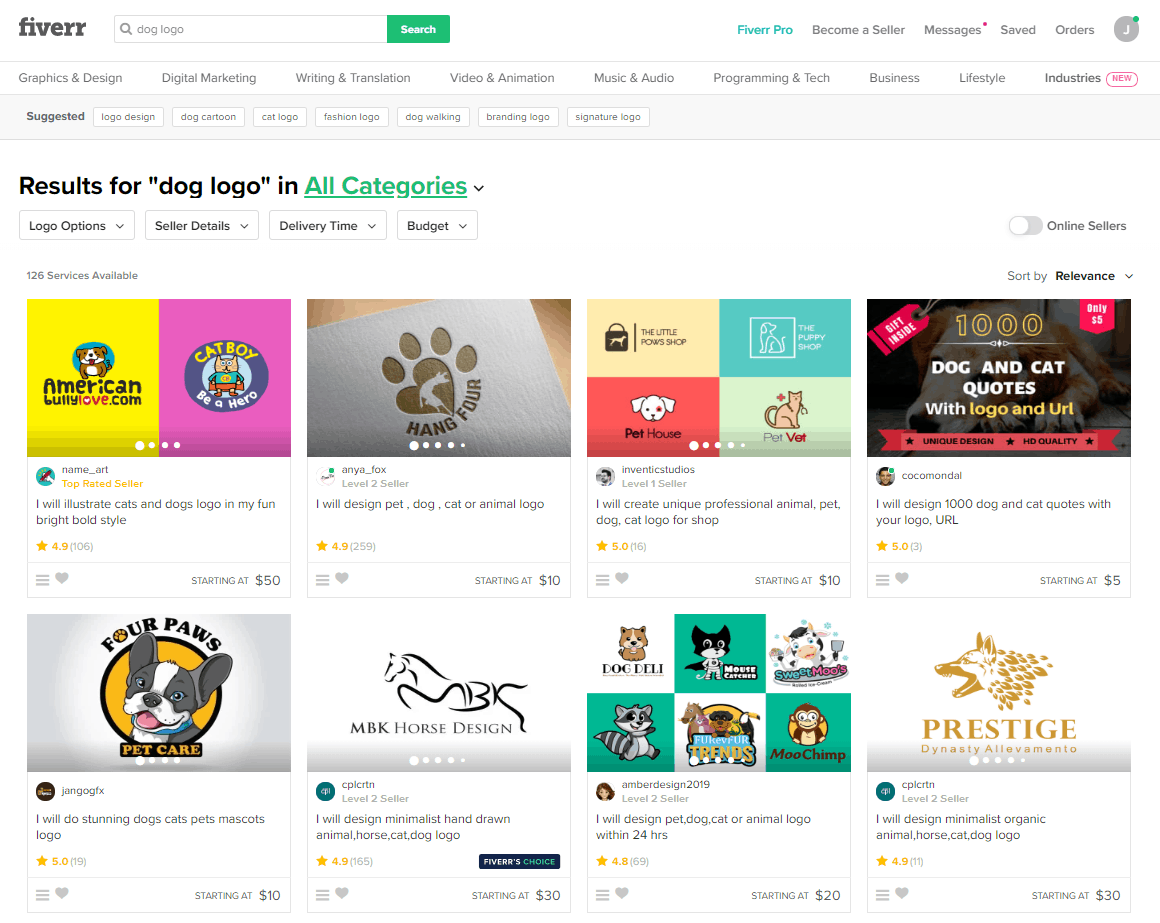 Key Fiverr Features
No hidden costs – The price of the gig you choose is the price you pay. And since your funds are held in escrow, if the work isn't completed, you pay nothing.
Wide range of design styles – Since Fiverr designers come from all over the world, they offer a huge range of logo design styles.
Free desktop messenger and mobile app – Easily check in with your logo designer anytime to make sure your project stays on track.
Variety of service packages – Many Fiverr designers offer Basic, Standard, and Premium logo design options, so you can get what you need at a price you can afford.
The Great Website Planet Logo Project
Recently, my colleague tested a bunch of logo design services to find Website Planet's new logo. He received three great entries from Fiverr designers, including one who only charged the $5 minimum price! To see them, check out our his
expert Fiverr review
. Read all about the project and see the winning logo in his
in-depth comparison of logo design services.
Navigating the Fiverr Website
Fiverr's user-friendly interface makes finding your perfect logo designer easy. On the home page, move your mouse to
Graphics & Design
, and then look for
Logo Design
under
Logo & Brand Identity
.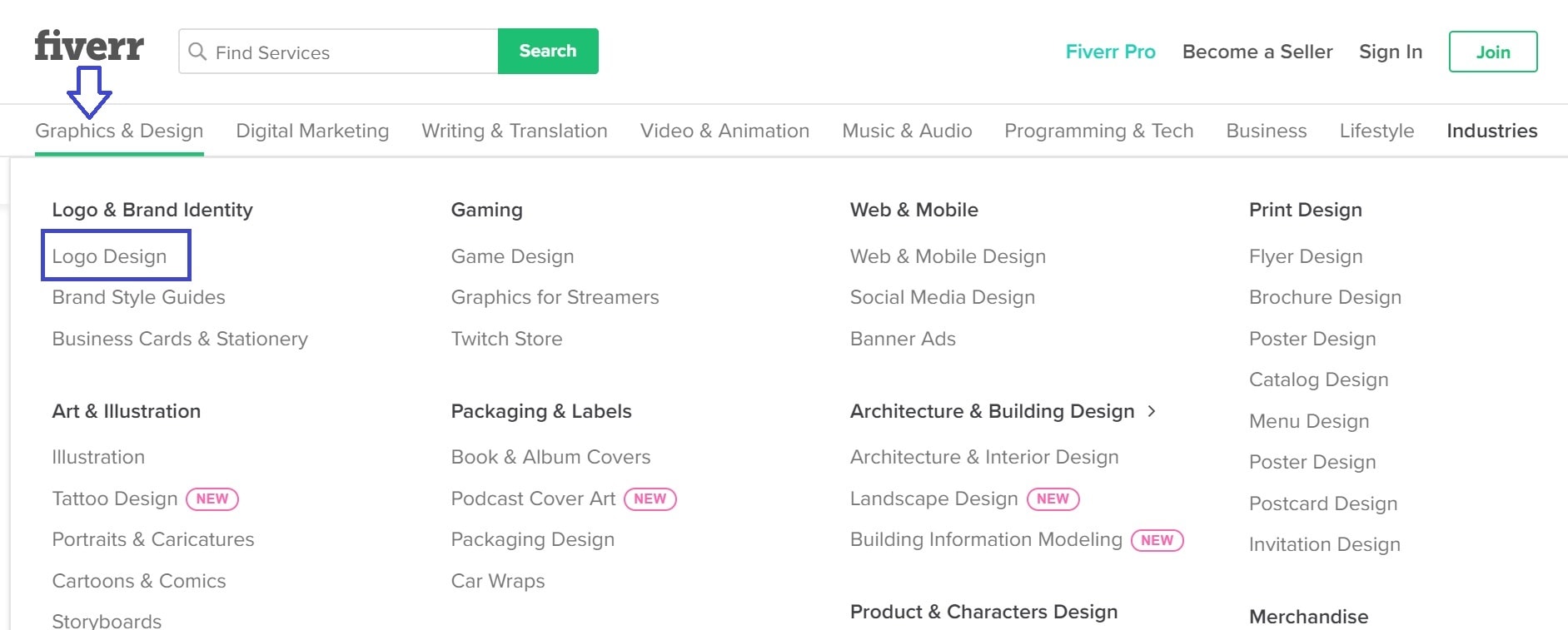 At this point, you have a couple of choices. I just typed "Dog Logo" into the search bar to find qualified designers. But you can also click
I need a design partner
to get help from Fiverr's logo designer search wizard. The wizard asks you some questions about your logo project, then recommends designers who match your preferences.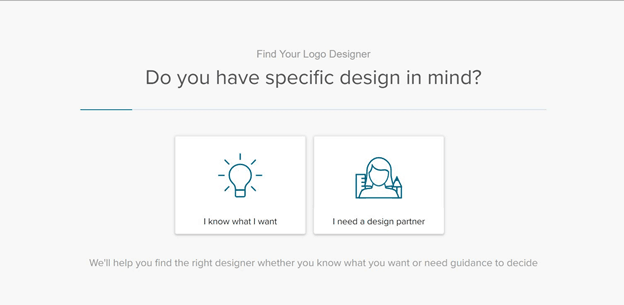 You can filter your search results further by setting your budget range, desired delivery time, logo style preferences (such as "mascot" or "minimalist"), and so on. Once you've found the best designer to create your logo, just send them a free message, and then agree on the price and terms for the gig. It really is as simple as that, but don't miss our
tips on finding the right designer for your logo
.
How to Make a Dog Logo for Free with Wix Logo Maker
If you want to unleash your inner designer and try your luck at creating your own logo, there are plenty of DIY logo makers out there.
Most online logo design tools let you make your logo for free, but you have to pay to download and use the logo.
Given that rather large catch, you'll want to use a tool that gives you a decent chance of producing a logo you really like. My favorite is Wix Logo Maker – its combination of beginner-friendliness and design freedom is tough to beat. For more information about the platform, read our
full Wix Logo Maker review
. If you're ready to get started,
click here to open Wix Logo Maker in a new window
. After signing up for an account, all you have to do is answer the questions about your company and logo style preferences. The AI (artificial intelligence) system will generate potential logo designs for you based on your responses. Remember, we're not aiming for perfection at this stage. Simply select a suggested logo that has the potential to stand out with the right refinement, as that's your next step in the process. Once you choose a logo, you'll be taken to the logo editor, where you can really run free.
You can change the icon, color scheme, font size and style, and even layout.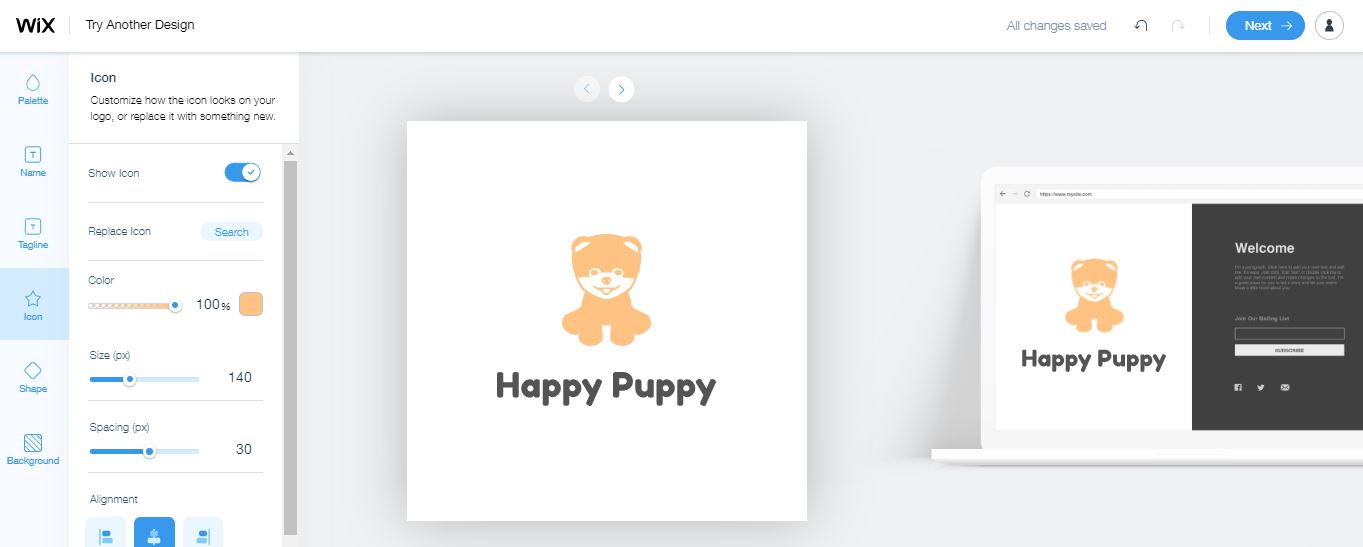 Other Top DIY Logo Makers
Here's an expert tip from Captain Obvious: If you aren't happy with the logo you get from Wix Logo Maker, don't pay for it. Leave it behind, and give these alternative logo makers a try:
Tailor Brands is another AI-powered logo maker, with a nice selection of icons that includes quite a variety of dog images. For an extra cost, you can get EPS logo files, which you can edit later if you need to update your brand's image. For more information, read our full Tailor Brands review.
DesignEvo gives you a choice of logo templates rather than the help of a design wizard. However, I really like the text editing options, and a lot of other aspects of the very flexible logo editor. Learn more in our expert DesignEvo review.
Some Final Thoughts on What Makes a Great Dog Logo
By now, your tail is probably wagging with excitement at the thought of getting your new dog logo right away. But whether you choose to
hire a designer on Fiverr
 or go with one of the many other
logo design solutions
, take a moment to catch your breath first. After all, dogs don't usually stop and think, but great logo designers do. Some of the best dog logos out there are used by companies that have nothing to do with pets. So what is it about dogs that makes you want to build your company logo around one? Is it their loyalty, their playfulness and affection, or the way they fiercely protect the ones they love?
The better you can describe what your brand is all about, the better your logo will be.