Working with freelancers is easy. However, crafting an ad that gets enough responses from qualified candidates can be quite the challenge.
But it's not impossible, so long as you know what you're doing.
As part of a business, you may know exactly what you are looking for when selecting a qualified freelancer, but do you know what a qualified freelancer looks for when selecting a business?
As an established freelancer (I am, I swear!), I've had a ton of experience figuring out the things that make me want to respond to an ad for a job, and those that send me (and my qualified freelancer buddies) running.
Let's take a look at all the things you need to include and all the things you need to avoid when writing a job posting. Following this advice will be the difference between an inbox that's flooded with irrelevant proposals from freelancers who don't know what they're doing, and an inbox filled with perfect matches.
Write an Effective Title
Since it's the first thing that any prospective freelancer will see, your title is one of the most important parts of your job post. Keep it clear and concise, and ensure it lays out what's expected from applicants.
If you require any specific or technical skills, mention them in the title; this will help encourage unqualified freelancers to keep scrolling. You'll also receive fewer copy-pasted proposals from lazy freelancers who couldn't be bothered to read the finer details of your listing.
Pro Tips:
Use the space allotted for your title wisely. No matter where you're posting the job, you'll only be permitted a limited number of characters (usually between 50 and 100). Make every word count.
Include keywords that are likely to be searched for by freelancers who have the skills necessary to complete your project.
Highlight the background you are looking for, in addition to any key requirements necessary to complete your job.
Need someone to work on your website? You'll get a mixed bag if you title your post like this:

Instead, be more descriptive and cover the necessary skills required, like this post does:

Here's another poor example, this time for a writing gig. No high-quality freelancer would ever apply to a job titled like this:

Here's a much better title, which includes the number of words expected, as well as a brief description of the topic:

Provide Clear Job Requirements
When writing the description for your job, be as detailed as possible. Here, you'll be allowed to use far more words, so take advantage of them.
Let prospective workers know exactly what's expected of them, so unqualified freelancers will be less likely to apply.
Include the following in your description:
Project Overview: Just saying that you need "an app created" or "some illustrations done" is going to result in similarly generic applications. The more details and background you can provide, the better proposals candidates can submit. Referencing things like the industry or your target audience will go a long way. For instance, if you're looking for a logo designer for a new dating app, you could describe the app and the demographic it's geared at.
Time Commitment: Let freelancers know if the job is a one-off or ongoing, how long you expect the engagement to last, and whatever daily or weekly time requirements there may be. If you have any specific deadlines you are working against (e.g., the website must be launched before the new year, or your book must be submitted for publication by June 1st), include those as well. That said, it's always a good idea to pad your deadlines in case there is a delay.
Expected Availability: It's important to mention if you expect a freelancer to be available for any particular time zone's standard work hours. You should also say whether you expect a particular turnaround time for communication or revisions. Remember, many freelancers take on gigs in addition to their day job, so it may be difficult for them to hop on the phone at a moment's notice.
Required Skills: Let potential freelancers know, in depth, the skills that will be needed to successfully complete your job. This includes any specialties or technical skills, such as their level of familiarity with specific software or a certain programming language. If you're looking for a writer, be sure to mention any language requirements.
Pro Tips:
Ask freelancers to follow specific instructions in the description. This way, anyone who applies without fully reading it (trust me, this is an issue) can quickly be eliminated when you see that the instructions weren't followed.
Think of the things you'd want to know if the positions were reversed, and include them in your description. This will save you the time needed to answer the questions that qualified candidates may ask.
Proof your description for spelling and grammatical errors. Use software like Grammarly, and, if possible, have a colleague read it over. People who would disqualify your post for a spelling error are the type of detail-oriented freelancers you should be hiring, so don't scare them away.
Include any additional benefits associated with your project, such as if the job has the potential for long-term work, if it could make good portfolio material, or if it could lead to future opportunities. Even something as simple as mentioning that you're a fun and easy-going person to work with could increase interest in your ad.
Below is what a well-crafted job description should look like: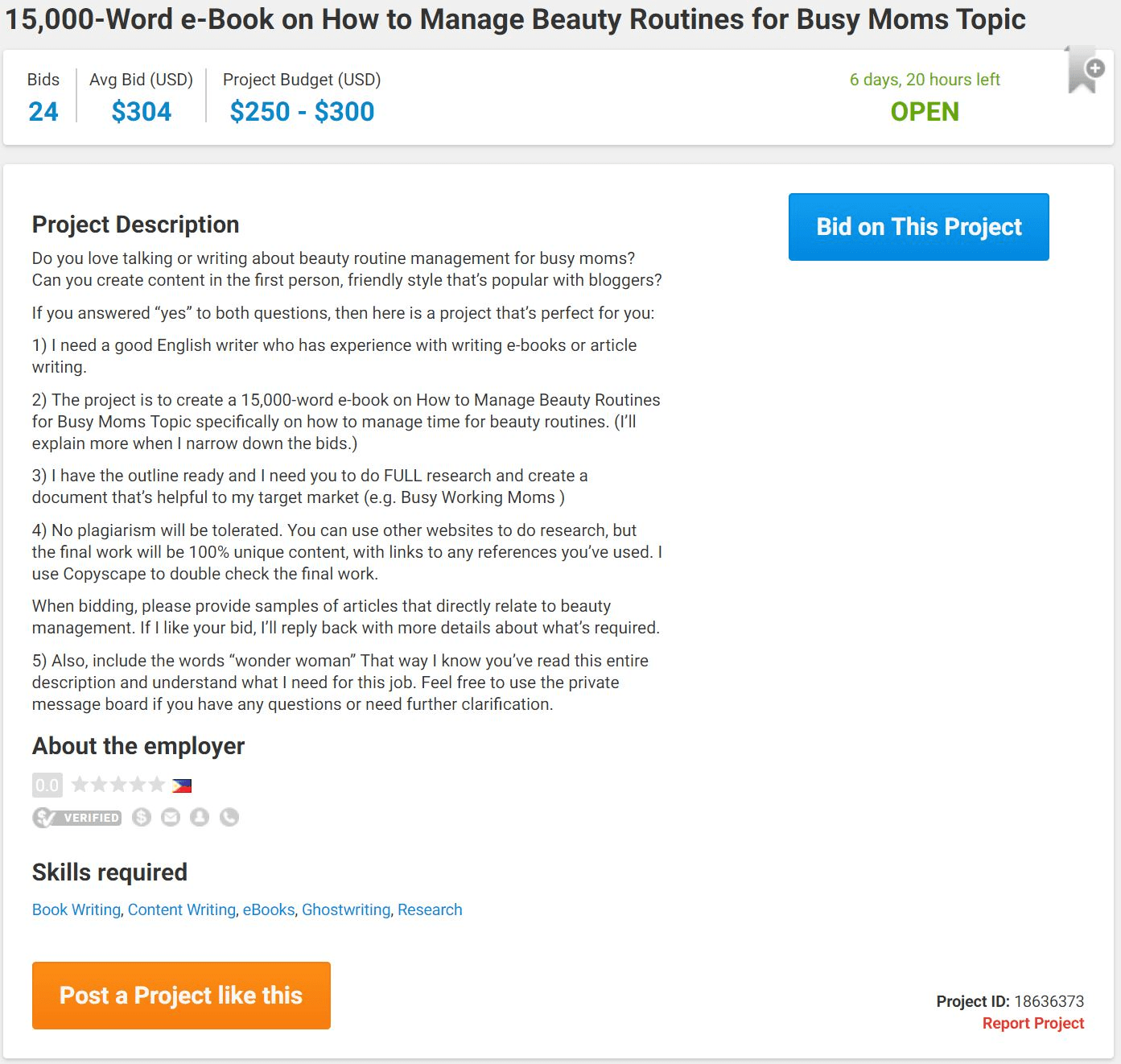 And this is exactly what you want to avoid doing in your description: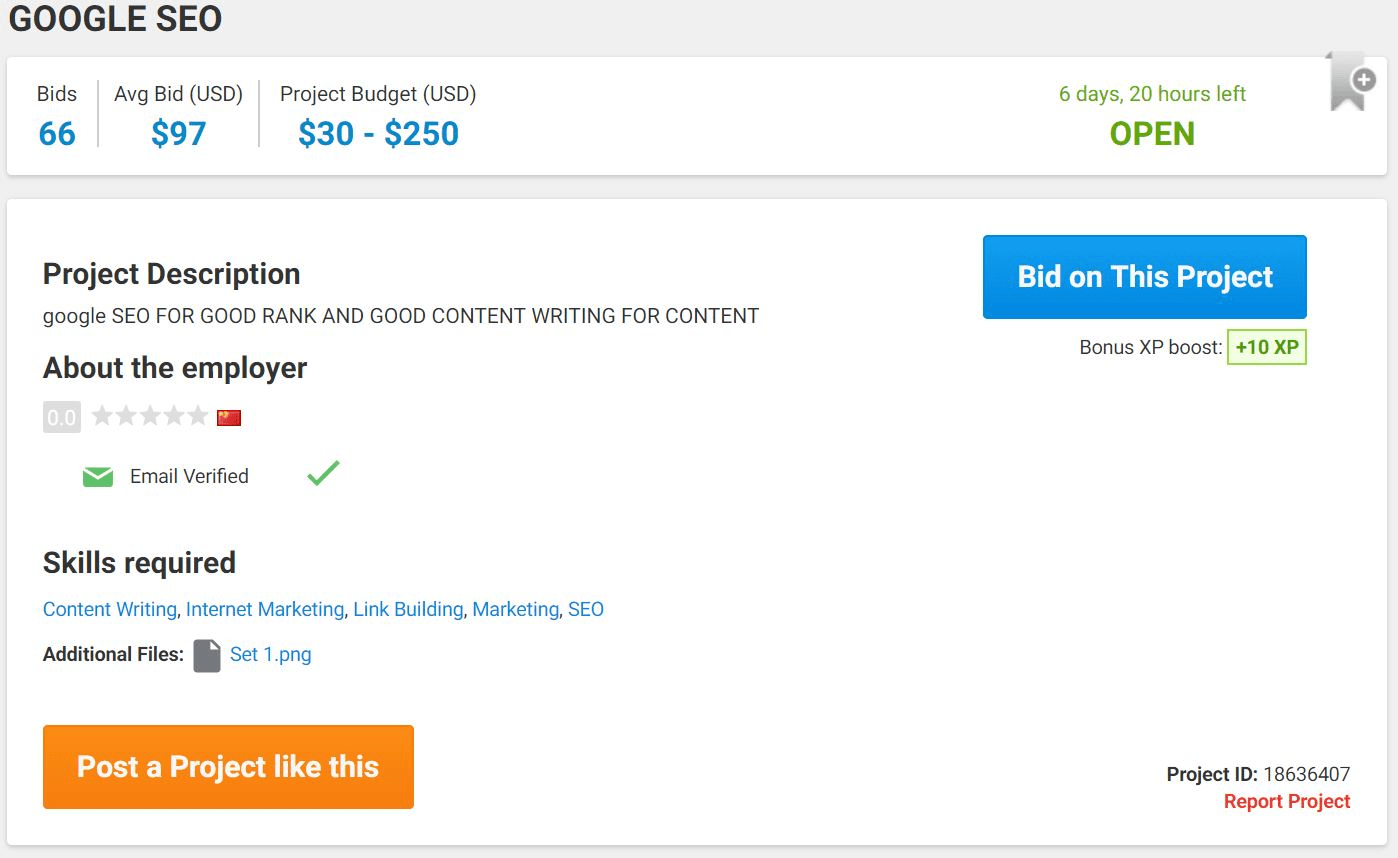 Set an Appropriate Budget
Make sure that the budget you set in your ad matches the skill level that's required to complete your project. You are never going to attract highly skilled freelancers if you set your budget too low, so if skill level is important, you need to price accordingly.
Pro Tips:
Set up a verified payment method. You can do this on platforms like Upwork and Freelancer.com, and it helps to attract more qualified applicants by assuring them that you're serious about hiring for the position and that they'll be paid for their work.
State that the price is negotiable. If you aren't entirely sure what an appropriate cost would be for your specific project, don't be afraid to ask applicants for their opinion. They should be familiar with this type of work. This can also help you narrow down proposals.
Outsource your project to freelancers in another country if you're on a tight budget. Quality help can be found all across the world, allowing you to find workers with similar skills at much lower rates.
Use new freelancers to save money. Freelancers who are trying to establish themselves will often offer their services at discounted rates. While there's more risk involved when using someone without a lot of previous feedback, it can also be an excellent way to get some amazing deals.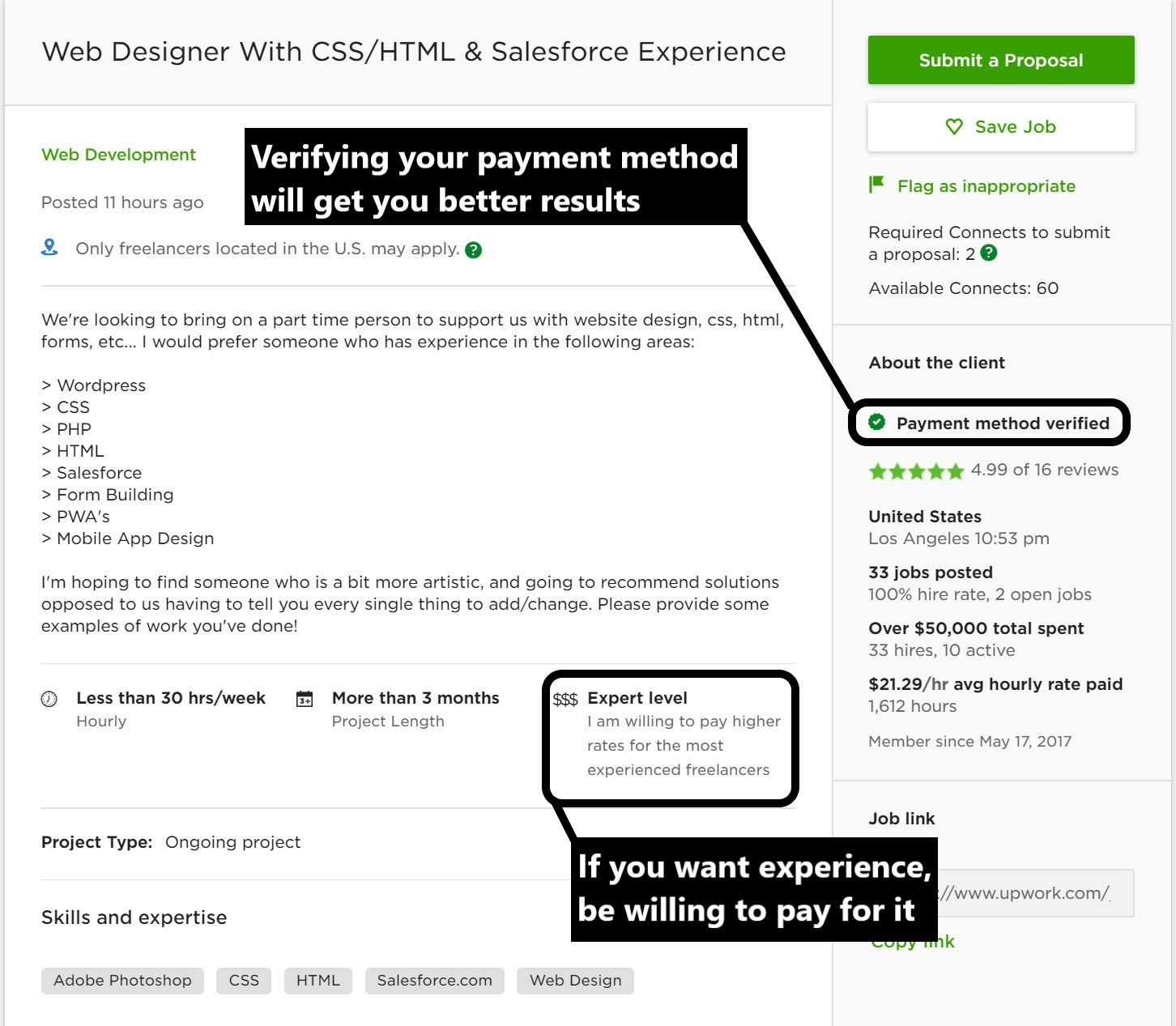 Choose the Right Platform
There are many ways to find freelancers. Some sites, like Craigslist, let you post an ad for free, but they don't offer any protections in case of a dishonest freelancer. For this reason, many businesses choose to find freelance solutions through platforms like Fiverr, Freelancer.com, and Upwork.
It's a good idea to use a platform, especially when you're first establishing a relationship with a potential freelancer. Both Freelancer.com and Upwork offer great protections for job posters, and the fees are generally very reasonable.
Choose Fiverr or Freelancer.com when on a tight budget. These platforms have some amazing deals to be found, given the number of freelancers that use them. That said, you may have to look through more applications before you find the perfect candidate.
Choose Upwork if you're willing to pay for quality. Upwork screens its freelancers, which means that not just anyone can make a profile. For this reason, the freelancers that end up working on this platform tend to be more skilled and experienced.
Interact with Prospective Freelancers
If you want to keep quality candidates interested in your post, be sure to answer any question they might have. While it may seem time-consuming or even annoying, especially when you just want to get started on your project, this process is definitely worth your time.
Candidates that ask smart questions are not only more likely to be more qualified and experienced – it also shows that they actually care about your project. This can help the job run more smoothly and result in a better end product.
You can save time by immediately disregarding proposals that sound like they have just been copied and pasted. If a freelancer isn't willing to read the job description and spend the time needed to craft a proper proposal, it's unlikely they'll put in the necessary time and effort for your project.
Pro Tips:
Bring the job directly to a qualified freelancer. If you're not receiving any relevant applications, you could go "shopping" for a freelancer instead. You can do this easily on a freelance platform, as many allow you to browse through freelancers' profiles and send job offers or invitations to apply.
Keep a record of all qualified candidates, even if you're not hiring them. If the freelancer you're working with ends up giving you problems, or you need additional help, you may want to contact the other freelancers that you've already spent time screening.
Be pleasant and act like someone that you'd want to work with. Coming across as rude, sloppy, or unreliable will scare away highly skilled candidates, as they can easily find work elsewhere.
Select the Ideal Candidate
The final step in this whole process is choosing the best candidate for your needs. There are several things that you should look for in a prospective freelancer:
Their price seems fair and appropriate for their background. Bids that are too high or too low are an instant red flag.
Their proposals and messages are thoughtful and well-written. The time and attention they give your proposal and initial communication is a good indication of what you can expect from an end product.
They respond in a timely manner. You need a freelancer that is going to be reliable and not go quiet for days at a time.
They have a good reputation. On a freelance platform, this comes in the form of positive reviews. If you are considering working with someone who is new to freelancing, don't be afraid to ask for outside references.
Use the above parameters, as well as anything else that may apply to your specific project. Create a short list of prospective freelancers, and then use your judgement to select the best possible option. If you follow this advice, you should have no problem finding the ideal candidate for your next project.