this gender bias may be even more extreme when it takes place in the digital freelancing workplaces
. Research conducted by Website Planet (WSP)
recently uncovered that female freelancers are being paid significantly less than men—in some cases half as much—on two of the most highly used and reputable freelance job platforms, Upwork and Fiverr
. This is shocking. For women tied to the gig economy and rely on these very same websites to find jobs, this is directly tied to their own personal livelihood.
A Closer Look at Freelance Earnings
For those not in the know,
Upwork
and
Fiverr
are both freelance hiring platforms covering a range of industries and services, including: writing, graphic design, personal assistants, and web developers. Each platform works a bit differently:
On Upwork, individuals actively bid on projects. A client will post a job, for which they will receive a number of proposals that cite either an hourly rate for the work or a total fee for the project. After reviewing the applicants, the client will extend an offer to the freelancer(s) of their choice, and a contract will begin.
On Fiverr, it pretty much works in reverse. Freelancers create posts around their particular skill sets, to which they will attach prices to the tiered outlined work. Clients looking for someone(s) to complete a certain job can search for different qualified individuals and, after reviewing a number of profiles, reach out to the freelancer(s) selected to complete the work.
WSP researchers reviewed 121 profiles on Upwork and 116 on Fiverr, in some of the most popular job categories, such as:
Writing (web content)
Sales and marketing
Accounting and consulting
Video production
IT (web, mobile, software development)
Customer service
In addition to reviewing freelancer profiles and stated offerings and/or hourly rates, job histories and scores were also considered, as well as the rates of completed past projects (where possible). All job categories included an even split of men and women, with comparable professional and educational backgrounds, and years of experience. Lastly, all freelancers were located in the United States.
The Digital Gender Gap Is Alive and Well 
On average, across the different industries on Upwork, men charged 57% more per hour than women. This disparity is even more extreme on Fiverr, where men typically charged upwards of 80% more than comparable services offered by women.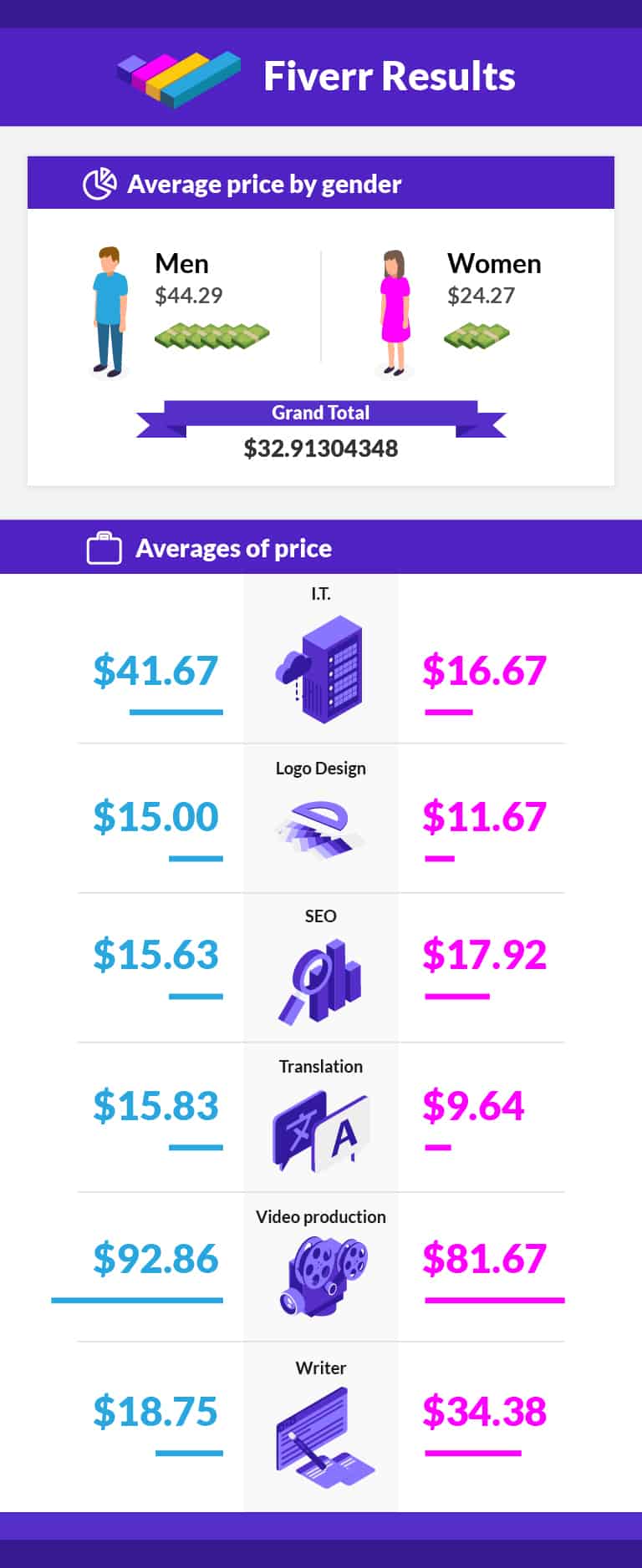 The male and female freelancers reviewed had similar job success rates, varying only by a percentage point or two at the most (typically in the ladies' favor). Women tended to have slightly longer histories working on the freelance platform, although the difference here was not substantial (2.32 and 2.07 years, respectively).
This is important as it helps rule out some likely factors that would contribute to a wage gap: quality and experience.
However, there did not seem to be a difference between genders for either of these factors, as the research also showed that
both male and female freelancers are able to increase their salary over the course of their time on the platform by about one third
. This makes sense, given the accumulation of positive reviews and completed jobs over time. Many freelancers, tend to price their services lower when first starting out; after all, the hardest part is always landing that first job.
What this means is that women tend to price themselves lower from the beginning, and they are not able to make up the difference over time.
Men ask for less when first starting out as well, however, this figure still tends to be more than what a woman would ask for, even after she continues to gain experience and reviews on the platform. Basically, women start off in a gender gap and then are stuck in it. On both Upwork and Fiverr, there are categories where women tend to make more than men, namely writing and SEO. It's worth noting, however, that the price gap here is much less extreme. On Upwork, for example,
male writers make about 93 cents on the female dollar, whereas a man offering accounting or consulting services is poised to earn $2.19 for every dollar a woman in the same field does
.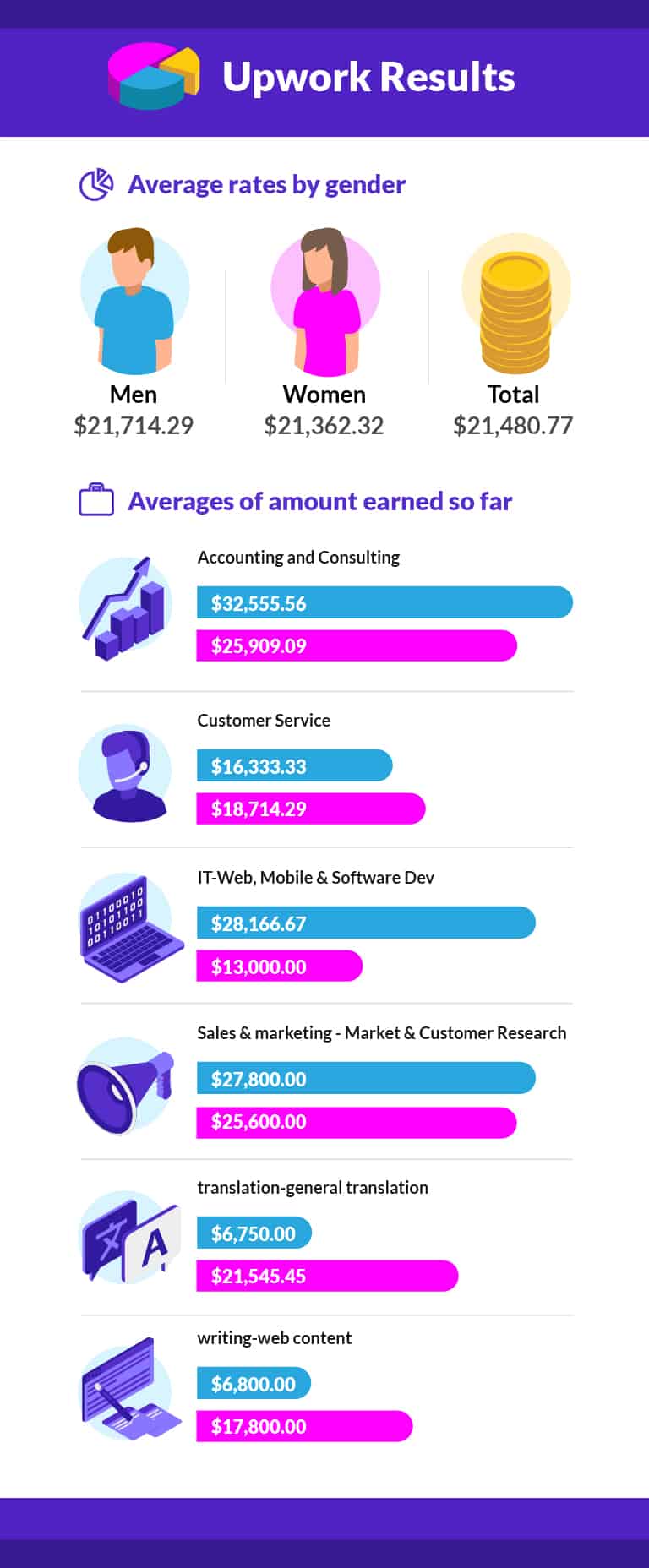 What Is Driving this Disparity, and Who's to Blame?
When we read about gender bias in the workplace, many people's first reaction is to blame the company:
How can a business justify paying a different salary between a man and a woman who are filling the same job description?
But what about when the employees are not salaried, and the applicant is the one indicating the rate they are willing to do the work for? Do companies have any responsibility? Surely we can't expect a client to pay applicants more than what they ask for. We also know that a company's first obligation is to their shareholders; they are seeking to strike the perfect balance of cost and quality. If they can get a better product at a lower rate, who can fault them?
The bottom line is that women are being paid less because they are bidding or otherwise accepting less money for jobs.
This is either because they perceive their skills to not be as valuable, or because they believe—for whatever reason—that they must offer a lower rate in order to stand a better chance of winning the work. In the traditional workplace, women have become somewhat notorious for being more reserved, often to their professional detriment. It's been well documented that women are much less likely to speak up during a meeting or ask for a raise, because they do not want to be seen as pushy or overly aggressive. Women are also less likely to apply for an open position when they feel as though they do not meet all of the criteria of the job description, whereas men are more likely to apply, assuming they can "grow into" the requirements and learn on the job.
It appears as though these same reservations could be holding freelancing women back in the digital workplace. By undervaluing their skills and experience, women expect less and often get less as a result.
So, Ladies, Where Do We Go from Here?
These modern-age digital hiring platforms have been touted as a way to
remove
bias from the workplace; allowing clients to search for qualified candidates based on skill alone, largely removing superficial determiners such as age, sex, or race. However, given that these types of workplaces are further removed from the pay gap discussion—and as a result, accountability, and legislation—there may be little incentive or ability to enforce pay equality, especially with clients who may specifically be looking for "cheap labor." This can have a direct impact on college students, who often use freelancer websites as a way to gain experience before formally entering the job market, potentially setting women up for a professional lifetime of lesser earnings. Does this mean female freelancers should start going by gender-neutral names like Alex or Casey and ask their brothers or boyfriends to pose for their profile pictures before upping their rates? Let's hope it doesn't come to that. First off, women—and really everyone—should
focus on creating as strong a freelance profile as possible
, to justify the rates that they deserve.
Do some research up front: When setting up your profile, take a look at what the top, most successful freelancers in your field are charging for similar work; find those with comparable experience and credentials and price yourself accordingly. (Remember, there is room to grow!)
Emphasize your points of differentiation: In your profile or applications, focus on what separates you from the competition (regardless of gender), and how you can bring added value to any project or company.
Be proud of your work and experience: It can feel boastful to talk about oneself, but at the end of the day, clients want freelancers who can deliver quality work; choose strong work samples that demonstrate your expertise and give clients a sense of what they can expect.
Ask for detailed reviews and recommendations: If you've had a positive working experience with a client, ask for a detailed review before closing out the job; many clients will just give "five stars" without going into further detail, but on these platforms, reviews are key and can help tremendously.
Highlight any relevant certifications: Individuals with higher educational degrees or certified proficiencies are paid more on average; make sure to point to any and all relevant experiences or accomplishments that can help you justify a higher pay rate.
Speak in absolutes and definites: Saying you "can" or "will" do something comes across as much stronger than saying "could" or "would like" to do something; using definitive terms instills confidence and can help a client picture you in the position.
Stand behind your rates: If you are applying for a job that is listed at a lower rate than you would typically take, or if a potential client pushes back on a proposal, don't be afraid to stand strong; explain why your rates are justified and how it will be reflected in the end deliverables.
Beyond this,
it's important for women to continue to seek opportunities with hiring power.
Women need to look out for one another to help alleviate any existing disparity—whether it is a result of client-bias or is self-inflicted—and make sure that women hired are offered the same rates that are given to a man. We need to stick together and encourage one another if we are going to lower this pay gap, both in physical as well as digital work environments. As the late, great Aretha Franklin sang, "Sisters are doin' it for themselves."