Upwork
,
Freelancer.com
, and
Fiverr
. I created profiles, scouted out the competition, got used to the interface, and sought out as much work as possible. At this point,
Upwork is pretty much the only platform that I use; I personally believe that the quality of clients and projects is the highest and most consistent.
There are definitely some things I'd change if I could, but nothing is perfect. There are
more people than ever currently
working as freelancers
, and a great number of different websites that can help individuals connect with clients and find job opportunities. But which freelancing website is the best for you? It may depend on the type of industry that you are in, whether you are looking for a long or short term gig, how much experience you have, etc. Upwork is a popular option amongst many freelancers across a wide range of industries. In fact, the company touts themselves as being the go-to location for business owners to hire for every position of their company: from design, to legal, to human resources, to sales. So what's it like to actually work on this platform?
Getting Started on Upwork
Signing up is straightforward.
It does require some time and energy to complete your profile, but doing so is certainly worth the effort, and will be important if you want to stand out and start winning quality accounts.
You'll want to make sure that you:
Craft a strong profile and resume: Your personal bio is a chance for you to quickly introduce yourself and say what sets you apart from your competitors. One way to give a sense of your personality or expertise is through a short video. There are also dedicated areas to talk about your professional and educational background; the more detail you can provide, the better.
Add examples to your portfolio: When you are first starting out, you won't have any client reviews or recommendations to vouch for your experience. Make sure you give clients a sense of your style and skills by uploading a few short and sweet work samples, or by including any relevant certifications (out of a pre-populated list) that you may have.
Set your rate and availability: Your profile will display the hourly rate that you typically charge (however, many gigs are done with a set "project fee" that you and the client will decide upon). Take a look at what other freelancers are charging who have similar backgrounds. You can always increase your rate as you gain experience, and even bid for a different rate than what you have listed. Also, let clients know what sort of time commitment you are looking for by setting your availability (choices include: more or less than 30 hours per week, or "open to offers").
Take tests to demonstrate competency: At the time of writing, there are over three hundred "skill tests" on Upwork that you can take and display the results of on your profile (don't worry, you can always "hide" any scores you don't want shown). The tests are broken into a few dozen categories, such as mobile technologies, translation skills, etc. Choose ones that are most relevant to your skill set; this gives clients confidence in your work, and shows your dedication.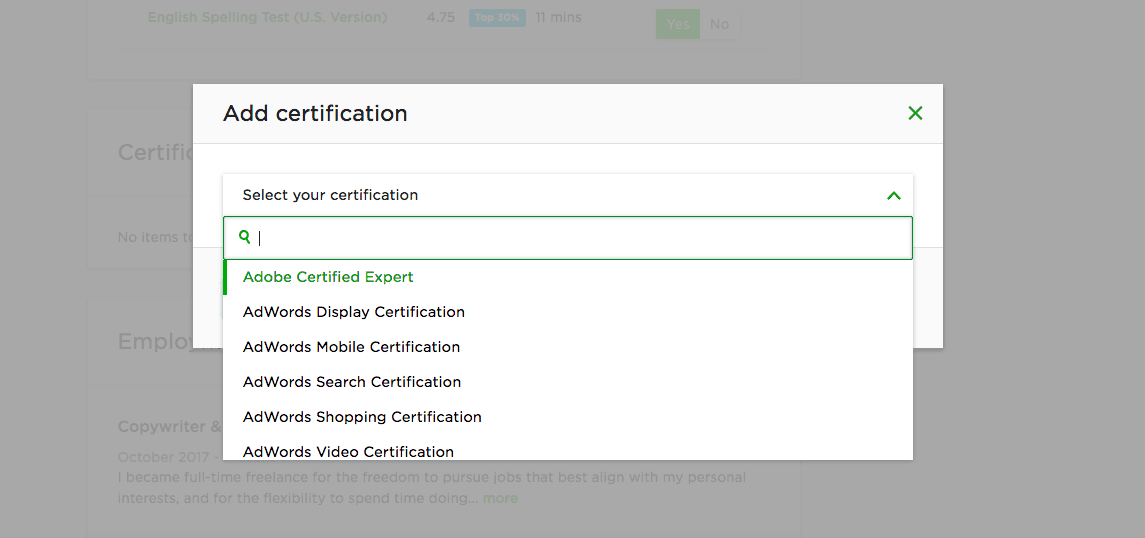 Finding and Applying to Jobs
Using "Connects"
You apply for jobs using "connects." Free accounts have 60 connects per month, and sending a proposal to a job typically "costs" two of them. So basically, unless you are "invited" to apply for a job (in which case no connects are required), you can send out about 30 proposals a month. If you opt for a paid membership, you get 70 connects per month, which rollover and cap out at 140.
In my experience, 30 proposals is enough to get you plenty of work, so long as you are smart about the jobs you apply for and put in the time to complete well-crafted applications.
Searching for Jobs
Your homepage will auto-populate open jobs as they are listed; i.e., the postings get older as you scroll. These jobs will be based on the categories you indicated an expertise/interest in during the sign-up process. There are a number of filters available to help you narrow down your search.
These are the three big things that I typically look at to make sure that I am applying to a high-quality job that will give me the best chances for success:
Payment Verified: There are a lot of incidences where individuals post a job that they will never fill. I believe that if a client is serious about getting the work done, they will verify their payment. In my mind, applying for jobs that don't do this is a waste of time and connects.
Client History: Similar to the comment above, I always look to see if a client has past hires—it seems like some people really enjoy just posting jobs on Upwork! If they have past hires, read through any reviews to get a sense of what earlier freelancers have thought of the work experience.
Number of Proposals: Even if the job sounds perfect, I'm less likely to apply if there are already a bunch of applications. Remember, you want to stand out! Applying early for jobs that do not yet have a lot of proposals can help you find golden opportunities.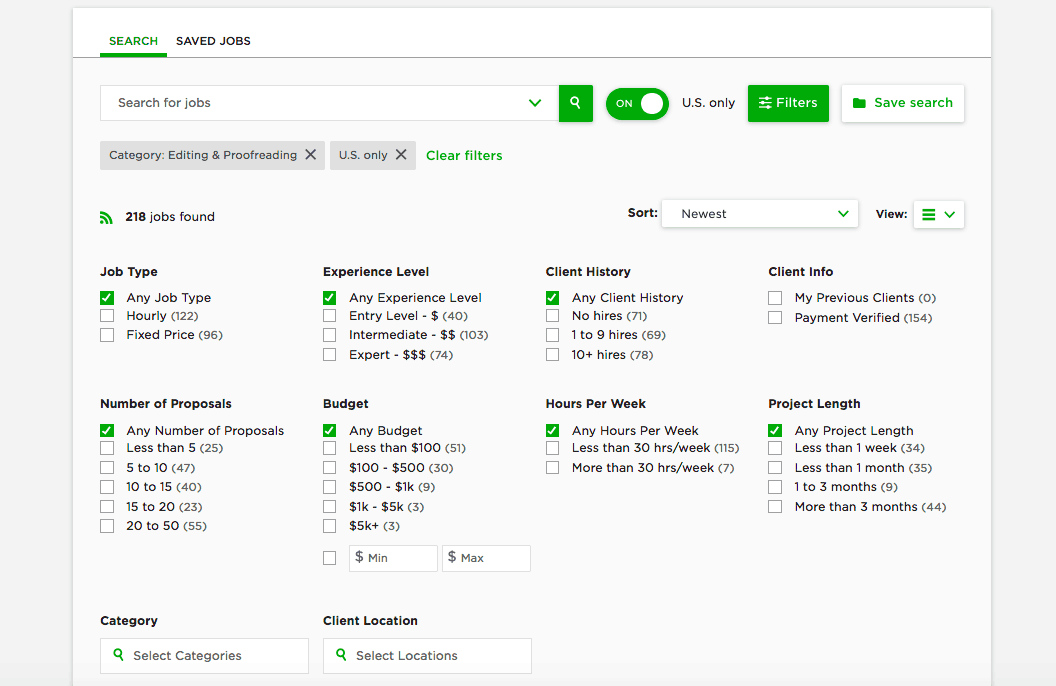 Sending Proposals
Here's where all of your earlier effort comes together and hopefully results with you getting awarded the work!
When it comes to applying for jobs, attention to detail and personalization are key.
Here are a few things that I always do to help my application stand out amongst the crowd:
Personalize your message: Where possible, use the name of the client or their company in the message; this is a great way to catch a client's attention
Have an interesting "hook" or intro: After a dozen proposals or so, they all start to sound the same; make yourself stand out and be remembered with an interesting or funny anecdote
Show that you've read the job description: The quickest way for your application to be discarded is to not answer questions or provide examples that are requested in the job post
Point to relevant examples: If you are applying as a videographer for a tech company, point to any industry-specific examples, they may not be your favorite samples, but they'll likely mean more to the client
Ask smart questions: You don't want to come across as annoying or arrogant, but saying or asking something that demonstrates a proficiency in your field can mean much more than a line on a resume
Keep the conversation going: Look to see if the client has indicated a date when he or she will make a decision; if not, I would wait three or four days to check in and see if they have any additional questions or if there are samples/references that you can provide
Working with Clients
Fixed Price vs. Hourly Projects 
Before work can actually begin, the client and freelancer will need to agree on a payment rate and structure. Basically, there are two options, both of which can be set up to ensure that the freelancer is regularly paid for the work being done, while giving clients the ability to approve work before payment is released.
Fixed Price Projects are best for work that is clearly and definitively defined
; the freelancer knows exactly what is expected of them, and when it needs to be delivered. "Milestones" can be set up, which either break up the different sections of the project at the beginning, or can be added in later as additional work arises that is relevant to the project. Freelancers request payment for milestones when completed. On the other hand,
Hourly Projects may be preferred for projects that are less clearly defined
, including those in which the scope of work may evolve over time, or in situations where the amount of time necessary is less certain. Freelancers can track their time using Upwork's desk app, which keeps track of different work streams and takes screenshots every so often. Work is billed on a weekly basis.
Ongoing Relationships
Upwork not only makes it easy to continue ongoing relationships on the platform, but these
relationships are rewarded with lowered service fees after a freelancer earns a certain amount of money from a particular client
. The platform also does this to deter clients/freelancers from taking their professional relationship "offline." Upwork's "cut" is one thing that many freelancers complain about, so the good news is that it continually goes down over time.
Conflict Resolution
As with anything, there are going to be times when clients and freelancers disagree on the terms of work or product delivered.
This is one of the big reasons it's helpful to keep your communication on Upwork. If there is a dispute, a mediator can step in.
Formal steps are in place—for both clients and freelancers—to file a claim against what an individual may perceive to be unfair. I've been lucky in that I have not had to approach Upwork to help me solve a conflict with a client, although I have heard horror stories in the past. If working on an hourly project, for example, you'll want to make sure that you are always tracking your hours with the desktop app; if a client contests the work, you only have protection for the hours that have been inserted by the tracker. Freelancers can also file disputes on a fixed-price contract; this will enter both parties into a mediation, and a voluntary paid arbitration if no mutual solution can be found.
Closing Jobs and Getting Paid
Submitting Work for Payment
As a freelancer, when you have completed a particular project, you will formally submit it and request payment. At this point, the client has 14 days to either approve the work and release payment, or to request revisions. If they do nothing in this timeframe, payment will be automatically released to the freelancer.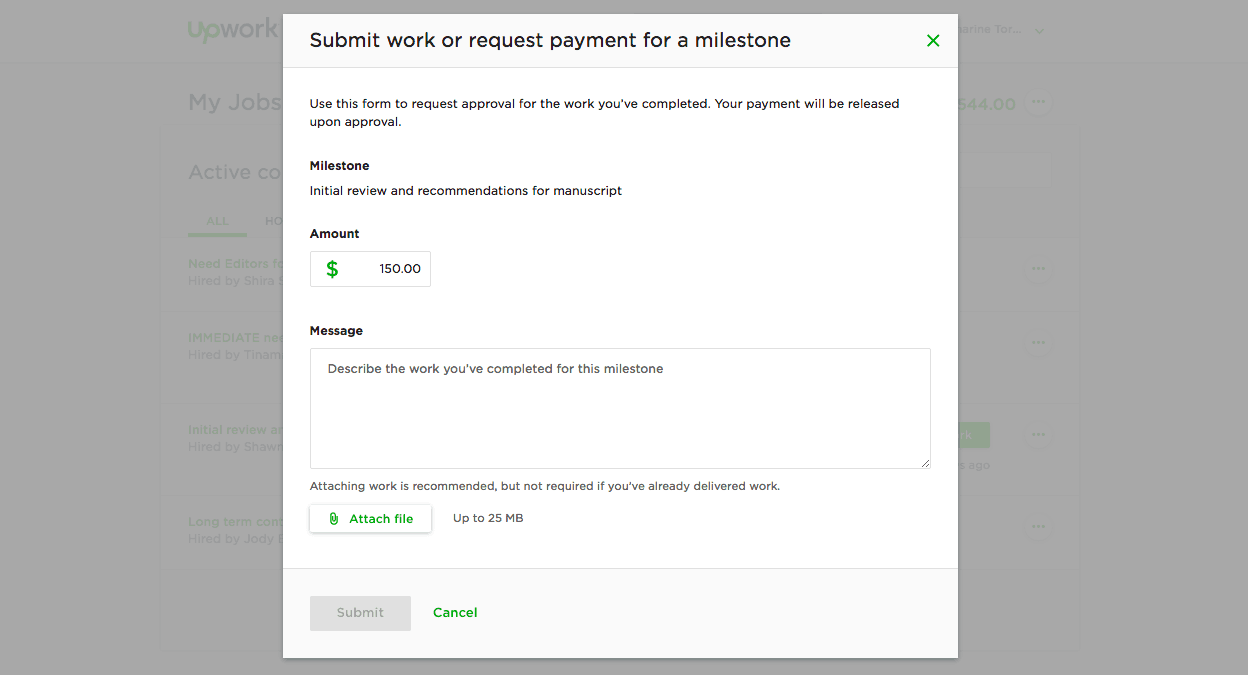 Double Blind Feedback
After completing the work, both parties will have a 14-day window to provide feedback to each other. It's important to be aware that in cases involving monetary transactions, the client retains the ability to offer feedback, irrespective of whether the project was brought to full completion. Both the freelancer and the client will receive prompts to evaluate each other based on various factors, including communication, availability, cooperation, and more.
The feedback is double blinded, which means that you don't see their feedback until you submit yours.
I think that this is a great system that promotes honest feedback between parties. I mentioned this earlier, but I always look at the reviews a client has received (and given) before applying to an open job; for this same reason, I am always sure to provide detailed feedback that I think could help inform another freelancer later on.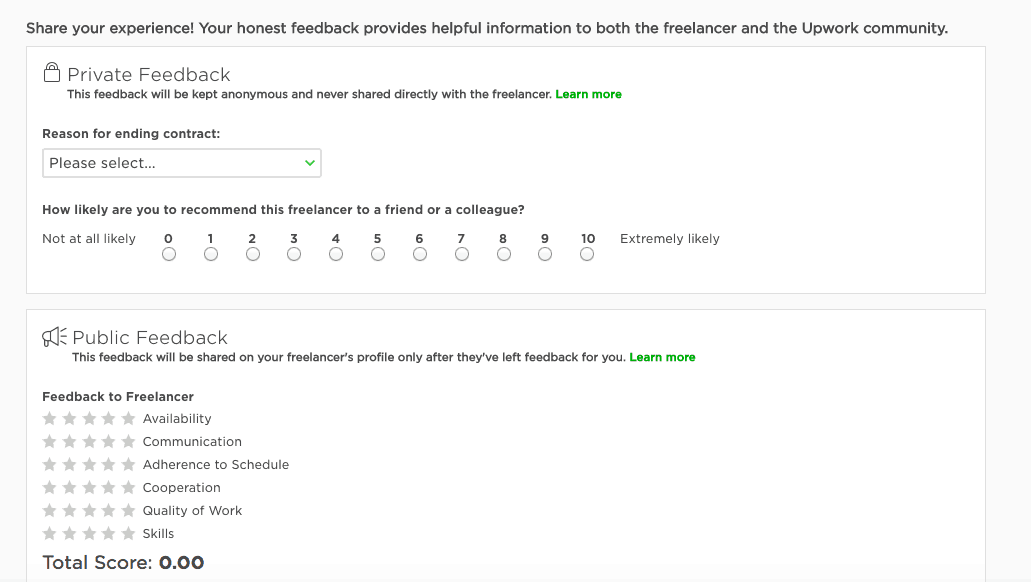 Your Job Success Score (JSS)
This is something that I wish I had known more about at the beginning of my experience on Upwork. A JSS is assigned to each freelancer and updated about every two weeks.
Unfortunately, Upwork is not particularly transparent about how this score is calculated
. For example, your score can apparently be lowered if a job is left open for too long without work being done, or if you apply for jobs outside of your indicated categories. However,
maintaining a high score and being a "top rated" freelancer has a number of perks
, such as having a badge displayed on your profile page or being able to respond to client feedback, so it's really worth it to do all you can to keep this score high.
Set Up a Payment Schedule
Upwork is extremely flexible when it comes to payment schedules. You get to decide whether you'd like an automatic payment sent to your account quarterly, monthly, twice monthly, or weekly. This is great if you want to tuck your money away and not touch it for a while. You can also elect to "get paid now" at any time, use a wire transfer or a third-party payment provider. Completely up to you!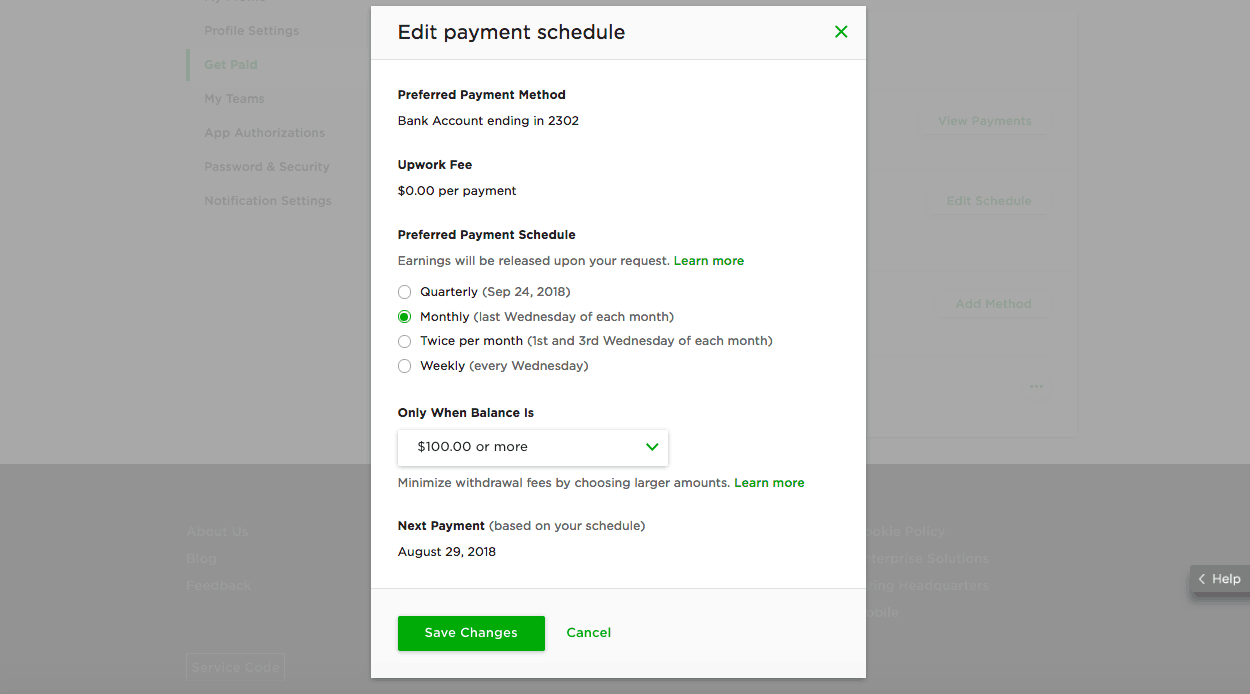 Getting to Work on Upwork 
Upwork
 is a fantastic resource for both clients and freelancers. I have personally been very impressed by both the quality of the jobs and the talent on the platform. At this point, it is my primary source of income as a full-time freelancer. And while I've only been on the platform for about six months, I've already established a number of long-term professional relationships. Mind you, it's not all great opportunities; there are definitely some clients out there who are just looking to get as much work for as little cost as possible. These are not the jobs that you want. That said, you get out what you put in. If you want to work on great projects with companies that care about their talent, you will need to invest significant time and effort to make sure that your profile and applications are as solid as possible. By doing this, you can certainly have a fruitful career using this platform.