Going with GetResponse means you have limited email analytics, marketing integrations, and customer relationship management (CRM) syncing
. Certain functions, such as understanding how your emails perform, linking your marketing tools, and connecting with customers effectively, can be frustrating. As a digital agency owner, I spend tons of time testing and recommending email marketing services for my clients. After all, I know they can't risk wasting time or money on a platform that doesn't deliver results.
To help you make the right decision for your business, I've listed my suggestions below.
Check out my recommendations for the top GetResponse alternatives and find the best one for your business.
Short on Time? These Are the Best Alternatives to GetResponse in 2023:
Sendinblue – Serves as a complete marketing suite with chatbots, retargeting ads, SMS marketing, and more
Benchmark –­ Offers more than 1,500 marketing integrations
ActiveCampaign – Includes next-level machine learning technology
What I Look For in the Best Alternatives to GetResponse
When testing out substitutes for GetResponse email marketing, I focused on features like:
Contact management – GetResponse does allow you to upload, manage, and segment contacts, but it doesn't sync with other CRM tools. I looked for options that work seamlessly with a range of external CRMs.
Advanced analytics – GetResponse has built-in analytics, but they stick to the basics, with features like open rates, social sharing statistics, and return on investment (ROI) data. I sought out email services with reports that offer more insights, such as subscriber data and automation or optimization suggestions.
Marketing integrations – The GetResponse API lets you link the platform to many other apps. Yet it doesn't have many built-in integrations. I prioritized options that integrate with e-commerce, search engine marketing, and other important apps.
A complete marketing suite – In addition to email marketing, GetResponse offers landing pages and e-commerce options. Still, it doesn't have enough to serve as a complete marketing suite. I searched for alternatives providing additional options, such as social media scheduling, SMS marketing, and chatbots.
Free or cheaper plans – GetResponse doesn't have a free plan, which can be a deal-breaker for small businesses with limited budgets. I looked for email marketing services offering less expensive or no-cost options.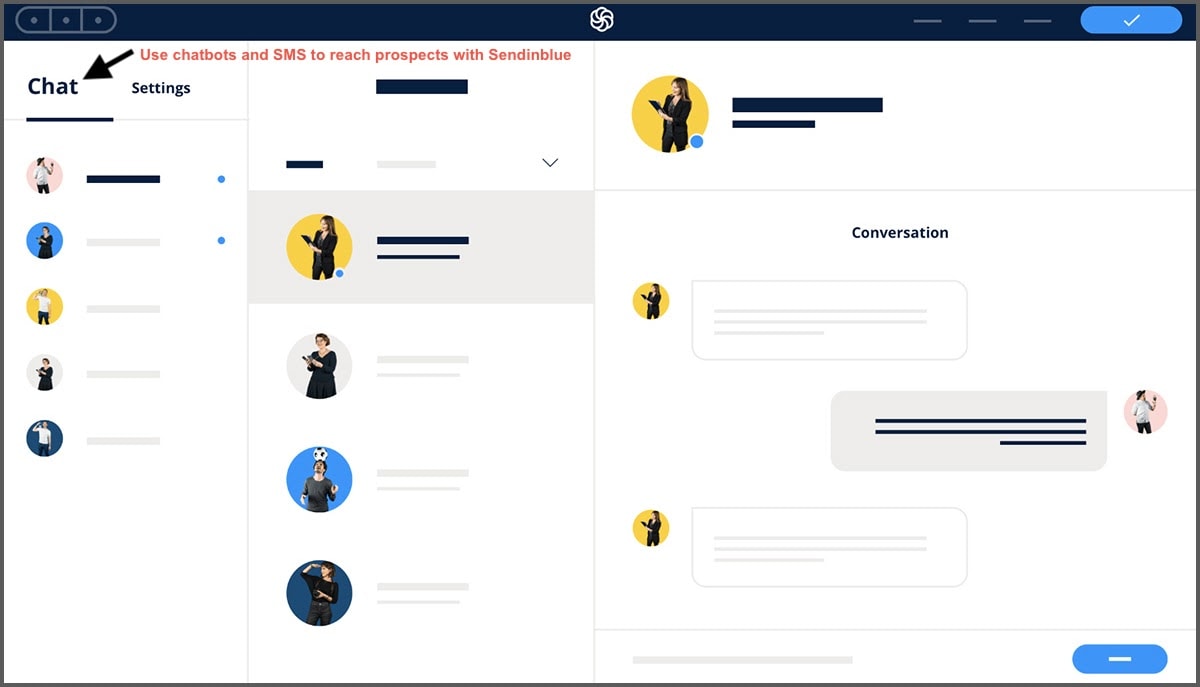 Sendinblue has four different plans and several work well for small teams or solopreneurs.
 The less expensive plans focus on basic email marketing, while the Premium and Enterprise levels have landing pages, marketing automation, Facebook Ads, and more. When it comes to creating emails,
 Sendinblue has one of the most pleasant interfaces I've found
– it scored impressively high for ease of use in our
Sendinblue review
. The drag-and-drop builder is simple and straightforward, and
the personalization options let me add dynamic content that's relevant to each subscriber.
Sendinblue also offers customer segmentation and email workflows that are easier to set up than the GetResponse autofunnel. Along with solid email marketing options,
Sendinblue has solutions like Facebook Ads, chatbots, and text messages.
I like how easily I can plan different aspects of my clients' marketing strategies with one tool.
Sendinblue Features
Marketing automation workflows: With the GetResponse autoresponder, I can design decent workflows. But I find Sendinblue's automation options much better for visualizing workflows. Sendinblue also lets me run A/B tests to find the top-performing result.
Built-in CRM: Like GetResponse, Sendinblue has a built-in CRM. But Sendinblue's CRM is much more helpful when I want to follow up with subscribers. With Sendinblue, I can create tasks in the CRM to maximize the value of each subscriber.
SMS and chatbot solutions: Many of my clients want to reach customers via text messages, chatbots, and email marketing. Since Sendinblue offers all three, I only need one dashboard. GetResponse doesn't have SMS marketing or chatbots, but it does have integrations that let me tackle these tasks.
Retargeting ads: After customers visit my clients' websites, remarketing ads can encourage them to make a purchase. I like how easy Sendinblue makes it to retarget website visitors and email subscribers with display ads. GetResponse only offers Facebook and Instagram ads, which have a smaller reach.
Free version: Sendinblue has one of my favorite free account options. It includes unlimited subscribers and up to 300 daily emails, so it helps me get clients started with email marketing. Even though this version has limited features, it's better than GetResponse, which has no free plan.
| | |
| --- | --- |
| Free plan available? | Yes – the free plan gives you unlimited subscribers and up to 300 emails a day |
| Built-in marketing tools | Email marketing, SMS, chatbots, Facebook Ads, landing pages |
| Marketing integrations | 100+ |
| Customer support channels | Email and phone support |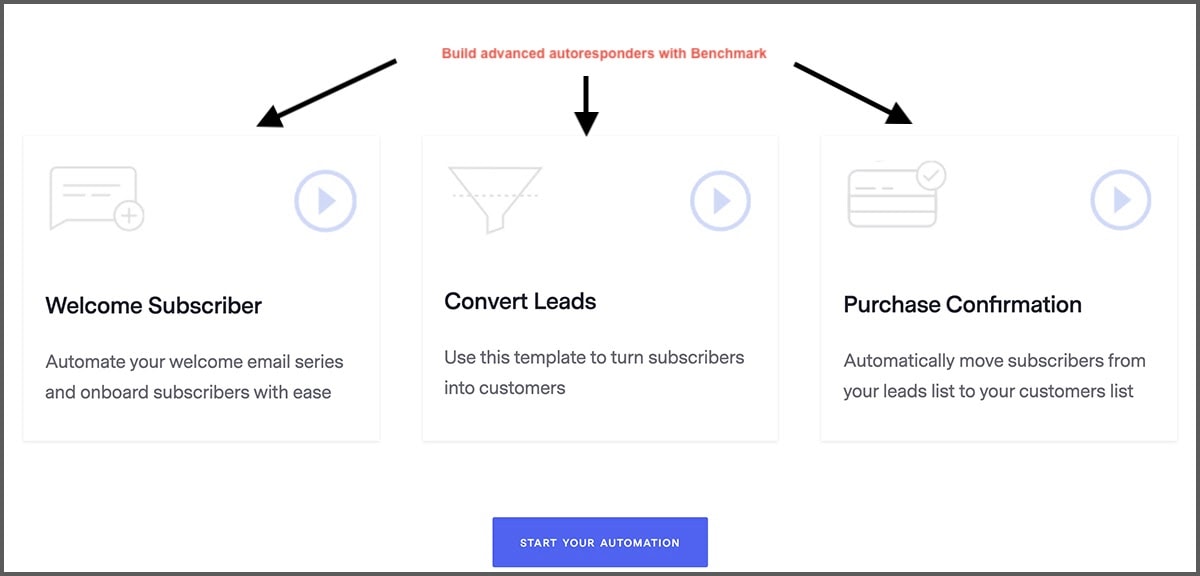 At first glance, Benchmark might look overly basic. But beyond the streamlined interface lies
a full range of email marketing tools
. For email newsletters, I appreciate that
Benchmark has more than 220 templates and several drag-and-drop layouts to choose from.
 These designs also fit seamlessly into automated email series, which drive most of my clients' businesses. Although many platforms have needlessly complicated drip email setups,
Benchmark's autoresponder interface is surprisingly powerful yet still easy to use.
In addition to email marketing, Benchmark also offers landing pages and sign-up forms. Like its email templates,
Benchmark's landing pages use a drag-and-drop builder, which makes this feature easy to use, even for an amateur designer like me.
Benchmark Features
Free accounts: Benchmark has a free plan, but the features are limited. With this account, you can send up to 250 emails each month and access certain automation features. GetResponse doesn't offer a free account.
Advanced reports: Benchmark reports have all the basics, like open rates and click-through rates (CTRs). I like that it also includes social shares, giving me a big-picture view of my marketing efforts. Unlike GetResponse, Benchmark also shows social likes, which help me understand the true reach of my emails.
Impressive autoresponders: As a visual learner, I appreciate Benchmark's autoresponder setup. You can easily add triggers, emails, and follow-ups to the right segments. In contrast, I find the GetResponse autoresponder setup less intuitive.
More than 1,500 integrations: Although I can use the GetResponse API to connect to more applications, it only has about 120 integrations. In contrast, Benchmark boasts more than 1,500 integrations. From Google and Facebook to Shopify and Zapier, Benchmark works with almost any marketing software I use.
| | |
| --- | --- |
| Free plan available? | Yes – the free plan allows you to send up to 250 emails per month |
| Built-in marketing tools | Email marketing and landing pages |
| Marketing integrations | 1,500+ |
| Customer support channels | Online, chat, and phone support |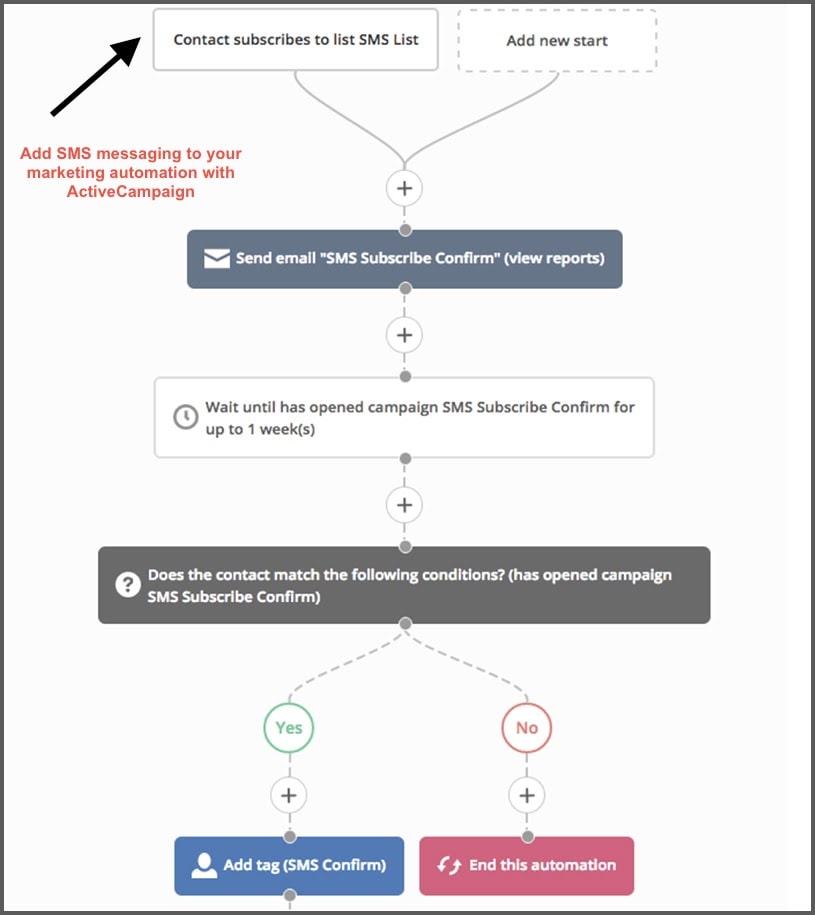 If you're used to other email marketing services, you might find ActiveCampaign a little intimidating.
 This platform has some of the most advanced technology of any email provider I've tried
. But ActiveCampaign is relatively straightforward to set up, thanks to its user-friendly interface. Because my clients tend to have complex marketing automations, I appreciate that ActiveCampaign lets me view all of my funnels on one screen. That way, I get a better idea of how everything connects and I can optimize the whole setup. Plus, you can get automation on
all ActiveCampaign's plans
, starting from only
$
29.00
per month. ActiveCampaign has all the email marketing tools my clients need, such as autoresponders and subscription forms. But
for me, features like chatbots, SMS marketing, and machine learning (ML) set ActiveCampaign apart
. Since it offers so much, I can handle many of my clients' needs with one platform. It's these add-ons and extras that meant it scored so highly in our
ActiveCampaign review
.
ActiveCampaign Features
Cutting-edge ML software: With ActiveCampaign's ML features, I feel confident I'm sending the right emails at the optimal times. Since GetResponse doesn't have ML, it sometimes leaves me guessing.
Customer attribution: I often have to prove which activities – such as email, social, or SMS – deliver the most value. ActiveCampaign has a helpful attribution feature that tells me which touchpoints have the biggest impact. GetResponse has attribution integrations but no built-in features.
Chatbot marketing: When clients want to connect with customers who visit their websites, I often recommend chatbots, a feature that GetResponse doesn't have. With ActiveCampaign, I can set up site messages that reach customers at the ideal time.
SMS marketing: With text messaging campaigns, I can help clients reach subscribers on their smartphones. Unlike GetResponse, ActiveCampaign lets me include SMS messaging in my automated workflows.
Wide range of integrations: Although ActiveCampaign has a lot of features, it also has more than 300 marketing integrations. It plugs right in to Salesforce, Typeform, Google Analytics, and other apps my clients often use. This platform has more than twice the integrations GetResponse offers.
| | |
| --- | --- |
| Free plan available? | No |
| Built-in marketing tools | Email marketing, SMS, chatbots, social media |
| Marketing integrations | 300+ |
| Customer support channels | Email, chat, and phone support |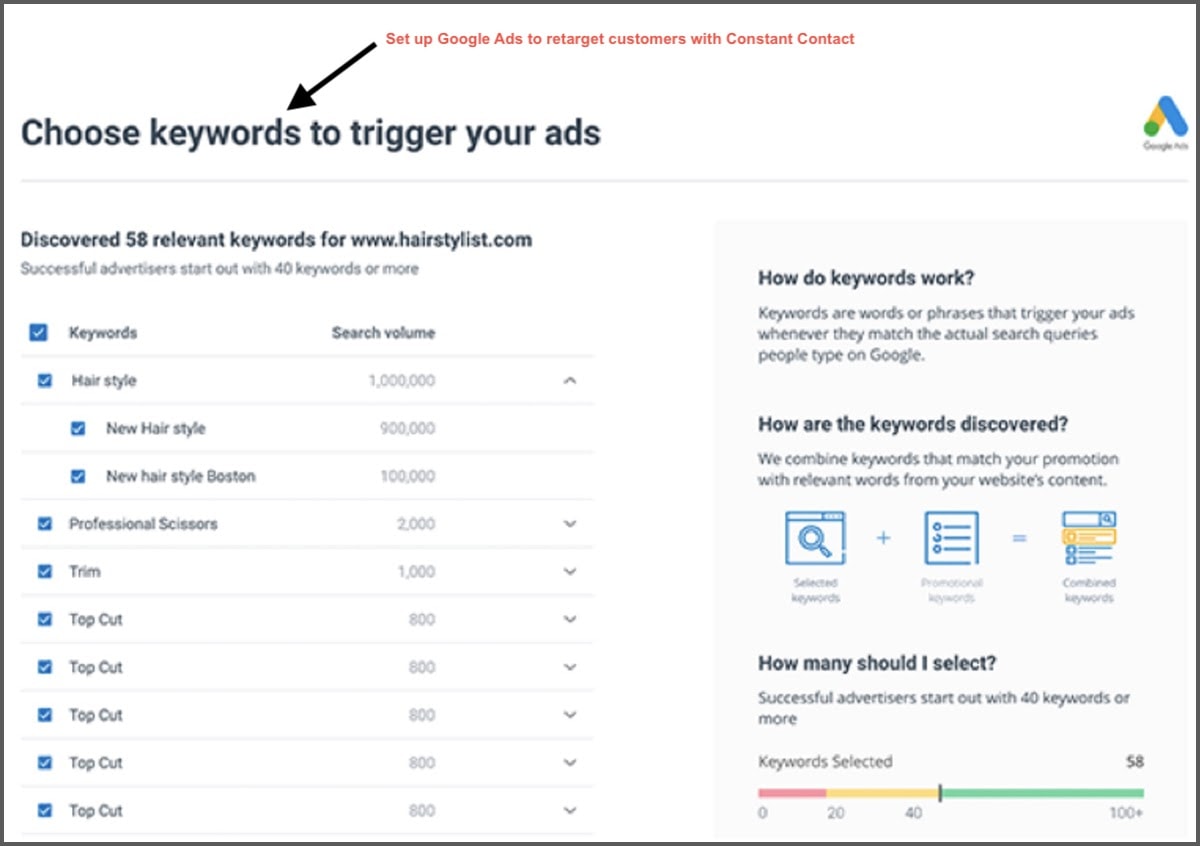 When my clients need a complete suite of marketing tools, Constant Contact is one of my top picks, and
one of our top rated email marketing services here
. Along with email,
Constant Contact also has a website builder, landing pages, social media marketing, and Facebook and Google Ads.
Since many of my clients sell products and services online,
 I like that Constant Contact streamlines e-commerce.
 I especially like that it handles downloads for digital products and inventory management for physical products. Despite its large toolset, I wouldn't recommend Constant Contact if you just need email marketing. Th
e basic plan
 includes standard emails and templates only, and you have to upgrade for automations. That means you could end up paying much more for all the email features you need. If you want the full marketing suite, I'd recommend upgrading to the
Email Plus plan
.
Constant Contact Features
Dynamic content: When I use dynamic content, I can make sure every email is as relevant as possible. GetResponse allows for some dynamic content, yet I find Constant Contact's visual interface makes it much easier to personalize emails.
Simple website builder: While GetResponse has landing pages, it doesn't let you create a complete website. In contrast, Constant Contact has a website builder that lets me increase clients' visibility online. I like that Constant Contact uses artificial intelligence (AI) so I can set up simple websites quickly.
Social media marketing: Although GetResponse links to social media tools, it doesn't have built-in management. In comparison, Constant Contact lets me post and schedule social media content and respond to messages and comments. That means I can manage email and social media together.
Google Ads: GetResponse offers Facebook Ads, but many of my clients also need search engine marketing (SEM). With Constant Contact, I can create Google Ads and save time with automated bidding and keyword targeting.
Specialized landing pages: GetResponse has landing pages, but the templates and designs aren't as specialized as Constant Contact's offering. I especially like Constant Contact's fundraising landing pages, which let my clients collect donations.
| | |
| --- | --- |
| Free plan available? | No, but there is a 60-day free trial |
| Built-in marketing tools | Email marketing, social media, social ads, Google Ads, website builder |
| Marketing integrations | 500+ |
| Customer support channels | Chat and phone support |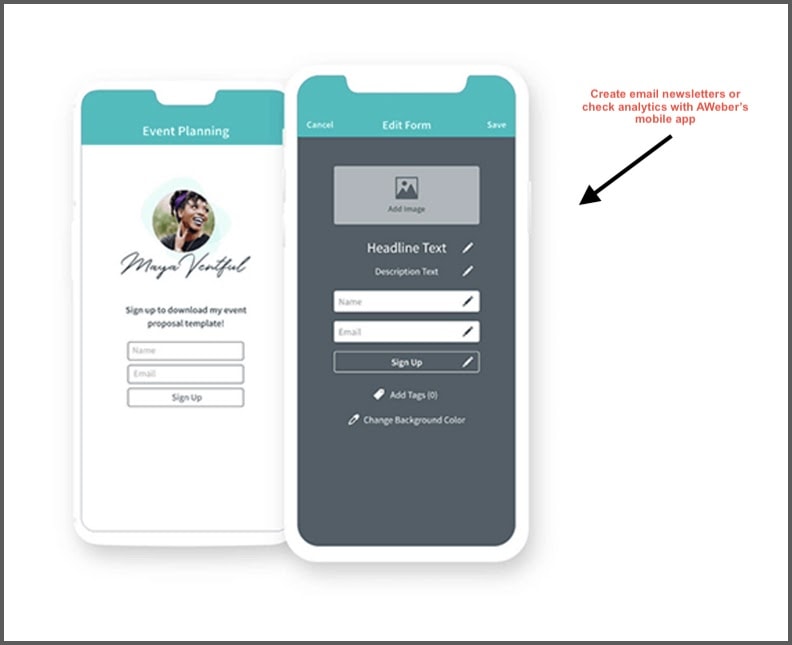 Unlike certain email providers, AWeber does not provide a comprehensive marketing suite. Instead, it primarily concentrates on email marketing and the creation of landing pages. Since I often work with clients to build their email lists from scratch, I like that AWeber lets them get started for free. You can access most features from a
free account
 as long as you have fewer than 500 subscribers.
I also appreciate AWeber's focus on mobile apps because it lets me work from anywhere
. I can create signup forms or curate content for newsletters with my smartphone, which helps save time.
AWeber Features
Mobile reports: Since I'm not always at my desk, I appreciate AWeber's mobile reports. GetResponse doesn't have mobile reports, making it hard for me to check results when I'm on the go.
Hundreds of marketing integrations: AWeber has more than 500 marketing integrations, which is several times the number GetResponse offers. AWeber supports everything from CRM and e-commerce to landing page and membership apps. For the most part, this platform has all the integrations my clients need to market their businesses.
Affordable landing page options: AWeber offers unlimited landing pages, even for free accounts, so I can help clients attract subscribers and convert customers. The easy-to-use templates and stock images are a nice bonus. GetResponse has landing pages, but it doesn't offer anything close to this level for free.
Unlimited users: Some of my clients have large marketing teams, so they need several logins. Since AWeber allows unlimited users, I can set up large clients and keep accounts secure. In contrast, GetResponse allows up to five users per account.
24/7 live support: I can usually troubleshoot email marketing problems, but when I can't figure out the issue, I appreciate that AWeber has 24/7 support via phone, email, or chat – it's something we were really impressed with in our AWeber review too. GetResponse has chat and email support, which works fine unless I need to talk with someone directly.
| | |
| --- | --- |
| Free plan available? | Yes – AWeber's free plan gives you 500 subscribers and up to 3,000 emails a month |
| Built-in marketing tools | Email marketing and landing pages |
| Marketing integrations | 500+ |
| Customer support channels | 24/7 live email, chat, and phone support |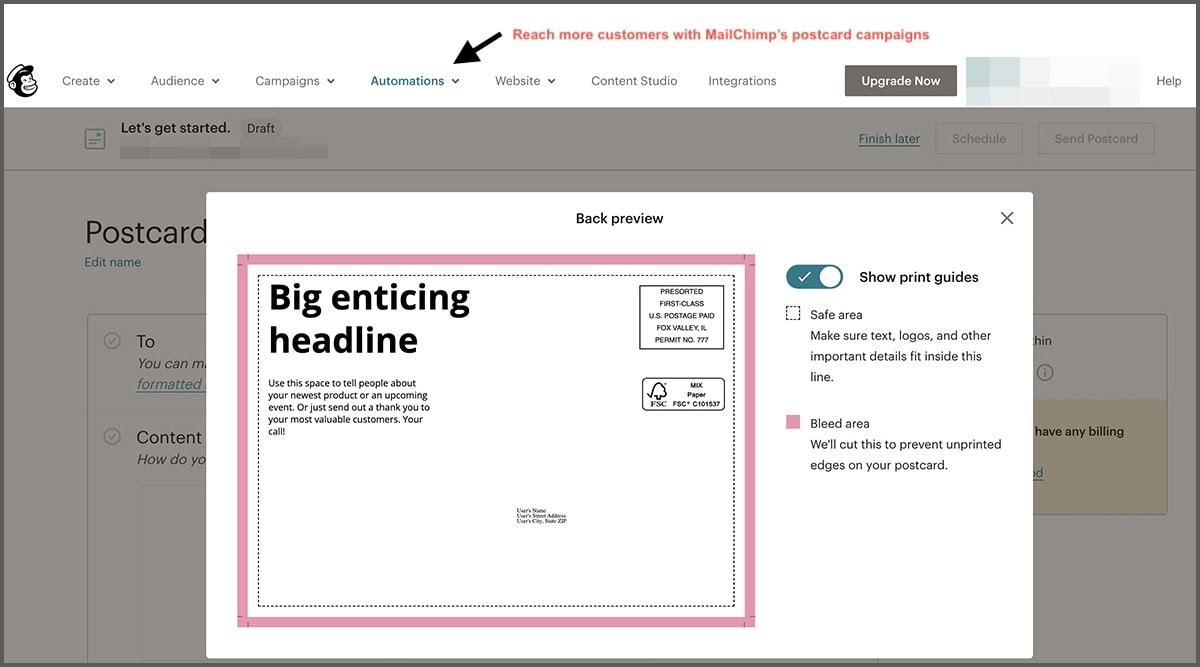 Many alternatives to GetResponse email marketing offer free accounts. Yet
MailChimp offers the best free service I've found.
 It's true that the free version of MailChimp doesn't have all automations, templates, or retargeting ads, but it's a great place to get started. I also find MailChimp intuitive to use, and the platform offers helpful recommendations.
 In my experience, MailChimp works well for beginners who don't necessarily need to set up complex marketing automations.
When I need more built-in tools, I appreciate that MailChimp has a
whole host of useful features
, including a website builder, social media marketing, and direct mail. You can even buy domains and publish websites with MailChimp, making this platform a full-service marketing tool.
MailChimp Features
Free option: With a free account, you can sign up as many as 2,000 subscribers. You can also do basic segmentation, create landing pages, and set up social ads. I often recommend MailChimp's free option to my clients, especially since there's no GetResponse free plan.
Customer lifetime value (CLV): MailChimp automatically estimates CLV and purchase likelihood when you connect your e-commerce store. This feature helps me segment subscribers and calculate return on investment (ROI) for my clients. GetResponse requires more input and customization, which can take more time.
Direct mail: Most email marketing providers – including GetResponse – focus exclusively on digital marketing. But MailChimp has a postcard option that lets you send mail to customers. Since many clients get great results with direct mail, I like being able to provide this service easily with MailChimp.
Marketing calendar: MailChimp's marketing calendar lets you organize email, social media promotions, and ads so you can see your whole strategy at once. I find this feature helpful when I manage more than just email marketing for clients. GetResponse doesn't offer anything like this.
Smart recommendations: As an experienced email marketer, I'm always open to ideas that can help me improve results. MailChimp's smart recommendations feature offers great ideas that go beyond what GetResponse provides to boost performance.
| | |
| --- | --- |
| Free plan available? | Yes – Mailchimp's free plan gives you up to 2,00 subscribers |
| Built-in marketing tools | Email marketing, social media, landing pages, website builder, Facebook Ads, postcards |
| Marketing integrations | 250+ |
| Customer support channels | 24/7 |
When GetResponse Isn't For You …
Starting Price
Standout Feature
Best For
Benchmark

$

0

More than 1,500 app integrations
Marketers who need to integrate a wide range of tools
Sendinblue

$

0

SMS and chatbot marketing
Small teams and freelancers
ActiveCampaign

$

29.00

Machine learning
Advanced marketers
Constant Contact

$

12.00

Social media marketing and PPC
Marketers who want it all
AWeber

$

0

Mobile apps
Large email marketing teams
MailChimp

$

13.00

Direct mail postcards
Beginners who want a lot of tools
FAQ
1. What are the best free alternatives to GetResponse?
In my opinion, Sendinblue and AWeber are the best free email marketing options, and they're both on our list of the best email marketing services in 2023. With AWeber, you can send up to 3,000 emails per month for free, forever, with its free plan, and you can do the same with Sendinblue's free plan, which allows you to have unlimited contacts.
2. What is GetResponse's refund policy?
Unfortunately, GetResponse doesn't offer refunds. If you sign up for a monthly plan but you cancel before the month ends, you will have to pay for the entire period. The same policy applies if you purchase an annual plan. Once you've got your refund, you might want to check out the alternatives on this list like Sendinblue and Benchmark.
3. What alternatives to PHP does GetResponse offer?
In addition to PHP, the GetResponse API is also available in Java and Javascript. Whichever language you're looking for, although GetResponse is one of the most popular email platforms on the market, it's far from your only option. Start by checking out the options on this list, but in short, if you're looking for a next-level solution, ActiveCampaign is the most advanced option in my opinion. All plans include email newsletters and marketing automation. ActiveCampaign's plus and professional plans help you optimize your marketing funnel and add features like chatbots and SMS marketing.
4. How much does GetResponse cost?
GetResponse pricing depends on the plan you choose and the size of your list. For example, the Basic plan starts at

$

0

per month for 1,000 subscribers. If you opt for the Professional plan and you have 100,000 subscribers, your GetResponse pricing could be more than $550 per month. If you're looking to save money on your email marketing plan, make sure you check out our coupons page first.