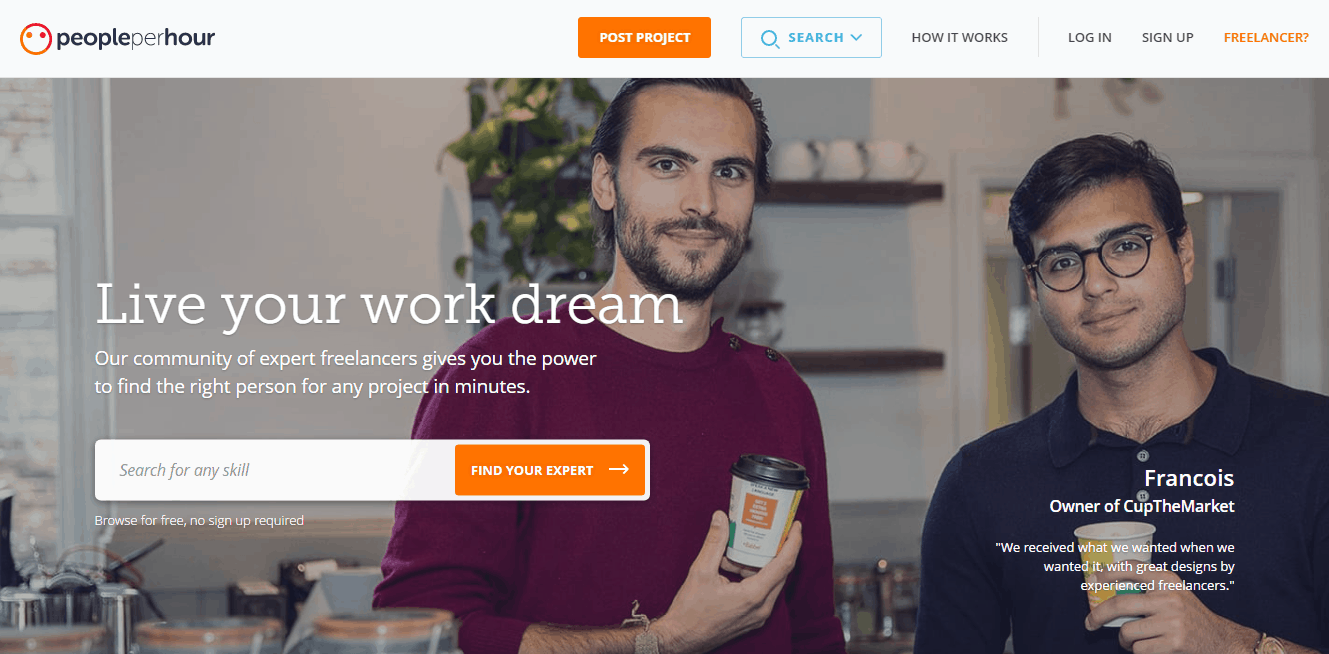 Not Just an Internet-Based Freelance Site
What distinguishes PeoplePerHour from other freelance sites, is its location-based targeting feature. This allows buyers to hire people from their local area for specific regional-related jobs; likewise, freelancers looking for local work may address buyers in their area. It is worth it to note that you can also do location-based targeting on Fiverr as well. We recommend Fiverr – you can hire a professional freelancer for as little as $5.
PeoplePerHour showcases an immense platform for freelancers, seeking to work online. But as is customary in this day and age, they have not succeeded in avoiding the spam problem that is rampant in many other freelance sites. This negatively affects both buyers and sellers. Another cool feature is that you can manage a freelancer, as well as an employer account under one roof. Simply switch between the two, registering a single credit card! This is a brilliant time saving feature that benefits both parties.
Why Choose PeoplePerHour?
Access to freelancers worldwide, as well as workers in your area
Manage one account for both selling and buying services
Payments are secured through Escrow and PeoplePerHour Wallet system
Wondering if PeoplePerHour is the best option for getting your project off the ground?
Let us tell you about it!
Newer Than Most But Just as Good
Established in 2007, PeoplePerHour showcases jobs and employment opportunities to people around the globe. Despite its buyers' option to hire freelancers based on location, you may choose to hire freelancers from anywhere. With more than 330,000 freelancers on this platform, people can get hired for an assignment or offer their services through promotional posts. Many candidates, particularly from India and China post jobs for a very low fee in order to secure assignment, so competition is fierce for freelancers.
Despite the demographic variety of the PeoplePerHour's population, most job postings and mini-portfolios are written in good English, a fact that has become increasingly rare these days. While abiding by the site's rules, some freelancers advertise self-promoting posts, that hinder the overall impression of the site. However, PeoplePerHour does not seem to discourage this shameless competition.
The quality of services provided through PeoplePerHour varies greatly, depending on the kind of assignment you are seeking to outsource. PeoplePerHour's standing rates between the cheap and easily available offers from sites like Fiverr and the outsourcing giants like Guru or UpWork. Before hiring through this site you should consider if it is the right place for you. One thing that really makes PeoplePerHour stand out, is that unlike other similar sites that strictly prohibit any direct communication between the employer and the contractor, PeoplePerHour encourages personal contact. The range of jobs and professionals available through this site vary from the standard IT, multimedia, writing and design categories to some totally bizarre things like a job offer for people who own grinding machines.