Weebly or WordPress
? That is the question. Great job narrowing down your options to these two popular builders. Now, you just have to find out which is right for you. You can build a nice-looking website with either builder — no coding needed! But of course, you want to learn about their pros and cons so you can
choose the one that can take your website from good to great
. It's also important to know which option you can rely on in the long-term. You definitely don't want to end up paying for a builder that can't grow with your website. To save you hours of research, I've done the hard work for you. I've compared
Weebly
and
WordPress
 on everything you need to know about:
Ease of use. Is the platform suitable for beginners, and how easy is it to learn the more advanced features?
Support. If you encounter technical problems, how easy is it to get help?
Price and ongoing costs. How much will it really cost to get your website up and running, and are there additional costs to consider?
Features. What editing tools can you use to customize your website, and what other features can you add to make it even more impressive?
E-commerce: How easy is it to create an online store? Are the e-commerce capabilities powerful enough?
Weebly vs. WordPress: A Quick Overview
Weebly is great if you want to build a small- or medium-sized website.
The editor has a drag-and-drop interface that's 100% beginner-friendly
. You can get started with the
free plan
, but you'll need to upgrade to get the most out of the platform. WordPress, on the other hand, isn't as beginner-friendly.
There's a pretty steep learning curve
, whether you choose the hosted WordPress.com version, or the self-hosted WordPress.org platform. In this comparison, I'll focus on WordPress.com.
Round 1: Drag and Drop or Do Everything Yourself?
Many
Weebly reviewers
consider Weebly's drag-and-drop interface to be one of the easiest — if not the easiest — website editors around. You can easily move content around on your pages, and instantly see how they look. When you sign up with Weebly,
a handy wizard will show you what each of the tools does, too
. In WordPress, you can't just drag and drop. (We'll talk about this more in Round 4.) You can, however, install plugins (e.g.,
Elementor
or WPBakery) that will add a kind of drag-and-drop interface, called a "frontend editor."
Learning to use WordPress can take a while, because its dashboard is fairly complex
. Finding settings isn't always easy, and you may have to search around a bit to access your pages and blog posts. Additionally, WordPress' dashboard isn't very intuitive, and compared with Weebly's dashboard, it's quite cluttered. It's not always obvious where to find the function you want to use — especially when you use plugins. Some plugins, for example, have their own section on the left-hand side of the dashboard, but others are grouped under the settings section.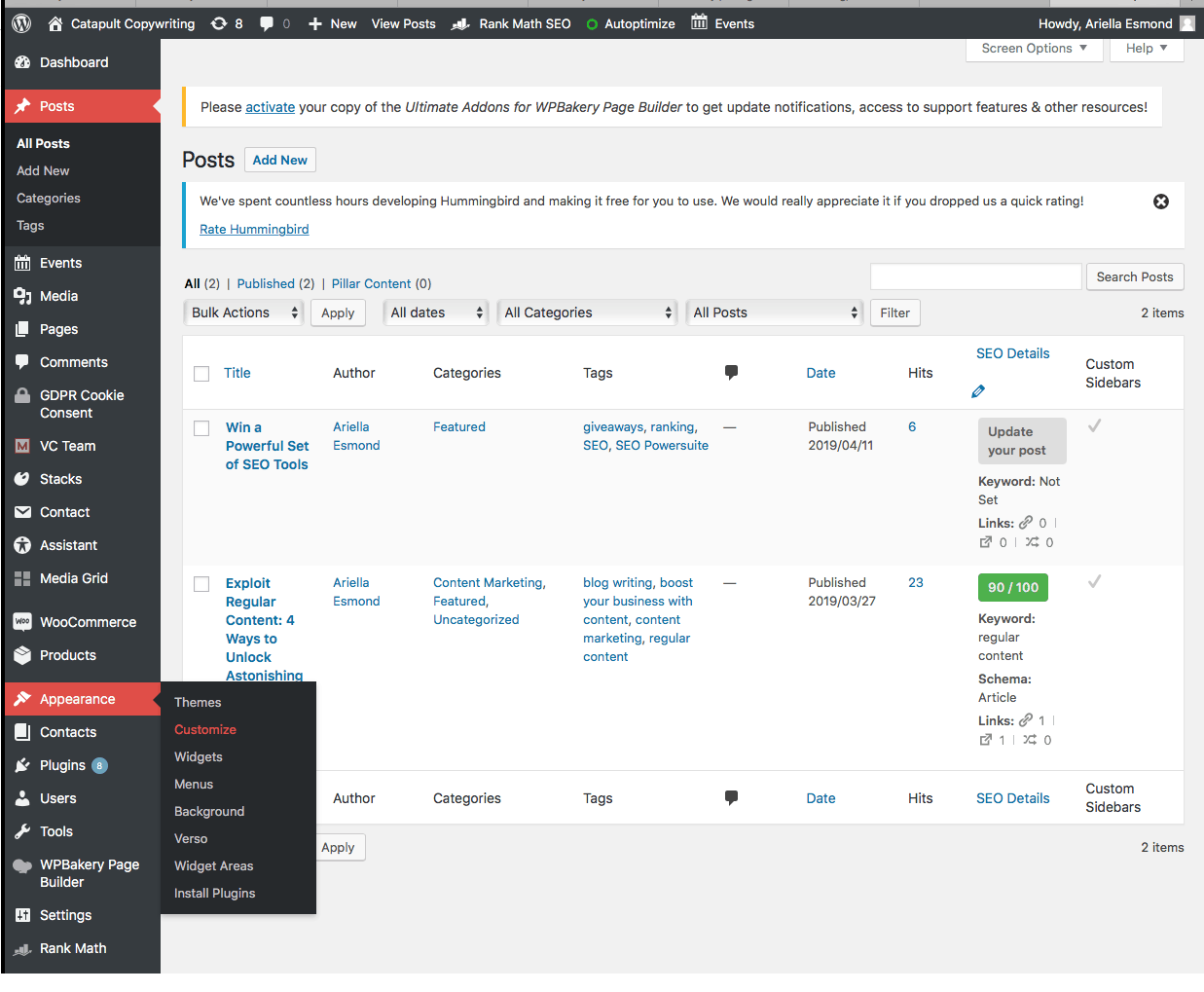 Weebly's editing dashboard, by contrast, is much easier to use and navigate through: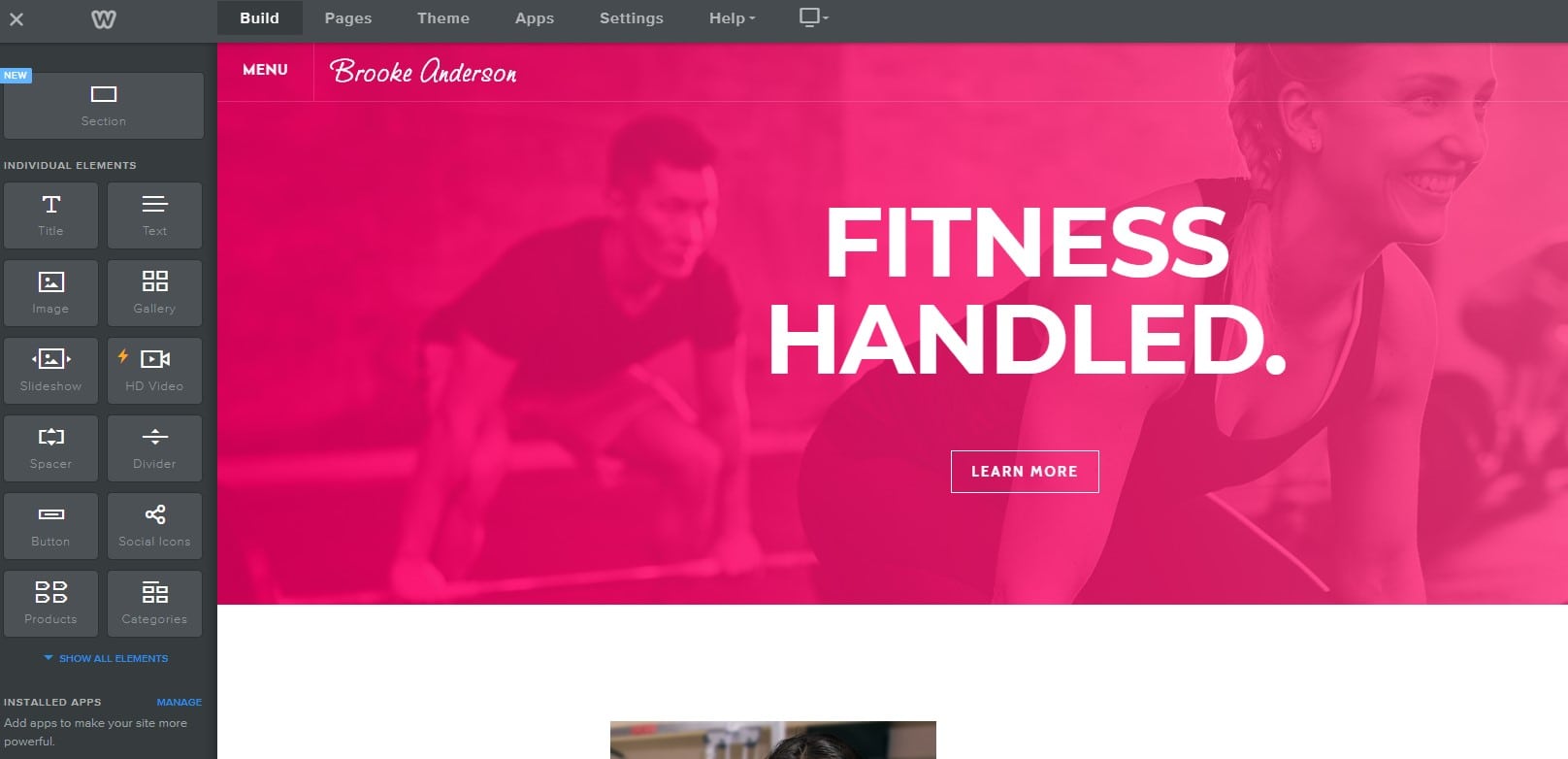 The fact that Weebly is simple doesn't mean it doesn't offer more advanced features.
With paid plans, you can add custom code and scripts to boost the functionality of your website
. For example, you could use the code block to add the necessary code to embed a video from Vimeo, or to add a Twitter feed widget, or to add a Google Calendar feature. If you need help implementing any of these codes,
Weebly's knowledge base is a great resource
. With WordPress.com, you're limited in that you don't really have access to more advanced features like adding code and scripts; but with WordPress.org, you have the option to directly edit CSS files and use HTML code in your content. There are online guides for these features as well.
And the Winner Is:
Weebly
. When it comes to ease of use, WordPress doesn't even come close.
If you're a beginner, you'll love how simple Weebly's interface is
. Even if you've designed websites in the past, you'll enjoy the straightforward simplicity that Weebly offers. And when you're ready to go beyond the basics by adding code and scripts to your website, Weebly's step-by-step guides are very helpful. That's not to say that WordPress isn't for you, though. WordPress.com has a lot of limitations, and it's more suited for blogging. But self-hosted WordPress has unlimited possibilities, if you have the time to learn how to use the platform effectively.
Round 2: What Happens When You Run into Trouble?
Weebly support is amazing. If you encounter issues with your website, not only can you access an excellent knowledge base with step-by-step solutions for common problems, but you can also contact Weebly's customer support team.
There's 24/7 email support
, and if you're a paid plan subscriber, your emails will be prioritized. During U.S. business hours, you can also use live chat or phone support. Ultimately, what you need to know is that WordPress doesn't actually provide support per se for the self-hosted platform. You can always post your questions on the platform's community forum. Keep in mind that this isn't the same as dedicated customer support. Any WordPress user can answer your question, and
there's no guarantee that the response will be accurate
, or even that your question will be answered at all. If you use WordPress.com and sign up for the Personal plan or higher, you can access email and live chat support.
And the Winner Is:
Weebly
. The range of support options that Weebly offers is far superior to WordPress' community support forum. This is particularly important if you're a beginner or if you're not confident about your technical skills. If you're more experienced in website building, then the lack of support with WordPress is less of a problem. But keep in mind that with WordPress in general, particularly self-hosted WordPress, there are more things that can potentially go wrong (such as conflicts between plugins).
Round 3: How Much Is Your Website Really Going to Cost?
Yes, you can build your website for free. But if you want a website that looks professional, and if you want to use your own custom domain name, there will be costs involved.
How much you pay will depend on what you need your website to do
.
Weebly pricing
is really clear. You can choose from Starter, Pro, Business, and Business Plus plans. All these plans include a free domain name when you sign up for a minimum of one year. There's also the Connect Domain plan, but this doesn't remove the ads on your website, so its value is limited.
Your total Weebly cost depends on the length of your initial plan
. It's ultimately more expensive if you subscribe to a six-month plan than if you subscribe to a two-year plan. The longer of a period you commit to initially, the bigger the discount you get. WordPress.com's paid plans cost similar to Weebly's. But with WordPress.com, you need to be on the Business plan to access features like plugins — whereas with Weebly, you can install free (and paid) apps no matter what plan you're on.
This means that WordPress.com is relatively more expensive than Weebly
.
And the Winner Is:
It's a tie! If you're a beginner looking for a platform that's easier to use, and if you value having customer support over the lowest prices, then
Weebly is the best hosted solution for you.
You don't need to upgrade to the priciest plan to take advantage of great features such as Weebly apps and e-commerce features.
Round 4: Fully Featured or Feature-Lacking?
Weebly has a great range of features you can access directly in the editor:
Images and galleries
Slideshows
HD video
Buttons
Social icons
Product boxes (if you have a store)
Maps
Code
Search box
Block quotes
Newsletter signup forms
Contact forms
Surveys
YouTube videos
Audio (MP3 files only)
Cookie banners
Files and Scribd documents
Google Adsense ad blocks
And if that's not enough for you, you can add other features to your website by using Weebly apps. There are 350+ apps available, and over 50 of those are free!
To see the available apps without having to sign up, go to the Weebly homepage, scroll all the way down to the bottom, and click the App Center link.
You can filter them using several categories: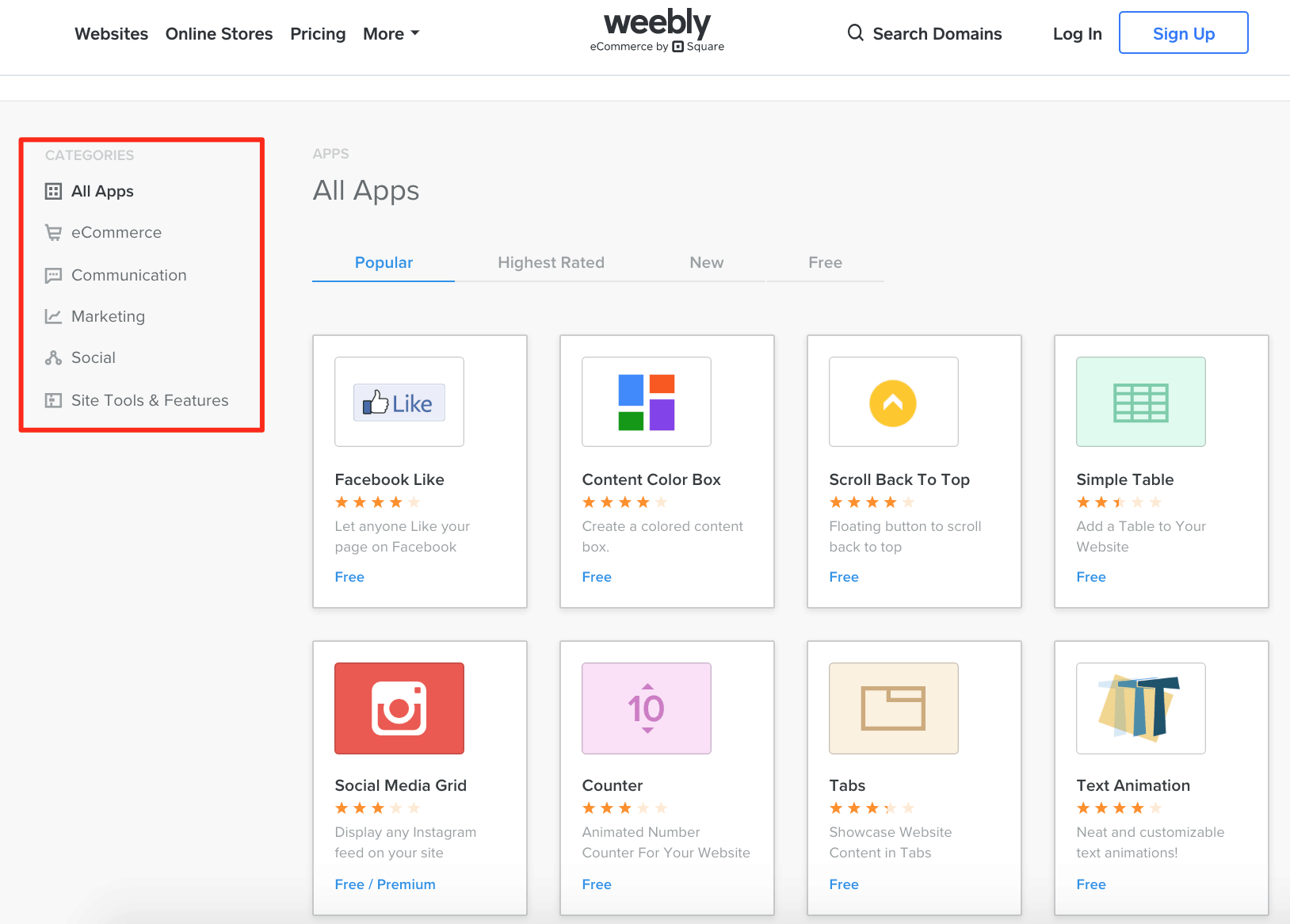 Apps you can install to add extra site tools include content color boxes, scroll-to-top options, tables, tabs, accordions, and popup boxes. In the e-commerce category, you can add price charts, digital downloads, PayPal marketing, DonorBox (to accept donations) and store analytics. Other examples of apps include Facebook chat, LiveAgent, and Social Boost.
To improve your website's Google ranking, there are also apps like Site Booster and Traffic Booster that can help
. You can also improve Weebly SEO by using the page settings to add meta descriptions, and this doesn't need an app. WordPress doesn't have as many native features as Weebly. In fact, the editor is more basic, even with the added features of its new Gutenberg editor. Gutenberg uses content blocks, such as:
Images and galleries
Lists
Quotes
Code/Custom HTML
Tables
Buttons
YouTube videos
Contact Info
Maps
Forms
Subscriptions
Slideshows
These are available whether you're using hosted or self-hosted WordPress. Where WordPress races ahead of Weebly, however, is in its ability to add thousands of free plugins. Remember, though, that to add plugins to a hosted (WordPress.com) website, you'll need to be on at least the Business plan.
There are over 56,000 free plugins available in the WordPress repository, with thousands more you can purchase from websites like TemplateMonster and ThemeForest.
You can add powerful plugins like
Yoast SEO
to boost your Google rankings,
WooCommerce
 to sell online, and Page Builder by SiteOrigin to enhance the editor with widgets.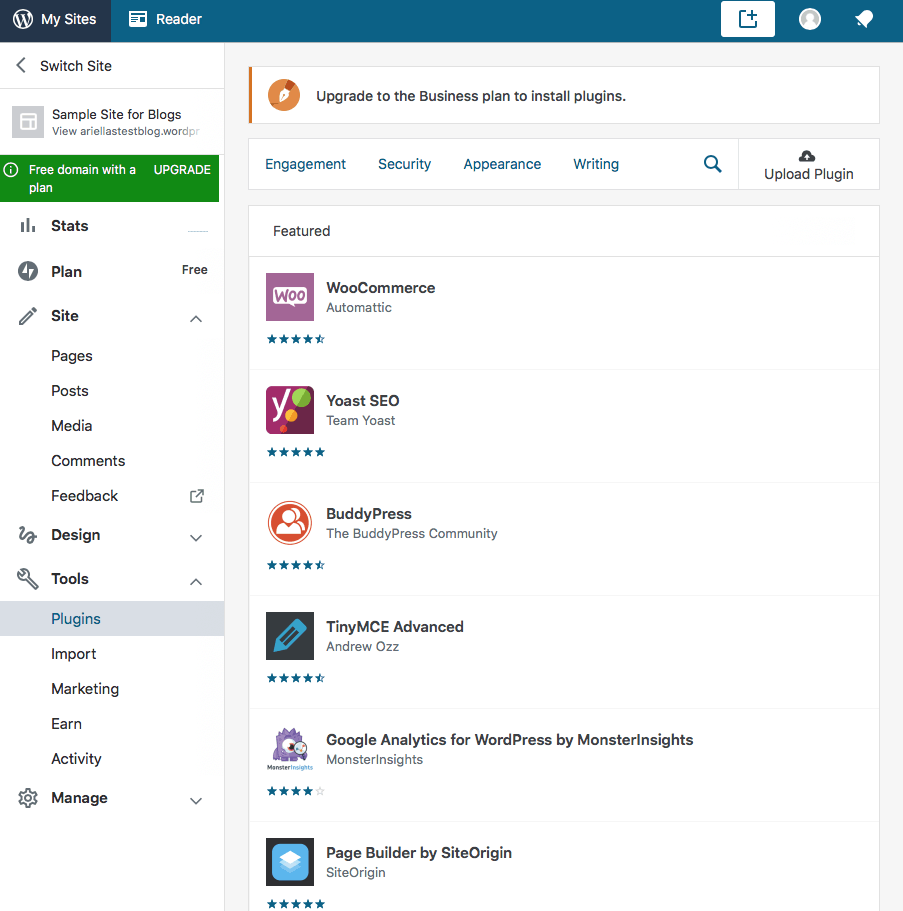 One downside of plugins in WordPress is that sometimes they can slow down your website. There's also a possibility of conflicts between different plugins, which can "break" your website. A more serious issue with plugins is that they can introduce
security vulnerabilities
, putting your website at risk of getting hacked or infected with malware.
And the Winner Is:
WordPress
. Although Weebly has a really strong range of apps that extend the already impressive tools in its native editor, it can't compete with the thousands of free plugins that WordPress offers. Whatever function you want to add to your website — whether it be a popup to increase engagement or a plugin to boost your website ranking (such as Yoast SEO) — WordPress has a plugin to make it possible.
And if the feature you want isn't available as a plugin, you can even hire a developer to create it for you
. With Weebly, there's no option to have your own apps developed.
Round 5: What About Building an Online Store?
If you want an online store, you'll be happy to know that both Weebly and WordPress make it quite easy to sell physical and/or digital products. To use Weebly's e-commerce features, you need to be on the Pro plan or above.
The native online store options allow you to have product galleries, different color and size options, and the ability to offer coupon codes
. Weebly also gives you payment processing options such as PayPal and credit card processing. But you should be aware that on the Pro plan, you'll be charged a 3% fee on top of the fees charged by the payment gateway. The 3% fee is removed if you upgrade to at least the Business plan.
WordPress offers the option to create an online store using a plugin like WooCommerce
. WooCommerce is free to install, and it offers features similar to what Weebly offers, such as product galleries as well as color and size options. Another great thing about WooCommerce is that you can add additional modules (some free, others premium) if you want to offer subscriptions or memberships, for example. There are no additional fees for payment processing with WordPress; you simply pay whatever fees your chosen payment gateway charges.
And the Winner Is:
It's another tie, because it really just depends… If you're looking for a straightforward way to sell online without having to install additional apps (or plugins), then
Weebly
is your best option. If you're serious about selling, then you'll be better off on the Business plan, since there are no additional fees involved. If you want the cheapest means of setting up an online store, then
self-hosted WordPress
is your ideal solution (again, if you can get cheap hosting). Because WooCommerce is completely free to use, you won't have the high monthly fees that you'd pay using Weebly or WordPress.com, and you can concentrate on growing your online store.
WordPress vs. Weebly: Different Platforms for Different Needs
Picking the right platform for your website is a crucial decision that warrants careful consideration — particularly when you're upfront with a payment for a year-long scheme. Your selection will rely on aspects such as budget, website purpose, and technical proficiency. Neither WordPress nor Weebly is perfect — there are downsides to both. As you're making your decision, I want to make sure you're aware of situations that make it clear you should avoid either platform.
When Should You Avoid Weebly?
As a website builder designed to make creating your website simple, Weebly is more suited to small- and medium-sized websites. It's definitely aimed at beginners. If you're more tech-savvy, you may find the platform to be too restrictive. If you want to grow your website fast and would like to add innovative new features that aren't available in the App Store, then you need to avoid Weebly. It's only going to hold you back, and WordPress gives you much more creative freedom. To learn more about WordPress, check out our
expert review
. You can also check out our picks for the
best Weebly alternatives
.
When Should You Avoid WordPress?
If you're a complete beginner and you want to be able to build a website quickly and easily, you must avoid WordPress. The learning curve can be frustrating and there's actually much more that can go wrong when you use the platform — especially WordPress.org.
Weebly is a better option because it's simple, intuitive, and comes with all the support you could need
. If you want to learn more about Weebly, read our
expert review
. If you want to quickly go over everything we've discussed in this article, check out this handy comparison table:
Ease of Use
There's more of a learning curve with WordPress, and the dashboard isn't as intuitive. If you want a drag-and-drop editor, you'll have to install a plugin.
Weebly is one of the most easy-to-use website builders around, and its editor is super intuitive.
Support
The main support available for WordPress is its community forum, so you have no guarantee you'll get your problems resolved.
Weebly gives you access to 24/7 email support, as well as live chat and phone support during U.S. business hours.
Costs
If you want the best value option, then self-hosted WordPress is it. You can find cheap web hosting, and WordPress itself is free to install and use.
Although not as cheap as self-hosted WordPress, Weebly is cheaper than WordPress.com because you don't have to upgrade to the highest tier to add apps, and you get much better support.
Features
When it comes to native features, WordPress is lacking — but it makes up for it in the huge repository of plugins you can install (on self-hosted WordPress.org, or on WordPress.com's Business plan or higher).
Weebly has a strong set of native features that allow you to create a great-looking website. You can also install apps, though the selection is limited compared with that of WordPress.
E-commerce
WordPress allows you to create an online store using plugins like WooCommerce, which is free to install. If you're using WordPress.com, you'll need to be on the Business plan or higher.
Weebly comes with an in-built store feature that's easy to use and that allows you to set up a range of product options. If you're on Weebly Pro, you'll have to pay a 3% fee for payment processing.