Weebly has a good reputation, and it's easy to see why. It's affordable, it's beginner-friendly, and
even kids can use it
. That said, while Weebly gets
mostly positive reviews
, it's not the right site builder for everyone. This is one of those cases where simplicity means limited features, and maybe you and your website have outgrown Weebly at this point. Maybe you're looking for better templates or a wider variety of interesting apps. Either way, you'll be glad to know there are some excellent alternatives out there. We've tested all the major players, and in this article, we'll take a look at the very best. Are you ready?
Wix
It's no surprise that
Wix
is the first Weebly alternative on our list. It now has over 110 million customers, thanks to its commitment to making web design and hosting easy, as well as its constant innovation. Wix offers five pricing plans, including a free plan, to cater to a wide range of budgets and needs. It's clear to see that
reviewers love it
.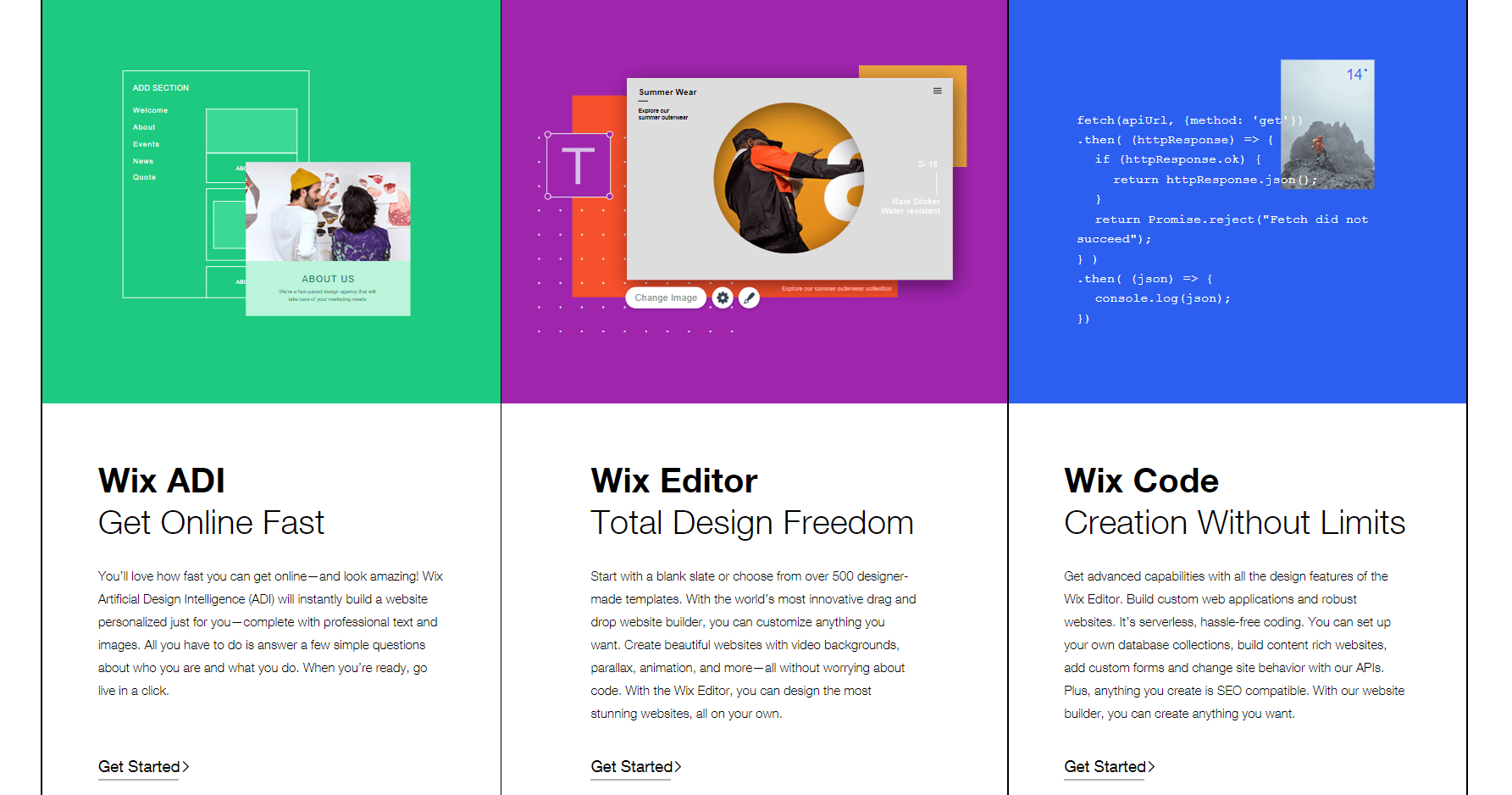 Pros
Wix provides a massive template library with over 500 professionally designed templates across many categories. You can access all templates for free with any pricing plan.
There are hundreds of free and premium apps to extend your features. The essential apps, such as a Form Builder and Blog, are free.
A pixel-perfect drag-and-drop builder with all the tools you could wish for means that you can extensively customize your website.
Wix constantly updates and upgrades their service in terms of templates, apps, and features, with no signs of stopping anytime soon.
Wix provides multiple methods to build and customize your website by using the Wix Editor or custom code, or by letting their ADI (Artificial Design Intelligence) do it for you.
Cons
Because the Wix builder is very extensive in the tools and customizability it offers, it can be slightly overwhelming in the beginning.
Depending on the template, many of Wix's features won't already be built in; they may need to be added or purchased via the App Market first.
Generally, Wix provides some of the lowest resource limits for bandwidth and storage with most plans.
Why Is Wix a Good Weebly Alternative?
To be fair, Wix's massive template library has an upper hand over just about every other website builder
in terms of quantity, variety, and quality. The greater creative freedom you're allowed with Wix also means that you'll be able to create a much more unique website. Although Weebly comes with more out-of-the-box features, once you factor in Wix's App Market, it comes out on top again with its extensibility.
GoDaddy
GoDaddy has been THE name in web hosting for some time now. What many don't know is that it also has an excellent website builder called
GoCentral
.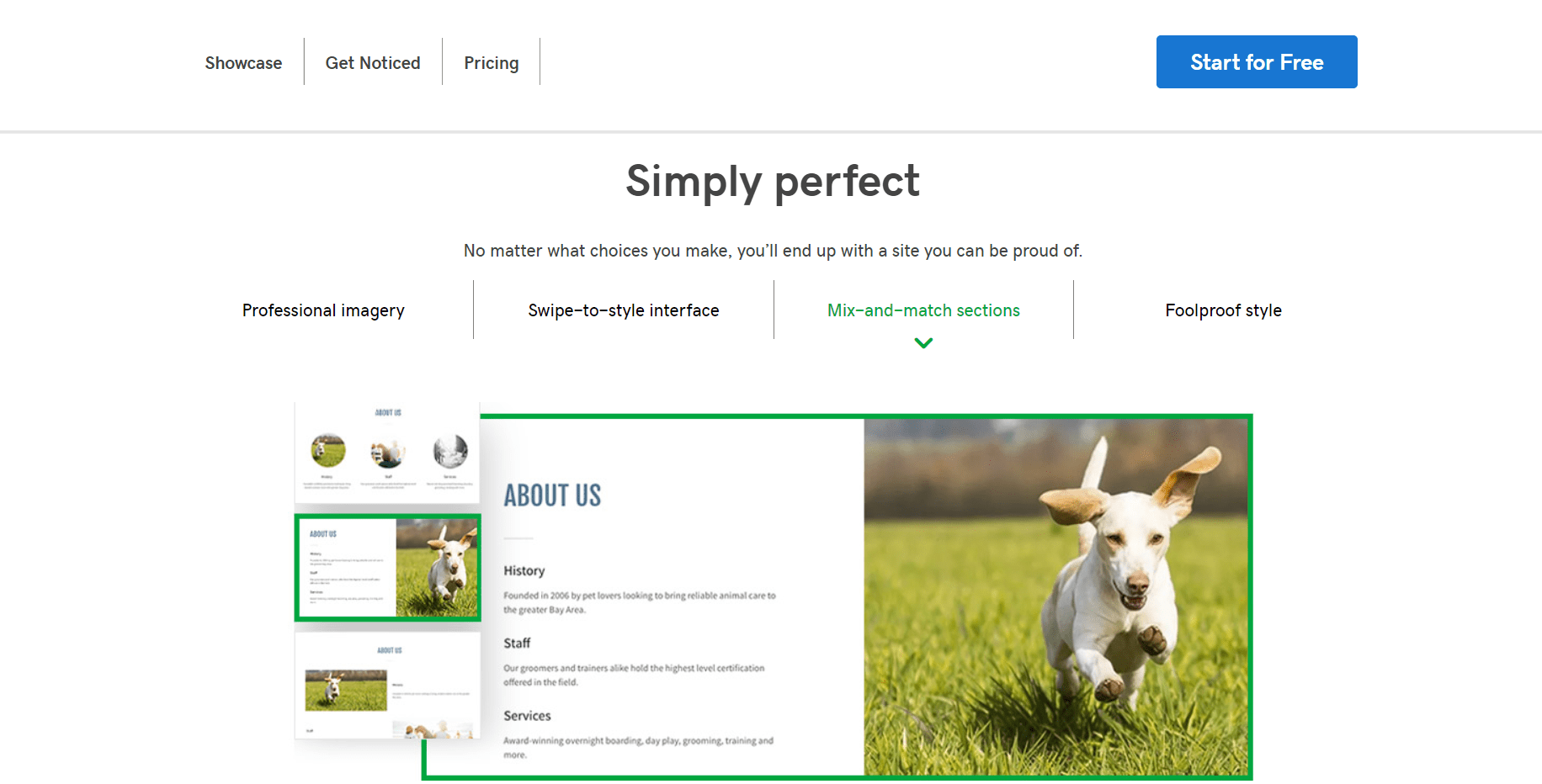 Pros
As one of the biggest domain registrars and vendors of other hosting-related services, GoDaddy features extensive integration between various products.
GoCentral is one of the easiest website builders to use on this list, with virtually no learning curve.
Even though they provide only a one-month trial, it's great that you can then test out all the features of the plan you're trialing.
GoDaddy's plans are usually cheaper than those of the competition; for example, you unlock e-commerce capabilities for less than most.
Although it might not be a master at any one aspect, most reviewers agree that GoDaddy does provide all the most important features, like e-commerce, beginner SEO, and simple blogging.
Cons
The new GoCentral website builder is very restrictive when it comes to the templates available as well as the limited customization options.
GoDaddy offers only a limited trial period of 30 days during which you can host your website; others builders, by contrast, give you an unlimited amount of time.
GoDaddy is one of the builders on this list with the least extensive feature set.
Why Is GoDaddy a Good Weebly Alternative?
As one of the most widely used domain registrars, many people who've been looking for an online presence may have already bought mail hosting, domains, or other products from GoDaddy.
Buying hosting from them as well allows you to manage all your purchases from one account
. Although not as customizable or extensive as the Weebly Builder, GoCentral is arguably even easier and quicker to use.
WordPress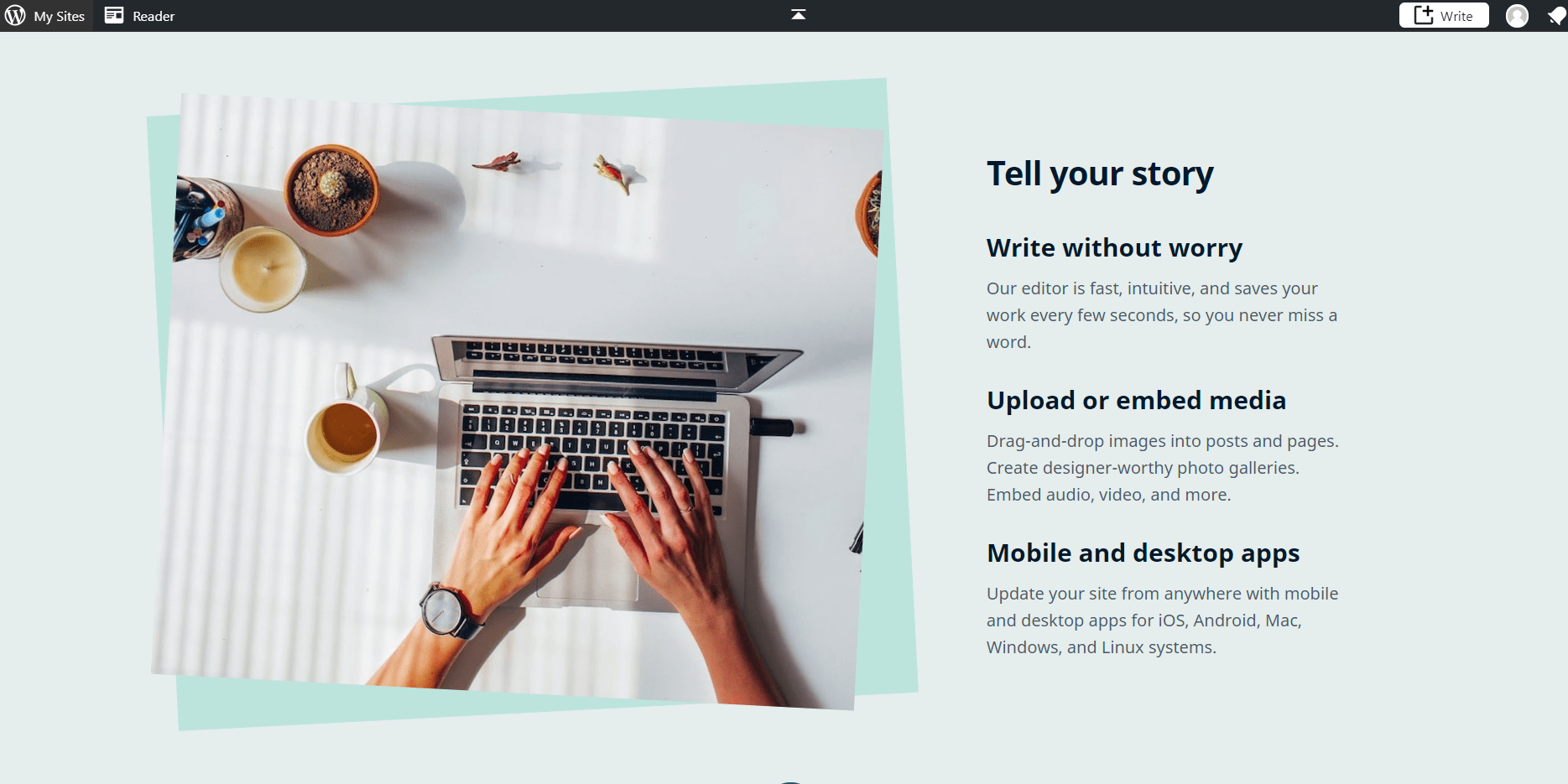 WordPress needs no introduction as the name that literally launched the website builder industry.
WordPress.com
is a proprietary, hosted platform of the world's most used content management system.
It mainly focuses on providing a great platform on which to create blogging content
.
Pros
WordPress.com's blogging tools and content editor are still some of the most convenient and fun ways to create blog content.
With a Business plan, you unlock the ability to use third-party templates and plugins, which dramatically expands your horizons regarding design and features.
WordPress.com is one of the best platforms for SEO, with an optimized platform, freedom to tune SEO, and a number of features.
Not counting outside third-party themes, WordPress.com has almost 300 free and premium themes. Only Wix has more.
With its open-source roots and huge popularity, WordPress.com has one of the largest and most active communities, which can also help you solve issues.
Cons
Although the Business plan overcomes this shortfall, you're still heavily restricted in terms of features with lower plans.
WordPress.com doesn't really offer any e-commerce capabilities other than a simple PayPal button without a Business plan and the WooCommerce plugin.
Customization options available are different depending on your template but are mostly simple and basic.
Why Is WordPress a Good Weebly Alternative?
In terms of blogging, few platforms are so streamlined and fun to use as WordPress
. With some of the best
SEO features
, WordPress is the go-to builder to use for a blogging website. A huge template library and third-party options also mean that you'll probably be able to find a more suitable design to start your website off with.
Site123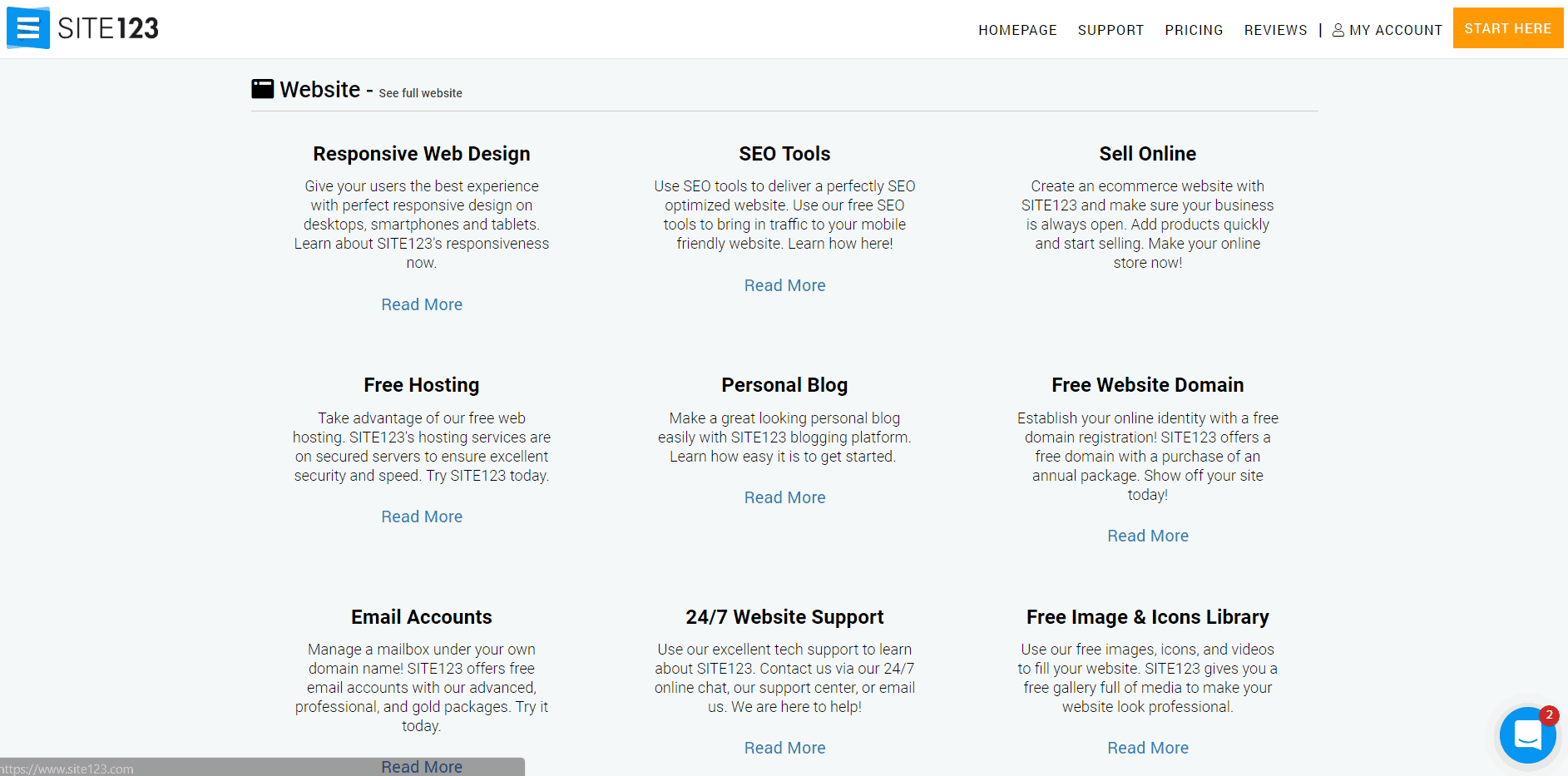 Building a website with
Site123
 is supposed to be as easy as 1, 2, 3. Its three-step process means that within mere minutes, you'll have a website ready for you to start customizing. It make it simple and easy to create a blog, business website, or online store, and
reviewers seem to like it
.
Pros
Site123 has one of the best selections of pricing plans, with a wide range of prices, billing options, and good value for money when you look at the resources.
Just like WordPress.com, the Site123 platform is built for SEO and is one of the best-performing platforms out-of-the-box.
For a simple website builder, Site123 actually provides an extensive app marketplace, with a wide range of features and integrations.
Site123 provides a template library of almost 200 completely free designs that are all responsive and customizable.
Although they don't have unlimited plans, they do have some of the highest bandwidth and storage limits that are unlikely to be used up by their target market.
Cons
Although Site123's website builder is very beginner-friendly, it doesn't have any drag-and-drop functionality and is generally more restrictive.
There's no way to add custom code or styling to your website.
You'll need to sign up to discounted, long-term hosting in order for the prices to be closer to the other builders on this list.
Why Is Site123 a Good Weebly Alternative?
Site123 and Weebly are very similar in many ways, which makes it hard to say what makes one better than the other. However,
it's arguably easier and quicker to create your website with Site123
.
Shopify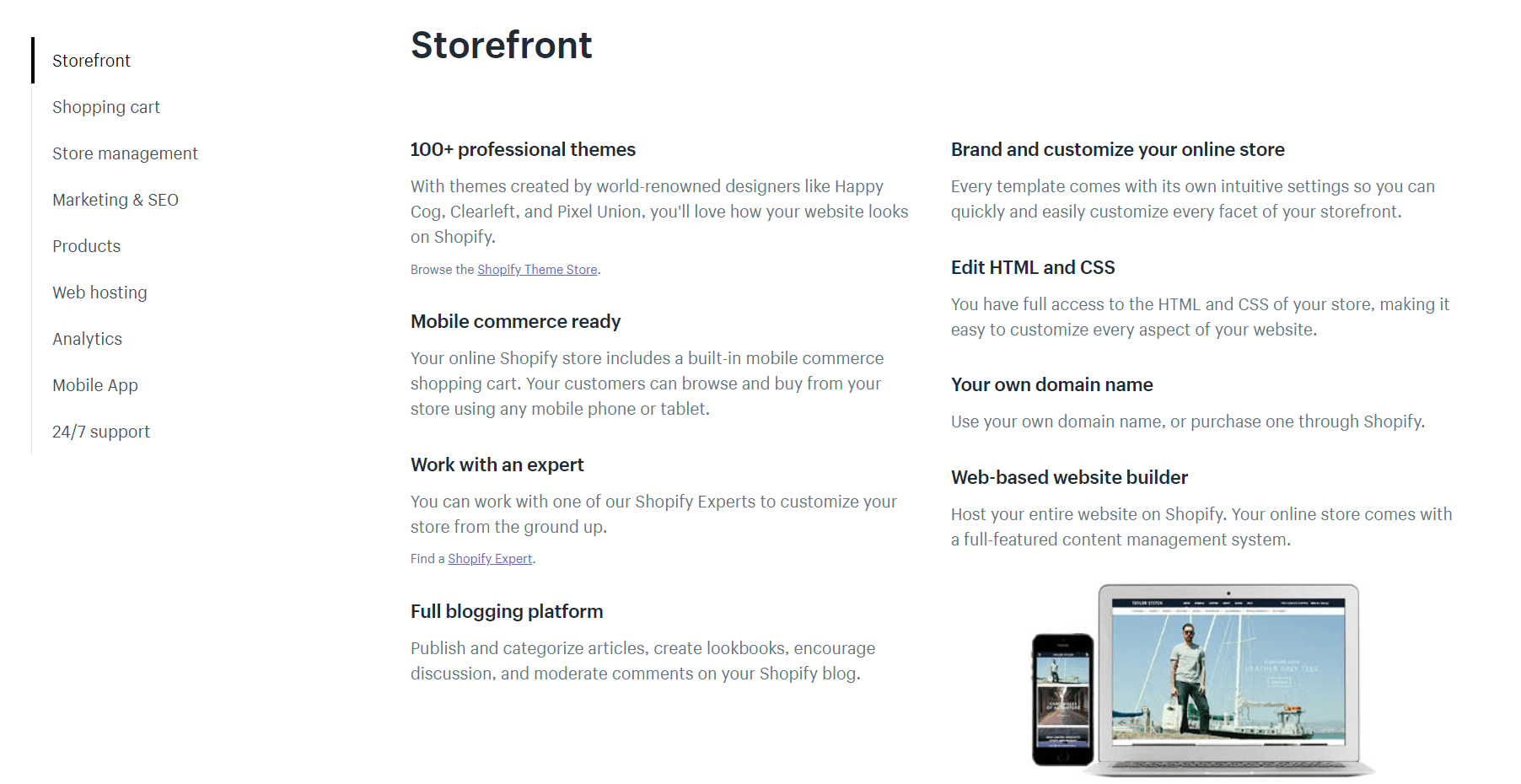 For many, the name
Shopify
 has become synonymous with online stores, especially drop-shipping stores. Shopify is a premium e-commerce hosting provider with powerful features, particularly when it comes to point-of-sales (POS) integrations.
With over 1.2 million users, the platform is one of the most widely used e-commerce website builders
, and it gets
excellent reviews
.
Pros
Shopify is unparalleled when it comes to integrations with other e-commerce platforms, such as their in-depth Oberlo integration for drop shipping.
The platform provides the capabilities and even physical hardware to integrate your physical store or sales with your online store.
With over a hundred total online store templates that are immaculately designed, Shopify has one of the best theme selections for e-commerce.
You can completely customize your Shopify template using custom code and even create a template from scratch using their special coding language, Liquid.
Shopify can scale to meet any enterprise-level need and can help you set up a custom solution for your business.
Cons
No matter what pricing plan you have, Shopify still takes its cut with a 2, 1, or 0.5% transaction fee.
On top of their pricey plans, most of Shopify's templates and apps aren't free and are comparatively costly to other builders.
Shopify doesn't have the best blogging or SEO tools, especially considering the price.
Why Is Shopify a Good Weebly Alternative?
Clearly, Shopify is the superior option when it comes to e-commerce in almost every conceivable way
. However, this isn't a slight on Weebly, as Shopify is almost in a class of its own when it comes to e-commerce integrations, POS capabilities, shipping integrations, and store management features.
How to Choose the Best Weebly Alternative for You
Weebly is a great website builder in its own right, but there are plenty of other options that are just as good and might perform better in certain aspects. As you might've already seen, Weebly's alternatives come in many shapes and sizes.
That means that no single alternative is the best option in every single way
. A good indication that one of these is worth looking into is if any of the following statements resonates with you:
If you want more templates, customizability, and extendible features, then choose Wix because of its 500+ strong template library and pixel-perfect drag-and-drop builder.
If you already have their products or you want to manage multiple hosting purchases, then choose GoDaddy because of its one-stop, integrated product dashboard.
If you want to run a blog to regularly publish content and show up on search engines, then use WordPress.com for its fantastic content creation and built-in SEO.
If you want an even simpler and faster way than Weebly to launch your website, then use Site123 for its three-step website-creation process and simple builder.
If you want to run a massively scalable e-commerce store, then use Shopify for its best-in-class shipping, product sourcing, and POS integrations.
If you anticipate a definitive response to the question, "What is the best alternative to Weebly?" then I must assert that Wix takes the lead. Amongst these builders, Wix comprehensively outperforms by covering the widest spectrum. Although other builders might surpass it in individual aspects, Wix emerges as the ultimate winner when considering the holistic picture. For one,
Wix has the most extensive template library
. It also has a decent app market that can go toe-to-toe with any of the other alternatives.
Despite being a bit overwhelming at first, it also has the flexible and powerful drag-and-drop webpage builder
. Its online store and blog apps are good enough to provide a viable alternative to WordPress.com, without being limited mostly to blogging; and Shopify, without costing an arm and a leg.