Even if you've never built a website before, you can easily create a professional-looking site with a builder like Wix or Weebly. They've got user-friendly drag-and-drop editors, ready-made templates, and best of all, free plans.
Wix has become one of the giants of the website building world, and smaller companies like Weebly have struggled to compete. Weebly is starting to catch up, though, and it now offers many of the same great features that Wix provides. But which option is best for you?
We've been hard at work doing the research for you. We put Wix and Weebly head-to-head to find out which website builder comes out on top in seven key areas:
Ease of use
Free plan features
Templates
Apps
E-commerce
SEO
Value for money
Now, let's take a closer look at both builders to see which one really has what it takes.
Round 1: Is Weebly Really Easier to Use than Wix?
Drag-and-drop website editors like Wix and Weebly make it simple to add different types of content (e.g., text, images, and videos) to your pages.
Wix is loved by users all over the world, and for good reason: it offers the most flexible site-building experience. There's a huge range of elements you can easily place wherever you like on your pages (you're not restricted to a set column structure, like with some builders). Not only that, but there are smart tips along the way to guide you through the process.
Weebly has its own fan base, of course. Its drag-and-drop editor is more structured, but it has a smaller range of page elements to choose from. If you're a beginner, you'll find that Weebly has less of a learning curve than Wix because there are fewer options to navigate and settings are easier to find.
So, it might seem that overall, Weebly is easier to use than Wix — but enter Wix ADI. This is an "artificial design intelligence" wizard that builds your website for you. All you have to do is answer a few simple questions (like 'What is the purpose of your website?'). Using ADI is probably the fastest way to create a beautiful website that you can customize later.
Once Wix ADI has built your website, you can add and change things easily. For example, if you want to add a new section, all you have to do is click on one of the many layout options and drag it across to wherever you want it to go.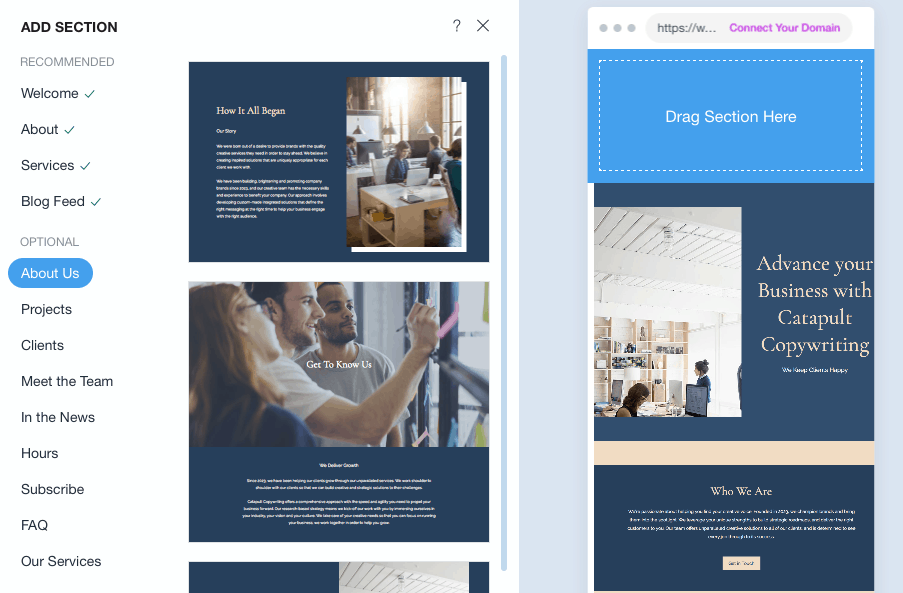 How do Weebly and Wix's editors compare in terms of ease of use? Let's take a closer look.
And the Winner Is…
ADI helps Wix win this round. Wix's drag-and-drop editor is both easy to use and flexible. With the addition of Wix ADI, Wix turns out to be completely beginner-friendly, too.
However, if you're looking for an easy to use website builder with slightly less of a learning curve, Weebly would be a great place to start.
Round 2: Can You Really Build a Completely Free Website?
Wix and Weebly have free plans that give you enough space and features to create a professional-looking website. To keep your website 100% free, however, you'll have to make some sacrifices.
For example, you can't use your own domain name on the free plans, and your site will display Wix or Weebly branding. Also, you'll have to upgrade to a paid plan if you want to build an online shop.
So, what do Wix's and Weebly's free plans include? The best way to pick the winner is by comparing their features:
And the Winner Is…
It's difficult to define a clear winner in this round – but Wix does have a slight edge over Weebly here.
Wix has more templates (which we'll discuss in Round 3) and apps (which we'll look at in Round 4). It also really stands out because of its SEO Wizard and range of marketing tools. Plus, Wix enables you to create videos and gorgeous social media posts within the marketing tools suite.
The main area that Weebly offers more than Wix is in bandwidth, which probably isn't a huge concern with your first website. If you are attracted to the idea of unlimited bandwidth, Weebly could be a good option for you.
Round 3: Will Your Website Look Like It Was Professionally Designed?
Websites built with Wix or Weebly definitely look professional. They rarely seem like they were created with a website builder – at least not in the way that "website builder sites" used to look.
Wix offers over 500 free templates. No other website builder can currently compete with that number. The templates are arranged in categories and subcategories. With so many different niches covered – everything from photography or architecture to real estate or restaurants – you're almost guaranteed to find the perfect one for your website.
The designs are contemporary and visually appealing. Wix's templates have all the essential features (e.g., buttons, image headers, and content boxes) to make your website look like you paid a designer to build it.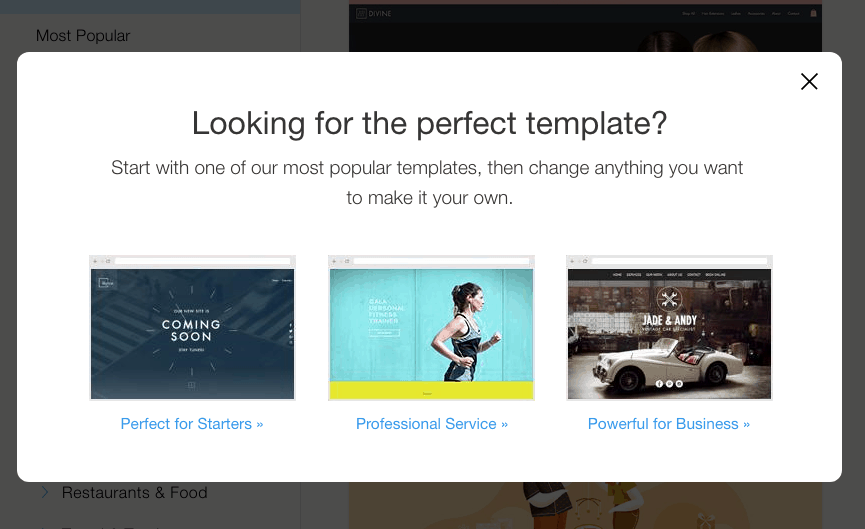 The downside of Wix's fabulous templates, however, is that if you decide to change your template later on, you'll have to completely rebuild your website from scratch.
Weebly has fewer templates, which it calls "themes." Although they're not quite as professional-looking as Wix's templates, they do have the features you need. Buttons, boxes and a variety of layouts (e.g., creative grid layouts for portfolios) can make your website stand out. What's more, you can easily change your Weebly theme without having to rebuild your website from scratch.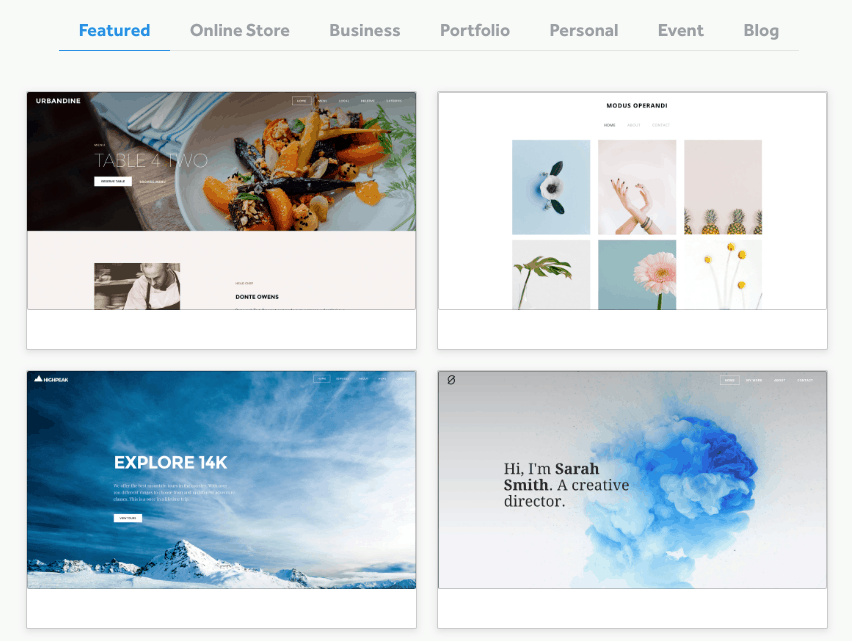 Wix's templates are mobile-friendly, but they aren't mobile-responsive. That means you need to check the automatically generated mobile-optimized version of your website. Wix says it's a bonus that you can edit your mobile website separately from your desktop website, but not everyone (myself included) wants to have to do that.
Weebly's recently introduced "dynamic mobile website templates" — which is a rather long way of saying these templates are fully mobile-responsive. You don't have to edit a separate mobile version of your website; it's all perfectly resized and organized for you. However, you need to be careful because not all themes are mobile-responsive (yet).
The themes that aren't mobile-responsive are mobile-friendly, however. Your website will be compressed to display well (in most cases) on mobile devices. You can edit this mobile version if you want — but, unlike with Wix, you don't really need to.
And the Winner Is…
Wix is the clear winner in the design arena. Not only are its templates beautifully designed, with layout features that your visitors will appreciate, but you'll have more flexibility, too (as we discussed in Round 1). Being able to customize your templates and rearrange elements with no restrictions is a great addition if you want to get more creative with your website building.
Weebly has a nice (but smaller) selection of themes. If you want to be able to pick a theme quickly and not have to search through hundreds of options, Weebly could be right for you.
Round 4: Can You Add More Functions to Your Website?
Both Wix and Weebly offer app stores filled with lots of free and premium extensions. These include apps to add more design elements to your website builder, marketing tools such as mailing list signup forms and Facebook messenger chat, and more.
The Wix App Market is regularly updated with new apps. There are currently more than 250 apps available, and over 80 of those are completely free to use.
Furthermore, Wix has developed a good number of apps in-house (and over 75% of them are completely free). The benefit of using Wix-developed apps is that you get customer support that you wouldn't be guaranteed to get using third-party apps.
Even apps that aren't totally free often come with either a free (limited or basic) plan, or a free trial period. You can add many extra functions to your website without having to spend a lot of money. For example, you can allow your customers to make online bookings.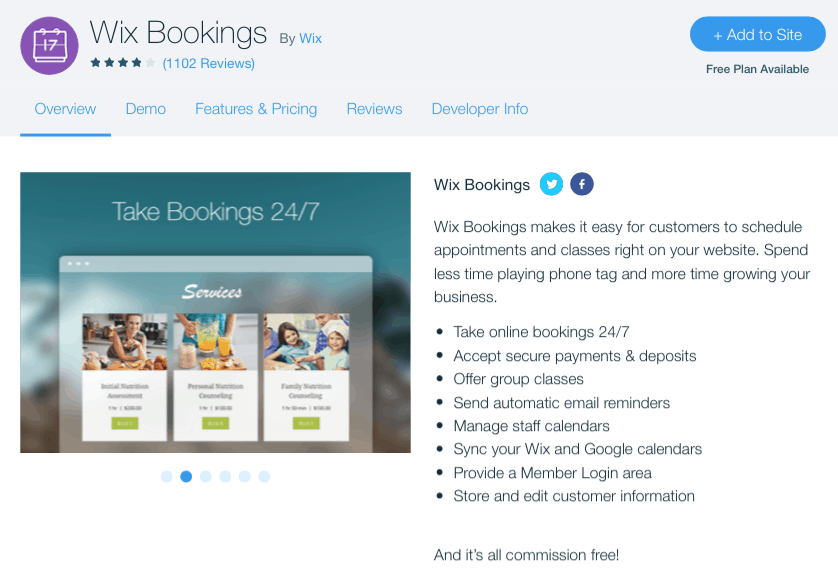 The Weebly App Center has over 350 apps, and more than 60 of them are free. Like Wix, Weebly has developed its own apps, though currently there are only a little over a dozen. There are fewer premium apps that offer free plans or free trials, so it costs more to add some features to Weebly than it does to add similar features to Wix.
For example, with Wix you can use the Wix Get Subscribers app to build your mailing list with opt-in forms and popups — for free. A Weebly alternative, Email Opt-in Popup, offers only a free 14-day trial. Then you have to pay a monthly fee.
And the Winner Is…
When it comes to apps, Wix is the clear winner. Wix not only has more 100% free apps, but it also has a wider range of apps with free plans or free trials. So, you're more likely to be able to add the functions you need at little or no cost.
Weebly's App Center is regularly updated with new apps, but it just can't compete with Wix in terms of value and variety. Overall, Weebly's App Center has more apps, but you'll have to pay more to use them. If you don't mind paying, then the greater variety of options may make Weebly your winner.
Round 5: Can You Create an Online Store?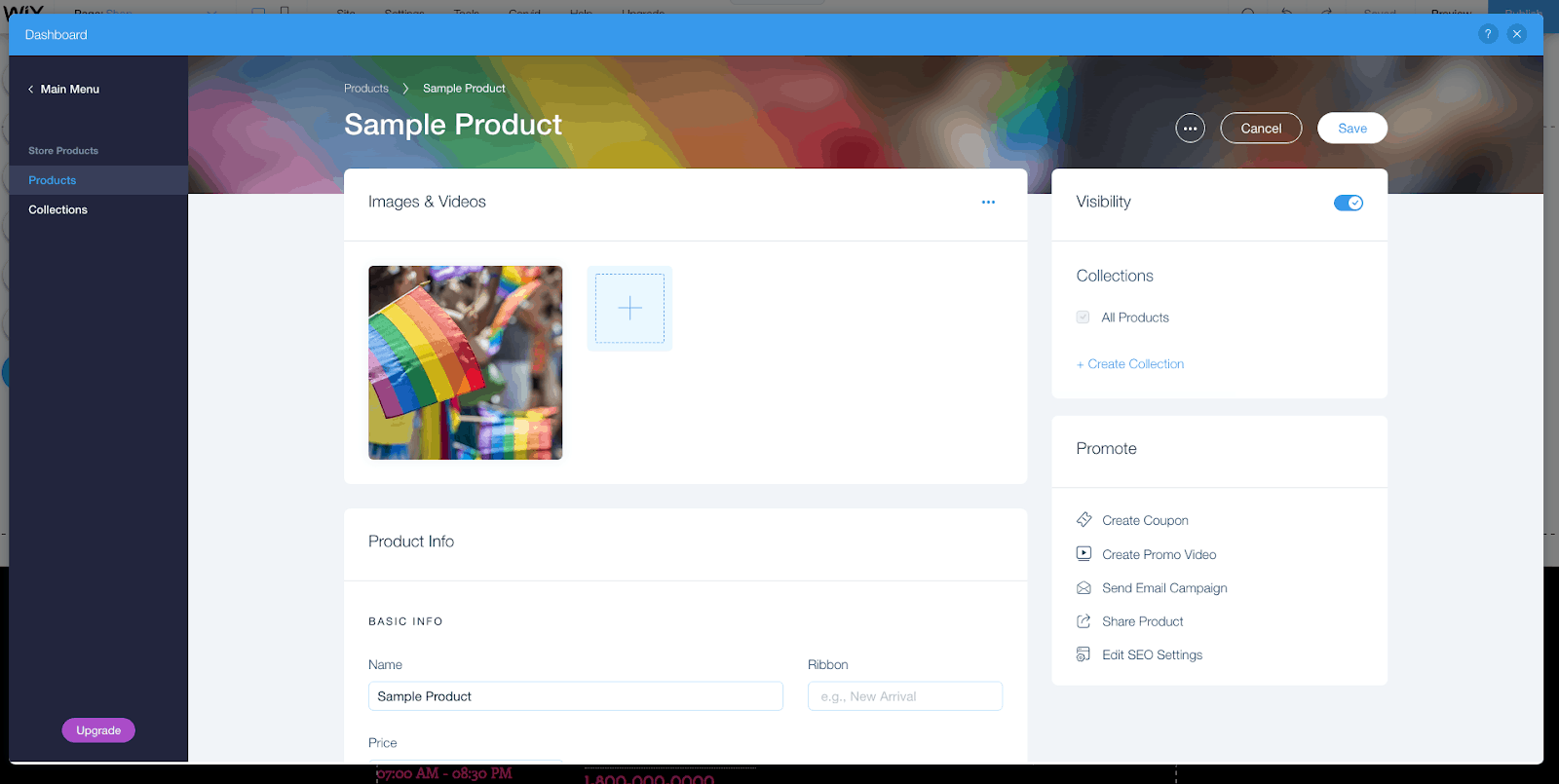 Whether you choose Wix or Weebly, you can add an online store to your website – but in both cases, you'll need to be on one of the paid plans to start selling online.
With Wix, you'll use the Wix Store app to manage your online store. It offers loads of different options, including inventory management, abandoned cart technology and the ability to add product variations at different price points.
It's incredibly easy to get started and the Wix store wizard guides you through the process of setting up your online store.
Weebly's store feature can be accessed directly from the editor tab labelled 'store'. There's no need to add an app to set up your store, and it's easy to add products and categories and set up different product variations. The Weebly online store is, however, basic in comparison to Wix Store, and doesn't offer the advanced features (like abandoned cart technology) that Wix provides.
And the Winner Is…
When it comes to setting up an online store, Wix wins this round. Wix has a lot more features included in its Wix Store app, and installing the app only takes a few seconds. The marketing options and abandoned cart technology set Wix apart from what Weebly is able to provide.
If simplicity is what you're looking for, Weebly's online store is really easy to set up and you get a checklist of things you need to complete to get started selling online. If you prefer this kind of easy set up, then Weebly could be your winner.
Round 6: What SEO Features Are on Offer?
Building a website is just the first step – getting it noticed and driving traffic to it is equally important. Wix and Weebly both offer SEO features that can help your website rank well in Google search results.
Weebly has a basic SEO option within the settings menu – and this really is basic. You can add a page description and footer code, and not much more. In the SEO settings for each of your pages, you can add meta descriptions and keywords.
Weebly isn't really very strong in the SEO department, although you can install SEO-focused apps from the App Market, such as Ranking Coach and Traffic Booster.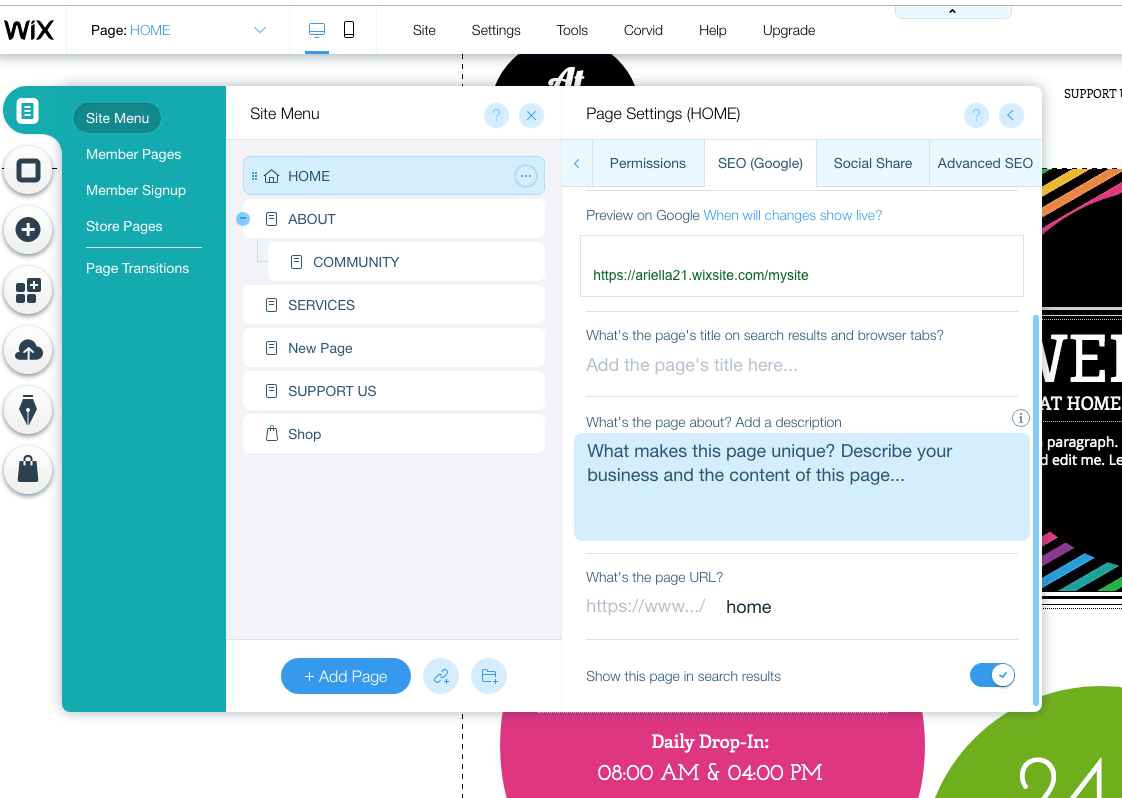 Wix has had its SEO issues in the past, but these days, it really shines when it comes to search engine optimization. In the SEO part of the page settings section, you can add meta descriptions (and Wix gives you advice on how to complete these) and add keywords that you want to rank for. That's great – but Wix also has the 'Get Found on Google' option in the settings tab, and this is an exceptionally good SEO wizard.
With the SEO Wiz, you answer questions about your website, and Wix will create a personalized SEO plan for you, with recommendations for how you can get your website to rank well on Google.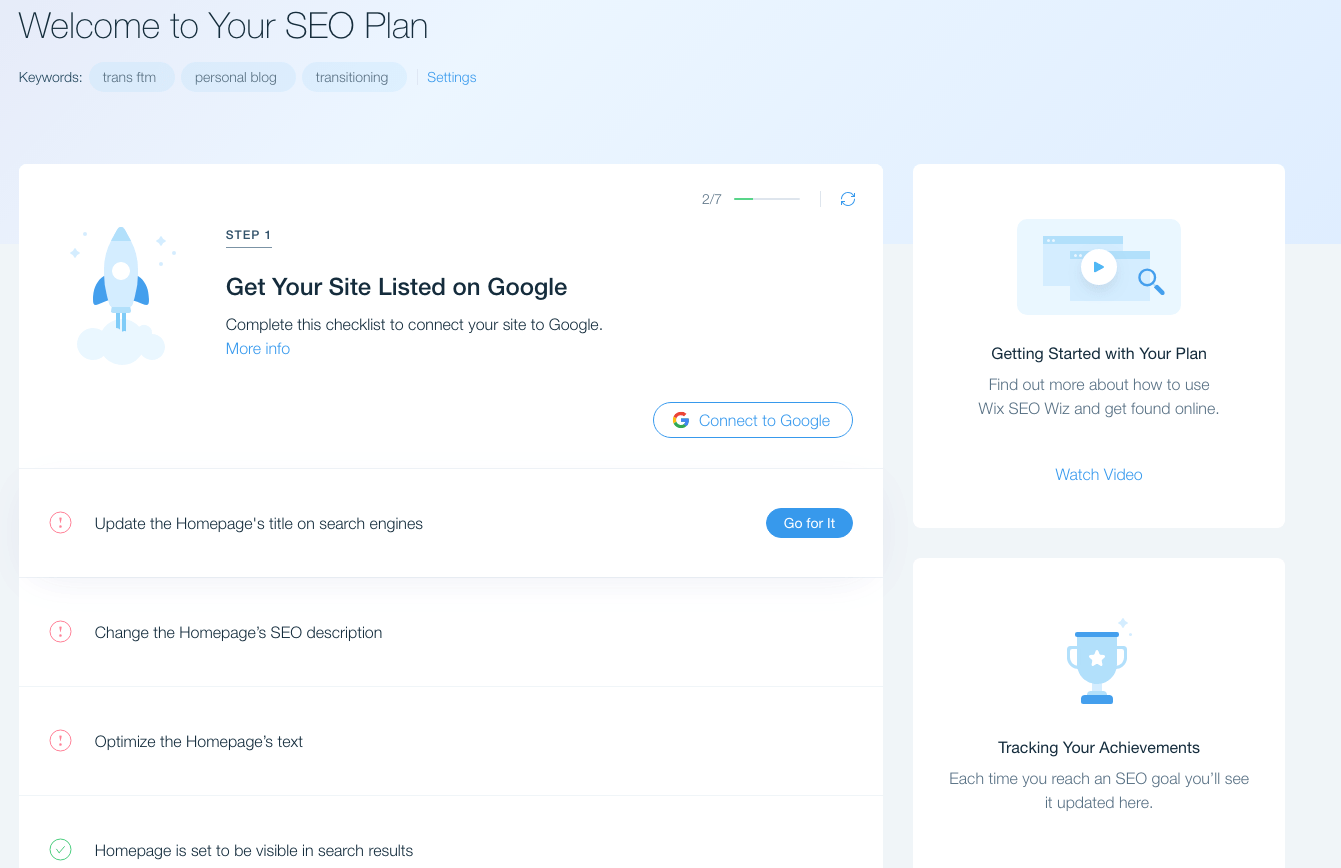 And the Winner Is…
Hands-down, Wix comes out on top – again. Weebly just can't compete with Wix's SEO Wiz, and unless you want to use a third-party app for your SEO, you're much better going with Wix for your SEO needs.
If you're already familiar with Ranking Coach, then Weebly is still an option for you, however, since it's easy to add the Ranking Coach app to your Weebly website.
Round 7: Which Gives You More For Your Money?
You might start off with a free website, but you may reach a point where you want (or need) access to premium features like domain names, more storage, and e-commerce features. Or maybe you've already decided that you need those things.
Wix and Weebly have several paid plans you can choose from:
While Weebly offers unlimited bandwidth and storage, its plans are more expensive, and there are fewer bonuses compared with what Wix offers. However, Wix's regular website plans don't allow you to accept online payments, while some of Weebly's do.
And the Winner Is…
Because we're looking at the value of what's included in the paid plans (and their different prices), Wix wins this round. You get more bonuses and more advertising credits (on some plans).
Furthermore, if you want to add e-commerce features, Wix's Business Unlimited plan (whose features are similar to the Unlimited plan, but with e-commerce) is available at the same price as Weebly's Business plan.
But if you want to build a media-rich website with lots of images, videos, and downloads, then Weebly may be a better option for you, with its unlimited bandwidth and storage.
Wix Keeps Its Crown – But Weebly's Catching Up
Although Wix remains the overall winner, Weebly is starting to catch up in several areas. These include mobile-responsiveness and ease of use.
As both website builders continue to add new features and develop their platform, Wix could be facing much more competition from Weebly in the future.
At the end of these seven rounds, what are our conclusions and recommendations?
If you want a flexible website builder that you can easily add dozens of new features to — at no extra cost — and have a website that looks exceptionally well designed, Wix is your winner. If you're new to website building, Wix ADI can also get your website built in minutes.
To learn more about Wix, read our expert review.
However, if you want a more hands-on approach that allows you to build skill and confidence as you create, then Weebly is a good, easy-to-use option. And if you want to avoid having to edit the mobile version of your website, Weebly's mobile-responsive templates are perfect.
To find out more about Weebly, read our expert review.