Wix certainly needs no introduction; with a user base of 100+ million users, it's one of the most popular platforms in existence. Weebly is less well known, but it's slowly getting thereby providing an extremely accessible offering that's finding mass appeal. Both these platforms target a similar audience with a similar focus which means we have our work cut out for us.
Setup
Signing up with Weebly is incredibly quick and straightforward. You can join either with your basic info or by signing in with your Facebook or Goolge+ account. You will then immediately be able to pick a template after which you can immediately start customizing your site. The Upgrade option will be at the top right corner if you're ready to subscribe.
Wix isn't far behind when it comes to speed and convenience. Similarly to Weebly, you can sign up using your Facebook or Google account. You'll then be taken through a short setup section with a series of questions relating to the purpose of your site and then choose a template. Alternatively, you could use their ADI (Artificial Design Intelligence) to pick a template and design for you based on a set of questions.
Ease of Use
We'd firmly put both of these platforms in the easier spectrum of web builders to use. However, in this contest, Weebly is the clear winner. It's an incredibly straightforward platform. You never have to stray far out of your central builder dashboard to add apps, pages or switch themes.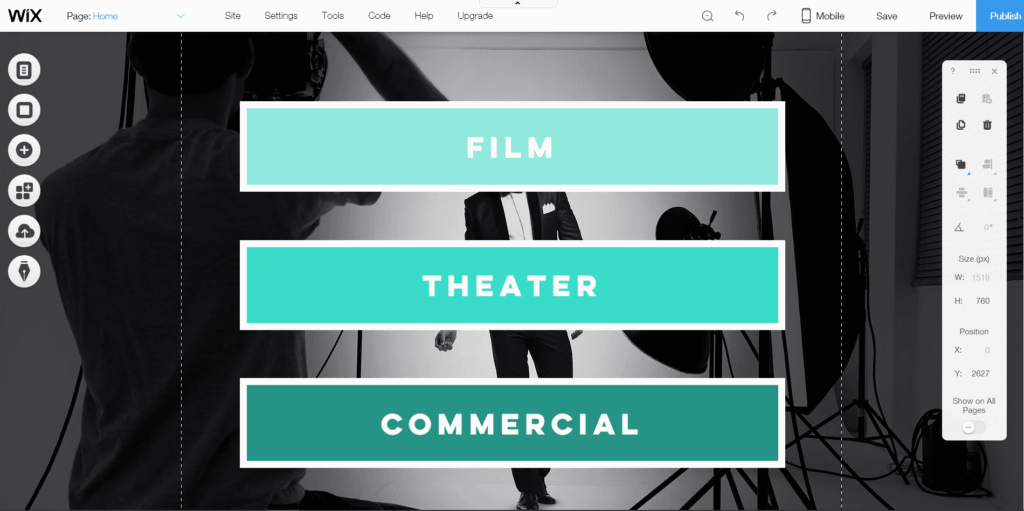 This ease of use does come at a slight cost to functionality and flexibility. Wix provides a better balance between the two. Wix can be slightly daunting at the beginning with all the options available to you. However, it's fun to use once you get the hang of it.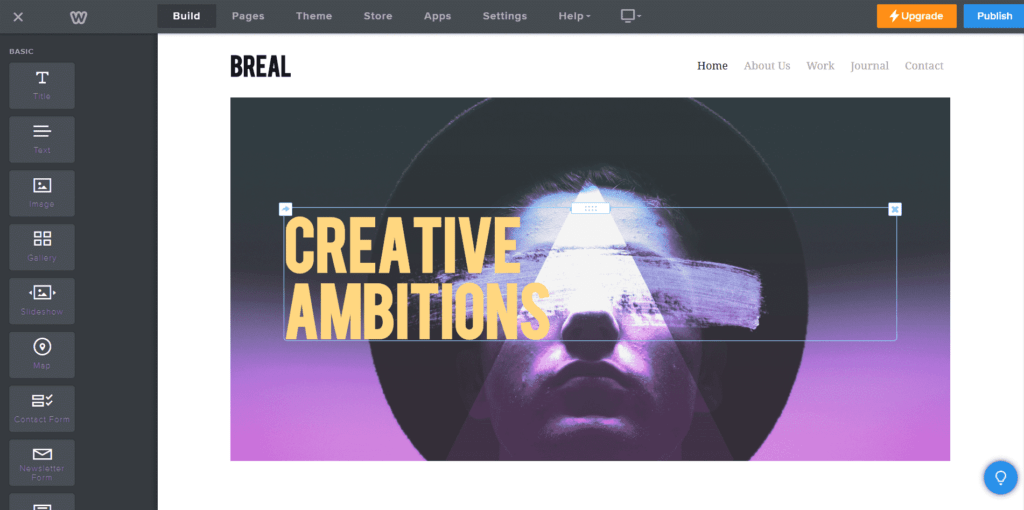 Design and Flexibility
When it comes to design and flexibility, the main advantage Wix has over Weebly is its massive library of templates, and it's Wix App Market which allows you to extend your site's functionality. With a lot more themes, Wix also offers more starting points for designing your website.
However, both feature an out and out drag and drop builder. Weebly's one is inherently simpler which means limited options but greater ease of use. You also don't have as much control over resizing and spacing elements. Instead, it's dictated by the actual content and the layout you chose.
Templates
Unfortunately, Weebly doesn't have the most extensive library of templates. As of now, there are only 35 designs to choose from. However, the smaller numbers mean that they could focus on quality as all the themes are attractive, modern, and relevant. There's also quite a good variety of different types of sites for such a small collection.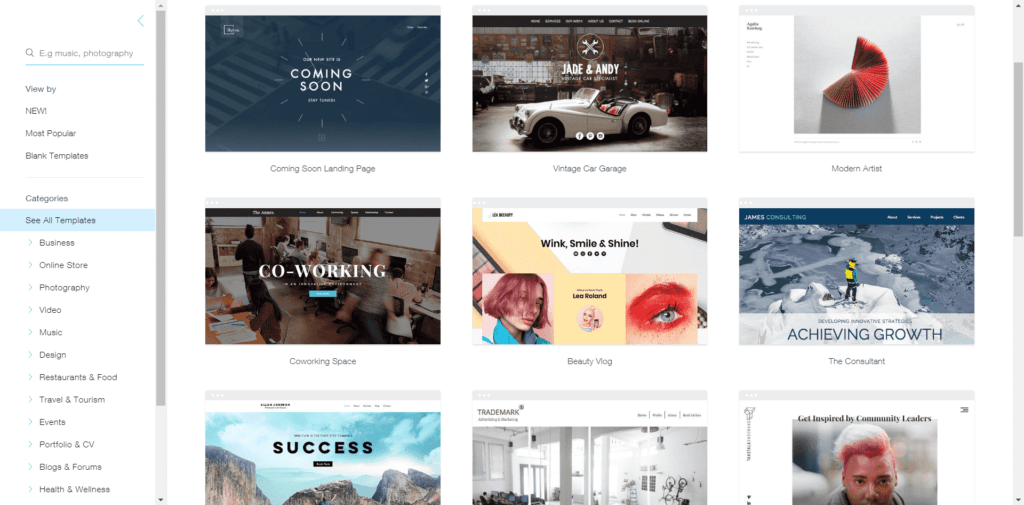 With over 450 themes, Wix has one of the most extensive theme libraries of any competing platform. Wix has over time also significantly improved the overall quality of there themes and now don't lag far behind other design-focussed platforms like Squarespace. As you can expect, there is a vast amount of variety, and you can create just about any type of site you can think of.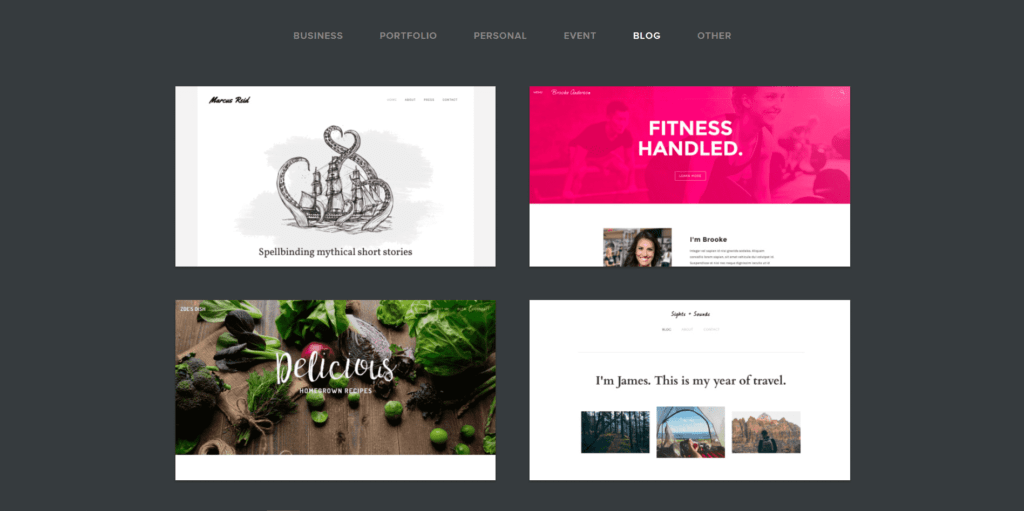 App Store
A great feature of both these platforms as that they each have their own app market. Both app markets also function incredibly similar to each other with most apps having free and premium versions. So, you can extend your site with little to no cost; however, you'll have limited functionality.
The most significant difference is that the Wix App Market has more a lot more individual apps to choose from with more complex uses. The Weebly App market consists largely out of visual or interactive elements. Both markets' apps are also reasonably priced at a few dollars for premium content.
Mobile Responsiveness
Once again, this is another point where there is very little to separate these two platforms. Both Wix and Weebly allow you to view (and edit) your design in a mobile view so that you can rest assured it looks great on mobile devices. However, both don't feature a tablet view which is unfortunate.
You can't fault either of the platforms when it comes to their actual mobile responsiveness. You don't have extensive features to do anything particularly special on the mobile versions of the site, but it's robust and just works – something most users will appreciate.
Ongoing Maintenance
Wix has seen some significant changes to its platform and how it's used over the years. Depending on whether you crave consistency or improvement, this will be either a good or a bad thing. However, it is reassuring to know that the platform is regularly updated and that the templates are added to.
Weebly is kept up to date with the latest web developments, and its app store is regularly bolstered with new items. However, the template library doesn't seem to be routinely expanded at all.
Pricing
Weebly and Wix have an unlimited free use plan with a Weebly subdomain and platform ads. The pricing plans look as follows:
Weebly
Websites:
Starter: Free domain and Google Ads. Weebly ads on site.
Pro: No Weebly ads. Advanced site stats and Unlimited storage. Basic e-commerce.
Business: Site search, password protection, 100 user accounts, video, and audio.
Professional: Unlimited users, member registration, more advanced e-commerce.
Online Stores:
Starter: Up to 10 products, 3% transaction fee, checkout on Weebly.com.
Pro: Up to 35 products.
Business: Unlimited products, advanced e-commerce features.
Wix
Connect Domain: Personalized domain and upgraded resources.
Combo: Free domain, remove ads, and custom favicon.
Unlimited: Unlimited bandwidth, form builder, and site booster apps.
eCommerce: Online store.
VIP: Email campaigns and professional site review.
Customer Support
Wix includes a lot of helpful tips, documentation, and tutorial videos that show you how to use certain features. You can also submit tickets for one-on-one help via their ticketing submit. The biggest problem with their support is that you can only request callbacks within certain office hours.
With Weebly, you have access to the Community Forum as well as chat and email support with all pricing plans. However, Phone support is limited to Business and Performance plans. There isn't much guidance inside the builder and dashboard itself, but you don't need any either.
Wix vs Weebly – Which one does it best?
So, as you could see, finding a bit of daylight between these two platforms aren't easy. They are both incredible at providing everyday users with a speedy, easy, and intuitive way to create their very own website – with little to no skill or experience required.
If anything, Weebly does this even better than Wix. However, that also means it's slightly more restrictive in the actual possibilities open to you. To make things even tighter, both have pricing plans that cost almost exactly the same.
The level of control (and the amount of time you are willing to put in to learn) might well make the decision for you. From our perspective, there is too little to call a result between these two.