WordPress is popular — there's no denying that. It runs over 25% of the world's websites. However, if you're trying to operate a personal website, you're going to find that WordPress isn't the most user-friendly or necessarily the most cost-effective. You have to learn how to code to use the platform. Also, whenever you need a new feature, you have to go through the process of installing a new plugin.
Online businesses have also learned the hard way that WooCommerce, the e-commerce plugin for WordPress, isn't as "free" as it claims. Sure the basic platform is free, but you have to pay to use certain tools, and those fees are often single-license fees for each website you host.
For these reasons, many webmasters opt for WordPress alternatives to save on hassle and money for their website. Fortunately, the best website builders offer viable alternatives.
Wix
You may already know that Wix has a popular drag-and-drop builder. That alone makes it simpler to use than WordPress.com. But did you know that Wix offers over 570 templates that are available for free? The Free and Personal plans at WordPress.com offer only a couple dozen templates, and most are just suitable for blogging.
With WordPress, if you need extra features, you have to go through the process of adding plugins and then configuring them. This usually requires that you know how to modify the code. Wix gives you a very robust App Market with most any tool you'll need for your website. While some may require a subscription, you'll find many free tools that give you the same functionality as WordPress plugins, but much easier to use.
I also like that Wix's Unlimited and VIP plans include $300 in ad vouchers along with a free Site Booster and Form Builder app. That's an additional $100 in savings. If you're planning to run an e-commerce website, Wix has multiple plans that are cheaper than WordPress.com.
Wix offers a Business Unlimited plan that's cheaper than WordPress Business, and you get added value with email marketing tools. You can send up to 100,000 emails per month and 20 email campaigns monthly. Oh, and you get 100% commission-free tools, too. Granted, WordPress.com is commission-free as well, but the amount you'll spend on having to pay for certain upgrades, such as the ability to accept PayPal payments, will nullify those savings.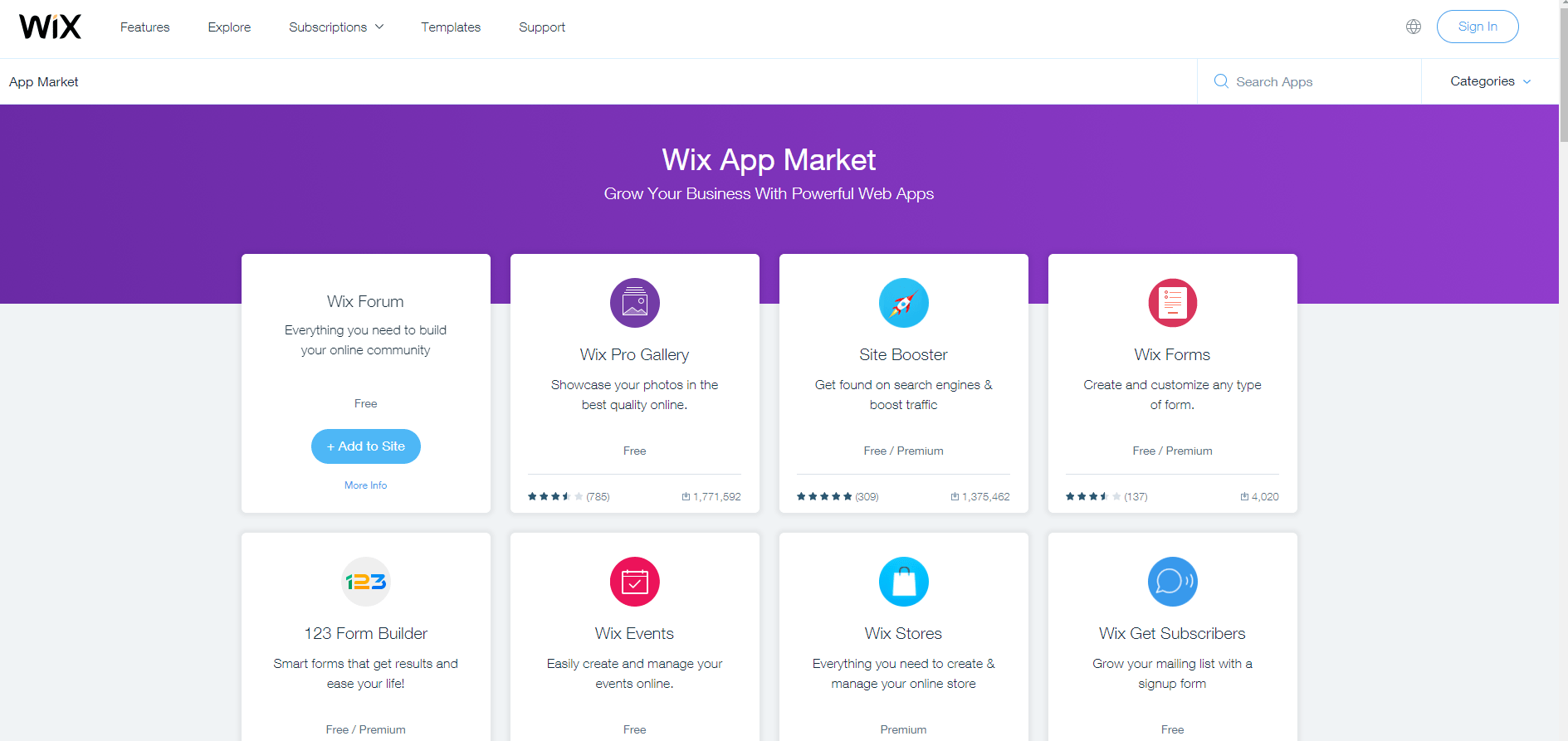 Site123
As its name implies, Site123 makes it easy to build a website. Compared with WordPress, Site123 is remarkably simpler, as it features a drag-and-drop builder along with customizable templates. Its basic plan also offers more storage than half of the plans at WordPress.com.
When trying out Site123, I noticed that it has a better selection of templates than the Free and Personal plans on WordPress.com. There are over 16 categories to choose from.
Another fundamental difference is that you get email marketing tools with Site123, including the ability to send 100 mailing list messages a month on the Basic paid plan. E-commerce features come with all paid plans with Site123, and you don't have to worry about having to pay for certain basic e-commerce features as you would with WordPress.
Weebly
Weebly is famous for giving you the ability to create almost any type of website, but many choose Weebly for its e-commerce functions. Compared with WordPress, I found Weebly to be a more flexible platform for multiple reasons, the main one being that commonly used features are already pre-installed.
You can add photos, video, contact forms, blog posts, online store features, and more by using tools already pre-installed on Weebly themes. For WordPress, you have to either install each element you want, or just hope that the template you selected has your features. Of course, Weebly offers a drag-and-drop website builder, whereas WordPress does not.
Where I find that Weebly excels over WordPress is its e-commerce functionality. Weebly's features are not as robust as WordPress, but they come pre-installed and with very low fees. If you have a small webstore or e-commerce website, Weebly is better suited over WooCommerce or your trying to customize a WordPress template for your business.
Jimdo
Jimdo is another website builder that's popular among those looking for a free website builder, but also is an excellent choice for those looking for professional and business website hosting.
One advantage of Jimdo over WordPress is its Dolphin AI wizard. When I tried out Jimdo, I used it to design a computer repair webpage. The AI asked a few questions, and in about three minutes the basic design was ready. You can go the route of setting up your webpage using templates similar to WordPress, and the customization options are a lot easier, with no coding required.
However, if you know how to code a bit, you're in luck. Unlike the free and Personal WordPress plans, Jimdo will allow you to modify the HTML and CSS of your website so you can make custom tweaks and add other tools that are not standard to the website.
Jimdo offers a Business plan that's slightly more affordable than WordPress, and it includes online store tools at no additional cost. If you use WooCommerce or similar tools for WordPress, you often have to pay to access certain tools. Online store tools are included in the monthly fees.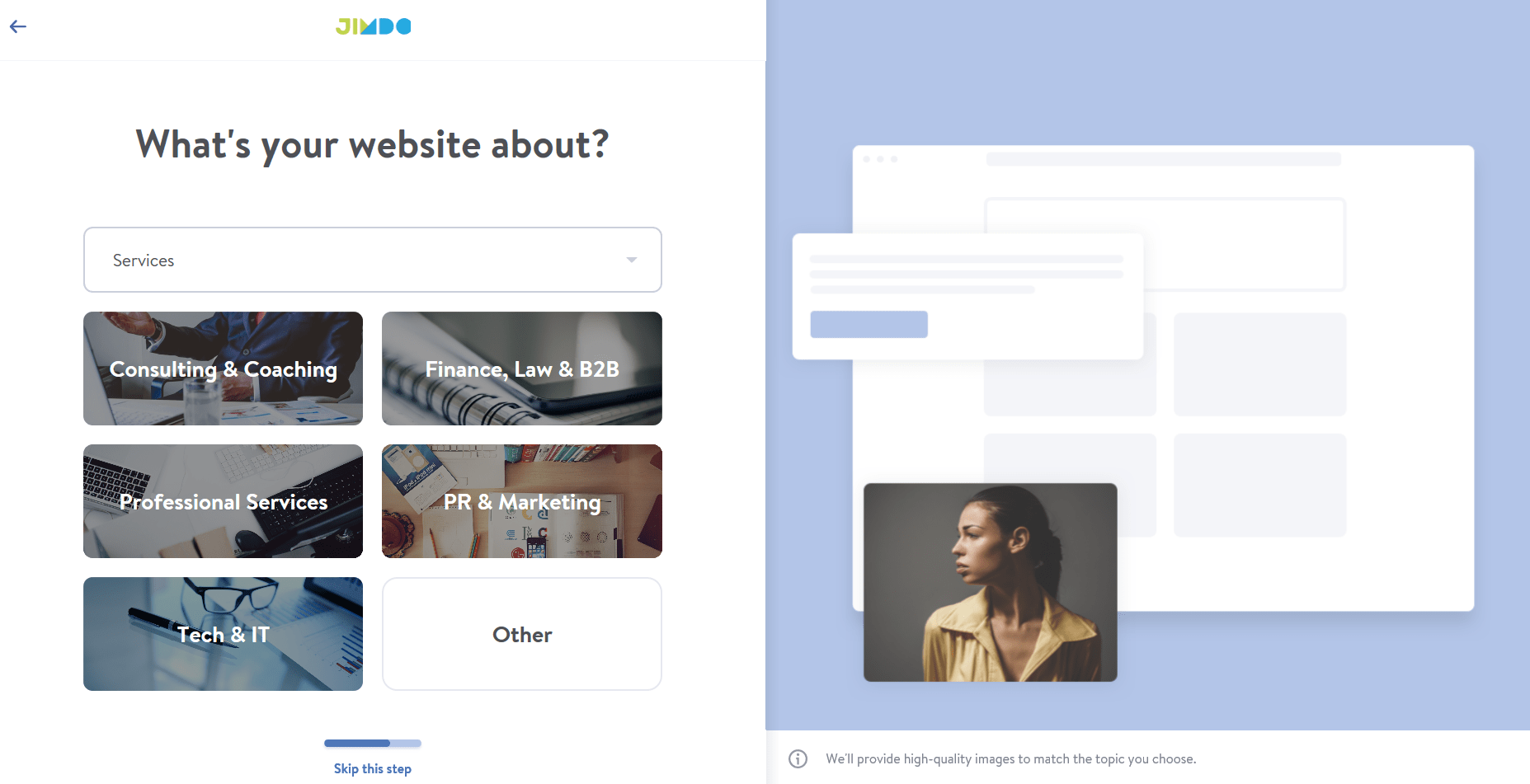 Volusion
Volusion is a bit different from the other builders on this list, as it focuses on e-commerce. It doesn't offer free plans outside of a 14-day free trial, but one thing it provides that WordPress doesn't is a drag-and-drop store builder. With WordPress, you must customize your templates for e-commerce or use WooCommerce and install plugins.
If you're looking to save money on your initial store setup, Volusion is going to be the better choice. I like the fact that you can set up PayPal and Stripe payment processing for free. Other tools come free that you'd have to pay for on WordPress, including inventory management tools, tax calculators, and more.
Also, I also like the selection of themes for Volusion better than WordPress. Its themes are professionally designed to help you sell more products. WordPress' free themes are geared more toward blogging, and if you want premium themes, you have to upgrade to one of their top plans or purchase a theme.
Select the Right WordPress Alternative to Save Time and Money
While WordPress is an impressive platform for website creation, it's not for everyone. For many users, ease of use and affordable pricing are much more important than the ability to install 30,000 plugins. The website builders listed above all give you a viable alternative to WordPress and are both easy to use and may even save you more money in website creation and hosting in the long run.