You don't want to invest time or money in a marketing campaign only to find out your landing page doesn't produce the results you were expecting.
For this reason, I tested all the major landing page builders on the market.
To check their conversion potential, I built a real landing page with each one.
I'll tell you which builders I found to be the most efficient, and which ones you should avoid. On my list, I've included a few dedicated landing page tools as well, along with some all-in-one marketing platforms. You'll see a few paid options, too, because I found some that were too good not to share – and you can try all of them risk free. You'll also find a few builders that are typically used for full websites. This may seem surprising – but in my tests, I found them to be great for landing pages as well. One major plus is that
you can use them for free,
unlike dedicated landing page builders that usually come at a premium.
Wix, my top recommendation, has a great free plan
which includes lots of landing page templates designed for conversion. They're all super easy to customize and come with Wix's powerful marketing, SEO optimization, and analytics tools.
What We Look For in the Best Landing Page Builders
To create this list, I focused on landing page builders with the following qualities:
Ease of use. Building a landing page should be a relatively painless process. While some tools on this list are more intuitive than others, they are all fairly simple.
Plenty of customization options. Your landing page needs to match your brand, and these builders offer lots of customization options to change fonts and colors, upload your own content and images, and much more.
Built-in analytics. You'll want to track your data to measure success and make changes for future campaigns. These builders all have analytics tools available.
Email & social media marketing integrations. A good landing page builder makes it simple to incorporate your landing page into whatever channel(s) your campaign is active on. This could be through built-in tools or integrations with common third-party marketing tools.
Optimization for maximum conversion rate. The best landing page builders offer templates or tutorials that will help you build a high-converting landing page.
Best Free Website Builders for Landing Pages
Surprised to see me suggesting website builders to create a free landing page? Allow me to convince you that these are a good option. In my research and testing for this article, I found that
website builders were far easier to use than dedicated landing page builders.
There's less of a learning curve and you can have your landing page set up in no time. Although they're simpler, you'll still have everything you need to customize your landing page and track the success of your marketing campaign on the free plan.
Not only that, but these website builders have free plans you can use for as long as you like, to create as many landing pages as you like.
This isn't the case with dedicated landing page builders, which will usually limit what you can do for free. If you want more advanced, specialized landing page features and you don't mind paying a bit, I cover my favorite options in a later section.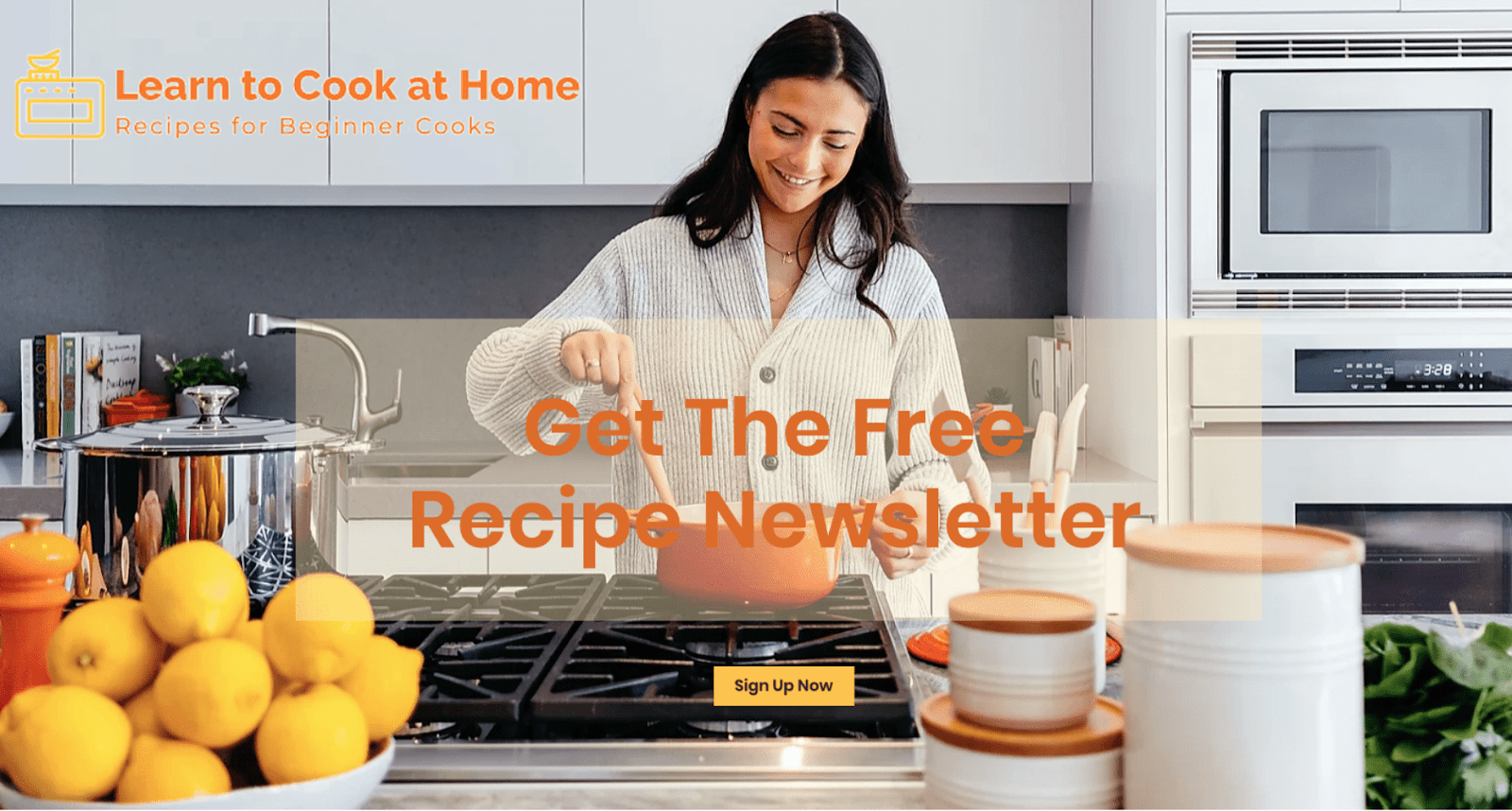 You've probably heard of Wix – many businesses and individuals are using it to create their websites these days. I'm happy to report that it's a great tool for landing pages as well. It offers 36 free
professionally designed landing page templates
 for different use cases and types of businesses, so you're likely to find one with the features and layout you need. With the intuitive drag-and-drop builder, you can easily customize the colors, fonts, layout, and just about anything else –
it's easy to get your page to look and function exactly the way you want
.
There are built-in tools for both email marketing and social media, allowing you to design your emails and social posts within the Wix framework.
You can then connect your relevant accounts to put them into action. The free plan is pretty robust, with access to all the integrations and analytics you might need. However, you'll be stuck with a Wix subdomain and Wix branding on your page if you stay on the free plan, which is an important consideration.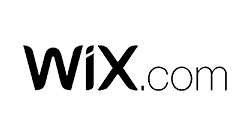 Save up to 33 % on your Wix plan!
Limited-time offer - Don't miss it!
Your Wix with your first % on 31/05/2023!
3901 users used this coupon!
Features
Marketing integrations. Wix integrates with virtually every major marketing tool, including MailChimp, Hubspot, Facebook, and Google Ads.
Advanced analytics. Wix Analytics gives you access to valuable data about traffic, visitor behavior, and lead capture (by channel), plus suggestions to improve conversion. Get even more useful data when you connect Google Tag Manager, Facebook Pixel, Crazy Egg, or Hotjar to Wix Analytics.
Professional video tools. You can entice visitors to view your landing page with promo videos, product demos, and video-enhanced social media posts you create with the Wix Video Maker.
Pre-built elements. Wix offers dozens of visual and text elements you can add to your landing page with a click, from call-to-action buttons to contact forms. Dynamic effects, including custom animations and transitions, add visual interest and keep visitors engaged.

For more information on Wix,
check out our in-depth review
.
Type of Builder
Website builder
Biggest Value-Add for the Free Plan
Built-in email, social marketing tools, and analytics
When To Upgrade to a Paid Plan
When you need a custom domain name
Starting Price of Paid Plan

$

16.00

 per month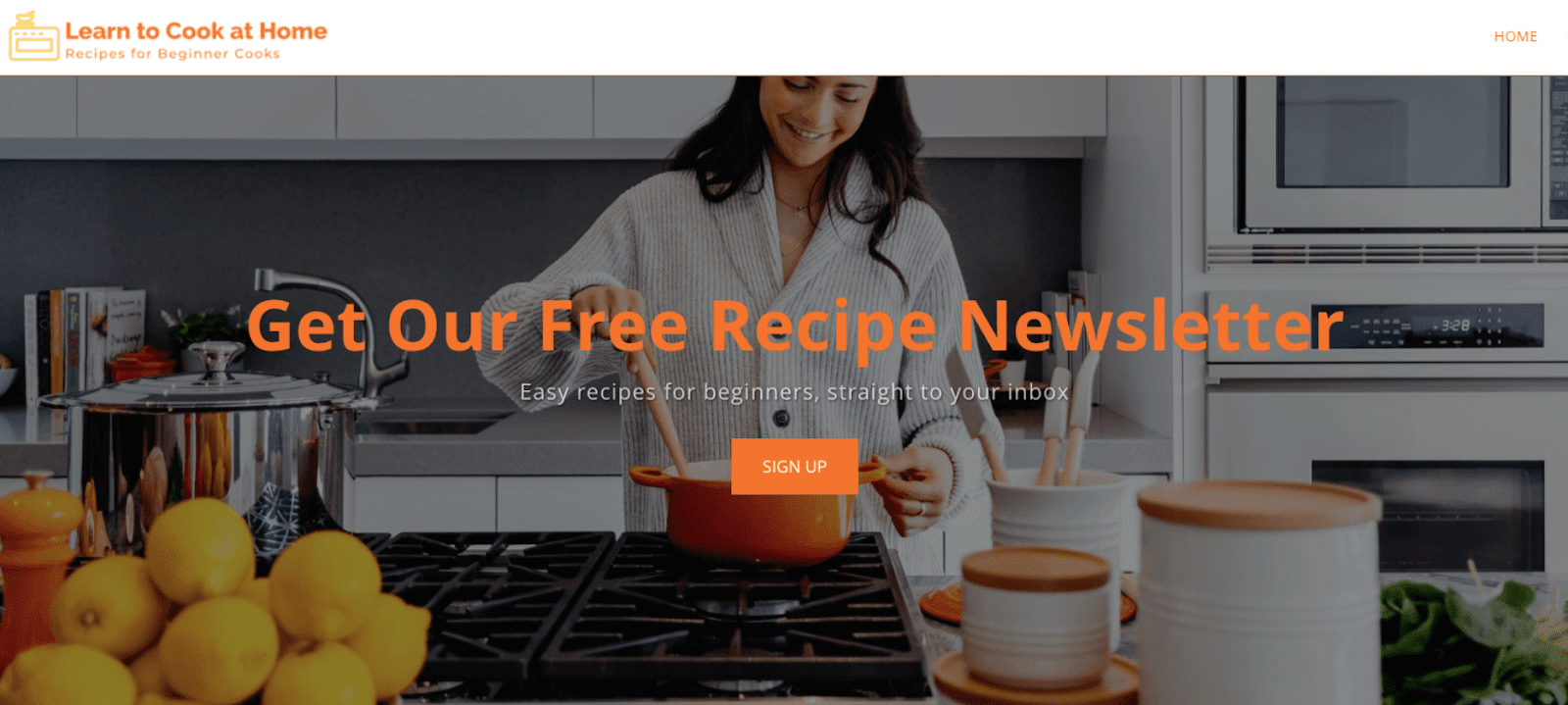 Since SITE123 specializes in single-page websites, it's a great tool to use as a landing page builder. It's easy to add jump links to different parts of the page, so your visitors don't have to scroll to see the information they're looking for.
Your page can be as long and detailed as you want, but you can also keep it simple.

The editor itself is very easy to use.
Even if this is your first time building a landing page, you can get online in just a few minutes
. However, this simplicity does mean you don't get as many customization options as you'll find on Wix, or some of the other landing page builders on this list. That's not to say you can't create a unique website. You'll be able to customize colors and fonts and choose pre-designed content blocks and easily add them to your page. You can also add and modify elements like buttons, create lead-generation mailing list signups with "Promo" pages, and use contact form templates geared to a variety of marketing goals.
SITE123 is a strong contender if you're a blogger or marketer who needs a simple, straightforward landing page builder.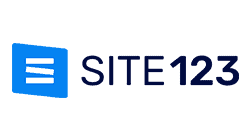 Save up to 50 % on your SITE123 plan!
Limited-time offer - Don't miss it!
76 users used this coupon!
Features
Custom signup forms. It's easy to create a personalized newsletter or other signup form to gather leads with goal-specific form templates. You can also set up custom auto-reply messages that are triggered when visitors submit a contact form.
App integrations. While SITE123's app marketplace is on the smaller side, you'll find plenty of helpful marketing and analytics tools, including Hotjar and Google Analytics. To access the app marketplace, you'll need to upgrade to a paid plan.
Click-to-call phone buttons. The easier it is for visitors to contact you, the more likely they are to act. Built-in buttons on SITE123 landing page templates allow visitors to automatically dial your number, a great feature for mobile users.
Multilingual landing pages. You can design a landing page that visitors can view in their preferred language, making it easier to connect with diverse communities and international visitors.
Our in-depth SITE123 review has more details
.
Type of Builder
Website builder
Biggest Value-Add for the Free Plan
Easy-to-add jump links
When To Upgrade to a Paid Plan
If you need dedicated analytics or integrations
Starting Price of Paid Plan

$

12.80

 per month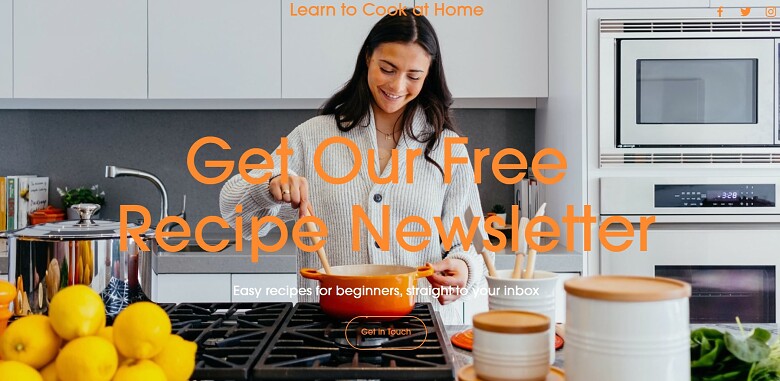 Squarespace is a general website builder that's known for its stunning designs,
and you can take advantage of that to create engaging, high-converting landing pages. You'll find 20+ landing page templates in the "One Page" category, all fully responsive and customizable. If you prefer, you can use any Squarespace template that captures your fancy to design a landing page (all templates share the same features) or start with a blank "Launch" page. Simply click the "+" on your dashboard to add a page and go from there. Whichever option you choose,
it's easy to personalize each page and give it a unique identity that reflects your brand, thanks to Squarespace's new Fluid Engine grid-based editor.
With this drag-and-drop editor, you can add new blocks and block sections, and resize and overlap them to create trendy collage effects. Blocks include sections for contact, newsletter sign-up, and pricing. Squarespace doesn't have a free plan, but it does have
a 14-day free trial, which gives you ample time to try out its top features
. If you're ready to upgrade to a paid plan, at
$
16.00
per month the personal plan is one of the cheapest premium plans on this list – and it comes with everything you need to create an effective landing page.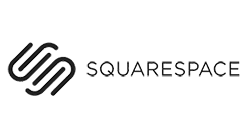 Get $65.00 Off Squarespace's Business Plan
Don't miss out on this great deal!
715 users used this coupon!
Features
Robust marketing tools. Marketing is a Squarespace strong suit, thanks to built-in tools and third-party integrations. You can easily launch a newsletter, sell digital and physical products, and do it all from a single, centralized platform.
Advanced SEO and site analytics. Built-in tools help you bring your site to the top of search results and ensure you reach your target audience.
Mobile layout optimization. If you may want to fine-tune how your landing page looks on mobile, you can use Fluid Engine's mobile view to arrange and resize blocks to maximize engagement. Changes won't be reflected in the desktop view.
Scrolling text blocks. You can add visual interest and draw your visitor's attention to important information or special deals with text that scrolls horizontally across your page in a straight line or up-and-down wave. It's easy to adjust the speed, add fade effects, and more.
Check out our in-depth Squarespace review
.
Type of Builder
Website builder
Biggest Value-Add for the Free Plan
No free plan but unlimited photo storage on cheapest plan
When To Upgrade to a Paid Plan
When you need to make your site public
Starting Price of Paid Plan

$

16.00

 per month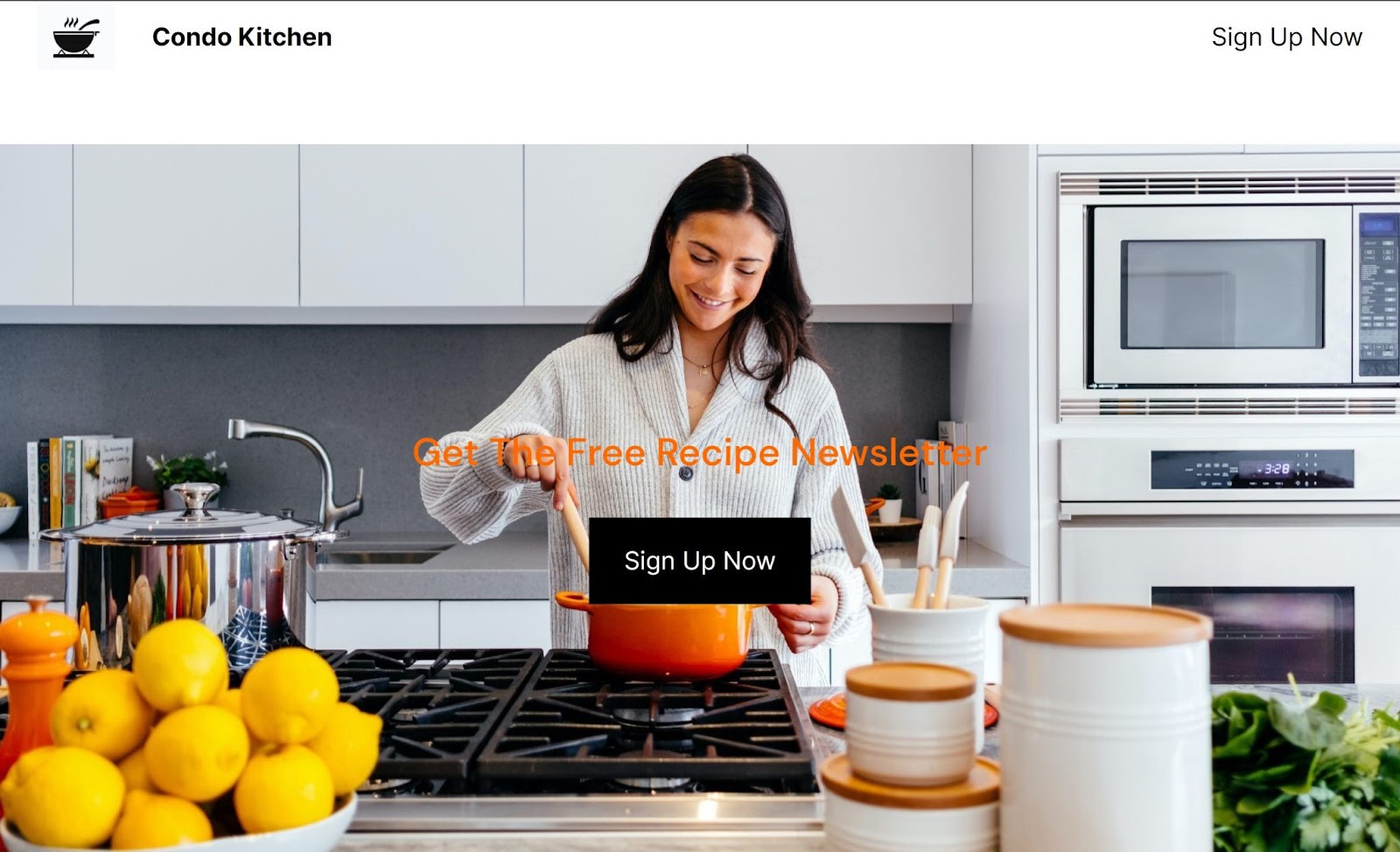 The advantage to using WordPress for your landing page is its flexibility and powerful features. Bear in mind though, it can be a more challenging platform for beginners than a builder like Wix. You can
choose from 24 free WordPress themes, including 15 single-page options and several "coming soon" themes that would make a great landing page.
You can also start with WordPress's Blank Canvas theme and build your page from scratch. Whichever theme you choose, changing your theme's colors, fonts, and text is easily done with the block editor. You can
use blocks to add call-to-action buttons, contact forms, subscription signups, banner images, media, and more.
WordPress's
free plan offers a robust feature set
you can use to get your landing page online. To unlock advanced customizability and functionality, you can upgrade to a paid plan. You'll get a custom domain name, access to thousands of plugins, and priority support.
Features
Block patterns. You can use these pre-built, customizable collections of blocks to quickly build a beautiful layout for your landing page. The Coming Soon block pattern makes a good starting point.
Lead generation. If your goal is building a database of qualified leads, WordPress has what it takes. For example, you can add a newsletter sign-up button or a Mailchimp block to encourage visitors to sign up for your mailing list.
Free page builder plugins. While the WordPress block editor can be challenging for beginners, you can add free page builder plugins (e.g., Elementor or Beaver Builder) for a more intuitive experience and true drag-and-drop functionality.
Social media integrations. WordPress integrates with dozens of social media channels that can help you achieve your marketing goals.
Read our expert WordPress review to learn more
.
Type of Builder
Website builder
Biggest Value-Add for the Free Plan
Built-in newsletter and RSS feed, social sharing, SEO optimization, and analytics
When To Upgrade to a Paid Plan
When you need a custom domain name or want to add plugins for additional features and functionality
Starting Price of Paid Plan

$

4.00

 per month
Dedicated Landing Page Builders
You can create great landing pages with any of the free website builders outlined above,
or
you can use a dedicated landing page builder to get additional features for your campaigns.
These builders have far more advanced features
when it comes to analytics, conversion rate optimization, and promotional tools. Advanced features mean a steeper learning curve, so it will take more time to build a landing page with one of these options, but they're pretty wonderful tools that are worth knowing about. There aren't any
fully
free plans for these next four entries, but you can get a free trial to test them out and see if they'll meet your needs.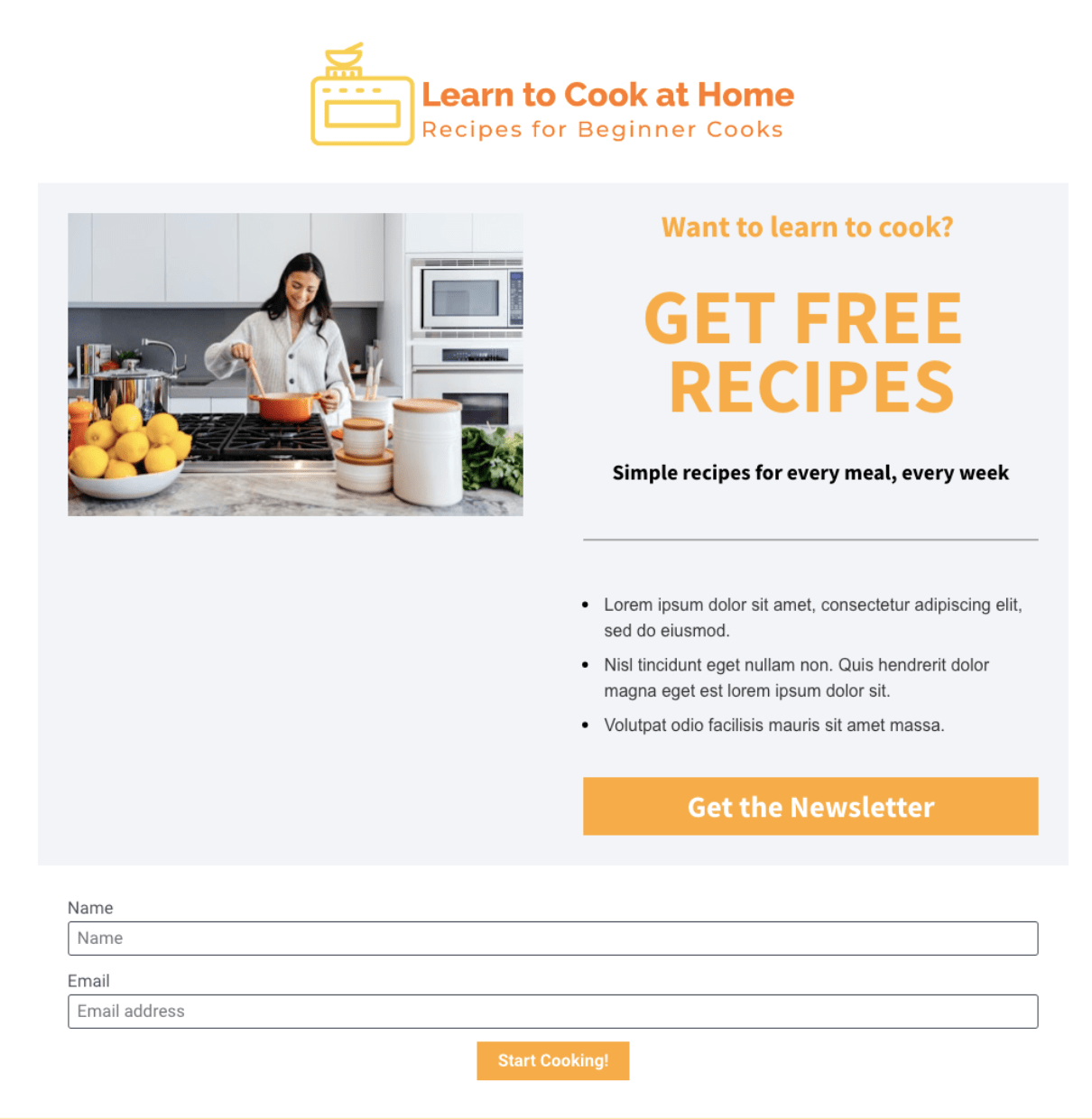 The Leadpages editor is on the simpler side,
offering options for predesigned sections that you can arrange in your preferred order and then customize a bit further
. You can also start from a conversion-rate-optimized landing page template to work even more quickly and guarantee a pleasing design. Leadpages lets you create and publish an unlimited number of landing pages, route leads to a CRM or email program, and organize pages by campaign or client. A huge selection of widgets lets you add extra features to your pages, like countdown timers and video. Plus you'll get detailed analytics to track the success of each campaign. The only major drawback of Leadpages is that it was slow to load at times, whether that was updating my landing page, logging in, or waiting for something to save. This didn't really inhibit progress, but it was pretty annoying when compared to the performance of the top builders on this list.
Features
Leadmeter technology. Use this built-in tool to analyze your landing page for conversion before you publish. You also get helpful suggestions on how to improve the layout, content, calls-to-action, and more.
Useful integrations. Choose from a wide selection of sales, marketing, and social media integrations to add extra functionality to your landing page.
Split testing tools. You can run an unlimited number of A/B and multivariant split tests to compare different versions of your landing page and choose the one that's best optimized for conversion.
Lead magnets. You can attach files or links to landing pages so a visitor who completes a form or clicks on a button can immediately access what you're offering.
Learn more in our in-depth Leadpages review
.
Type of Builder
Landing Page Builder
Biggest Value-Add of the Free Plan
No free plan, but paid plan has lead magnets for automatic delivery of an offer
When to Upgrade to a Paid Plan
After 14-day free trial
Starting Price of Paid Plan

$

37.00

 per month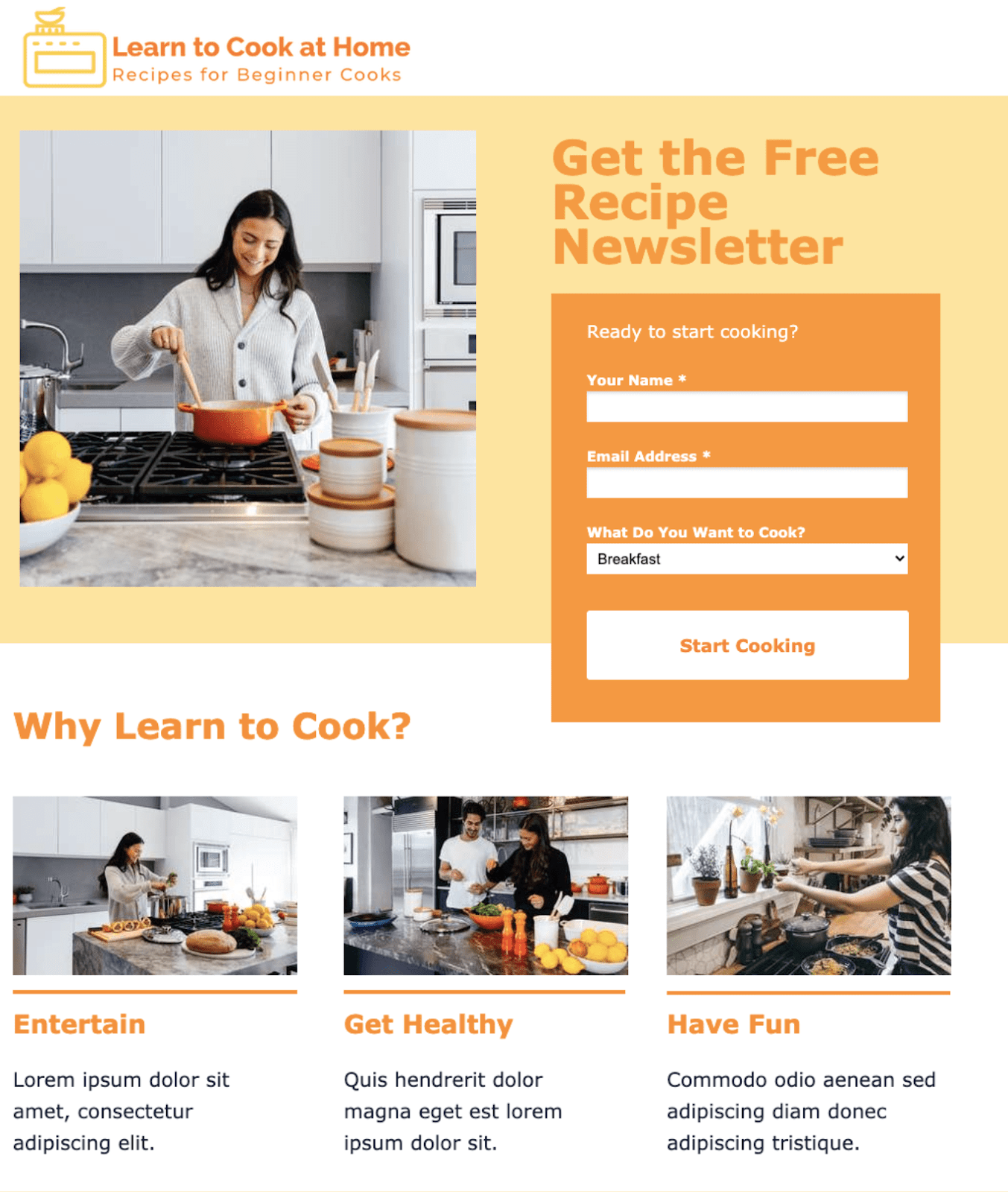 At first glance, Unbounce felt super overwhelming: there were tons of fields and customization options, and some of them looked pretty confusing. After a few minutes, however, I got more comfortable with the interface and realized that
it actually lends itself really well to very detailed customization.
You'll be able to get any template to perfectly match your brand, so don't let the first impression intimidate you. Unbounce has
a ton of landing page templates
categorized by page goal – think lead generation or e-commerce – and you can get more from ThemeForest if you want even more options. You can browse and preview templates in the same window, so it's easy to compare all the different options, and the pre-filled template text is actually a series of tips on how to create a high-converting landing page. This is an incredibly useful feature if you're new to all the nuances of building landing pages. Like other landing page builders,
Unbounce offers tracking, integrations, and A/B testing capabilities
. Unlike its competitors, though, it also offers two builders: its original drag-and-drop builder and, for faster landing page design, an AI-powered builder. You get both with any Unbounce plan.
Features
Smart traffic tool. This nifty tool uses data to serve up different landing page variants to different visitors, based on which one is most likely to make them convert.
AI-powered optimization. Unbounce's smart builder recommends real-time page improvements so you can optimize your page as you build.
Dynamic text replacement. If you use the Classic Builder to create your landing page, you can use this feature to automatically change your landing page copy to align with the ad a visitor clicked on.
Pop-Up builder. Create personalized pop-ups for your landing page to increase signups and gather more leads.
All Unbounce's features are covered in our review
.
Type of Builder
Landing Page Builder
Biggest Value-Add of the Free Plan
No free plan, but dynamic text replacement and "smart traffic" tools for paid plans
When to Upgrade to a Paid Plan
After 14-day free trial
Starting Price of Paid Plan

$

74.00

per month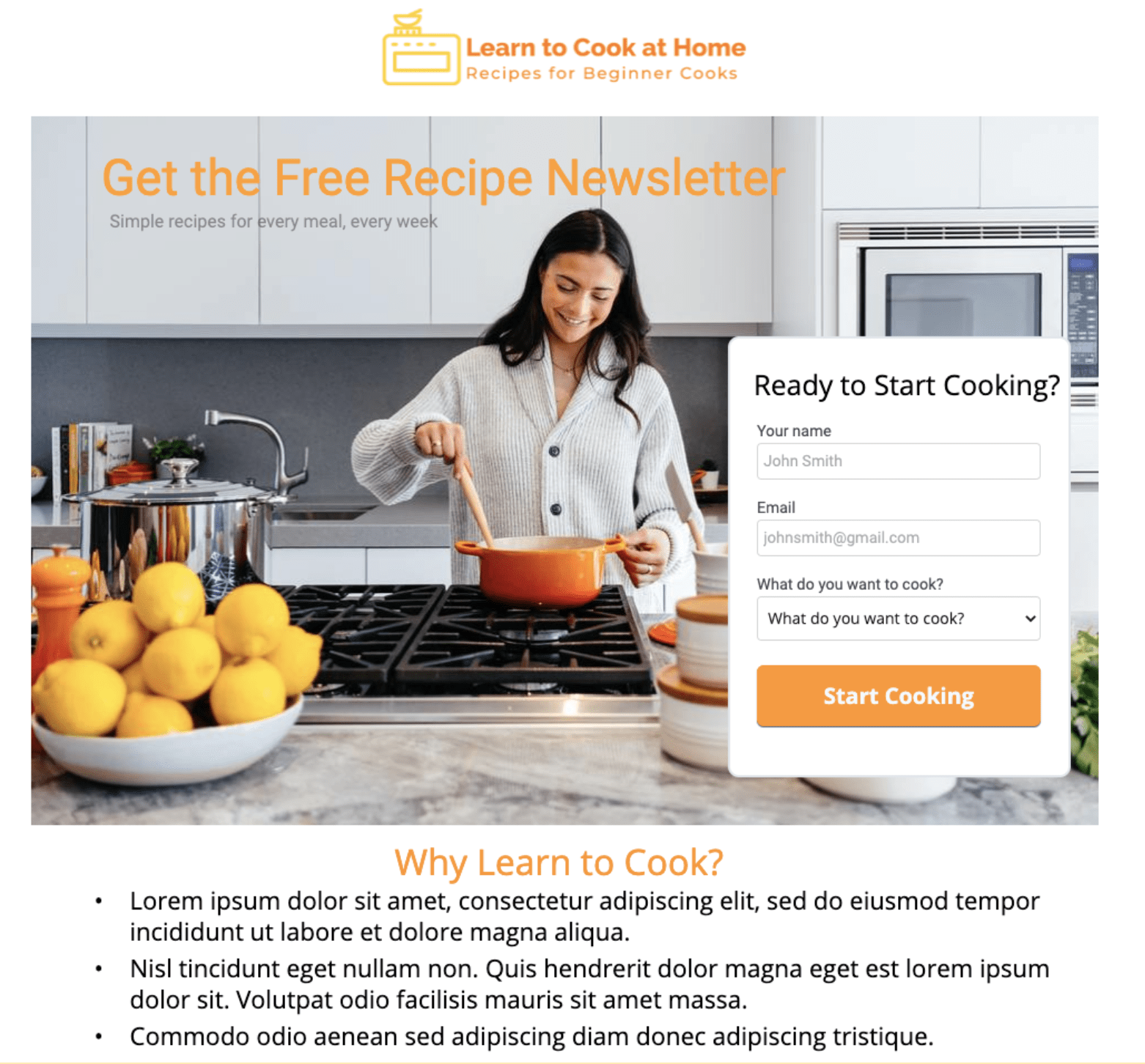 Landingi is pretty similar to the other dedicated landing page builders on this list: there's lots of customization possibilities, tons of integration options, and plenty of analytics and A/B testing capabilities. One helpful feature is that the
landing page templates are categorized by both industry and goal,
so you can quickly zero in on exactly the layout that will yield you the most conversions. In addition to landing page templates,
Landingi also has a series of form templates that you can customize to your liking.
There's a separate tab for editing a custom thank you page after form submission – most landing page builders offer a default thank you page, but it's nice to add a bit of branding. Landingi's built-in analytics are simpler and much more similar to what you get with website builders than dedicated landing page builders, but there are plenty of integration options to extend its analytics capabilities however you need. The free plan limits you to just 200 visits on your page, so this option is best for very small campaigns.
Features
Custom thank you pages. Showcase new products or share details about upcoming events on your thank you pages, ideally upselling and cross-selling to visitors who take a desired action. Use your built-in thank you page for this purpose.
Unlimited landing pages. Landingi doesn't limit the number of landing pages you can build, an advantage for businesses that want to run multiple or concurrent campaigns.
Lead-gen popups. You can engage visitors and entice them to convert with popups that display upon a pre-set trigger, such as scroll depth, exit intent, or time on site.
Targeted dynamic content. The dynamic content feature allows you to create a landing page that will differ to match a visitor's intent, expectations, or behavior. This can improve conversions.
We compare Landingi's free and paid options
in our expert review.
Type of Landing Page Builder What kind of landing page builder?
Landing Page Builder
Biggest Value-Add of Free Plan
Dozens of form templates
When to Upgrade to a Paid Plan
When you anticipate an increase in traffic After free trial
Starting Price of Paid Plan

$

49.00

 per month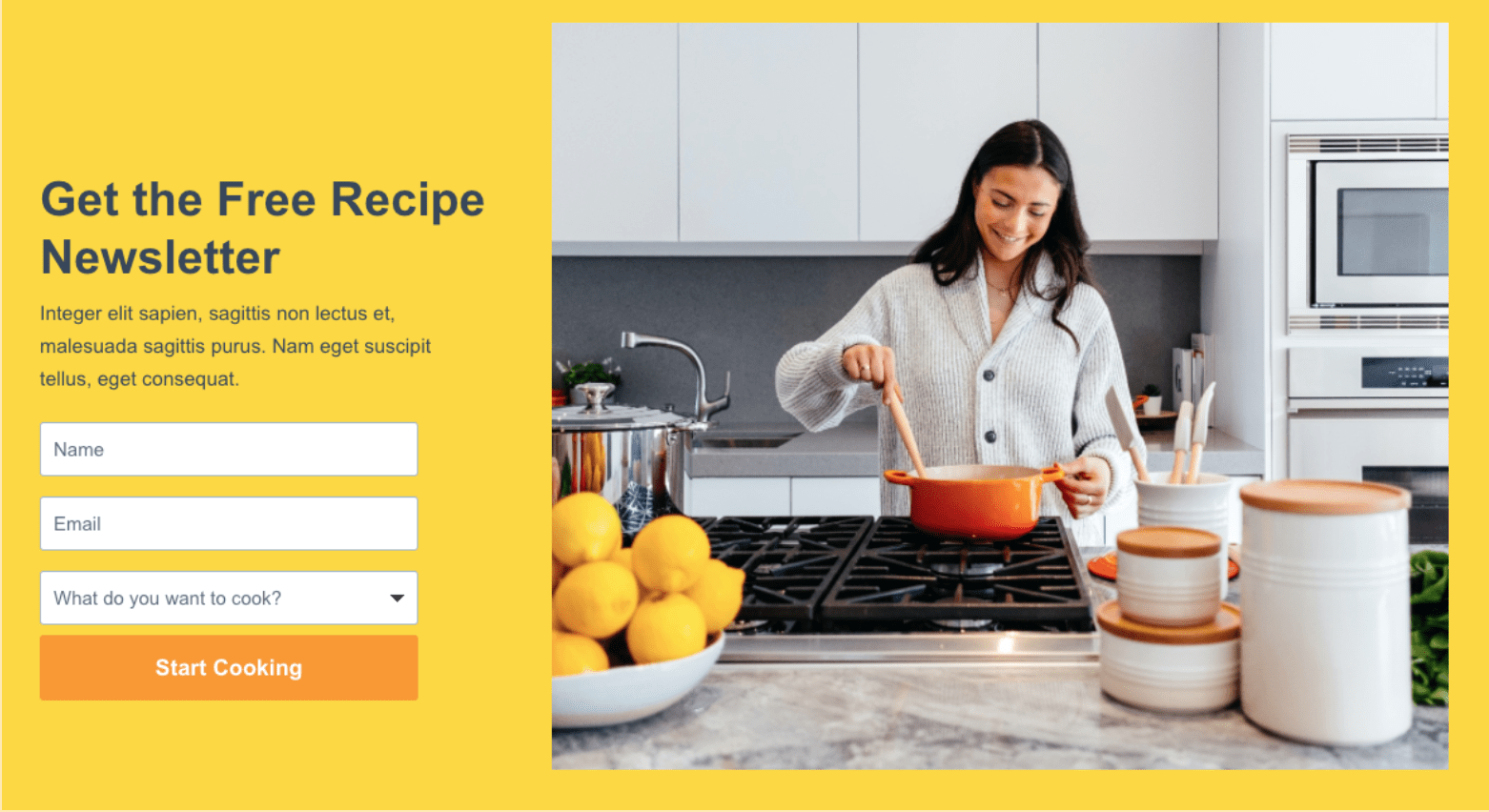 To start building your landing page on Instapage, you choose a template from a huge list that's categorized by use case, such as app download or newsletter sign-up.
These templates are designed to yield the highest conversion rate for that specific goal
, so it's a really useful way to get the most effective landing page for your needs. From there, you can customize your template with plenty of content block template options in dozens of categories. A big plus of Instapage is the streamlined publishing experience: you directly choose from four methods of publishing, rather than it defaulting to a subdomain like most landing page builders do.
You can publish directly to WordPress or Drupal, or connect a custom domain.
Other landing page builders may offer these options, but the process on Instapage is the easiest I've come across. Another useful feature is
the ability to add multi-step forms. Visitors enter their name and email on one screen, and are then directed to additional form fields
to provide more information. This allows you to create a more concise landing page while still capturing the necessary information for your campaign. While testing this builder, I ran into an issue where Instapage canceled my account while I was editing a landing page. I emailed customer support about it, and while they were able to reinstate the remainder of my free trial, it took four days for that to happen. The cancellation seems to be related to a one-time glitch, but it should be noted that support response time is slow.
Features
Tracking and reporting. Built-in analytics, split testing, and heatmap tools give you a picture of what's working and allow you to tweak your page design to improve results.
Widgets library. It's easy to make your landing page more engaging by using widgets to add videos, timers, and more.
Custom content blocks. The Instablocks tool lets you create a library of reusable content blocks for testimonials, calls-to-action, or virtually anything you might want to reuse on a landing page.
Design collaboration. Multiple team members can review, edit, and comment on landing pages and marketing campaigns before they launch.
See more Instapage features in our expert review
.
Type of Builder
Landing Page Builder
Biggest Value-Add of the Free Plan
No free plan, but multi-step forms and easy publishing to WordPress for paid plans
When to Upgrade to a Paid Plan
After the 14-day free trial
Starting Price of Paid Plan

$

68.00

 per month
Additional Landing Page Tools You Should Know About
In case you still haven't found the perfect solution for your next landing page, here are a few more platforms definitely worth checking out. These tools aren't free, but they can accomplish much more than a simple landing page, and they provide excellent value for your money.
ActiveCampaign is a multi-faceted email marketing tool with a drag-and-drop landing page builder, attractive mobile-responsive page templates, and robust automation tools. While it doesn't have a free plan, it offers a 14-day free trial. The biggest drawback is that while you can use the landing page builder during your trial period, you'll have to upgrade to a pricey plan to maintain access. Top features include:
Landing page forms, chat bots, and automation tools to capture and qualify leads
Advanced filtering and in-app metrics for page views and conversions
Rewarding a visitor's desired action with gated content and lead magnets
This is a really robust marketing platform that lets you build landing pages and send them via email, SMS, or chat to your customers. Although Sendinblue has a free plan for email marketing, you only get access to the landing page builder on the paid plans. Here are some of its best features:
Landing page template library organized by the page goal
Tools for personalization, segmentation, and marketing automation
A/B testing for landing page design and layout
What's the Best Free Landing Page Builder?
In testing so many free landing page builders, I learned just how important it is to have certain features and integrations to support your marketing campaigns – for example, the ability to customize your forms is a huge benefit.
Wix leads for most features on a single platform
, and as a bonus, it's always one of the easiest tools to use for building web pages. For most bloggers and small businesses, it will accomplish what you need, all in one place. If you don't want to be overwhelmed with features, but you still want an easy way to build an effective landing page,
a simpler website builder like SITE123
 might be a good choice.
Squarespace will give you a well-designed landing page in minutes
, and its recently upgraded grid editor gives you all the flexibility you need. That's not to say the less robust free landing page builders are bad: if you have an email marketing tool or something similar already established and simply need a basic landing page to plug into those tools, any builder on this list will get you what you need.
For a quick look at the major features of each landing page builder, check out this comparison table:
Vendor
Free Plan
Best Feature
Best For
Starting Price
Wix

✔

Flexible design options and strong marketing and analytics tools for your landing page
Businesses and individuals that want a user-friendly all-in-one tool

$

16.00

SITE123

✔

Free, straightforward landing page builder
Basic marketing campaigns

$

12.80

Squarespace

✘

Stunning templates and premium features
High-conversion landing pages with visual appeal

$

16.00

WordPress.com

✔

Free plan with full customization and plenty of tools for your landing page
Businesses/ individuals with prior technical experience or time to learn

$

4.00

Leadpages

✘

Unlimited landing pages with advanced features
Organizing pages by campaign or client

$

37.00

Unbounce

✘

Powerful testing, analytical, and marketing tools
Marketing agencies and larger businesses

$

74.00

Landingi

✔

Templates tailored for goals and industries
A free plan for smaller marketing campaigns

$

49.00

Instapage

✘

Easy publishing to WordPress
Businesses/individuals with WordPress websites

$

113.00
FAQ
What is a landing page builder?
A landing page builder is a marketing tool that focuses on maximizing conversions by creating web pages linked to specific marketing campaigns, and these tools can typically track campaign success. There are dozens on the market and if you're not sure where to start, take a look at our best landing page builders in 2023.
What is the best free landing page builder?
Based on my tests and research, Wix is the best free landing page builder. You'll get full customization, integrations with tons of tools, and advanced analytics to track your campaign success. SITE123 is a good alternative if you're looking for a straightforward landing page builder for a basic marketing campaign.
Can you create a landing page without a website?
Yes! Many landing page tools will allow you to build standalone pages for your marketing campaigns, without the need for a full website. However, if you desire, you can typically add your landing pages to your website easily. Many of the best website builders in 2023 (including a few on this list) will allow you to make a full site, or just a single landing page.
When should you upgrade to a paid landing page builder?
When you should upgrade will depend on what free landing page builder you choose and what features you need. Overall, you may need to upgrade to connect a custom domain name, access advanced analytics, or use some integrations with other marketing tools. When you're ready to upgrade, check out Squarespace's affordable plans and premium features.