You just need to choose the right one for your website
. You don't want to invest your time and money only to discover that your website builder doesn't have all the features you need. As a marketer and amateur web developer, I've tried almost every website builder out there. I'm going to share with you
the five website builders I think are the absolute best alternatives to WordPress
.
WordPress Alternatives for Businesses – Our Top Picks for 2023: 
What We Look For in the Best Alternatives to WordPress
Simplicity. It should be easy to quickly create a website and edit it without needing to code. The builders here all have a drag-and-drop (or point-and-click) interface that allows you to add and edit parts of a page in seconds with your mouse.
Support. Without a huge community to help you (like WordPress has), there's a good chance you'll need help when building your website. At a minimum, all these tools have a solid knowledge base, and many offer additional tech support if you get overwhelmed.
High-quality templates. Of course, forgoing WordPress doesn't have to mean forgoing attractive themes. These alternatives can still give you a beautiful website.
Affordable pricing. WordPress is fairly cheap to host, so we looked for alternatives with a similar cost. These website builders are all reasonably priced for a small business. Many have free plans that are suitable for hobby websites.
Wix is one of the most popular website builders, and it's been designed to be as versatile as possible. It will allow you to quickly create any type of website — no coding necessary. One unique aspect of Wix is that it offers two site builders. The classic Wix builder gives you control of almost
everything
.
It's what most small businesses will need to use
. The second site builder is a new one powered by artificial intelligence (more on that below). It uses a new, modern site editor that's simplified to include only the most important functionality, so it's much easier to use. If you don't care too much about customization, or are overwhelmed by the classic builder, it's a good alternative. You can use either one of these builders even on the
free plan
.
Features
ADI (Artificial Design Intelligence). This tool gives you a beginner-friendly way to create and edit your website. All you have to do is answer a few questions about how you want your site to look and what features it should have. In a few seconds, you'll have an attractive site, which you can then edit.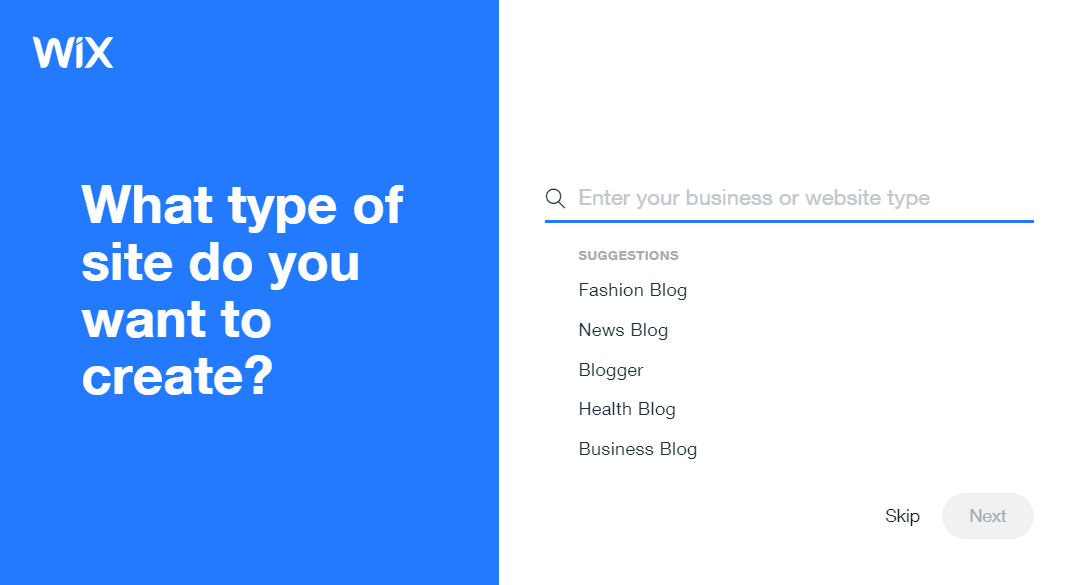 Over 500 Templates. Wix has the largest collection of templates of any website builder on this list, all divided into specific categories (e.g., photography, restaurants, travel, etc.). To view them without having to sign up first, go to the Wix homepage and click the Templates link on the top navigation bar.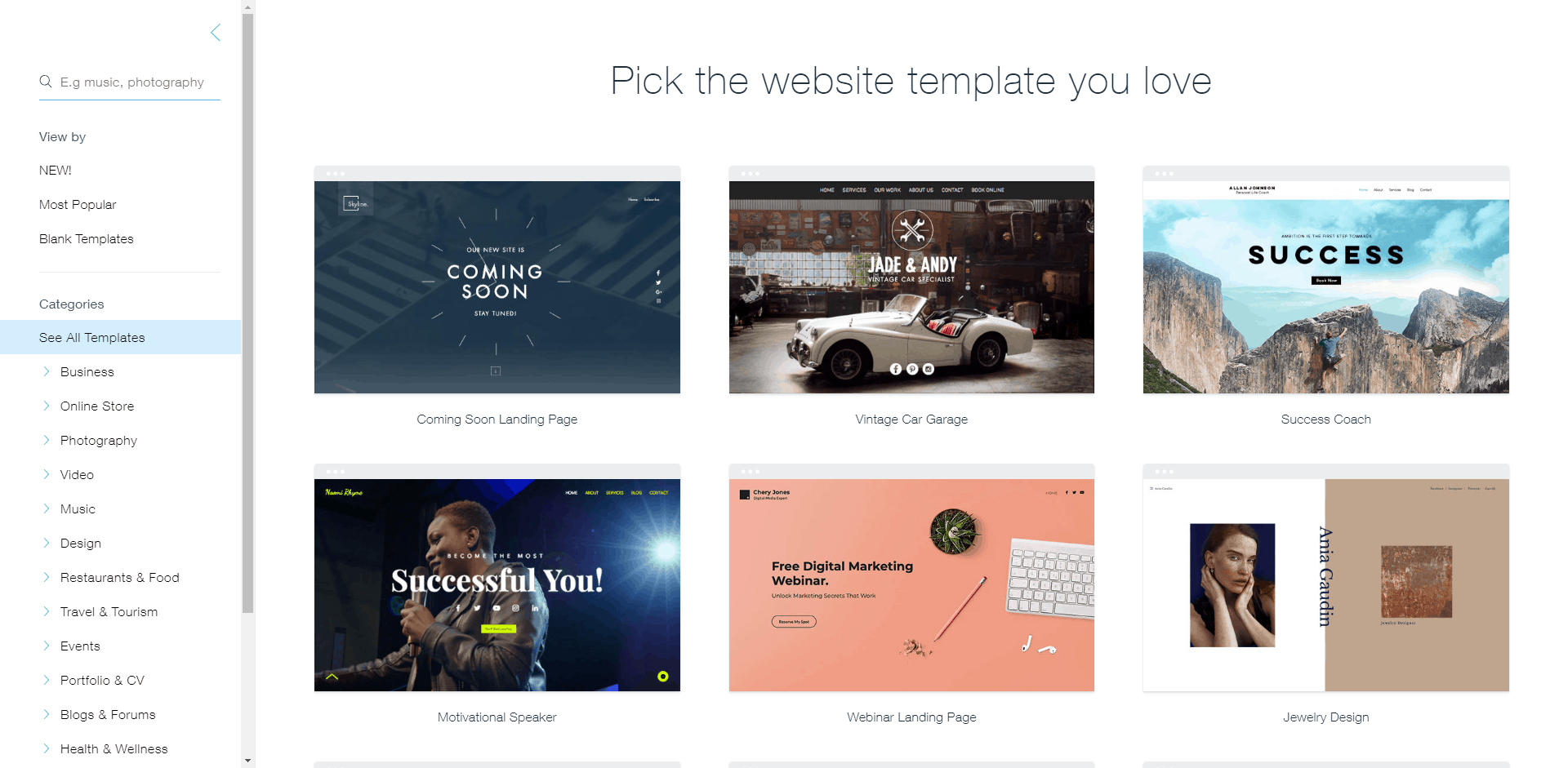 Extensive App Market to extend functionality. Wix has over 250 apps you can select from if the core site editor is missing functionality you need. This includes features like adding a forum or creating custom forms for your website.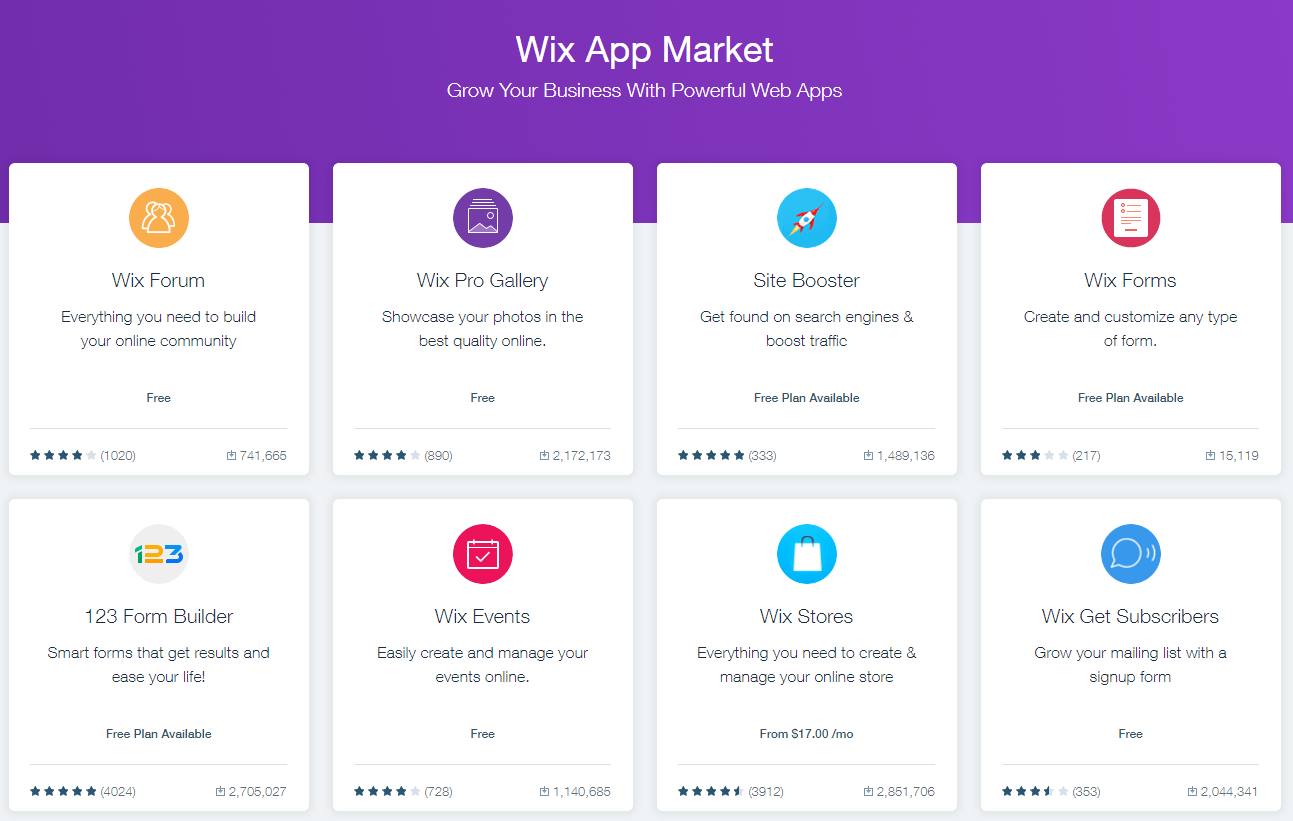 Basic email marketing. While it can't quite compete against dedicated email marketing tools like Constant Contact or GetResponse (which have advanced automation features), Wix does let you collect email addresses of visitors and send them emails and send them basic autoresponders. If that's not enough, you can also easily integrate any major third-party email marketing tool with Wix.
Extensive knowledge base. Wix not only has one of the best knowledge bases I've seen, but it's also available in many languages (English, Spanish, Portuguese, French, German, Italian, Russian, Japanese, and Korean).
Free plan available?
Yes, but with limited features and Wix branding
Built-in analytics?
Yes, but only with a paid plan
Can you sell products?
Yes, but only with a paid plan
Customer support channels

Phone (U.S. business hours)
Ticket (Email)

Starting price of paid plan

$

16.00
If you're interested in learning more about Wix, read our
expert Wix review
.
Even if you have absolutely zero experience with websites,
SITE123 can help you get a website up and running within minutes
. It's the most versatile overall website builder. Aside from your typical business websites, you can also create sites for other purposes like events and local communities, all with the
free plan
. Note that because the emphasis is on simplicity, you won't have quite as much flexibility as other website builders offer. If you see enough websites built by SITE123, you'll notice they mostly have a similar layout. To view SITE123's template library without having to sign up,
go to the SITE123 homepage
, scroll down to the very bottom, and click the 
Website Templates
link.
Features
Simple site setup. The entire process of setting up a website takes three quick steps where you answer simple questions. SITE123 takes your answers from these questions and creates a website it thinks you'll be happy with (spoiler: it does a good job!).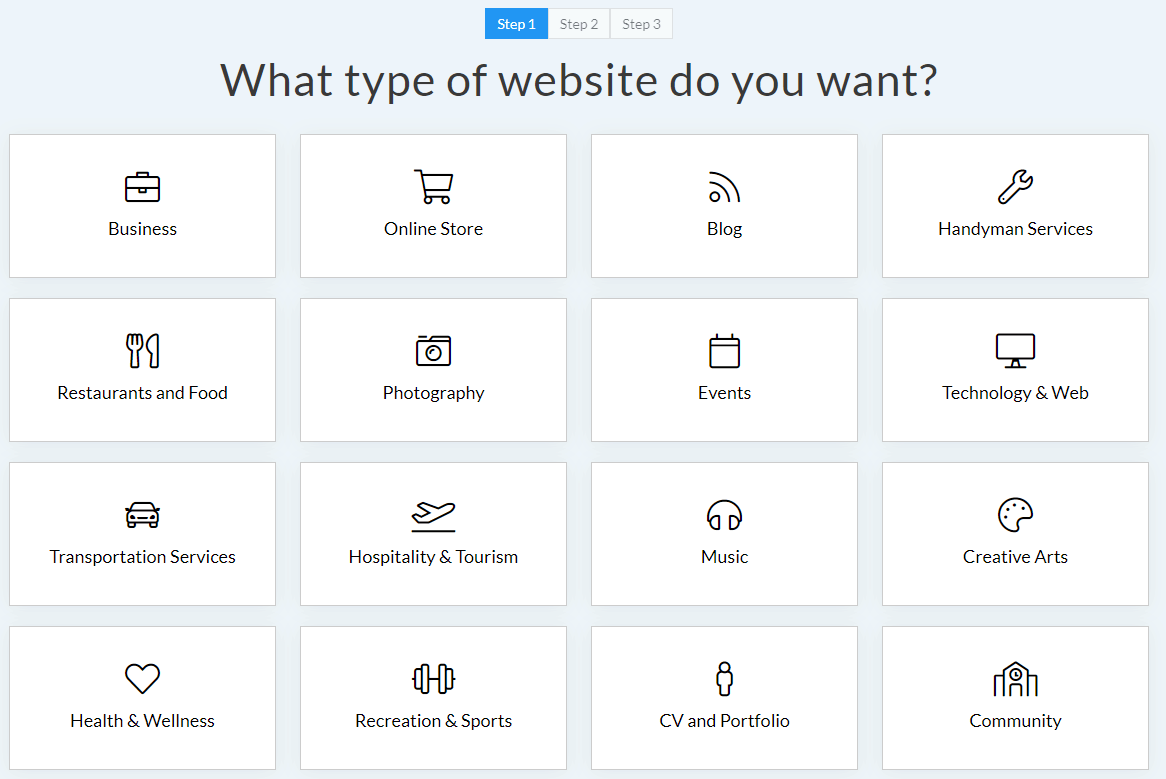 Pre-picked color patterns. Finding an attractive color scheme can be difficult. Fortunately, SITE123 gives you good color scheme options. When you pick one, your website will be automatically updated with it.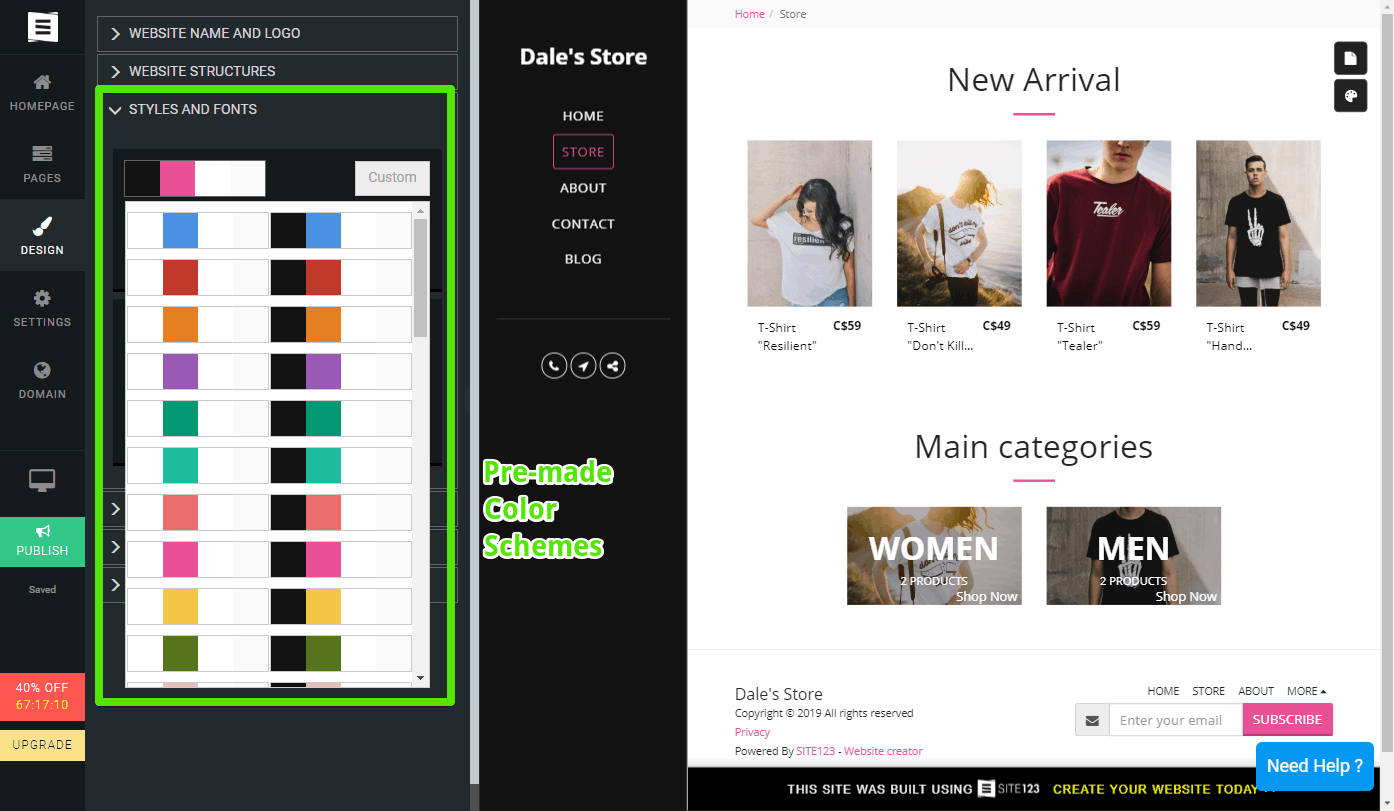 Multiple language support. It takes only a few seconds to change your website's language in the settings section. SITE123 will translate as much of your site to that language as possible. Look, I was able to change my website to Korean!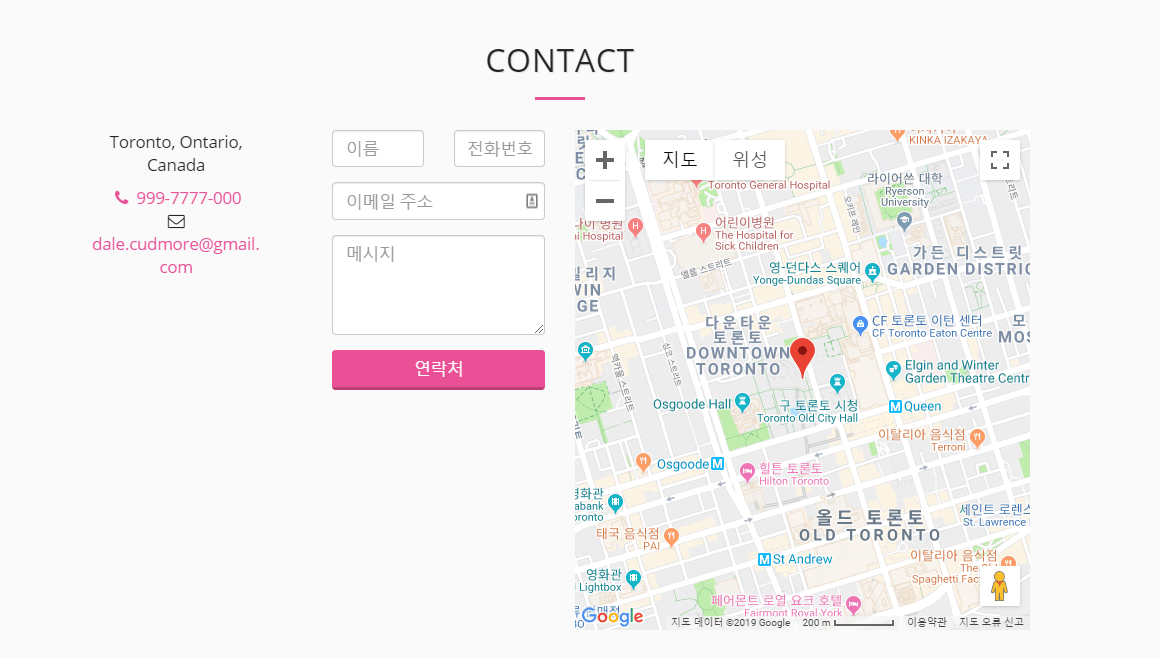 Basic store functionality. The website builder works great for getting started with selling products. It's very easy to add products and collect payments.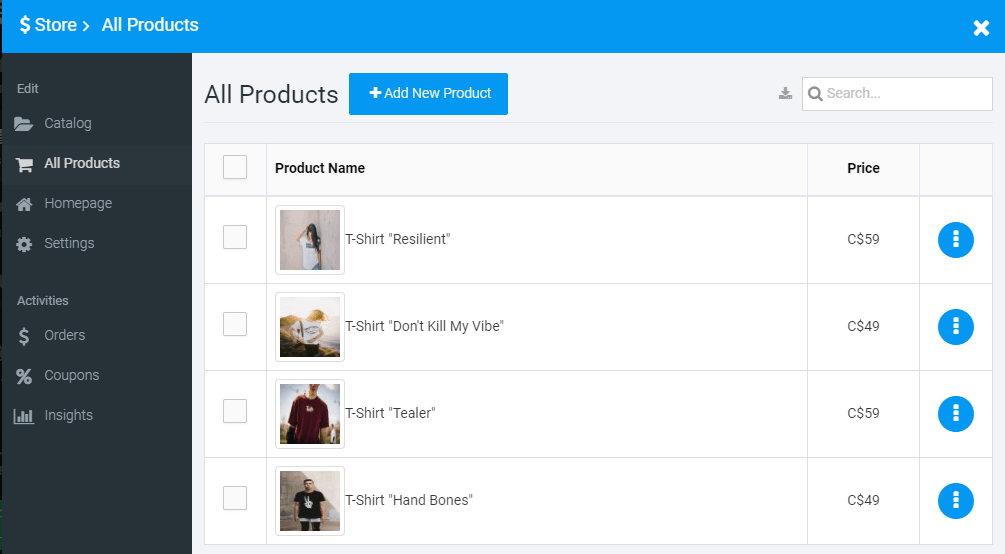 Free plan available?
Yes, but with SITE123 branding
Built-in analytics?
No, but you can integrate Google Analytics
Can you sell products?
Yes, on paid plans
Customer support channels
Live chat (24/7)
Starting price of paid plan

$

12.80
Want to learn more about SITE123? Check out our
expert SITE123 review
.
Squarespace is designed for people who want their website to feel ultra-modern and highly professional, regardless of the type of business they are running. From restaurants and local businesses to non-profits and online stores, Squarespace has a theme design that matches your vision. 
Squarespace comes with a wide selection of marketing and SEO tools to help you grow your business. It also offers
personalized business support
that involves a team of experts creating custom business solutions that meet your goals.
These perks don't come for free, though – Squarespace doesn't offer a free plan, but it does offer a 14-day free trial on all plans
, so that you can test the product before you make a final decision. 
Features
Highly professional business templates. Squarespace offers over 60 templates

in total, most of which are business-oriented and all of which have an elegant and minimalistic style. 

Email marketing

. Squarespace prides itself on creating powerful email campaigns to help you grow your client base, so you can expect effective email content with your existing products, blog posts, and logo to help your messaging stay consistent. In addition to their own email marketing platform, you can also integrate Mailchimp.

Third-party integrations

. Squarespace owes its functionality to teaming up with numerous third-party websites and services. You can embed maps, restaurant menus, Youtube videos, G Suite, Google Analytics, Amazon Affiliate tracking and a large number of social media networks.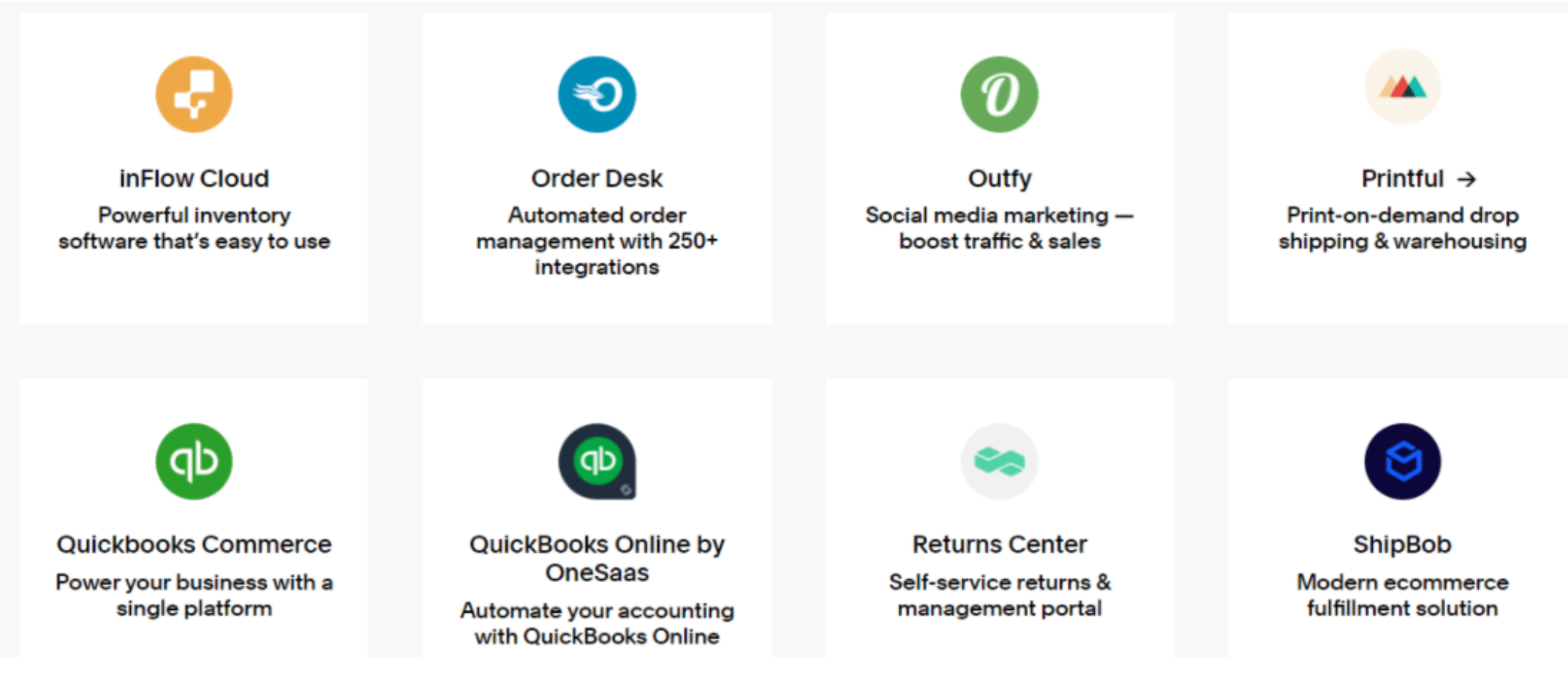 E-commerce functionality

. You can create an online store in just a few clicks, and there are so many features you can use, including the ability to

accept payments via PayPal, Stripe, and Square

, sell digital and physical products, sell gift cards, get automatic tax calculations, create ship zones, and much more. 

Personalized business support

. If you sign up for the

Squarespace Select plan

, you get access to a team of designers, account managers, and SEO consultants to help you build and manage your website. Another option is to choose the recently added

Enterprise Solutions

, which involves creating website solutions tailored to your needs, including security and privacy evaluation, custom contracting and payment methods, or a bulk purchase package. 
Free plan available?
No, but there is a 14-day trial for all plans
Built-in analytics?
Yes
Can you sell products?

Yes, but only from the Business plan up

Customer support channels

Support ticket system

Live chat

Starting price of paid plan

$

16.00
Want to learn more about Squarespace? Check out our
expert Squarespace review
.
GoDaddy, one of the biggest names in web hosting and domain registration, has recently released a new update to GoDaddy Websites + Marketing (
and is even offering a free plan
). When you get started,
 GoDaddy suggests a template for you.
 The site builder even pre-loads your template with relevant stock photos based on the industry you've selected. GoDaddy Insight analyzes your industry and website goals to provide specific recommendations for improving your site. 
Just select a few business goals, then wait for your custom action plan to be generated.
Features
Extremely basic editor. There aren't as many options to modify the pages on your website as there are on other builders on this list. That's a good thing if a lot of options overwhelms you.  However, it can be frustrating if you want to modify something specific but can't (e.g., changing the spacing in between sections).
Automatic Facebook page. One of the marketing features is that the website builder will automatically create a Facebook page for you. You can share content directly from your website to your page.
Google My Business (GMB) integration. The site builder automates most of the process of creating a GMB profile, which will help your business be found on Google Maps and in search results.
Online store features. If you're in e-commerce, you can upgrade to the "Online Store" plan to add inventory and sell products on your website. You'll be able to accept credit card payments, PayPal, and Apple Pay.
Simple email marketing. If you purchase the Business Plus plan, one of the three main sections of your account is dedicated to email marketing. It contains tools to create subscriber lists and send emails to those subscribers.
Free plan available?
Yes
Built-in analytics?
No, but you can install Google Analytics
Can you sell products?
Yes, on the "Online Store" plan (most expensive one)
Customer support channels

Phone (24/7)
Live chat (not always available)
Community forums

Starting price of paid plan

$

9.99
For more info about GoDaddy, you can read our
expert GoDaddy review
.
Among the website builders on this list, Weebly stands out as the only popular one that explicitly focuses on assisting e-commerce businesses in building their websites. While many other website builders offer online store functionality on specific plans, Weebly takes it a step further by prioritizing the needs of e-commerce businesses. It has the
most intuitive online store setup and management
I've come across, and it lets you sell all types of products (e.g., digital, physical, services, etc.). One thing to keep in mind is that unless you purchase the "Business" plan, you'll pay a 3% Weebly transaction fee. The
free plan
 doesn't come with e-commerce features, but it can be enough if you just need to build a very basic site.
Features
Simple drag-and-drop editor. Most website editors let you change a page by clicking an "add section" button at the edge of any section. Personally, I find it faster to just drop in elements wherever I see fit. Weebly has a smooth editor that's more intuitive than other editors that require at least a few clicks to add a new element.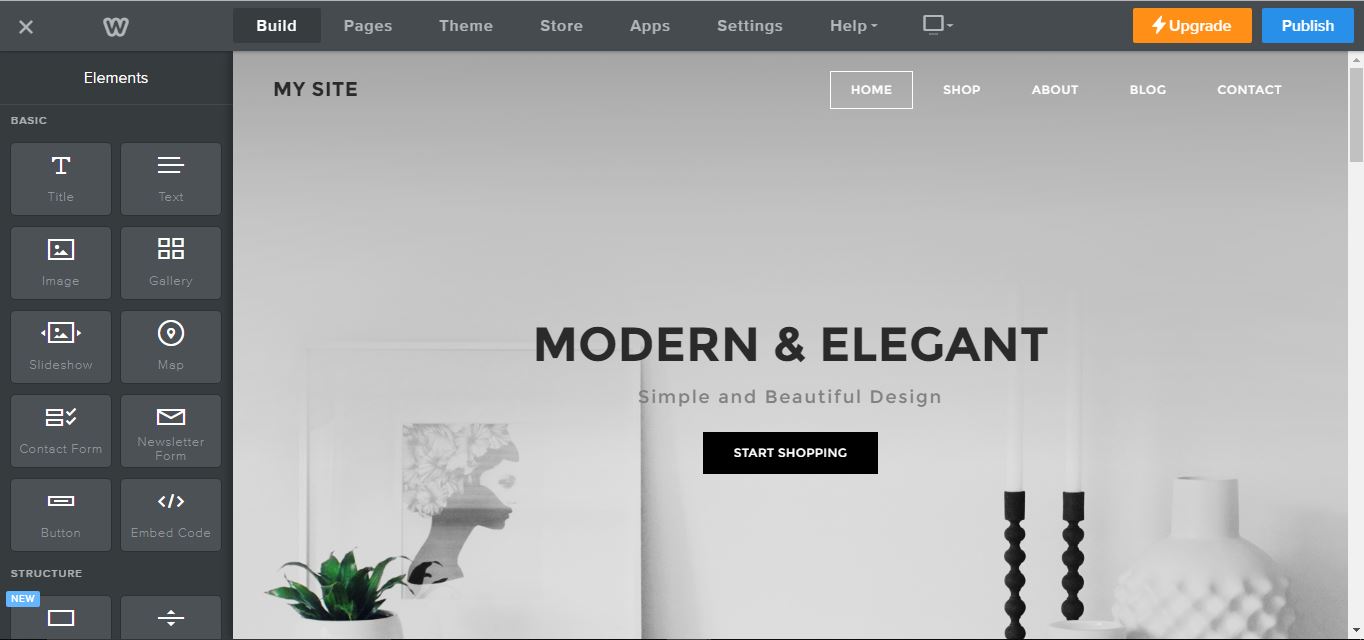 Over 330 apps. As I mentioned, the site editor is fairly simple, as it focuses on basic elements. However, if you need more functionality for your website, there are hundreds of apps you can choose from. You can add Facebook live chat, create a membership website, or create product shipping labels, for example.
Built-in traffic analytics. While you can install Google Analytics, you can also just use Weebly's built-in reporting. It's a simple, easy-to-understand way to see how many people viewed your website, what pages they saw, and where they came from (e.g., Google, referring sites).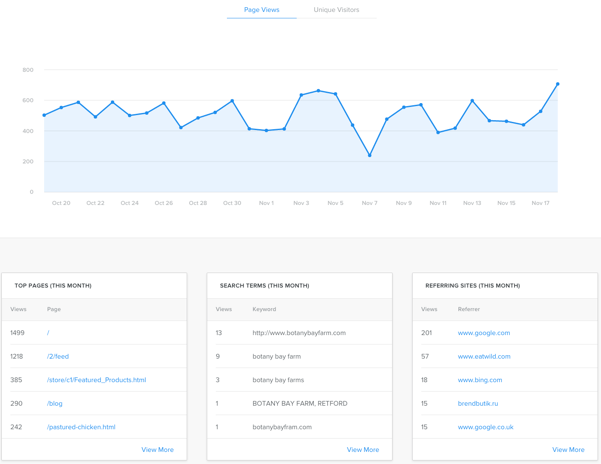 Simple store setup. While Weebly offers the most for e-commerce businesses in my opinion, it's also arguably the simplest to set up. Clicking on the "store" link on the top menu of the website editor brings up an intuitive store panel where you can add store products, inventory, coupons, and much more.
Product filters. Weebly enables users to search and narrow down product results, making it ideal for e-commerce sites with a vast array of products. While other website constructors provide similar features, none appear as attractive or provide as many filter alternatives.
Free plan available?
Yes, but with limited store features and Weebly branding
Built-in analytics?
Yes
Can you sell products?
Yes, on most paid plans
Customer support channels

Phone (U.S. business hours)
Live chat (24/7)
Email

Starting price of paid plan

$

6.00
Read our
expert Weebly review
to find out more about Weebly.
Which Is the Best WordPress Alternative for You?
Each of these website creators has its own unique advantages and disadvantages. Choosing the best one for you will mainly depend on the type of website you're trying to build (e.g.,
e-commerce
,
portfolio
, hobby site, etc.) and how complicated of a site you're making. All of these five tools cost a similar amount per month, so that's not usually going to be a deciding factor.
Finally, here's a summary table that compares the five best WordPress alternatives:
Alternative
Best for…
Best Features
Overall Ease of Use
Wix
Any small business

Huge, attractive template collection to choose from
ADI site builder and editor are very intuitive

High
GoDaddy
Small businesses that want to manage their online marketing alongside their website

Email marketing and social media marketing features built-in

Medium
Weebly
Medium-to-large online stores

Simple store setup and inventory management
Complete feature set for selling online

High
SITE123
Quickly creating websites for events (whether one-off or annual)

Only three steps to set up site
Several premade color schemes and layouts to choose from

Medium
Squarespace
Businesses looking to scale

Best looking template library

Selection of marketing and SEO tools

High
FAQ
Is WordPress the best for SEO?
WordPress is an extremely powerful platform for SEO because it comes with SEO-friendly themes and numerous plugins that are designed specifically for SEO. Still, the best option for you will depend on your needs and preferences. For example, Squarespace has relatively basic SEO tools compared to WordPress, but it has more built-in features and it's more beginner-friendly. 
Is WordPress really free?
WordPress.com has a free plan, but it comes with limited features. You don't get a custom domain, you have limited customization options, and you can't add any plugins. To make a fully functional website, you'll need to subscribe to one of its paid plans, but you can always take advantage of current coupons
 to get discounts on monthly or annual subscriptions.
What's better, Squarespace or WordPress?
It all depends on your needs. Both of them have a bit of a learning curve, and both of them come with an extensive app market. WordPress offers more flexible customization options and a larger number of templates to choose from, although they are mostly blog-oriented. Squarespace offers top-notch, professional theme designs and it's generally more geared towards business users. To help make your decision, read our expert Squarespace review and our expert WordPress review. 
Is there any other CMS better than WordPress?
WordPress is probably the most popular CMS because it's flexible and fairly easy to use, however, it's not the only option available. If you're unsure that WordPress is the way to go, take a look at our list of the best website builders in 2023

.