Both Wix and WordPress promise to deliver a quick and easy website building experience. But which platform is better for you? Each with its own strengths and weaknesses, there's much to consider. For example, will Wix win you over with its industry-leading template library, or will WordPress steal the show with its third-party content? Time to find out.
Ease of Use
When it comes to ease of use, the difference between the two platforms is highly nuanced and may very well come down to personal preference. WordPress started as a blogging-centric platform, which is something they've clung to even to this day. WordPress boasts a very user-friendly (and fun-to-use!) content editor for writing blog posts, and most of the templates are geared toward this kind of website.
This means that WordPress is still one of the best platforms for blogs. However, it's much harder and less intuitive to successfully create a gorgeously designed website for another purpose. The customizer is also more limiting in terms of design choices, which makes it harder to create the unique website you picture.
As for Wix, its mission has always been to simplify the process of uniquely customizing a website — with zero need to code. The powerful Wix Editor makes it easy to extensively customize the look and feel of your website. Because of Wix's sheer number of capabilities, mastering the platform might take a little longer than some of the other drag-and-drop builders out there, like Weebly.
That's why Wix also released Wix ADI (Artificial Design Intelligence). This wizard will almost completely design a website for you based on input you provide and give you a simpler editor with which to customize your webpages.
Another difference between Wix and WordPress is that Wix is a proprietary platform, whereas WordPress.com is open-source. This means that everything you can use on Wix is built right into Wix. By contrast, to access even more templates and plugins for WordPress, you'll need to take an extra step and go outside of WordPress to get them.
And the Winner Is…
Whether Wix or WordPress is the better option for you probably comes down to the type of website and experience you're after. Personally, I feel that Wix is the winner, as it provides you with powerful features and tools and makes them easy enough for anyone to use. Plus, the fact that you never have to leave the Wix ecosystem for extensions or themes means you'll always have a consistent experience, managed from a single place.
Templates and Design
In terms of quality and number of templates, Wix outshines WordPress. Wix has a massive template library of over 500 templates spread across many categories, such as Photography, Health and Wellness, Real Estate, and more. It used to be the case that some templates were lacking in quality, but Wix has tightened up its standards, and these days, most templates look great. While this is already superb, the real knockout blow is that all of them are free.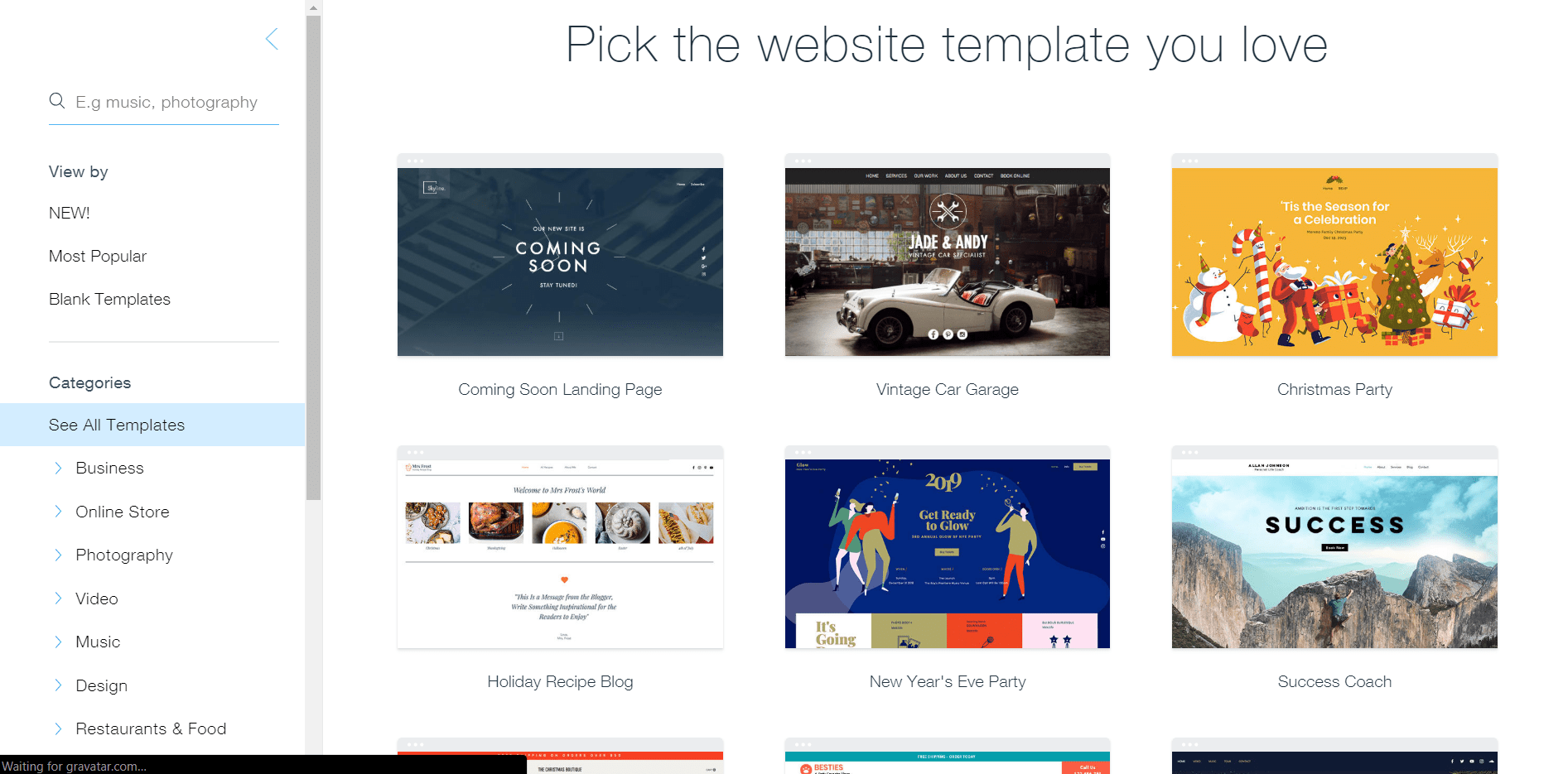 WordPress offers almost 100 free templates, and almost 300 premium templates. With a Premium or Business plan, you can access the premium templates for free, too. However, in general, the quality of the templates are a bit less impressive than Wix templates. With a Business plan, you can buy themes from third-party marketplaces like TemplateMonster and install them on your website, but these aren't always guaranteed to work and can get quite expensive.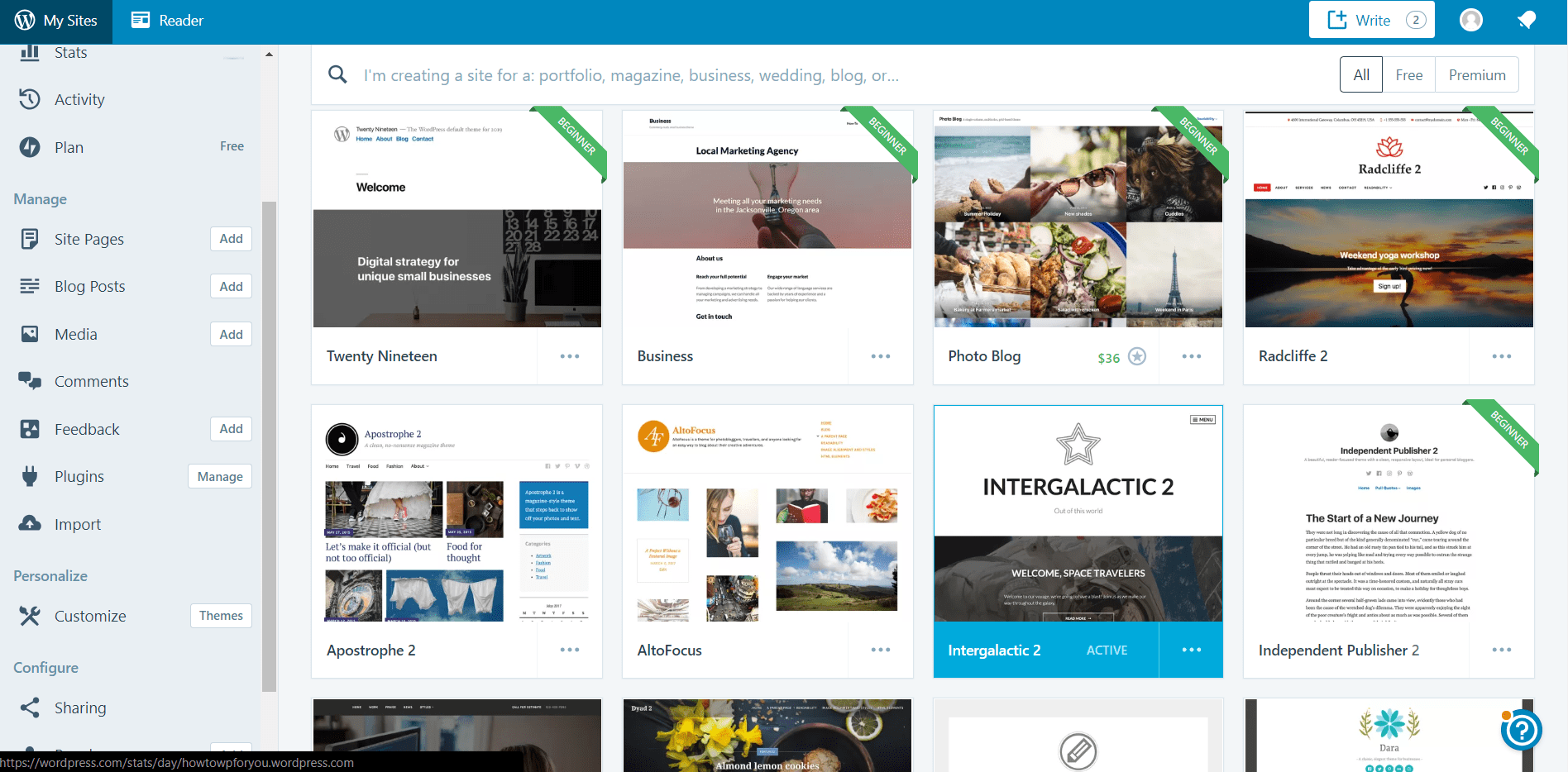 Now focusing on your ability to tweak the design, Wix templates are fully customizable using the Wix Editor — one of the most extensive website builders out there. It uses a drag-and-drop interface and a comprehensive set of tools and options to help you customize your website top-to-bottom, with zero need to code. As for WordPress, not all templates can be customized to the same extent. With no drag-and-drop functionality, WordPress offers very limited customizability. Again, there are plugins available that can help, but you need a Business plan to install them.
One advantage WordPress has over Wix is that it allows you to access and customize the CSS of your website. This is the easiest way to make completely custom design choices using code.
And the Winner Is…
Looking at out-of-the-box features, there's little doubt that Wix is the winner. Not only does Wix give you a superior library of templates and a drag-and-drop webpage builder, but it also provides all of this with every plan. You won't have to sign up for more expensive plans, purchase and install third-party templates or plugins, or make custom changes in code.
Plugins and Extendibility
Wix's App Market has over 250 apps available that cover multiple categories and features, from events and travel, to ecommerce and marketing tools. These apps are fully integrated into Wix; therefore, they can be installed with just a click and are automatically updated and maintained. Furthermore, being 100% part of the Wix ecosystem means that there's a much smaller chance of an app being buggy, not properly working alongside other apps, or becoming outdated and vulnerable to security risks.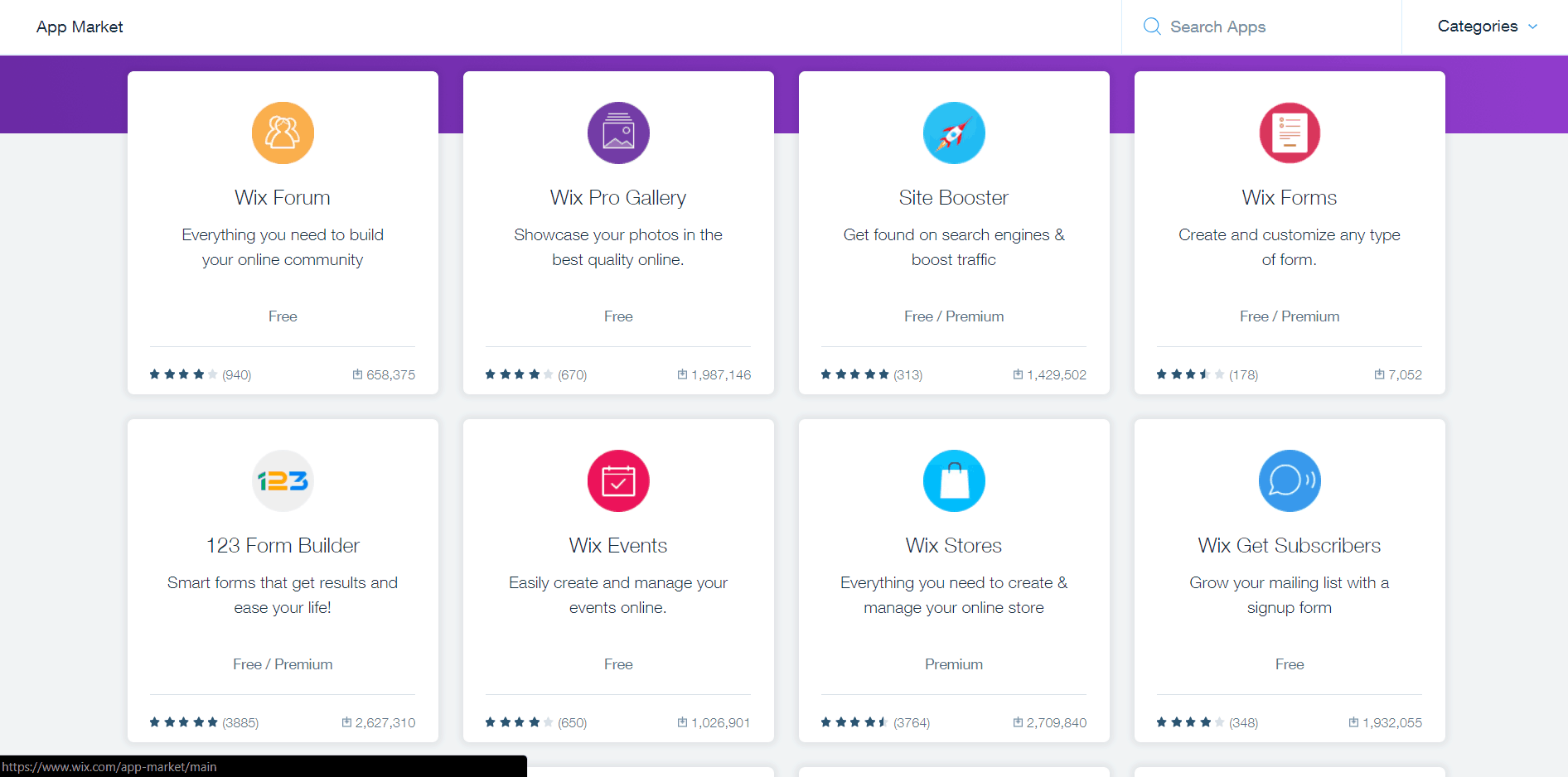 With WordPress, you won't even be able to install a plugin without at least a Business plan. However, you can then install and use all the plugins in the repository for free. There are also thousands upon thousands of third-party WordPress plugins, although these differ hugely in how reliable and reputable they are. You might also not have access to support, depending on the plugin and whether it's free or premium.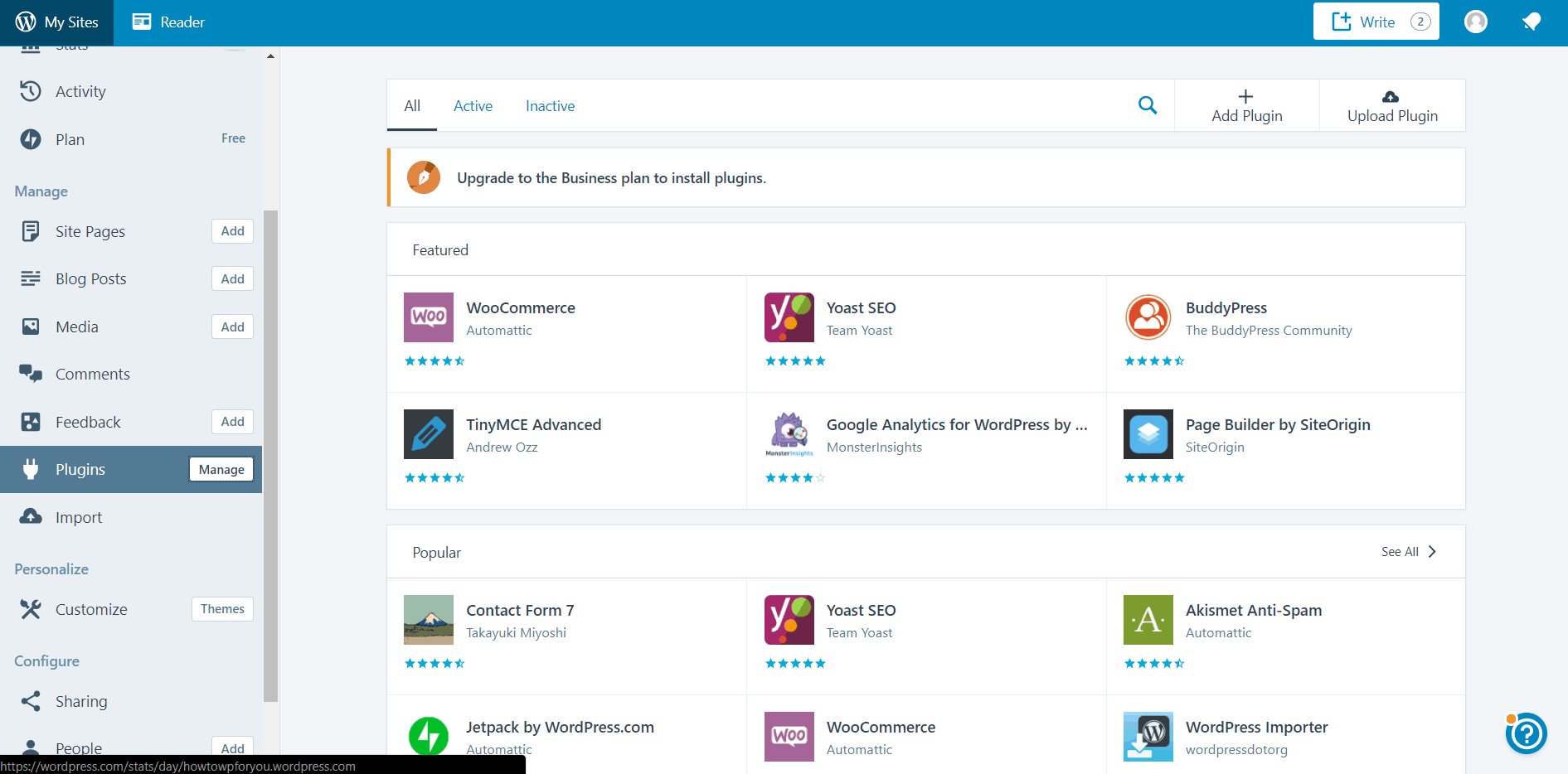 In the past, Wix had nothing to offer coding-proficient users who could customize or extend websites with their technical skills. Fortunately, Wix recently launched Wix Corvid, which provides the ability to customize your website and extend or create new features using JavaScript as well as powerful Wix APIs. Many developer-savvy customers have waited for this. And it's something that's still almost entirely missing from WordPress.com, as they only allow you to add custom CSS and HTML elements to your header or footer.
And the Winner Is…
Although it would be tempting to give the victory to WordPress.com for its huge variety of community-created content, it's not that simple. The open-source nature of these plugins and templates means that you might run into compatibility or version issues. And according to a report by Sucuri, these are one of the biggest threats to the security of a WordPress website. Because Wix provides almost all of the same functionality but from a consistent and reputable source, for this category, I'll have to declare a tie.
Support
Few people think that support is a big deal — that is, of course, until they're stuck with a problem they can't seem to solve on their own. When it comes to support options, both Wix and WordPress have their pros and cons.
The first con for WordPress is that there's no one-on-one support on a free plan. If you're using a free plan, you'll need to turn to either the community, or to WordPress' documentation for help. Fortunately, their documentation is extensive, and they have a huge, active community which should make finding help fairly easy.
With all WordPress paid plans, you get email and live-chat support. Live chat is great for the immediacy it offers. However, at no point does WordPress offer phone support, which might just be the most effective way to get help for intense issues.
Wix offers support with all pricing plans — even the free one. Support is provided via either an email/ticket system, or by requesting a callback. As you can see, what's lacking from Wix is the immediacy factor. For both forms of support, you'll have to wait for a representative to get back to you. Wix also doesn't really make it easy to contact Support, as you'll need to find a relevant help article first in order to create a ticket. Luckily, the support documentation is also comprehensive, and you should find a solution to most issues. VIP support with priority response times is available to VIP plan customers.
And the Winner Is…
Picking a winner for this category is not easy, but I think that Wix slightly edges out WordPress. Wix's documentation is much easier to navigate and use than the overloaded libraries on WordPress.com. The priority support for VIP customers will also be welcome for those willing to pay more to keep their website issue-free.

Pricing
Let's start with the plans themselves. For most countries of the world, Wix offers five premium plans and a single free plan. WordPress, on the other hand, offers a free plan and three premium plans. The Wix plan comparable to the cheapest WordPress plan is almost double the price; however, both platforms' top-tier plans cost basically the same. The biggest pro of the WordPress plans is that you get generous storage and unlimited bandwidth. The biggest pro of the Wix plans is that you get some of their premium apps for free as well as $75 of Google Ads credits.
Both free plans allow you to indefinitely host a website (on a subdomain and with ads/branding). However, the WordPress one is the more restrictive of the two since you still need to pay for premium themes, and you can't install or use any plugins.
Wix also offers all 500+ of their templates for free. WordPress gives you only about 100 free templates, and you unlock premium templates for free only with a Premium or Business plan. However, third-party templates will still cost you.
Both platforms provide free and premium plugins. Plugins on WordPress might be free to install, but some features may be limited until you subscribe to a plan from the plugin's website.
Both builders offer yearly and biennial billing, which is discounted. However, WordPress doesn't provide any monthly options, although you'll forfeit all your freebies by taking this option with Wix. Both also provide a free domain name for the first year. Unfortunately for Wix, domain privacy isn't included, while it is with WordPress.
One other big consideration to keep in mind when it comes to pricing is that Wix offers differently priced plans or completely different pricing structures depending on where in the world you sign up from. You can read more about this in our article about Wix Pricing Plans.
A biggish expense left out of Wix and WordPress is that you'll need to purchase email hosting separately. Both offer discounted mailboxes from G Suite.
And the Winner Is…
WordPress has cheaper prices and more generous resource limits. However, it feels like there's something missing between the Premium and Business plans, with a big gap in pricing and features. As for Wix, it offers a greater selection of prices, better features, as well as generous freebies in the form of Google Ads credits and premium apps. In this category, Wix slightly edges out WordPress.

E-commerce Capabilities
When it comes to non-e-commerce-focused builders like Wix or WordPress, you might understandably be skeptical about their e-commerce capabilities. After all, it may seem obvious that if you want to create an online store, you should go with a premium option like Shopify or BigCommerce. However, the e-commerce features offered by some of these builders might surprise you.
With Wix, you can create an online store either by using a template designed for it, or by adding one of their online store apps. There are three comprehensive online store apps: two primarily for selling physical goods, and one for selling digital goods, such as art. The Online Store App by Wix is the primary option used with most themes, while the Art Store is used with some speciality themes. These online store apps integrate with Wix 100%.
Wix also features some pretty powerful e-commerce features, such as multiple payment methods, tax calculators, integrated and real-time shipping, and coupons and discounts. Moreover, the platform places no limits on how much you can sell, and there are no transaction fees.
By itself, WordPress features very few e-commerce capabilities, only providing the option to accept payments or donations via PayPal. However, with a Business plan, you'll gain access to the plugin repository where you can find many WordPress e-commerce plugins. One of the big problems with this, however, is how inconsistent the experience can be. Most of these plugins require a separate account from your WordPress.com account, and they have their own pricing models you need to pay separately.
WooCommerce is probably the best and most extensive e-commerce plugin for WordPress, able to compete with the likes of Shopify. However, it can get expensive considering all the extensions you need. To learn more about this plugin, read our WooCommerce expert review.
And the Winner Is…
WordPress provides plenty of options in terms of e-commerce plugins with their own features. However, the fact that you need a Business plan and may have to work cross-platform in order to set it up is a fatal blow. You simply can't have the same kind of e-commerce experience and features with the same level of simplicity and convenience that Wix provides, especially with more than enough of Wix's own features.
Wix vs WordPress – Who Is the Last Website Builder Standing?
Whether you need a refresher or just want the most important differences between the two regarding each comparison, you can find it in the table below. You're also welcome to learn more by reading our Wix expert review, or our WordPress expert review.
| | | |
| --- | --- | --- |
| | Wix | WordPress |
| Ease of Use | The Wix Editor makes it incredibly easy to completely customize your website up to the last pixel, and without any code. | WordPress is extremely fun and easy to use for beginners and bloggers, but it's very difficult to make extensive customizations. |
| Design and Customizability | A huge selection of 500+ free templates and one of the most comprehensive drag-and-drop webpage builders. | Almost 400 templates, of which nearly 100 are free; templates can be simple, and there's no built-in drag-and-drop builder. |
| Plugins and Extendibility | The 250+ apps in the Wix App Market provide a wide range of features and are all fully integrated. Wix Code lets you add custom code to your website. | WordPress.com provides thousands of plugins from third-party developers. The quality and reputability of these may vary dramatically. No custom code except for basic HTML and CSS. |
| Support | Superbly organized and comprehensive documentation, with VIP support for VIP plan members. Support is provided via email and callback. | No technical support for a free plan. However, live chat and email support are provided with paid plans. There's no VIP or priority support. |
| Pricing | Five premium plans and a free plan. Something for every budget, with generous free gifts. Storage is a bit limited. | More generous storage and bandwidth limits. Three paid plans, as well as a free plan, are adequate, but there's a big gap in pricing. |
| E-commerce Capabilities | All of the most essential e-commerce features are built in with Wix apps. Wix doesn't charge transaction fees or limit your sales. | E-commerce features are provided via third-party apps, which may have their own pricing, limitations, and user experiences. |
As you can see, there's much to consider when choosing between these two website builders. Both try to make building and hosting a website as easy as possible, without requiring any technical skill or know-how. They both also operate within the same pricing range, although they provide very different features and experiences at different prices.
Maybe the best two use-cases to opt for WordPress is if you want a simple and straightforward blogging platform, or if you want the freedom to do as you please with a Business account and access to the full universe of third-party WordPress plugins and templates, risky as it might be to use them. For example, if you want the exact experience and features provided by WooCommerce, then WordPress will be your only option.
However, for pretty much anything else, Wix is the clear winner. Access to a massive collection of free templates and apps (even with a free plan), one of the best drag-and-drop builders, and the ability to extend your website with custom code, mean that you have the best chance of creating the exact website you need, regardless of your skill or experience.
---
Source
https://sucuri.net/website-security/website-hacked-report