simple terms
,
which of the two is better for the type of website you want to make
. While you can likely "make do" with either option, you want the option that will be easiest and quickest for you. Take a close look at this review, and you'll save a lot of time and frustration in the long run.
Do You Prefer a Visual Website Builder to Manage Your Site?
WordPress and Wix take a different approach to building and editing your website. Wix gives you two editors to choose from. The
Wix ADI
(Artificial Design Intelligence) is designed to be as simple as possible, but it's mainly for very basic sites. The classic
Wix Editor
gives you greater control and is more comparable to WordPress. The classic editor is what I'll be focusing on throughout this review. Either way, both ADI and the classic editor
take a visual approach
to website customization. In the classic editor, you'll see whichever page you're working on, and your menu options will float on the left side of the page: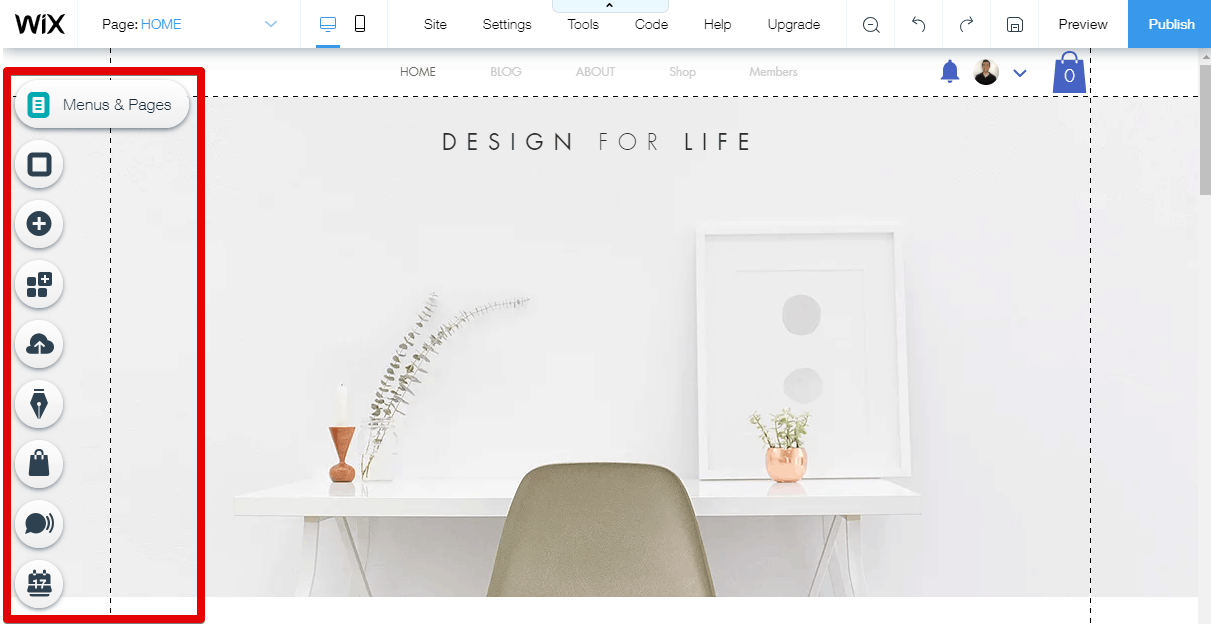 The menu has options to:
Add page elements
Modify your menus
Add extensions to your website (e.g., live chat widgets, forums, etc.)
Create and manage your blog
Set up and access your store (if you have one)
Everything is accessible from the editor. Some features, like those to manage your blog or store, are also available in your backend dashboard when you log in. WordPress is quite different. You manage everything from the "backend" dashboard of your website. The main menu where you'll find options to manage your site is also on the left side of the screen: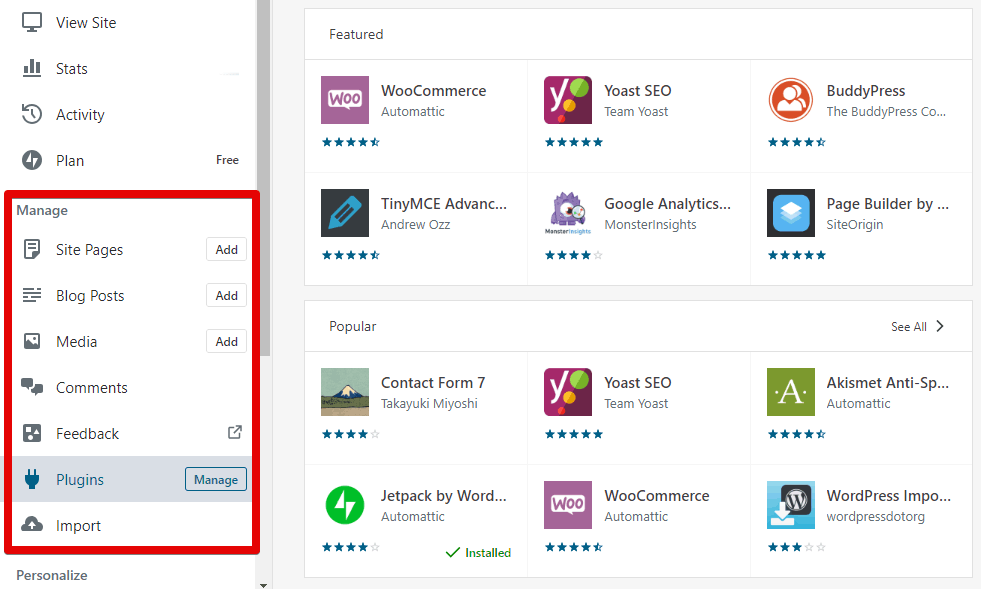 Both Wix's and WordPress' editors are relatively easy to learn and get used to
. Which is "better" is just a matter of personal taste. One final note is that if you'd like to create multiple websites, Wix allows you to do that from one account.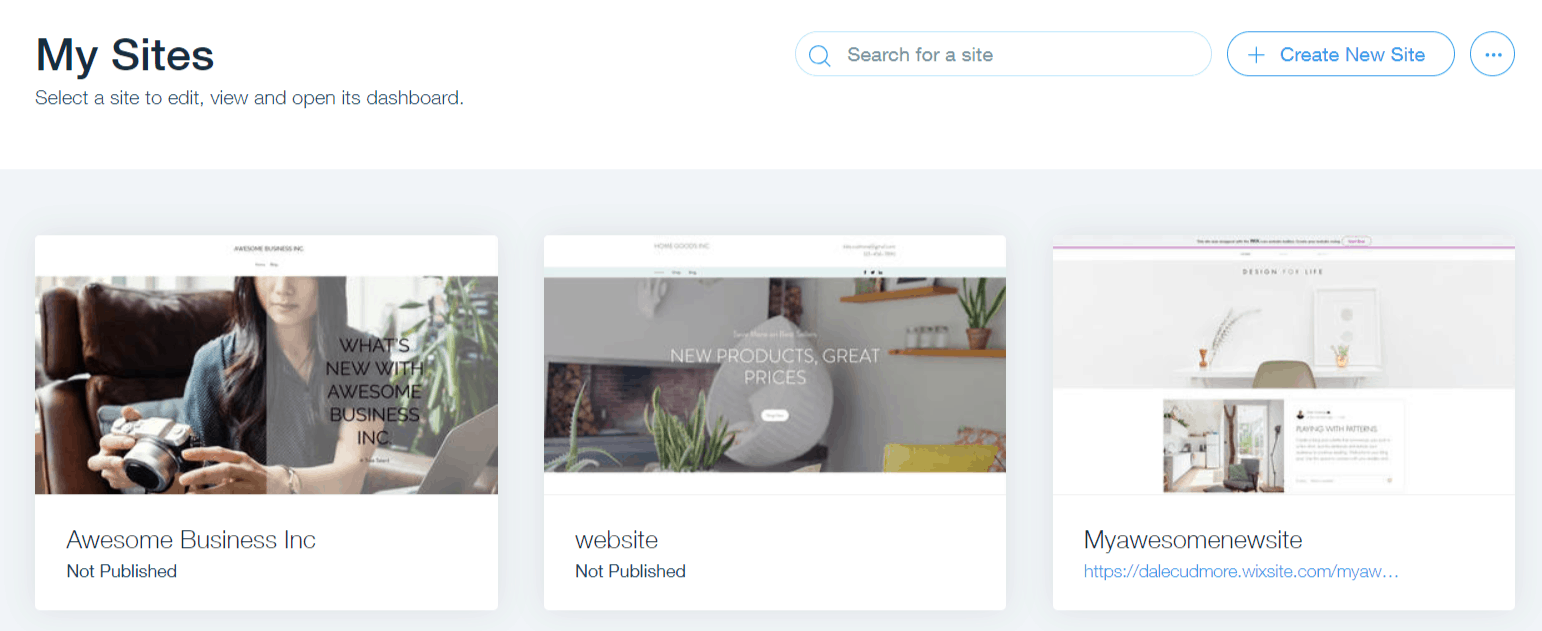 By contrast, WordPress requires you to create a separate account for each website. It can get a little annoying to have to hop back and forth between your sites. It may not be a concern right now, but it could be in the future.
And the Winner Is…
Wix, by a small margin! Both site editors are relatively intuitive, and it mostly comes down to personal preference. However, you may find it easier to have the visual preview available while editing your website. Additionally, Wix does make it easier to manage multiple sites. Want to learn more about Wix?
Read our expert review.
Wix Has About Twice as Many Templates as WordPress
Themes (on WordPress) and templates (on Wix) are how you choose a website layout and design to start with. From there you can customize it if needed. Both Wix and WordPress have their own strengths and weaknesses when it comes to themes.
Let's start with Wix
.
Wix has over 500 templates
, which are all professionally designed and supported by Wix staff themselves.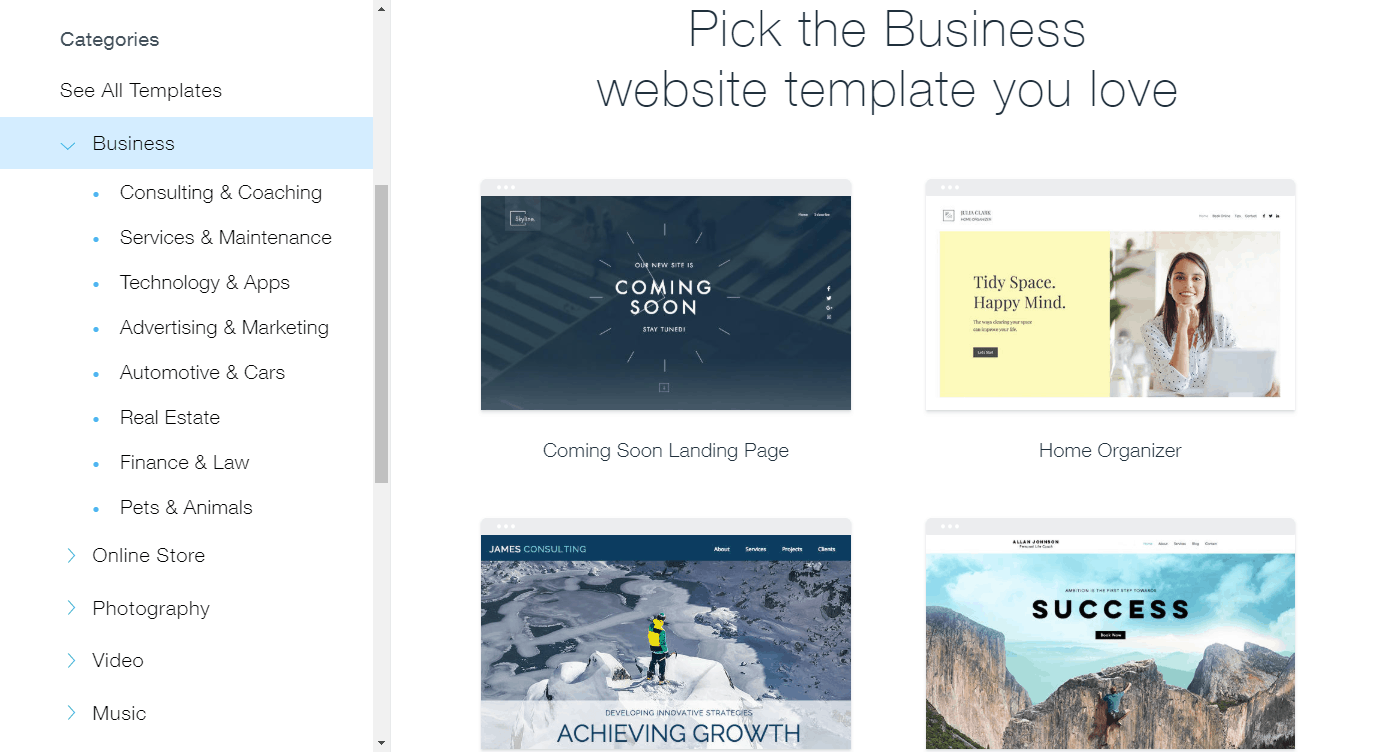 You can find multiple templates for any specific type of website (e.g., blog, online store, music, etc.) or industry (e.g., real estate, pets, automotive, etc.). That's all amazing, but there's one downside. If you use the classic
Wix editor
,
you can't change your template later on
. You can certainly modify it yourself, but of course that takes time. You need to be reasonably certain that you pick a template that's close to the website you've pictured in your mind. With the
Wix ADI editor
, you can change themes as often as you like, but are limited to the less powerful editor. If you'd like to check out the Wix template library without having to sign up, just
go to the Wix homepage
, scroll down to the very bottom, and click the
Templates
link. WordPress also has quite a good selection of themes. There are about 300 to pick from on WordPress.com. There are a lot of filtering options, but most aren't too useful. You'll mostly be using the "subject" filter (art, blog, business, etc.), and price filter (free or premium themes) to filter down your options.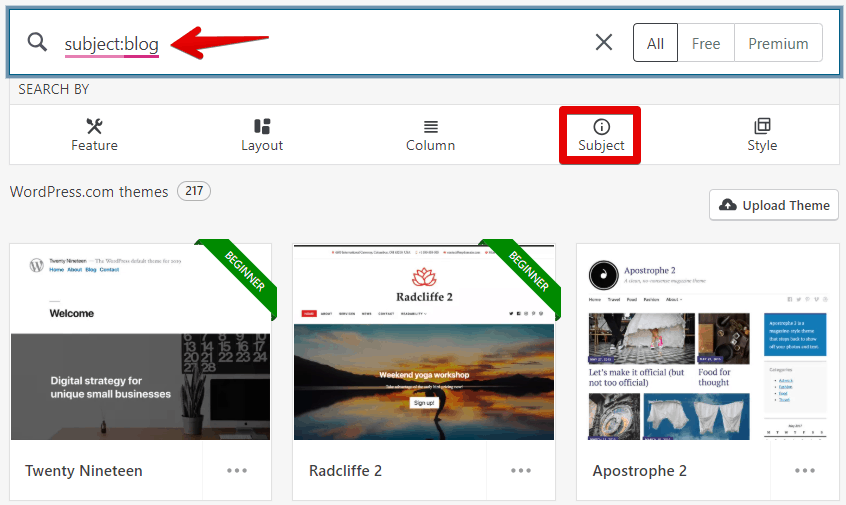 WordPress adds themes only from certain reputable developers into this store, so they're excellent quality. You'll need to update them over time, and some will become "retired" years down the line. You can get access to the paid themes for free if you upgrade to the "Premium" plan. The good news is that you can switch themes as often as you like. You can also find WordPress themes on third-party sites like
TemplateMonster
.
And the Winner Is…
WordPress, but just by a little bit. WordPress has hundreds of themes, and while many are paid (unless you upgrade to a certain paid plan), being able to switch your theme at any time is a big benefit. Your tastes may change over time, or you may want to take your website in a different direction. Wix has a great selection of templates, and
you get full access to all templates on all Wix plans
. However, you can't switch templates down the line with the classic editor. If you're really sure about the website template you want, go with Wix. If you're not quite sure and want to have more flexibility, choose WordPress.
Drag-and-Drop vs. Point-and-Click
Wix is your classic drag-and-drop website editor. You can drag around sections on the page, and choose new elements from the "+" (add) menu to drag onto the page.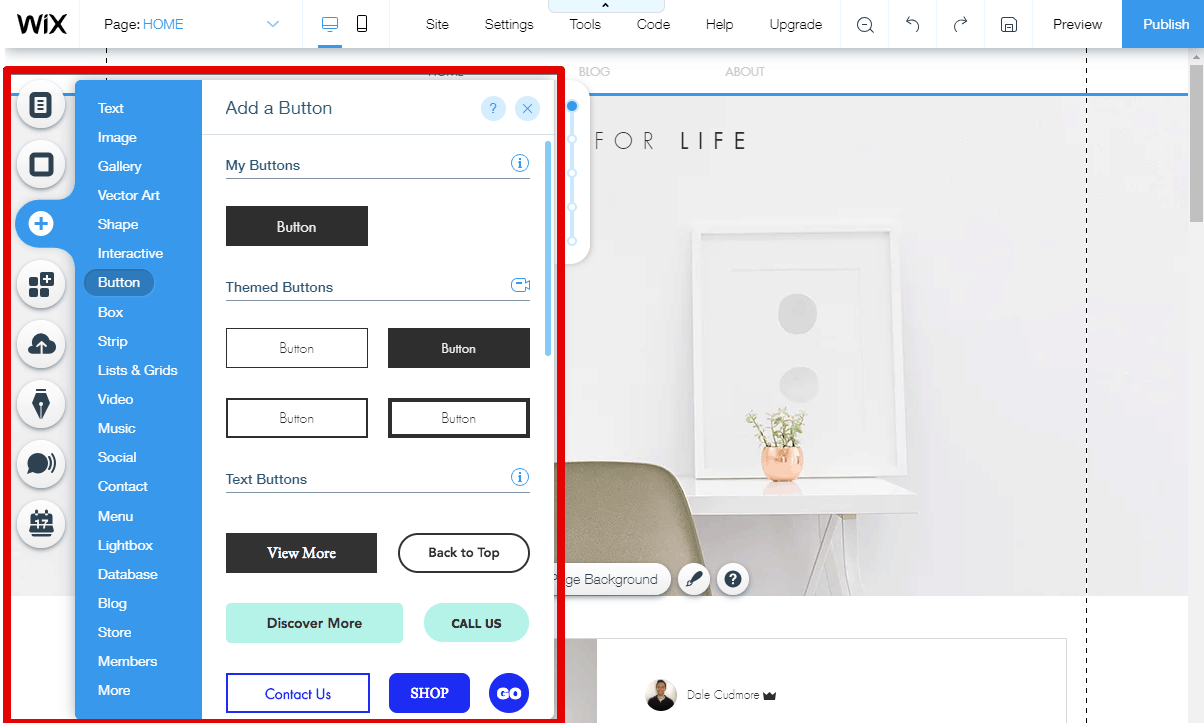 You can add all the basic elements (e.g., text, images, videos), along with more advanced page elements (e.g., buttons, social media icons, menus, forms). If you want to edit a section, click it and editing options pop up. It's very
smooth and intuitive
compared with other drag-and-drop editors. And if you ever get stuck, there are help icons everywhere with explanations and a search bar to let you find documentation to help you. WordPress is more of a point-and-click website editor. After you click the "customize" menu option in the backend, it will load a site editor with a menu on the left, and site preview on the right (similar to Wix):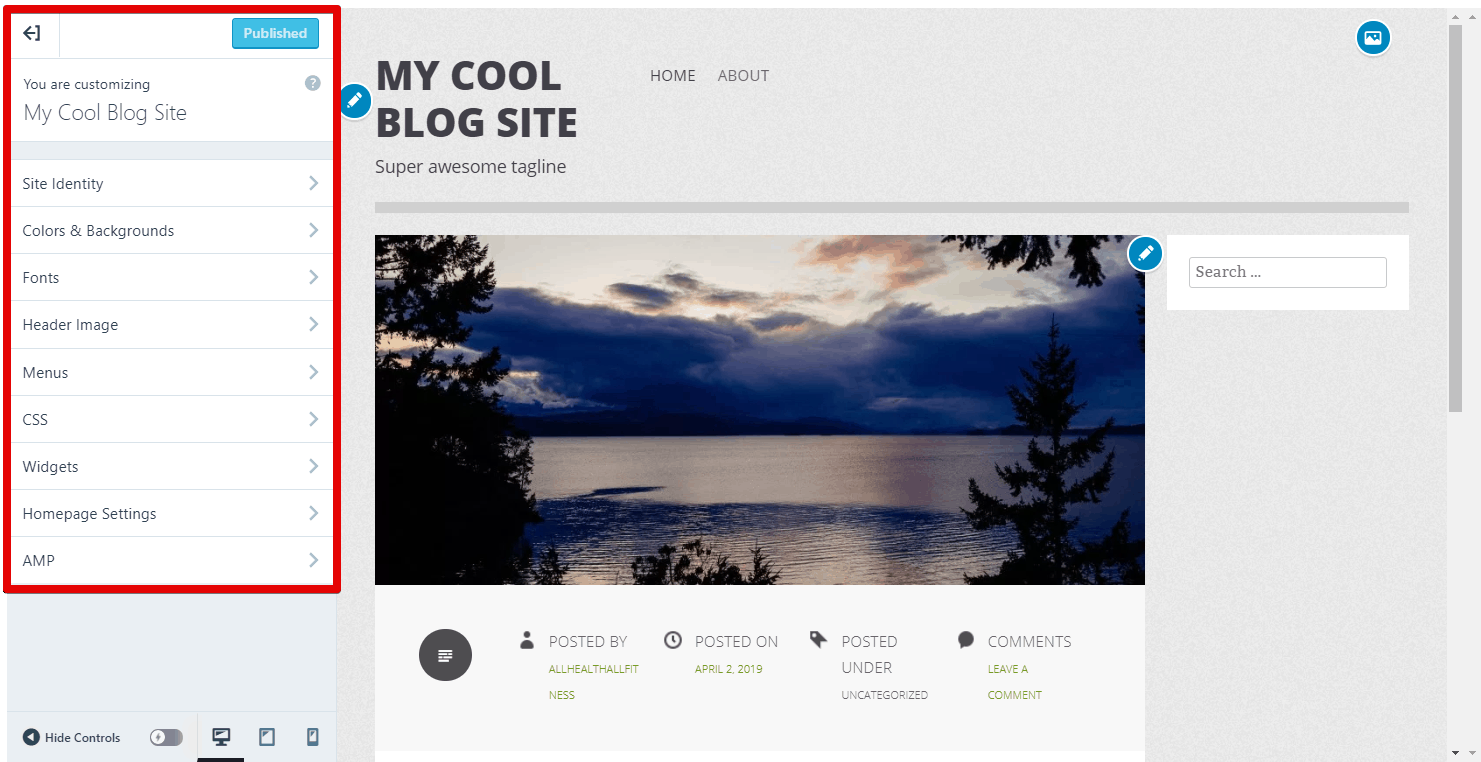 But it's important to understand that
the layout of WordPress websites is almost fully controlled by the theme you use
. You can add "widgets," which are sidebar elements, but you can't add new elements like forms, buttons, or text anywhere on the page. What you can do is customize the design a bit – for example, by changing colors, fonts, and pages included in your menu. You can also click the blue icons on the site preview panel to bring up the relevant options on the left panel.
And the Winner Is…
Wix clearly has the better editor when it comes to customization.
You have complete control over what goes on your pages and what it looks like
. WordPress offers you basic styling options, but the layout is largely controlled by your theme. Unless you find it more difficult to use a drag-and-drop editor, Wix is better here.
WordPress Plans Are a Bit Confusing; Wix Plans Are Simple
Both website builders offer multiple plans for personal websites and businesses. They offer different features as the cost goes up,
but I think it's much simpler to find the right plan on Wix
. Note that both Wix and WordPress offer a free plan with limited functionality. On Wix paid plans,
all features and apps are available
. You get more storage and video time as you upgrade, along with a few popular apps added in for free. For the most part, the cheapest plan (for either personal or business websites) is the best choice, and you'll only need to upgrade if you need that extra space.
Now compare that to WordPress, which blocks off some features until you upgrade to a certain plan, which makes it less straightforward.
For example, you can't install plugins or use Google Analytics until you buy the second most expensive plan (the "Business" plan). You also can't remove the WordPress branding on your website until you buy this plan.
And the Winner Is…
Wix. Both website builders offer plans at a similar cost, but WordPress blocks a lot of key features until you're on one of the more expensive plans.
Wix provides a lot more value on lower plans
, and you typically need to upgrade only if your website grows larger, not to get access to important features.
You Can Sell on Both, But Wix Is Easier
WordPress is an incredibly flexible platform, but it's built around blogging. Wix, on the other hand, was created more around businesses, so it makes sense that selling is a bigger part of what the platform offers. For Wix, you'll need to upgrade to a business plan to accept payments, although you can set up your store ahead of time on any lower-cost plan. A store is automatically added to your website if you use an "online store" template, but you can also add one by using the "+" (add) menu option (which takes ten seconds). Once you have a store, you can manage it from the site editor using the "My Store" button, or from your dashboard once you log into Wix.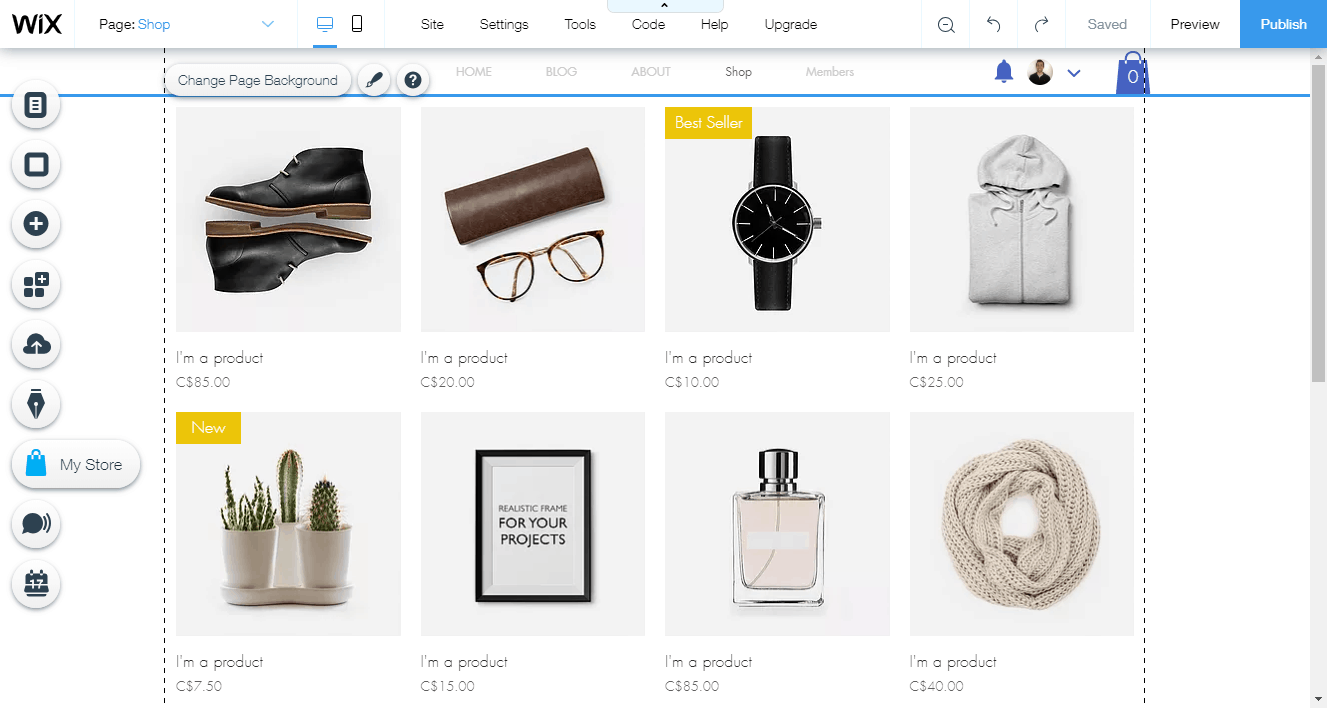 The store panel is incredibly intuitive. It lets you add products, connect a payment method, choose tax settings, and more.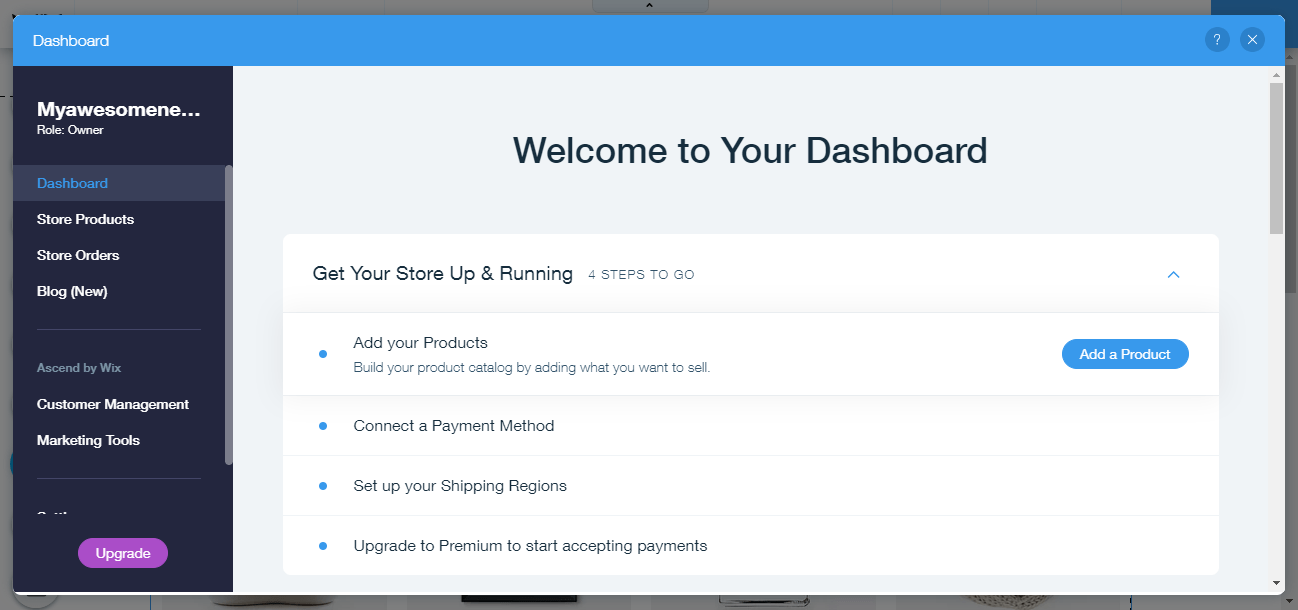 Wix also has a built-in system to accept bookings (for service businesses) that can be added to your website without a store. WordPress, on the other hand, doesn't have many e-commerce features built in. You can accept payments on any Business plan, but you can't do much more than that. You'll need to upgrade to the top plan (the "eCommerce plan") to add products and get access to other e-commerce features like integrations with top shipping carriers. The better option would be to use a plugin like
WooCommerce
, which is designed to add e-commerce functionality to WordPress. It's a great plugin,
but it's another thing you're going to have to learn and keep updated
. Also, you'll need to be on a "Business" plan or higher to install plugins. Wix offers a huge App Market, where you can find many free add-ons for your site – and you can use it even if you're on the free plan.
And the Winner Is…
Wix. While you can create a solid online store using WordPress plugins like WooCommerce, Wix has everything built in. Would you rather have everything in one place, supported by one team who built the product, or have to learn another platform made by another set of developers — on top of having to learn WordPress?
Wix is the simpler choice
.
WordPress Is Built for Blogging, But Wix Has Come a Long Way
Both platforms have revamped their blogging editors in past years. WordPress went from its classic WYSIWYG (what you see is what you get) editor to the new Gutenberg editor, where all post elements are "blocks."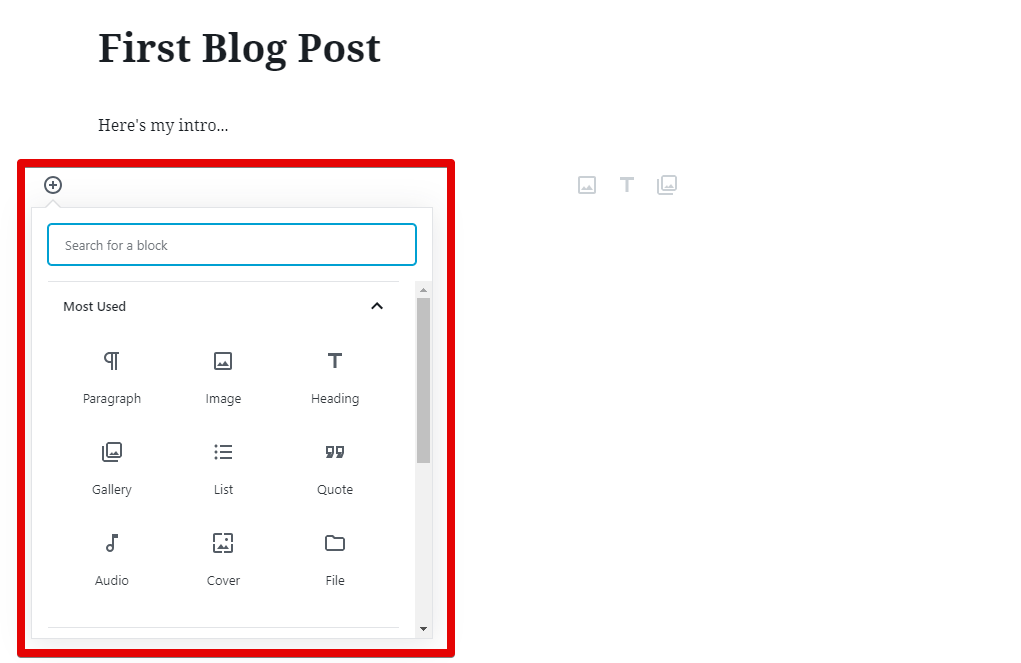 It's better for developers. For bloggers, some things are better and some are worse.
For example, now you can style different blocks individually (colors, text).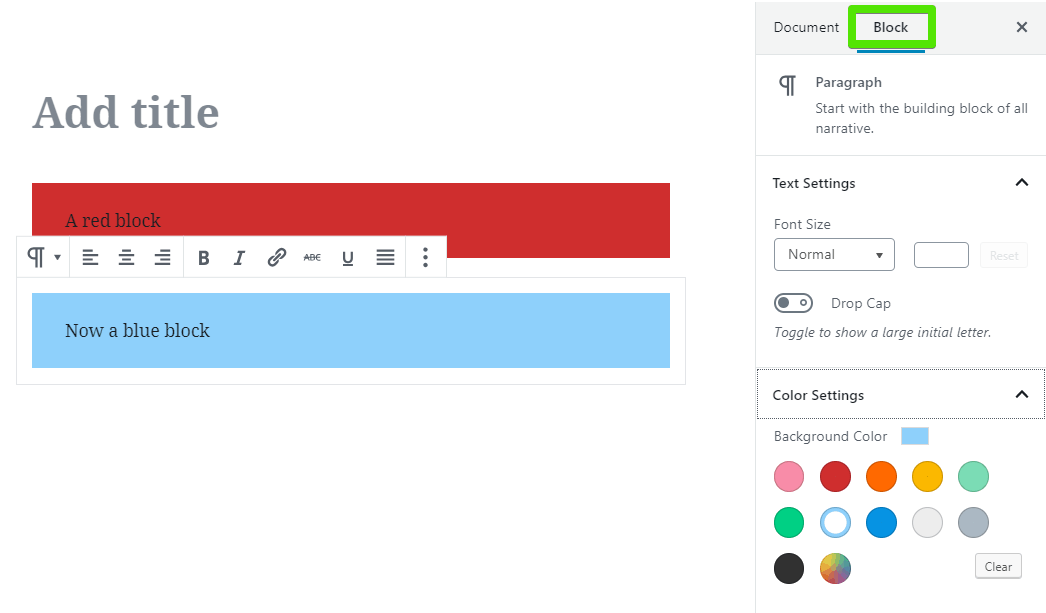 That's probably not going to come up too often, but it makes it easy to highlight certain parts of your content. On the other hand, adding and formatting is hard to get used to, and not as efficient as it used to be.
Blogging on Wix has come a long way. It used to be pretty awkward, but has improved a lot over time.
You can access your blog from the site editor, or from your account dashboard. The editor for creating new posts is very stripped down, giving you only essential elements and formatting options.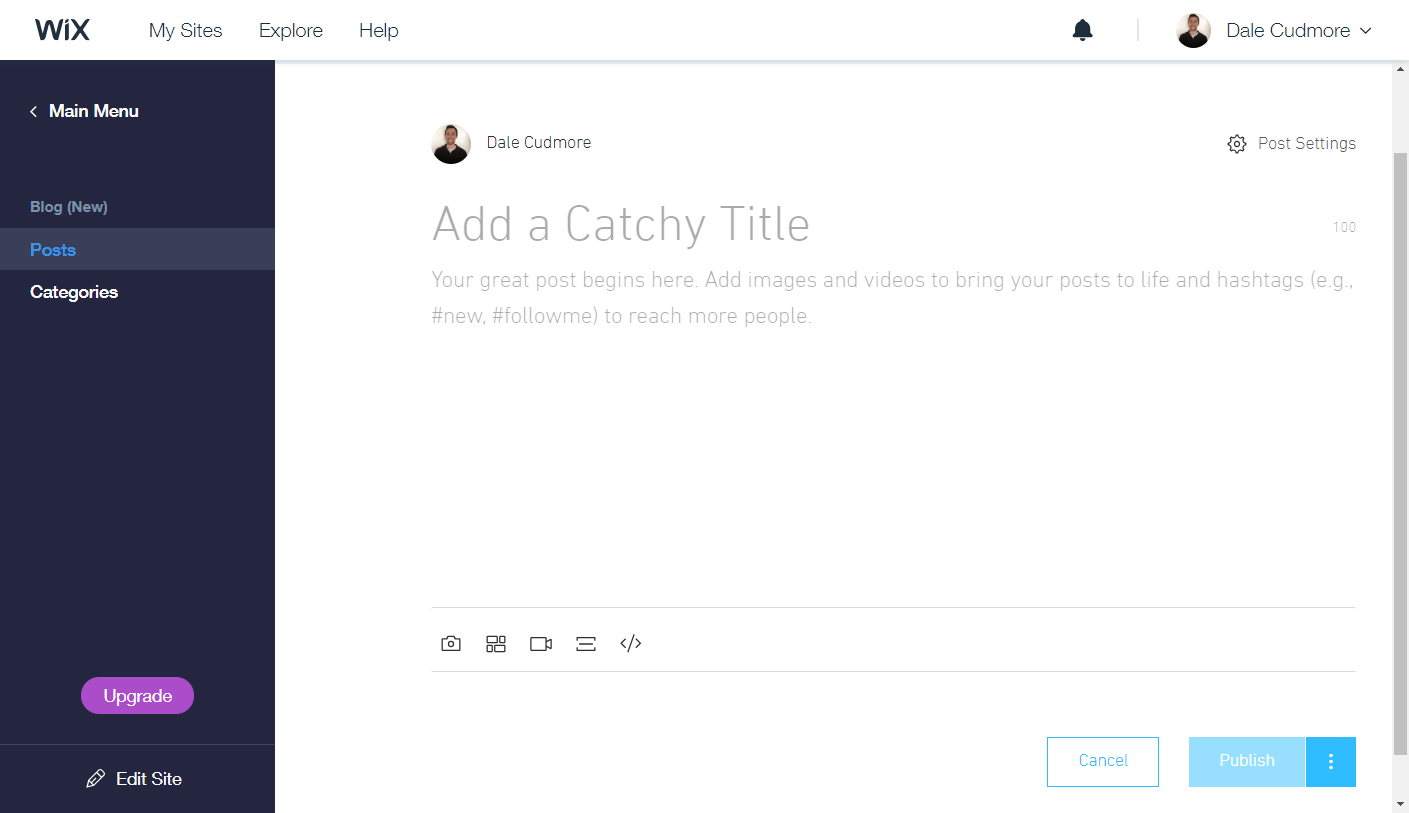 When you want to format text, you simply highlight it and a menu comes up: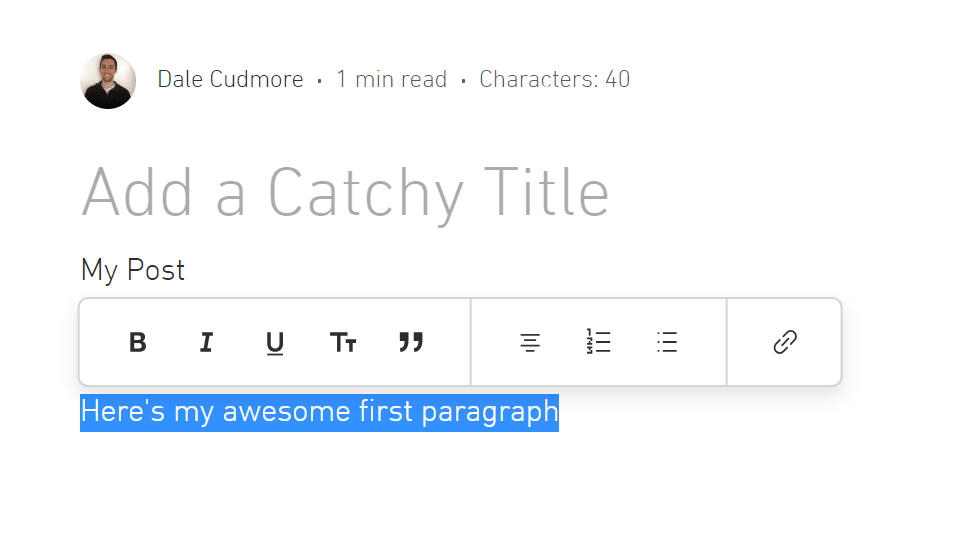 It's an intuitive editor for the most part, not too different from Microsoft Word or Google Docs.
However, it's lacking a bit in functionality
. For example, you can't even add different sized headings (H1, H2, H3), only "titles", and there are no coloring options.
And the Winner Is…
WordPress, but it's closer than I would've said a few years ago. While there's a bit of a learning curve understanding what "blocks" are and using them, ultimately, WordPress has more features that you may need when blogging. However, if you're only looking to write very simple blog posts (just plain text and images), Wix's blogging platform is simpler and more intuitive.
Wix Has Phone Support, While WordPress Has Live Chat
You're
going to run into problems
and need help, so support is important. Wix offers phone support Monday-Friday from 5am-5pm U.S. Pacific Time. There's also email support if needed. Perhaps more importantly, Wix has great documentation. The knowledge base offers hundreds of articles with detailed instructions and clearly marked images (screenshot of example below):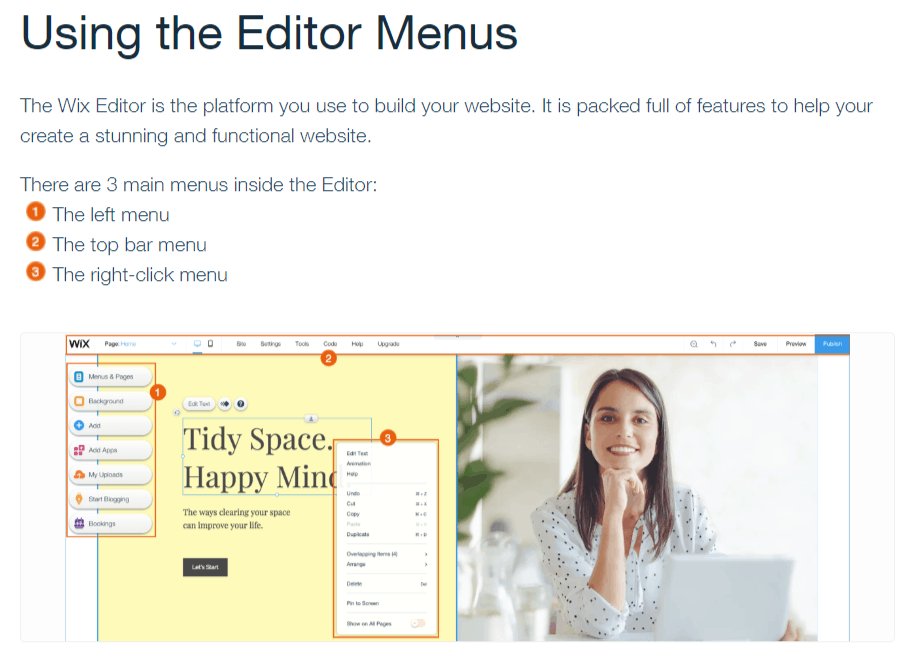 WordPress doesn't offer phone support, but offers
24-hour live chat during weekdays on most paid plans
. Certain plans ("Business" and above) also come with weekend support. There's email support on all paid plans as well. Like Wix, WordPress also has a solid knowledge base, with hundreds of articles to walk you through common issues.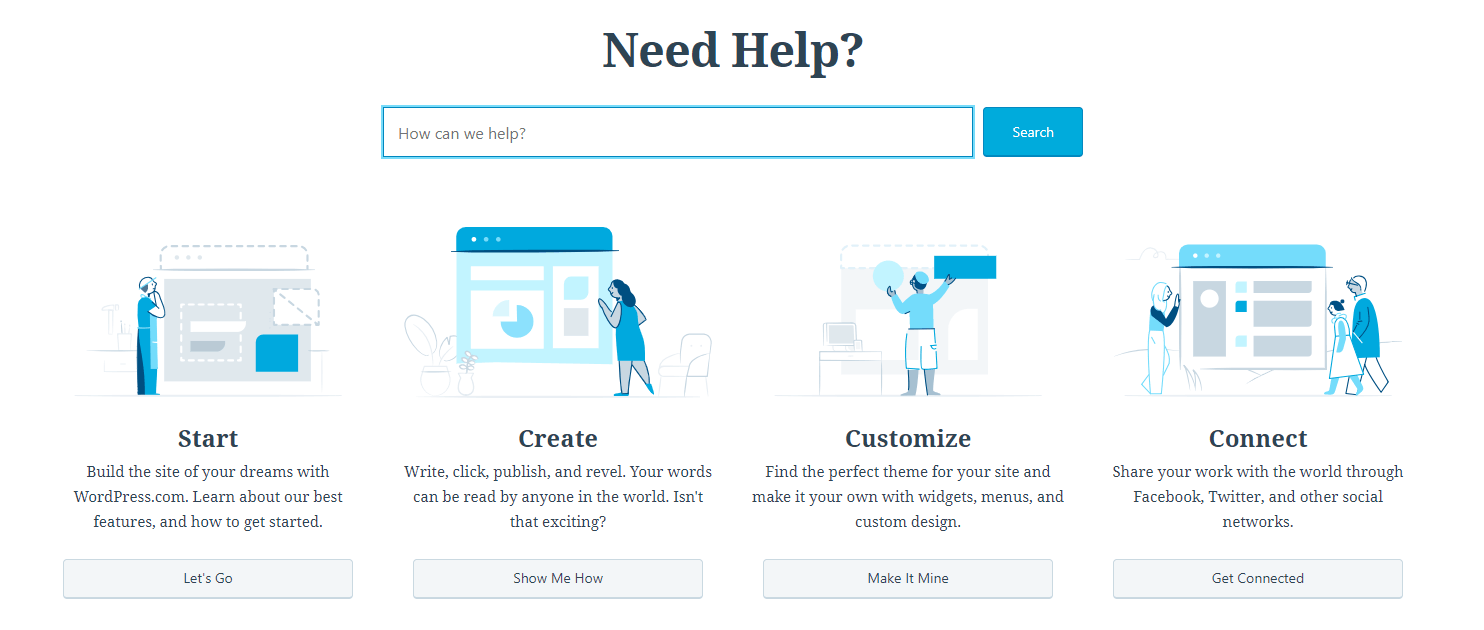 If you run into a tough problem, WordPress has a huge community with active forums you can turn to. Almost every question quickly gets answers, although it's far from a guarantee that you'll get a solution.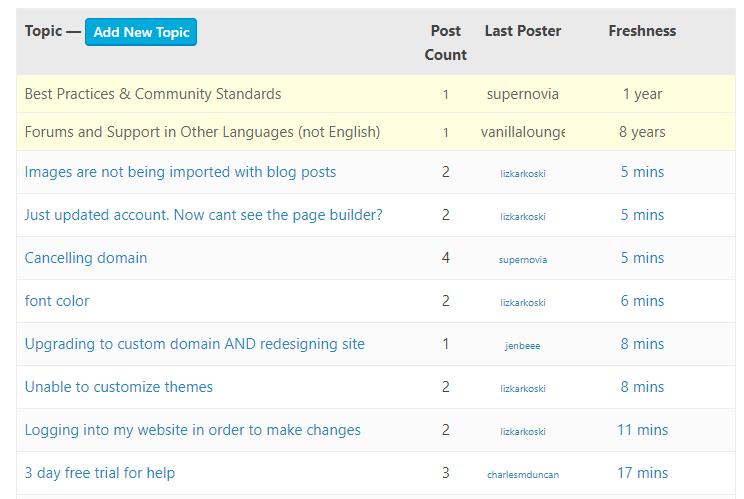 And the Winner Is…
WordPress, by a little bit. Both builders offer great support documentation and email support, but the community forums put WordPress over the top. Wix has good support, and if you really like phone support, it could be the better choice.
Wix Is the Better Overall Website Builder
If I had to recommend a site builder for most new website creators, it would be Wix, even though WordPress is also good. If you're creating a blog, or think you'll be changing your website's theme often, go with WordPress. If you want to learn more about WordPress, check out our
expert WordPress review
. On the other hand, if you want to customize your website or sell products, Wix has a better site editor and built-in store features. You can learn more about Wix in our
expert Wix review
. Let's take a final look at the main differences between each platform:
Managing your website
Uses a visual website editor, where you can see your site alongside menu options.
Uses a "backend" editor where you can't see your site alongside most editing options.
Wix. Both are good, but the visual editor makes Wix stand out.
Themes and templates
Over 500 templates, but can't change your template once you pick one.
Can change themes at any time, but many are paid (or locked behind a high-cost plan).
WordPress. Being able to change themes is a very useful feature.
Website editor
Has a drag-and-drop editor that's smooth, intuitive, and powerful.
Point-and-click editor that lets you change basic styling, but not layout.
Wix. Its editor gives you full control over your page layout, and makes it easy.
Plans and pricing
Base plans for personal and business sites are affordable. Upgrade only if you need more space.
Many features locked behind higher-tiered plans.
Wix. More straightforward plans and more value on lower-cost plans.
Selling products
Easy to add store, manage products, and choose other settings like taxes.
Limited e-commerce features available on most expensive plans. Can install a plugin like
WooCommerce
to enable more functionality.
Wix. Simpler to sell products.
Blogging
Simple, clean editor that gives you the essentials, but lacks some functionality.
Block-based editor that requires a bit of a learning curve, but is powerful once you get used to it.
WordPress. Wix is going to be a bit too limited for all but basic blog posts.
Support
Phone (during North American hours on  weekdays)
Email
Great knowledge base
Live chat (24/7 on weekdays)
Email
Great knowledge base
Huge community
WordPress. Both are good, but the active community forums can be very helpful.