Several free website builders will let you design a decent site – but the one thing none of these builders will give you is a custom domain. If you want your site to look professional (and keep in tone with your brand), you need a paid plan. As far as I'm concerned, Squarespace is my absolute favorite. It has the best-looking templates around, and even its cheapest plan includes a free custom domain plus unlimited storage.
Squarespace has a 14-day free trial
, so you can test all of its features before you buy.
Not all website builders offer the tools you need to build a unique portfolio that will stand out in your industry. No matter what medium you work in,
you need a website builder that will allow you to create an eye-catching portfolio that best represents your work
(and preferably – for free).
I tested the top website builders
to bring you only the best ones for your portfolio site. These builders offer portfolio-specific templates, enough storage space to upload your best quality images (HD images can take up a
lot
of space), and contact forms to help potential clients easily reach out to you.
Read on to find the right portfolio builder for
you
.
What We Look For in the Best Builders for Portfolio Websites
As a freelance writer, I know all too well the importance of an impressive online portfolio (that's how I got my job here!). The builders I recommend offer:
Portfolio-specific templates and/or gallery features. To showcase your work, you need layouts that make your work look its best.
Plenty of storage space. Images, videos, and other rich media can take up tons of disk space. My recommended builders provide enough space to host all your files.
A mobile-friendly website. Your portfolio needs to look great, period – no matter what device your potential clients are viewing it on.
HD image support. The last thing you want to be showing potential clients is blurry or pixelated images.
Social media sharing tools. These are important if you want your portfolio to get noticed.
Contact forms. You want to make it as easy as possible for your website visitors to get in touch with you.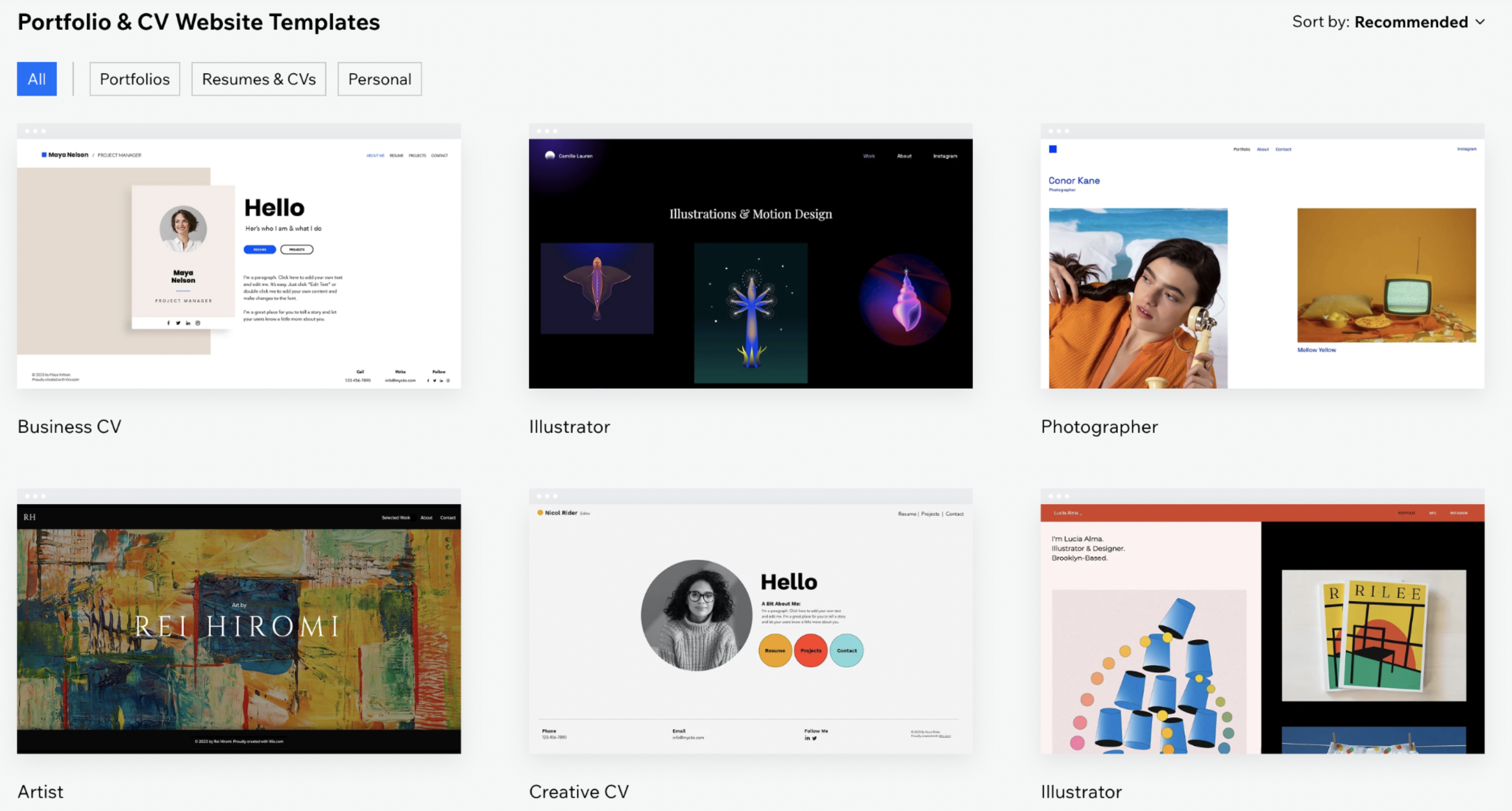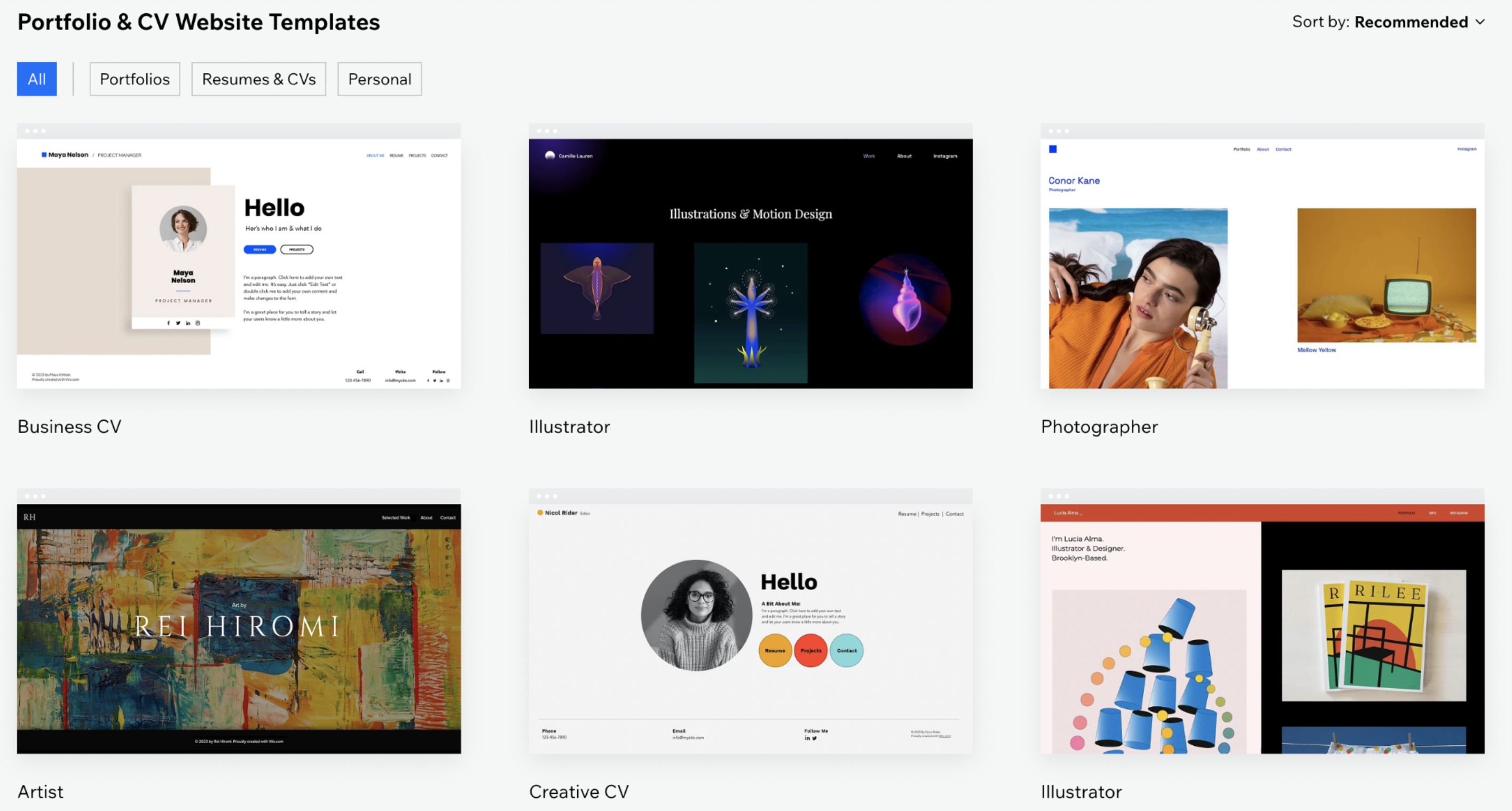 Wix is a hugely popular choice for portfolio websites.
It's easy to use, and it gives you the most flexibility
. You can arrange elements on your pages exactly as you like.
Wix offers 500+ templates, and 40 of those are designed specifically for portfolio websites.
I love the quality of the templates, and they all look fantastic. But choose your template very carefully. If you decide to switch to a different template later on, you'll have to rebuild your website from scratch. While Wix's templates aren't mobile-responsive, you can edit the mobile version of your website in the special editor to make it look good on any device. To learn more,
read our expert Wix review
.
Features
Video streaming included in paid plans. If you have lots of videos in your portfolio, Wix has you covered. While the free plan puts strict limits on space and bandwidth, the paid plans include HD video streaming — from 30 minutes to 2 hours.
Portfolio app. If you're not in love with any template from the portfolio category, you can choose a template from any other category and turn it into a portfolio website. Just use the Portfolio app from Wix's App Market. You can try it out for free, or subscribe to the premium version for less than the cost of fancy coffee from a cafe.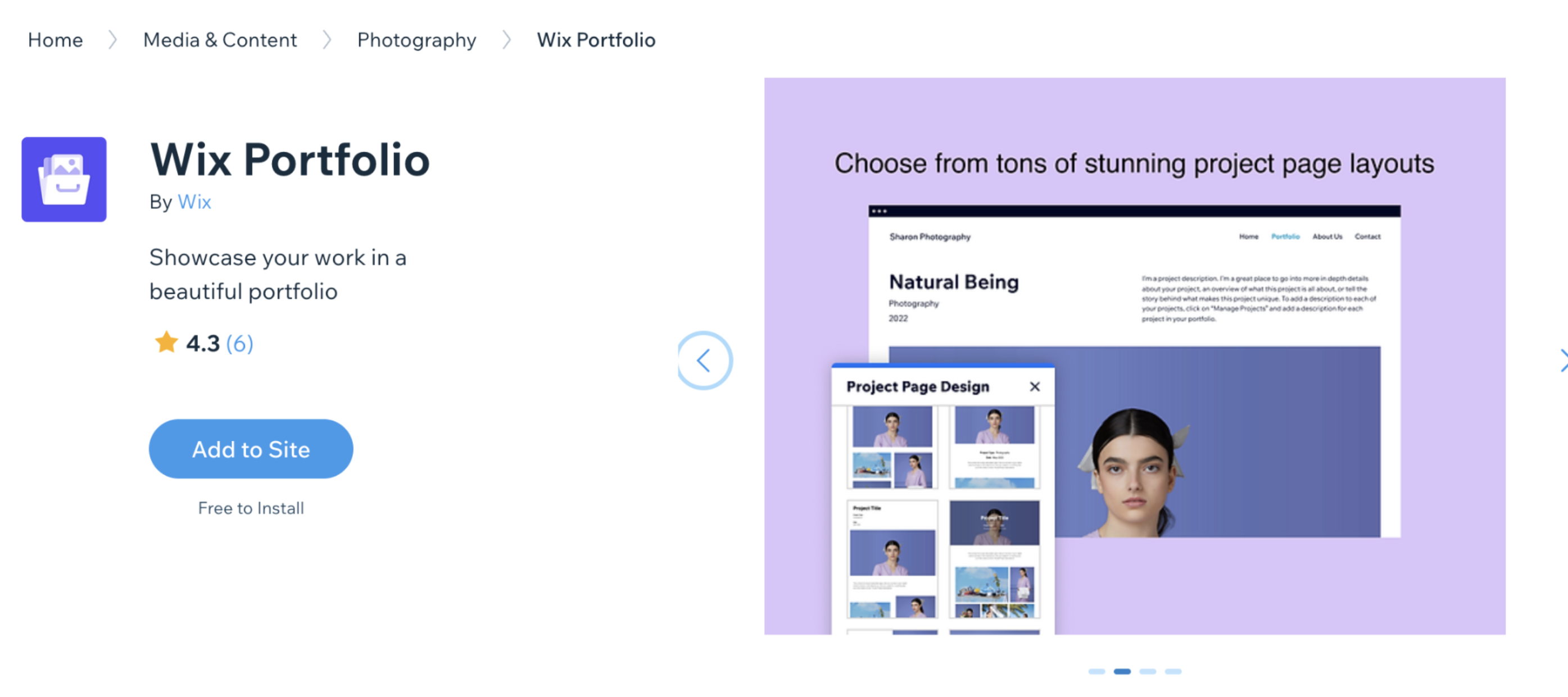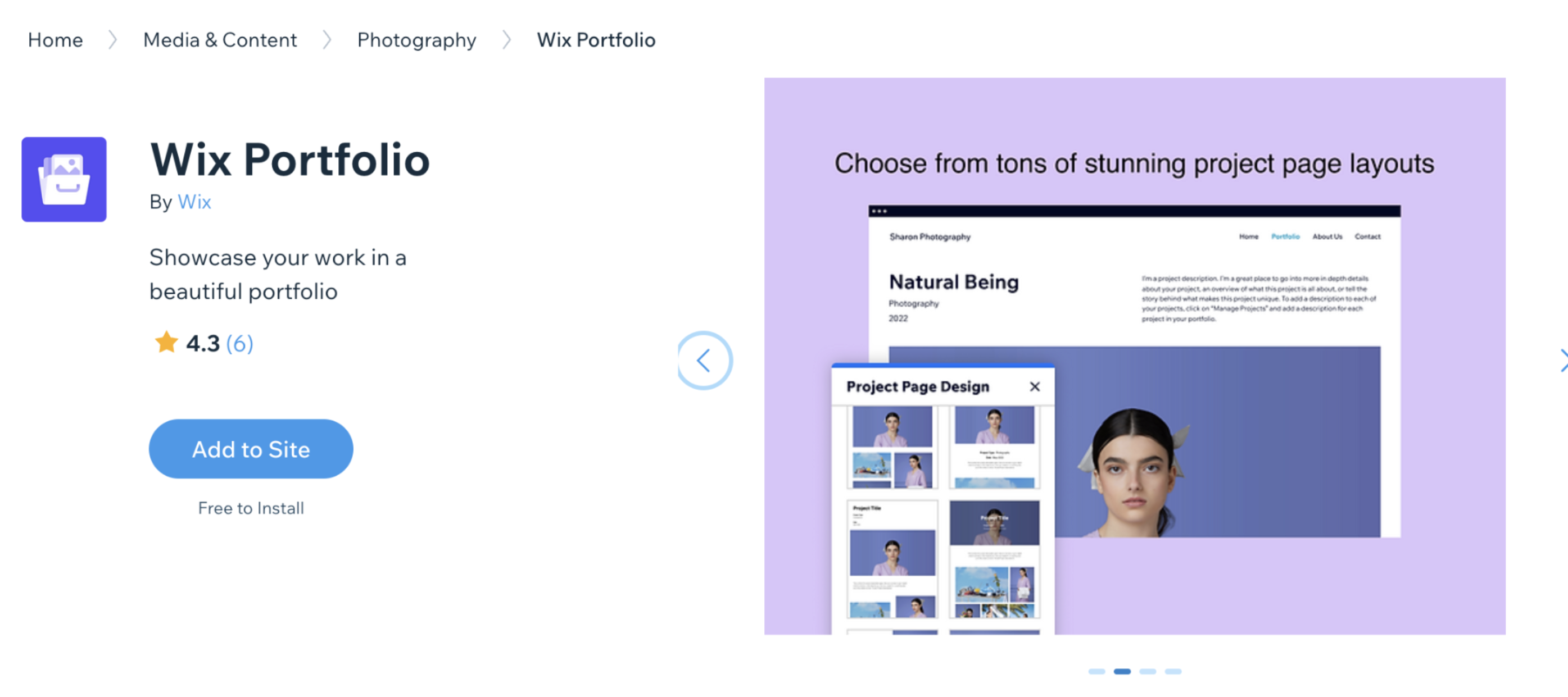 Article curation app for regular updates. If you're a writer or journalist who regularly writes for websites, you'll love the "Create a News Page" app. It will pull together your articles from those websites in a dynamic, regularly updated page that resembles a traditional newspaper.
SEO wizard to get your portfolio noticed. When you use Wix's SEO wizard, you'll be given a list of things you can do to improve your portfolio's position in search results. The better your ranking, the more likely potential clients will find you.
Powerful gallery features for HD images. If you're a photographer, Wix's App Market has over a dozen different gallery apps to add an extra wow-factor to your work. You can even use Wix Art Store to sell digital art and prints.
| | |
| --- | --- |
| Number of portfolio templates | 35+ (Portfolio category) |
| Storage space | 500MB on free plan; from 3GB to 50GB on paid plans |
| Mobile-responsiveness | Templates are mobile-friendly, not mobile-responsive; you can edit a separate mobile version of your website |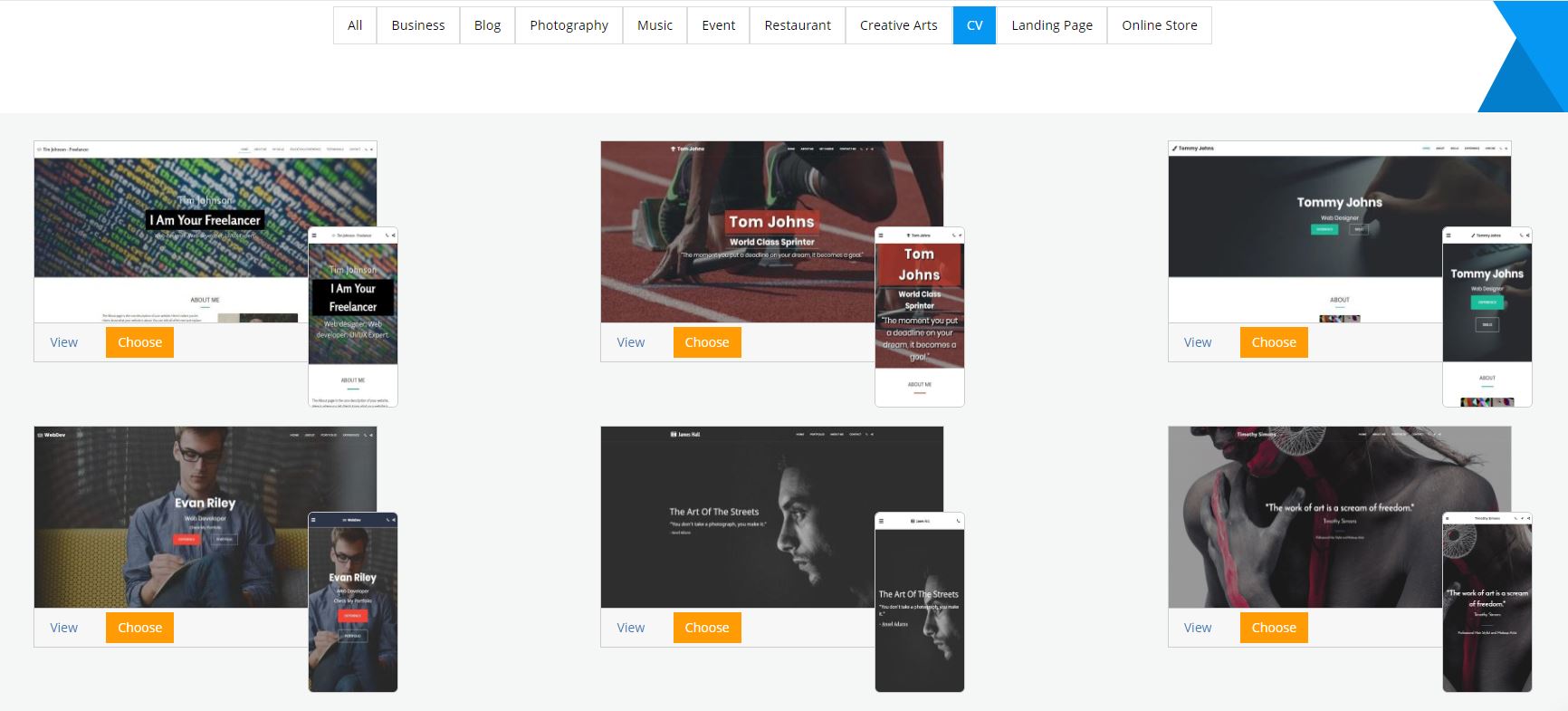 Building your portfolio with Site123 is really simple, and it's a great option if you're a beginner. Site123 gives you the features that you need, such as gallery layouts with fast loading times.
While Site123 does give you a portfolio-specific template, it's not as beautiful as the templates offered by Wix. But you can still customize your template to create a website that reflects your personality, looks professional, and has the features you need to get your work noticed.
Apps are available in the App Market, but only one of these is really suitable for portfolios. Cincopa allows you to use photo and video slideshows on your Site123 website, with your images being hosted by Cincopa for faster page loading times.
Want to learn more? Read our in-depth Site123 review.
Features
User-friendly editor. Site123's editor is as simple to use as an online form. Options for changing your design, editing your text, and changing your layouts are all easily accessible in the toolbar.
80 different languages. Site123 is great for multilingual sites. You can target multiple audiences on a single website.
Multiple websites. If you work in different niche areas — for example, if specialize in both photography and web design — you can create separate websites with Site123.
Drop-down navigation. You can easily arrange your work into categories using drop-down menus, to keep your portfolio easy to navigate.
| | |
| --- | --- |
| Number of portfolio templates | 1 |
| Storage space | 500MB on the free plan; from 10GB to 270GB on paid plans |
| Mobile-responsiveness |  All templates are mobile-responsive |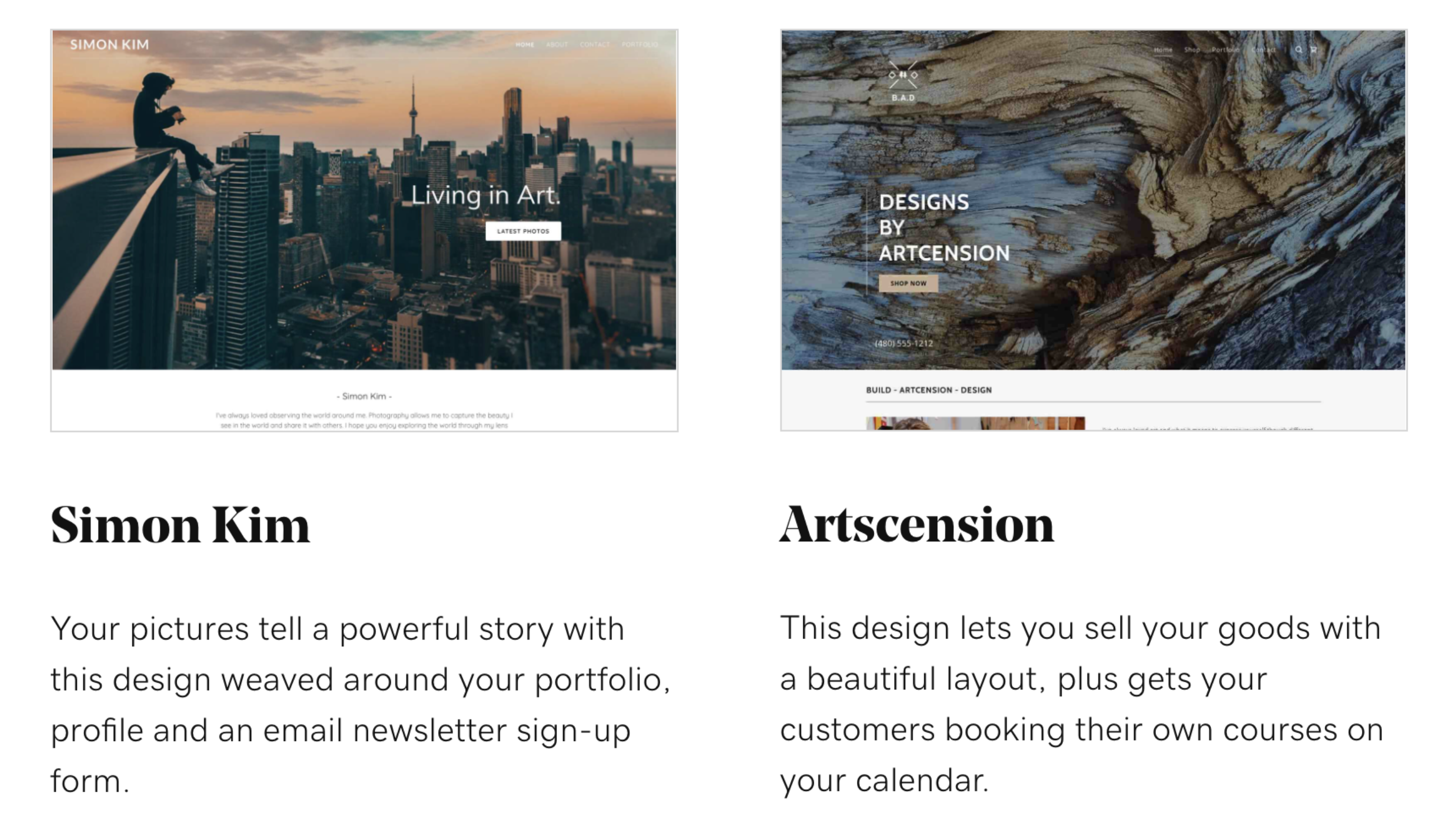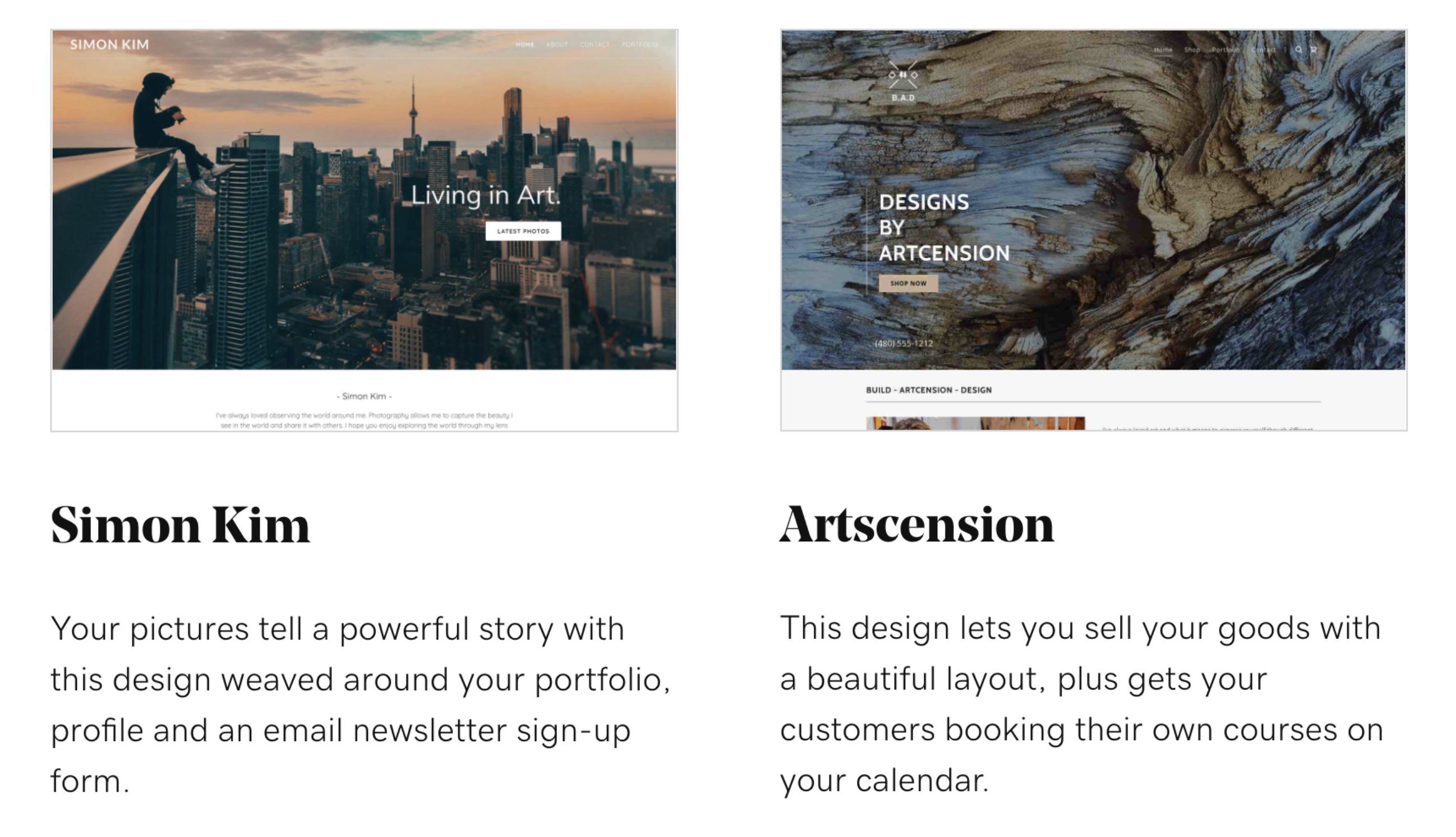 GoDaddy's simple point-and-click editor makes website building a walk in the park – even if you have zero experience. There are hundreds of ready-made content blocks you can add to your site, including photo galleries (carousel, grid-based, etc.), a calendar for upcoming exhibitions, a blog to complement your visual work, newsletter signup forms, and more. Most importantly,
you get unlimited storage on all paid plans
. You'll also be able to upload your own videos or import them from a URL (YouTube and Vimeo). Another great feature is the ability to edit the desktop and mobile versions of your site independently, thanks to the GoDaddy App. If you'd like to know more, read our
full GoDaddy review
.
Features
Appointment booking. You can allow your visitors to set up one-time or recurring appointments.
Email marketing features. Every plan includes a number of email marketing messages per month, professional, mobile-friendly templates, unlimited image storage, and automatic email campaigns.
Document uploads. You can upload documents (such as PDF files) into your portfolio to showcase work that can't be linked to.
Guided business tools. GoDaddy Insight analyzes your industry and suggests how to improve your site, while the Search Engine Visibility tool helps you optimize your site for SEO.
| | |
| --- | --- |
| Number of portfolio templates  | 13 |
| Storage space  | Unlimited on all paid plans |
| Mobile-responsiveness | All templates are fully mobile-responsive |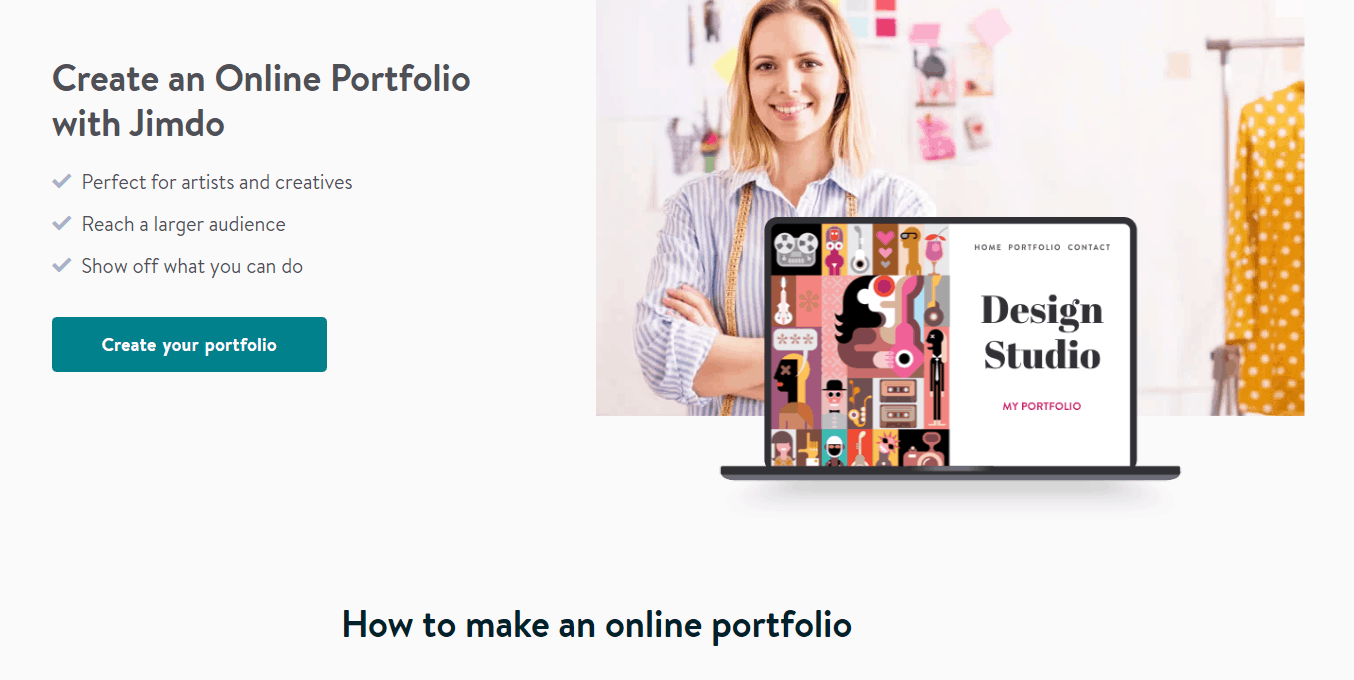 Although not as well known as the likes of Wix, Weebly, and WordPress, Jimdo is a solid choice as a portfolio builder. It features an artificial intelligence interface, Jimdo Dolphin, that builds your website for you in minutes. From there on, you can customize your website easily.
There's also the regular Jimdo Creator option that allows you to build your portfolio from a template, with more control over how it looks.
Jimdo has a decent range of templates to choose from, but you should be aware that the templates you're shown when you choose the portfolio website option in Jimdo Creator aren't all specifically portfolio templates. Only a few of the templates are optimized for portfolios, and the others require that you use the image gallery element to create your portfolio.
To get more information, check out our Jimdo expert review.
Features
Downloadable files. If you want to allow your visitors to download examples of your work, Jimdo has a downloadable files element that allows you to upload PDF, GIF, JPG, PNG, SVG, CSS, JE, EOT, TTF, and WOFF files. On the free plan, your files can't exceed 10MB, but if you're on the paid plan you can upload files of up to 100MB in size.
Professional design analysis. If you choose the Unlimited plan (which comes with unlimited disk space), you can get a professional design analysis to help you get the most out of your portfolio website.
Automatic SEO. Like Wix, Jimdo has tools that can help get your portfolio ranking high in search engine results pages. With Jimdo, however, basic SEO tasks are automatically taken care of for you. You'll also get recommendations for extra things you can do to improve your ranking.
| | |
| --- | --- |
| Number of portfolio templates | 15 templates are offered when you choose to build a portfolio website (but only 2-3 are strictly aimed at portfolios) |
| Storage space | 500MB on free plan; from 5GB to unlimited on paid plans |
| Mobile-responsiveness | All templates are mobile-responsive |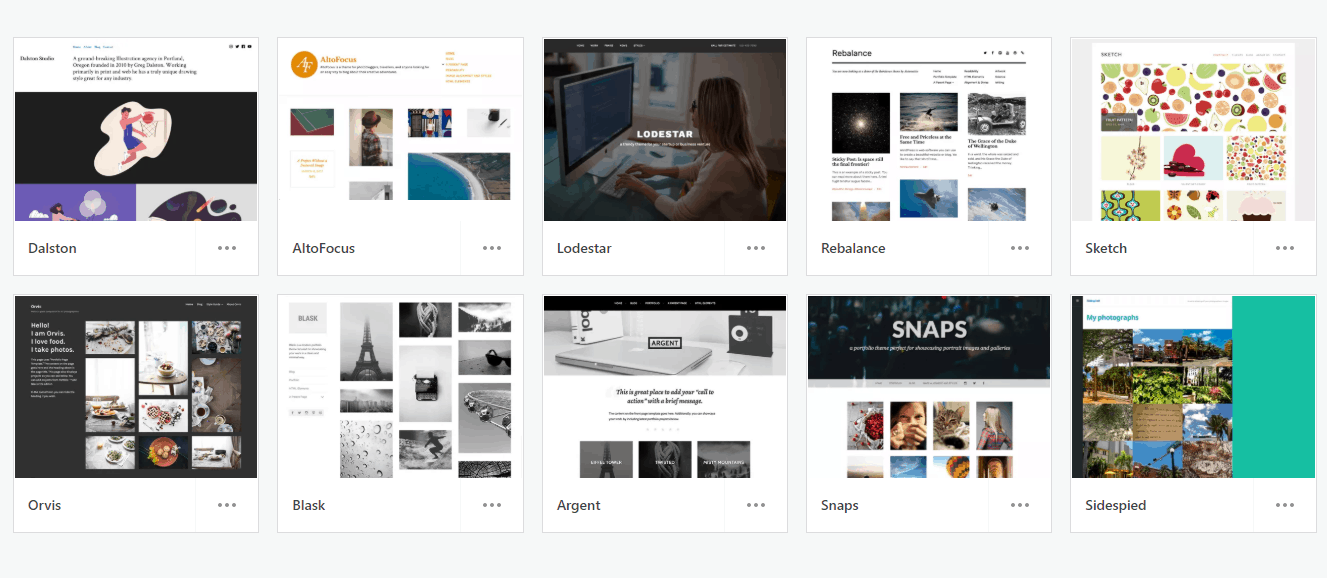 WordPress.com's free version gives you a huge range of themes and features for your portfolio. With the paid plans, you can also add premium features. Themes for WordPress.com range from free to close to $200.
WordPress.com offers a high level of versatility, allowing you to genuinely express your creative inclinations. You can personalize colors, fonts, and widgets using the customizer, and preview your changes before publishing them, which further enhances the user experience.
WordPress.com offers a portfolio content type, which means you can easily create a portfolio no matter which theme you choose. This makes organizing your website content really easy and gives you endless customization options.
To read more about WordPress.com, don't miss our expert WordPress.com review.
Features
Automatic portfolio setup. Some themes will automatically provide a pre-built portfolio section. With the Business plan, you can also install plugins like Nimble Portfolio and Media Grid for more advanced portfolio features. These plugins allow you to create new portfolio items from your blog posts, customize the layout of your portfolio, and easily add links to external websites.
Jetpack essential features. WordPress' own set of tools for monitoring your statistics and managing SEO features is automatically included with all WordPress.com websites.
Mobile and desktop apps. Manage your WordPress.com website on the go with the WordPress app, or install the desktop app for even more features.
Easy-add widgets. WordPress.com offers a range of widgets you can place in various areas of your website, depending on your theme. You can display your latest Instagram posts or add a Twitter timeline to make it easy for your visitors to find you on social media.
Shortcode support. You can use the Portfolios feature to put portfolio content on any page or post, just by using the shortcode [portfolio]. There's a range of attributes (options) for arranging in columns, choosing the number of projects to display, and choosing the order your projects are displayed in.
| | |
| --- | --- |
| Number of portfolio templates | 60+ (11 of these are free) |
| Storage space |  3GB on free plan; from 6GB to unlimited on paid plans |
| Mobile-responsiveness | Mostly; check the theme you're using — whether or not it's mobile-responsive depends on the developer |
Make the Right Impression with Your Online Portfolio
While you can use any builder on this list to create a great-looking online portfolio for free, you'll need to consider what kind of impression a free site creates for your visitors.
For example, having a free site with ads and a subdomain can make it seem as if you're not really invested in showcasing your work.
Paid plans are relatively cheap and give you the advantage of choosing your own domain name and removing the ads from your website.
Which website builder should you choose to create your online portfolio? Here are our recommendations:
If you're looking for the most versatile website builder for your online portfolio, Wix is our hands-down winner. Not only can you choose from over 500 templates, but Wix gives you a huge amount of flexibility.
If you're looking for a website builder that gives you the most storage and bandwidth for your online portfolio, then consider GoDaddy

. You can upload tons of files, photos, and videos to really showcase your work. Plus, you get email marketing tools to spread the word about your services – even on the free plan.
Here's a quick summary of the best portfolio website builders.
Standout Features
Free Plan Restrictions
What You Get When You Pay
Wix
Good number of portfolio templates and portfolio-related apps

500 MB storage
500 MB bandwidth
Ads and Wix branding
Subdomain

Up to 20GB storage
Unlimited bandwidth
Video streaming
Custom domain

Site123
Copyright protection

500MB storage
1GB bandwidth
Site123 branding
Subdomain

10GB-270GB storage
5GB-135GB bandwidth
Additional languages
Custom domain

GoDaddy Website Builder

Unlimited storage, even on the free plan

GoDaddy branding

Subdomain

Limited customization

Access to more GoDaddy business tools

Custom domain

Jimdo
Professional design review

500MB Storage
2GB bandwidth
Jimdo branding
Subdomain

5GB-Unlimited storage
10GB-Unlimited storage
Advanced SEO
Custom domain

WordPress
Portfolios content type for easy management of your portfolio

3GB storage
Ads
Limited customization

6GB-Unlimited storage
Install plugins (Business or eCommerce plans only)
Advanced design customization
Custom domain
FAQ
Which is the best website builder for my portfolio website?
Wix is the best website builder for portfolio websites,  as it has 40 different portfolio templates to choose from, as well as a portfolio app that you can use to add a portfolio to any template you like.
What should a portfolio website have?
Your portfolio website should include (obviously) your portfolio of work, but it's a good idea to also include an "about" page that describes your background and experience, and a "contact" page for your visitors to be able to get in touch with you. If you have social media accounts for your professional work, then add links to those, too.
How do you make a portfolio website in WordPress?
There are two main ways to create a portfolio website using WordPress. Firstly, you can use a theme that supports WordPress's portfolio post type. You can search for these themes in the theme installer. Alternatively (if you're subscribed to the Business plan and above on WordPress.com) you can install a third-party theme for portfolios from TemplateMonster or ThemeForest. The second way of creating a portfolio website in WordPress is to use a portfolio plugin. You can only install plugins on the Business plan and above, but there are lots of free portfolio plugins available both via WordPress and from third-party websites. One of the best is WP Portfolio, which is optimized for performance and has multiple layouts to choose from.
When should I upgrade my web builder and pay?
Free plans for website builders are a great way to get started, but one of the biggest downsides is that you're not able to use a custom domain name. For a portfolio website, you want to create a good impression on potential clients/customers, and a free sub-domain name (e.g. yourusername.wixsites.com/yourwebsite) really doesn't sound very professional. That's why I'd recommend upgrading to a paid plan once you're ready to start promoting your portfolio website. Upgrading to a paid plan also gives you more features (depending on the website builder that you choose) such as increased storage space and the removal of the website builder's branding. Check out our list of the best website builders to help you make your choice.