How people view and interact with your landing page on a mobile device is just as important as how they would on a desktop. However, many business owners are still quick to dismiss mobile internet usage as a much smaller share of the total traffic than it actually is. This can be a big mistake.
Around 63.5% (or $1.8 billion) of e-commerce sales happen on either cell phones or tablets. And this figure is only expected to increase.
If someone told you that you could broaden your potential customer base by up to two-thirds by optimizing your mobile landing pages, would you? Of course you would.
Landing pages are a great tool for driving conversions, which is why it's more important than ever to ensure your landing pages are mobile-friendly. Let's see how you can do just that.
#1: Keep Content Short and Sweet
There are a number of reasons you shouldn't go overboard with content on mobile landing pages:
It's Overwhelming
When you just have a screen the size of your palm to work with, too much content can quickly look disorganized, cluttered, and confusing. If a website is not optimized for mobile, nearly half of users will exit immediately in search of one that is.
It Increases Loading Times
Too much content—particularly images—greatly affects page loading times. This is incredibly important given that nearly three-quarters of people will abandon a mobile site if it takes more than five seconds to load. Basically, you risk losing customers before they even have a chance to see your content.
It Discourages Action
It's frustrating for users to scroll endlessly to find what they are looking for. Keep your content deliberately short and punchy, and stick to the same principles of keeping your most important CTA elements above the fold. That said, audiences are different, so it's important to test to see what works best for you.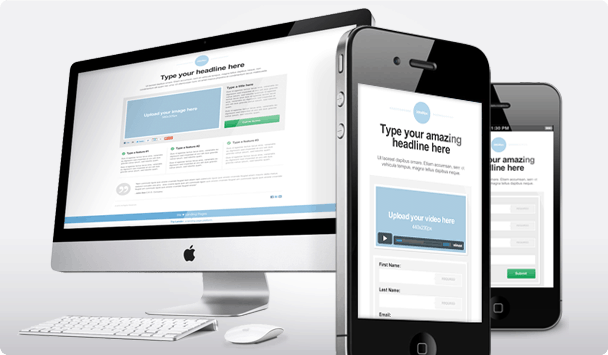 #2: Scale Your Images
It's shocking how many landing pages are still not paying enough attention to their images. It's not just that mobile screens are much smaller than desktop displays, but they are also vertical instead of horizontal.
Whatever method you use to build your landing pages, you should make sure that:
You have alternatively-sized versions of your images OR that your existing images still look good on mobile displays
The most important (or most attractive) parts of the images are still visible if they are cropped
The resolution is sharp and consistent
Any imagery visually blends with the rest of your content and overall branding
The images are as small as possible to avoid taking a performance hit (per the earlier point of increasing loading times)
#3: Think Thumb-Friendly
Remember that users will be using their fingers (not a mouse) to interact with the page. This means a few different things:
Less Precision
Viewers' actions will be much less precise. Make sure that you use big, touch-friendly buttons or links that can easily be clicked without needing to enlarge the display.
Intuitive Motions
If you have image sliders or carousels, see if you can incorporate some kind of swiping action, which is a type of interaction that individuals expect from using a mobile device.
Accidental Clicks
Make sure that you do not put links or buttons where they are likely to be pressed by accident, for instance, when a user is scrolling down the page. This can be extremely frustrating and result in missed sales or conversions.
 
#4: Take Advantage of the Mobile Platform
There are a number of mobile-specific features you can—and should!—take advantage of when developing mobile landing pages. For example, use the mobile device location to provide users with information that is specific to their region or in a language they are most likely to use.
If you want to implement some kind of referral program, you can also have users supply contacts directly from their phone. Think about all the integrations available on mobile (camera, recording, maps) and how you can use them to create a unique and memorable landing page.
#5: Keep Forms Simple
Remind yourself once again that you are working on screens with much less available space, which means that everything needs to be smooth and straightforward to get the maximum number of conversions.
On mobile, you should always keep your contact or signup forms as simple as humanly possible. Too many fields or required information will not only increase your load times, but will also be much more tedious to fill out on a phone vs. a desktop.
Requiring users to input too much data is one of the quickest ways to lose a customer and any chance of conversion. Don't worry, it's always possible to ask users for more information later on when they are more comfortable with and emotionally invested in your brand.
#6: Test and Test Some More
While there are certain universal principles, the mobile experience is still unique. Therefore, you should make sure that you test specifically for it. Before you publicly launch your landing page, you should test it yourself (and ask others to as well) to make sure the interface is comfortable, functional, and intuitive.
Testing is an ongoing process, but only about half of companies who use landing pages actually take the time to do so. You should always keep track of your visitor statistics and website analytics. This will help you to track the success of multiple versions of your landing page to identify exactly what works and what doesn't. A/B testing is a must for landing pages of all kinds, mobile included.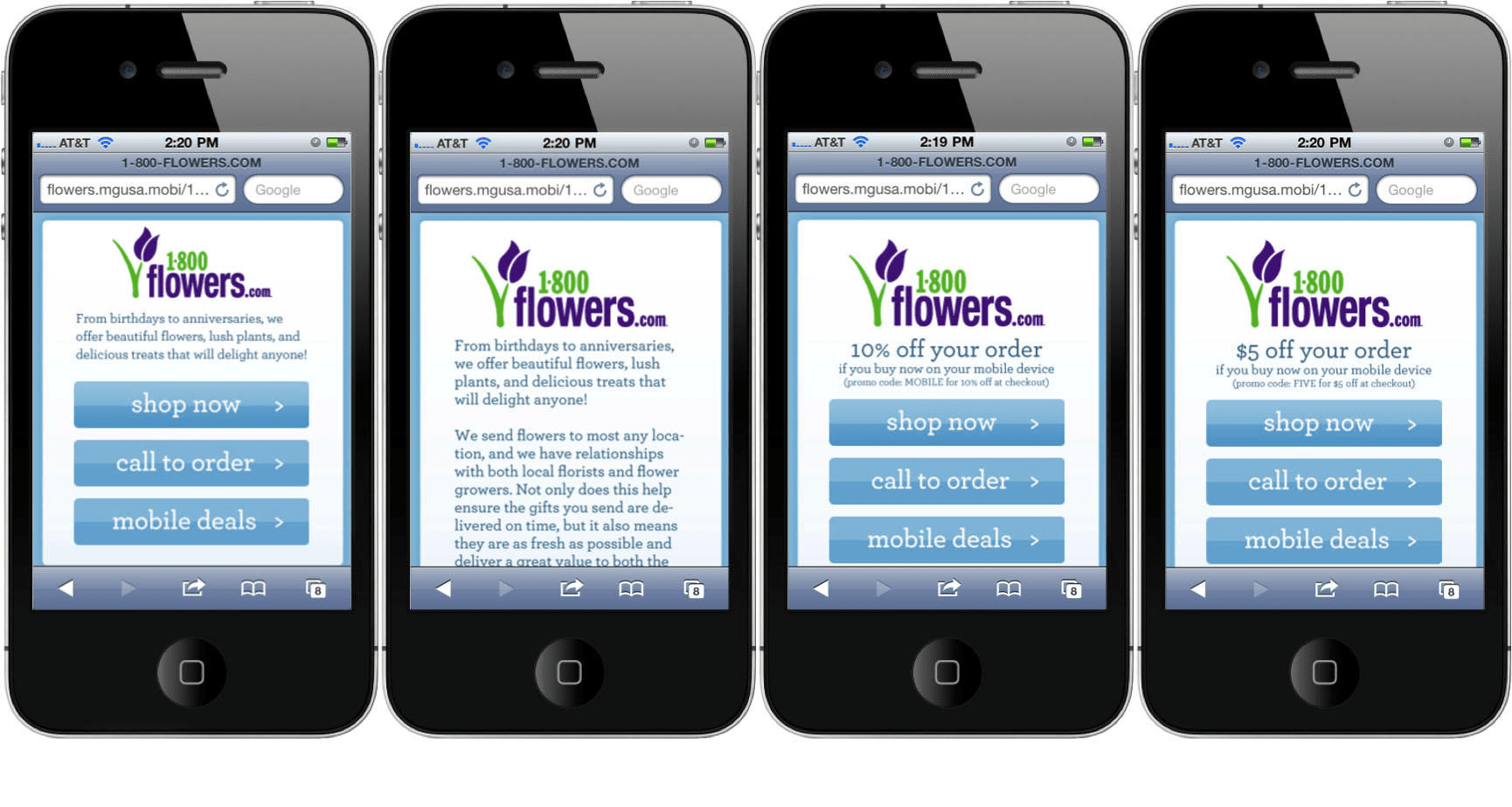 #7: Use a Mobile-Friendly Landing Page Builder
Using a premium mobile-friendly landing page builder will help make it easier to implement most of these recommendations. They provide tried-and-tested templates, plugins to add functionality, mobile-friendly tools, integrations with other platforms, and, in most cases, A/B testing features and analytics.
However, not all landing page builders are made equal. Make sure you use one that has been proven to be effective. Take a look at some of the best landing page builders out there at the moment, which includes platforms like Unbounce, Lander, and PageWiz. All of these platforms also provide great tools to make sure your landing page is just as effective on mobile as it is on desktop.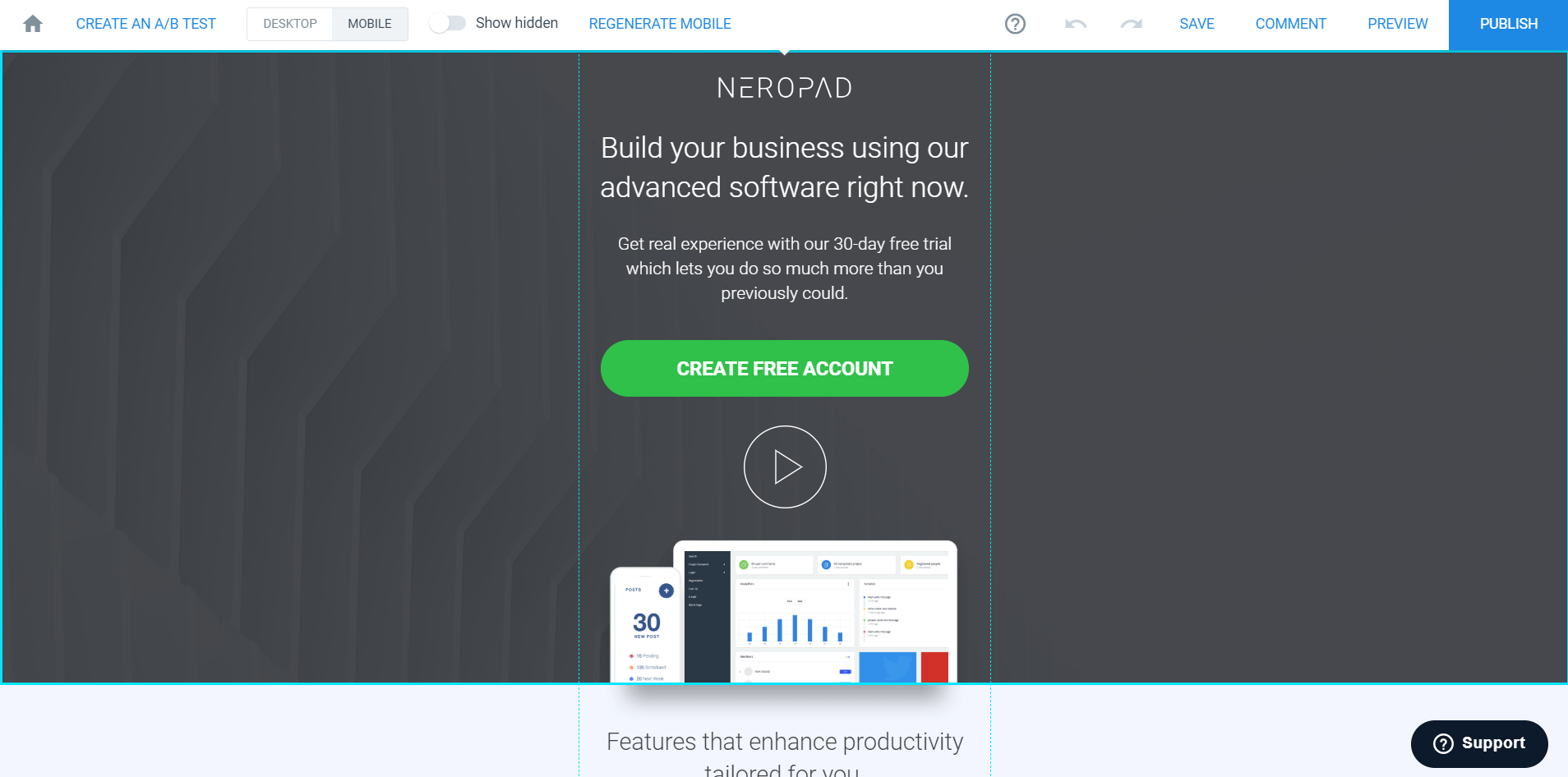 Landing Pages Built for Your Customers, Wherever They Are
If your landing page is not mobile-friendly, you run the risk of alienating your business from current and potential customers. If trends are anything to go by, more and more individuals are reaching for their cellphones when they want to browse or shop online.
If you've already created a fantastic landing page with a high conversion rate and great content, the good news is that you don't have to start from scratch. Making your landing page mobile-friendly is more about getting rid of what's unnecessary and identifying what's most important. In other words, it's about optimizing your content.
With that in mind, there's only one question left to ask: Can you afford to miss out? The answer, of course, is no.
—
Image Credits:
Short and Sweet Image: https://landerapp.com/blog/are-you-ready-to-jump-to-mobile/
Thumb Friendly Image: https://pixabay.com/en/the-mobile-unit-smartphone-1593989/
Testing Image: https://www.wordstream.com/blog/ws/2014/03/10/mobile-landing-pages
Mobile Friendly Builder Image: https://www.pagewiz.com/?a=140