Now you just need people to actually show up.
I'm your friendly neighborhood web designer, and I'm here to show you the basics. This article assumes that you're not a web designer by trade, but that you do know what you want:
a landing page that makes people click,
 or even willingly fill out a form.
Putting that landing page together is not as hard as it might look,
but it will take a little bit of prep time, some writing, and the willingness to learn. Ready? Here's what you need to know.
Choose the Best Tool for the Job
Before you
actually
start building your landing page, you'll need to determine
the best landing page builder for you.
 Assuming you don't do this for a living, you'll probably want to build your landing page with a beginner-friendly drag-and-drop tool. There are some
great free builders
 out there that are definitely worth your consideration. Any one of these will do just fine for beginners:
Wix has a lot of third-party apps and modules that will allow you to easily add event registration and sign-up forms, as well as loads of great pre-designed templates.
Squarespace has some of the most elegant, minimalist themes around, plus custom forms.
Weebly also has a bunch of third-party apps for custom forms and event registration.
If you are
somewhat
 comfortable with HTML and/or CSS, you can get some great event landing page templates from a theme marketplace like
TemplateMonster
 or
ThemeForest
. A static HTML template and a little know-how can give you a
lot of flexibility when it comes to the layout, colors, and everything in between.
Determine Who You're Talking To
As with any marketing project, the first thing you need to do is figure out your target audience.
After all, trying to sell your event to
everyone
 will end up appealing to no one.
Now, if you only sell one specific thing, or provide a very specific service, you're in luck. Your target audience will be much easier to define. But if you're an online retailer who sells a wide variety of products, for example, you'll need to narrow your audience down.
The point is: every design and writing decision you make for your event landing page needs to have one distinct group of customers in mind.
Write to Convince and Persuade
Now it's time to actually start creating your landing page.
First, consider what information your audience needs.
 Depending on the type of event you are promoting, you may need to include a lot of background or logistical information. There might also be a lot of interesting "extras" you want to include, in case your audience has time to spend reading. Either way,
all of the essential information should be easily accessible.  
The same thing goes when it comes to collecting information:
only ask for what you absolutely need.
I know it can be tempting to include a super detailed survey, but try to restrain yourself. The easier you make it for a user to act, the more sales or signups you'll get. Looking at some event landing page examples can definitely help.
Wix has some excellent landing page templates
 that can give you some ideas: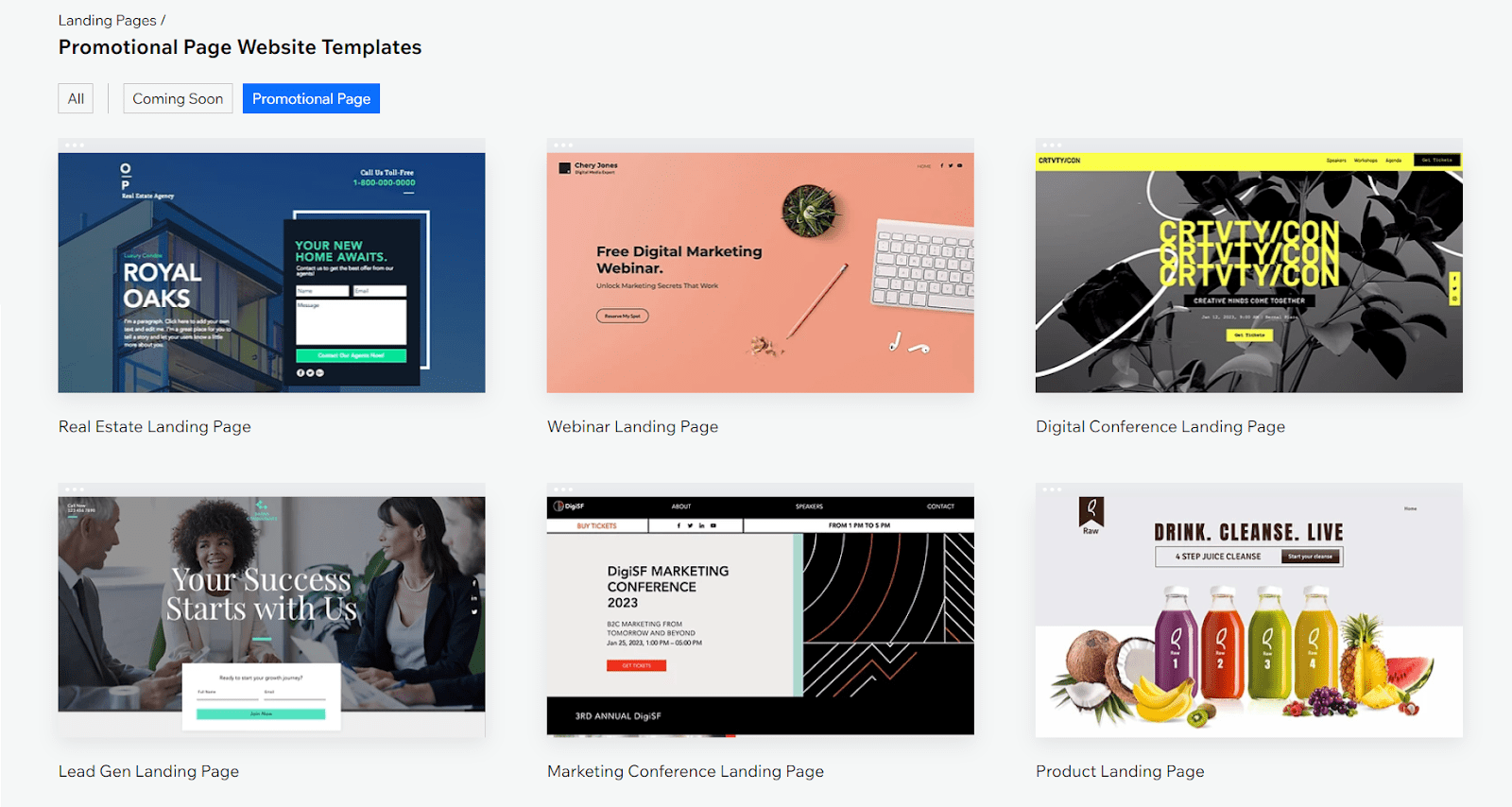 After you know what key information you need to include, keep the following guidelines in mind when writing your event landing page copy:
Clarity
You want to write down everything in the simplest terms possible, if for no other reason than to
avoid wasting readers' time.
 Make clarity your guiding principle throughout every aspect of the landing page – in fact, this is probably a good strategy for any piece of marketing.
Urgency
If there's a time limit on a sales offer (and there usually is), make sure readers know about it. Put the date or a countdown at the top in big, bold type. No one should ever say you hid that information away in the fine print. This will create a sense of urgency,
and drive the customer toward making a yes-or-no decision faster.
Relevance
Be clear about who your event is for, and exactly how they will benefit from it. Use terms like "film buffs," "classic rock fans," or "tea kettle enthusiasts."
Give people a reason to think, "Oh, that's me! I'm in! I want what they have!"
Perks
If you're doing anything special for your customers or event participants (besides, you know, the event itself),
talk about it sooner rather than later.
 Perks can include things like free or discounted delivery, a complimentary event T-shirt, discounted pet adoption fees (at a pet adoption fair, for example), and more.
Action
Be very clear about what you want the reader to do next.
Describe exactly what steps they need to take
to be a part of your event, whether it's simply clicking a button, filling out a form, or just giving you their email and confirming their subscription.
Creating an effective CTA
 is one of the most crucial aspects of your landing page – so make sure you get it right.
Transparency
Also tell customers exactly what will happen
after
 they act: tell them where the button is taking them, what you're doing with the information they provide, and whether or not you'll be in touch soon. That sort of transparency
reduces anxiety and hesitation
 in users, and honesty is always appreciated. Below is another example of a job well done. In addition to the "where" and "when," it is clear about who the audience is ("creatives") and what they can expect to get out of the event ("community and unforgettable experiences"). Readers are encouraged to hit the all-important CTA when they read that there is a limited number of spots available.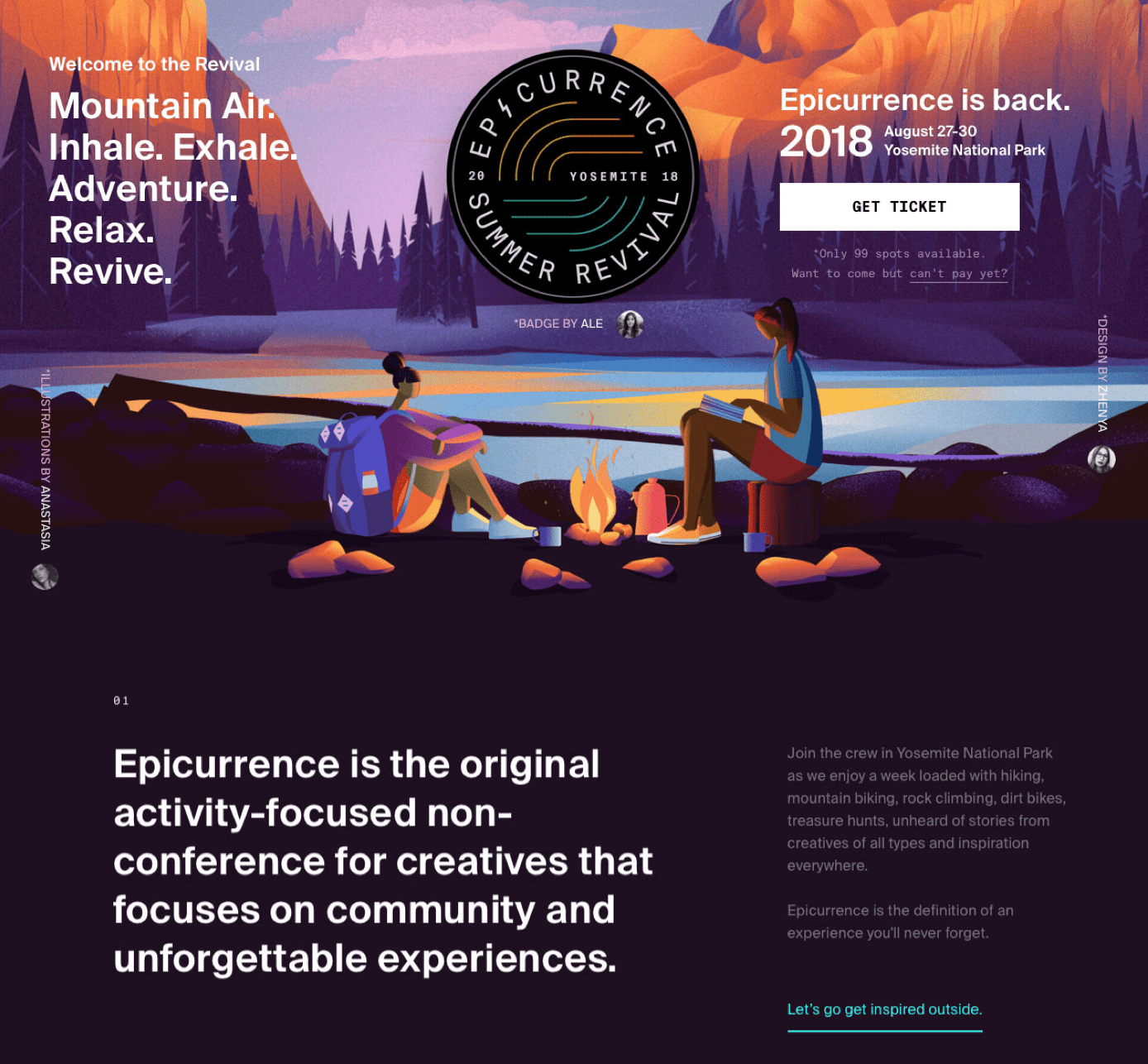 Define Your Aesthetic and Layout
Branding should always be a concern.
Visually, your event registration landing page should complement the style of any other online presence you have.
Now, the nature of landing pages is such that it's normal for them to look different from your regular website, so they stand out. Even so, your logo should be there, and your basic color palette too. Ideally, you should use the same combination of typefaces that you use everywhere else, though that may or may not be possible, depending on how you choose to build the landing page. Let's take a look at some specific design elements that you can – and should – take advantage of on your event landing page:
Contrast
Use color contrast to
call attention to the key points
 of your event landing page. This could include the main details of your event, or the form that you want readers to fill out. Whatever it is, simple coloring can help this information stand out from the rest of your content in a big way.
Imagery
You don't need to have a giant image or photo on your landing page to make it successful, but you should
try to incorporate visual interest,
 whether it's with small illustrations in the place of bullet points or interesting typography. But remember, these visual components shouldn't feel random – they should make sense given your brand, event, and target audience.
White Space
This is a reminder that so many people need to hear:
give your landing page some room to breathe.
 If every square inch is covered in text or images, you are just going to give your audience a headache – plus, it's less likely that they'll be able to find your important event info. Here's an example of an event landing page that does all of these things right. Your eye is drawn straight to the important components (e.g., date, CTA) thanks to simple color contrast. Plus, there are enough design elements for the page to be visually interesting, without being overwhelming.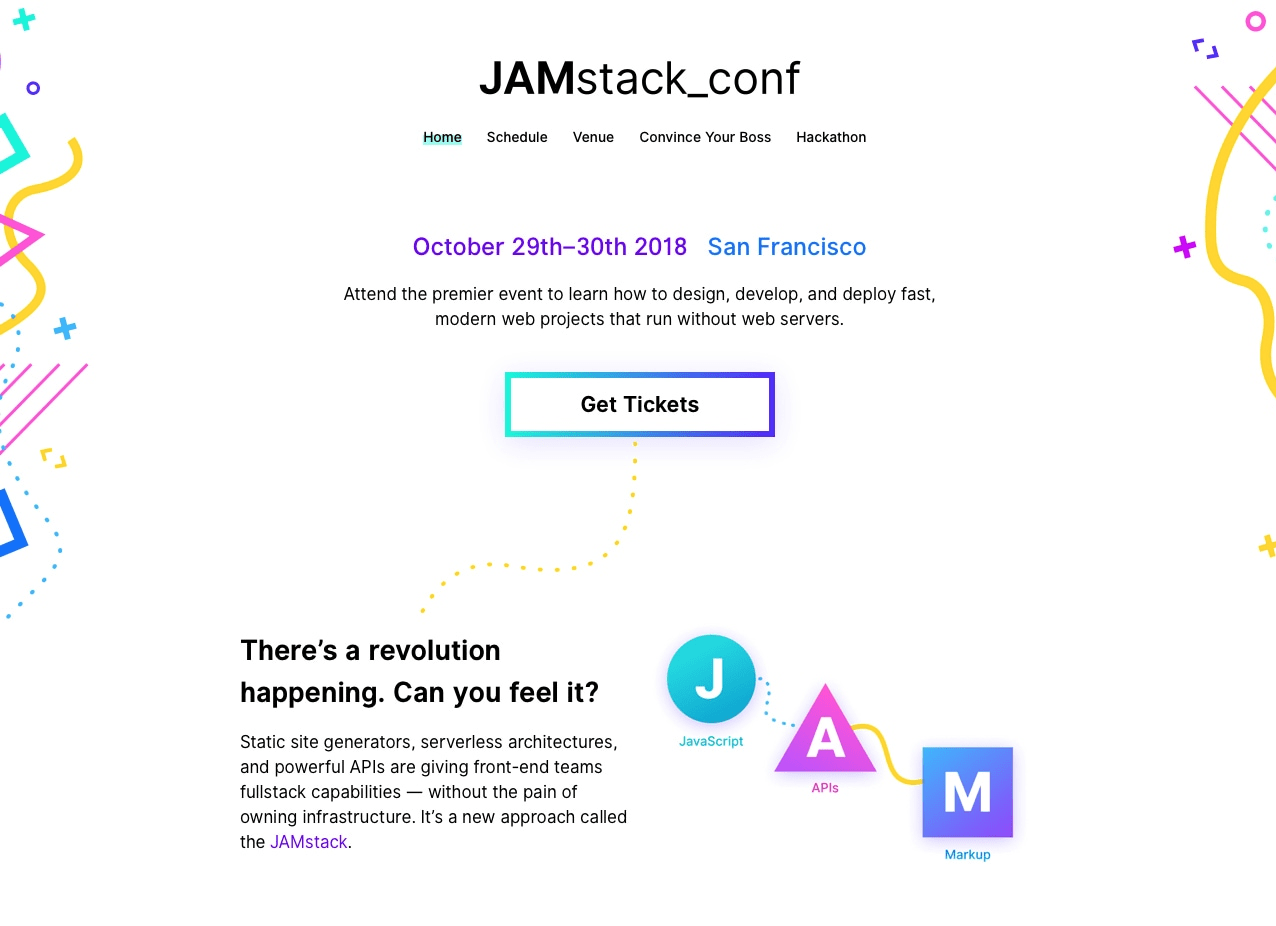 Continue to Improve the User Experience
Will knowing all of these best practices put you on the right track to building an event landing page that catches the attention of your audience?
Yes. But if you really want to convert, you need to approach this as a learning experience.
That means
A/B testing
. If you have enough traffic, consider creating two versions of your event landing page where you change a
single
 element (e.g., the header or CTA). It is important to test one thing at a time so you can know exactly what is impacting results. You might not be able to implement the findings for
this
event, but you can keep them in mind for the next one. So, you've reached the point where you're prepared to take the plunge. Perhaps you've already composed the copy and envisioned the ideal design. If that's the case, fantastic! Commence using the landing page builder that you feel most at ease with. By bearing the aforementioned tips and tricks in mind, you're sure to make your event a success. Good luck.
FAQ
What is a landing page and how does it work?
A landing page is a type of web page designed for a specific goal, whether that be converting visitors into leads, getting visitors to sign up for an event, or encouraging them to click through and purchase a product. Most landing pages include a prominent CTA (call to action) button and/or a signup form where visitors can enter their details. For further information, check our list of the best landing page builders for 2023.
What's the difference between a landing page and a website?
A landing page is a standalone page, typically part of a marketing campaign. While some websites consist of one page only, these pages are usually much longer and include more detailed information. Most websites, of course, are made up of multiple pages. Some website builders, such as Wix and Squarespace, will let you build both a website for your business and single landing pages for your marketing. Using the same tool for both can be an advantage if you want to keep your branding consistent. For more options, don't miss our recommendations for the top website builders.
What is the best free landing page builder?
If I had to recommend a single platform, it would be Wix. While it's more of an all-purpose website builder than a designated landing page tool, it has some fantastic landing page templates, it couldn't be easier to use, and best of all, it has a free plan that lets you build and publish a fully functional page. If you're not sure if Wix is right for you, there are some other excellent free landing page builders for you to choose from.
How can I get people to visit my landing page?
To drive traffic to your landing page, you'll want to set up a marketing campaign. There are many ways of doing this, but some of the most popular are Google Ads, social media platforms such as Facebook and Instagram, and of course, email marketing. If you need some help getting a social media campaign set up, there are some easy-to-use tools that can help. Don't miss our list of the best email marketing services to see what they can do for you. Some of these platforms are 100% free.