If you want to create a landing page that is fully integrated with your email marketing campaign, it's worth checking out
Constant Contact
. Specializing in all things email marketing, Constant Contact helps its members create a variety of
email landing pages
. These are essentially single webpages that can be distributed to your mailing list,
encouraging your audience to take specific action.
You can choose between dozens upon dozens of templates, each of which has been expertly designed to prompt conversions.
You'll find the email type you are looking for,
whether you want your audience to register for an event, enter a contest, or download your latest ebook. It's true that your options are limited with Constant Contact, as the pages have truly been designed to be the body of an email vs. a standalone landing page. If you're looking for more versatility, or you want to create a fully customizable landing page, we recommend heading over to
Wix
or
GetResponse
. However,
if you're looking to boost your email marketing strategy
—while increasing conversions—Constant Contact might be precisely what you need. And the creation process couldn't be more straightforward.
How to Create a Landing Page in Constant Contact
First things first:
sign up for an account with Constant Contact
and verify your email address. At this point, you will be taken to an initial screen where you can start building your email campaign.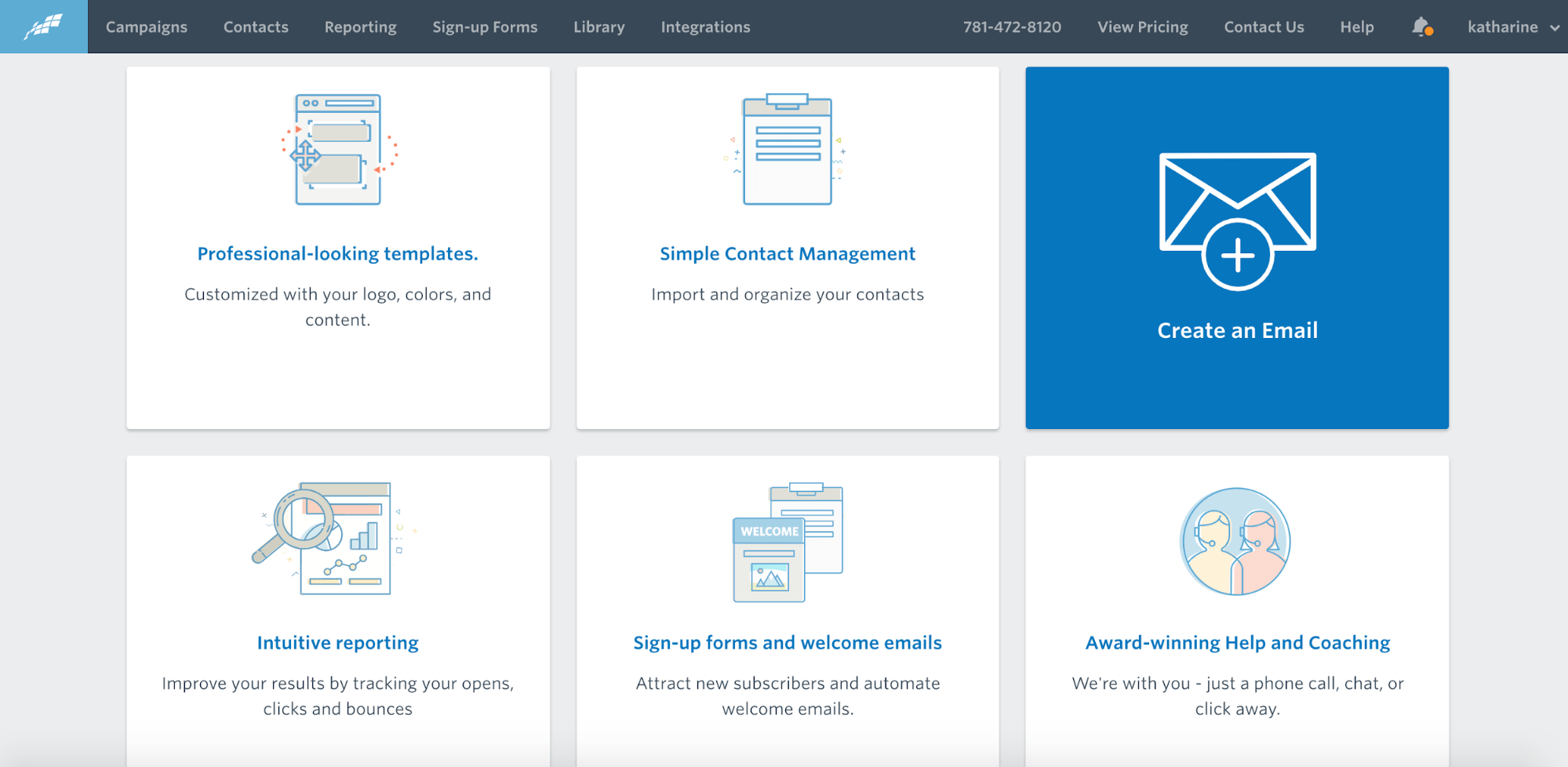 Step 1: Choose Your Template
Browse through the Constant Contact gallery to select your email landing page template. This process might take some time as there are
currently hundreds of templates on offer
. Each one can be customized to suit your needs.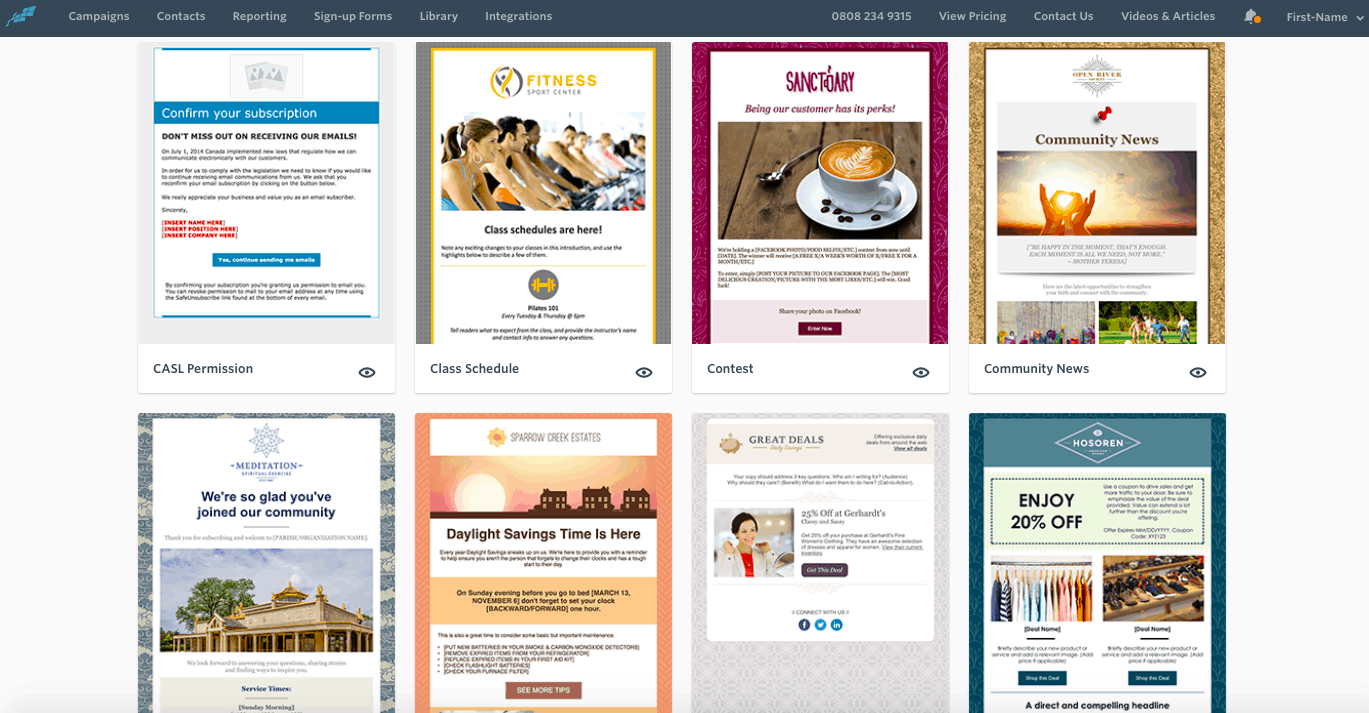 Pro Tip: Defining the core goal of your campaign will help you determine which features will best serve your needs. For example, the functionality of the landing page will change depending on whether you want to increase sales by providing a coupon or drive web traffic with a new blog post.
Step 2: Customize Your Landing Page
Adapt your chosen template to match your branding
in terms of colors, fonts, language, and overall style
. You can use content "blocks" to create a bold, personalized message (
ActiveCampaign
users will be familiar with this method). Simply insert different content types as individual elements from the tabs on the left-hand side.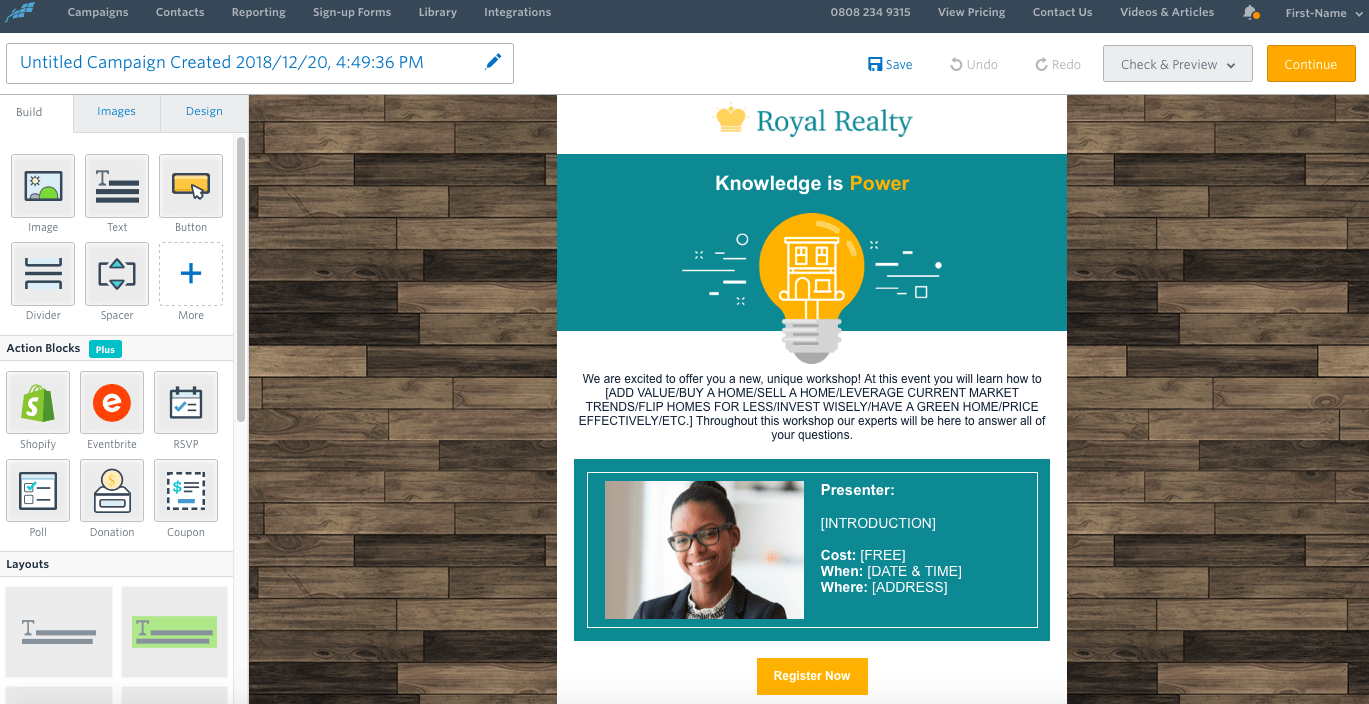 There are different types of blocks you can choose to integrate into your template:
Basic: Click on the corresponding blocks to place an image, text box, button, divider, or spacer into your template.
Action Blocks: Choose to integrate Shopify to create a Point-of-Sale, Eventbrite for ticketing services, or the RSVP tool to manage responses to event invitations. You can also use the Poll tool to gain customer feedback, the Donation option to accept donations, or offer your customers special discounts with the Coupon tool.
Layouts: Visualize the different layout options that you can apply to your template.
Pro Tip: Resist the urge to overcomplicate your layout. The general rule of thumb when it comes to highly converting landing pages is "less is more." Your aim is to produce an aesthetically pleasing and usable design that makes it as easy as possible for the visitor to click-through to your offer
Images: Proceed with the easy-to-follow on-screen instructions to upload images from your desktop or through an image URL. In our test run, we experienced frequent issues with the photo editor tool. This kind of thing can make the image insertion process rather frustrating.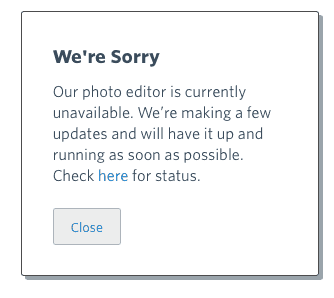 Design: Change different elements of your landing page layout, including background graphics, fonts, and colors.
Pro Tip: Be sure to include plenty of white space in your design to draw your reader's eye to the most critical elements on the screen
The platform is very intuitive. You can drag and drop any element, or click to edit the text directly on the template. This functionality makes Constant Contact very similar to ActiveCampaign, GetResponse, and Wix, all of which also offer a user-friendly creation process.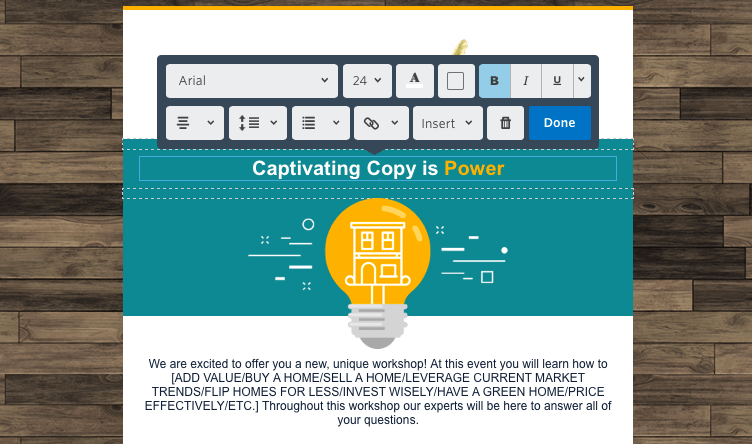 Pro Tip: You don't need more than a few compelling words to create an attention-grabbing headline or one-liner that explains your brand's value proposition. Don't forget to include a similarly short-but-sweet CTA button that engages your users and encourages clicks
Step 3: Preview and Send Your Campaign
Once you've finished creating your masterpiece, you can view your template from a desktop or mobile perspective
to ensure that it has been optimized for all devices
. However, unlike Wix, Constant Contact doesn't allow you to edit your design in Mobile mode. Just click the "Check and preview" grey box in the upper-right hand corner and then "Preview." You can toggle between the desktop and mobile previews: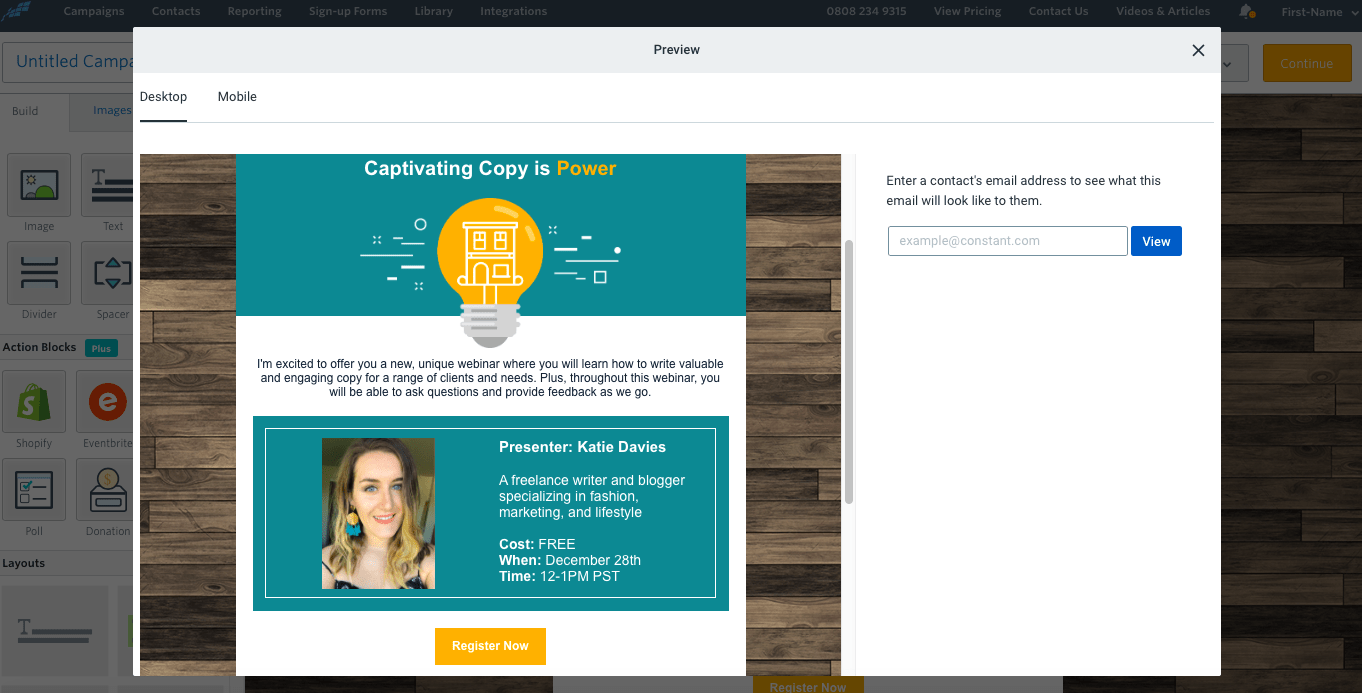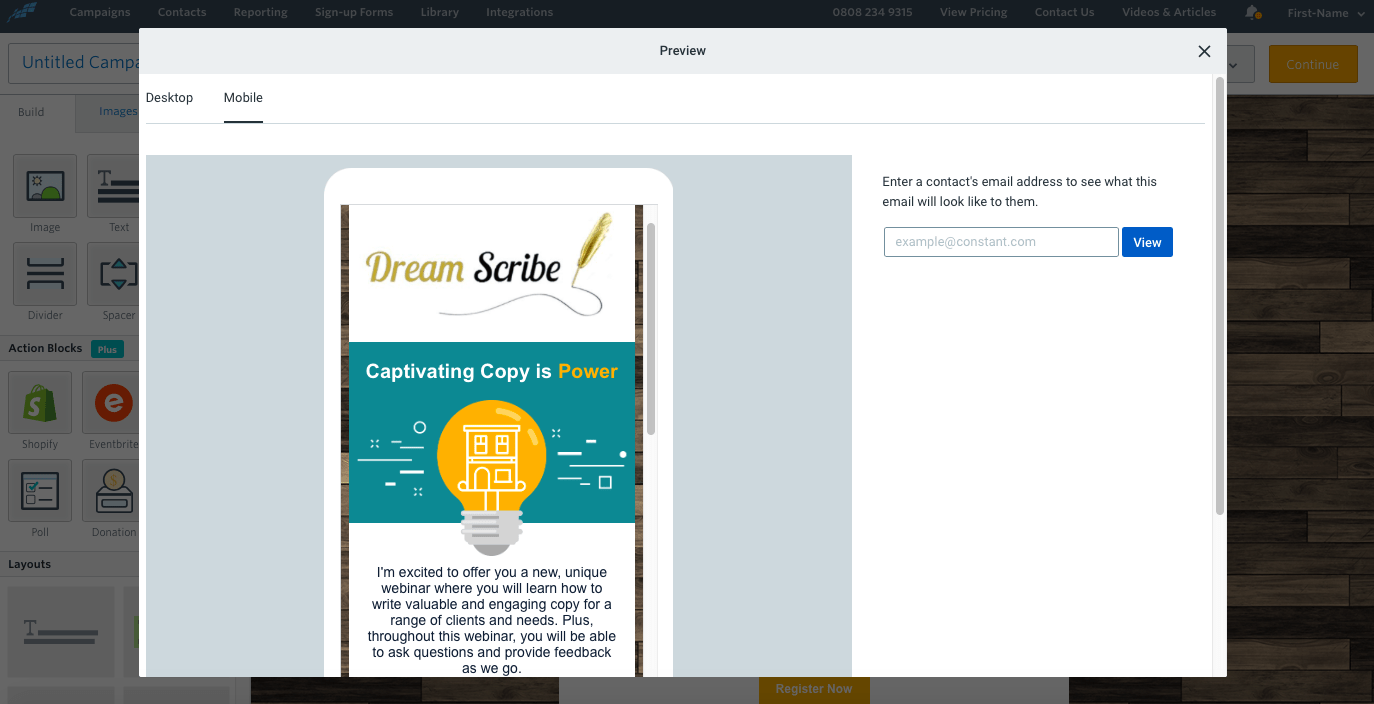 Pro Tip: Make sure your fonts are big enough to be read on a mobile device. Break your text up into sections to make it easily digestible across all devices.
Once you're happy with your design, click the "Check for errors" button to check for any missing or invalid links before you send out your email.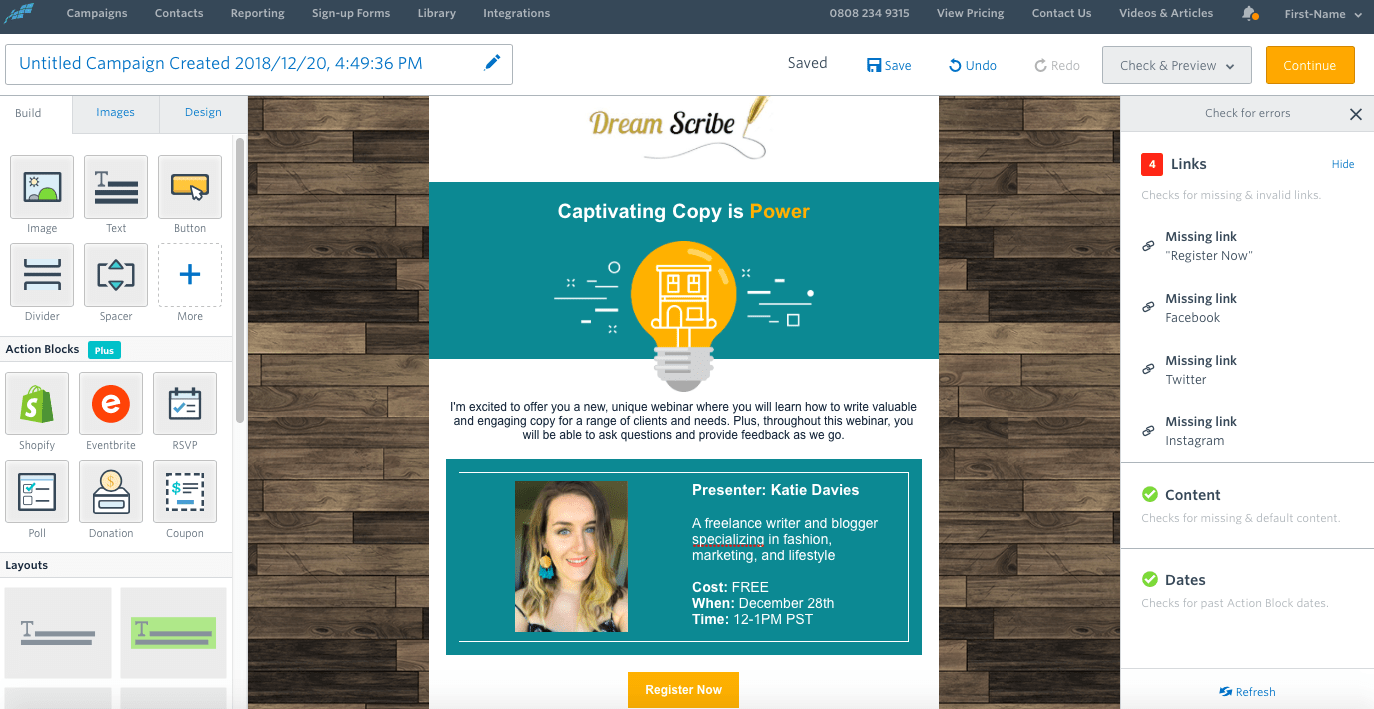 Fix any errors before clicking "Continue." You'll then be taken to a screen that asks for more information about your campaign.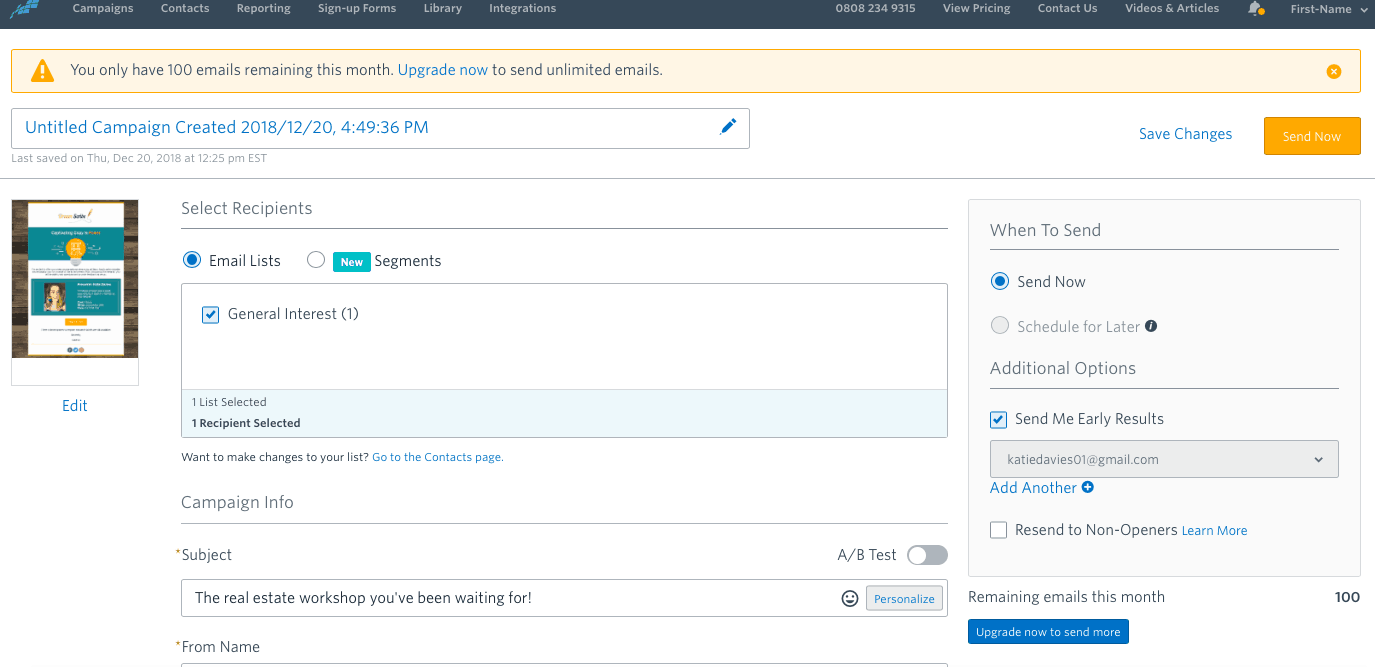 You can now
send out a test email to up to five recipients
. This is a handy feature, as it allows you to make any necessary adjustments before rolling out your email landing page to your entire email list. Input up to five email addresses and then click "Send test." If your test email looks good, input the rest of your recipients and click "Send Now."
Step 4: Measure Your Results
Once you've sent your campaign, you can navigate to the "Reporting" tab to measure your results. This allows you to
track the success of your email landing pages
through Constant Contact's real-time reporting tools and analytics.
You can find out when and where people are opening, reading, clicking, and forwarding your email, who they are, and whether they're on a desktop or mobile device.
These insights can then help you tweak your marketing campaign and optimize your landing page template to improve your results next time around.
Pro Tip: Try out Constant Contact's A/B testing feature. You can send out two different email designs with a varying element, such as the hero image, to monitor which version performs better. It's an effective way of dramatically improving the performance of your email landing page
Who Should Create Landing Pages with Constant Contact?
The biggest drawback to using Constant Contact is that every feature is specifically designed to be integrated with its email marketing campaigns. If you're interested in creating landing pages that aren't necessarily linked to an email marketing campaign—a landing page to link to from your social media pages, for instance—you're better off with a platform like
Wix
or
GetResponse
, which you can use to create
any type of landing page
. Unfortunately, there is no free account option. However,
if you're currently located in the U.S. you can get a 60-day free trial
, no credit card number required—but keep in mind that this trial period comes with significant service limitations. Users in other countries get their
first month free
when signing up for the service. Your account will be fully functional during this free month, but you do have to enter your credit card details to sign up. Generally speaking, Constant Contact makes it easy to produce gorgeous yet practical email landing pages. However, due to the platform's various restrictions, it's probably best suited for
email marketing beginners, startups, and small businesses
who are just beginning to grow their email lists. If your business has already gained a solid footing and you have been actively involved in email marketing for an extended period, you might find it worthwhile to contemplate acquiring the Email or Email Plus account. Conversely, opting for a service that specializes in diverse varieties of landing pages could also be a more suitable choice. Constant Contact claims that
for every $1 spent on your email marketing campaign using the platform, you will gain an average ROI of $38
. That is pretty tempting, but it's ultimately up to you to decide on the best path to reach your marketing goals.
---
Source
https://www.constantcontact.com/uk/home-page