But all of this only happens if the right people show up. Not just anyone, but potential customers who will find your webinar helpful and then tell their friends and coworkers about it.
We know that, by the time you've gotten this far, it's tempting to just quickly throw a landing page together and hope it converts. But not so fast! To help you out, we've identified five critical components of successful landing pages and pointed to some real life webinar landing page examples for inspiration. Plus, we've pulled together some of the best webinar landing page templates out there to get you started. Keep the following in mind, and you'll be well on your way to
turning your website visitors into webinar attendees.
#1. Kapost – Clear and Prominent Title
The first question your visitors want answered is whether attending your webinar is worth their time. And they likely will give you a few seconds – ok, maybe 20 – to communicate that. So the title of your webinar landing page
needs to capture their attention,
encourage them to continue reading, and – most importantly – convince them to watch the webinar. This was a tough category for determining the absolute best example. We found lots of really catchy titles. But we decided to go with this one because of its simplicity – and the fact that
everything from the title to the graphic to the page design is understated.
It just works.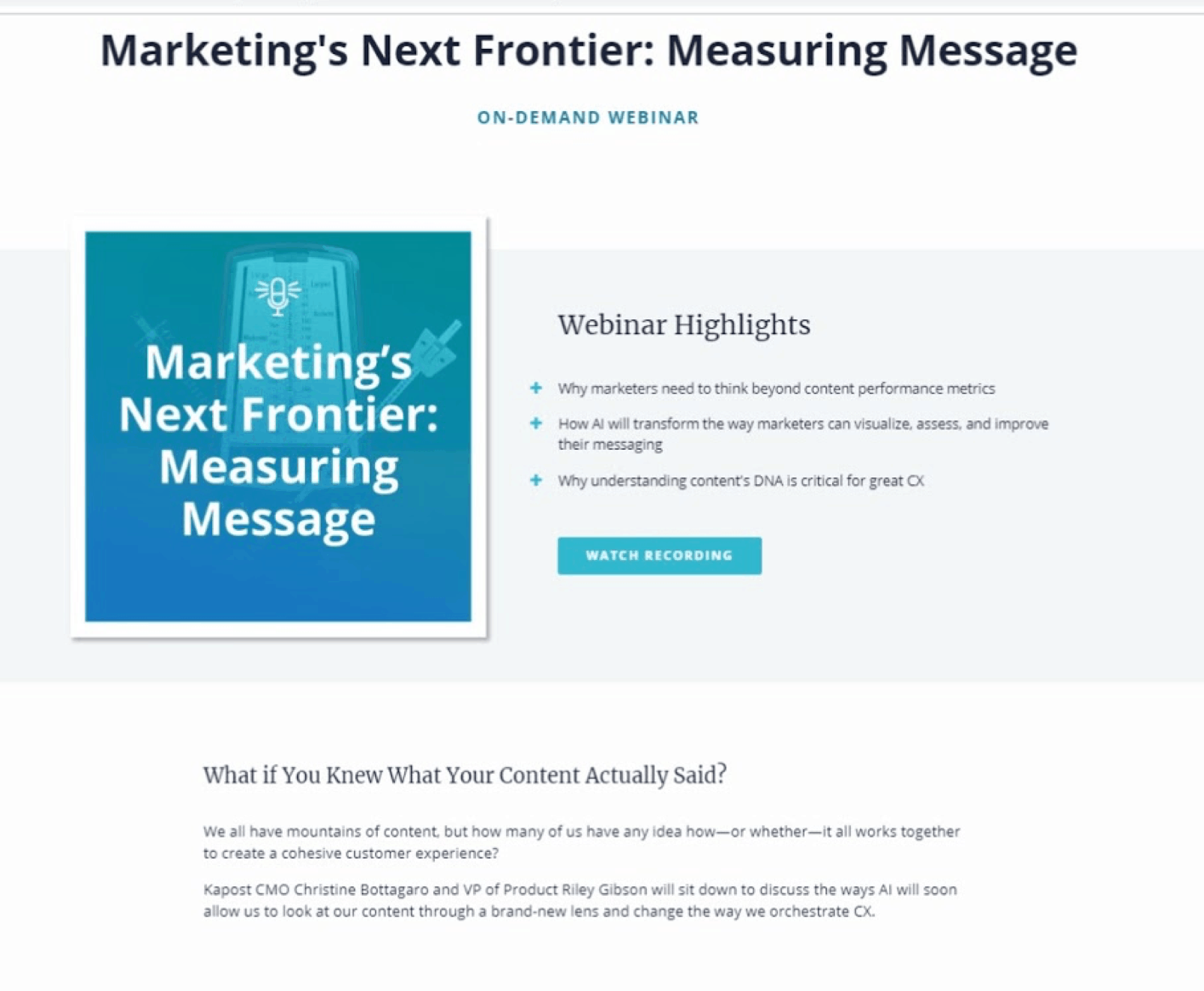 Why This Works
It's short. And it uses simple-to-understand words that are quick to read. But each word is carefully chosen.
Conveys the benefit. The words "Next Frontier" tell the marketer this webinar is about the next trend they need to understand. And the words "Measuring Message" leave no room for doubt about the topic.
There's repetition. You can't miss this title. It's at the top of the page and in the graphic. You see it once – then twice – and it sticks in your head.
Overlays with the graphic. Some people are drawn to pictures. By overlaying the title on a simple but relevant graphic, marketers who are visual learners will be sure to see the title.
Bonus Points:
The entire page is simple, but visually pleasing. And the color palette is both attention-grabbing and soothing to the eyes. The designers also continued this minimalist approach with the copy, making it concise and benefit-focused.
Build Your Own Version
Sure, you probably want to change the background, but that is a simple fix. The overall design of
Wix's Eco Design Conference template
  delivers everything you want to achieve – a striking blend between text and graphical elements. We especially love how the title stands out and the use of yellow on the page. But the most important part of using this template is the actual words that you choose. The design is great, but take the time to
create a message that is meaningful
to the people you want to attend the webinar.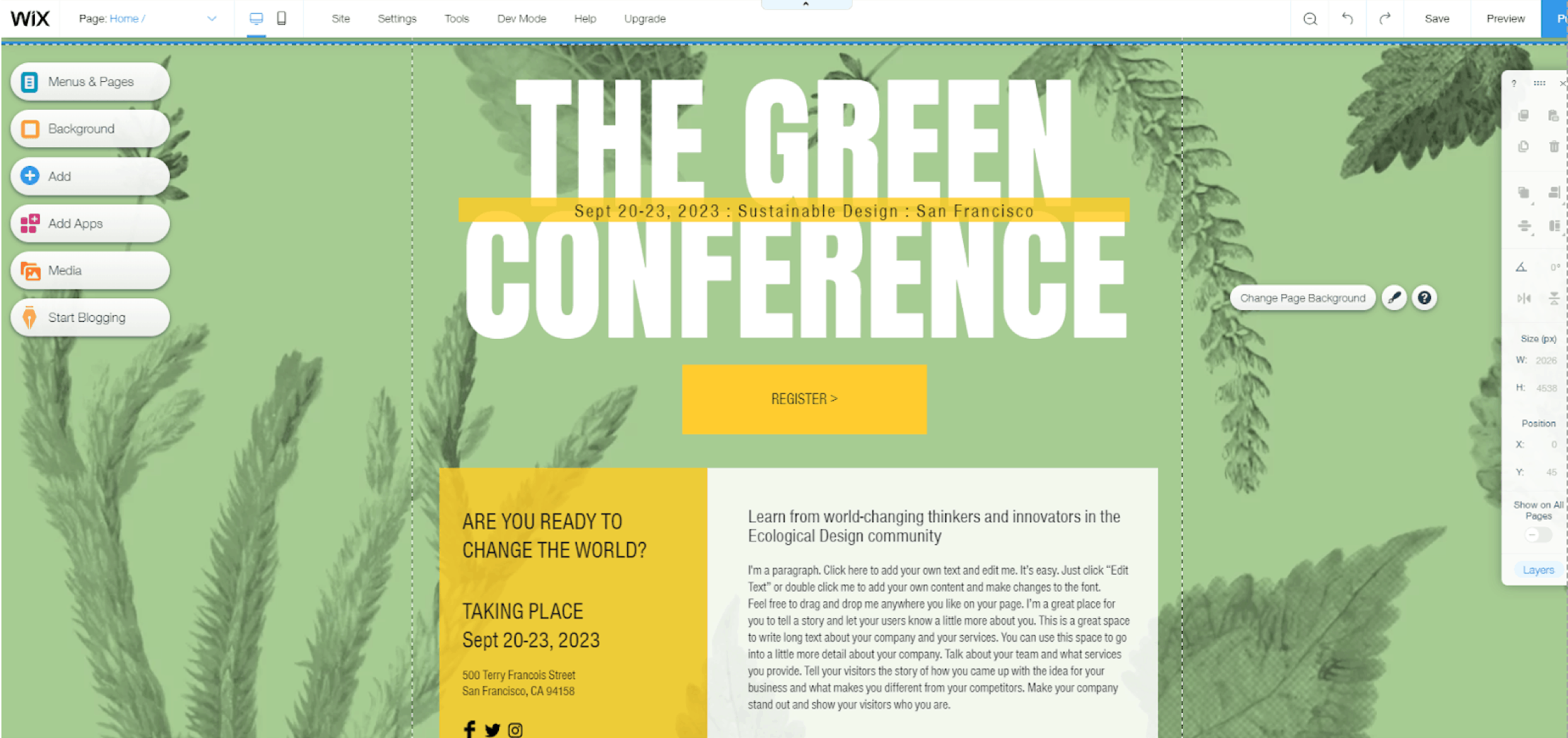 Curious to learn more about what else Wix can offer? Read our
expert review
.
#2. Content Marketing Institute/Salesforce – Interesting Intro
Your intro copy should be written in the tone of your webinar and brand voice to appeal to your target audience.
Focus on the attendee and how the webinar will help them.
And – whatever you do – don't talk too much about your company or product. If it fits your tone, this is also a great place to funny, playful, or even a bit snarky. This CMI/Salesforce landing page talked directly to us. It was casual and fun. And we didn't have to prop our eyelids open.
It sounded like a real person who actually understands our needs wrote it,
rather than a salesperson.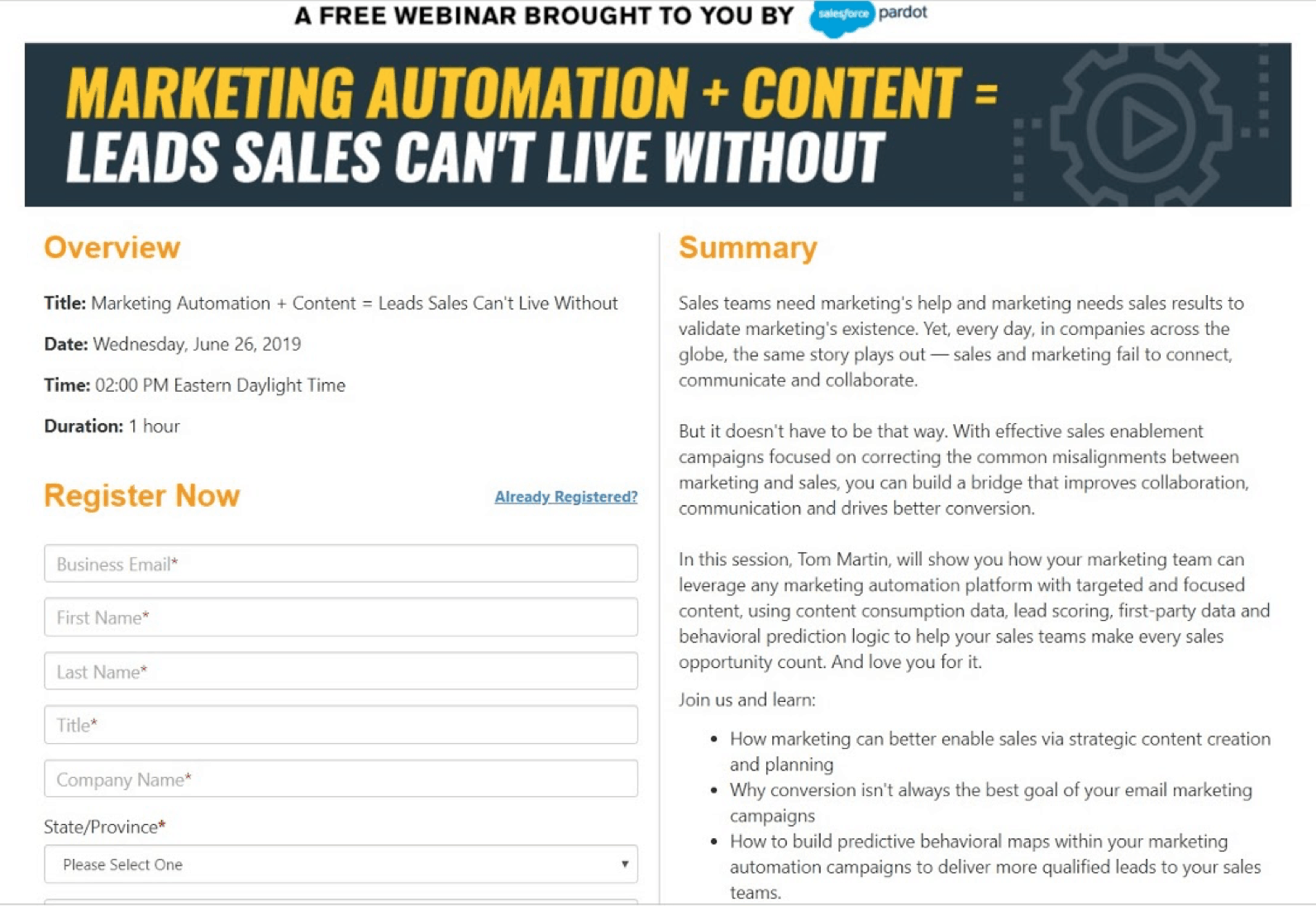 Why This Works
Challenge-focused. There is no mention of Salesforce, or even CRMs. It just talks about what drives marketers nuts and how this webinar will help fix it. I mean, what marketer doesn't want "collaboration, communication, and conversion"?
Sentence structure and punctuation. There are several unconventional sentence structures used that add to the interest – "But it doesn't have to be that way," "And love you for it," and "Yet every day." It's written how you would talk, which makes it easy to read.
Uses the second person. You want readers to attend the webinar, not the company. So your intro should speak directly to the person who you want to click on the Registration
Bonus Points:
We love the title. It tells you exactly what you need and what you get. And this was one of the few landing pages that told us the duration of the webinar. The orange headers also work both for catching our eye and staying with the brand's style – CMI is all about orange.
Build Your Own Version
Use the
Wix Networking Event template
  to create an eye-catching and interesting introduction. A prominent and catchy title can help intrigue your audience and keep them reading. We like this template because it makes it simple to draw attention to what matters: the content. When creating your copy, put yourself in the audience's shoes. What do they care about? And what do they care
enough
about to spend their valuable time at your event?
Draw out these benefits in your intro.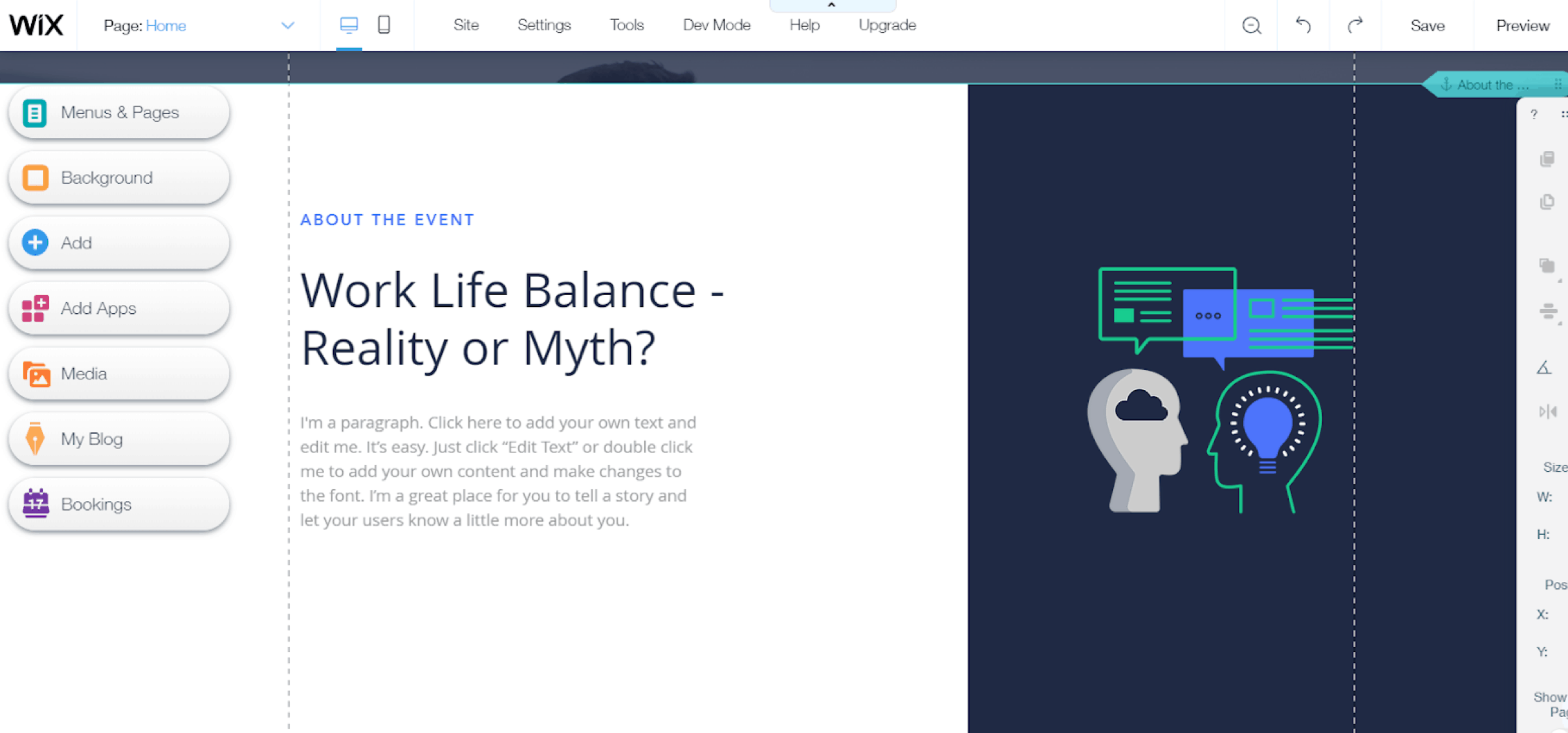 #3. Hootsuite – Bulleted Benefits
Potential attendees want to know exactly
why
they should attend your webinar. And they want that information to jump out and grab them. Bullets make this easy. But more than that,
the bullets should focus on the attendees
– and how your webinar will change
their
lives. We picked this webinar landing page design example mainly because of the checkbox bullets. We might be in love. (No, it doesn't take much.) But also,
everything about the content is well-crafted and relevant.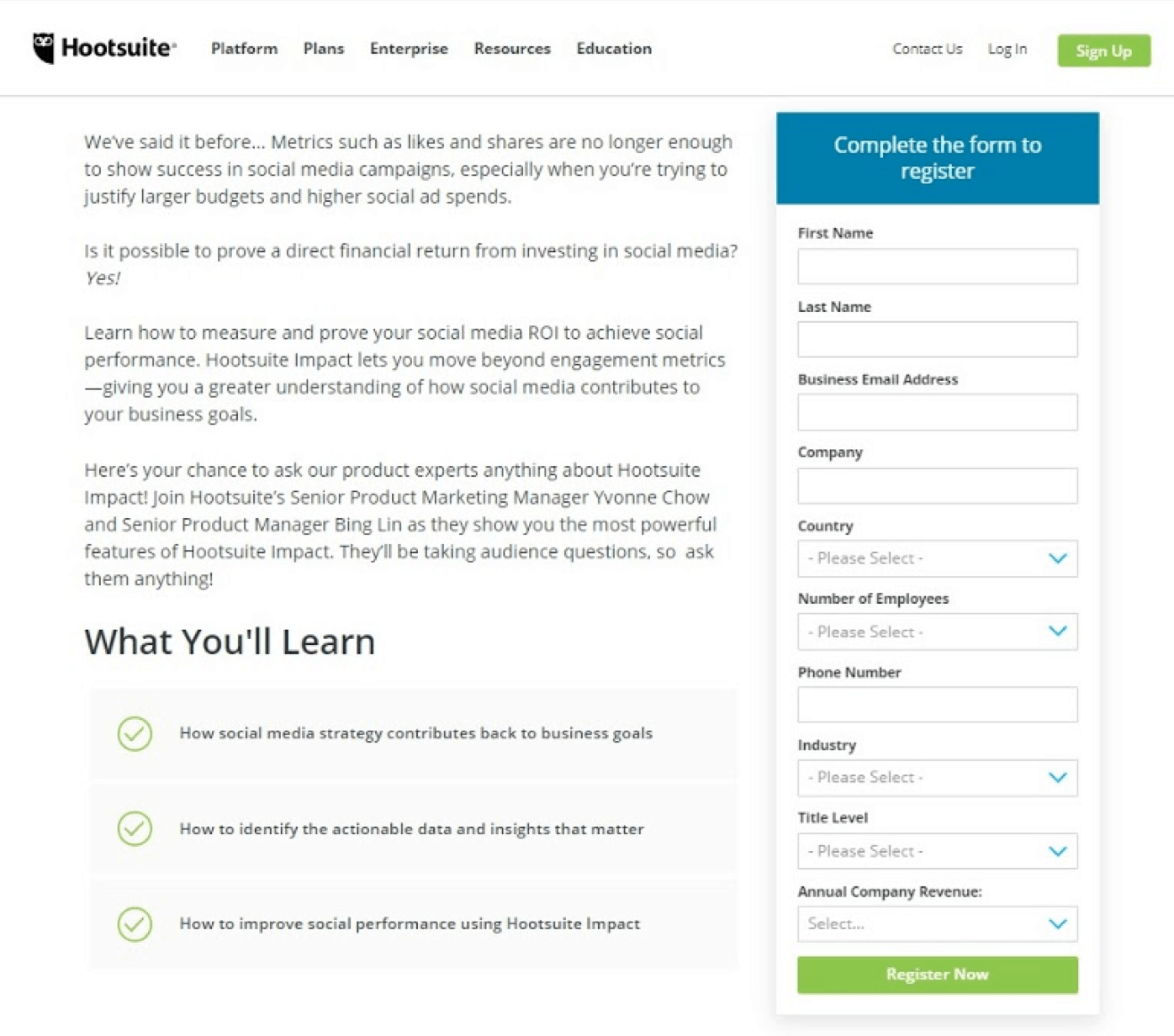 Why This Works
Checkbox bullets. These bullets stand out. But even more, the checkbox graphic subliminally conveys the idea that this webinar will deliver on its promises.
Short copy. Each bullet is fewer than ten words. But in that short space they tell you exactly what you need to know.
Clear subtitle. There's no room for question with a subtitle that shouts "What You'll Learn."
Everything is relevant. The benefits are things that marketers – the target audience – care about. And, even better, the copy is packed with marketing speak, with words like "actionable," "business goals," and "social performance."
Bonus Points:
We really like the style of the copy. It's got a lot of personality, which makes you
want
to keep reading. We also think it's great that they called out the speakers that you can expect to hear from – and there's no doubt that they are industry experts – but we do think Hootsuite could have made this info stand out a bit more.
Build Your Own Version
We looked at a lot of templates to find one that clearly explained the benefits of attending a webinar, and
Unbounce's Miru template
was the winner. We especially like the simplicity of the page and stylized bullets.
Your eye goes first to the registration CTA and then to what you'll learn.
This is a great basic template that you can customize with your logo and colors. It works either as an add-on page to your existing site or a new microsite. Yes, you can use a fancier template, but this is a great choice for its flexibility and clean appearance. The focus is on the content, not the design.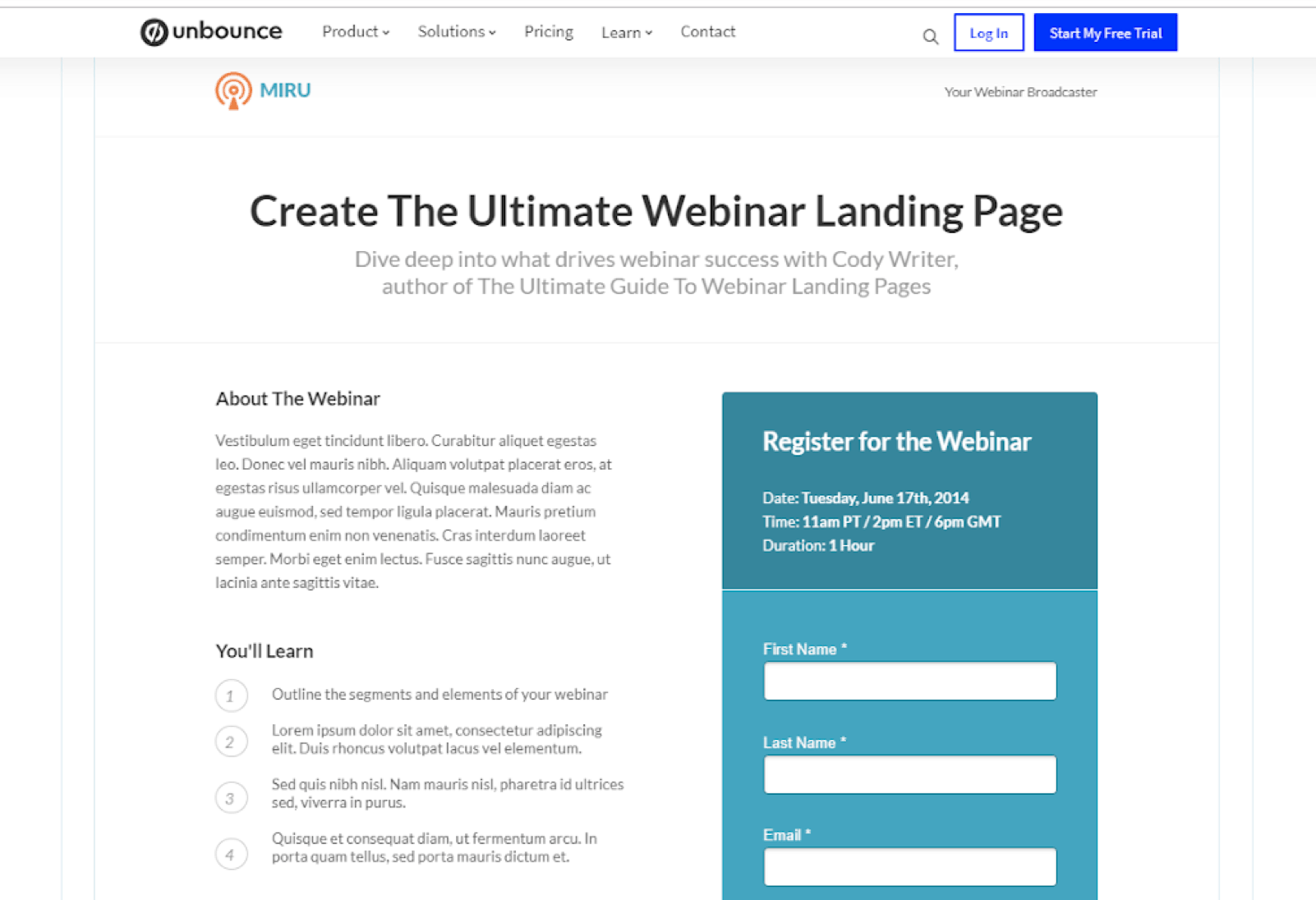 Read our
expert review
to find out why we rated
Unbounce
as the best landing page creator out there.
#4. Microsoft Azure – Simple and Short Form
Filling out a form is a pain. Yes, I will admit that
I haven't signed up for something just because I thought the form was annoying.
And I'm pretty sure I am not alone. I am also positive that I'm not the only person who has put fake information into a form because there were way too many questions and I wanted to get on with my life. We had a serious challenge trying to find a good example for this one.
We were actually looking for a form with fewer than four fields.
But this was the shortest example we could find. If this was our landing page, we would probably remove the "Company size" field.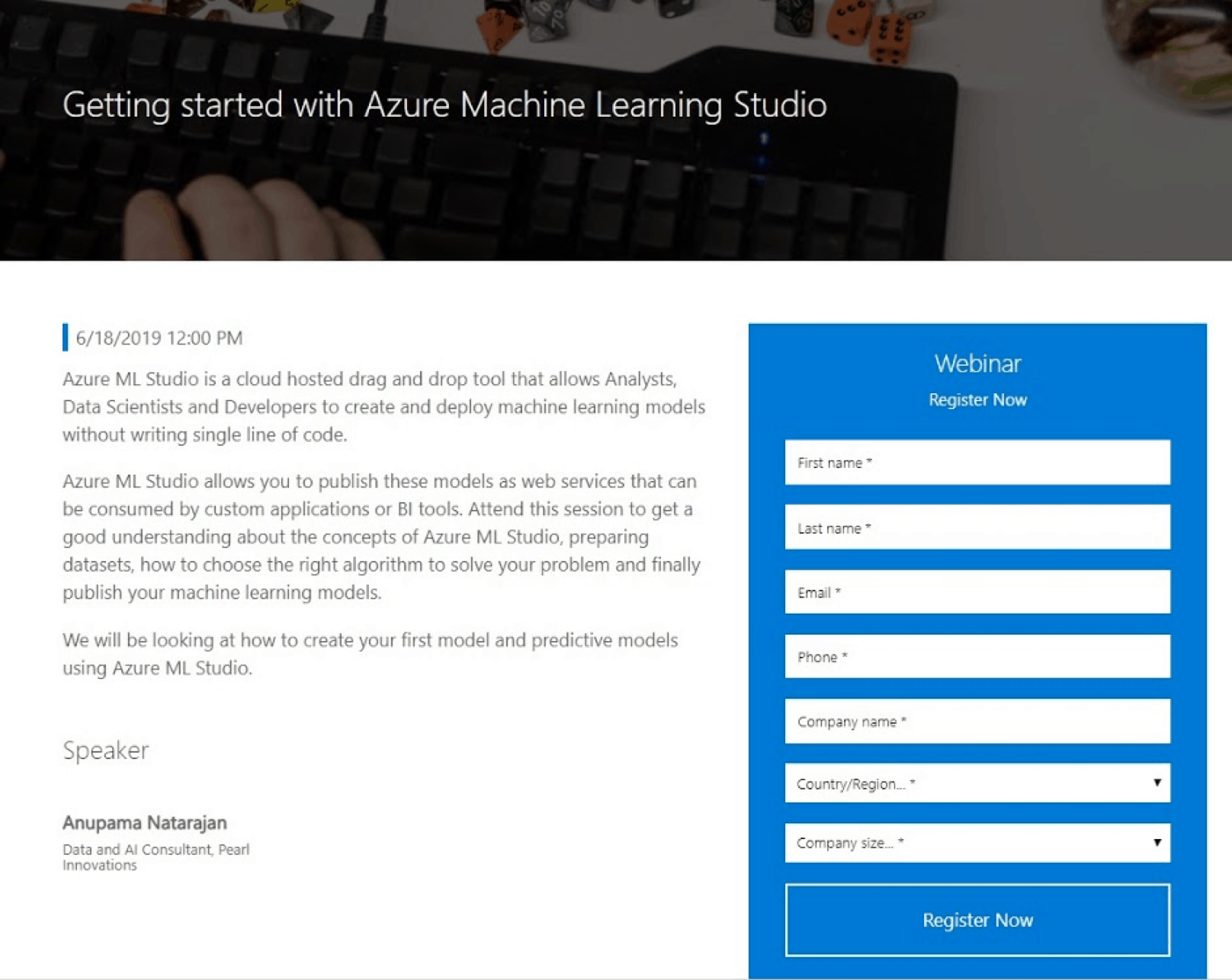 Why This Works
Everything is on one page. Some companies put the sign-up form on a separate page. But everytime you make someone click, you risk losing them. Make it as easy as possible to sign up by keeping everything together.
Form stands out. The color scheme works. And the blue on white with white fields really Your eye is drawn straight to the form.
Field text is in the field. By putting the field text directly in the field, the form appears less cluttered – and it also takes up a smaller space on the page.
Only required fields are included. I'm sure the Microsoft team would like to have gotten more information from attendees. But honestly, this is all they really need.
Bonus Points:
The text is benefit-focused and concise. More importantly, it's written in language that the audience – computer people – will understand. That said, we would have used bullets to break up the text and make the benefits stand out more on the page.
Build Your Own Version
Sure, you can use pretty much any web builder to create a form. But it's even easier if you have a good template to start from.
Themeforest's Eventual template
 is a perfect example of just the right amount of information.
And we think the counter on the page is a great motivator as well.
Moreover, the template comes at an exceptionally budget-friendly price. You can simply extract the signup form or modify the complete template to suit your event's requirements. What's even more advantageous is that the form has already been integrated with MailChimp, enabling you to effortlessly oversee your RSVPs.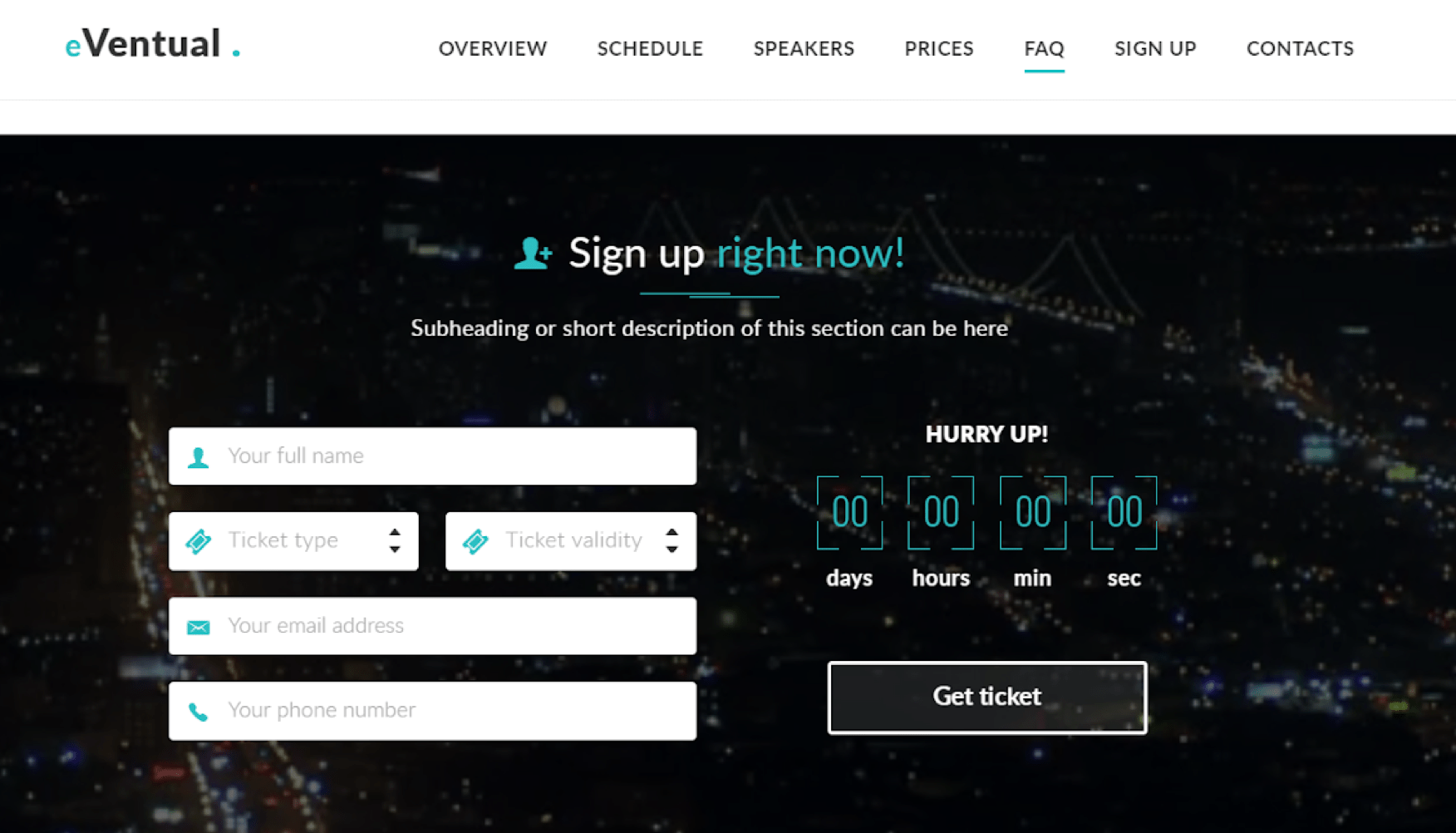 There are a lot of ways that ThemeForest can make your life easier. Read our
expert review
for all the details.
#5. AdWeek – Prominent Speaker Bios
Who will be speaking at your webinar matters – a lot. Your attendees could just head to the breakroom if they wanted to hear people talk.
But people attend a webinar to learn something from people with particular expertise.
This AdWeek webinar landing page was refreshing.
The bios are on the right side of the page, and we never had to lift our mouse.
Yes, it makes the design a bit more cluttered than we'd prefer, but in this case it works.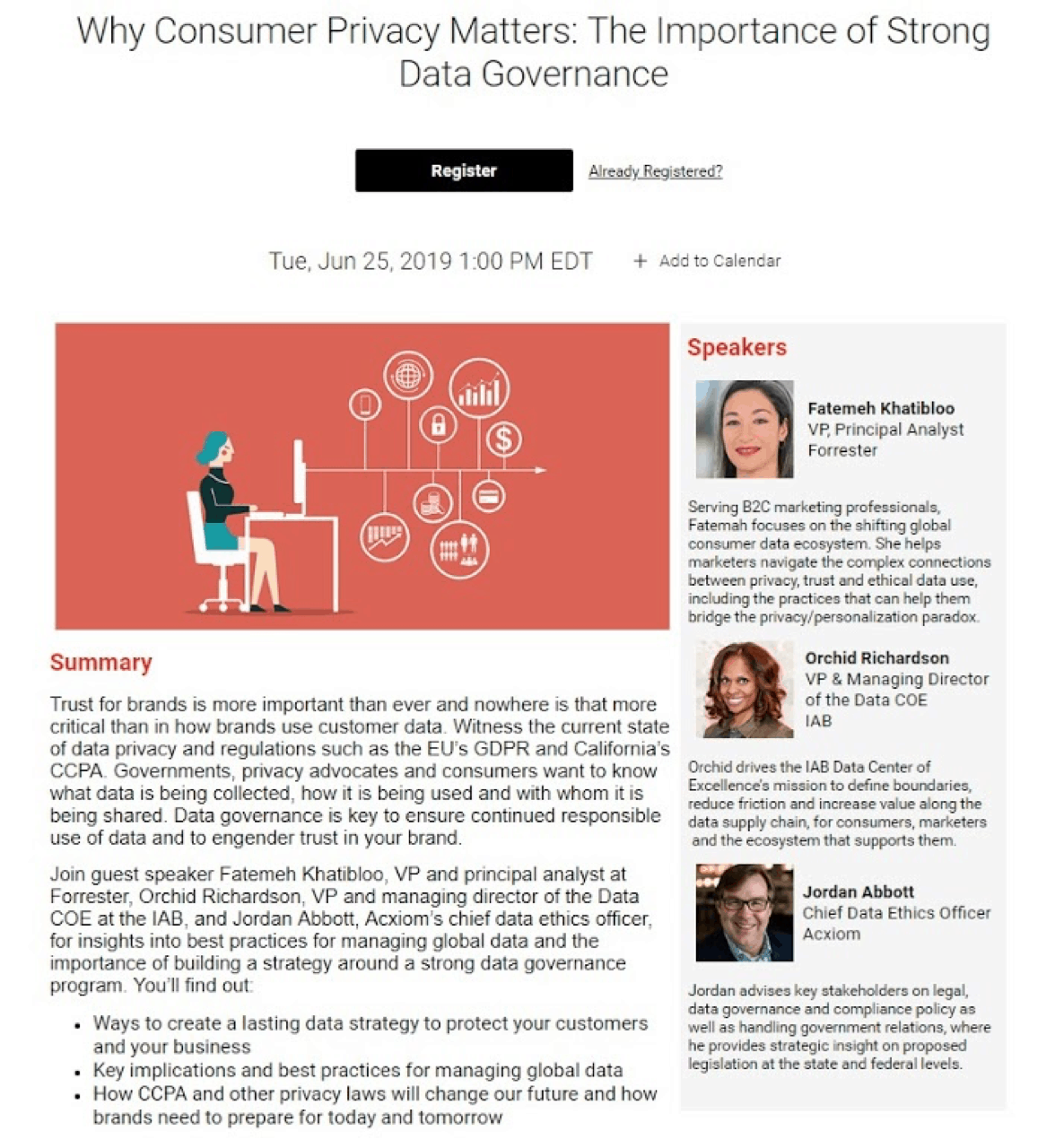 Why This Works
Short bios. Just a few lines, and everything written about the different speakers pertains to the topic.
Titles stand out. You don't have to hunt to find out who the speakers are and what they do. Their titles are centered and pulled out. Even better, the speakers are experts who work at well-known companies.
Copy focuses on related tasks. The bios aren't just corporate-speak or high-level job descriptions. The speakers "drive," "help," and "advise." They are actionable and give your visitors more reason to sign up.
No scrolling required. The bios are right there, above the fold. You can't miss them.
Professional looking headshots make the speakers feel more personal. We also really like that all the speakers are smiling in their photos.
Bonus Points:
This title really hits home. It states both the problem and the solution. Even more importantly, the title is about an issue that pretty much every business is concerned about. While we aren't huge fans of the graphic, we do like the use of orange because it helps the page pop.
Build Your Own Version
If you need a place to start, try out the Speakers page for the
Wix Tech Conference template
. This template works because the speakers' names and photos are super prominent. If it were my webinar, I would remove "Meet" from the template and replace it with the expert's job title.
People want to know who they are and what they can learn.
Of course you can change the colors to match your own. But if you are looking for a great color combination, this one is professional and fun all blended together. In fact, it's the colors that really stood out to me when browsing through a gazillion templates.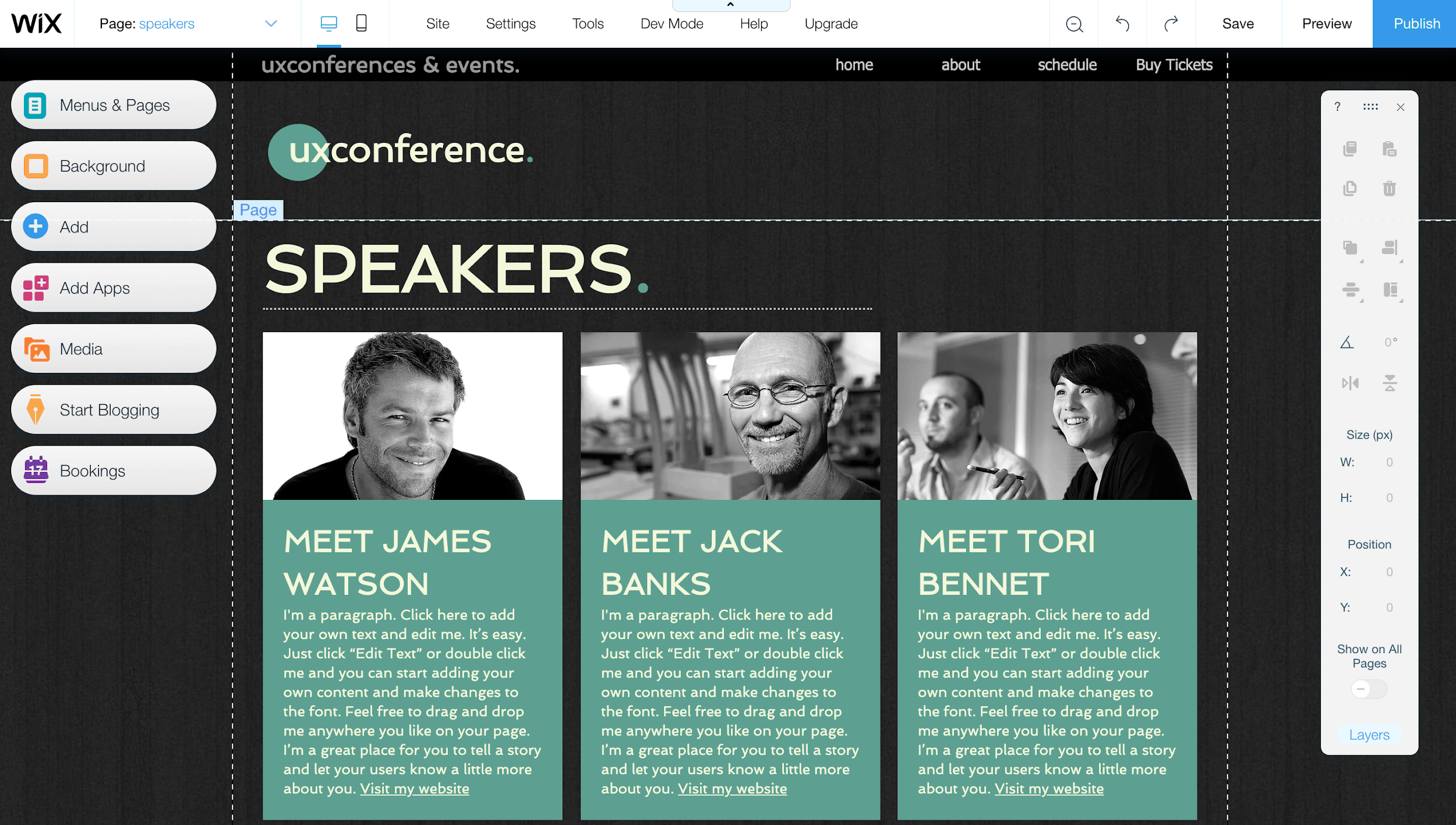 Create Your Own Landing Page That Converts
Now it's time to create your own landing page. Just follow these seven steps to help get you tons of new potential customers flocking to your fabulous webinar.
Determine your audience. Who is the ideal person to attend your webinar? Write down their challenges. Everything on your landing page should be written to this target attendee and directly address their challenges.
Craft the intro copy. Make it short and snappy. Focus on the audience and their needs, not your company and products.
Create the benefits copy. Write a bulleted list of exactly what the attendee will learn and how it will help their life or business. Keep it short and sweet – no more than five bullets.
Write the bios of your speakers. Get a photo for each speaker – one where they are smiling and that doesn't look like a mug shot. Make sure the bio pertains to the webinar topic and that anyone reading it will immediately classify the speaker as an expert in their field.
Design a simple form. Write down the information that you need from attendees and then cut it in half. Make it as painless for readers as possible.
Write a catchy headline. Come up with a bunch of different versions using a headline generator, such as Sumo. Then run those headlines by potential attendees – not just your co-workers. Come up with your top choices and see which one performs the best.
Create the page design. Simple, simple, simple. Keep the colors to three at the max, and the number of fonts to two – one is even better.
Your webinar landing page design
matters
. It shouldn't be something you slap together at the last minute. After you've followed all of our fabulous advice, we recommend
conducting an A/B test
to tweak your page to perfection. Then you need to promote it everywhere – your email list, social media, shout it from the rafters. You know your webinar is awesome. Now you just need to tell your target attendees and get them excited.