average ROI of 122%
. Email newsletters can boost engagement, improve brand loyalty, and strengthen the relationship you have with your customers. On the other hand, your own spam inbox shows what happens to email newsletters done wrong. Here's some guidance on how to create an email marketing newsletter that people actually want to read.
To Send an Engaging Newsletter, First Prepare and Do Your Homework
The best email newsletters are not flukes. Rather, lots of prep work goes into them. So you must ask yourself these four simple questions before getting started:
Why are you sending an email newsletter?
You need to know your goal. Is it to drive traffic to your website? To let customers know about special offers? Or simply to share your latest news?
How will your email newsletter look?
You'll need to choose color themes, layout, the number of images, where to locate your call to action, etc. Will it be wordy or mainly made up of images? Long or short?
When and how often will you send your email newsletter?
Most email newsletters are sent weekly, but you might want to send yours twice a week, or once a month, or something in between. Marketing wisdom still says the best day of the week to send emails is Tuesdays, but make sure that works for you. If you're sending info about cool weekend events, Thursdays could be a better day.
What goes into your email newsletter?
That's up to you, but every email newsletter needs three elements:
An attention-grabbing subject line
Engaging content that seizes the recipient's interest
A clear call to action (CTA)
Then Begin With These Top 12 Tips
#1. Make it less about you, more about them
No one likes self-interested promotional material. Your newsletters should hold valuable content that your recipients want to read.
A good rule is 90% informative, 10% promotional.
#2. Ensure they want in
Make sure that your contacts want your email newsletter. Use double opt-in confirmation,
which is offered by most leading email marketing services like MailChimp and Constant Contact
, and an easy unsubscribe process. Also give a very clear view of what recipients will get before they sign up. One smart move is to offer a preview email before people sign up.
#3. Keep it clean
The best emails are uncluttered. They use short paragraphs with bold headings, and keep it short and to the point. Remember that
46-59% of emails are read on mobile,
so make it easy to read on a small screen.
#4. Be relevant and personal
Your recipients want to feel that you care about them. First,
segment your contacts into different groups based on their age, location, favorite color, or any other factor to help you send customized content that's relevant to each recipient. Then, personalize your subject lines and text
. Studies show that
personalized emails have a 29% higher open rate
than non-personalized ones.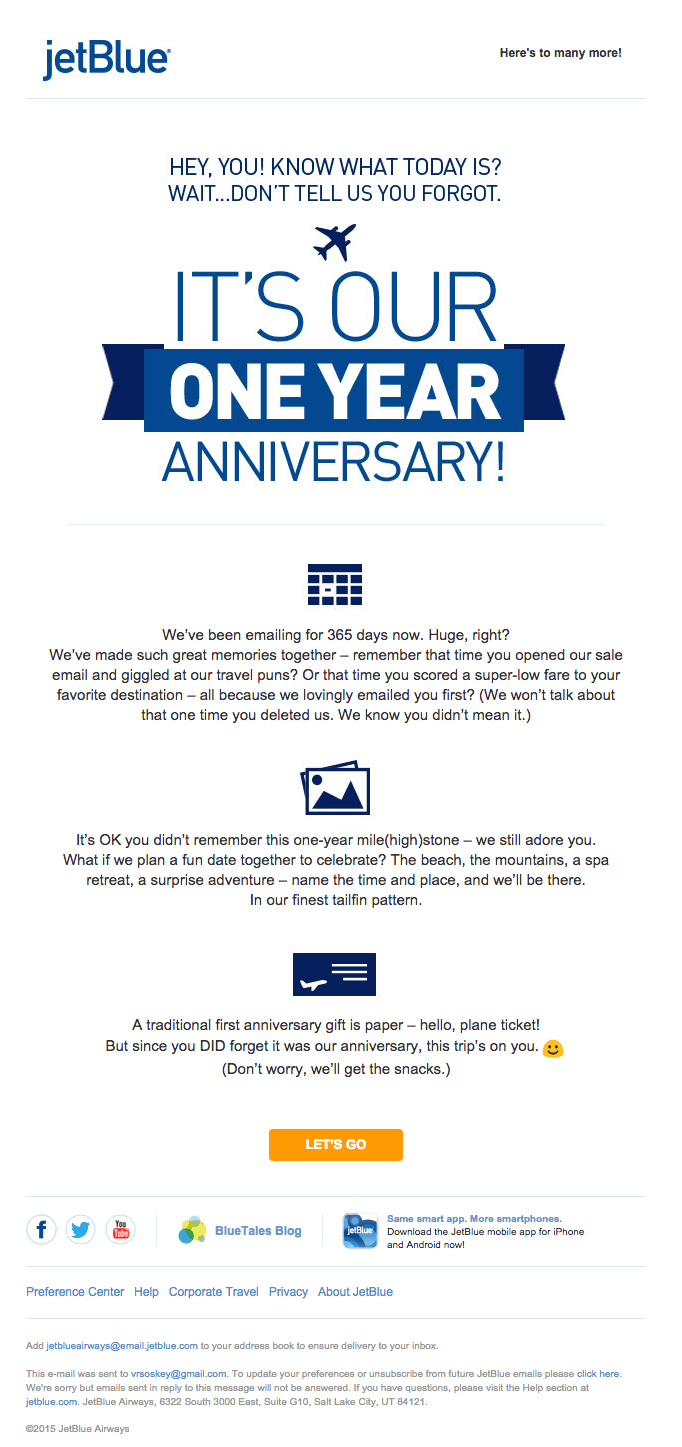 #5. Don't spam
Avoid using words like "free offer" or "discount," which trigger email spam filters. Plain text can also be more reliable for avoiding spam filters than emails full of images. Finally, include instructions on how to add you to their contacts list or primary inbox in your welcome email so that your newsletters don't go straight to the Promotions tab.
#6. Work subject lines to the max
Nearly half of all email recipients open an email based on the subject line
alone, so make yours engaging and intriguing.
You can A/B test your subject lines using Constant Contact, GetResponse, ActiveCampaign, and many other email marketing services.
#7. Be clear
Use only one CTA that communicates exactly what you want recipients to do. Multiple requests and several buttons in the same email are just confusing.

#8. Make the most of preheaders
Preheaders are the sample first line of an email that you can see in your inbox.
Make them interesting! GetResponse allows you to edit this line to catch the recipient's attention and encourage them to click open.

#9. Give yourself a good name
The "From" field is prominent on mobile email, and people prefer opening emails that look like they're from a real person, not from a company. Edit the "From" field to say
John Peters
, instead of
Peters Lawnmowers, Inc.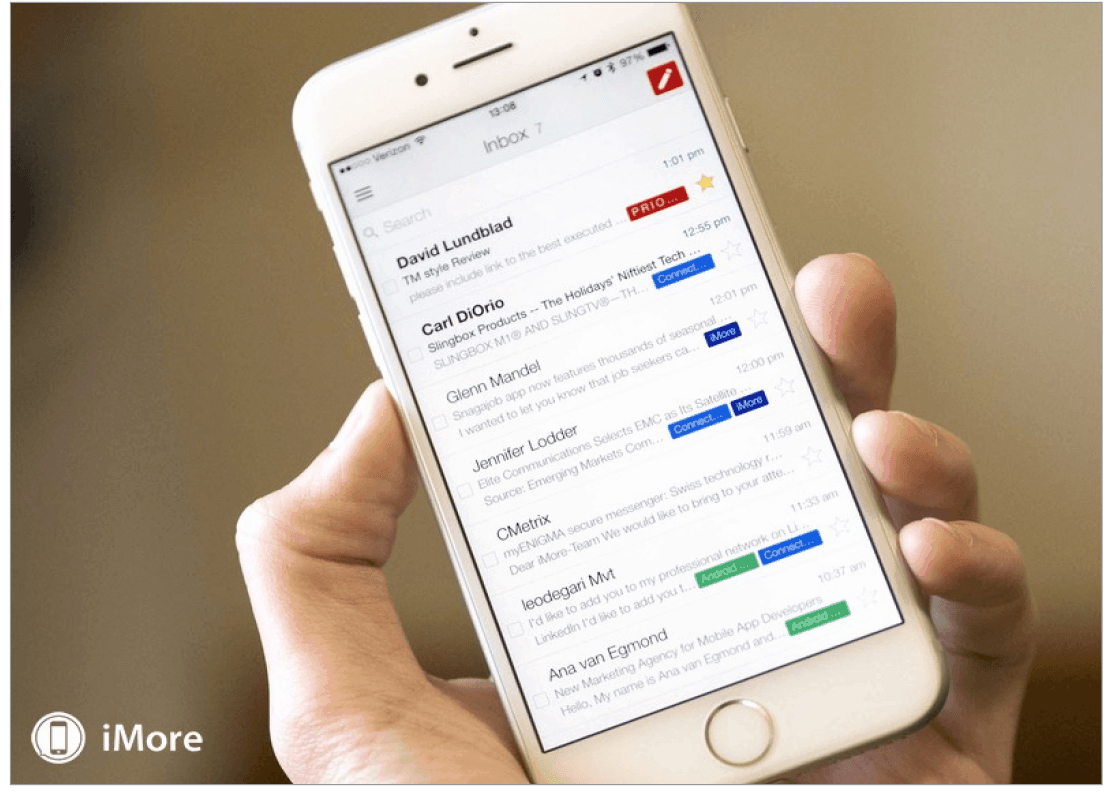 # 10. Clean up your list
Regularly review your email list to identify recipients who do not open their emails, and then proceed to eliminate them from the list. Sending emails consistently to individuals who do not engage with them adversely affects your open rates and consumes both your time and theirs.
#11. Make it mobile-friendly
Remember that
46-59% of emails are read on mobile,
so keep it mobile-friendly and easy to read on a small screen. This will not only help you reach more customers, but also help them perceive your brand as more reputable and relevant as well.
#12. Don't guess, test
Split testing, or A/B testing, lets you
try out different versions of your emails and compare the results
. This way, you won't have to guess whether longer emails get more clicks than shorter ones, or which image is more appealing — you'll have data that lets you know for sure.
And If You Still Need Help, Follow This Bonus Tip!
You could always just seek expert advice from professional email marketing services. All good email marketing services allow you to design an email newsletter template; access design elements like frames, layout templates, and color schemes; and set a schedule for email newsletters. Here are some other things that the
best email marketing services
can do to help you improve your email marketing newsletter:
Enable you to preview your newsletter on multiple devices. That way, you can check how it looks on smartphones, tablets, and laptops. Most good email marketing services — including Constant Contact, GetResponse, and MailChimp — allow you to preview your design in various screen sizes.
Set up personalized auto-responders on services like Constant Contact. This means you can automatically send a welcome email with your opt-in as soon as someone signs up, even if it's the middle of the night.
Schedule drip campaigns involving a series of welcome and introductory emails to be sent at regular intervals to new subscribers
Enforce a double opt-in so you can be sure that your recipients are on the list because they want to be there, and not by mistake.
Perform A/B testing to test different versions of the same email newsletter. Check which has has better open, click-through, and response rates to determine what's most successful for your business. With MailChimp and GetResponse you can A/B test subject line, content, time of day, and the 'from' field.
Segment customers into like-minded lists to receive tailored versions of your newsletter, using. It can increase your email revenue by 760%.
Get to Work Now on an Email Newsletter that Rocks Your Engagement Rates
A great email marketing newsletter, produced using a powerful email marketing service, can do wonders for your engagement rates and revenue levels. With these tips, you can get started on an awesome email marketing newsletter that your customers can't wait to read.
---
Email marketing newsletter stats
: https://www.emarketer.com/Article/Email-Continues-Deliver-Strong-ROI-Value-Marketers/1014461 https://www.campaignmonitor.com/resources/guides/email-marketing-new-rules/ https://www.emailmonday.com/mobile-email-usage-statistics/#growth https://www.getresponse.com/resources/reports/email-marketing-benchmarks.html#personalization-in-email-body
IMAGES
Preview email
: https://blog.hubspot.com/marketing/guide-creating-email-newsletters-ht
jetBlue
: https://blog.hubspot.com/blog/tabid/6307/bid/34146/7-excellent-examples-of-email-personalization-in-action.aspx
Thrillist emails
: https://blog.hubspot.com/hs-fs/hub/53/file-271454251-png/Blog-Related_Images/_Example.png?t=1534041886080&width=667&height=251&name=Thrillist_Example.png
Wine Riot CTA
: https://blog.hubspot.com/marketing/guide-creating-email-newsletters-ht
iMore
: https://www.getresponse.com/resources/whitepapers/how-to-write-newsletters-that-get-opened-read-and-clicked.html