but not if it looks just like the thousands of other phoenix logos out there.
Truly great, unique logos come from experienced designers, and I've got great news.
Jump down to learn how to hire a professional designer for as little as $5
! Or read on to see my favorite phoenix logo designs, and find out about tools that let you design your own for free.
9 Best Phoenix Logos
Can You Really Get a Great Phoenix Logo for $5?
It always shocks people when I tell them that
I got my own logo made for $5 on Fiverr.
I usually get that stuttered response: "B…b… but it looks so professional!" So how did I pull off this trick? Fiverr is an online marketplace where all kinds of freelancers post "gigs" (services they offer). And
yes, basic Fiverr design projects really do cost just $5 US
– no hidden fees or add-ons. Most Fiverr designers offer different service levels like basic, standard, and advanced. Higher levels generally include more rounds of revisions, higher-resolution image files, and so on. If you'd like to learn more about the platform, don't miss our
in-depth Fiverr review
. With thousands of designers to choose from on Fiverr, finding the right one to create your logo might seem intimidating. But with the site's handy search tools, it's easy to find designers who specialize in
animal logo design
. I just started by typing "logo design" into the search bar.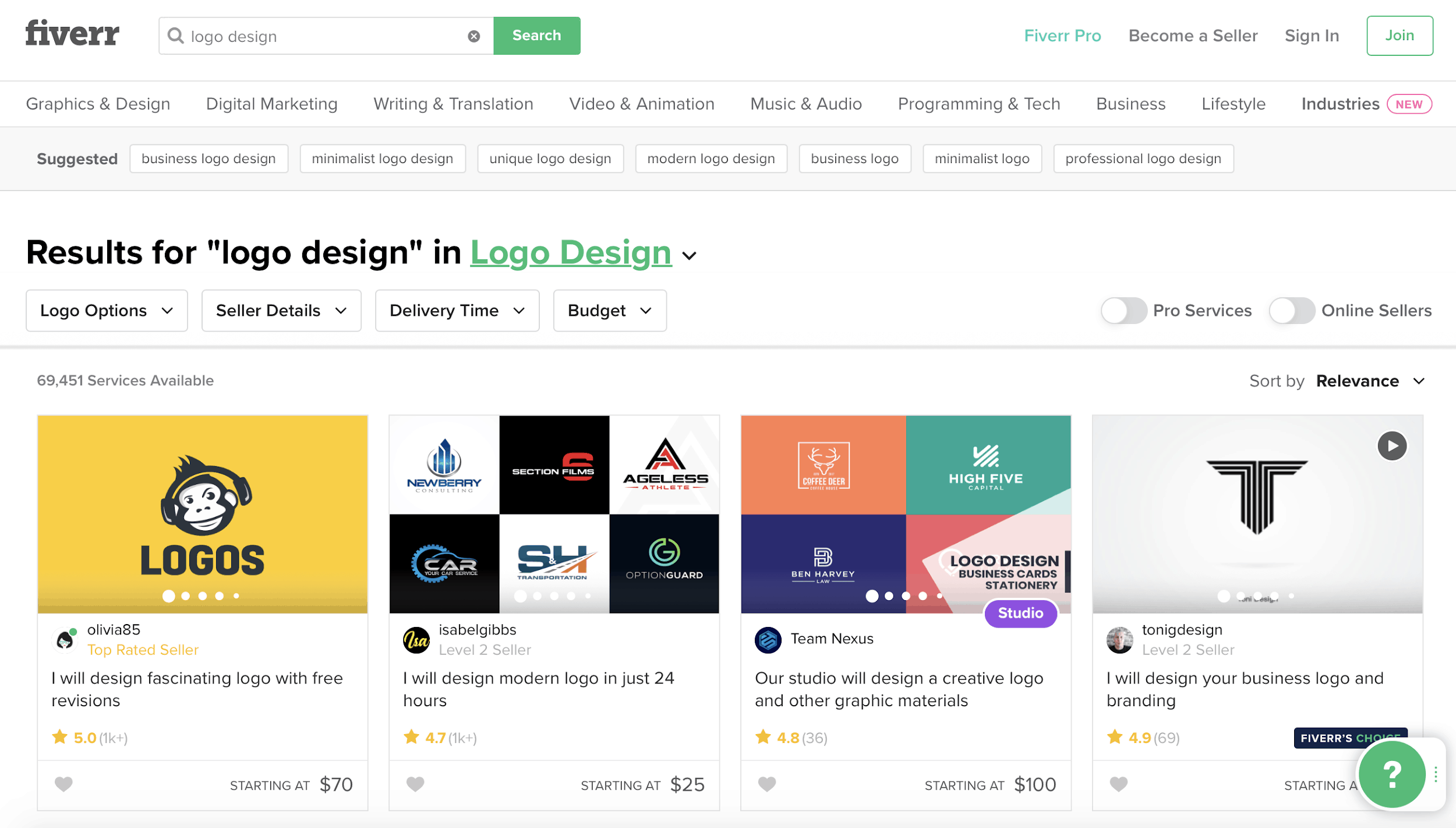 As you can see, you can filter your search by your budget, required delivery time, and more. Once you start narrowing down your choices, make sure to review each designer's portfolio and ratings.
Watch for newer designers with some great work samples but just a few client reviews.
They are often new, talented logo creators who offer very low prices because they need to build up a solid work record.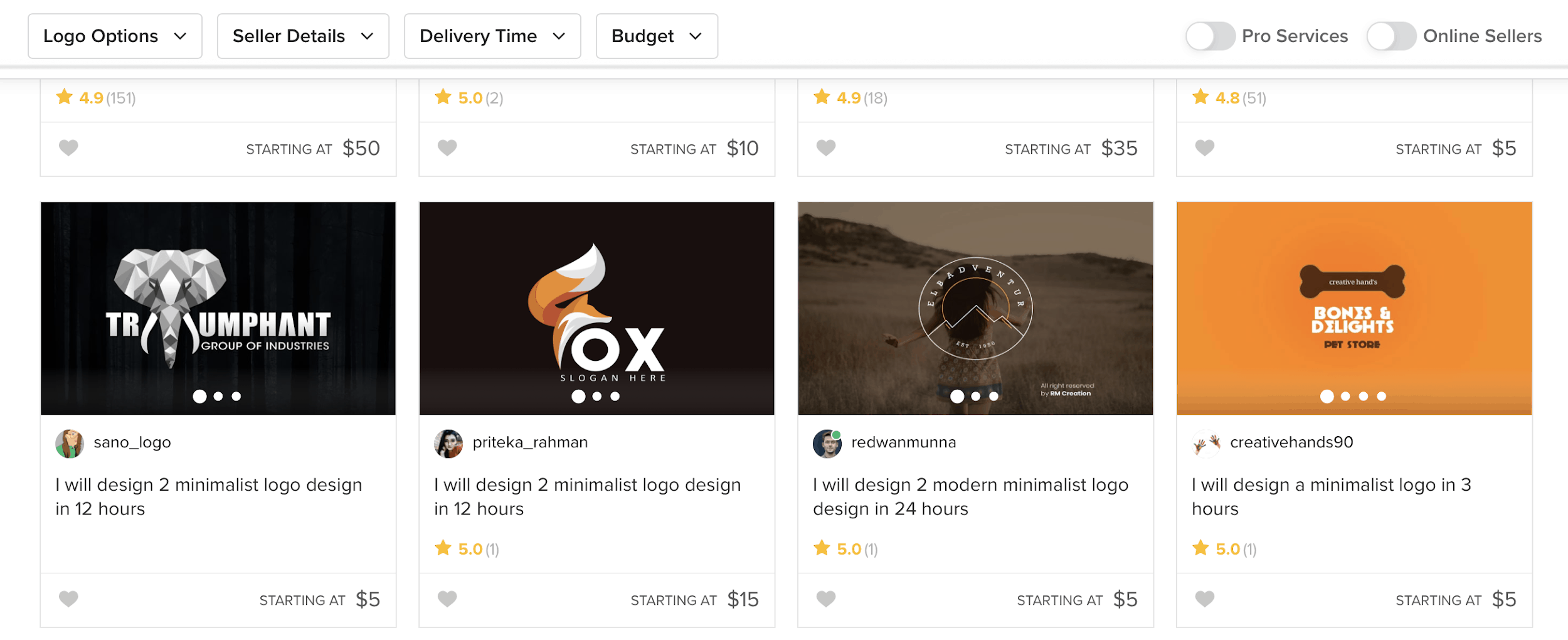 Here are a few more of my favorite Fiverr features:
A huge number of designers. In the logo design category alone, there are almost 70,000 designers offering their services.
Fast turnaround available. Some designers offer rush service, with your logo designed in as little as 24 hours. (But note that rush delivery often costs extra.)
Fixed prices. You'll never pay more than the price of the gig you choose. And Fiverr only releases your payment to the designer when the project has been completed.
Free revisions. Many designers include logo revisions in the price you pay – anywhere from a single round of revisions to as many as it takes for you to be completely satisfied.
How to Make Your Own Phoenix Logo
If you want to create your own logo, there are plenty of DIY online logo makers that are free to use. Just be aware of the fine print:
You can design your phoenix logo for free with these tools, but you need to pay to download it as a high-quality image.
If you love what you come up with, the cost will be worth it. If not, you can just choose not to download the logo. Wix Logo Maker strikes a nice balance between ease of use and creative freedom. If you'd like to know more about the platform, don't miss our
expert Wix Logo Maker review
. To get started, all you have to do is
go to the Wix Logo Maker homepage
 and sign up for a free account. Then, you answer a series of questions about your design preferences. The AI (artificial intelligence) gives you a good variety of suggested designs to choose from. And once you choose a design to customize, the drag-and-drop editor lets you change not only the colors, icon, fonts, and backgrounds, but also the layout. Once you finalize your logo, you can either purchase it alone or get your logo plus a discounted website-building package.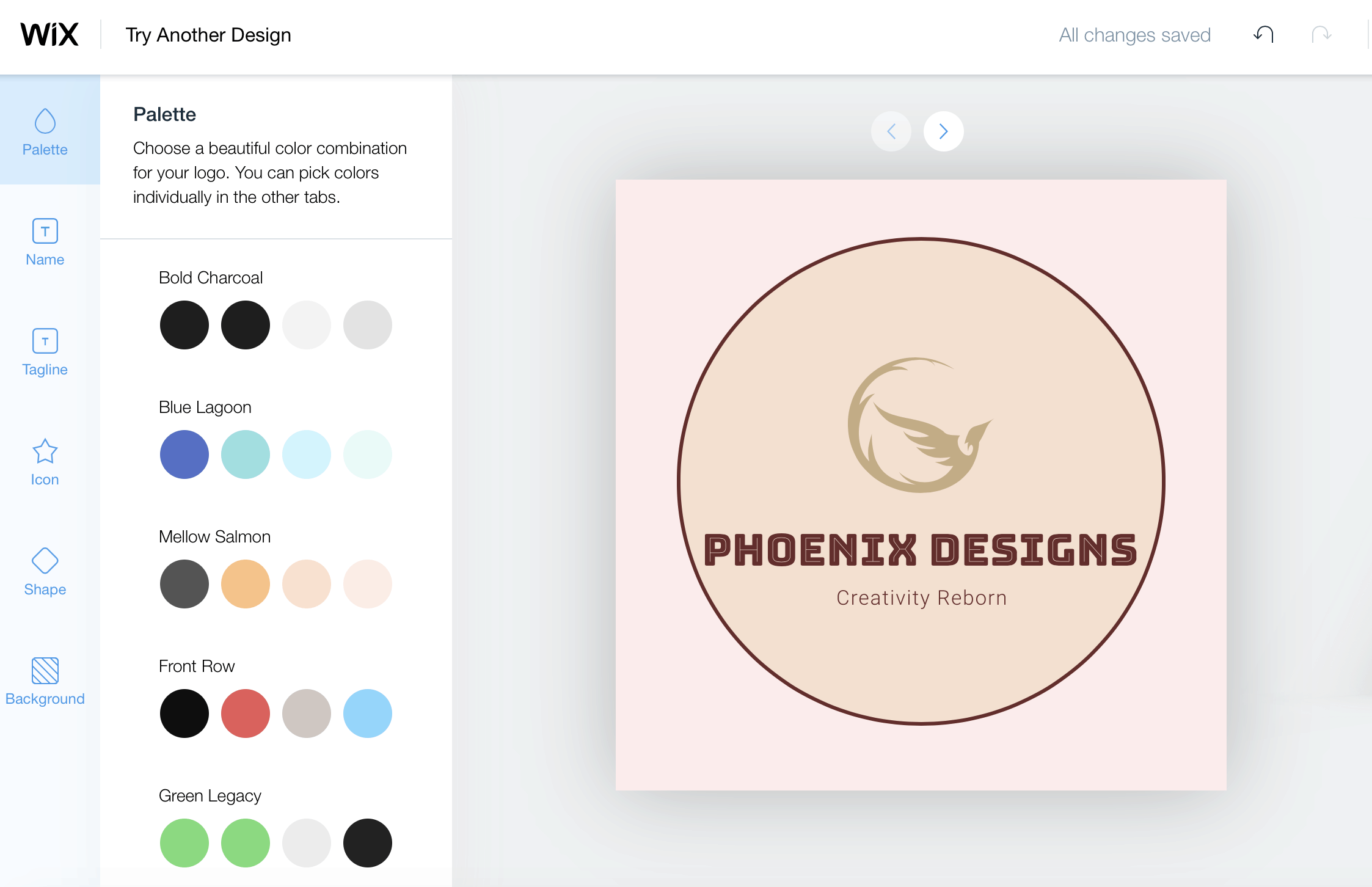 I particularly liked that when I purchased my logo, I received all these variations on the design: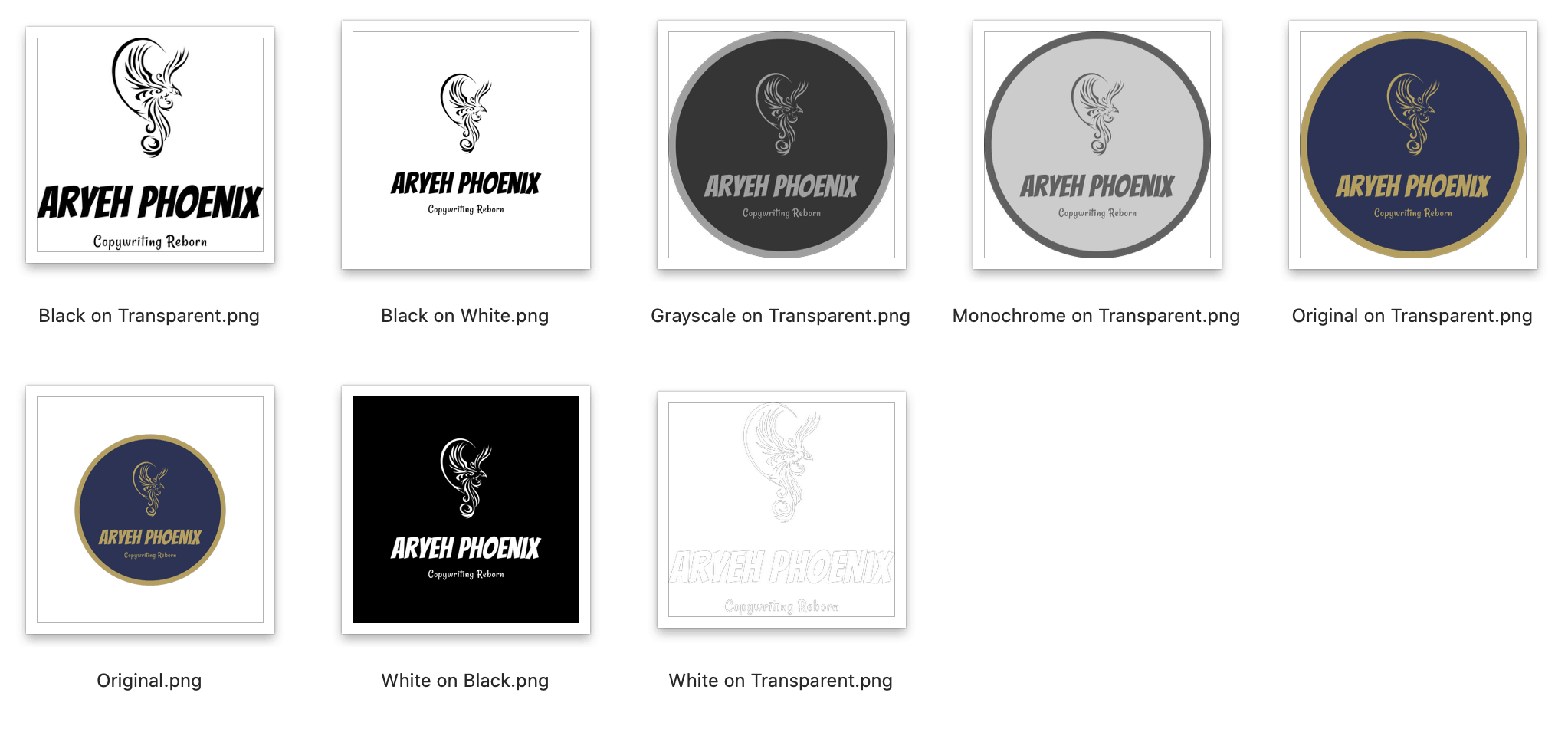 Wix Logo Maker Alternatives
DesignEvo is my choice for the best template-based logo maker, with over 10,000 available templates, plus a library of millions of icons. It also has a rare option for gradient backgrounds, which can really enhance the impact of a phoenix logo. To learn more about it and see some examples, read our expert DesignEvo review.
Tailor Brands is an AI-based logo maker that asks you more questions than Wix Logo Maker, so the suggested designs might come closer to the phoenix logo you want. However, you'll have fewer customization possibilities than Wix offers. Check our in-depth Tailor Brands review to find out more.
The Perfect Phoenix Logo Is All About the Details
Please review the prominent phoenix logos provided above. Observe the multitude of decisions involved in crafting these exceptional designs. Determine whether the phoenix image embodies minimalistic, traditional, or modern qualities. Analyze the conveyed messages of each brand through the chosen colors. Additionally, assess how the interplay between font and image effectively communicates the brand's identity. Careful choices make the difference between a logo that captures eyes and imaginations, and one that everyone passes by without noticing. That's why my first choice would be to
hire a designer on Fiverr
, although I do enjoy playing around with
Wix Logo Maker
 to come up with ideas. Whichever route you choose,
take your time and seek input from colleagues and friends to make sure your phoenix logo is right for your brand.
Making a logo quickly for free sounds great, but spending just a little effort and money to get a one-of-a-kind logo that people remember is far, far better. For even more ideas, don't miss our list of the
top logo design services
.