In today's digital age, many people share their thoughts, lives, and experiences online via their own blog. With the power of the internet to connect you with a huge audience all around the world, it's never been easier to put yourself out there.
Fortunately, website builders make it possible for anyone to create and host a blog, even if they have zero coding experience. Wix is a popular option, especially considering that it boasts over 100 million customers already. And lucky for you, Wix provides a free plan so you can get comfortable with the whole process before putting your hard-earned money down. You'll also be surprised at just how easy and quick it is!
Benefits of Making a Free Wix Website For Your Blog
You're probably already aware that compared with paid plans, free hosting plans are usually more restricted in terms of features, services, and resources. This might tempt you to opt for a paid option right away. However, Wix has one of the best free plans on offer. It's well worth checking out, particularly if you want to try Wix before committing to it. Here's what you can do:
Try most features. Wix has one of the best free plans out there because it lets you do quite a bit. You can pick any template, customize it with the builder, and install plugins.
Take your time. Use the free plan for as long as you wish — no time limit! The only caveat is that you have to stick within the storage and bandwidth limits.
Send your website live. Wix's free plan isn't like a trial on websites like Shopify or BigCommerce where you can't launch your website and receive real visitors. With Wix, you're empowered to build an audience from the start.
How to Create a Free Blog With Wix
Step #1: Settle on a Niche and Define Your Audience
It's critical that you crystallize what you want your blog to be about and whom you want it to be for. First, it's incredibly easier to arrange the hierarchy of your webpages and categories if you're clear on your blog's focus. For example, a travel blog can be arranged by countries or travel activities.
Second, search engines reward websites that are consistent in what kind of content they deliver. It's also much simpler to implement SEO if you have a specific niche to focus on, such as "traveling on a budget." This makes it easier to narrow down important keywords that generate traffic.
Last, your niche and audience will determine the tone and voice with which you write your content. A travel blog could be orientated to adrenaline junkies or luxury travelers, for example. Each requires a slightly different tone to attract and resonate with audiences.
Step #2: Choose a Name and Get Branding Assets
Often, the act of choosing a name to operate under and act as an anchor for your brand can be the toughest part. However, your blog's name is the easiest way for people to identify you and make sure they're in the right place.
Your name is also usually used as your website's domain and will be displayed in your URL. While you can change your domain at any time later for free on a free account, doing so wouldn't be ideal, as that might decrease your traffic and make you harder to find.
Also, invest time in finalizing your slogans, color schemes, logo, favicon, and any other graphical assets for your brand. Having them ready will tremendously expedite and simplify the process of customizing your blog's webpages. You can also start gathering stock images if you want to use some on your website. To help, Wix provides free images you can use.
Step #3: Sign Up or Link an Account
First of all, you'll need to create a Wix account. Simply head over to Wix.com and click the Get Started button which will take you to this webpage: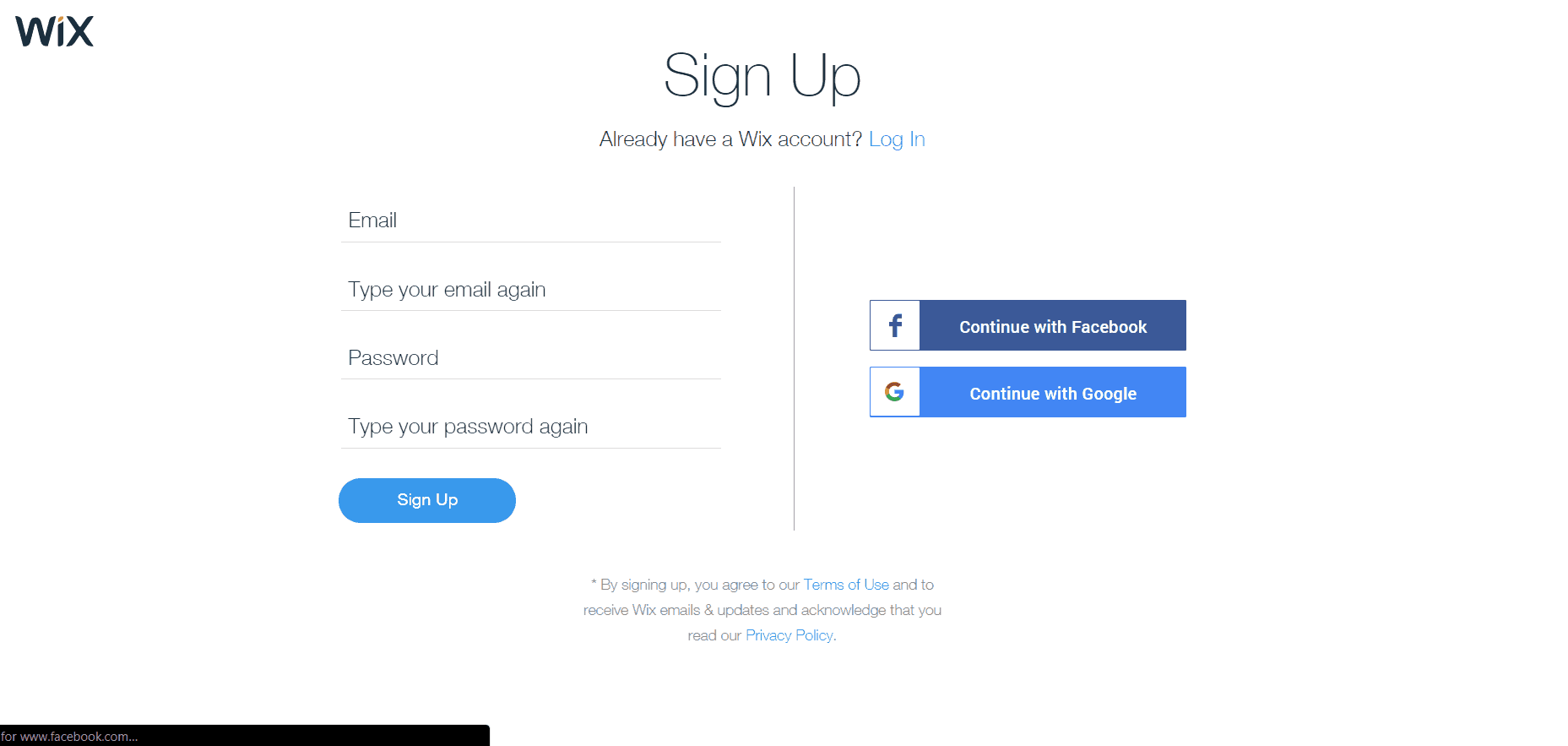 You can create a brand new account with an email and a password, or link your existing Facebook or Google account to create an account with those details. Congratulations! That's all you need to do to have a Wix account. After this, you'll be taken through the process of building your blog.
Step #4: Create Your Website
Wix will start off by asking you what industry your website will be related to. You can choose any of the below, or select "Other" to skip ahead.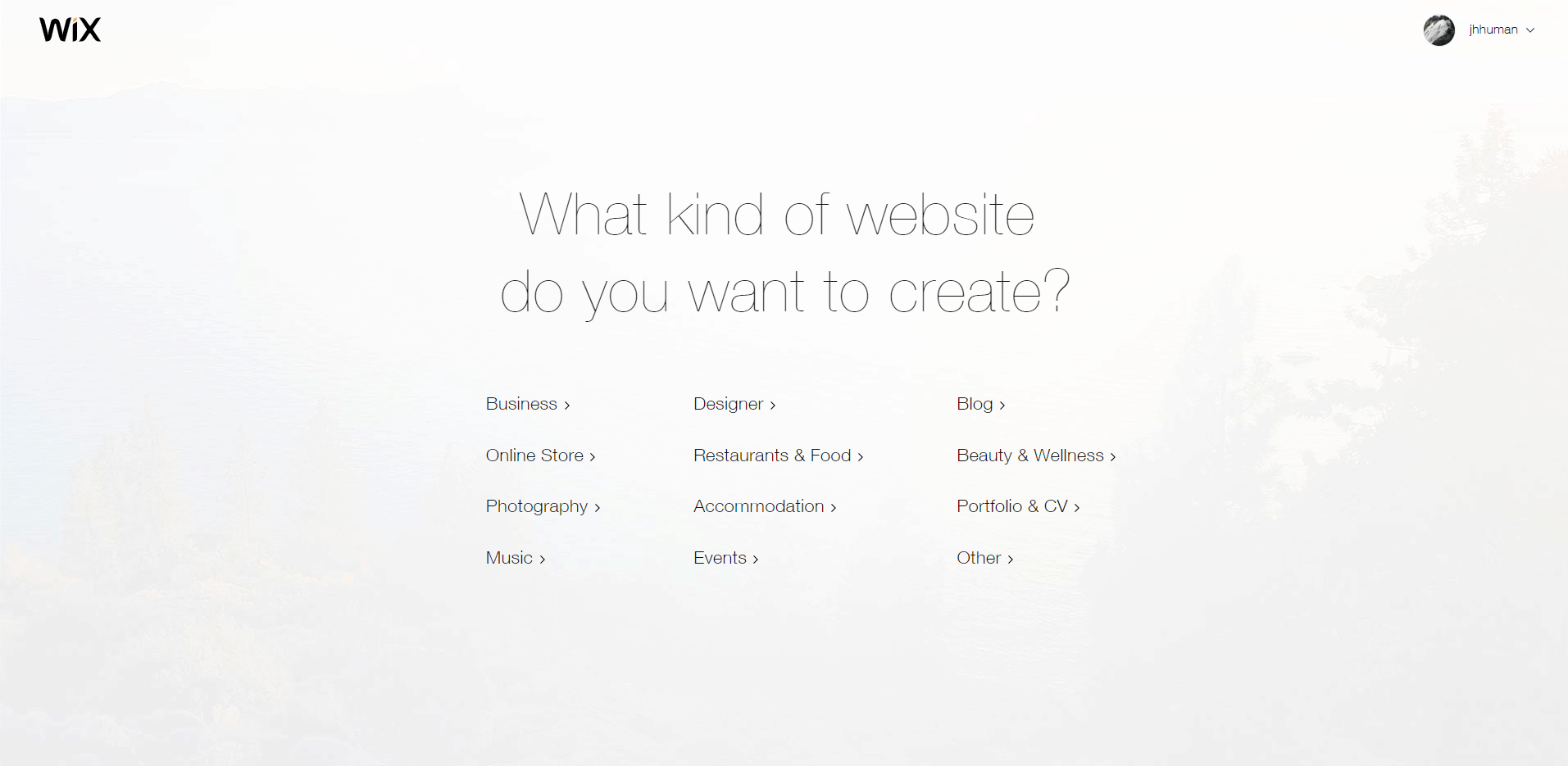 Wix has a unique feature called ADI which stands for Artificial Design Intelligence. With your answers to a few questions, and by pulling info from the web and your social media, Wix's own AI algorithm will come up with a complete design for you.
However, if you prefer, you can opt for the Wix Editor. This will let you choose a template and customize it yourself.
You can switch from Wix ADI to Wix Editor, but not the other way around. Also, the Wix Editor provides far more customizability and features than Wix ADI. You can find a full comparison of Wix ADI vs Wix Editor here.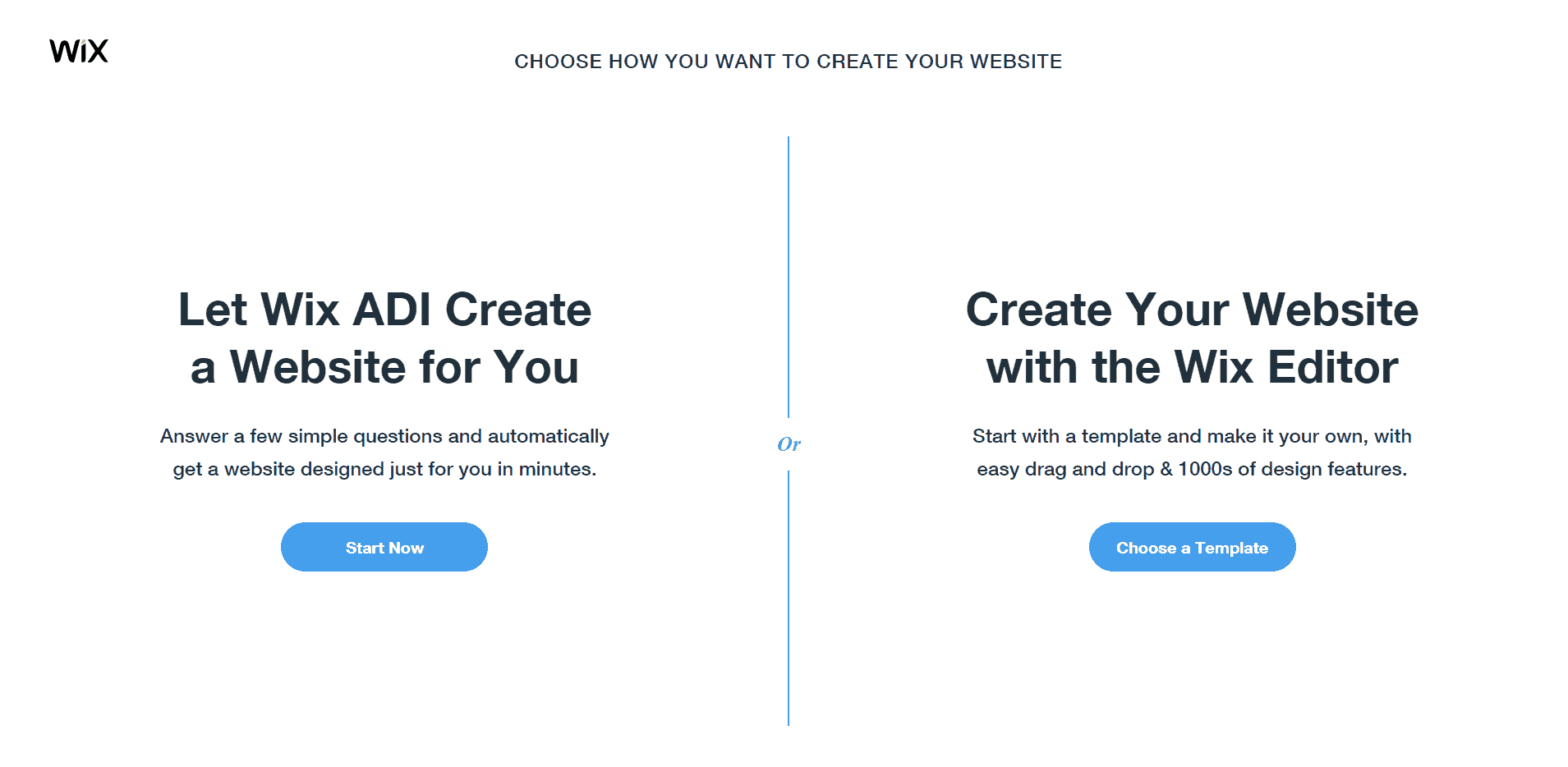 Option #1: Wix ADI
First, Wix will ask you to choose a subfield within the industry above.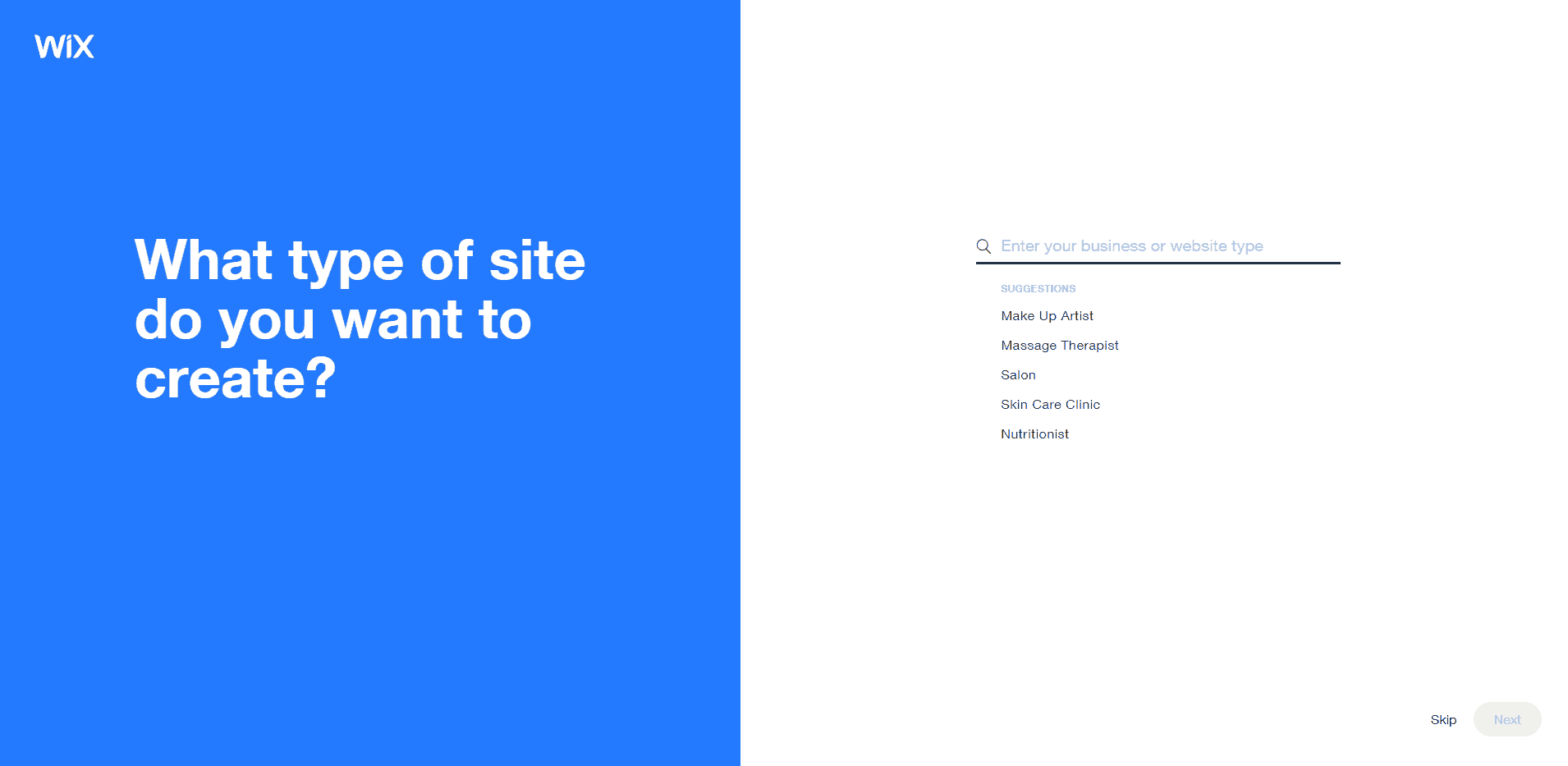 Then, it will ask you about your website's goal. You can select multiple options: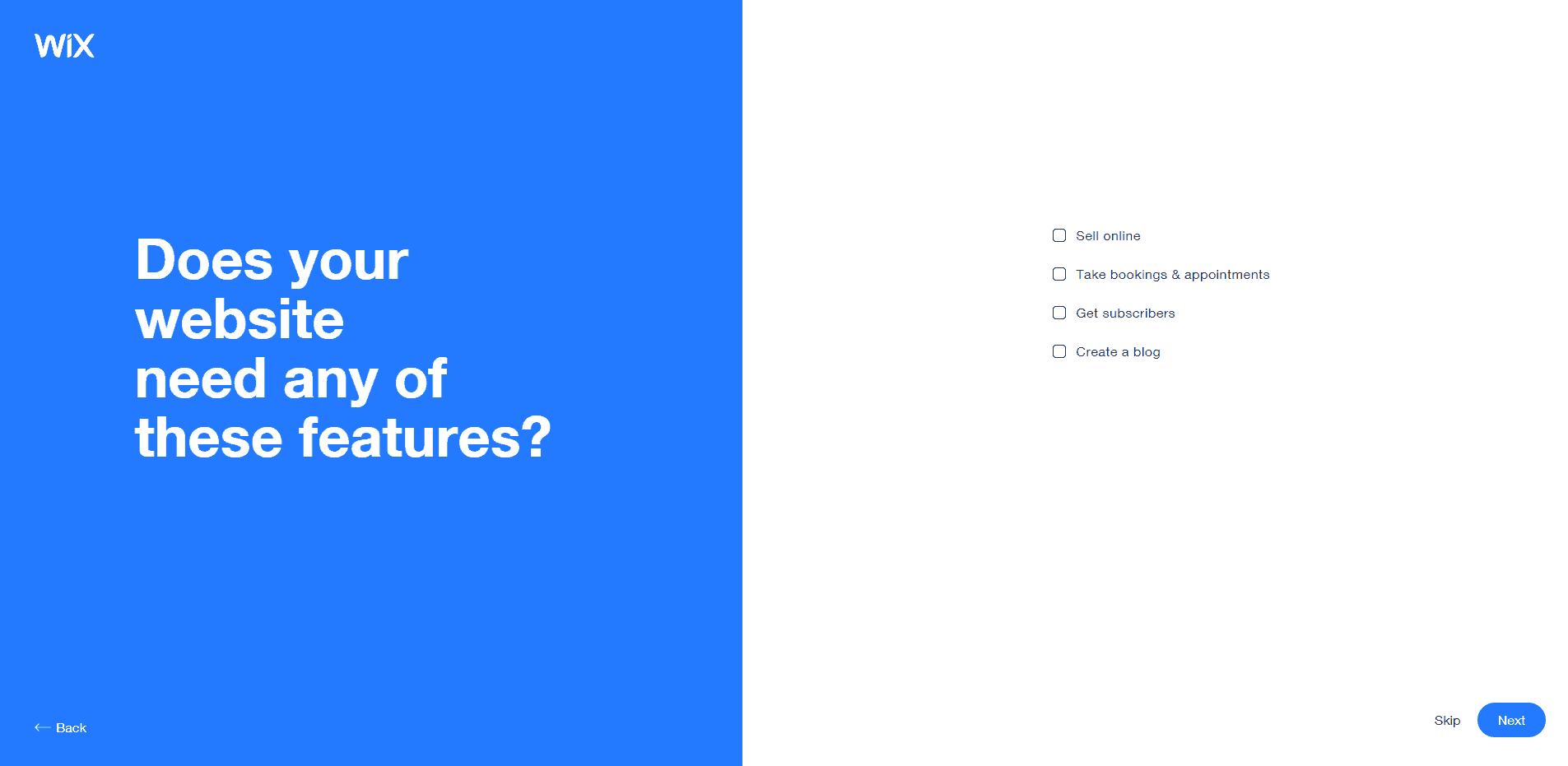 The next few steps involves providing your name, address, and logo. You'll be asked to provide contact details and social media accounts. You can then review your info: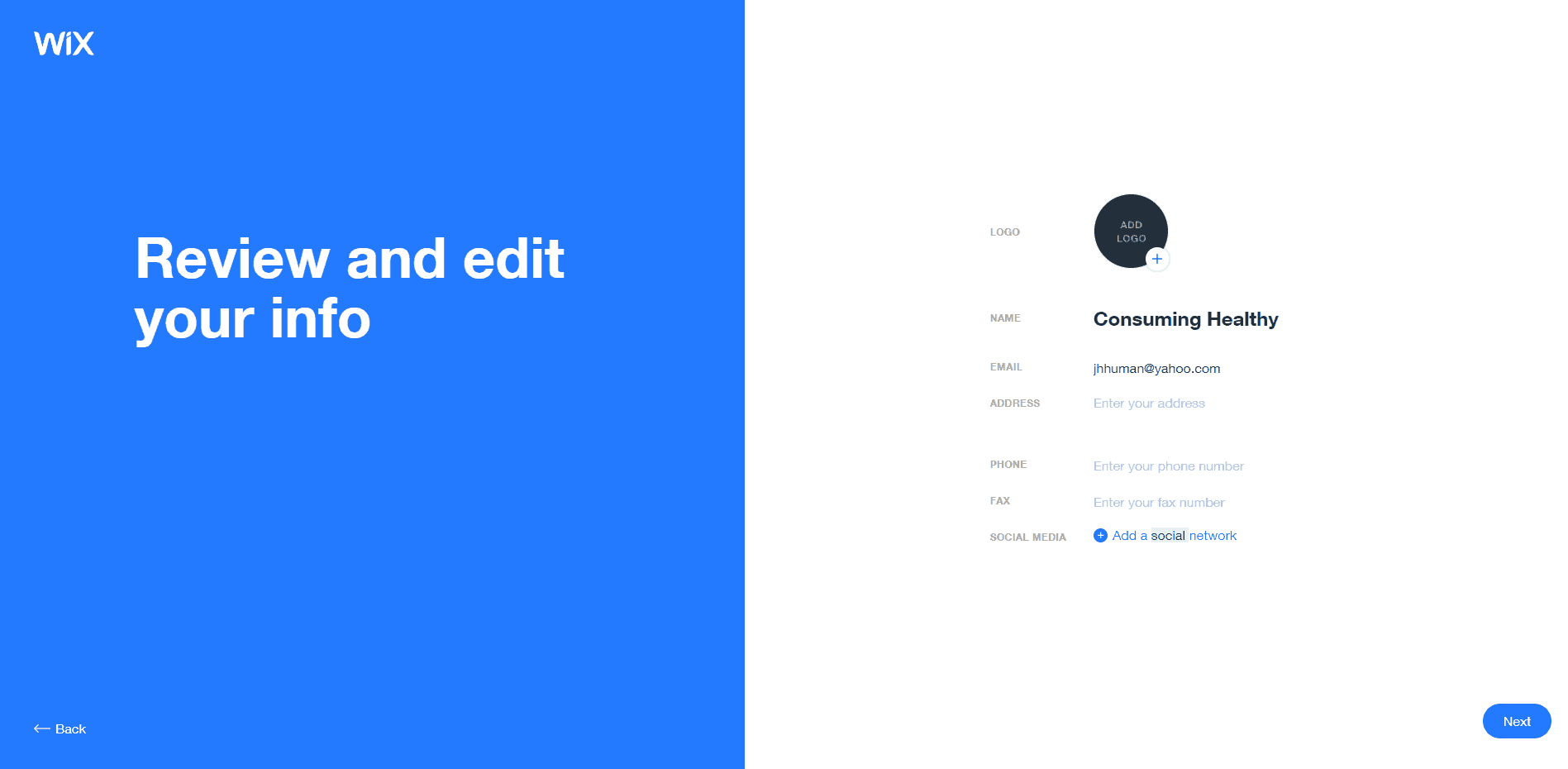 Then, you'll pick a design style for your blog from some basic options: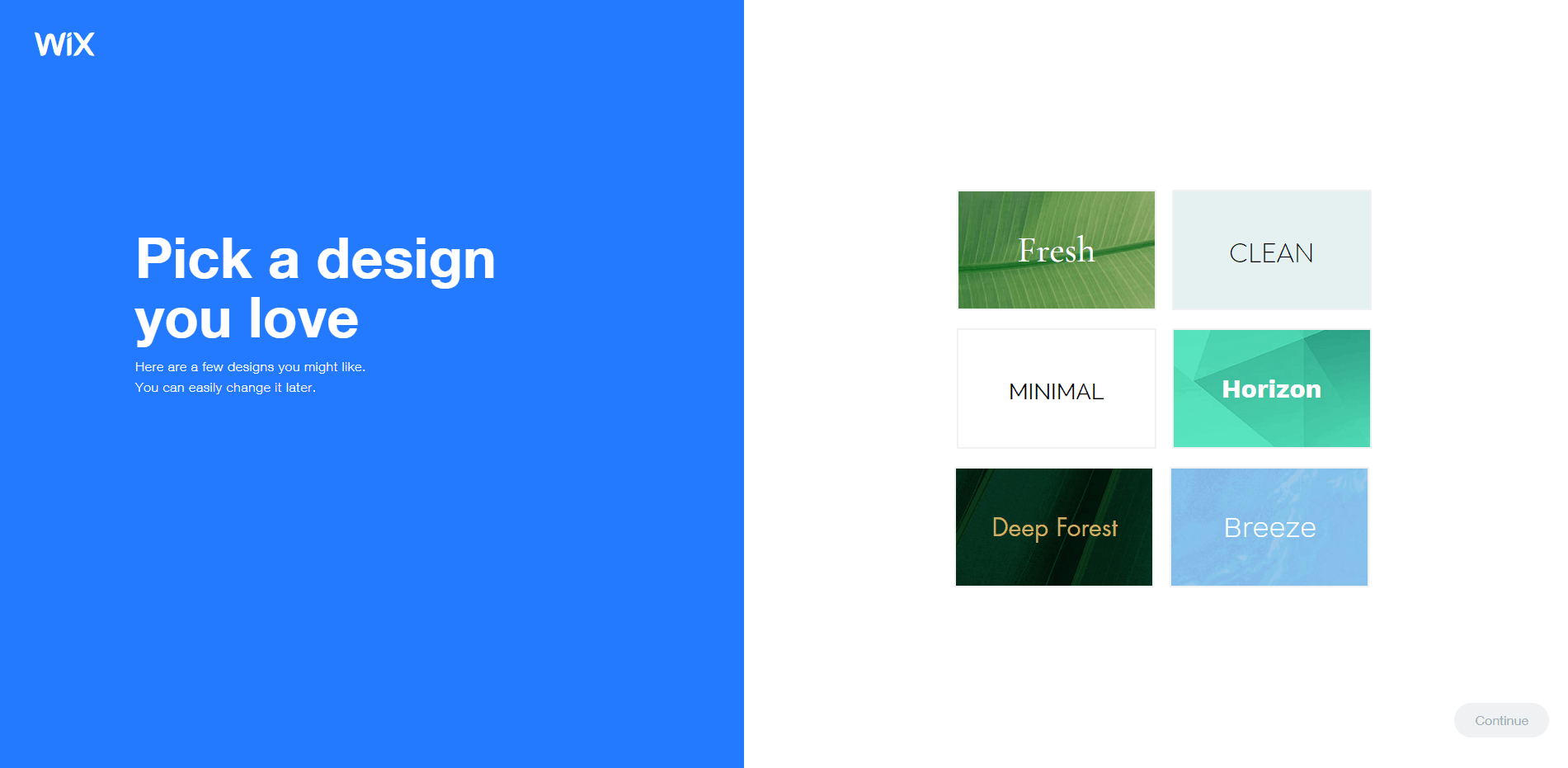 Finally, Wix ADI will take a few moments to put together what it has so far before asking you to pick one of the design options it came up with: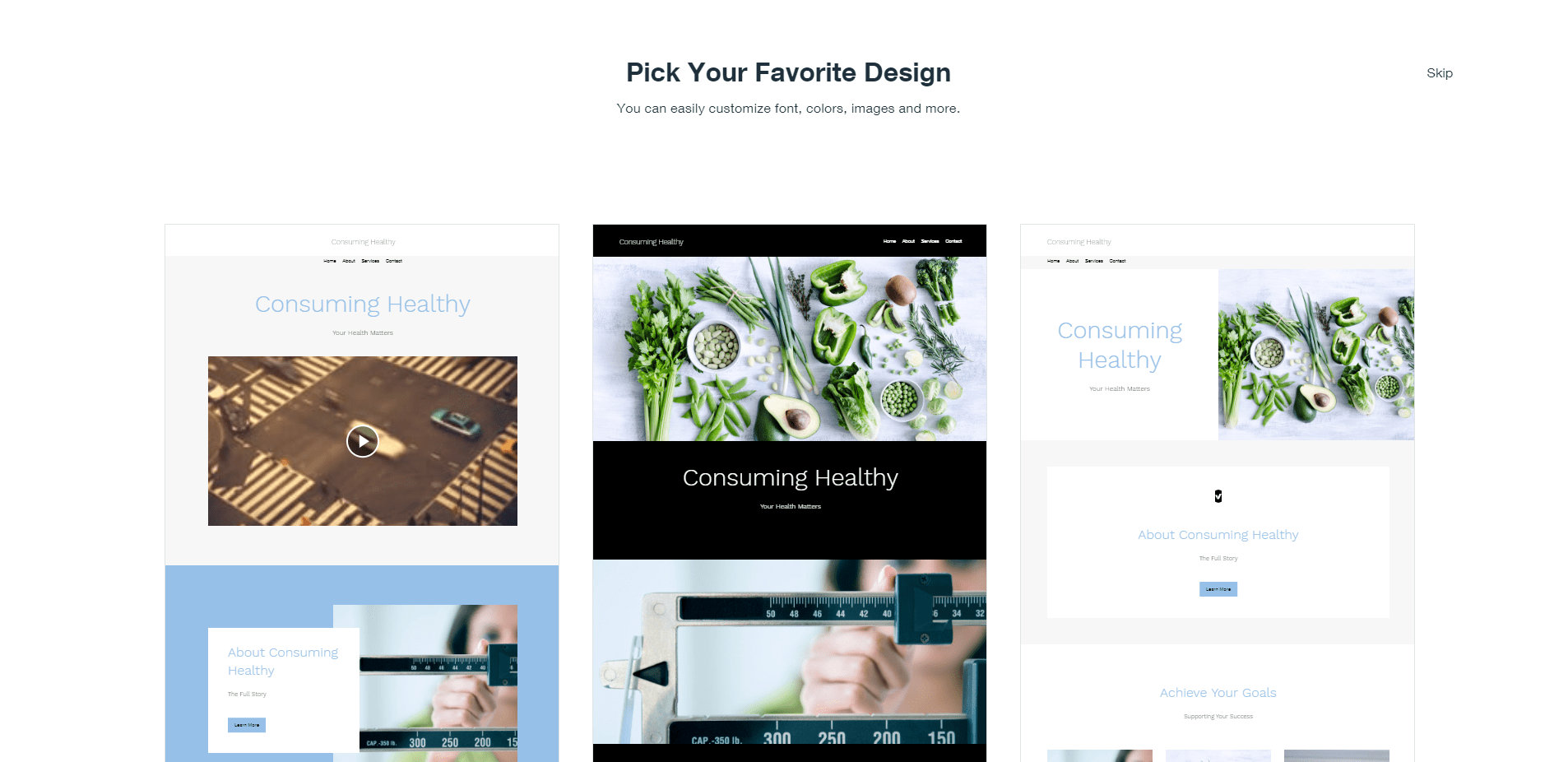 And, voila! Once you pick a design, you'll be presented with your new blog, all thanks to ADI: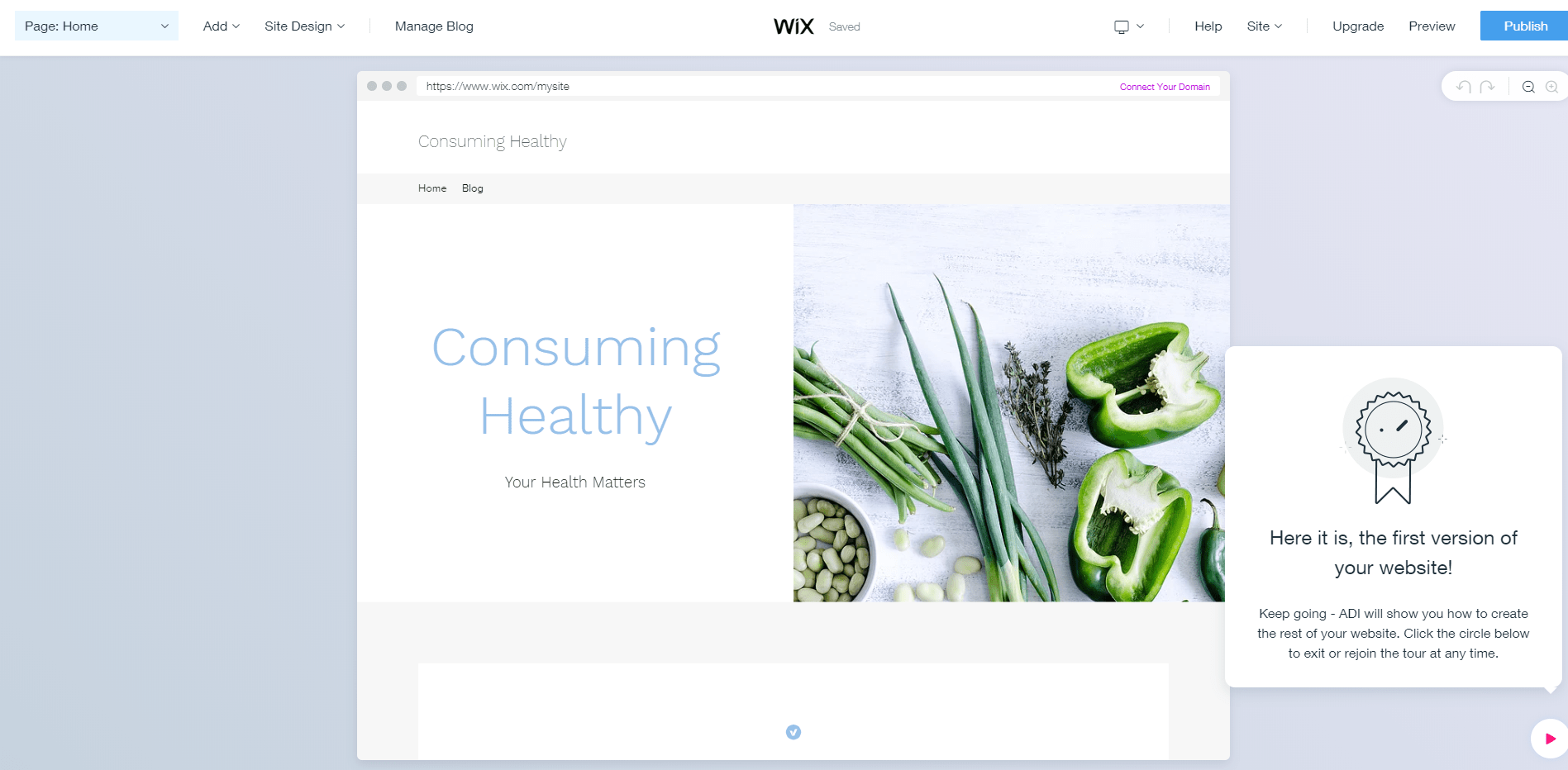 Option #2: Wix Editor
If you choose this option, you'll be taken to the template category of the industry you selected. However, you can select any of their 400+ templates. In this example, I chose Portfolio & CV: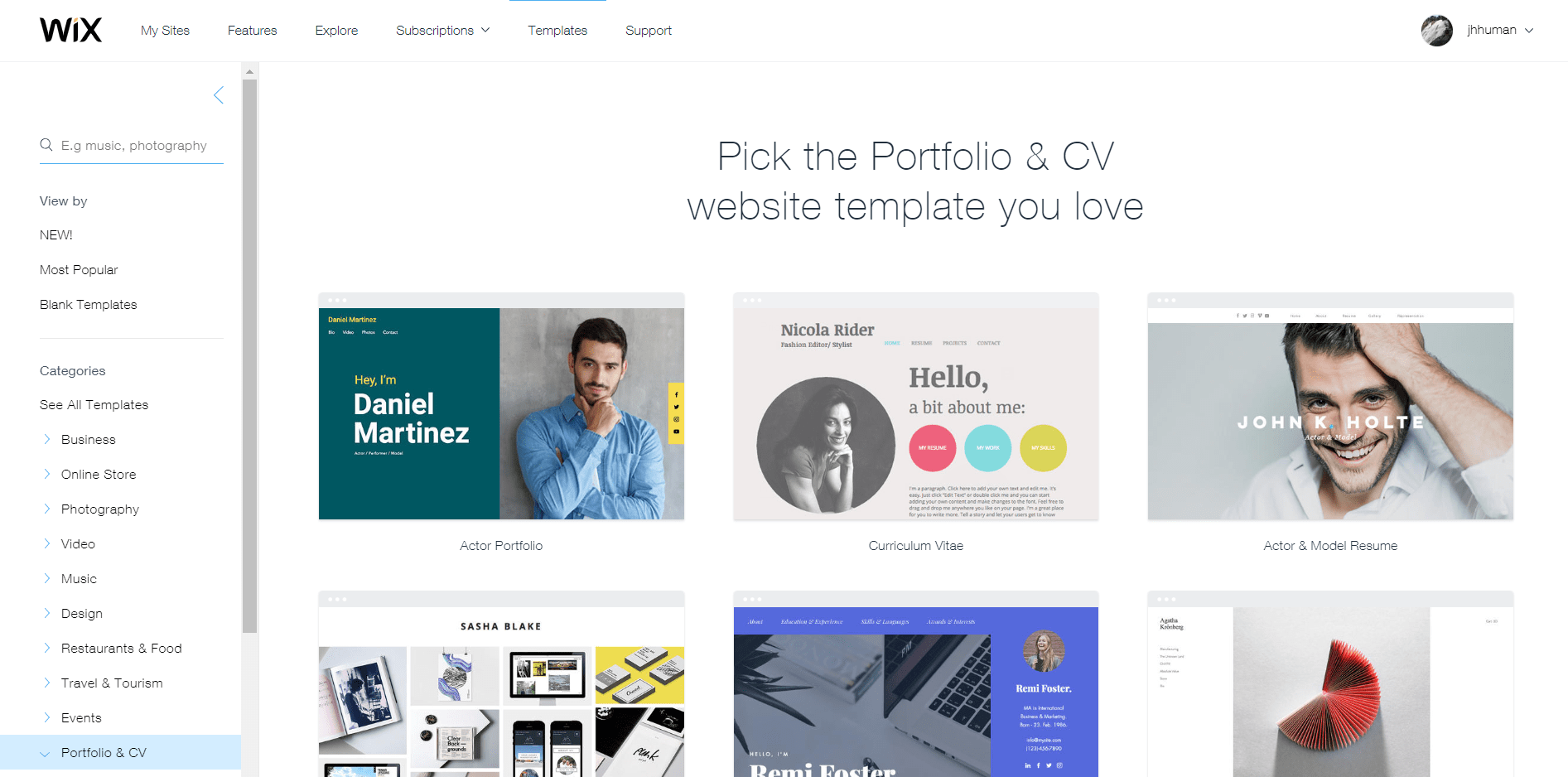 You can preview the template or click Edit to choose it as the theme for your website. It won't be saved as your template until you do so within the editor, so feel free to edit it for fun first. Here it is in the powerful Wix Editor: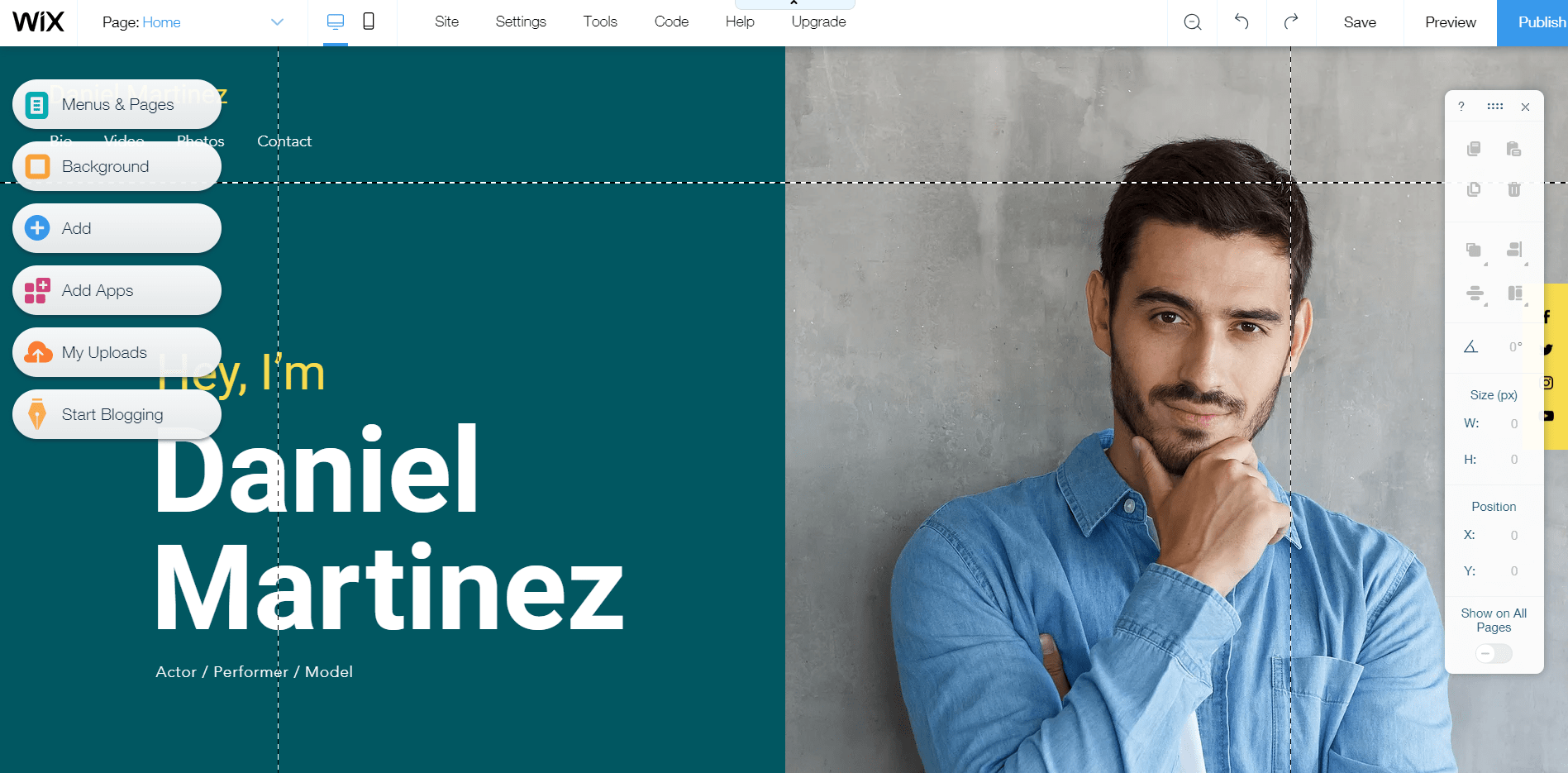 Step #5: Customize Your Website
Now, you can start customizing your blog via either Wix ADI or the Wix Editor, depending on the path you chose. Here are the most important things to do right away:
Sort out your top menu and navigation, especially how you'll link to the blog categories and blog webpages.
Load in your own content by replacing Wix's default stock images with your own, picking and choosing your brand colors, and making sure your own logo is in place. Unfortunately, you can't change the favicon with a free Wix website.
If it isn't added already, you should add in the Blog app from the Wix store. This will have all the blogging features. For example, you'll be able to manage categories, create posts, and more.
And don't forget to use your creativity! Remember, you aren't paying for this yet, so don't be scared to mess up and take your time. Creating a blog may seem intimidating at first, but you'll soon get the hang of it, and even start enjoying the process.
Why Upgrade a Free Plan to a Paid One?
Although you can host your free Wix website for as long as you want to keep receiving visitors, there will always be a few roadblocks in your way that will keep you from reaching your website's full potential. These are some of the chief reasons you might eventually want to upgrade your Wix plan:
Wix's free plan has limited resources. Wix tiers the available resources you have with a plan depending on how much you pay, so it's only natural that the free plan comes with the lowest resource allocation: 500 MB of storage and bandwidth. That's very restrictive.
You want e-commerce capabilities. There's no way to make sales on a free Wix website. If you want to run an online store, receive donations, or receive payments for services, you must upgrade to an eCommerce or VIP plan.
You want to run monetized ads. On the free and "Connect Domain" plans, Wix displays pay-per-click ads and their own branding in your ad space. By upgrading, you'll be able to not only monetize this space by selling the ad space yourself, but also remove annoying unsolicited ads.
You want to connect your own domain. You may wonder why hosting on a subdomain is an issue. The best answer is that it looks unprofessional and makes it hard to rank well on search engines.
Whether or not you plan to upgrade at some point, there's no excuse not to take a leap of faith and try out Wix completely free. But if you'd like more info about Wix first, feel free to check out our expert review of the platform or visit their pricing page.