not all of them would be a perfect introduction to your big day
. You'll want a template that captures the
 look and feel of your wedding
and what's unique about your love story. You might also want
a layout with specific sections
 for photos of the couple, event details, info about the location, a wedding registry link, and an RSVP form.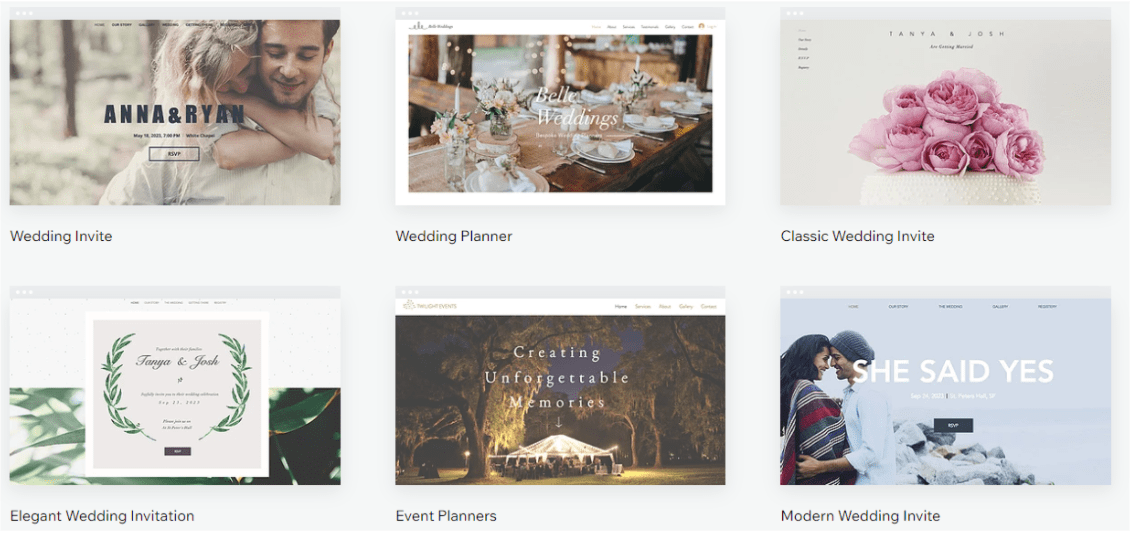 These templates are the ones that made me daydream about my perfect wedding day – and a couple of designs that weren't so inspiring. I've also included a
few templates outside the wedding category
 that give out the "I do" vibe.
Wix Wedding Templates That Are a Perfect Match
Wix has
over 25 wedding templates
 in its gallery, so you're likely to find something that matches your taste. In addition, the editor is
extremely flexible when it comes to customization
, meaning that you get full control over your template's colors, fonts, and layout. So, if you love an overall design but aren't into the color palette, for example, you can change it to match your style.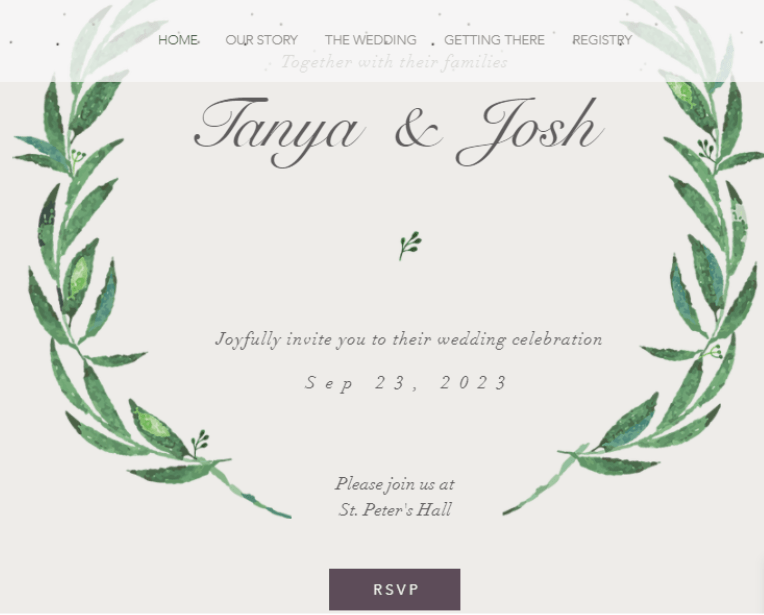 If you want something
subtle and sophisticated
, this template is your go-to choice. I love how it mixes nude colors with green imagery – it gives the design a relaxed, natural feel. The homepage looks like a traditional handwritten wedding invitation with the all-important RSVP button front and center. The template also has sections for your story as a couple, your photos, and event details. Mind you, just because it's a classic design doesn't mean there are no modern features.
Video backgrounds
 help you weave your story into the entire site, while
parallax scrolling
spices things up a little. Also,
social media buttons
in the footer of the homepage make it easy to keep your guests up to date with wedding news.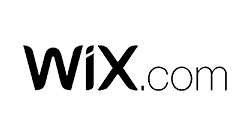 Save up to 33 % on your Wix plan!
Limited-time offer - Don't miss it!
Your Wix with your first % on 30/06/2023!
3901 users used this coupon!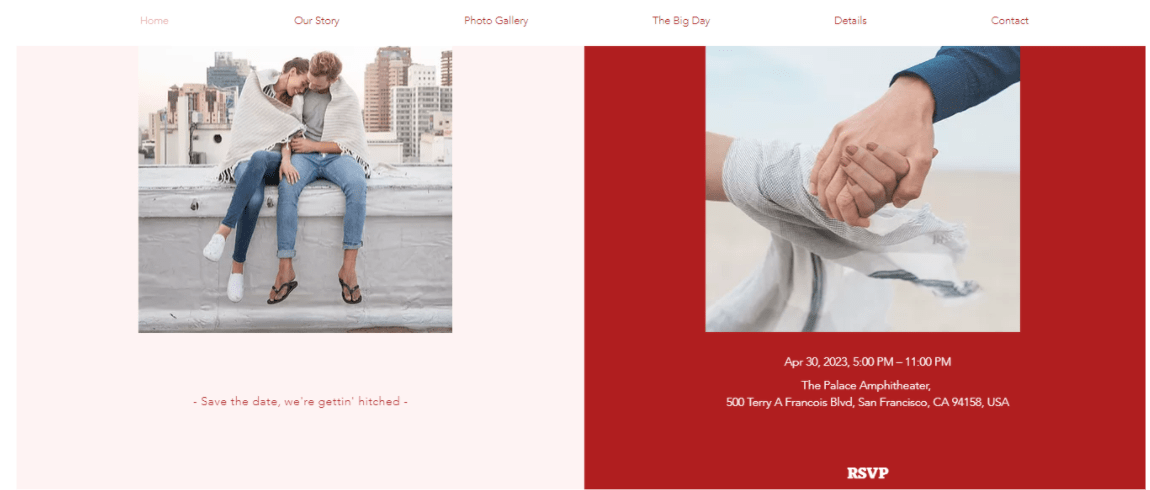 This is a charming template with lots of space to
showcase
your photos as a couple
. In addition to the Our Story page, where you can add photos and text, there's also a Photo Gallery page where you can chronicle your relationship through your favorite shots. The Details page includes information on your wedding location and registry, but what I like most is the
Big Day page
, which lets you add photos of your maid of honor, best man, bridesmaids, and groomsmen.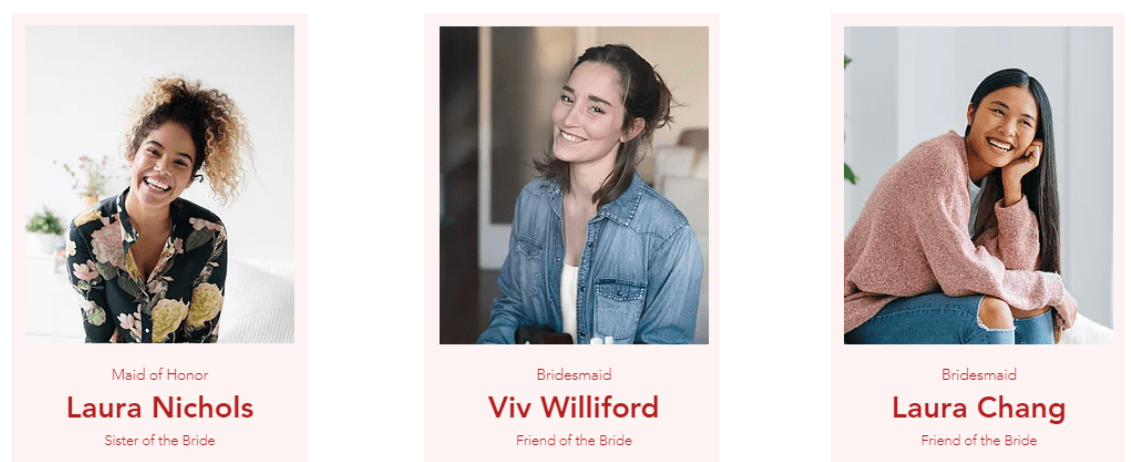 The contact form at the bottom of the homepage is a nice touch that allows your guests to reach out to you with questions about the event – or simply send you their well wishes.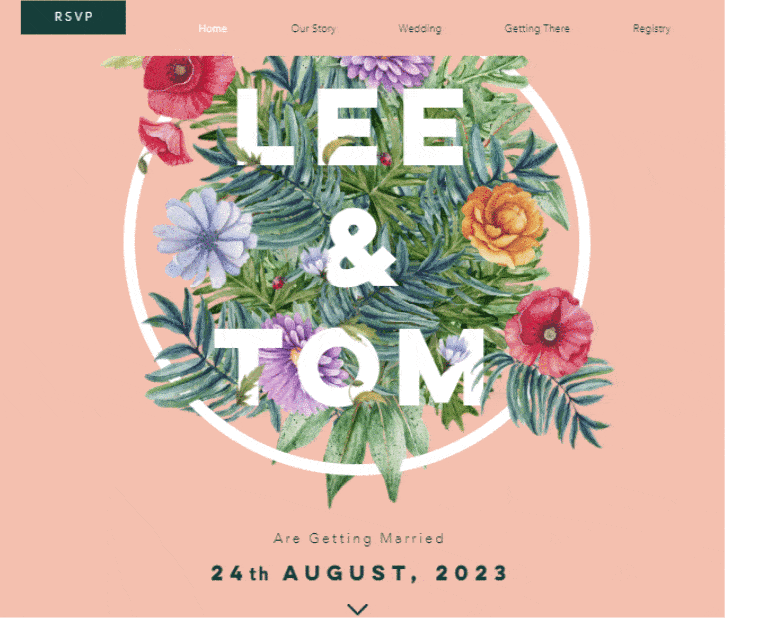 This flower-filled template will infuse your wedding website with
a dash of spring
. It includes all the sections you need – Our Story, Wedding, Getting There, Registry – each one marked off with a different flower that appears at the top of each section as you scroll down.
Parallax scrolling and full-width images
 keep things fun, and there's a highlighted RSVP button at the top-left corner of the homepage. The template has a space for your email address in the footer, so your guests can contact you if they need more information.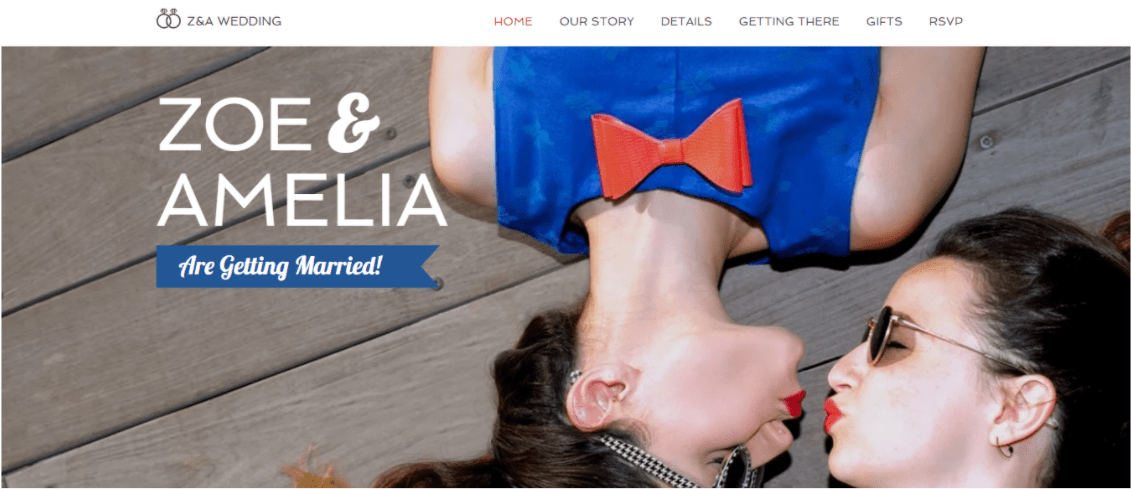 This template's retro design is a great choice if you're looking to put a fresh twist on the typical bridal vibe. Pages
slide horizontally
 to reveal sections on your relationship story, wedding details, transportation arrangements, gifts, and an RSVP form. My favorite thing about this template, apart from the 1950s-ad typography, is the
round gallery
 on the Our Story page, which is a nice alternative to the traditional cube-shaped design. The RSVP form is closely followed by a contact form so that guests can easily reach you for more information.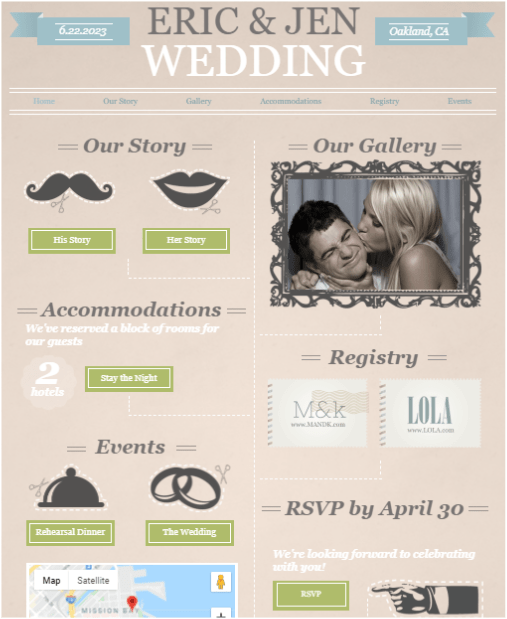 Ideal for alternative couples, this template's
offbeat design
 and retro, sticker-like illustrations will highlight your unique vibe. Unlike other wedding templates that make visitors scroll and search for different info,
Funky Engagement
reads like a newspaper –
all the important details are laid out right on the homepage
. Of course, you can browse through the website and click on specific pages to learn more, but it's nice to have everything packaged into one fun space.
Wix Wedding Templates You May Want to Avoid
Although Wix has plenty of amazing wedding templates, some designs don't quite live up to expectations. I love a minimalist design, but these templates feel a bit uninspiring.

Romantic Wedding Invite
 (left) takes a subtle approach… to my mind, probably too subtle
.
 The nude fonts and alternating white and light-blue section backgrounds seem
low-key, even placid
. A wedding should be a celebration, after all! The
Wedding
Event Template
 (right) feels a bit plain and boring and just
doesn't quite capture the energy and excitement of a wedding
. There are no standout elements, and I personally don't like the hand-drawn fish scale illustrations on the homepage. Sure, Wix allows you to customize a template as much as you want, and these designs could work with some editing – but why go through so much trouble when you can simply pick a better-looking template and save yourself some time?
Other Wix Templates That Could Work Well for Weddings
With Wix, you don't have to limit your search to just the Wedding category. There are some
 attractive designs in other categories
 that could work just as well with a little tweaking. These templates feature some handy elements for wedding websites, and you can easily add in any features they lack.

Although this holiday template is intended for winter festivities, it could also be a great choice for
winter weddings
. You can customize the text and images to match your wedding and keep all the holiday glitz and glitter! This template comes with several important elements that wedding websites need, such as an
RSVP form, a contact form, and a When and Where section
. You can simply add pages for your background story, photo galleries, wedding registry, and more.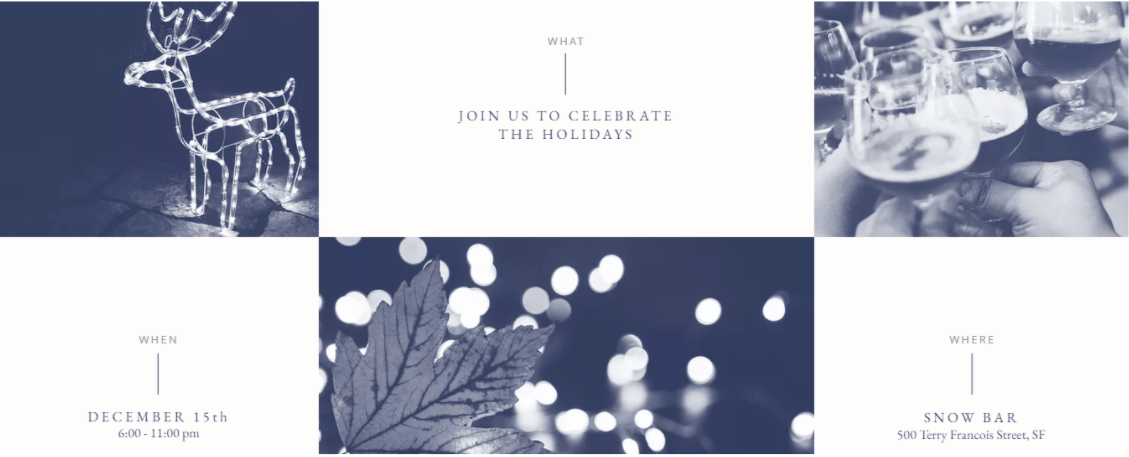 But what I like most about this template is the full-width snowflake image on the homepage, which changes colors from frosty blue and white to a warm gold.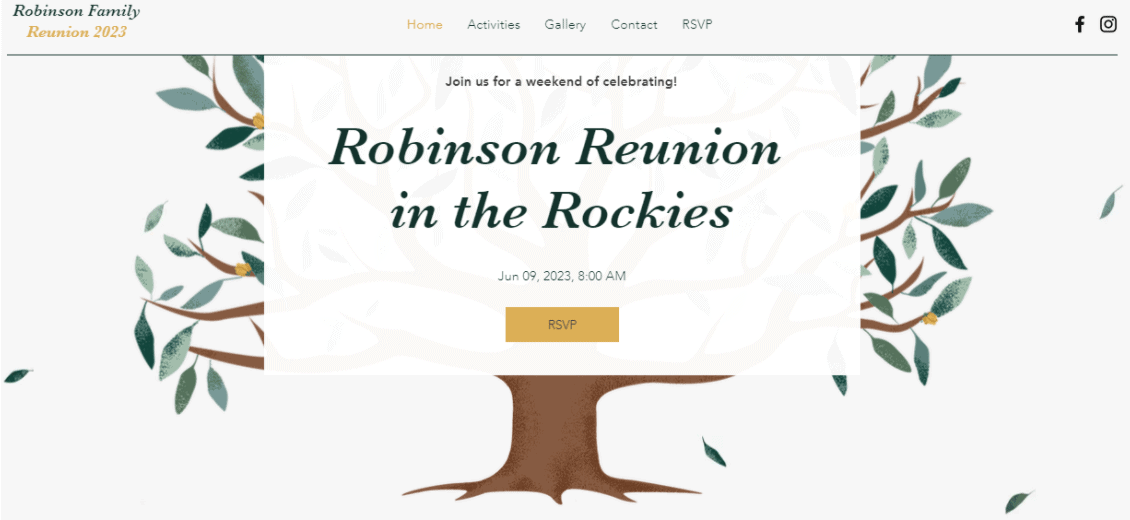 This template may not be an obvious choice for a wedding website, but its layout and streamlined feel make it an excellent fit. It includes a
Gallery, Contact, and RSVP page
, and you can repurpose the About section into an Our Story page to share the milestones of your relationship. Also, the homepage displays the time and date of the event, and there are transportation and accommodation sections that you can tweak to match the wedding theme. The template has a
minimalist and elegant design
, and you can personalize the aesthetic with some cute photos of the happy couple.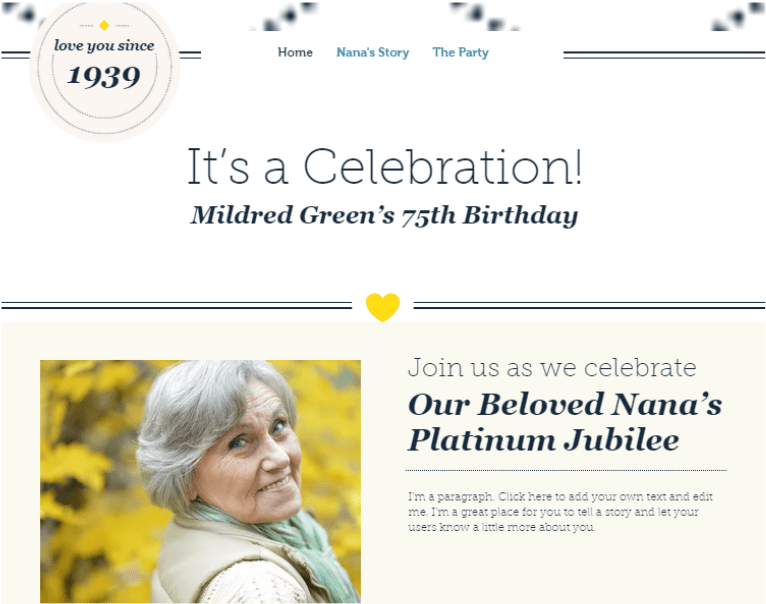 Although this is a template for birthday invites, with a little editing it can become an amazing wedding website. Couples can lean into its warm and fuzzy vibe by accentuating their story and photos. You can modify the
Story section
 to include a timeline of your relationship, complete with text and images. There's also a
Party page
 where you can include details about the time, date, and location of the wedding. And you can turn the Birthday Wishes section into a regular
contact form
 so that your guest can reach you easily. Another cool detail is the
homepage's photo section
, which is designed as a Polaroid-picture collage and gives out a sweet, retro vibe.
Choose a Wix Template That Sets the Tone for Your Wedding
Your wedding is all about the two of you, and your wedding website should be, too. Remember, the style of your site is the first thing your guests will notice, so the right design can help you
set the tone for your big day
. Whether you want something elegant and classic, or you're looking for a more alternative option,
there's a Wix template for every style and taste
. And if you're not entirely happy with the design as is, you can always tweak it to suit your needs.
FAQ
Do I need a website for my wedding?
A wedding website will give your guests their first impression of your wedding, so it's worth spending a little time on. The right design can reflect your personality as a couple and set the tone for the event itself. Also, it's a great way to keep your guests informed about everything related to your wedding day. If you're unsure about which platform to use to create your wedding website, we've rounded up the best website builders for 2023 to help you choose.
What is the best free website builder for weddings?
Wix has one of the most generous free plans of any website builder, but it's also a popular choice in general because it's so easy to use. It's a great option for weddings, as it offers 25+ wedding templates and includes numerous apps for guest management. However, Wix isn't the only free option with great features available. SITE123 is extremely beginner-friendly and it lets you set up your site in multiple languages, while Weebly offers flexible customization and many wedding-friendly apps. If you want to review more options, check out our list of the best free website builders in 2023.
Which is better, Wix or WordPress?
It all depends on your needs and preferences. Both of these builders are loaded with features and give you plenty of flexibility when it comes to customizing your site (find out more in our expert comparison). However, Wix offers a more generous free plan and is very easy to use even if you don't have technical knowledge, while WordPress involves a learning curve. Both platforms give you access to more tools when you subscribe to their paid plans, and you can cut down on costs with our great coupons.
Does Wix give you the source code?
Wix allows you to view the source code of your site, but it doesn't let you export HTML codes to external services. In other words, you can't download a Wix site or any of its pages. Learn more about how Wix works in our in-depth review.