Magento or WooCommerce? That is the question. Either one of these self-hosted e-commerce giants can give you
flexibility and advanced tools to help you build a hugely successful e-commerce empire. 
Magento has always been popular among large businesses and enterprises, but it was never the easiest platform to use.
These days, more and more people prefer WooCommerce
.
Why? Because it offers an impressive array of tools, while being
so much easier to manage
.
But which one should you use for
your
store? 
When choosing your e-commerce platform, you need to consider your budget, the current size of your store, your goals for your store in the future, and so much more. Magento is more complex, but in some cases, it might be the better option.
My aim with this thorough and honest comparison is to help you
make the right choice for your business.
To help you decide, I've put Magento and WooCommerce head to head in eight important areas:
Round 1: WooCommerce's Simplicity Makes Management Easy
In Round 1 of
Magento vs WooCommerce,
you'll learn why WooCommerce is easier to use.
As an open-source platform, Magento is frequently being updated. The current "Magento 2" version is a huge improvement over the earlier "Magento 1" version in terms of user-friendliness, but overall, Magento 2 is still harder to use than most other
e-commerce platforms
.
In fact, many people find that they need to
hire a developer
to manage their Magento setup.
If you have little-to-no experience with web development, you'll probably have a hard time getting the most out of the platform.
For example, you need to be a coding expert to make certain customizations, like creating drop-down menus or setting up the homepage to display product categories instead of featured products. Even web developers who don't specialize in Magento often find that they struggle. 
Unfortunately, it's easy to "break" your Magento setup, and if that happens, you'll need a Magento specialist to set things right.
WooCommerce isn't as easy to use as an all-in-one e-commerce platform (like Shopify
), but it's
definitely
easier to use than Magento. WooCommerce is managed within the WordPress dashboard.
So, if you're familiar with WordPress, you'll master WooCommerce — fast. 
Even if you're
new
to WordPress, you can still learn WooCommerce fairly quickly, as the WordPress/WooCommerce interface is quite intuitive and easy to navigate.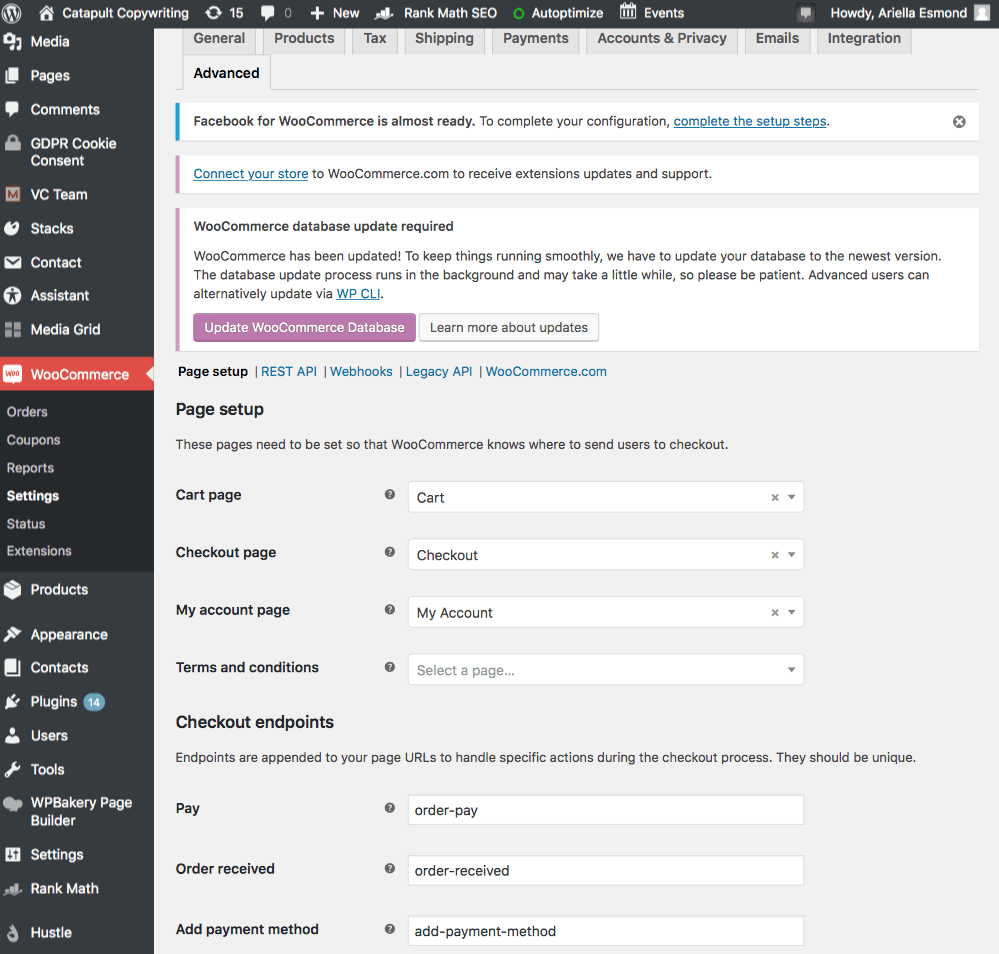 There's much less that can go wrong when you're customizing WooCommerce, and unless you want to have a custom extension designed, you won't need to hire a developer.
And the Winner Is…
WooCommerce.
It has an intuitive dashboard and requires a much smaller learning curve. The settings are easy to change, and you're less likely to break your website.
Magento still has a lot of good points (which we'll talk about below), so if you're confident in your technical skills or are willing to hire a developer, then you could consider Magento for your online store.
Round 2: Advanced E-Commerce Features to Skyrocket Your Sales
Both Magento and WooCommerce come with a wide range of native (pre-installed) features to make your online store a success. You can add many other features via extensions, but we'll discuss those in Round 3.
Magento has two editions: Community and Enterprise.
The Magento Community edition is open-source, free to download, and requires self-hosting; the Enterprise edition is a paid platform that includes cloud hosting. This article focuses on the Community edition.
Magento has more native features than WooCommerce. However, it's worth noting that most (if not all) of Magento's native features can be added to WooCommerce using a WooCommerce extension or WordPress plugin. The table below highlights some of the important native features.
| | | | |
| --- | --- | --- | --- |
| | Magento | WooCommerce | WooCommerce Extension Available |
| Unlimited products | ✔ | ✔ | |
| Unrestricted customization | ✔ | ✔ | |
| APIs for third-party tools | ✔ | | |
| Product reviews | ✔ | ✔ | |
| Product ratings  | ✘ | ✔ | |
| One-page checkout | ✔ | | ✔ |
| Advanced pricing rules | ✔ | | ✔ |
| Product personalization  | ✔ | | ✔ |
| Real-time shipping rates | ✔ | | ✔ |
| Online order tracking | ✔ | | ✔ |
| Tax and shipping calculator | ✔ | | ✔ |
| Upsells and cross-sells | ✔ | ✔ | |
| Sales reports | ✔ | ✔ | |
| Multi-tier pricing for volume discounts | ✔ | | ✔ |
| Landing page tools | ✔ | ✔ | |
| Customer wishlist | ✔ | | ✔ |
| Customer account management | ✔ | ✔ | |
| Embed products on pages with shortcuts | | ✔ | |
| Geolocation tools for shipping calculation | | ✔ | |
| One-click customer refunds | | ✔ | |
| Product highlight tool | | ✔ | |
And the Winner Is…
Magento,
because it has more advanced e-commerce tools instantly available without your having to install an extension. When you add a new product, you can offer gift options (e.g., custom gift messages) and product customizations (e.g., shirts personalized with custom text on the back), and you can even auto-schedule design updates to keep your product pages looking fresh.
WooCommerce offers you fewer native tools, but you might be able to use extensions and plugins to get the missing features you need.
Round 3: Boosting Your Store's Functionality 
If the feature you want isn't available natively, you'll be happy to know that both platforms have stores where you can purchase a variety of powerful e-commerce tools. 
Magento offers over 5,000 extensions, more than 1,500 of which are free.
You can filter them by category (such as Customer Support, Marketing, Reporting & Analytics, and Shipping & Fulfillment), and they're all easy to install.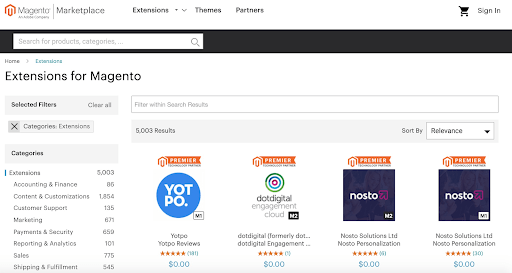 You can also buy third-party extensions for Magento from places like Magestore. They're more complicated to install, and you may need the help of a developer to get them set up correctly.
WooCommerce offers around 300 extensions, and 40 of those are free.
Extensions you can buy include additional payment gateways (e.g., PayPal powered by Braintree), WooCommerce Subscriptions, WooCommerce Memberships, WooCommerce Accommodation Bookings, and LiveChat. 
Extensions in the WooCommerce store all come with one year of updates and support.
Too see all available extensions without having to sign up, go to the WooCommerce homepage
 and click the
Extensions Store
link in the header.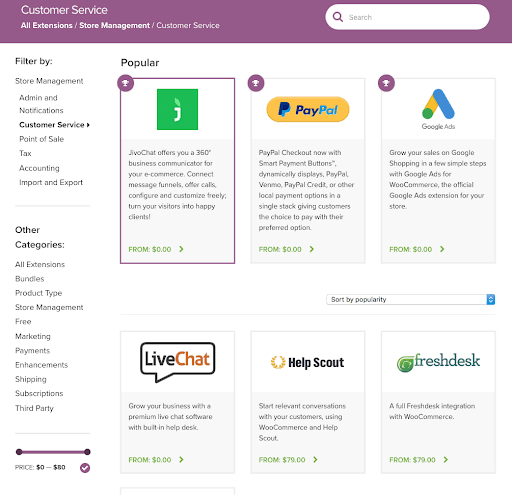 Because WooCommerce is built on WordPress, it can also seamlessly integrate with thousands of free and premium WordPress plugins.
Here are some of the most popular categories:
Marketing plugins

, such as HubSpot All-In-One Marketing 

Landing page plugins, such as Infusionsoft and Unbounce

 

SEO plugins

, such as

Yoast SEO

 

Analytics plugins

, such as Enhanced E-commerce Google Analytics Plugin for WooCommerce
These can extend your online store's functionality massively. It's easy to install plugins and extensions with WooCommerce, and you can upload and activate WordPress and third-party plugins with just a few clicks.
And the Winner Is:
WooCommerce.
Magento has a huge number of extensions available, but many come with a high price tag. WooCommerce has fewer extensions, but it can seamlessly integrate with any of the 55,000+ plugins in the WordPress repository. It's almost guaranteed that you'll find the plugins that give you the tools you need.
Magento has more extensions, but installing them is more complex. And if you want a third-party extension, you'll probably need the help of a developer to ensure it's set up correctly.
Round 4: Hosting for Your E-Commerce Store
Choosing a self-hosted platform means you have to shop around for the right web hosting package for your budget.
While web hosts like GoDaddy
 offer one-click installations of Magento on shared hosting plans, the reality is that Magento is too resource-hungry to work well on shared hosting — plus, it requires a larger amount of storage space. 
That's why to host a Magento e-commerce website, you need to think about Business, VPS (Virtual Private Server), or Dedicated Server hosting. These types of hosting are more expensive than shared or cloud hosting, but they tend to have better levels of security, with more generous storage allocations. So, it should be easy for you to build a large e-commerce store without having to worry about performance.
Because WooCommerce is a relatively lightweight WordPress plugin that doesn't take up much space, you don't need dedicated or VPS hosting to use it.
You can definitely run a medium-sized or large e-commerce store with WooCommerce on a
shared hosting plan
, though you may want to opt for cloud hosting for greater reliability. 
You can also find
managed WordPress hosting
— and even
managed WooCommerce hosting
— that gives you a better level of customer support and that handles things like backups and security for you.
And the Winner Is…
WooCommerce.
There are more options for hosting with WooCommerce. You can choose from shared hosting, cloud hosting, and managed WordPress/WooCommerce hosting plans. These are cheaper than the VPS or dedicated hosting that Magento requires, making WooCommerce hosting much more affordable.
Magento hosting does offer more security and stability, however, and if you want to run a particularly large online store, you may find that Magento is more suitable.
Round 5: Making Your Online Store Look Fabulous
Of course, you want an attractive store that's easy to navigate. Fortunately, both Magento and WooCommerce offer themes designed to give your visitors a great UX (user experience).
Magento comes with two basic themes: "The Blank Theme" and "The Luma Theme." You can also find around a dozen themes in the Magento Marketplace. Only one of them is free, so you'll have to pay for a premium theme or search online for free Magento themes like "Ves Vigoss." 
If you're willing to pay, you can find hundreds of other third-party themes from marketplaces like
ThemeForest
or
TemplateMonster
. Keep in mind that installing third-party themes on Magento can be frustratingly complicated. You'll need to directly upload your theme using a file manager application, and use SSH access to enable the theme files. Only then can you activate the theme or customize it in the admin panel.
WooCommerce offers its official "Storefront" theme and 14 other themes that are optimized for the platform. But your theme selection is much bigger than that, because
WooCommerce is compatible with most of the thousands of WordPress themes available. 
You don't even have to pick an e-commerce-specific theme, because WooCommerce will work with regular themes, too.
If you choose a third-party theme, all you have to do is click
Upload Theme
in the theme picker, upload the zip file, and then click the "Install Now" button.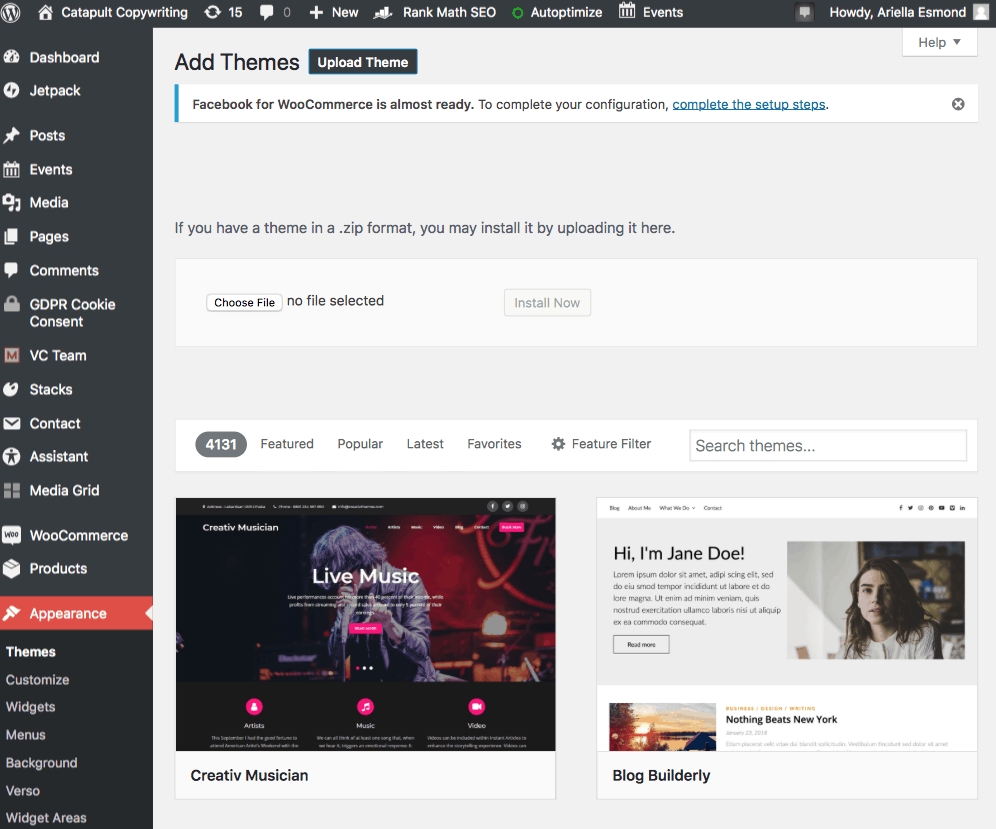 And the Winner Is…
WooCommerce
. There are thousands of WooCommerce-optimized themes available for WordPress, so you should be able to find a good theme that reflects your brand. It's easy to customize WordPress themes, too.
Magento has a much smaller selection of themes in its marketplace, and installing third-party themes can be problematic. Magento's free and marketplace e-commerce themes are attractive, though, so if you're not too worried about making a lot of customizations, Magento could still work for you.
Round 6: What Happens When Your Store Gets Bigger?
As your business and online store grow, your web hosting and e-commerce platform have to grow, too. But be aware that scaling your website can be a little challenging.
To scale WooCommerce so you can cope with the increased demands of a larger e-commerce store, you have plenty of options. For example, you can
upgrade from shared or cloud hosting to VPS hosting. 
If you're with a managed WordPress hosting provider like Liquid Web
or WP Engine
, your hosting provider will help you scale your hosting to meet the demands of your WooCommerce store. And you won't have to hire someone to manage the more technical aspects of a growing store.
Some reports say that having more than 2,500 products in your WooCommerce store will cause your website to become sluggish, but upgrading to a more powerful hosting plan or implementing caching to improve performance can help mitigate these issues.
There's no doubt that Magento is very easy to scale up.
Because the platform already needs VPS or dedicated hosting, you won't have to worry about experiencing downtime when you upgrade to a bigger hosting package. Magento is designed to work well with really large stores, so your store should have virtually no limits. 
However, larger hosting packages naturally cost more, and if you're on VPS hosting, you'll probably need to opt for a dedicated server. The larger and more complex your store is, the more likely you'll need help with development, so these costs could also increase significantly.
If you have a particularly large store, you may want to upgrade from Magento's Community edition. Keep in mind, though, that
Magento Enterprise pricing is quite expensive, so consider this option only if it's truly necessary.
And the Winner Is…
It's a tie.
Both Magento and WooCommerce are relatively easy to scale. Of course, your costs will increase as you upgrade your hosting, but you have a variety of options with both platforms.
Round 7: Ensuring that Your Online Store is Secure
Security is crucial, especially when you're running an online store. You have to secure your customers' data,
and
protect your website's data from potential threats like malware and DDoS attacks. 
Your web host should take care of much of your website's security. When choosing your web host package, make sure that server-side firewalls and malware scanners are included. An SSL certificate is also absolutely essential.
So, how do WooCommerce security and Magento security compare?
While it's impossible for a platform to be 100% secure, Magento does offer features to help you manage security risks.
For example, there are premium extensions for security, such as Bot Blocker: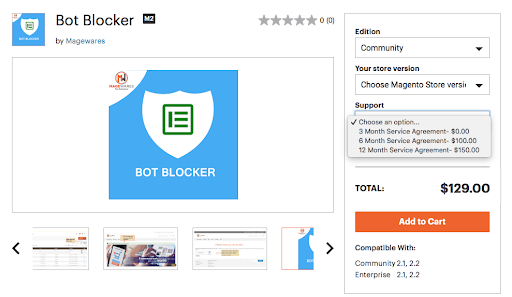 Magento also offers dedicated security patches. However, these can be difficult to install, and you may need to hire a developer for help.
WooCommerce relies on WordPress, and WordPress is known for being more vulnerable to security risks than other platforms due to its dependence on plugins for a lot of features. Third-party plugins can introduce vulnerabilities to your online store that may put it at risk of being hacked or infected with malware. 
Ironically, the solution to WordPress' security issues is found within
specialized plugins
.
One excellent plugin is Wordfence.
It has free and premium versions, and it can provide your WordPress and WooCommerce installation with real-time protection against all the latest threats.
And the Winner Is…
WooCommerce.
While WordPress is considered to be more vulnerable to security risks, there are plugins you can use to secure your website. As long as you choose hosting with robust security in place, you shouldn't have too many problems.
Magento is less vulnerable than WooCommerce/WordPress, but its security extensions are more expensive than WordPress'. Furthermore, applying the security patches often requires the help of a developer. This is why Magento security is more costly and complex than WooCommerce security.
Round 8: WooCommerce Costs vs. Magento Costs
The costs of a self-hosted e-commerce platform aren't as straightforward as those of an all-in-one platform.
There's more than just the hosting price to consider. You need to spend some time figuring out exactly how much your platform will cost you. 
Hosting costs with Magento will be more expensive to start with. Plus, there are other Magento costs that make it more pricey than WooCommerce. 
Magento is very complex.
So, if you're not a coding expert and you want to customize your store, you'll have to hire a Magento developer for help.
You may also need a developer if you want to install a third-party extension, and a developer isn't cheap!
WooCommerce is much more affordable.
Hosting costs are generally cheaper, as are extensions and plugins to add extra features to your store. 
For example, if you want to sell products on a subscription basis, you'll have to purchase the "WooCommerce Subscriptions" extension for a one-time fee of $199. This includes a year of support.
The comparable "Subscriptions & Recurring Payments" extension for Magento costs $249. And if you want a year of support, you have to pay an additional $150, bringing the total cost to $399 — double what you pay with WooCommerce. This makes Magento pricing significantly larger overall.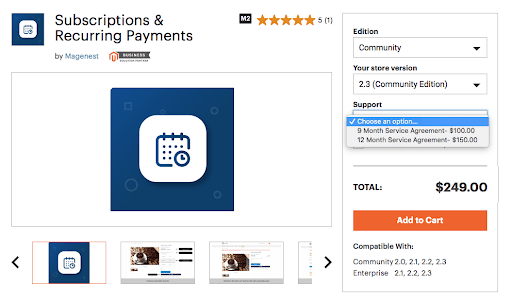 And the Winner Is…
WooCommerce.
Not only are Magento hosting costs steeper, but additional expenses such as support for your extensions and hiring a developer can quickly add up. WooCommerce offers much better value for money, and you get 12-month support included in the price of all extensions.
WooCommerce vs Magento: Now It's Clear Why Users Prefer WooCommerce
During a time when there were considerably fewer e-commerce platforms accessible, businesses predominantly favored Magento as the leading option for establishing self-hosted online stores. However, due to its intricate nature and elevated expenses, it's unsurprising that an increasing number of individuals are shifting towards WooCommerce instead. This shift is occurring even though Magento boasts a higher count of native features and provides a broader array of extensions.
WooCommerce offers lots of flexibility, and it can handle the high demands of a large online store.
Adding extra features to your website is easy and affordable.
You can start off with a much lower-priced hosting plan, and then scale your hosting as your website grows.
That's why WooCommerce takes the crown as the best free e-commerce platform for self-hosted online stores.
To learn more about WooCommerce, check out our expert review.
Ease of use
You're more likely to need a developer to get the most out of Magento.
Because WooCommerce is built on WordPress, it's much easier to use, and you won't need too many technical skills.
Features
Magento has a huge list of native features, giving you access to advanced tools to improve the success of your online store.
WooCommerce has a decent range of native features, but it lacks some of the advanced tools that Magento offers, such as multi-tier pricing.
Extensions
More than 5,000 extensions are available, but they're expensive and don't include support. And to install third-party extensions, you'll probably need to hire a developer.
There are fewer WooCommerce extensions available, but WooCommerce works with WordPress plugins, so you're almost guaranteed to find the tool you need. Installation is easier with WooCommerce, too. 
Hosting
You need VPS or dedicated server hosting to cope with the resource-hungry Magento setup.
WooCommerce can be hosted on shared hosting plans, but cloud-based hosting or managed hosting is more reliable.
Themes
The Magento Marketplace has only a little over a dozen themes.
WooCommerce is compatible with most WordPress themes, and there are over a thousand e-commerce themes available in the WordPress repository.
Scalability
It's easy to grow your online store with Magento, but it becomes more complex to manage as a result.
WooCommerce can easily be scaled up to cope with the growing demands of your online store.
Security
Although Magento is less vulnerable to security risks overall, the costs of securing your website are higher.
WooCommerce relies on WordPress, which unfortunately is known for vulnerabilities. Fortunately, plugins can effectively secure your site with ease.
Costs
Hosting costs are higher, and development and extension costs can quickly add up.
Hosting and extensions are cheaper, and extensions even come with 12 months of free support.