A lot of hosts make big claims about their specialized 'e-commerce hosting' – but often, when you take a closer look, what they're really doing is rebranding regular shared hosting plans. If you're lucky, they may throw in a theme, plugin, or some other freebie that's supposed to make running an online store easier, but that doesn't make it specialized.
The best e-commerce hosting plans are optimized for specific platforms like WordPress/WooCommerce and Magento.
They provide adequate security features for online stores, and some even include premium tools like abandoned cart recovery.
After testing dozens of e-commerce hosting services, I found the eight best options.
Some of the front-runners offer premium plans with extra features ideal for large online stores. Others are budget picks that offer great value for smaller stores.
Out of all the hosts I tested, Nexcess was the standout.
Its managed plans take care of the hard part of e-commerce hosting for you, and it comes loaded with extra features. 
That said, every host on this list offers top-quality service for different kinds of merchants. So keep reading if you want to find the ideal service for you, or sign up with a Nexcess plan and start selling right now.
In a hurry? These are the best e-commerce hosting providers for 2023:
Nexcess – Managed WooCommerce hosting with loads of premium features
Kamatera – Highly customizable and scalable cloud solutions for online stores
InterServer– Budget-friendly plans for e-commerce with excellent security features
What We Look For in the Best Web Hosting for E-Commerce
E-Commerce tools. I looked for hosts with tools to make managing an online store easier, such as one-click setup for platforms like Magento, OpenCart, and WordPress with WooCommerce. Hosts with bonuses like plugins for abandoned cart recovery and inventory tools also made it onto my list.
Performance. A website that's slow to load or frequently unavailable due to server problems will cost you money in lost sales. That's why on this list, you'll only find hosts that deliver excellent page loading speeds and have great uptime scores. 
Generous resources. For my list, I've selected e-commerce plans that don't impose strict limits on essential resources like file storage, bandwidth, traffic, or sales volumes.
Security features. Keeping your website protected and your customers' data secure is essential for an online store. I looked for hosts that offer security features like malware protection, DDoS protection, Web Application Firewalls (WAF), and SSL certificates for free.
PCI compliance. Payment card industry (PCI) compliance is essential if you have an e-commerce website. Without this security standard, your clients' personal data and credit card information may be at risk. I looked for hosts that either support this natively or have a simple way to add it to your hosting plan.
The Best Website Builders for E-Commerce Websites
Purchasing a hosting plan is just one way to get your store online – and it isn't necessarily the right choice for everyone.
Website builders provide an easy way to create a shop and start selling online. Plus, most have a free plan so you can try out the features and only pay when you're ready for your online store to go live. We've recently tested the
best website builders for e-commerce websites
 and there are three particularly good contenders.
Wix –

Incredibly flexible drag-and-drop building with tons of advanced e-commerce features through the app market.
Squarespace –
A great choice
for elegant designs with a respectable set of e-commerce features.
BigCommerce –

A specialized builder for e-commerce packed
with everything you need to run a large online store. It has features you won't find on multi-purpose website builders like Wix and Squarespace, but it does cost more and it's not quite as easy to use.
Now let's look at my top eight recommendations for web hosts with excellent e-commerce solutions.
Nexcess has the high-performance features you need to build and scale an online store.
It offers managed hosting, VPS, and dedicated servers, but for e-commerce, the managed WooCommerce hosting is a particularly attractive option.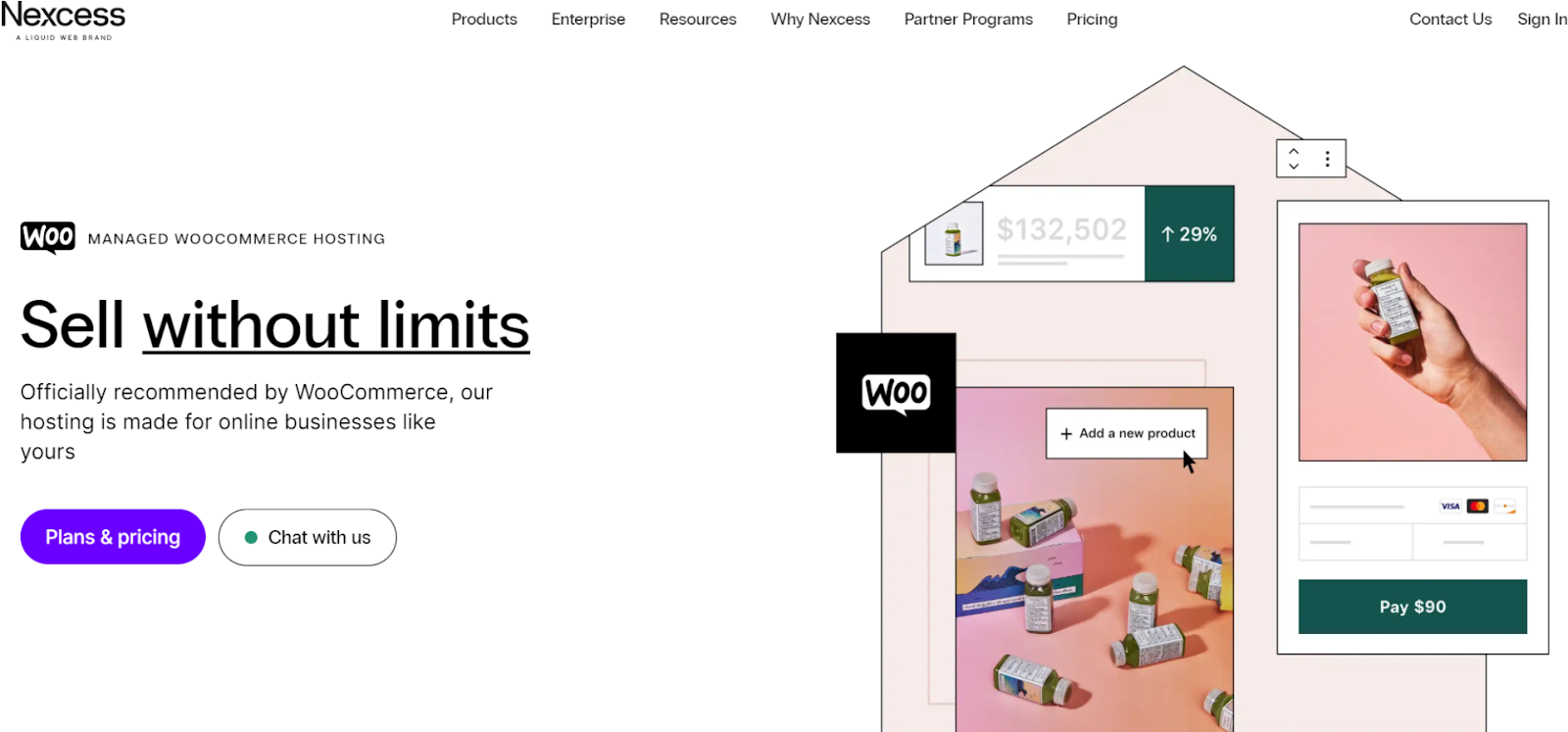 All managed WooCommerce plans come with website staging,
no traffic limits, and plenty of premium features to help maximize your sales.
You can even take advantage of a no-credit-card-required
14-day free trial
 before you commit to a plan.
Although slightly more expensive than the industry average, Nexcess's managed e-commerce plans deliver outstanding value. Its premium features are worth hundreds of dollars and make managing your online store easy. What's more, Nexcess guarantees 100% power and network uptime, which is higher than the industry standard.
When we tested it, it scored really highly for reliability, too
. You can also create as many collaborator accounts as you need, which is useful if you have a team working on your site.
Features
Astra Pro theme. Optimized to be the fastest e-commerce theme for WordPress, Astra Pro is included with all managed WooCommerce plans. It includes starter templates, and with the Infinite Scroll feature, your visitors don't have to click through multiple product pages – more products will load as they scroll down the page.
WP All-Import Pro for WooCommerce. This premium plugin makes managing your store exceptionally easy. You can bulk import products from a spreadsheet, bulk edit prices and inventory, and export your products to Google Merchant Center with just a few clicks.
WP101 WooCommerce tutorials. These tutorials are great if you're just getting started with selling online or if you're moving to WooCommerce from another platform. They help you maximize your sales and make the most of WooCommerce's features. Plus, these premium tutorials would usually cost money, but you're getting them for free!
WooCommerce plugins from IconicWP. If you choose the Creator plan, you get the full suite of IconicWP plugins for WooCommerce. These are premium plugins including tools to create product bundles, create zoomable product images, use cross-selling to boost sales, and much more.
Managed E-Commerce Plans
Yes – WooCommerce
PCI Compliant
Yes – native
Traffic
Unlimited
Uptime Guarantee
100%
Storage
30GB to 800GB
Free SSL
Yes, Standard SSL (always free)
Pricing

$

21.00
Kamatera's versatility allows you to create an e-commerce hosting environment perfectly suited to your needs.
 If you want complete control of your server and resources, Kamatera should be your top pick. Its hosting plans are cloud-based, delivering the speed and reliability you need for an online store.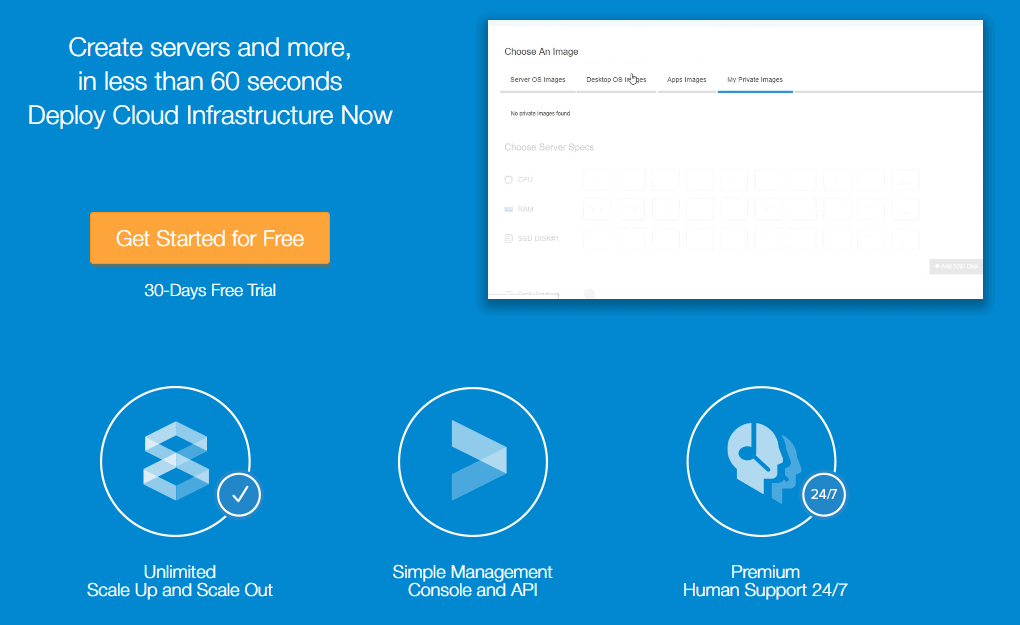 With Kamatera, you can design affordable, high-performing cloud hosting plans with however much storage, RAM, and CPU you need.
 This way, you're not paying for resources you don't use. There's a
30-day free trial
 available, too.
you can read more about them in our expert review
), one downside with Kamatera is that it doesn't include managed services in its base prices. This means you will have to pay extra if you want Kamatera's team to maintain and monitor your e-commerce infrastructure.
Features
WordPress servers. Kamatera's powerful express servers come with all the necessary technology to run and scale WooCommerce stores pre-installed. Because they're WordPress optimized, you benefit from greater security and better performance.
Generous 30-day free trial. You can launch your online store completely risk-free. You get to trial Kametera for a month, choosing one server configuration (up to $100 value) with a limit of 1TB storage and 1TB outgoing traffic. You get full access to all cloud management features, too.
Cutting-edge hardware. Kamatera's state-of-the-art servers are powered by Intel's Xeon Platinum processors and enterprise-grade SSDs. This kind of technology is perfect for larger stores that put bigger demands on servers.
Load balancers. No traffic spike is too big for Kamatera's cloud load balancers. If your online store sees a record number of visitors during shopping holidays, the load balancers will kick in and evenly distribute traffic across multiple servers to avoid overload and performance issues.
Managed E-Commerce Plans
Managed cloud (extra cost)
PCI Compliant
Not native, but available on private cloud
Traffic
Billed on a Pay-as-You-Go basis
Uptime Guarantee
99.95%
Storage
20GB to unlimited
Free SSL
No
Pricing

$

4.00
InterServer is one of the best choices for new online stores because it helps keep costs down early on.
 Its
Standard shared hosting plan
 is a great place to start, and while you don't get any specific e-commerce features, you do benefit from unlimited storage, traffic, email addresses, and websites.
If (or when!) your site outgrows this plan, you can upgrade to a low-cost cloud VPS plan with dedicated CPU and RAM. Aside from being easier to scale during periods of high-traffic, a VPS setup offers more control and reliability for large stores.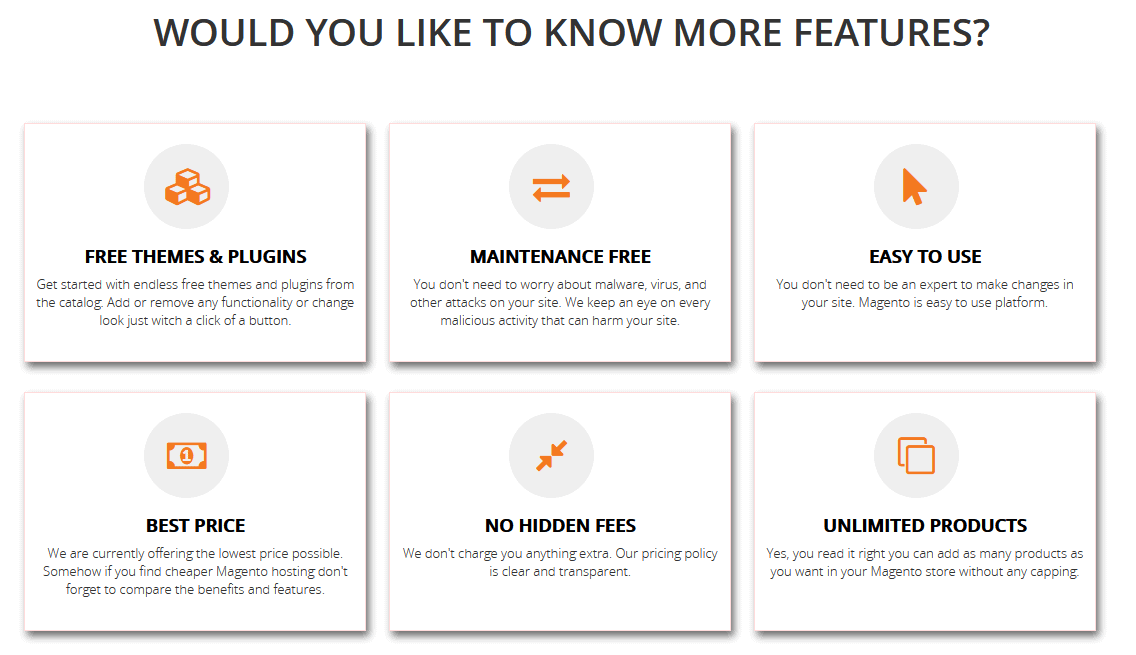 There's 24/7 support through live chat, email, or phone.
However, our tests show that tech problems are best solved through tickets/email
, while live chat is better for general inquiries. Either way, response times are quite fast.
Features
One-click store installation. You can install any major e-commerce platform, including Magento, WooCommerce, PrestaShop, OpenCart, and more, with just one click. Automatic updates of WordPress and other platforms are also included.
WordPress-optimized hosting. InterServer is an excellent choice for WooCommerce stores. Its servers are optimized and pre-configured with the latest technology necessary for WordPress, which improves page loading speeds.
Premium security included. InterServer's Standard shared hosting comes with InterShield Security. This is an in-house security solution that will protect against malicious attacks and constantly monitor your website for malware.
Underloaded shared servers. While other hosts often overpopulate their servers, leading to poor performance during peak times, InterServer never fills its servers beyond 50% of their capacity. You don't have to worry about your online store slowing down on Black Friday or during holiday sales.
Managed E-Commerce Plans
No
PCI Compliant
Not native
Traffic
Unlimited
Uptime Guarantee
99.9%
Storage
Unlimited
Free SSL
Yes, Let's Encrypt SSL
Pricing

$

2.50
Hostinger has some of the most affordable e-commerce hosting solutions on the market.
It may not have all the fancy premium features, but it offers enough e-commerce features to get started on a budget.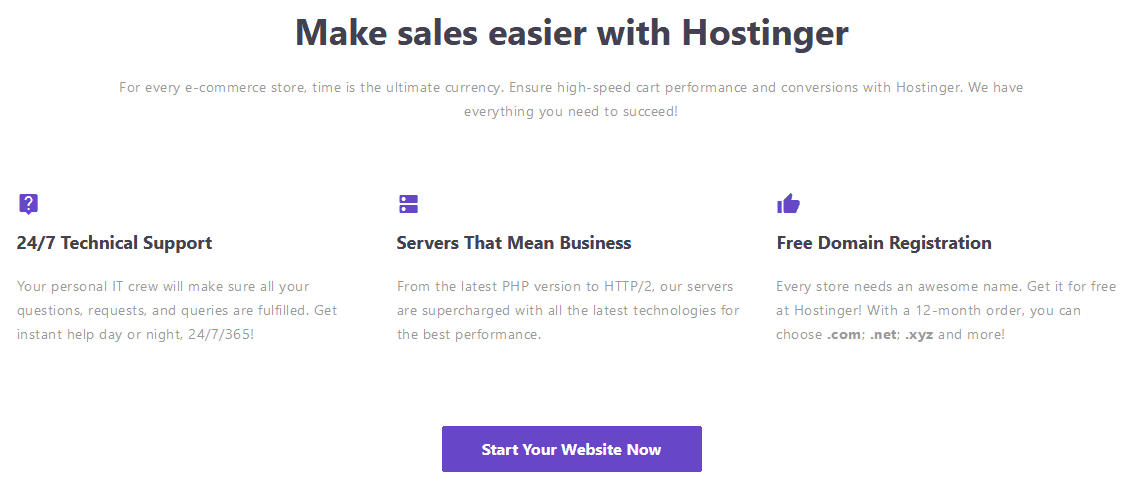 Ease of use is one of Hostinger's strongest suits.
You can get a WordPress website with WooCommerce up and running in less than 10 minutes. All e-commerce hosting plans come with regular backups, free SSL certificates, and a free domain name. There are three different e-commerce hosting options, each optimized for a different platform (Magento, WooCommerce, and PrestaShop).
A free domain name is included with some hosting plans from Hostinger
More importantly, Hostinger's server stack is optimized to deliver blazing-fast page loading speeds for your online store.
For even better performance, you can leverage a CDN. When we tested dozens of web hosts, Hostinger came out on top for page loading speeds.
Features
Magento hosting using Google Cloud. Magento is an e-commerce platform that packs more power than other store options, so it is more resource-hungry. Hostinger offers Magento cloud hosting that runs on the Google Cloud platform for the best possible page loading speeds and reliability.
PrestaShop plans with built-in caching. If you don't need the power of Magento, PrestaShop is a great alternative, and Hostinger's PrestaShop plans are optimized for great performance. You can start with a low-cost plan and easily upgrade as your store grows.
WooCommerce optimized hosting with multi-tier caching. If you prefer the familiarity and simplicity of WordPress, Hostinger's WooCommerce plans are fully optimized, leverage multi-tier caching on the server, and come with the LiteSpeed plugin for even faster speeds. The higher-tier plans also come with Jetpack licenses, which provide off-site backups and enhanced security.
Access manager for easy collaboration. If other team members are helping you run your online store,  the access manager feature lets you create separate accounts for them.
Managed E-Commerce Plans
Managed WordPress and cloud available
PCI Compliant
Yes – native
Traffic
Unlimited
Uptime Guarantee
99.9%
Storage
20GB to 200GB
Free SSL
Yes, Let's Encrypt SSL
Pricing

$

1.99
GreenGeeks is a great solution if you want an online store with a low carbon footprint, and its excellent support is a plus.
 Live chat messages are promptly answered by qualified tech professionals who often go the extra mile to make sure you're happy.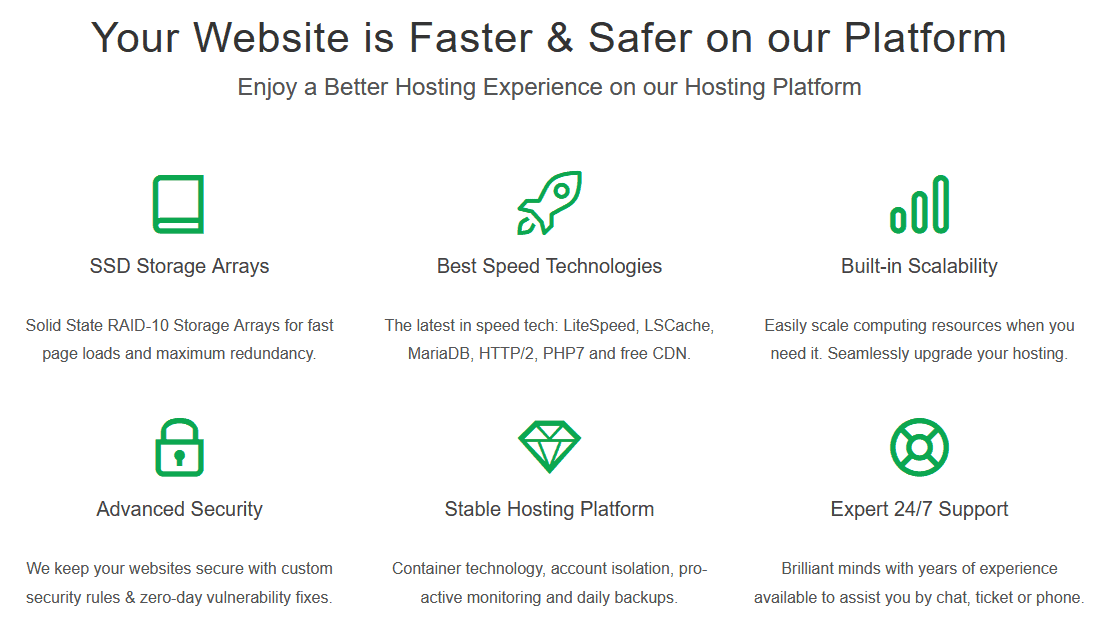 Unlike some hosts, GreenGeeks includes daily automatic backups on all its plans. 
This is great (and essential) protection for e-commerce hosting, meaning you can get your store back online quickly if something goes wrong.
A free domain name is included with some hosting plans from GreenGeeks
GreenGeeks is generous with its resources, too, so you benefit from unlimited storage and traffic as well as a free SSL certificate. You also get the LiteSpeed Cache plugin, which can really boost page loading speeds, preinstalled with WordPress. When we tested GreenGeeks its performance was decent (if a little inconsistent at times) and reliability was excellent, so it can meet the demands of a smaller store.
Features
Eco-friendly e-commerce. If you want to appeal to an eco-friendly audience, your visitors will be happy to know that GreenGeeks works with a nonprofit to make sure its data centers are carbon-reducing.
E-Commerce optimized stack. GreenGeeks' servers are optimized for most online store applications, including WooCommerce, PrestaShop, Magento, and OpenCart.
Increased security. GreenGeeks isolates each hosting environment using Linux's VFS, giving you enhanced security for your store.
Free website migration. If you already have an online store, GreenGeeks will transfer it to its platform free of charge.
Managed E-Commerce Plans
Managed WordPress available
PCI Compliant
Yes – native
Traffic
Unlimited
Uptime Guarantee
99.9%
Storage
Unlimited
Free SSL
Yes, Let's Encrypt SSL
Pricing

$

2.95
A2 Hosting offers great security and high-performing servers.
Its higher-tier plans offer an optional add-on,
Performance Plus
, that increases the RAM and CPU resources on your account as needed. This is a great feature for when you're running a major sale and you're expecting a temporary increase in traffic.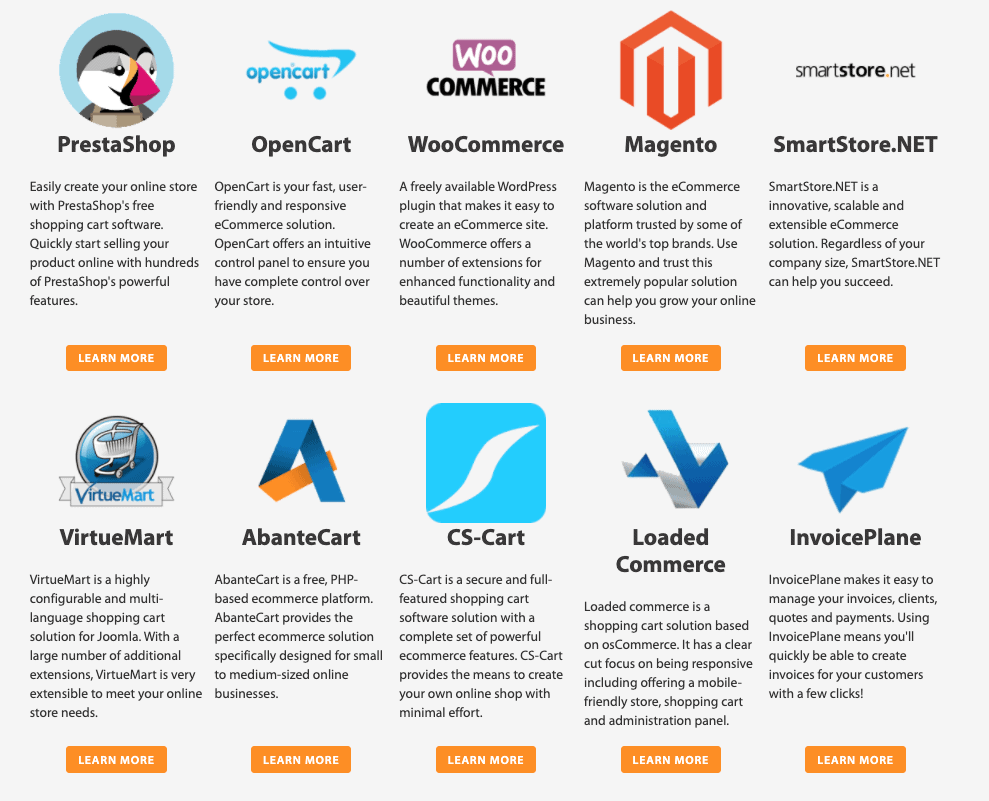 All of A2 Hosting's plans are suitable for building an online store, but I'd recommend opting for the Drive plan or above, simply because the difference in price is pretty small but the Drive plan has more resources (CPU power and RAM) and offers unlimited SSD storage. Even a small difference in processing power and memory can make a big difference to page loading speeds.
When we tested A2 Hosting, it delivered some great page loading speeds and perfect (yes, 100%) uptime – which makes it a great choice for an e-commerce website. If you have a larger site, A2 has Turbo plans that it claims can deliver 20x the performance of its lower-priced plans.
These plans have Turbo servers enabled, run on LiteSpeed OS-based servers, and come with built-in caching features for the best possible speeds.  
Features
Optimized application installations. A2 Hosting has one-click setups for all the major e-commerce applications – WooCommerce, Magento, PrestaShop, OpenCart, AbanteCart, and more. These A2 Optimized applications are pre-configured with settings and optimizations for the best performance.
Detailed visitor information. You get in-depth, visualized statistics on the people who visit your online store. Things like number of visits, visit duration, rush hour, or most-viewed pages can inform your business decisions.
A2 Optimized plugin. Like a lot of hosts, A2 Hosting has developed its own plugin for managing optimization features like caching and minifying JavaScript and CSS. The plugin gives you optimization advice and warns you when there are issues that could be affecting your online store's performance. This makes it easy to ensure your site is fully optimized at all times, giving your customers the best possible experience.
NVMe storage. The Turbo plans come with NVMe storage, an enterprise-grade SSD technology that delivers outstanding data retrieval speeds. With it, your store will load faster, no matter how many visitors you have at once.
Managed E-Commerce Plans
Managed WordPress available
PCI Compliant
Not native
Traffic
Unlimited
Uptime Guarantee
99.9%
Storage
10GB to unlimited
Free SSL
Yes, Let's Encrypt SSL
Pricing

$

2.99
Cloudways is an excellent platform for managing top cloud infrastructures.
It's a great choice if you need more power than a shared plan can offer, but you don't want to deal with all the tech details of cloud hosting. Major cloud companies don't do server administration and this is where Cloudways comes in.
The company can manage Google Cloud, AWS, DigitalOcean, Vultr, Linode, or any combination of them on your behalf. What's more, there's a no-credit-card-required 3-day free trial 
– and you only pay for the resources you use.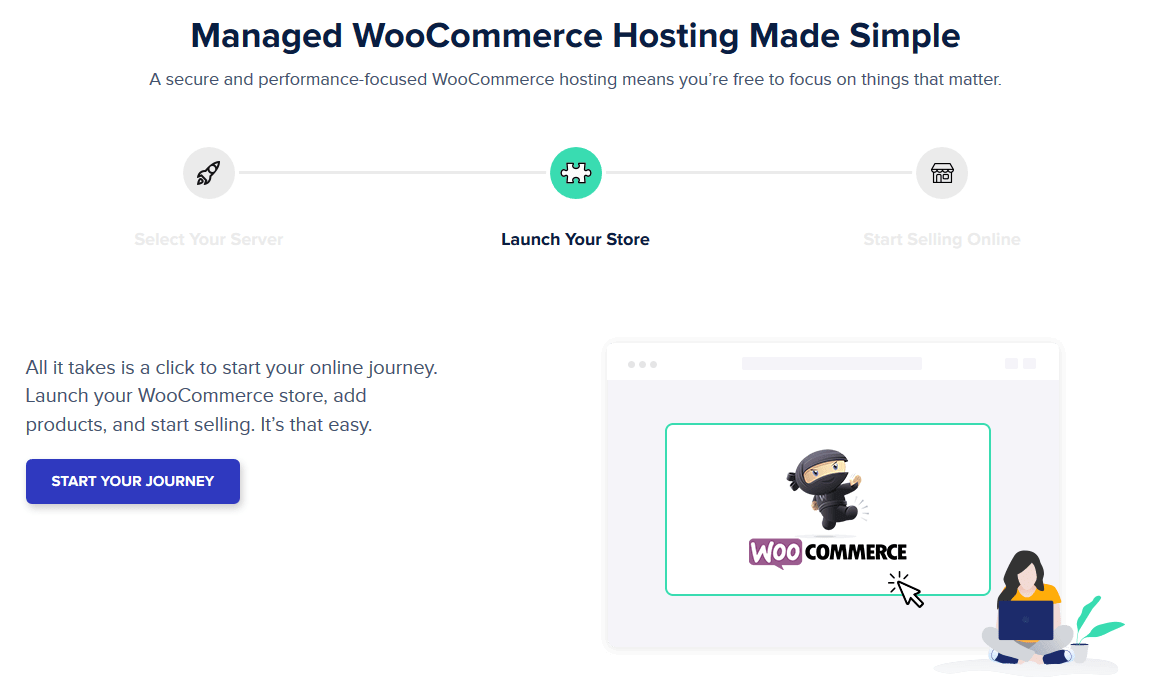 Cloudways is more expensive than some other hosts, but you get a lot of value for your money.
For example, you get one free managed migration (and a migration plugin to DIY later on), you can ask the team to configure caching for you, and you'll be immediately notified if your server stack is experiencing downtime.
For a full evaluation of Cloudways' features, read our expert review
.
Features
Advanced server caching. Memcached, Redis, and Varnish are enabled by default. These are complex, speed-enhancing tools that will help your store load faster on all platforms.
Easy launch. If you're starting your first e-commerce store, Cloudways' simple, three-step process will get you there in no-time. Major CMSs are supported, but you can also get help with custom-built PHP sites.
E-Commerce application and/or server cloning. Make important changes to your online store on a mock-up version with app or server cloning. Push them to live only when you're sure the updates don't break your site.
CloudwaysBot. Although a paid feature, the performance insights and real-time alerts are worth it. Receive a notification if your stack is working slowly or down, custom events, or if there's anything you can do to speed up your online store.
Managed E-Commerce Plans
Yes
PCI Compliant
Yes – native
Traffic
Unlimited, but paid
Uptime Guarantee
99.99% or 100%, depending on the cloud platform
Storage
20GB to 3840GB
Free SSL
Yes, Let's Encrypt SSL
Pricing

$

11.00
If you're looking for an affordable e-commerce host that will deliver the best speeds for shoppers in the Asia-Pacific region, FastComet is it.
There are four data centers in this region, so if your customers are based in Australia, Japan, India, or any of the neighboring countries, you can host your site on one of these servers to give them a better shopping experience.
FastComet's web hosting plans aren't just good for Asia and Australia, though
– it actually has 11 data centers around the world, so it can deliver great page loading speeds no matter where your visitors are located. It comes with a CDN, too, which is a bonus if you're targeting a global audience. When we tested it, page loading speeds were excellent. Although
FastComet's plans are not designed specifically for e-commerce (so no bonus features), they run on CloudLinux OS-based servers, so they're better able to cope with the demands of a store than regular shared hosting.
FastComet's managed hosting plans are easy to scale, too,
so as your online store grows, you can upgrade in a couple of clicks. Essentials like automatic updates and daily backups are included on all plans, too.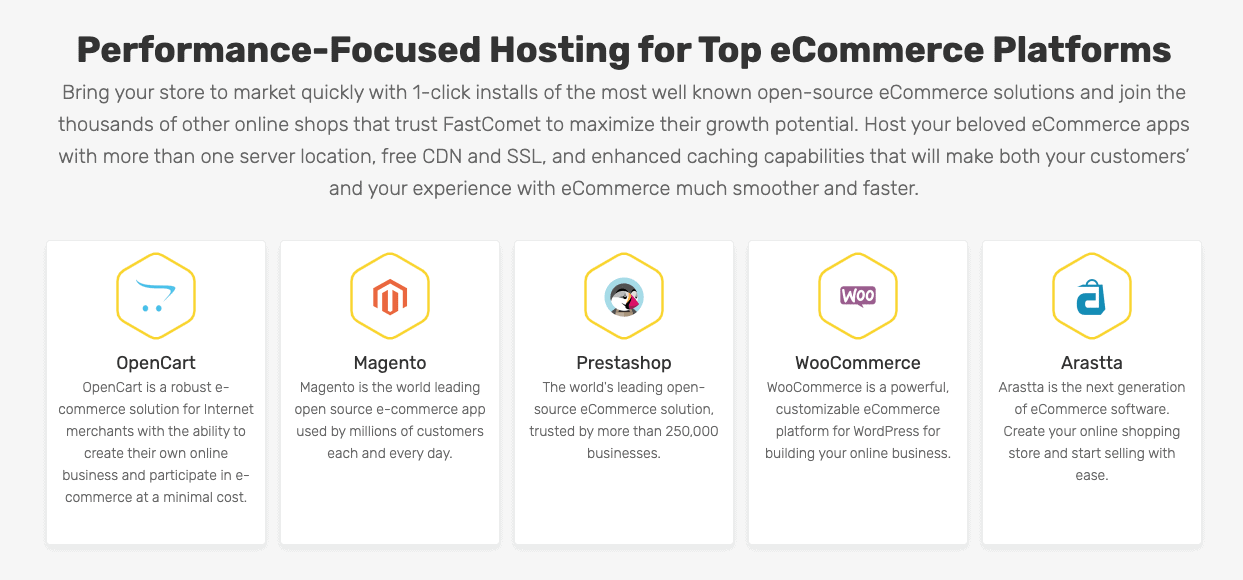 Features
Expert application installation. Because FastComet's e-commerce plans are fully managed, you can request that the support team install your online store application for you and configure it for the best performance.
RocketBooster servers. If you want high-performance hosting, opt for the RocketBooster WooCommerce optimization, which includes advanced caching and other speed optimizations.
E-Commerce security.  The host includes specific layers of security for WooCommerce websites, such as custom Web Application Firewall (WAF), DDoS protection, malware scans, and more.
Dedicated e-commerce support. Whether your store runs on Magento, WooCommerce, or OpenCart, the tech team can provide specialized support when you need it. This includes optimizations, configurations, and even custom setups for your store.
Managed E-Commerce Plans
Yes – specialized e-commerce support
PCI Compliant
Not native
Traffic
Unlimited
Uptime Guarantee
99.9%
Storage
15GB to 35GB
Free SSL
Yes, Let's Encrypt SSL
Pricing

$

2.19
Which E-Commerce Web Host Is Right for You?
Selecting a host for your e-commerce website resembles selecting your next car – no single host or plan suits everyone, but all the hosts listed here possess the necessary features for hosting an online store. The suitable choice for you hinges on the nature of the online store you intend to host and your inclination towards a hands-on or hands-off approach.
If you're looking to build your online store with WordPress and WooCommerce, Nexcess is the obvious choice.
 It's packed with premium features and is fully managed – but it isn't the most budget-friendly, unfortunately.
Kamatera is a great choice for high-traffic stores.
Not only does it offer powerful cloud hosting, it's also a great deal in terms of flexibility and cost.
If you only have a handful of products to sell, a shared e-commerce hosting plan by InterServer could be a much better fit.

Its WordPress-optimized hosting can improve your store's performance greatly, and since its shared hosting, it comes at a considerably lower price than some alternatives.
Standout Feature
Optimized for e-commerce
Starting Price
Nexcess
Outstanding value for WooCommerce online stores

✔

$

21.00

Kamatera
Highly versatile server configurations

✘

$

4.00

InterServer
Shared plans with premium e-commerce security and guaranteed email delivery

✘

$

2.50

Hostinger
Low-cost, high-performance e-commerce plans with WordPress accelerators

✔

$

1.99

GreenGeeks
Carbon-reducing hosting for online stores

✘

$

2.95

A2 Hosting
Turbo servers for e-commerce websites

✔

$

2.99

Cloudways
Managed services for cloud with a lot of advanced features for e-commerce

✔

$

11.00

FastComet
Budget e-commerce hosting with good data center coverage in Asia

✘

$

2.19
FAQ
Which web host is the best for an e-commerce site?
There is no one-size-fits-all e-commerce host or web hosting plan. If your store is pretty small, you can save money with a shared hosting provider like InterServer.

If you're looking for something a little more powerful,

Nexcess offers managed WooCommerce hosting with tons of premium e-commerce features.
Is hosting an e-commerce site expensive?
Not necessarily. You can host a small store on an optimized shared hosting plan at budget-friendly prices,

InterServer offers amazing shared e-commerce hosting plans at affordable rates.
What should I look for in an e-commerce hosting plan?
First of all, look for services that offer one-click e-commerce setups. Magento is the preferred CMS for online stores, but you might find WooCommerce (which runs on WordPress) more beginner-friendly. Other things to look for include the host's performance and any value-added extras that are included (such as free plugins and tools). Luckily for you, we've compiled the eight best options for e-commerce hosting. Each one of which could be the best choice for you, depending on your needs.
Can you host an e-commerce site on a shared hosting plan?
Absolutely. In fact, most newcomers to selling online purchase a shared plan and install one of the popular online store platforms on it. These often have more resources than you'll need for a low-traffic e-commerce website. InterServer is my favorite pick for shared e-commerce hosting

. It's easy to use, feature-packed, and the prices aren't anything to scoff at either.