Plugins which take into account both design and function
. We pulled together five of the best. They do vary when it comes to their individual features, Unique Selling Point (USP), and pricing. The right choice for you will depend on your individual goals, industry, and audience.
Managed WordPress Hosting Makes Your Life Easier
You want to focus on driving traffic to your landing page and increasing your conversion rate. You don't want to spend hours trying to figure out the best server configurations or security settings. We totally get that. Fortunately, with
managed WordPress hosting
, you can focus on your real job. A top-rated host like
WP Engine
will take care of all the dirty work for you – everything from daily backups to plugin updates. It's no wonder it gets
such good reviews
. You'll get plenty of storage space and bandwidth, so you'll never have to worry about your site performing poorly just at the moment when it matters most. And there are also extra perks, like a global CDN to speed up your loading times and a free SSL certificate so your visitors won't have to think twice about entering their details in your signup form.
The 5 Best WordPress Landing Page Plugins
#1: Elementor
As one of the highest rated WordPress page builders out there, it's not surprising that there are more than one million professionals that currently rely on Elementor to construct their websites and landing pages.
Features
It goes without saying that not all WordPress page builders are great for landing pages. However, Elementor is easy to love for the following reasons:
Straightforward to Use: The Elementor interface allows you to select and edit each element on your landing page. The drag-and-drop functionality gives you the utmost control without needing to edit a line of code.
Attractive Visual Design: There is an abundance of Elementor templates to choose from. Some of the free ones might be more simplistic than the choices on offer with the Pro version, but they're still just as impactful and focused on conversions.
Independent of Your WordPress Theme: Elementor recently released Canvas, which helps you to build a landing page using a completely blank template. It opens up a multitude of possibilities.
Fast Performance: Live, inline editing allows you to see and make changes incredibly fast and easy, and allows you to update current content as needed.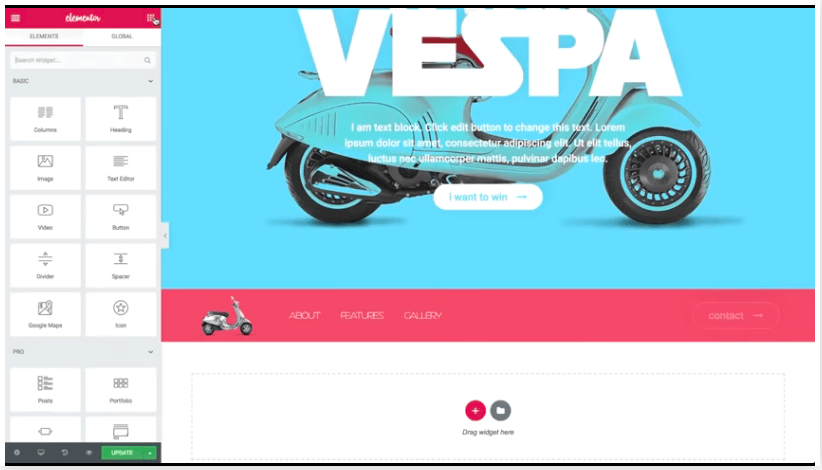 The USP. If you're looking to create an email opt-in form, you can do that with Elementor (Pro version) without having to use another plugin. Have you already got an email opt-in plugin? No problem—Elementor currently has API integrations for MailChimp, ConvertKit and ActiveCampaign, and several other options.
Pricing
The free version of Elementor has a
limited
number of templates and designs for your landing page. However, there is a three-tier Pro version (for one, three, or unlimited sites) that is very reasonable and has a lot more to offer. Their one-off fee will last you a year and give you access to more than 50 widgets, 300+ templates, as well as premium support from the Elementor team.
Read our full review of Elementor for more information.
#2: Thrive Architect
Another popular WordPress landing page plugin option is Thrive Architect
. They claim to be the fastest, truly visual editor for WordPress, and from what we've seen, they certainly go a long way to deliver on this promise.
Features
Thrive Architect has a wide range of features, including the following:
Fully Customizable Landing Page Templates: This plugin has 270+ attractive templates available at present, which are categorized by themes so that you can construct a cohesive brand experience.
No Coding Required: The drag-and-drop feature is extremely straightforward to use and intuitive if you're building or editing your landing page.
Works with Your Current Theme: The wonderful thing about Thrive Architect is that you can tie in your landing page with your current WordPress theme or make it a completely standalone design. The decision is yours.
Ability to Personalize Mobile Responsiveness: As well as being able to instantly preview your page on different screen sizes, you can also toggle the visibility, tweak the layout, and change the position of certain elements according to your required screen sizes.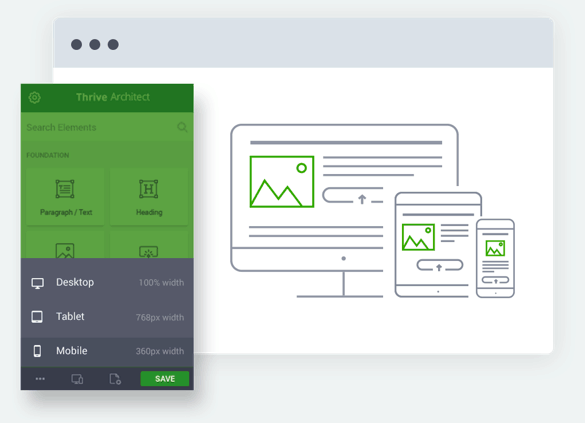 The USP. More so than any other WordPress landing page plugin currently available, Thrive Architect is focused on conversion. This is particularly important for landing pages, whose sole focus is generally centered around a particular CTA. You won't need to integrate additional plugins, as Thrive Architect's toolbox includes everything from testimonials to lead generation forms, countdown timers, and all of the stylized formatting that has been proven to lead to higher engagement levels.
Pricing
Unfortunately, there isn't a free Thrive Architect option available at the moment. You can opt for the Thrive Membership pack, which gives you access to all their plugins and themes for up to 25 websites. However, it will cost you a pretty penny (paid annually). Alternatively, you can opt for either a single-site license or five-license pack for a one-time, less expensive price.
#3: OptimizePress
This is a WordPress landing page plugin that has been around for longer than most of the other options on the list. OptimizePress has a loyal following of "solopreneurs" and small businesses, and their templates supposedly
convert over 4.5 million opt-ins every month
.
Features
OptimizePress has an array of cool features, such as the following:
Unlimited Pages Available: There's no limit to the number of landing pages (or sales pages, etc.) you can create on each site that you license with the plugin.
An Array of Templates On Offer: OptimizePress has more than 60 pre-designed templates. They also have the OptimizePress Marketplace where you can purchase an additional 300+ templates.
Simple to Use: Although pretty standard amongst all of the options on the list, it's worth noting that the plugin's drag-and-drop editor makes designing a landing page a breeze.
A/B Testing: Offers unique split testing capability that can be integrated with third-party A/B testing tools like Optimizely and Visual Website Optimizer. (Only available on Publisher and Pro plans.)
Versatile: You can either use OptimizePress alongside your current WordPress theme or create an independent look and feel.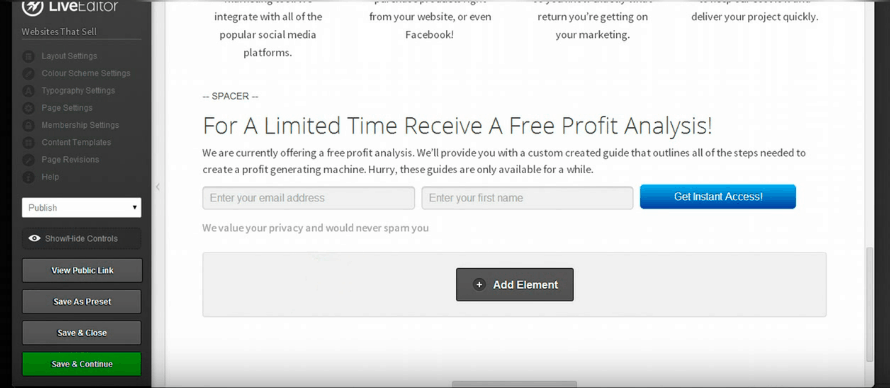 The USP. More so than other options on this list, OptimizePress offers a wide range of email marketing and CRM integrations. This is particularly useful when the purpose of your landing page is lead generation (as it so often is), or to get someone to sign up for your offer or newsletter.
Pricing
OptimizePress is more expensive than Elementor and Thrive Architect for their Core package, which consists of a three-site license for a one-time fee, including a year of support and updates. They also have Publisher and Pro packages for ten and 30 sites, which are both significantly pricier, but all come with a 30-day money back guarantee.
#4: Beaver Builder
Beaver Builder has helped accelerate the landing pages of big website names like GoDaddy and Crowd Favorite. They presently have a community of over
500,000
businesses.
Features
Beaver Builder might be a theme and plugin combination, but you can just opt for the plugin with a variety of features:
Easy to Use: Beaver Builder is incredibly simple to figure out if you're new to the world of landing page design. Merely drag and drop different elements according to your visual preferences.
Works With Your Current Theme: Beaver Builder allows you to effortlessly create a connected brand experience. However, 100% customization isn't available unless you buy a Beaver Builder theme.
Designed Specifically for WordPress: Beaver Builder can work with any existing WordPress theme, and, if you choose to stop using the builder, continue with your existing designs in the WordPress editor.
Mobile Friendly: The plugin's interface is very intuitive and responsive to mobile devices.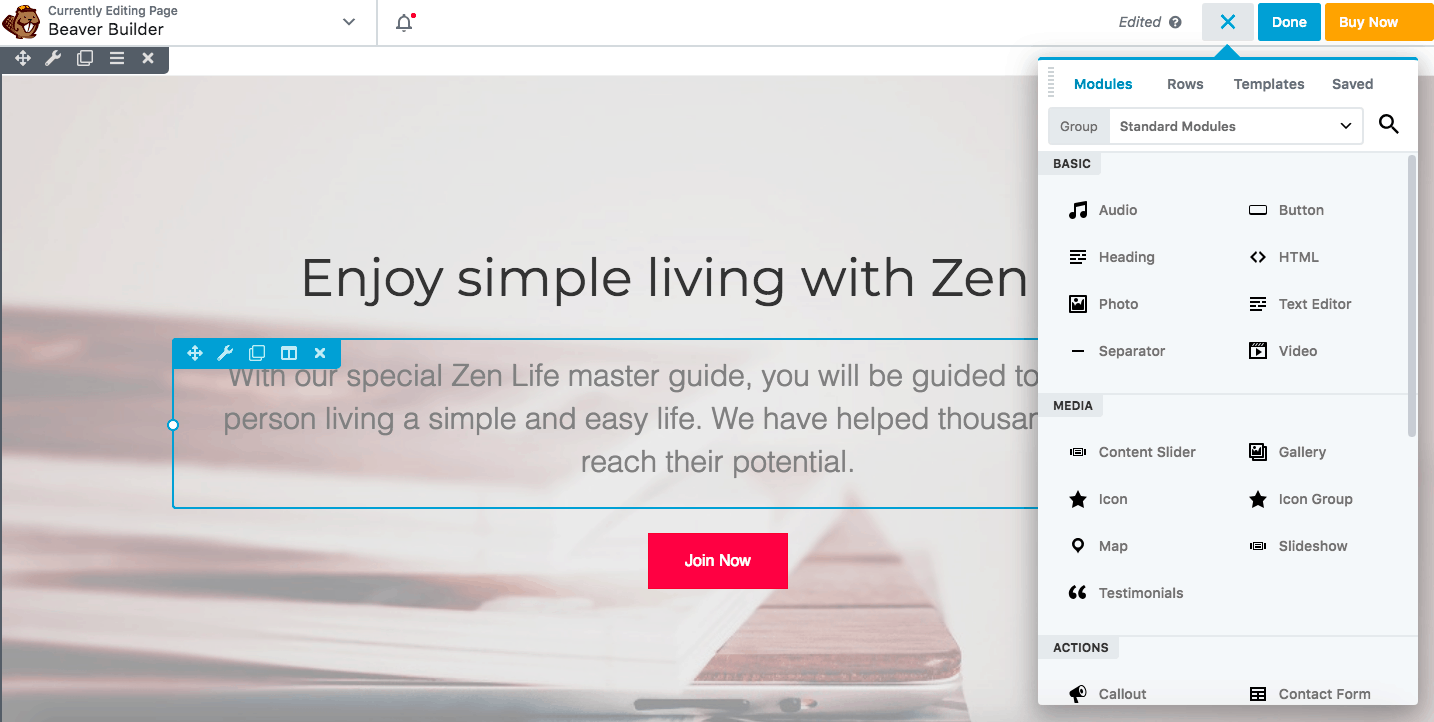 The USP. The special thing about Beaver Builder is the import and export feature. It allows you to share your layouts with others, migrate your website, or reuse previous designs. This is an effective time-saver if you've had a past campaign that has performed particularly well and you're looking to replicate its success with your next campaign.
Pricing
You can access a free lite version on WordPress, but please note that its functionality is somewhat limited. Additionally, we offer three paid options that enable you to utilize the plugin on an unlimited number of websites for a duration of one year. The premium packages, which come at a higher price point, encompass features like white labeling and multisite compatibility. Whichever package you choose, you'll receive world-class support from the Beaver Builder team. You can also test out their full demo on their website before making a purchasing decision.
#5: Leadpages
Leadpages is a landing page creation platform
whose primary aim is to improve your generation strategy online
. It isn't limited to WordPress, but it does include a WordPress plugin.
Features
Leadpages is presently very popular on the blogosphere—and it's not difficult to understand why. Their abundance of features include the following:
Incredibly Fast Process: You can develop and publish one of the Leadpages landing pages in minutes.
Diverse Designs: Simply plug your information into one of the 350+ templates and then away you go. However, some of these templates are made by third-party developers, and only 70 are included in your subscription price.
Simple Editing: You can easily tweak a Leadpages template with their drag-and-drop visual editor.
Independent of WordPress Themes: Gives you complete creative freedom and the ability to develop variable landing page designs.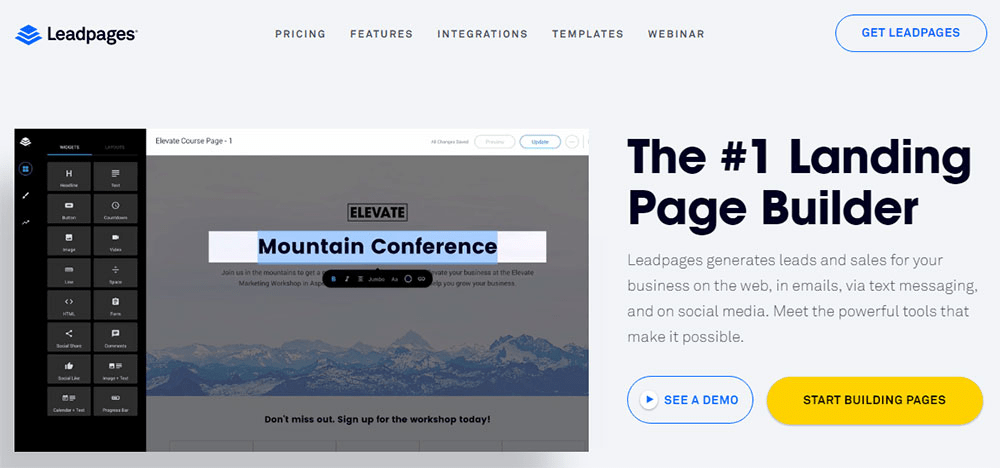 The USP. The beauty of Leadpages is that they handle the hosting of your landing page and digital assets, by providing you with a free, secure, custom subdomain for each landing page that you create. You can also access your landing pages for multiple websites through the Leadpages dashboard. This helps you to avoid having to go back and forth between different websites to make adaptations, saving you both time and energy.
Pricing
Leadpages is one of the most expensive landing page plugins. However, they do allow you to participate in a 14-day free trial before commiting. The Standard, Pro, or Advanced packages can be billed monthly, annually, or biannually (prices go up the more frequent the billing). Each tiered option unlocks additional features, such as online sales and payments and unlimited A/B testing (Pro) as well as advanced Hubspot/Salesforce integrations and virtual workshops (Advanced). All packages come with unlimited mobile responsive pages, free hosting, and weekly Q&A coaching calls for your convenience.
Which WordPress Landing Page Plugin is Best for Your Business?
Working out which WordPress landing page plugin will best suit your business can be rather challenging. However, to summarize:
If you don't have an initial budget, try Elementor for free
If you want a diverse range of features that convert, Thrive Architect could be a good choice
If you are looking to integrate a wide range of email marketing services, test out OptimizePress
If you want an option that works with your current WordPress theme across multiple websites, experiment with Beaver Builder
If your business is rapidly growing and you need a solution in minutes, Leadpages is the one for you
Either way, any of these plugins are guaranteed to build you a high-performing, aesthetically pleasing landing page that converts. Just give them a try.
---
Sources
https ://searchengineland.com/7-conversion-rate-truths-will-change-landing-page-optimization-strategy-191083
https ://unbounce.com/what-is-a-good-conversion-rate/
https ://elementor.com
https ://thrivethemes.com/architect/
https ://www.optimizepress.com
https ://www.youtube.com/watch?v=bX6_KX1J9y8
https ://www.wpbeaverbuilder.com
https ://www.leadpages.net
Featured Image
https ://unsplash.com/photos/FlPc9_VocJ4