We noticed that ever since Hostinger reduced their prices, many users are closing their accounts with Cloudways.
Introduction
Although I was impressed with Cloudways, I realize this managed cloud hosting provider may not be right for everyone.
Perhaps it offers far more power than necessary for where you're at, and you just need a simple web hosting company like SiteGround or one of our other recommended alternatives. Or perhaps you'd prefer more beginner-friendly tools like a website builder or a more robust one-click installer.
Whatever your reason for wanting to cancel, this article will walk you through the entire process of canceling your account and getting a refund.
How to Cancel Your Account with Cloudways and Get a Refund
First, it's important to note that Cloudways does not offer a money-back guarantee. Instead, there's a three-day free trial and you'll only ever be charged for the resources you've used, which I think is pretty fair.
You won't need to enter your credit card details for the free trial, so there's no risk of being billed by mistake. But if you decide to upgrade at any point during or after the free trial, your account will be charged accordingly.
I needed to upgrade to install the CDN, so I had to cut my trial short. However, shortly afterward I decided to cancel the account and request a refund. This would've been straightforward if I didn't want a refund, but as I did, the process was a little trickier.
Canceling an Account
To cancel your account without requesting a refund, simply log into your dashboard and select Account from the header bar.

You'll see a page where you can change your account settings. Here, scroll down to the bottom, click on Cancel Account, and tick the checkbox to indicate that you understand and accept the terms and conditions.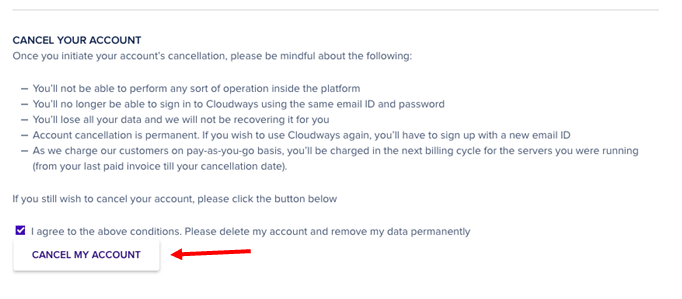 It's as simple as that and can be done without having to talk to customer service. The whole process takes less than 30 seconds.
Getting a Refund
The refund process is a little more complex. There isn't a standard refund policy, so it's really down to customer service to help you out.
To request a refund, I sent a message via live chat. Since it was the CDN that was incurring charges on my account, the live chat operator asked if I'd already removed it from my account. I hadn't, so they kindly offered to deal with it for me.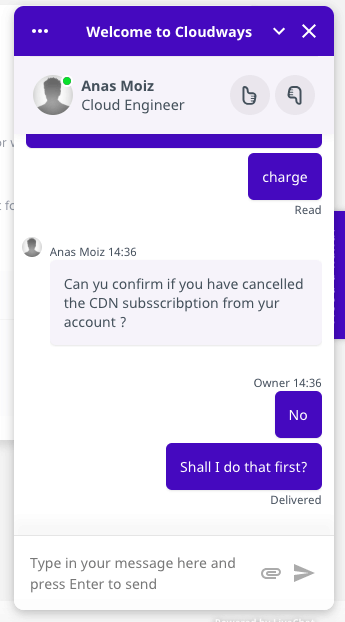 I then had to wait for an email confirming the next steps, which took only a few minutes to arrive. (A pleasant surprise!)
In the email, the agent informed me that if he downgraded my account to the free trial, it'd delete the server I'd just created and I would no longer be able to test the platform. Instead, he generously offered me free hosting credit so I could continue to try out the service. Cloudways also gave me a small amount of free credit towards my invoice for the CDN, which I greatly appreciated.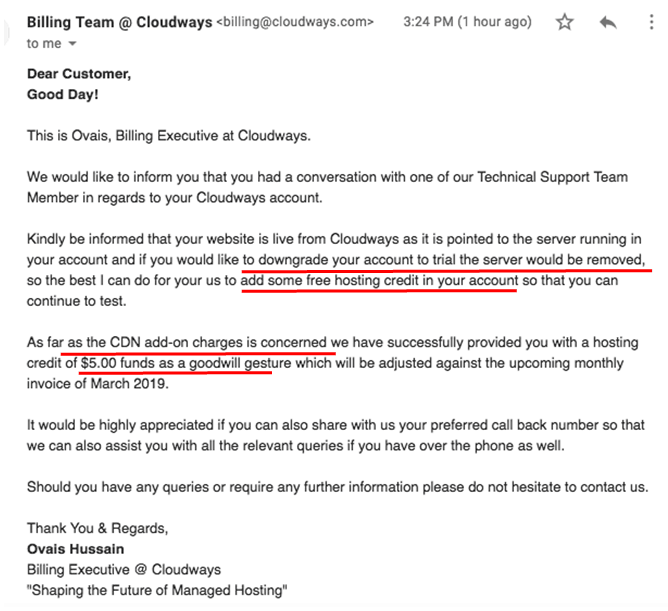 Conclusion
It wasn't a refund per se, but it was certainly above and beyond what Cloudways needed to do — especially given that my request was well outside the norm. At no point did the support agents try to convince me to stay. In fact, Cloudways is one of the few hosting providers I've seen that makes it so easy to cancel your account.
Cloudways Alternatives
Even though I was satisfied with Cloudways, I realize it might not be right for everyone. If you're looking for a platform that's more beginner-friendly, try Bluehost instead. Alternatively, if you're looking for a company that offers more advanced features specific to WordPress or WooCommerce, check out our Liquid Web review.