You don't need to be an artist to mint your own NFTs
(non-fungible tokens). Sure, artists and designers kick-started the trend – but that doesn't mean you have to miss out on making some serious moolah. To make an NFT, all you need to do is own a piece of media.
And you can commission NFT media from freelance designers just like you would any other project.
But with dozens of freelance websites offering a quick and easy way to hire an NFT designer or artist, how do you know which platforms are reliable? Wonder no more, my friend –
I've tested the best freelance websites on the market.
From budget-friendly professionals to world-class graphic designers, these websites have all the tools you need to kickstart your crypto career.
Short on Time? These are the Best Sites to Hire NFT Designers in 2023
Fiverr – The highest quality and largest number of NFT designers I've found on one platform. Easily find an NFT artist to suit your budget, with many freelancers offering services for as little as $5
Upwork – Get full ownership and commercial rights for your projects following payment, ideal for NFT commissions
Freelancer.com – Hire an NFT professional for your project, and do it very quickly
What We Look For in the Best Sites to Hire NFT Designers
Not every freelancer website is built the same. And when you're looking to hire an NFT designer, you'll want certain features and guarantees. With that in mind, here's what I looked for when researching this article:
Easy filtering system: With thousands of freelancers to choose from, you'll need a filter to help you find the right NFT artist for your project.
Designer portfolios: These websites all allow freelancers to upload examples of previous projects, so you can make sure their style suits your NFT idea.
Wide range of art styles: Whether you want 2D pixel art or a 3D animated GIF, these websites have a range of art styles to choose from.

Intellectual property (IP) rights: The trade of NFTs can cause legal issues. These websites either grant or allow you to purchase full intellectual property rights.
A Note on Intellectual Property Rights for NFTs
Because you're purchasing an NFT design to mint and sell under your name,
I can't stress enough how important it is to make sure you have the legal ownership of and (if necessary) commercial rights for your artwork.
Typically, when you commission artwork under a work-for-hire agreement, you'll automatically be granted ownership of that work once you've paid your invoice.
You'll be able to sell the original artwork as an NFT, but you can't make copies or distribute it elsewhere.
So, if you're just selling the one NFT, chances are you'll only need ownership rights. However, if you want to sell multiple NFTs using the same artwork, you can potentially run into legal issues.
You'll need commercial usage rights to be able to make and sell copies of that artwork.
Both ownership and commercial rights are usually (but not always) covered by intellectual property rights.
When you're commissioning an NFT design, I recommend that you go through the platform's terms and conditions over work ownership with a fine tooth comb. Make sure you also ask the NFT artist whether you'll get full commercial usage rights following payment and, ideally, get this in writing.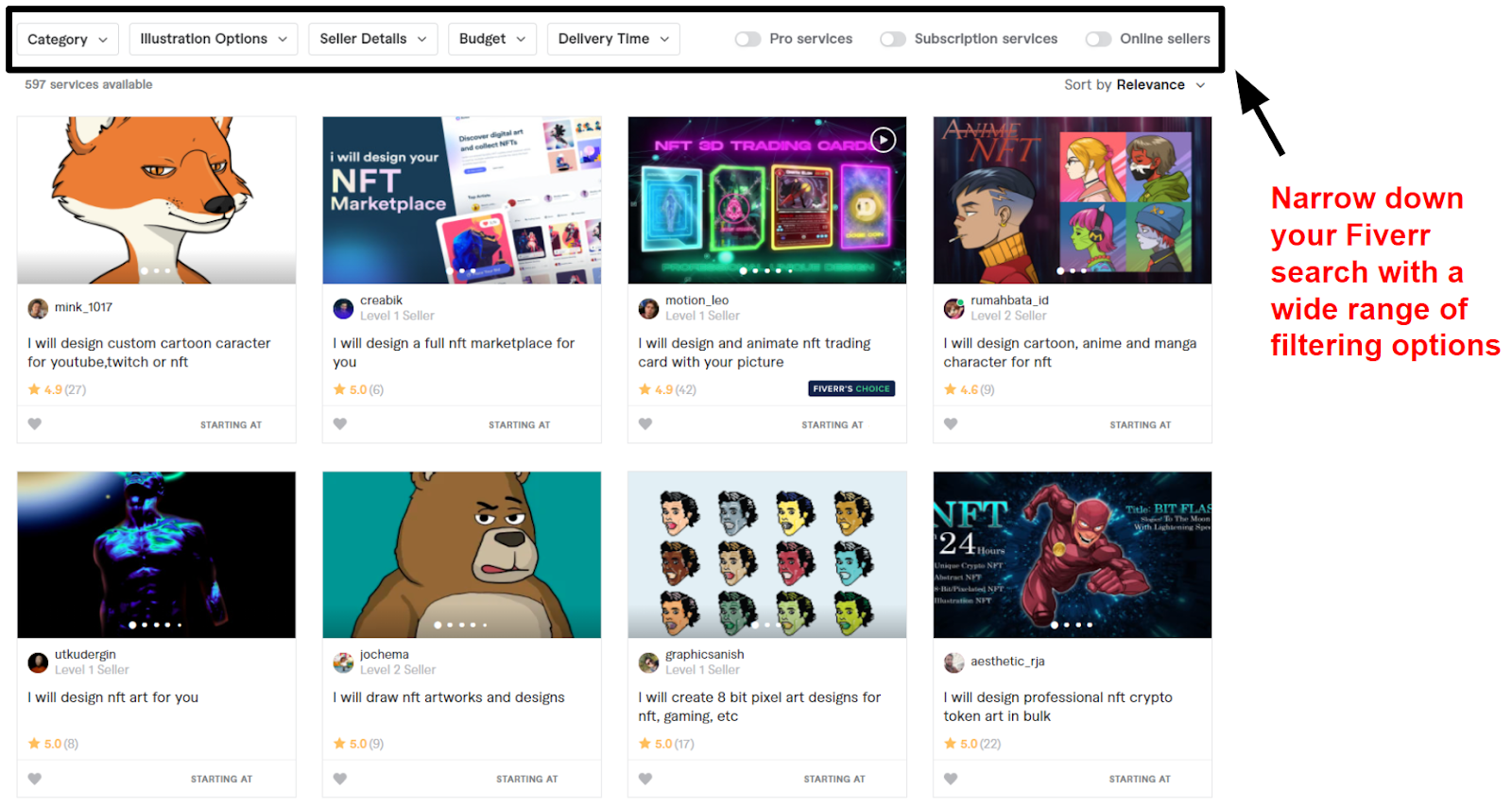 Fiverr is one of the best websites for hiring freelancers
because it's so popular with freelancers themselves.
With thousands of graphic designers using the platform and hundreds of NFT-specific gigs to choose from, there's bound to be a freelancer for you.
Plus, many
NFT professionals on Fiverr offer their services for as little as $5
, so you can easily find a designer to suit your budget. The platform offers multiple search filters and the interface is intuitive and easy to navigate, which is a huge timesaver. The only thing to note is that
not every Fiverr seller offers commercial use of their work
, and you can't filter designers based on whether they offer this. So, if having commercial usage rights is important to you, be prepared to spend a little more time finding a designer for your project.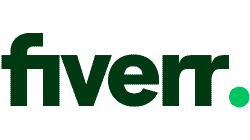 Get an additional 10 % OFF any Fiverr plan!
Don't miss out on this great deal!
50 users used this coupon!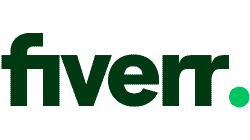 Fiverr 10% off
Copy and paste this code at Fiverr
Features
Fiverr hosts a huge number of freelancers. You'll find thousands of talented artists who can create unique designs based on your requirements for as little as $5.
Finding the right freelancer is easy with the platform's advanced filters. You can pick between 2D and 3D art, and there's a large collection of styles to choose from. Remember, this is an emerging industry, so any extra choice is a bonus.
Fiverr is clear about your legal rights. You get full ownership of your commissioned design once you've paid for the work. Every designer on Fiverr works under the same legal contract, so you don't need to spend hours poring over endless legal jargon to make sure your designer offers what you need.
Fiverr offers payment security. Fiverr takes agreements between buyers and sellers seriously. If an order isn't delivered as promised, requesting and receiving a refund is pretty straightforward.
Read our
expert Fiverr review
 for more details.
| | |
| --- | --- |
| Service fee | 5.5% plus $2 on orders under $50 |
| NFT-specific designers | Yes |
| Ownership Rights | Yes, automatically granted upon payment |
| Commercial Rights | Purchased directly from sellers, but note that not all designers offer this |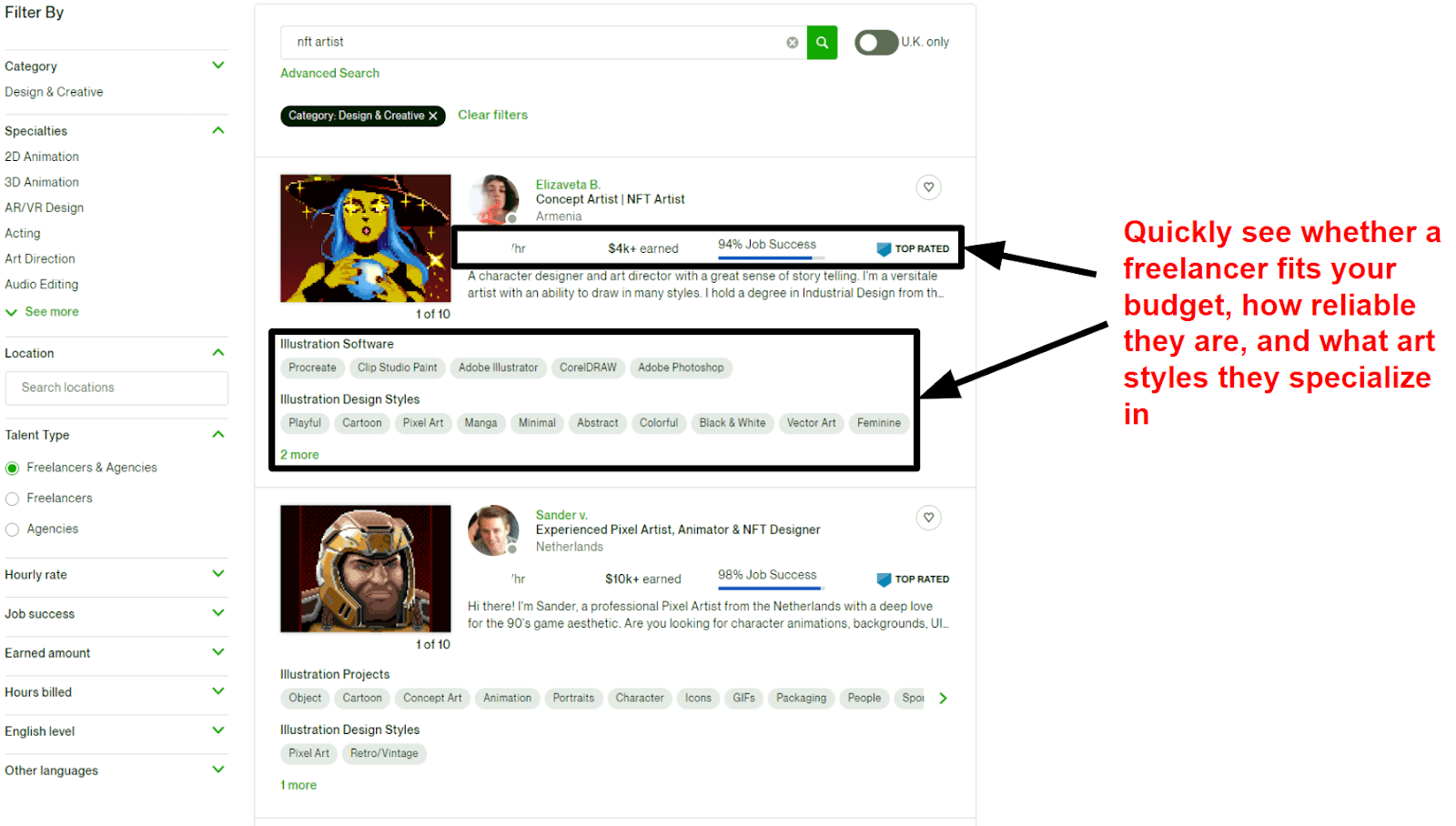 Upwork's well-known for hosting a wide range of freelance artists and designers, from complete newcomers to the industry to highly rated professionals.
It's easy to search through the directory of NFT professionals on Upwork,
and you can see their key attributes right away in the search results. The only problem with Upwork is that the UI is pretty clunky and outdated.
The design makes it look like you can click on the skills listed for each freelancer, but you can't.
This is a big letdown if you want to filter your search by specific art styles.
Features
Post a job and invite freelancers to view your project. It's free to list a job, and it can potentially save you time hunting through hundreds of freelancer profiles.
Access detailed profiles and portfolios. Upwork profiles include information about each NFT designer, including their rate, formal education, work experience, and other similar projects they've worked on. You can also view recent client feedback to see what they're like to work with.
Under Upwork's standard contract, all intellectual property rights are transferred to you upon payment. You also get the right to distribute your design as standard, which is super useful if you want to release multiple NFTs.
Your money is safe on Upwork since payments aren't released until buyers approve the submitted work. If you request a refund for a job that was recently completed, you'll usually receive the funds within 5 business days.
Read our
expert Upwork review
 for more details.
| | |
| --- | --- |
| Service fee | 3% |
| NFT-specific designers | Yes |
| Ownership Rights | Yes, automatically granted upon payment |
| Commercial Rights | Yes, automatically granted upon payment |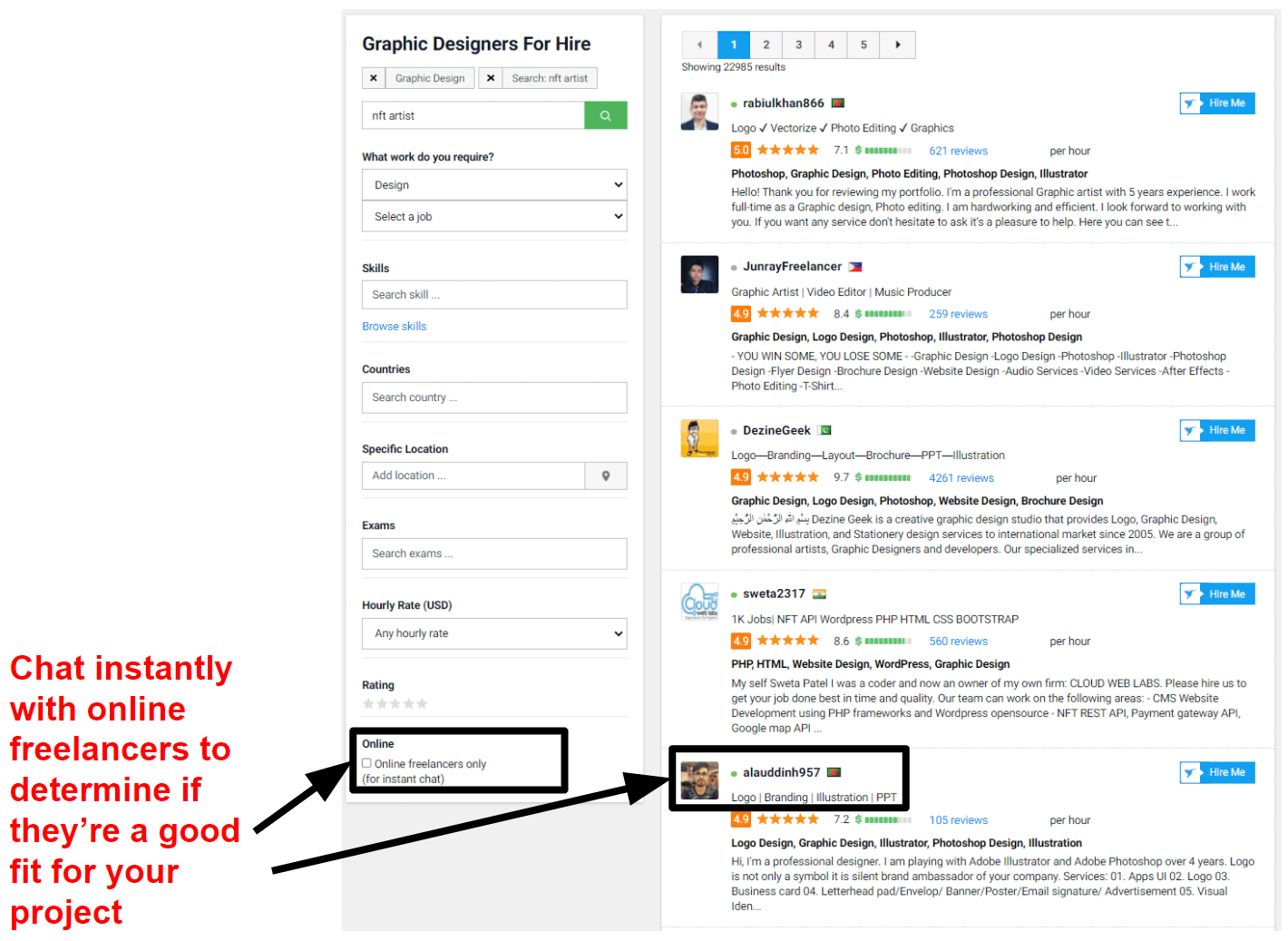 Freelancer.com prides itself on hosting a directory of freelancers from around the world. And
although I struggled to find any NFT-specific designers, there's a decent number of graphic designers that you can choose from.
Hiring from Freelancer.com is simple
. You can either contact a freelance designer directly, post a job, or use their Recruiter Service to receive a hand-picked list of designers.
You can even hire a project manager to work with freelancers on your behalf, which is super useful if you're looking to commission multiple NFTs at once.
If you're considering commissioning an NFT from Freelancer.com, be aware that it might only cover the sale of a single NFT, not multiple copies.
Features
Freelancer.com is very easy to use. Although not as cost-effective as some other options on this list, Freelancer has an intuitive interface. The project templates helped me set up and publish my NFT design job in less than 20 minutes.
There's plenty of flexibility when it comes to hiring options. You can purchase gigs (much like Fiverr) or post jobs and have freelancers bid on them.
The desktop app can help you stay on top of your freelancer's work. It features instant messaging, easy file-sharing, accurate time tracking, and quick invoicing.
Freelancer.com gives you the option to use an Intellectual Property Handover Contract on your job. This is a standard contract that means your freelancer agrees to hand over all IP rights to you. Just be aware that although I asked to learn more about this contract (and whether it includes commercial rights), I couldn't get a straightforward answer.
Read our
expert Freelancer.com review
 for more details.
| | |
| --- | --- |
| Service fee | 3%, minimum of $3 |
| NFT-specific designers | No |
| Ownership Rights | Yes, but you'll need to specify you want this before hiring |
| Commercial Rights | Unknown |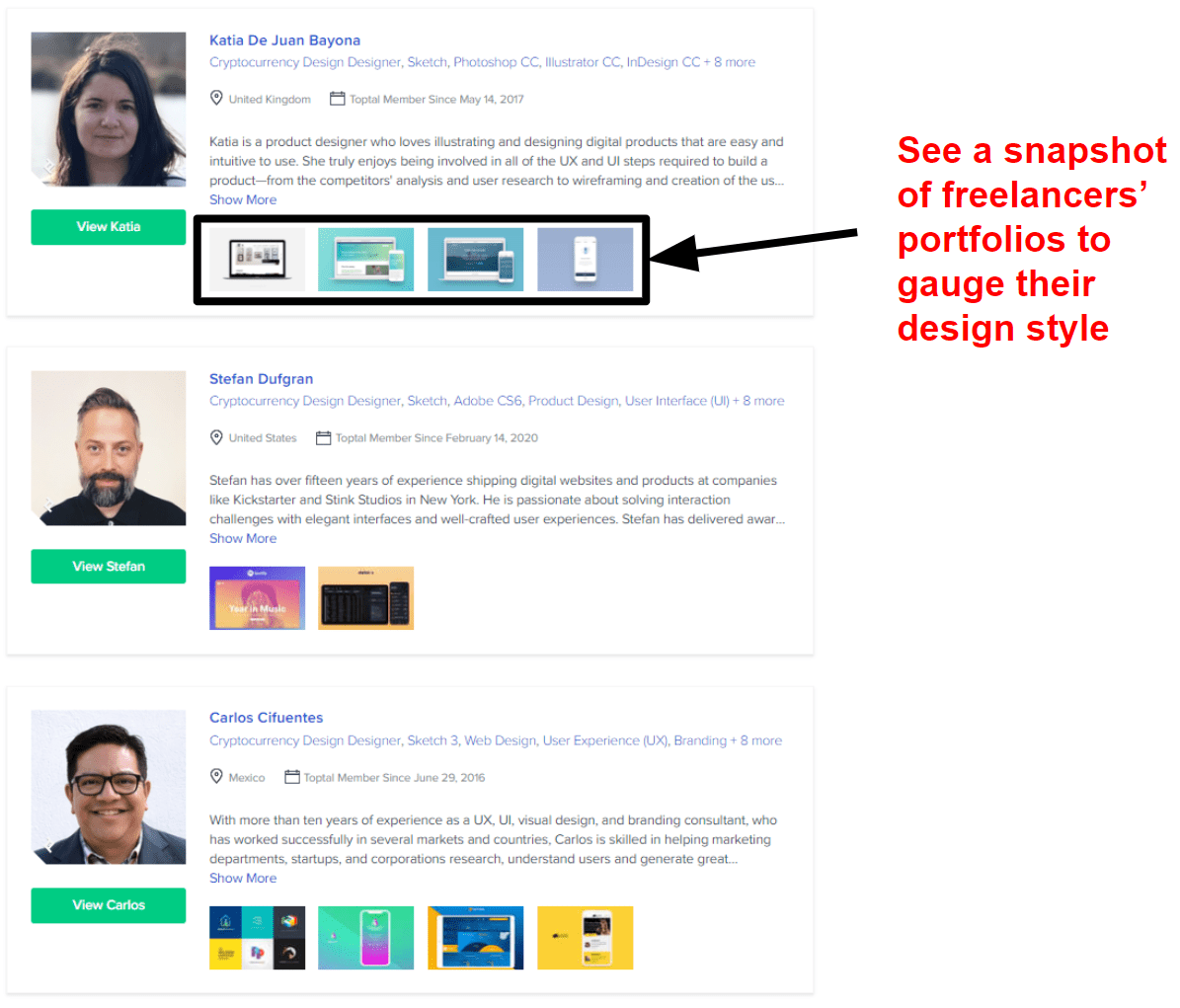 Toptal has a really good range of graphic designers
, but none of them specifically offer NFTs.
That said, it's still worth looking at Toptal for commissioning your NFT.
You get full intellectual property rights to your work as soon as you've paid your invoice
, which includes commercial rights. Note that, as a premium freelance platform, Toptal requires a $500 deposit, which is returned on your first invoice. This might not be an issue if you're looking to commission a series of NFTs, but
if you want a one-off design – or if you're on a tight budget – I'd recommend looking at Fiverr
or Upwork
instead
. These sites don't charge a deposit when you commission an NFT artist.
Features
Toptal's graphic and digital designers go through a rigorous screening process that lasts several weeks. The result is a hand-picked selection of extraordinary talent who can create beautiful art.
Toptal's matching system works. We usually prefer it when freelance websites give us the option to use search filters to browse various profiles and find the right fit ourselves. But we've found that Toptal's do-everything-for-you approach actually drives results.
The free trial allows you to test every match for two weeks. If something doesn't work out, Toptal won't charge you and will instead begin a new 2-week trial with another designer.
Read our
expert Toptal review
 for more details.
| | |
| --- | --- |
| Service fee | No, but there is a $500 deposit that will be returned with the first invoice |
| NFT-specific designers | No |
| Ownership Rights | Yes, automatically granted on payment |
| Commercial Rights | Yes, automatically granted on payment |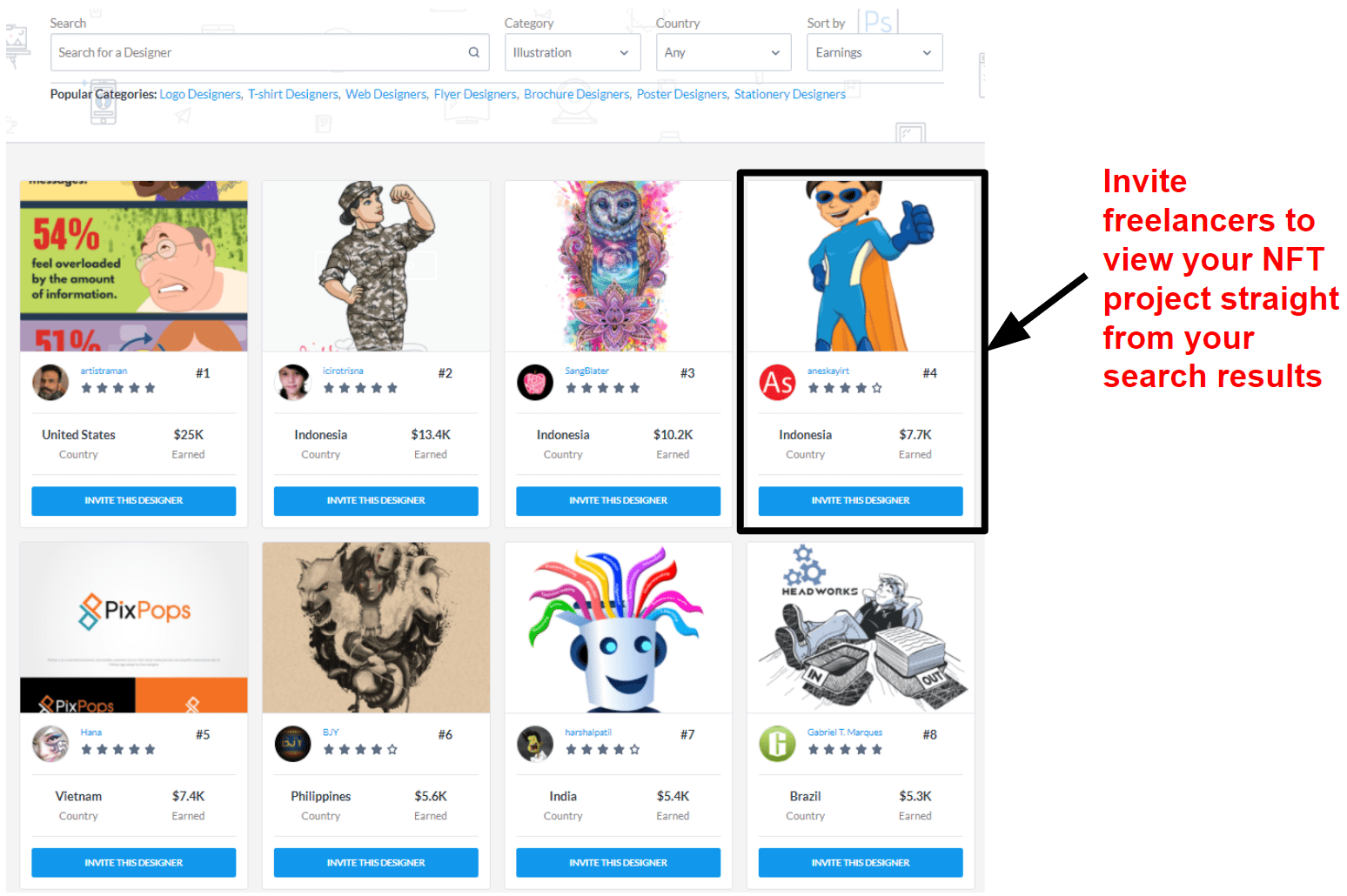 DesignCrowd operates a little differently from the other websites on this list because
it's designed for clients to crowdsource their design.
Instead of contacting freelancers directly, you'll post your brief, set a deadline and a budget, and wait for artists to submit their designs. Unlike other websites, where artists set their own fees,
DesignCrowd charges a flat fee based on different tiers of project types
. On the cheaper end, you get a handful of designs and revisions, and as you go up in price, you'll get more designs, more designers working on your project, and more revisions. Admittedly, this can be a riskier way of commissioning an NFT, as
it's hard to search through all of DesignCrowd's freelancers.
There's also a chance that you won't receive any designs that you like, as this platform doesn't seem to have any NFT-specific designers.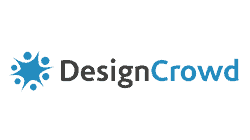 Save up to 50 % on your DesignCrowd plan!
Limited-time offer - Don't miss it!
179 users used this coupon!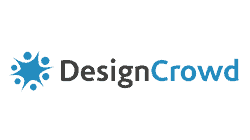 Get 50% OFF DesignCrowd
Copy and paste this code at DesignCrowd
Features
You can mark your project as "private", so no one but designers can see the NFT you're working on. This is pretty great if you want to release a surprise NFT.
You can either request revisions to help narrow down your search or pick a design and release payment to the artist. This can save you a ton of time searching through artists and finding an art style you like.
If you don't like any of the designs, you can request a full refund within 60 days of launching your project. Note that you can't get a refund if you've already picked a winning design.
Once you've paid your DesignCrowd artist, full intellectual property rights are transferred to you, including commercial rights.
Read our
expert DesignCrowd review
 for more details.
| | |
| --- | --- |
| Service fee | 4%, plus an additional 20% for any package over $200 |
| NFT-specific designers | No |
| Ownership Rights | Yes, automatically granted on payment |
| Commercial Rights | Yes, automatically granted on payment |
How Do I Hire an NFT Artist?
Now you know
where
to find your NFT artist, here's a very quick guide on what you need to do next:
1.
Head to the Fiverr website.
You could pick any of the websites in this list, but let's use Fiverr as an example since it's home to literally thousands of NFT artists, and has options available for every budget.
2.
Type "NFT art" into the search bar.
Alternatively, go to "Browse Categories", then navigate to "Graphics & Design". Under this section, you'll find Fiverr's "NFT Art" landing page.
3.
Use Fiverr's filtering system.
Given that there are so many NFT artists and designers, you'll want to use Fiverr's handy filters to narrow down your options. You can filter by art style (2D, 3D, comic, pixel art) delivery time, budget, or even where the freelancer lives if you want an artist local to you.
4.
Choose your freelancer.
When you find a gig you like the look of, click on it, and take a look at the freelancer's portfolio, customer reviews, and the different services they offer. It's always a good idea to message the seller before you hire them to discuss exactly what you want and check their availability.
5.
Continue to checkout
. Add your NFT art commission to your basket, including any extras you want (like faster delivery), and check out. Simple as that.
How Do I Sell NFTs?
Selling NFT art isn't as complicated as many people think. Sure, it can sound like an exclusive club, but once you've got the hang of it, it's pretty simple. Here's a step-by-step breakdown of how to start selling NFT art.
1. Decide What You Want to Sell as an NFT
I know it might sound obvious, but as with selling anything on the internet, you need to have a clear idea of what you want to do. While
it can be tempting to decide on a huge series of NFT art to increase their value as collectibles
, I'd recommend coming up with one design you're happy with to get started.
2. Create or Commission NFT Artwork
If you're an artist, go ahead and bring that design to life! But for those of us who weren't graced with the blessed by the art gods, don't worry – you can still create NFTs.
There are a ton of freelance artists and designers who can create a stunning NFT for you.
I've listed the 5 best sites for hiring NFT artists above, but as a TL;DR,
I recommend checking out Fiverr and Upwork as your main ports of call.
These sites have artists who specialize in NFTs, and both have written contracts that ensure ownership of the commissioned artwork is handed over to you on payment.
While not every seller on Fiverr offers the ability to purchase commercial rights, you'll get this as standard with Upwork.
Having commercial rights means you can sell multiple NFTs of the same artwork, and even sell your design on T-shirts, posters, or other merchandise. As always, I 100% recommend talking to the person you want to commission first to make sure you have those rights in place.
3. Choose an NFT Marketplace
With NFTs being big business these days, there are dozens of marketplaces to choose from. It's a whole other topic to go through which marketplaces you should choose and why.
But you must choose a marketplace before you move forward.
OpenSea, Rarible, Foundation, and Nifty Gateway are all popular NFT marketplaces, but there are a lot out there. It's worth doing your research because some marketplaces try to curate certain types of NFT art. You should also be aware that
most marketplaces will only allow you to connect certain cryptocurrency wallets.
If you don't have a wallet open yet, you've got a bit more freedom of choice.
4. Open and Connect a Cryptocurrency Wallet
You'll know by now which wallet you'll need for your chosen marketplace, so go ahead and sort that now. Again, there's a huge selection of wallets on the market and all have varying fees, account minimums, and levels of security.
Not all wallets support Ethereum (ETH), either.
Again, this is a whole other topic, but you'll want to make sure you do your research to make sure you're getting a good deal.
5. Purchase Ethereum
To mint an NFT, you'll need ETH. That's because, surprise surprise, you'll have to pay fees to your chosen marketplace to mint and trade NFTs. Those fees include:
Transaction fees, which are paid whenever you trade an NFT.
Certificate of Authenticity fees, for the cost of generating a certificate for every new NFT.
Gas fees, which cover the fuel cost it takes to process NFTs in the blockchain. This may or may not cover all of your fees – it depends on the marketplace.
Listing fees, which cover the cost of listing your NFT on the marketplace.
You'll also have to pay transaction fees when you purchase ETH. And all of the above fees are changing all the time, particularly gas fees that are based on the price of electricity. It's worth bearing this in mind when pricing your NFT because you can quite easily lose money on the sale if it's priced too low.
6. Upload and Mint your NFT
Go to your chosen marketplace and start the process of minting your NFT. The marketplace should have a guide to help you with this.
Usually, you'll need to upload your NFT as a GIF, JPG, or PNG for art and animations, or MP3/MP4 for sound files
, but some marketplaces offer a wider range of file formats. As I mentioned earlier, you'll have to pay a fee to mint your NFT, which will vary between marketplaces and is based on the current price of electricity.
7. Promote and Sell your NFT
Each marketplace will typically offer different selling options, but, usually, you can decide to either sell your NFT for a fixed price or open up bids.
Again, make sure you don't price your NFT too low.
You should also
promote your NFT on social media
to get potential buyers interested in the sale, particularly if you're running a bid.
8. Yay, It Sold! Now What?
Once your NFT sells, you'll receive the payment in your wallet – minus any fees – and your NFT will automatically transfer to the buyer's crypto wallet.
Congratulations, you've just sold your first NFT!
Where to Hire NFT Designers in 2023: In Summary
There's a lot to bear in mind when you're commissioning an NFT design, which is why 
I recommend working with Fiverr or Upwork.
Both of these platforms are great for NFT-specific designers who can work on both NFT commissions and repeat work. Not only that, but the legal terms are easy to understand.
Upwork automatically grants you commercial use of your NFT
, and it's an add-on purchase you can make on most Fiverr gigs, which helps prevent any potential legal issues. While DesignCrowd doesn't have designers specifically for NFTs, the crowdsourcing aspect is innovative and can save you time if you don't have a specific art style in mind.
I recommend DesignCrowd if you're happy to give artists more creative freedom over your brief.
| | | | | | |
| --- | --- | --- | --- | --- | --- |
| | Service fees | NFT-specific designers | Ownership rights? | Commercial rights? | |
| Fiverr | 5.5%, plus $2 on orders under $50 | Yes | Yes | Purchasable add-on with some sellers | |
| Upwork | 3% | Yes | Yes | Yes | |
| Freelancer.com | 3%, minimum of $3 | No | Yes – but you'll need to specify this before hiring | Unknown* | |
| Toptal | No, but a $500 deposit which is returnable on the first invoice | No | Yes | Yes | |
| DesignCrowd | 4%, plus 20% on packages over $200 | No | Yes | Yes | |
FAQ
Can I make NFTs if I'm not an artist/designer?
You can! With websites like Fiverr and Upwork, you can hire an independent artist to design an NFT for you. Once you've got an idea of what you want to sell as an NFT, you can easily search these websites for NFT artists in your chosen style.
What types of NFTs can I make and sell?
You can make an NFT out of any type of media as long as you have the intellectual property rights for that media. Digital art is the most prevalent form of NFT, but you can also sell photography, music, films, GIFs, 3D models, and more. Some NFT sellers even combine art and real-world merchandise in their sales.
Where can I find an NFT artist/designer?
Fiverr and Upwork are both great places to find NFT artists and designers, as they've got a ton of features to make your NFT commission a success. Fiverr tops our list of the best freelance websites in 2023 because it's got a huge range of designers, with many offering their services for only $5. I also like Upwork because they automatically grant commercial use of the work you order, and it's easy to screen freelance artists without having to click through a ton of profiles.
Can I sell a commissioned NFT?
Yes, but you need to check what degree of ownership you have over your commissioned artwork. Websites like Upwork and DesignCrowd automatically give you full intellectual property rights while Fiverr only guarantees ownership rights unless you pay sellers for commercial rights.