When you're looking for an affordable and reliable freelancer, scouring freelance platforms like Fiverr and Freelancer.com can feel overwhelming. How can you be sure you're getting a qualified worker from a reputable site and avoid getting scammed? I've used these sites extensively – and we even used Fiverr designers to
create our website logo
 – so we can tell you exactly what to expect from either of these freelance platforms. While Freelancer is larger and more established, I've found
Fiverr will give you exactly the work you want at a price that fits your budget
. To give you a better sense of how these platforms help you find, vet, and hire freelancers, I compared them based on their ease of use, freelancer profiles, pricing, and customer support – everything you need to know to decide which platform is right for you. For the sake of an equal comparison, we only compared these platforms based on the work categories they share. Fiverr has tons of categories –
including some that I didn't even know existed
 – but for this comparison, we're sticking to the more well-known ones.
1. Ease of Use & Workflow
Browse Gigs on Fiverr or Post a Job on Freelancer.com
On Fiverr, sellers offer "gigs," which are predefined, fixed-price projects you can browse to find the type of work you're looking for. Each gig usually has three different packages for you to choose from –
Basic
,
Standard
, and
Premium
. 
Basic
 is the cheapest, while the other two include additional work for an added fee. For example, if you're looking to hire a web designer, you might find that their
Basic
 package includes a simple one-page site, while
Standard
 and
Premium
give you more pages, include the source files, or allow you to request extra rounds of revisions. I've found that if I like a seller's portfolio but none of their packages seem exactly right,
most Fiverr freelancers would be happy to set up a custom gig for me
. It's always worth asking.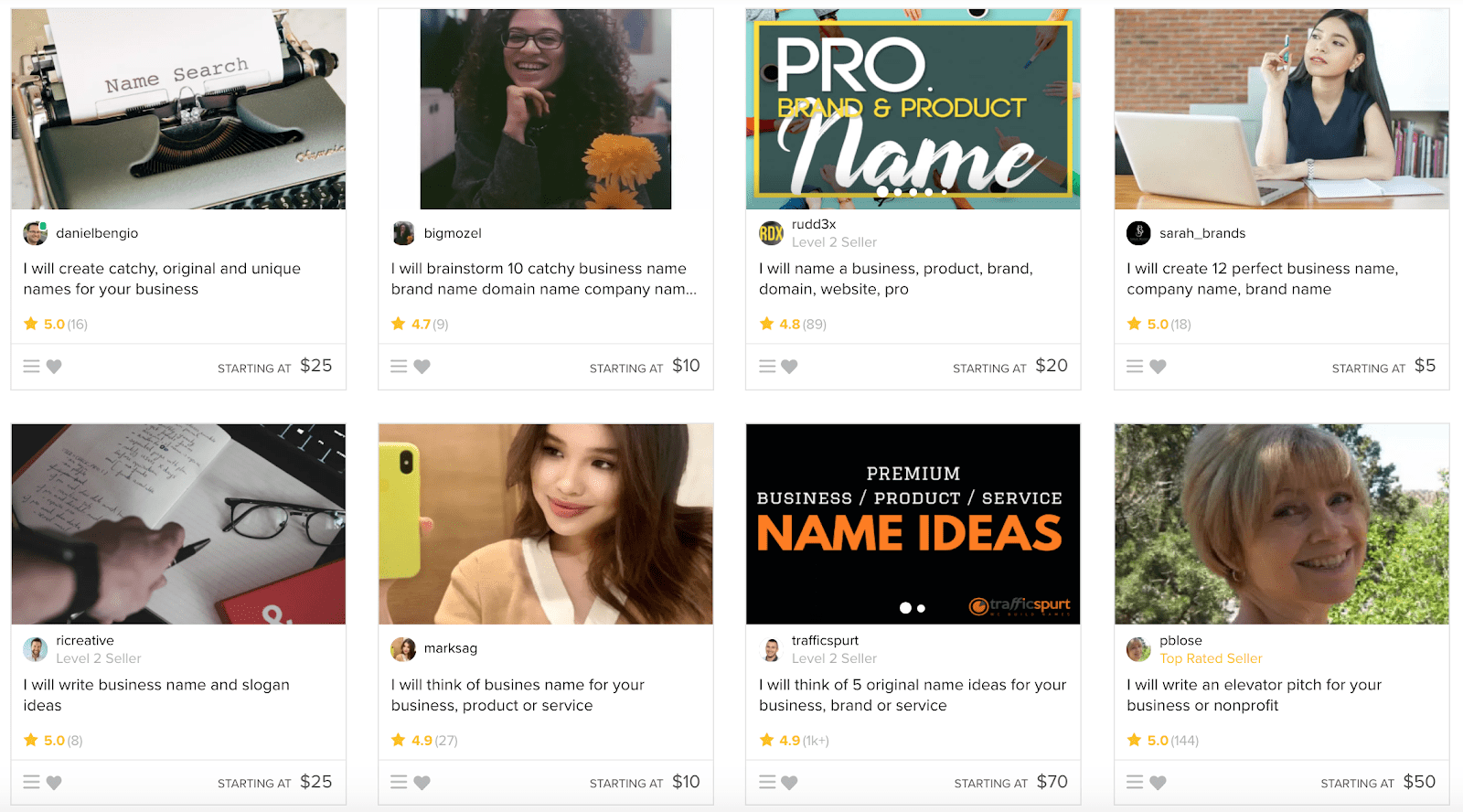 You can browse the dozens of different categories on Fiverr for a gig that fits your needs and use filters to narrow down.
 If you're not finding anything that's the right fit, you can post a request listing your requirements. Sellers who meet your criteria can then bid on the job.
Freelancer.com encourages you to post a job and review bids rather than browse
. This is usually the simpler option since the freelancer profiles aren't nearly as browse-friendly as on Fiverr. You can ask for precisely what you need and let the freelancers come to you, saving you time and effort. Alternatively, you can use Freelancer.com's contest option, where you post your project requirements and any freelancer can create something to meet your needs. You'll then choose one option out of all the entries to pay for and use. It's ideal for design projects or cases where having a range of choices is a huge plus. However, that said, it's not the easiest platform to use, at least note as easy as it sounds, and we came across quite a few problems when we tested it out for
our Freelancer.com review
.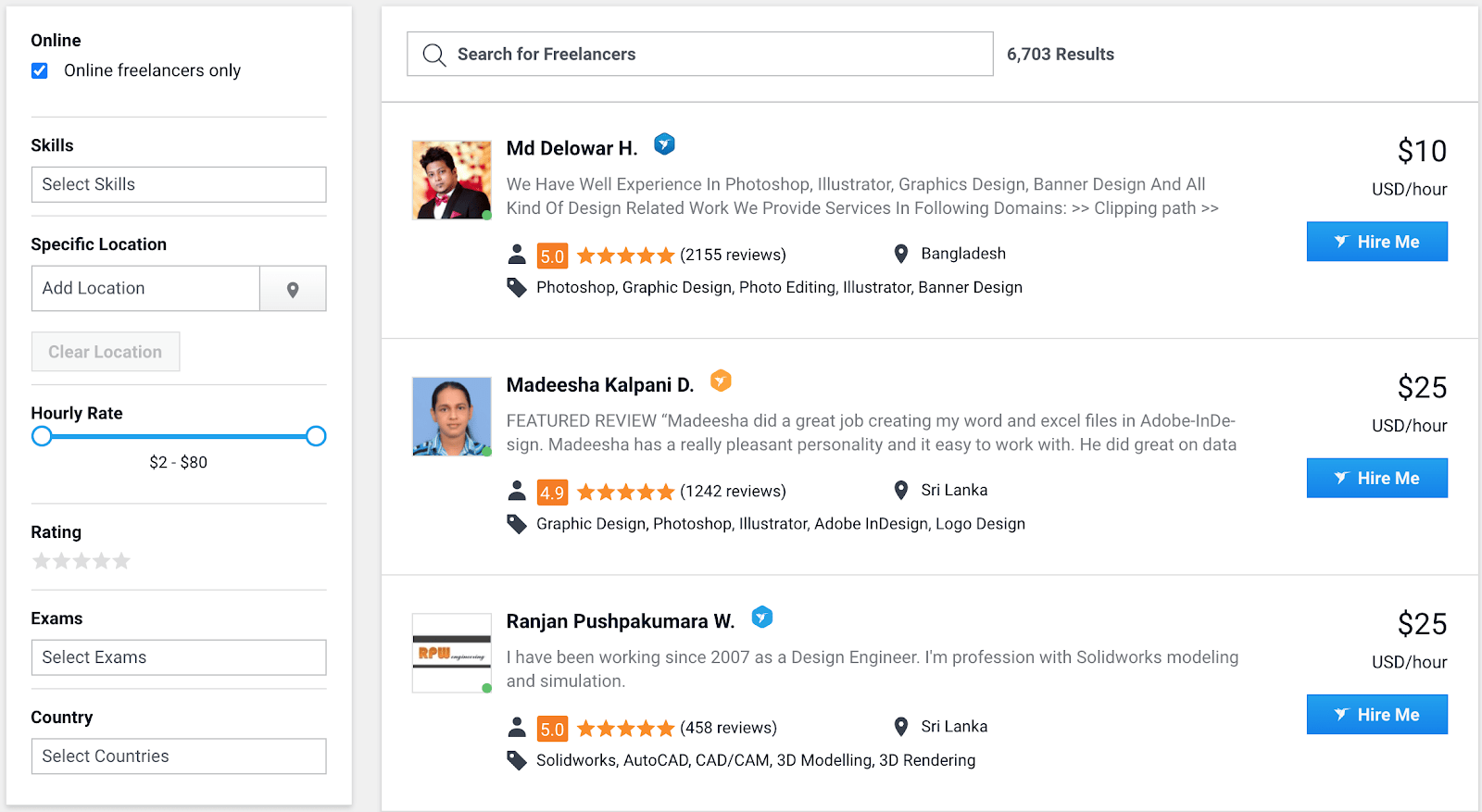 On either platform, you'll have to communicate with freelancers through the site's private messaging system.
This makes sense, because it's a good way to let the seller know exactly what you need, and ensure that they deliver all the work and you get what you're paying for. Once you and a seller agree on a project and you pay for the gig, you can track its status on your Orders page. This is also where you'll receive the final product, which is pretty convenient.
If you approve the order, Fiverr will transfer your payment to the seller. You can also reject it and ask for revisions.
 Just keep in mind that you have to take action within three days, or else the order will be approved automatically.
On Freelancer.com, you'll use the Milestone Payments program to set up stages for your project and make payments as each step is completed
. It's a great way to be sure that the project is on track from the get-go, allowing you to give feedback on each step before the freelancer completes the next one. If you have a smaller project that doesn't need milestones, you can offer a single payment for fixed-price projects. If you're often on the go but still need to manage your freelance projects, you can take advantage of the mobile apps both freelance platforms offer. Like the websites themselves,
the Fiverr app is more polished and user-friendly
. It lets you do virtually anything you can do on the desktop website – a true mobile experience and one we loved when we tested it out in
our Fiverr review
.
The Freelancer.com app is more limited.
You can post projects and message freelancers, but you won't get some of the more advanced desktop features, like monitoring freelancer hours. While both Fiverr and Freelancer.com offer similar functions for finding and hiring freelancers,
Fiverr is a clear winner when it comes to a user-friendly interface for browsing and managing work.
2. Freelancer Verification
Anyone Can Sell, But Only the Best Get Verified
When anyone with an email address can sign up to sell their services, you need a platform that provides a clear way to vet and verify your potential hires. Both Fiverr and Freelancer.com allow anyone to sign up, but their verification methods are pretty different.
Fiverr has seller "levels" that are awarded automatically, while Freelancer.com relies on identity verification options
 such as a seller's phone number, Facebook account, and payment method. These identity verifications do little more than prove that a person is who they say they are. They don't provide any insights into a freelancer's work habits or ability to complete work to your satisfaction.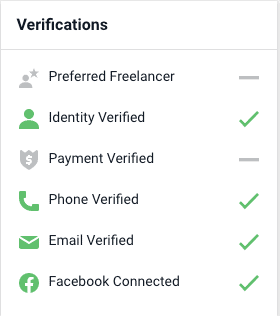 Fiverr's levels, however, attempt to provide some insight into the activity and reliability of its freelancer pool. When you work with a Level One, Level Two, or Top-Rated seller, you can be sure that they have delivered more than 90% of their orders over the past 60 days on-time and to the customer's satisfaction. (The difference between the levels is a matter of time on the platform, as well as orders completed and money earned.)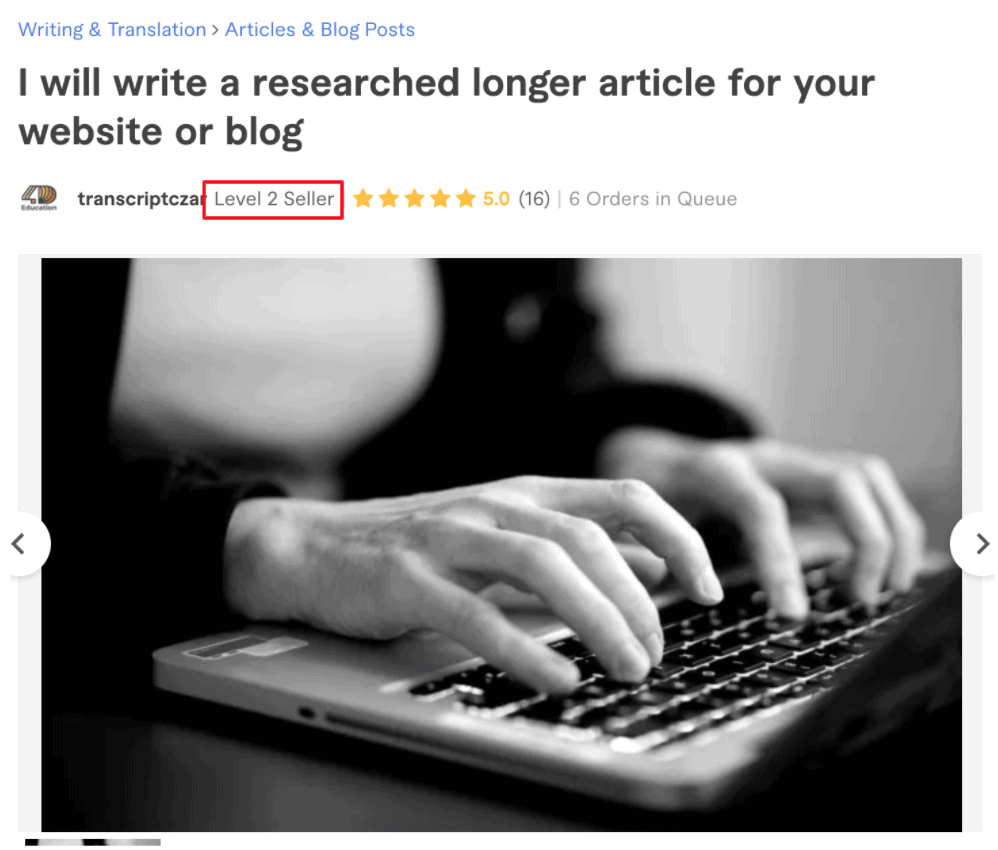 If you want more confirmation that a freelancer has the skills they claim, you can look for sellers who have qualified for the top-tier programs on either of these platforms. Fiverr's version, known as Fiverr Pro, requires a detailed application about a seller's qualifications and experiences. It's similar to a job application process, so
you can trust Fiverr's "Pro verified" designation when you see it on a seller's profile.
On Freelancer.com, sellers can apply for the Preferred Freelancer's Program when they rank in the top three percent for one of their listed skills
 and pass a professional skills test. It's not a particularly rigorous set of criteria and seems more like a set of hoops to jump through than any sort of actual assessment of skill. Still, if you decide to use Freelancer.com, choosing a preferred freelancer is likely your best bet.
3. Freelancer Profiles
On Either Platform, You Should Definitely Judge a Seller By Their Profile
Because Fiverr and Freelancer.com both allow anyone to sell their services, the seller profiles play a crucial part in helping you determine which freelancer to hire. While the two platforms share many profile features,
Fiverr highlights the work a seller can do for you, while Freelancer.com focuses on their self-reported skills and platform stats
,
leaving you to guess as to whether they'll be able to complete your project
.
On each platform, you'll find the following sections in a freelancer profile:
Top skills and activity stats
Summary or description
Education and qualifications
Portfolio
Platform-specific skills tests
Buyer reviews
Fiverr's freelancer profiles are visually appealing and easy to browse, particularly because they highlight the specific tasks a seller can accomplish for you rather than listing largely unverified skills as Freelancer.com does.
You'll be able to quickly assess if a freelancer is capable of delivering the work you need on Fiverr
 without any guesswork or back-and-forth messaging.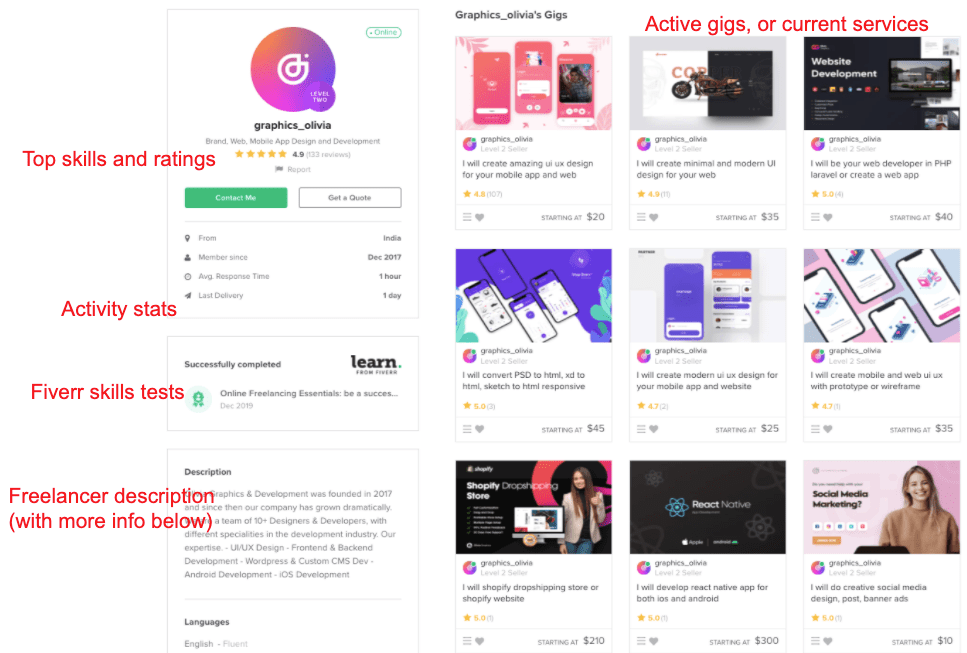 Freelancer.com, however, leaves it up to the freelancer to figure out how they highlight their expertise.
The summary section is completely freeform
, so sellers can and should mention the specific services they offer, but that's not always the case. Even when sellers list specific project types they offer, there's no sense of exactly what's included or what the final cost will be, requiring more legwork to get your project started.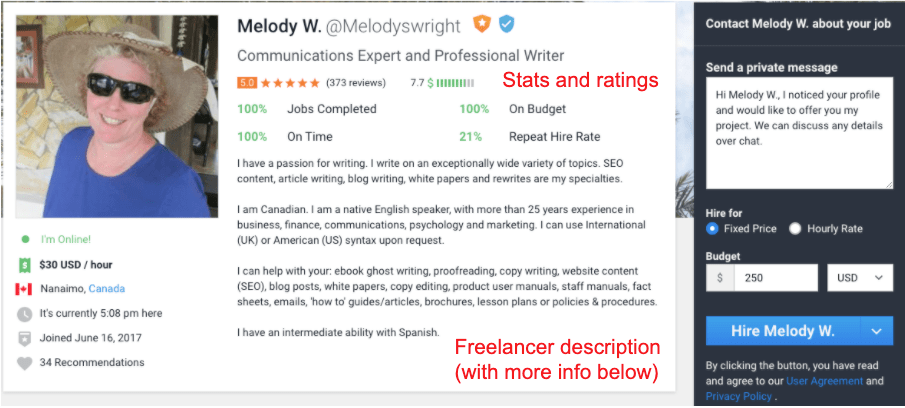 At a glance, these two platforms seem to offer pretty similar freelancer profiles, but Fiverr's focus on gigs rather than skills makes it much faster and easier to find the right freelancer.
4. Pricing
Fiverr Has Concrete Prices and No Fees, While Freelancer Is Pricey and Vague
Fiverr made a name for itself – literally – by
offering freelance services for just $5
. You can still find quality work for that price on Fiverr, but as the platform has expanded, so has the price range. In any category,
you'll find prices that range from $5 or $10 to a few hundred dollars,
 particularly if you're looking for Fiverr Pro sellers. The packages that Fiverr sellers put together are typically pretty robust, so if you're seeing a higher price point, there's likely a good reason for it. (And if $5 seems low for professional work, keep in mind that sellers come from all over the world, where $5 can be a lot of money. Don't judge a freelancer by their prices.)
Freelancer.com prices typically fall in the $20-$40 an hour range
, although there are plenty of options that fall outside of it. If you're looking for a fixed-rate project, these listed prices won't accurately reflect what you pay. The seller will have to provide you with a quote on the number of hours or total cost for a project, so you're unlikely to get a completed project for $10. Of course, when it comes to freelance platforms, you also need to consider service fees.
Fiverr is free to join and browse
, and
you won't have to pay a service fee as a buyer.
(The fees all come out of the freelancer's take.)
Freelancer.com is also free to join
 but charges a 3% service for buyers (and they take a larger cut from freelancers too). It also has upcharges for featuring a job, marking it as private or urgent, or all kinds of other things. It constantly feels like Freelancer.com is trying to get as much money as they can out of you, but they fail to provide a service that truly justifies the cost. As an extra measure of security,
both platforms place funds in escrow while your order is in progress
. This ensures that you get what you pay for in the event of a dispute with your freelancer.
5. Dispute Resolution
Use Fiverr's Automatic Resolution Center, Or Enter Arbitration on Freelancer.com
Even in the best freelancer relationships, disputes can arise over pay, scope of work, or other reasons.
Fiverr and Freelancer.com both encourage their users to settle disputes on their own
 before bringing in a third party, but
Fiverr's Resolution Center seems far more likely to make that a reality.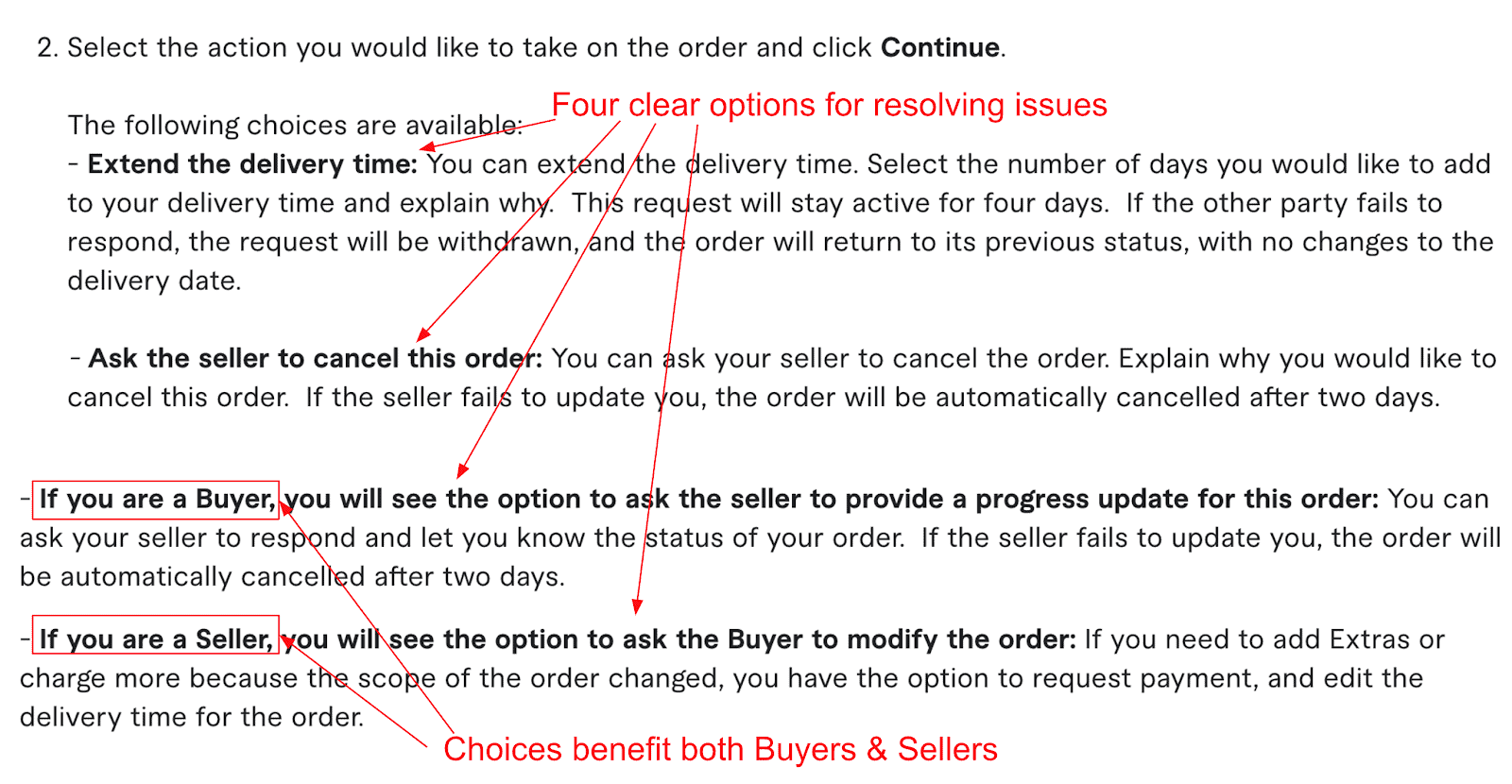 When there is a conflict, both buyers and sellers on Fiverr can immediately choose a possible resolution from a defined list that includes:
Canceling the order
Extending the delivery time frame
Modifying the order to include revisions or extras (only sellers)
Requesting a status update (only buyers)
With this list,
Fiverr users are immediately given ideas for how to solve the problem on their own
before contacting customer support. Some options will result in an automatic order cancellation if not promptly responded to, motivating users to resolve issues independently or risk losing time, money, or both. In general, the entire process seems very fair to both buyers and sellers.
Freelancer.com's dispute resolution process operates a bit differently. It relies on more formal negotiations and a process that requires documentation of evidence, as well as extra fees
 if it reaches the final stage. The timelines for responding to disputes are longer for buyers, giving them a slight advantage over the sellers in winning disputes. Overall, the process at Freelancer.com feels a little combative and offers a pretty limited set of solutions. Fiverr offers more ways to find a solution that benefits all parties involved.
Conclusion
It's easy to think that all freelancer platforms are pretty much the same, but when you take a closer look at Fiverr compared to Freelancer.com (or any freelance platform for that matter), it's clear that Fiverr stands out among the competition.
Its focus on specific services over general skills makes it so much easier to find the right freelancer for your project.
 Everything about the workflow, pricing, and even dispute resolution is created to foster good working relationships between buyers and sellers. Freelancer.com could be a better option on occasion – such as when you require continuous hourly work like managing social media. In these scenarios, Freelancer.com's structure may be more suitable than Fiverr. However, overall, Fiverr offers a broader range of services at more competitive prices and stands out as the preferred platform for discovering freelancers.
Criteria
Fiverr
Freelancer.com
Gigs/Pre-defined scopes of work
Easy to browse freelancer profiles
Freelancer verification processes
Buyer securities like escrow
Built-in dispute resolution
FAQ
Freelancer.com vs Fiverr – which is better for freelancers?
Fiverr is a better choice for freelancers. Here, they can better define their gigs (or scope of work) ahead of time and set concrete prices, guaranteeing what a project will look like and what they will get paid. Fiverr does take a higher commission fee than Freelancer.com, but there aren't any upcharges, memberships, or additional fees like you'll find on Freelancer.com.
Which freelance platform is cheaper?
You're more likely to find lower rates on Fiverr. As a buyer, you also won't pay any commission or service fees on standard orders, making it the cheaper option, and just because it's budget-friendly doesn't mean it's lower quality – it scores impressively well in our list of the best freelance websites in 2023 for a reason.
Which platform has better buyer protection?
Both Fiverr and Freelancer.com contain all communication in their platform and hold funds in escrow to protect buyers and their purchases, offering solid buyer protection. But Fiverr is also more committed to establishing good work partnerships and delivering quality work, making it a better choice for buyers.
Which is easier to use?
Fiverr is much easier to use than Freelancer.com. It has a visually appealing layout that lets you search for the exact type of work you want, rather than searching for a freelancer who might be able to deliver what you need. The overall workflow is more streamlined as well, making Fiverr the better choice. To read more about how Fiverr works, check out our expert review.
What kind of jobs can I list on Fiverr?
You can list virtually any type of job on Fiverr. We've seen gigs offering to cast spells, draw creepy portraits, or teach you how to communicate telepathically with your pet. Browse Fiverr or read our favorite weird Fiverr gigs to see just how crazy you can get.
Is Freelancer.com legitimate?
Freelancer.com is a legitimate freelancing platform, but since sellers are not required to verify their identity, be sure to choose your freelancers carefully. Look for sellers with a high rate of completed earnings, lots of activity, and good reviews to ensure you're working with a reputable freelancer. If you're unsure, don't forget to check our top freelance websites first.
Is Fiverr safe?
Yes. Fiverr is a safe option for working with freelancers all over the world. Your funds are placed in escrow and not released until you are satisfied with the work, and all communication takes place through the Fiverr platform to ensure all parties comply with the terms of service. Our in-depth Fiverr review talks you through everything in detail, including why Fiverr is our top recommendation.