hire a pro for as little as $5
! I've compiled a list of nine of the best freelance social media managers. Keep reading to find out which freelancers made my list.
9 Best Freelance Social Media Managers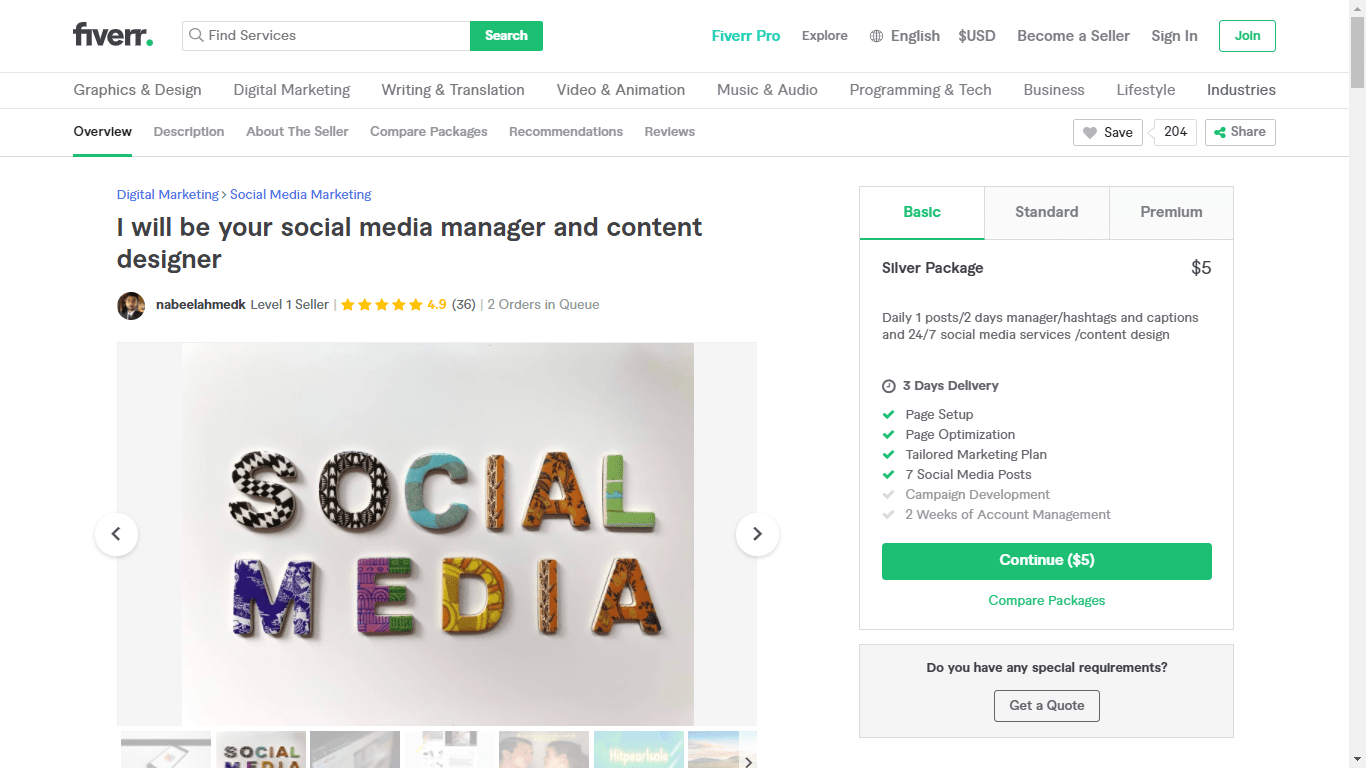 Nabeelahmedk has been a virtual assistant and social media manager for over five years. He brings this extensive experience to each project, ensuring that your company's goals are met or exceeded. Each package tier comes with a personalized marketing plan geared towards accelerating and maintaining growth. Nabeelahmedk offers services like keyword research and 24/7 page monitoring for LinkedIn, Facebook, and Instagram.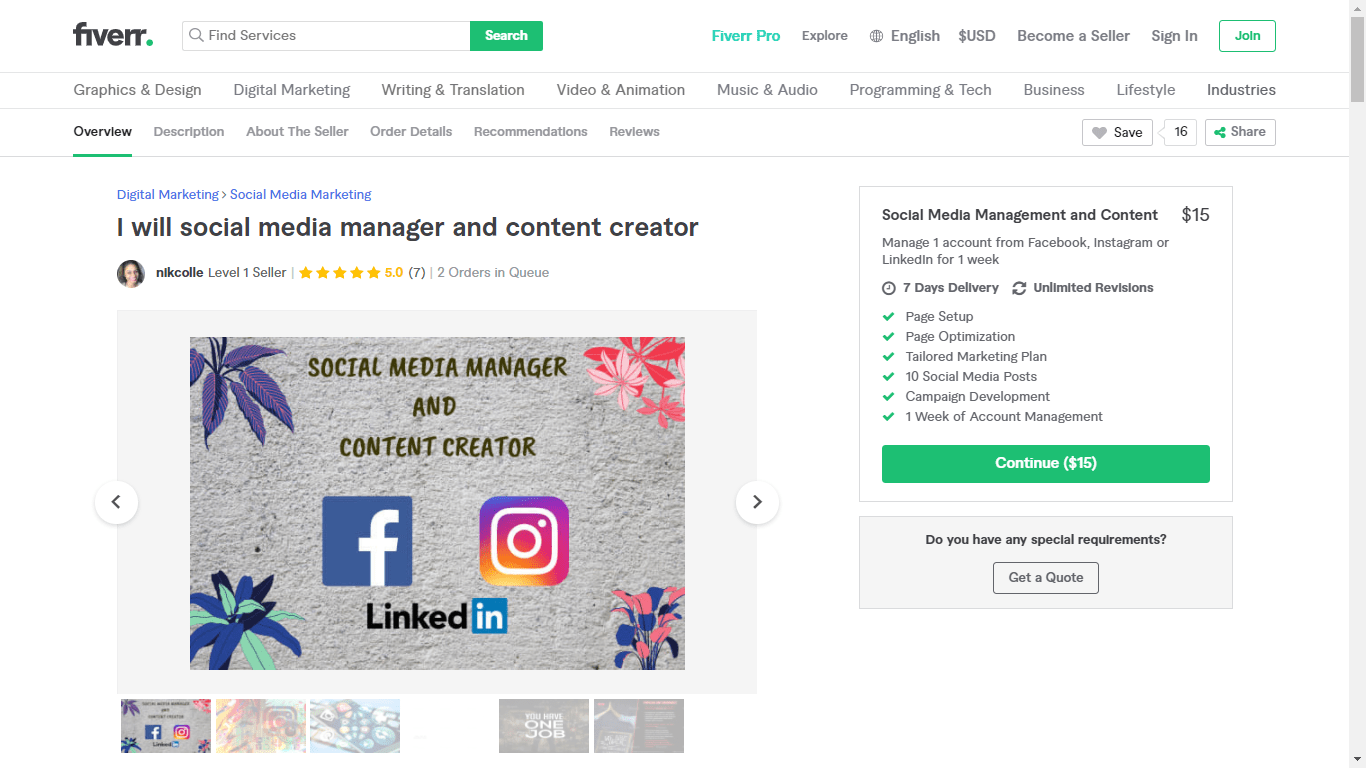 Nikcolle's specialty lies in strategy and planning. So, if you've been struggling to get your social media presence set up properly, you should check out her profile. Nikcolle offers only one package and it's simple in structure, but it's also great value. Unlike most freelance social media managers, Nikcolle's package is quite comprehensive.
She offers page setup and optimization, a tailored marketing plan, campaign development, and account management as well the creation of 10 social media posts.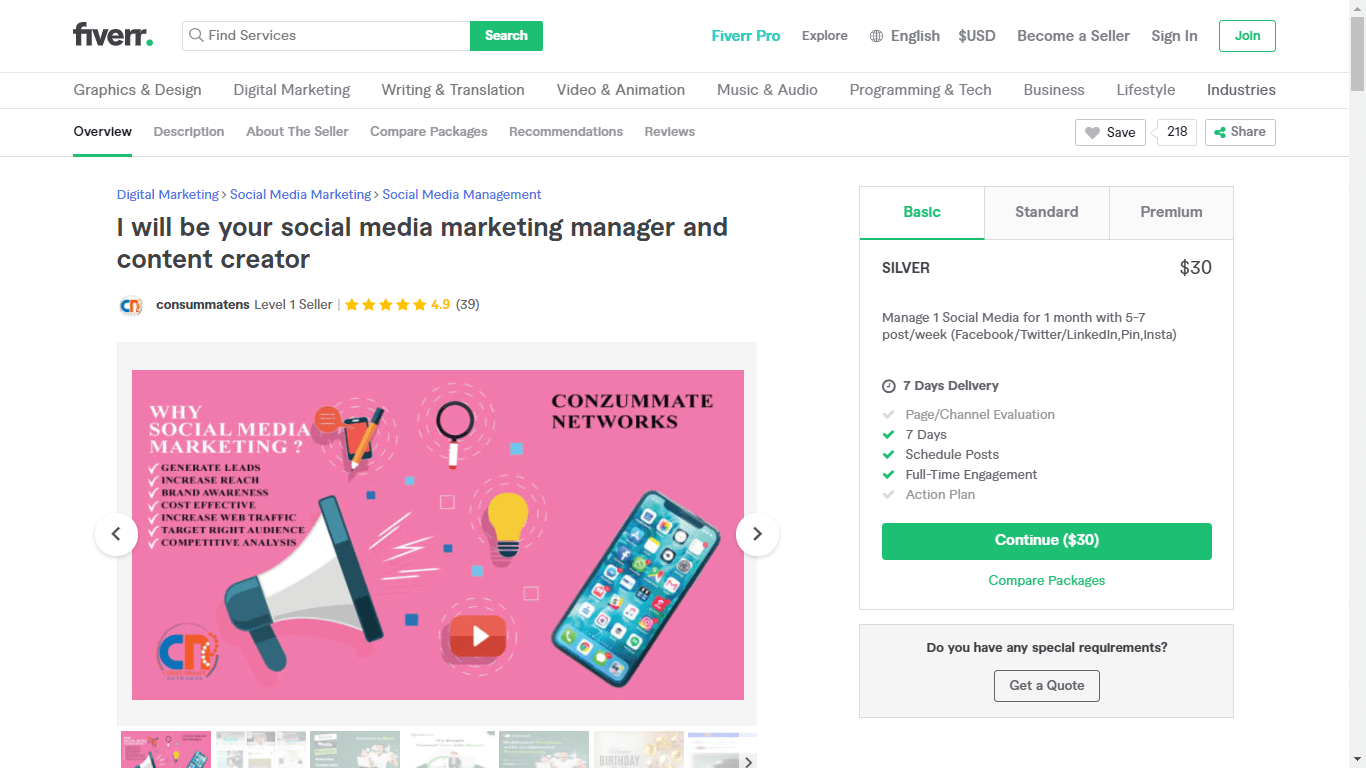 Social media managers should be passionate about their work and Consummatens certainly fits the bill. While they're not the cheapest on this list, they definitely know their stuff and can adjust content to match a brand's personality. You can hire Consummatens for as little as one day or as many as 30 days, depending on your needs.
Under the Platinum plan, they'll service up to three accounts on Instagram, Facebook, Pinterest, LinkedIn, and Twitter.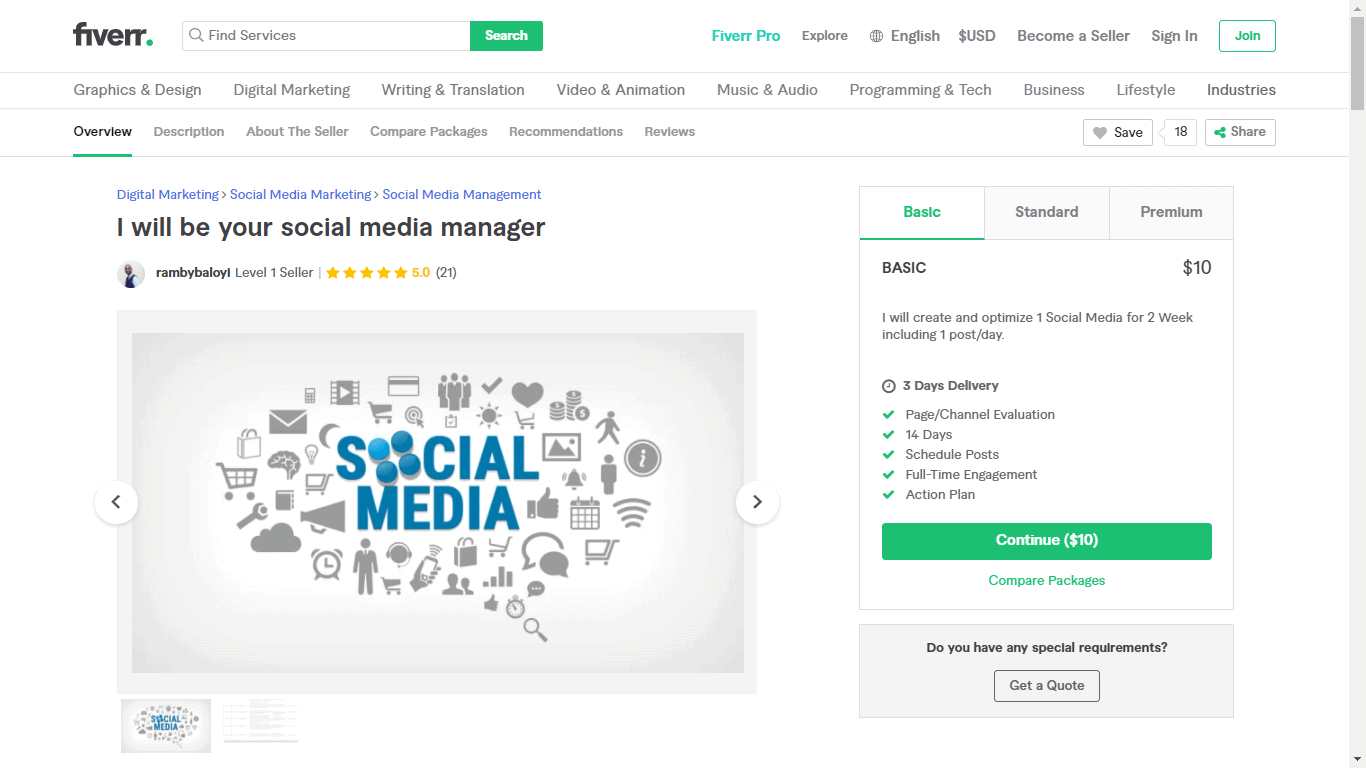 Rambybaloyi is an expert at lead generation. He uses search engines and various social media platforms to increase ROI and sales for your company.
He can also create email templates in Mailchimp, which is handy if you want to coordinate your social media and email campaigns.
You can hire Rambybaloyi for a two-week period to fast track your leads, or purchase a longer package (30 days) for extended results. If you need your page(s) evaluated, Rambybaloyi will report on your areas of weakness and strength.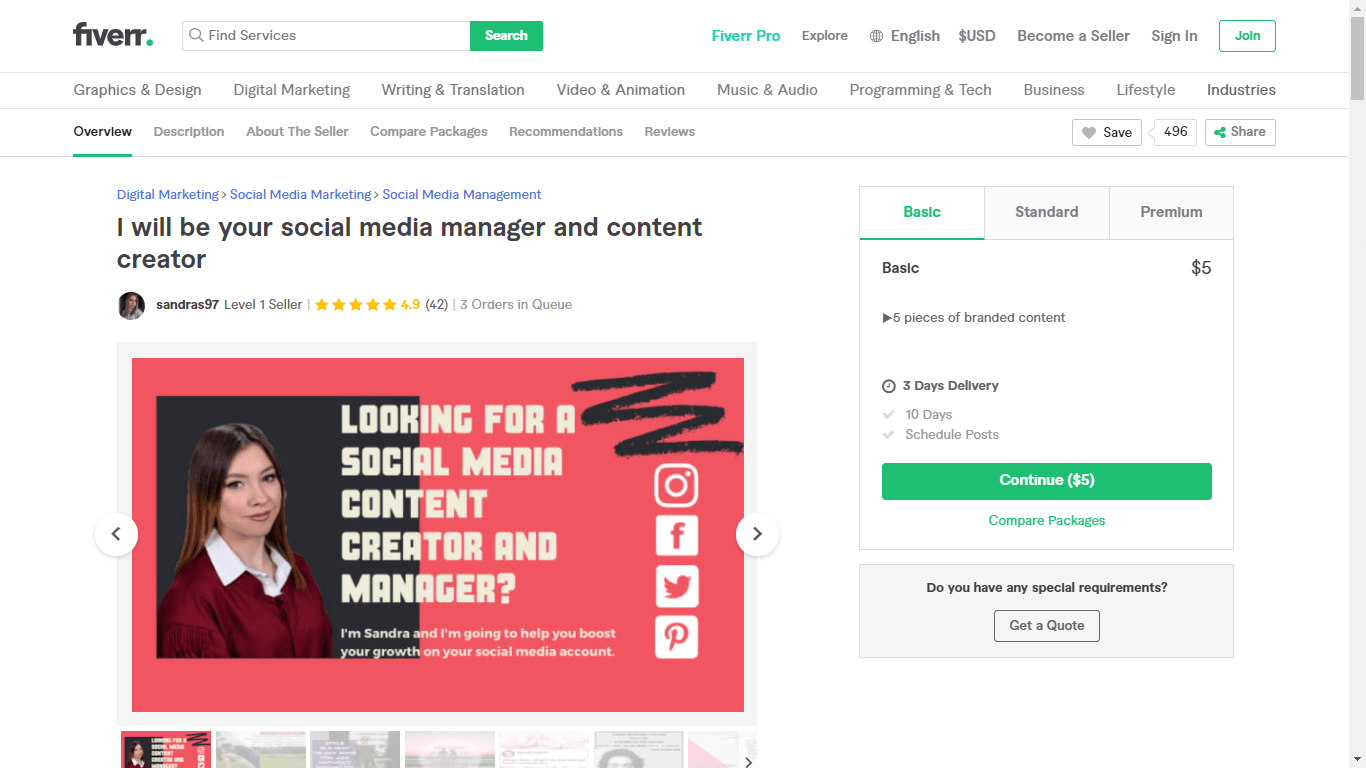 Creating images that are original and look great while projecting a specific message is a difficult job if you're new to graphic design work. If you want to
create quality infographics, memes, or other graphics that follow your brand guidelines
, this seller is a good choice. She focuses on content geared for audiences through Instagram, Facebook, Pinterest, and LinkedIn.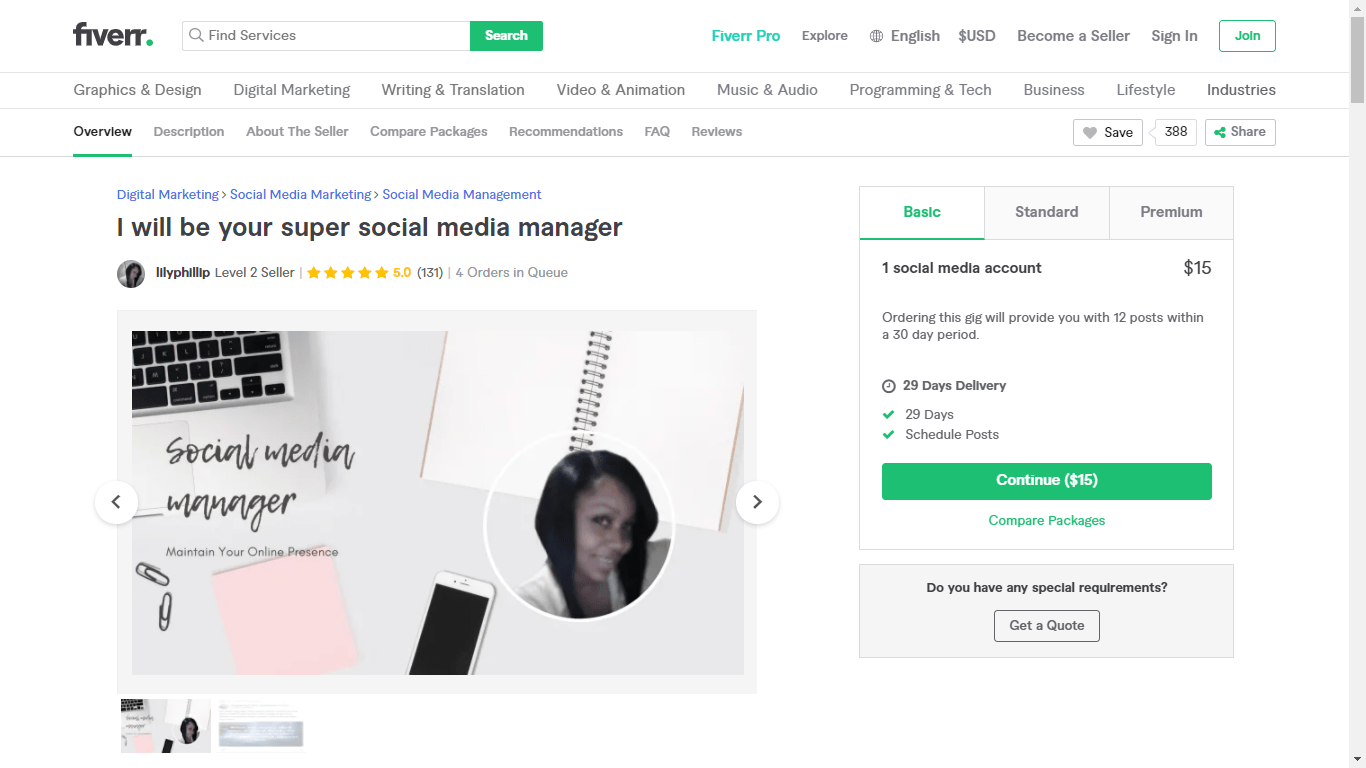 With over 130 five-star reviews, it's no surprise that this seller works hard to deliver great content.
Each of Lilyphillip's packages cover a month-long period in which she creates, formats, and posts content for your business
. Working with Lilyphillip is a sure way to increase engagement organically through well-designed content and frequent updates. If you need something a bit different from the standard packages that Lilyphilip offers, send her an overview of your requirements before you buy. She'll put together a custom quote for you.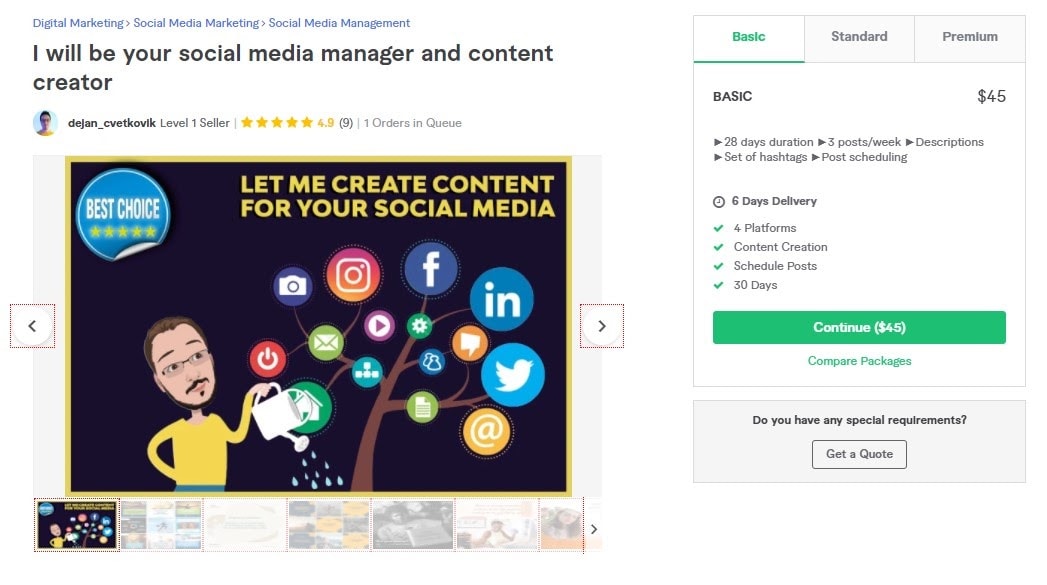 Dejan_cvetkovik loves to help small businesses foster growth by using the power of social media. When you hire Dejan_cvetkovik,
you get a detailed content strategy plan for the entirety of your project.
I was quite impressed with the Instagram organic growth add-on because it delivers something that a lot of businesses struggle to achieve – new followers based on real, interested people, not just thousands of bot accounts. You can't rush organic growth, but with Dejan_cvetkovik's help, you can certainly give it a boost.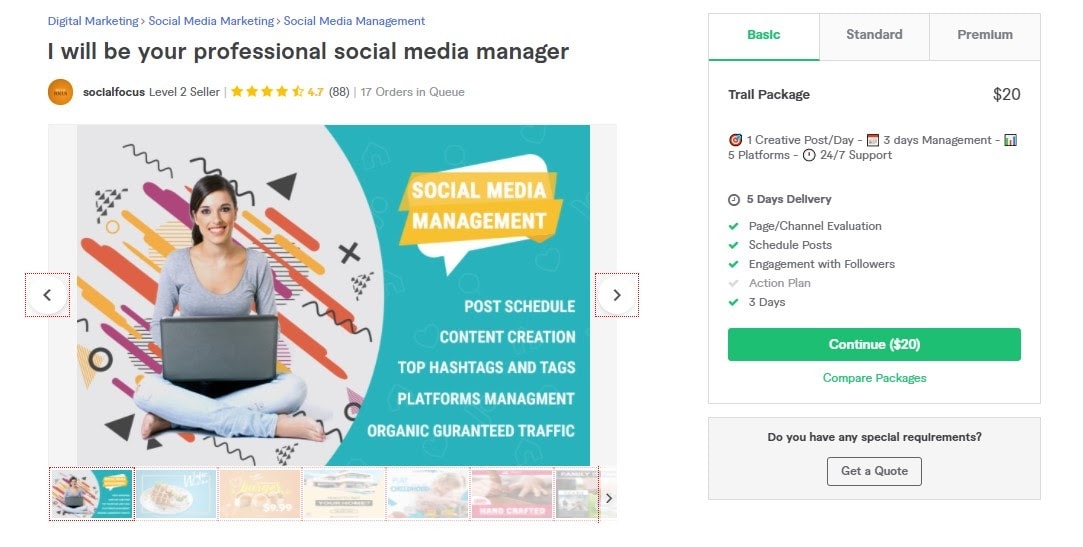 If you're preparing to launch a new product or service on multiple social channels, Socialfocus can help. He has a package tier that is perfect for short-term social media boosts. You can use this three-day service to meet your launch goals or as a trial period for a longer commitment.
Socialfocus can work on sites like Facebook, Instagram, and YouTube and will manage up to five platforms with 24/7 support.
 The standard and premium tiers come with a tailored action plan to help you determine goals and meet targets.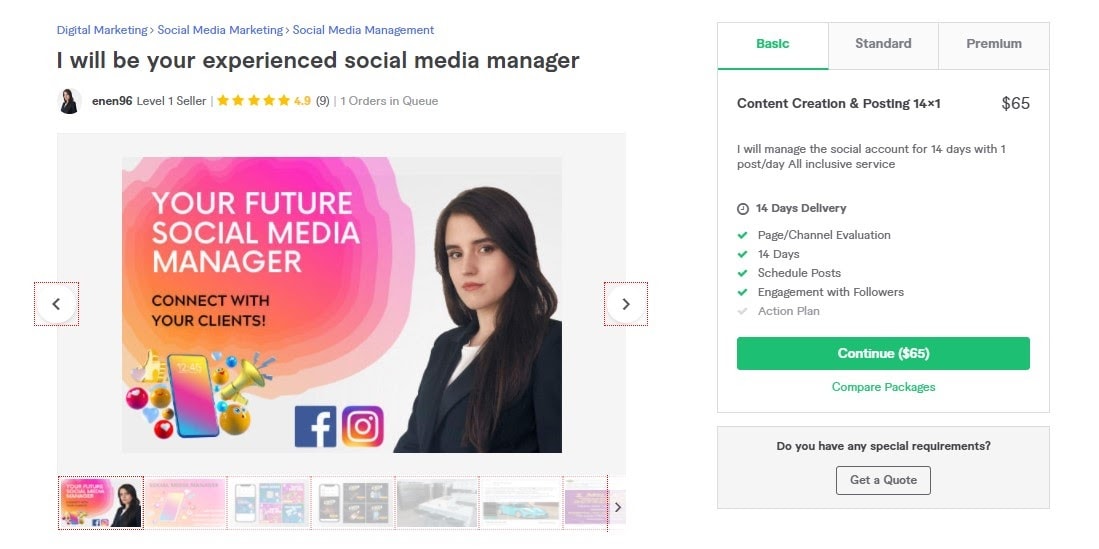 The key to gaining a bigger following is to remain engaged with your market. Enen96 will create ten custom posts with original, high-quality graphics. These are posted to either Facebook or Instagram with heavily-researched keywords to help build interactions.
If you purchase the highest tier package, you are guaranteed 30 unique posts (in just two days!)
for optimal traffic generation. Or you can reach out to Enen96 if you'd like to create your own customized order that matches your company or brand best.
How to Hire a Freelance Social Media Manager on Fiverr
My favorite freelance hiring solution, Fiverr, is easy to use and hassle-free – which is why it scored
4.9
in our Fiverr review
. It's a freelance platform where social media managers and other professionals can offer their services.
Packages here begin at only $5
, so you have access to thousands of experts that won't drain your savings. To hire a freelance social media manager on Fiverr, begin at the Fiverr homepage. Type "social media manager" into the search bar and scroll through the results until you find a freelance gig you want to explore further.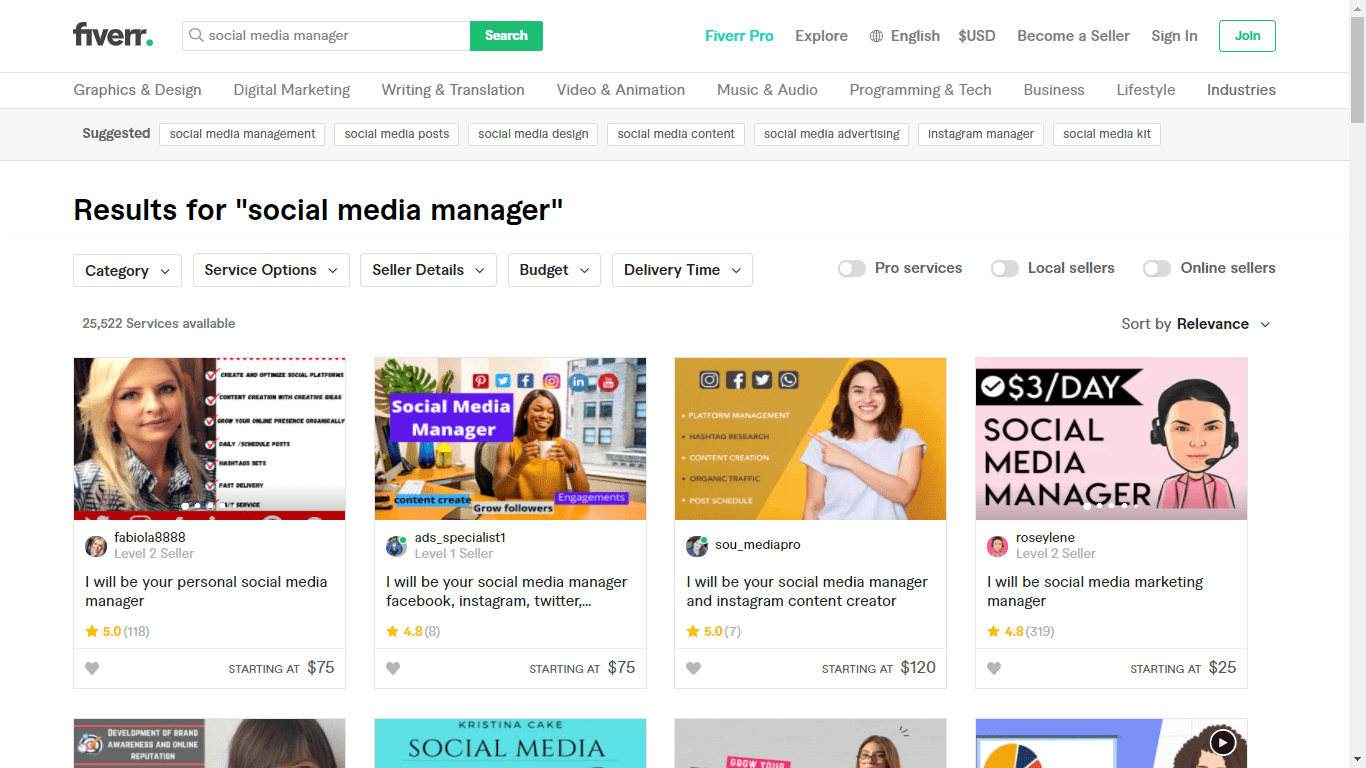 Click on a gig to open it in full view. On this page, you'll be able to see all the details surrounding a gig. This includes services offered, types of packages, pricing, and the About This Gig section. You can explore package services and prices by clicking the package tabs at the top right of the gig page. If you'd like to see each package's features side by side, use the
Compare Packages
button to view them in a table.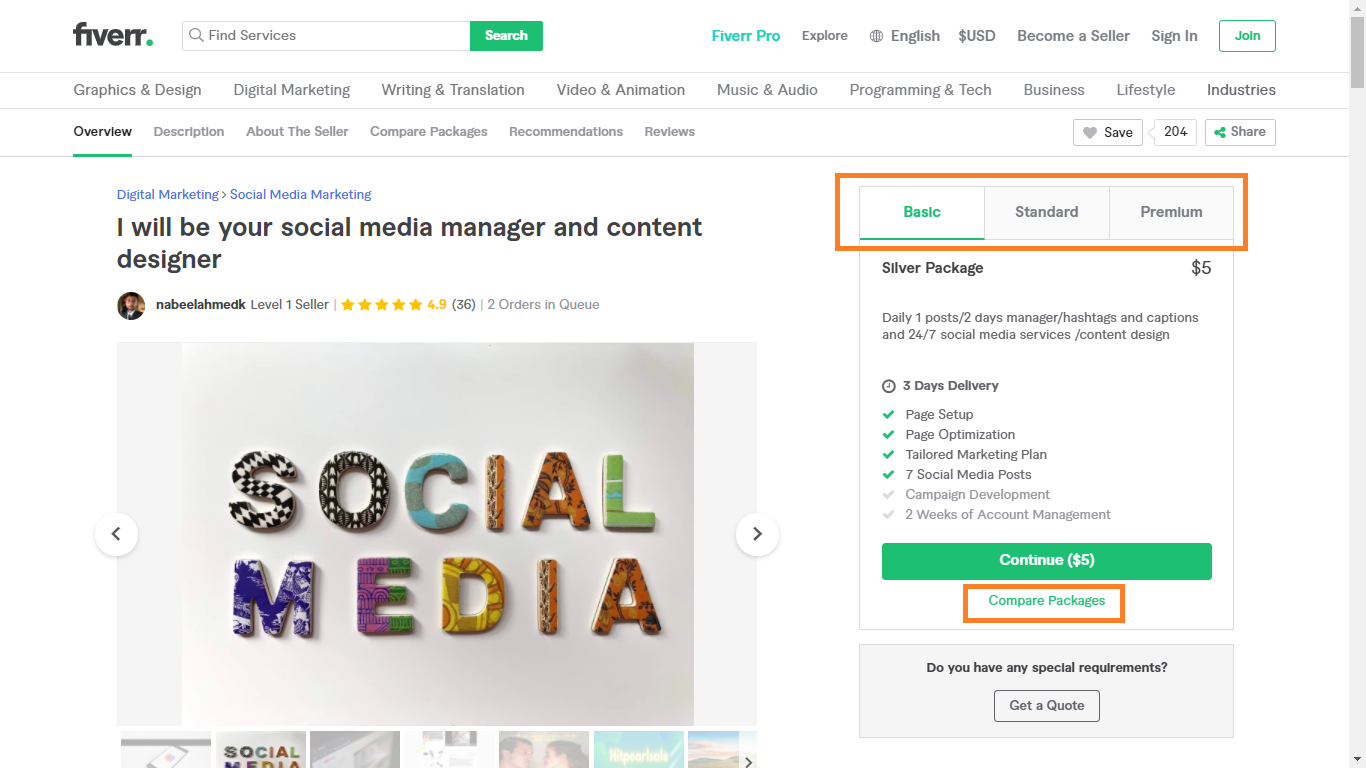 If you don't see the service you need included in any of the packages, you can hit the
Get a Quote
button to contact the seller directly. You can talk about your needs and request a custom quote.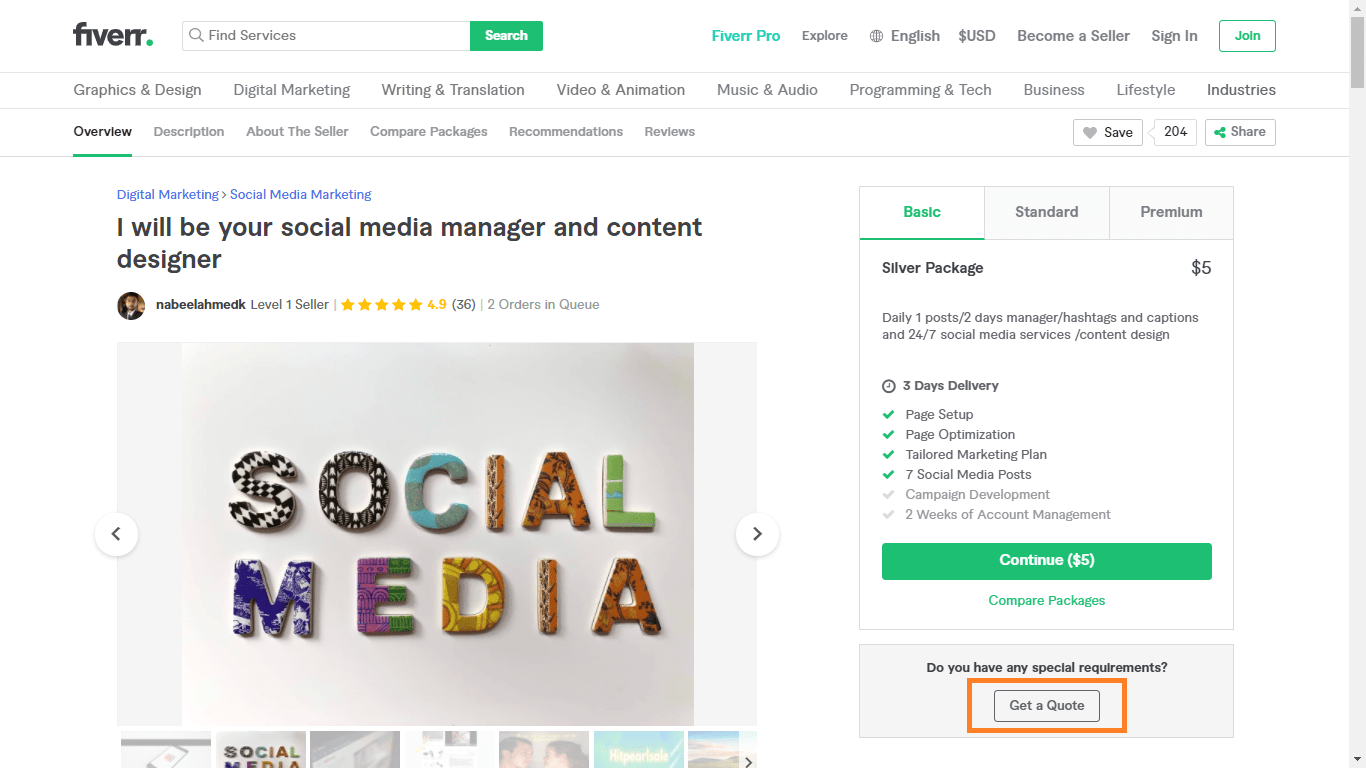 Once you are ready to hire a freelancer, click
Continue
(above the Get a Quote button)
to move ahead to the payment preview page.
---
On this page, you'll see the services included and the final cost of your package. You can click
Continue to Checkout
when you have finished reviewing all the details and are ready to enter your payment information.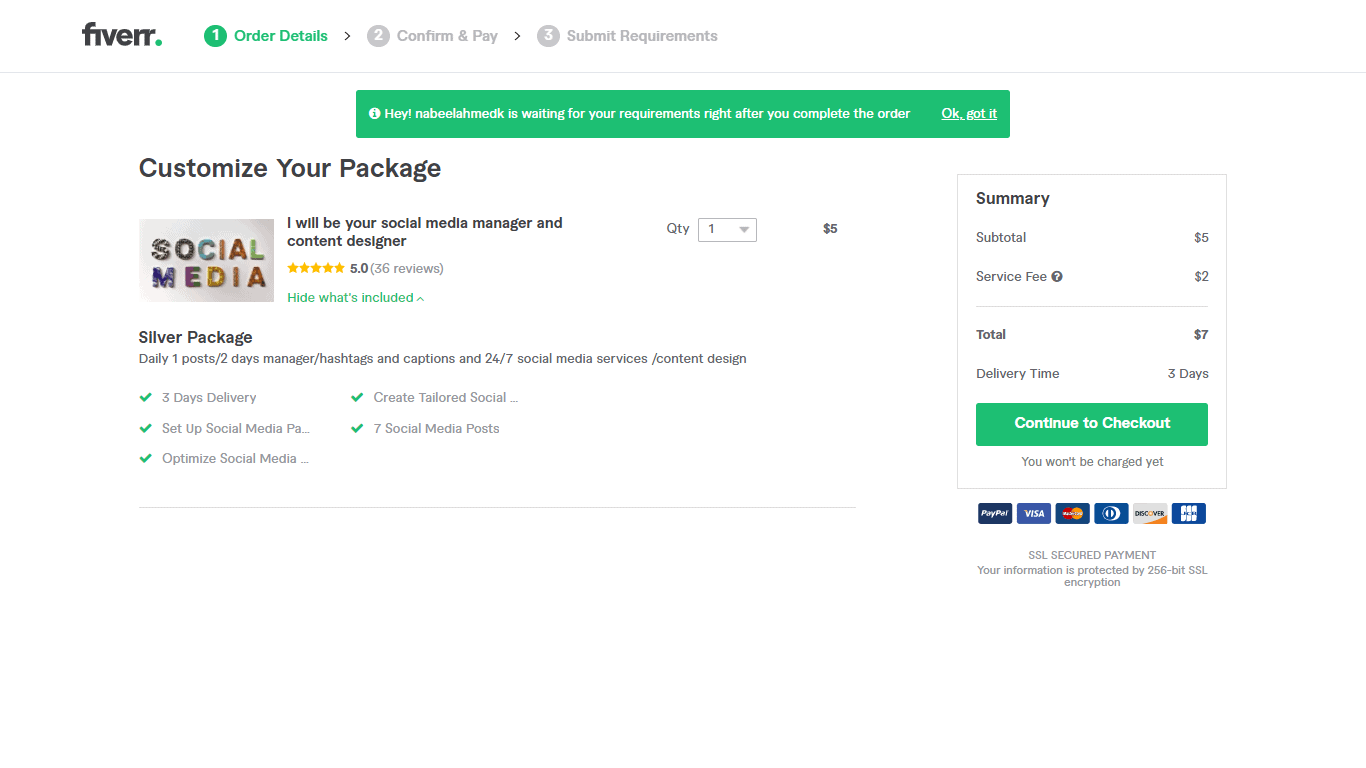 What to Look for in a Freelance Social Media Manager
A social media manager is responsible for the running and maintenance of a company's social accounts. To successfully complete this job, they are often required to wear many hats. Many social media managers function as graphic designers, marketers, analysts, copyeditors, and customer service representatives. What you need in a freelancer will depend on your company or brand needs. Are you interested in growth and finding more clients? Do you want to overhaul the look and feel of your social pages? Or maybe, you have a functioning system that needs a little optimization? Here are a few of the top social media manager skills you should look for:
Highly organized and methodical: you can assess this by observing how comprehensively their gig information is structured and presented.
Knowledge of major social media platforms: check for their offered platform types at the end of the About This Gig section.
Analytical and able to read and interpret data patterns: does their gig mention data analysis for audience growth, market reach, user patterns, or brand perception?
Well-written and proficient in the language(s) they work in: use the Contact Seller button to converse with them in an offered language to gauge writing and comprehension skills.
Has an eye for esthetics and visually appealing graphics: scan portfolio photos to determine their aptitude in design and levels of creativity.
Creative and always searching for the next solution: read through customer reviews for positive comments on problem-solving and idea generation. 
Are You a Freelance Social Media Manager Looking to Sell Your Services on Fiverr?
If you are a freelance social media manager who came upon this article and is now wondering how to
become a seller on Fiverr
, I can tell you
the process is very fast and straightforward
. All you have to do is
head to the Fiverr homepage and click
Join
 in the top right corner
. You'll be prompted to either sign up using social media or your email address.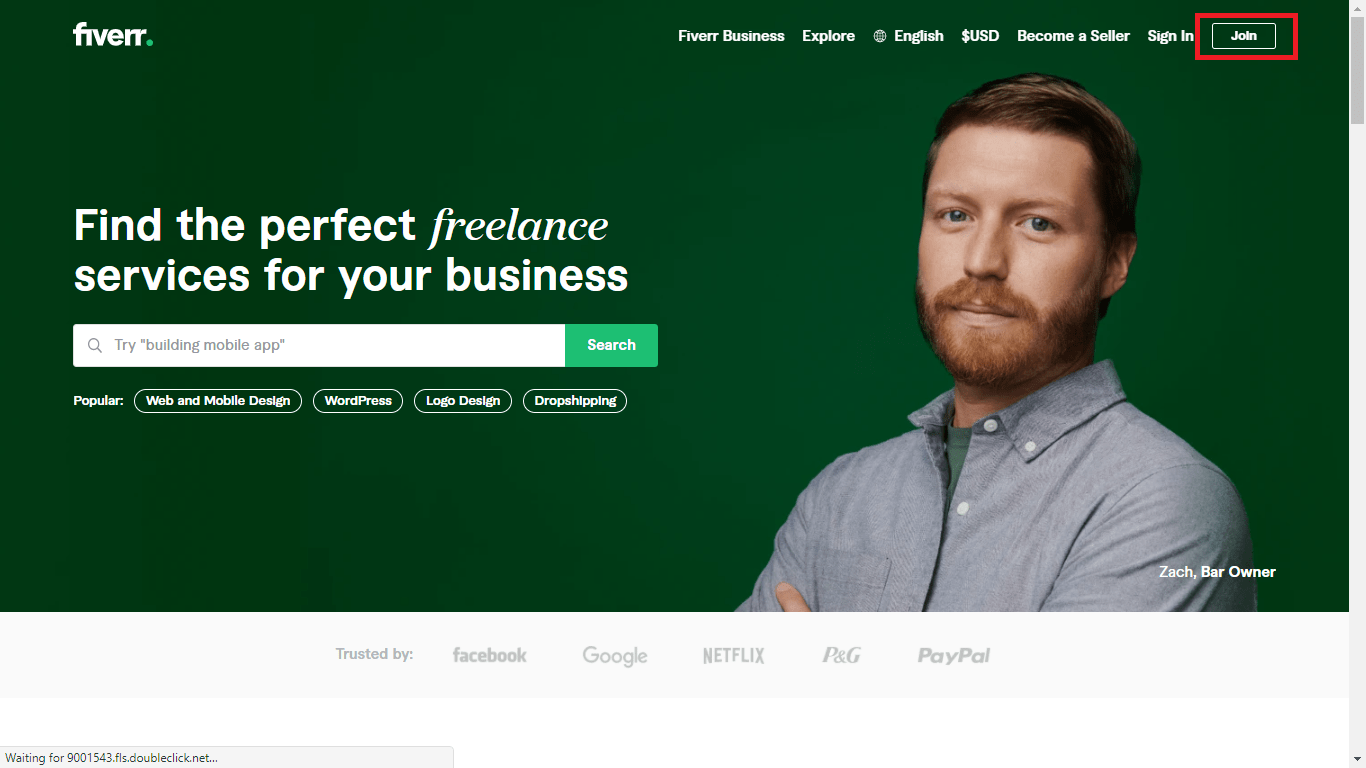 Once you've activated your account, click the letter icon on the right and select
Profile
.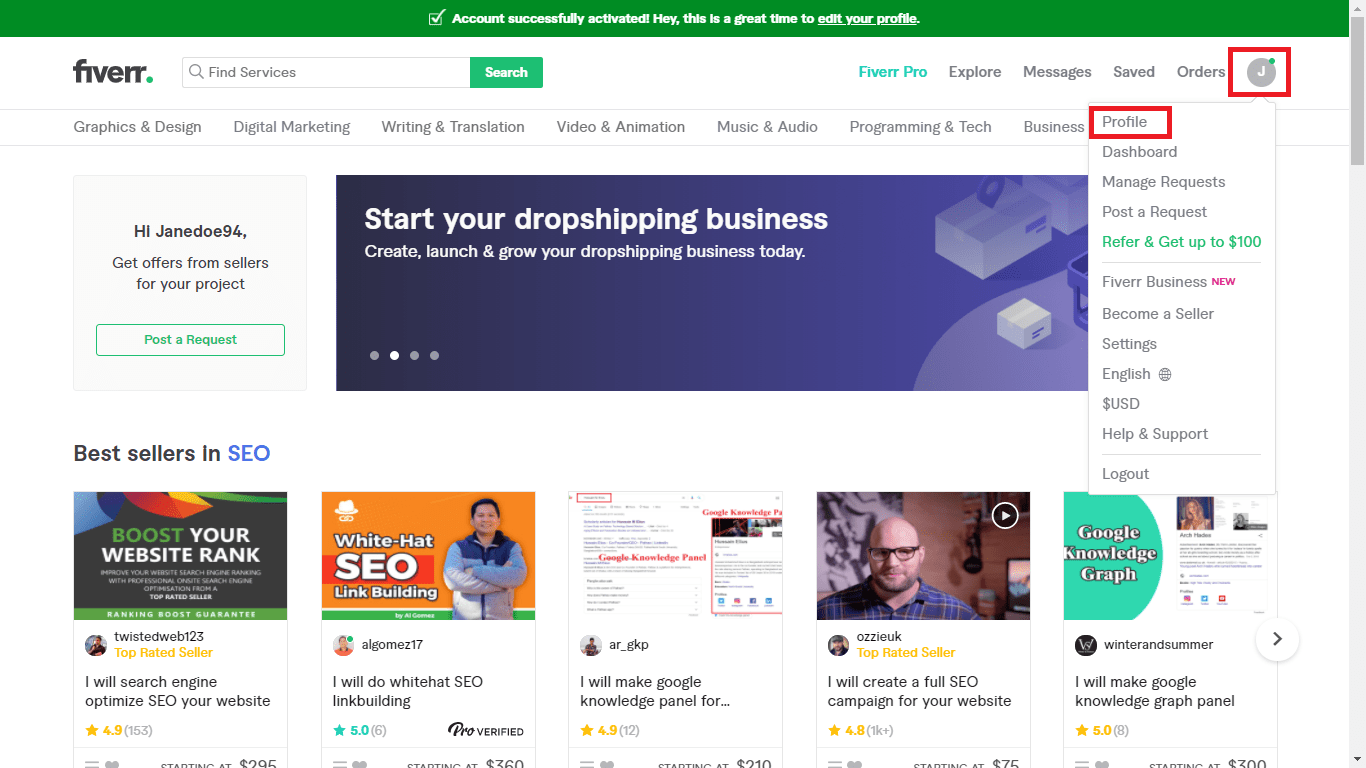 You can add personal touches to your profile, like a photo, social media accounts, and any academic achievements. When you have finished editing your account, click the
Create a New Gig
button to start on your first gig. Choose a title, a category, and add any search tags associated with your gig (for better search results). Add in the details of each package, like its name, services, pricing, and delivery time. You can also include any additional services you are interested in offering to buyers, outside of your packages.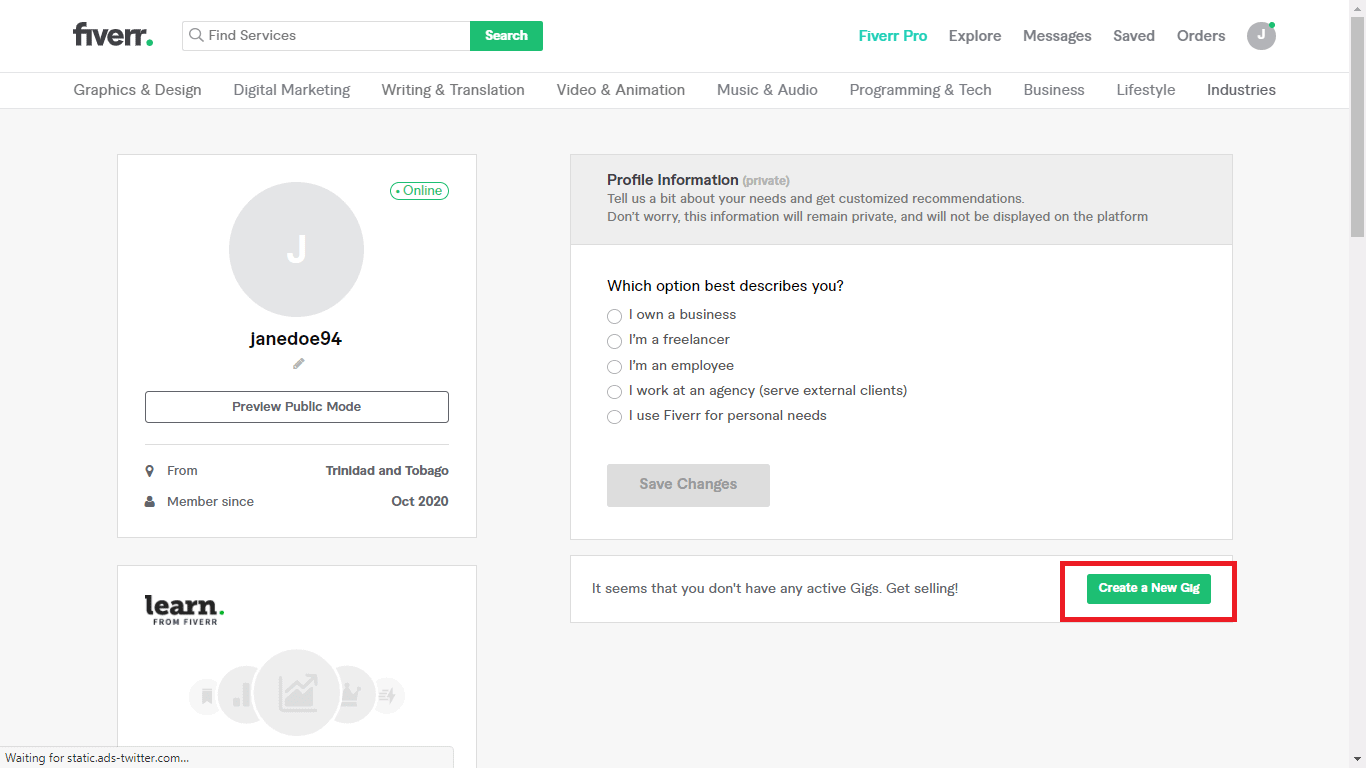 Publish your gig to make it public and viewable by any searching buyers. If you'd like to better optimize your gig, my suggestion is to become a buyer yourself and view the hiring process first-hand.
Switch your profile from "seller" to "buyer" and search for a freelance pro in any industry you want.
You can hire an artist, a musician, a logo designer, or another type of service you may need. After you've hired a freelancer yourself, you'll better understand the buyer's perspective and have better luck improving your own gig.
5 Best Social Media Content Creators
You may have found a freelancer to manage your social media via Fiverr, but what about content creation? The photos, graphics, videos, and captions you'll need to publish on your social media channels all take time to produce. Fortunately,
I've found some awesome social media content creators on Fiverr
. To make your hiring process easier, here are my top five recommendations at price points ranging from $5 to $1,800.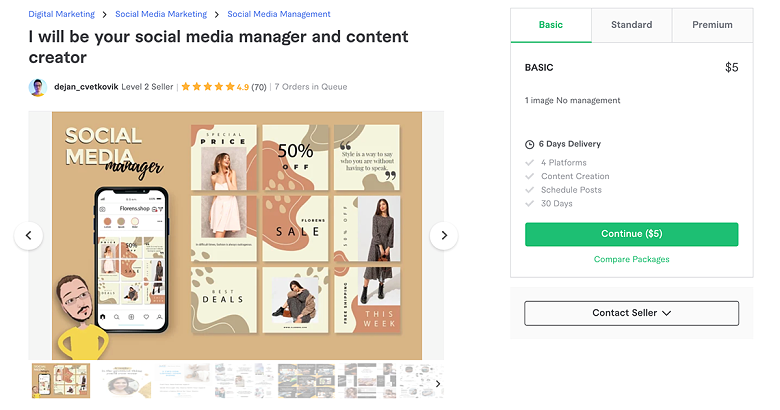 The freelancer has secured Fiverr's Level Two seller status, which means they've delivered at least 50 orders on time while maintaining a minimum rating of 4.7 stars. With
70 customer reviews and a 4.9-star rating
, Dejan has actually surpassed that – they've got a lot of happy customers. And with a starting price of just $5, Dejan offers an unbeatable deal for social media content creation.
For $5 this seller will create and customize a graphic for four social platforms
. If you upgrade to their $140 Premium package, you can get 28 days of social media content, including post scheduling.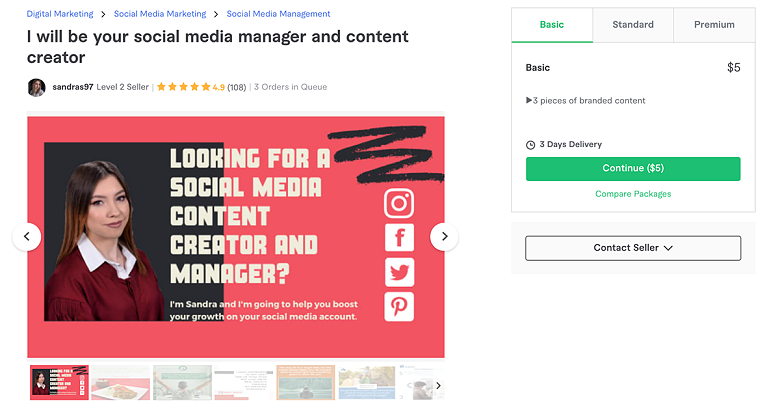 Another Level Two Seller,
Sandra has a 4.9-star rating and more than 100 rave reviews
. This freelancer also has a wide range of social media experience and manages channels ranging from Facebook to LinkedIn.
For $5, you can get three pieces of branded content
that you can publish yourself or hire someone to schedule. If you'd rather let Sandra handle the entire process, consider their $135 package, which includes 20 pieces of branded content with captions, hashtags, and scheduling.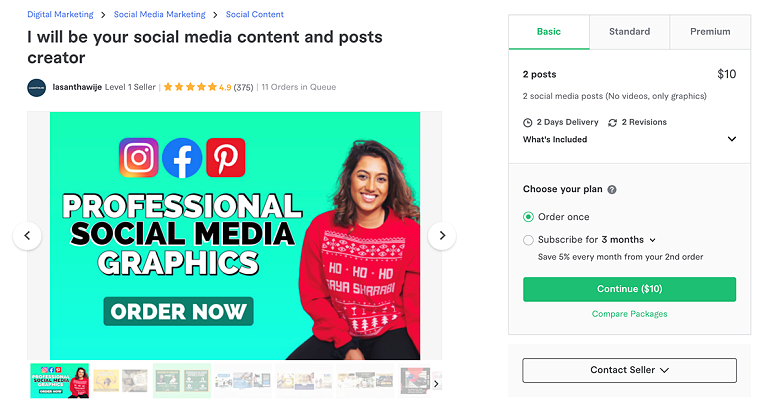 With 375 customer reviews and a 4.9-star rating,
LasanthaWije is one of the most popular social media content creators on Fiverr
. As a Level One Seller, they've delivered at least 10 orders while maintaining a 4.7-star rating. Just note that their packages only include content creation, so you might want to think about hiring them alongside a social media manager. This freelancer's packages range from $10 for two posts to $65 for 16 posts. If you want to hire LasanthaWije for a longer period of time,
they also offer a subscription service – you can save 5% when you hire this seller for three months or longer.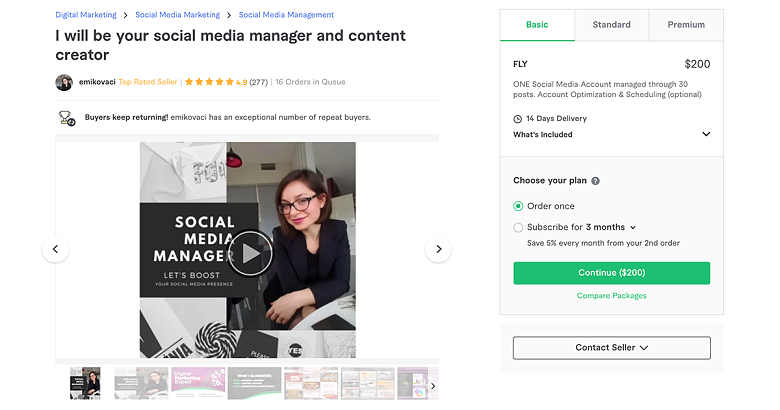 EmiKovaci is a Top Rated seller, meaning they have delivered at least 100 orders on time and earned a minimum 4.7-star rating in the process. This social media freelancer also has a lot of repeat buyers, suggesting that their customers are happy enough to buy again and again. At a starting price of $200, their Basic plan costs a bit more than some others on this list. But
this Basic package includes 30 days of social media content creation and account management
– so it's a great deal. For $440, you can get content and management for three social accounts plus a six-month digital marketing strategy. Alternatively, you can
subscribe for three months or more to save 5% on your second order
.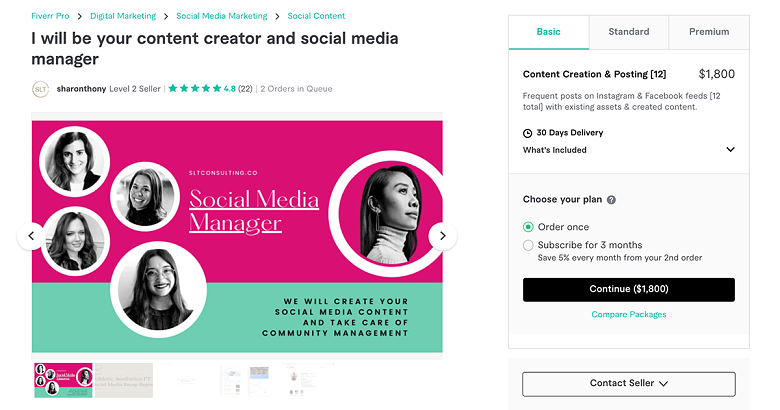 As a Verified Pro, SharonThony is one of the few sellers that have successfully passed Fiverr's manual vetting process. When hiring a Verified Pro on Fiverr, you might notice higher costs. Nevertheless, choosing a Pro is typically beneficial because it guarantees you won't need to concern yourself with the quality of the work you're acquiring. This team offers an array of professional services, encompassing social media marketing, social media content creation, and various other offerings.
The Basic package starts at $1,800 and includes 12 posts across Facebook and Instagram.
For $3,200, you'll get a social media brand identity strategy and 25+ posts for Facebook and Instagram. Like some other sellers on this list, SharonThony offers subscriptions with 5% savings from the second month.
To conclude…
When you need to find and hire the best of the best freelancers,
 Fiverr is the only platform that delivers
. A beautiful combination of ease of use, thousands of sellers, and affordability mean that on Fiverr, you can always find a freelancer that you love, whether that's as your new social media manager or a social media creator. You can spend your time combing through other sites for a comparable level of value. Or, you can head over to Fiverr, perform an easy freelancer search, and
find a skilled professional in no time and for as little as $5
. Searching for a freelancer is completely commitment-free, so head to the Fiverr homepage to get a look at available freelancers and gigs. Don't forget you can find so much more on Fiverr too. If you want to improve your social media offering all-round, you can hire:
FAQ
Where can I find freelance social media managers?
I recommend using Fiverr, the top freelance website, to find experienced social media managers for your company or brand. Fiverr hosts thousands of active freelance creatives who offer extensive service packages that can be customized to your needs.  
What do freelance social media managers charge?
There is no set fee that these managers charge; however when you hire through Fiverr you can spend as little as $5 on a package. Package pricing varies greatly, but there are thousands of freelancers that remain at or near this price point.
What skills do social media managers need?
What you need in a social media manager will vary, but there are a few common traits. Generally speaking, they should be organized, analytical, creative, talented writers, and knowledgeable about effective marketing techniques. They should also have basic graphic design knowledge and great customer service skills.