starting at just $5
), ratings, and other features.
But browsing the Fiverr marketplace made me wonder whether price and quality always align. Does purchasing a more expensive gig guarantee a better result?
To satisfy my curiosity and find the best anime character designer for the money, I hired three at various price points. Take a look at my experience with these Fiverr freelancers and find out which delivered the best value.
Hiring 3 Anime Character Designers to Test
I quickly found that anime character design gigs on Fiverr cover a wide spectrum. Some include simple black and white illustrations only, while others come with full color and detailed backgrounds. Some also include permission for commercial use or source files that let you make adjustments as necessary. To get a better sense of what to expect from various price points,
 I hired an inexpensive ($15) designer, a midrange ($50) creator, and an expensive ($100) artist. I asked each to complete the same project: draw an anime-style astronaut in a space suit.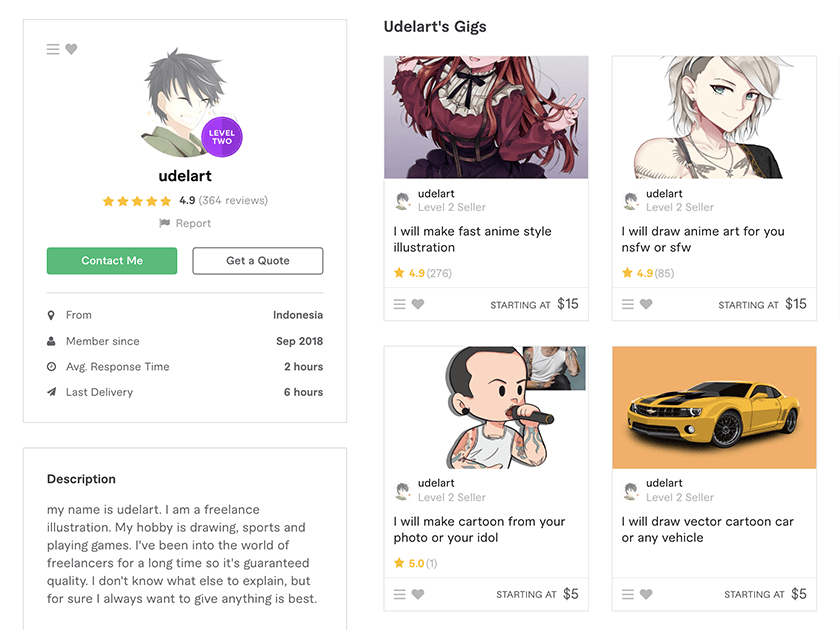 I picked Udelart out of the sea of anime illustrators immediately.
Their Level Two Seller status indicated that they'd delivered a lot of projects at a high standard over a long period of time, which seemed promising. With over 350 reviews and a 4.9-star rating, it was clear that they'd had a lot of happy clients.
 Their portfolio included a lot of characters in complicated outfits, so I thought they'd be up to the challenge of drawing a figure in a space suit.
I bought their basic ($15) gig, which included a single character
. Although most cheaper anime gigs don't include color, this one did which immediately impressed me. It also came with a five-day deadline and up to three revisions – a generous amount considering the price.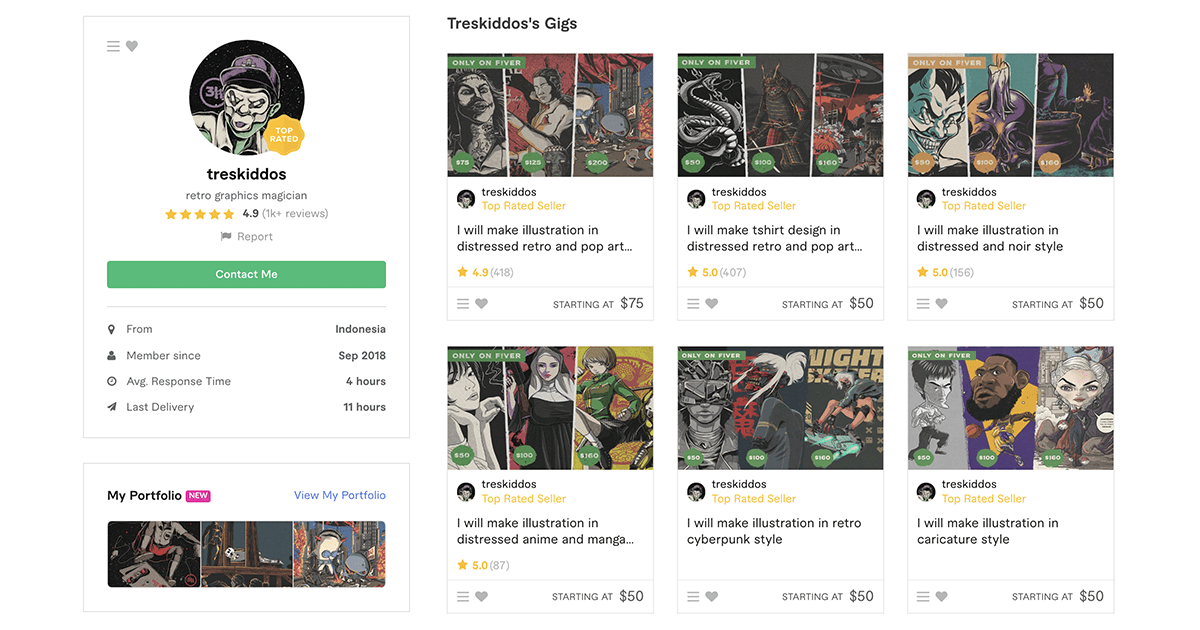 With their Top Rated Seller status, TresKiddos also caught my eye right away. This credential indicates that the seller has generated over $20,000 in sales on Fiverr, so it's a good indicator of extensive experience.
 As this seller's name suggests, it's actually a team of three artists who design anime characters. Their distressed style looked like it was right out of an action-packed comic book, so I couldn't wait to see their take on my character.
I purchased their basic ($50) gig for a black and white figure with no background.
 It came with a seven-day deadline, one revision, and a commercial license, an extra that I really appreciated for the cost.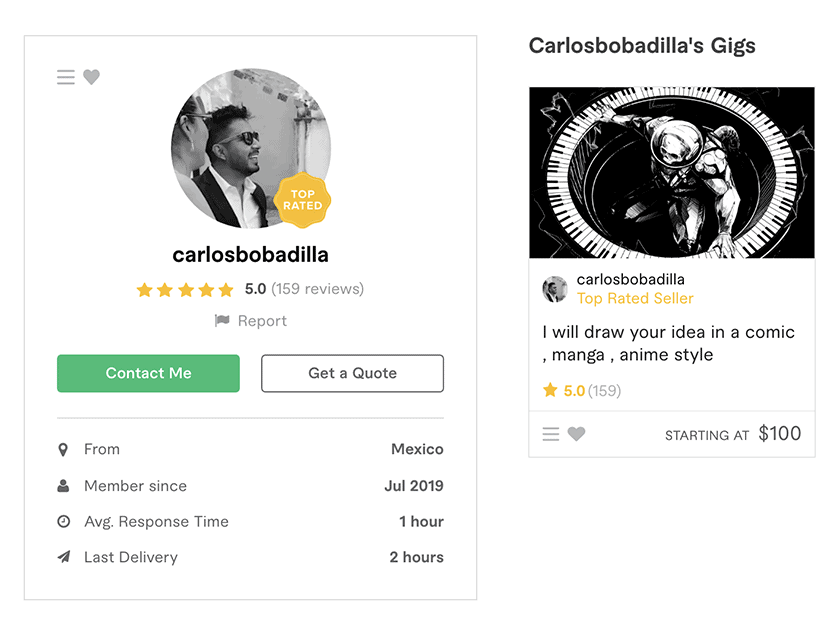 Another Top Rated Seller, CarlosBobadilla stood out thanks to their exclusive Fiverr status and their five-star rating. Although their profile included over a dozen excellent examples of their work, I appreciated that they also linked to their portfolio, where I found hundreds more eye-catching work samples.
I ordered their basic ($100) gig, which came with a black and white character but no background.
However, this creator added more value by including a source file, a commercial license, and fast two-day turnaround
. This gig didn't include revisions, so I hoped we could get it right on the first attempt. While I appreciate the extras thrown in, knowing that there's no scope for revisions made it a riskier option.
My Experience Working With These Fiverr Freelancers
Before purchasing the gigs, I messaged each seller about the project. They all responded within an hour so they're neck and neck at this point:
The least expensive ($15) artist, UdelArt, let me know that they had a long queue, and we negotiated a deadline. Then they sent me a custom offer with the terms we'd discussed. They had the simplest requirements of the three, as they only asked for a reference image to work from.
The midrange ($50) freelancer, TresKiddos, confirmed what the basic package included to make sure it would fit my needs. Then they invited me to book the basic gig. This seller had the longest list of requirements of the three, as they asked about the orientation, dimensions, and purpose of the artwork. It's good to iron out these details early on rather than establish a problem at the end so I was impressed with their thoroughness.
The priciest ($100) creator, Carlosbobadilla, asked a few questions to make sure they were envisioning the character I wanted. What should the astronaut be doing? Could they deviate from the reference photo? Did I need a background? Then they encouraged me to proceed with the order. After the initial questions, their onboarding process was simple, as they only asked about the size I needed for the final version.
Comparing the Final Results
From the cheapest gig to the most expensive anime character, I was truly impressed by all the results. However, one design stood out as my favorite.
The $15 Anime Character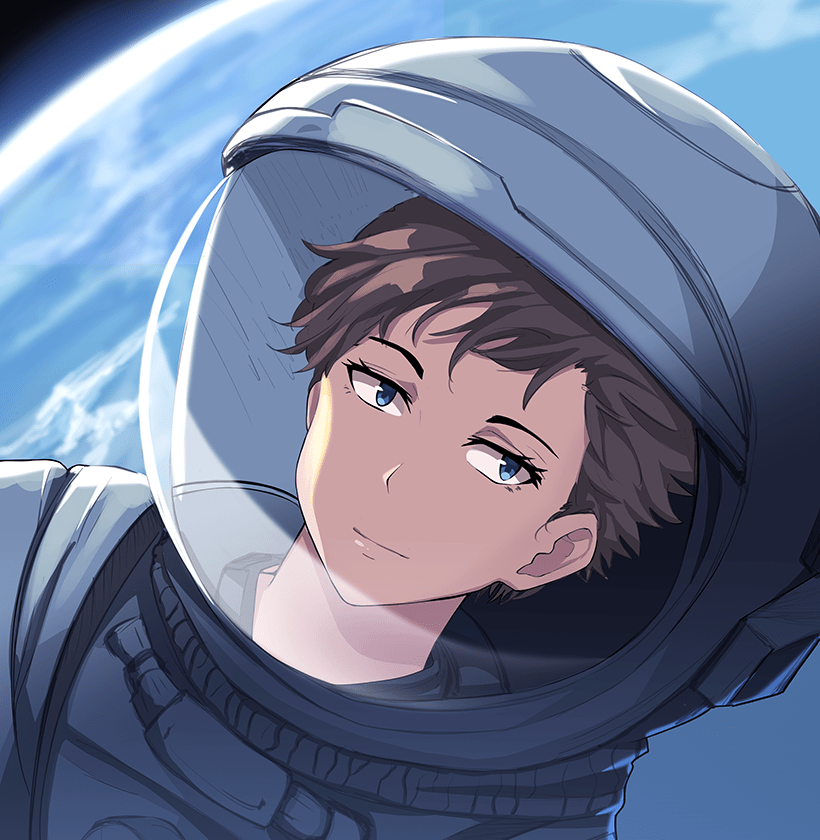 Because I was at the end of this designer's queue, I didn't expect to hear from them very quickly. But right away, Udelart confirmed that they had what they needed for the project, and about four days later I received an update.
Although they hadn't promised a draft, I was pleasantly surprised to receive a sketch of the character and a request for input at this early stage. They then sent the final version with color less than 12 hours later.
It just shows that checking in and keeping up the communication leads to a much smoother process. Altogether, this anime illustration took just under five days to complete and was finished before the deadline, so that's a gold star in my books. While the wait time was on the longer side (but not by much), the full-color design and affordable price added to the overall value. I'd happily hire this artist again, especially if I were working with a small budget.
It's also worth noting that out of the three designers I hired, Udelart was the only one who provided a color design.
 If I'd wanted a color finish from the medium and premium designers, I'd be looking at spending big bucks.
The $50 Anime Character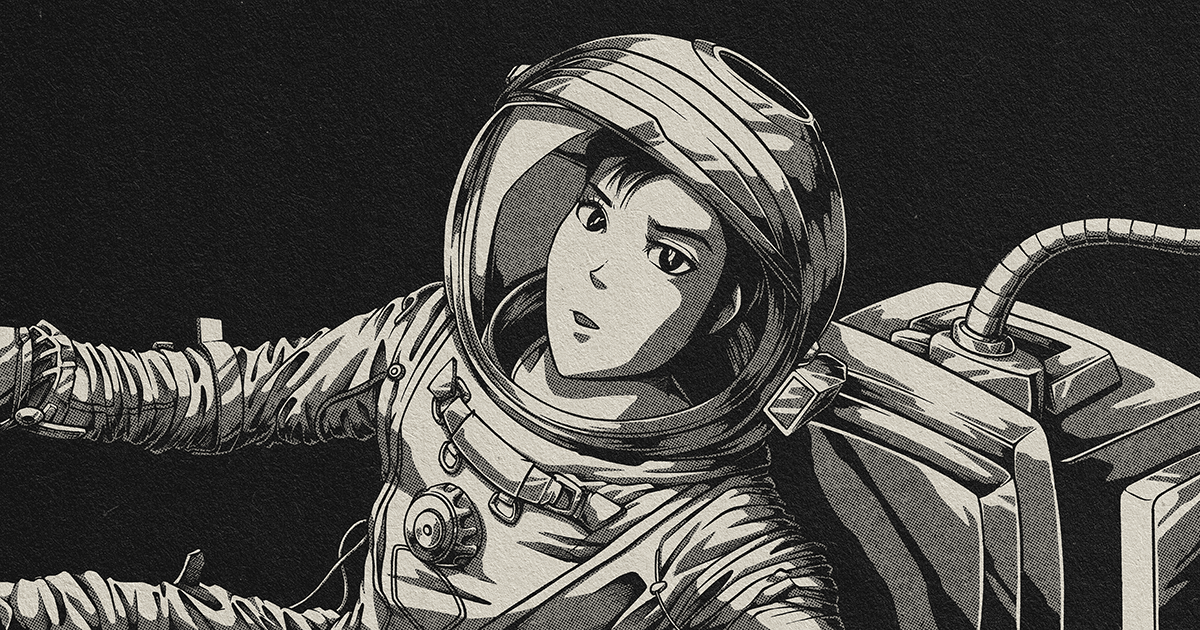 Similar to the $15 creator, the $50 freelancer sent an order confirmation right away and provided a sketch about three days later. The draft followed the reference image almost exactly, including cropping part of the astronaut's helmet out of the frame. As one of my revisions, I asked them to include the entire helmet in the illustration. TresKiddos delivered the final version a few days later, and I was happy to see that they'd incorporated my revision request. I received the final anime character design about 12 hours before the deadline, so this project took just under seven days to complete.
This was the lengthiest timeline, but I think it was worth the wait.
I loved the style of this design – the type of sketching they've used makes it look like it's been etched on newspaper. It's different and I'm all for that.
The artist's unique style and attention to detail increase the value, and I'd readily work with this creative team again if I had the budget.
The $100 Anime Character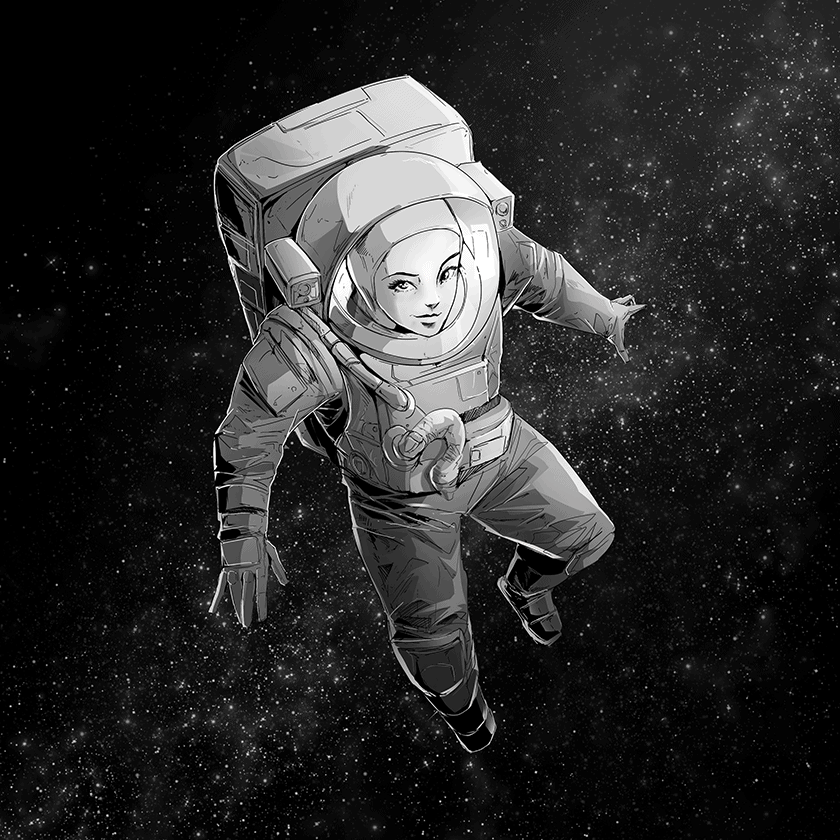 Less than 24 hours after I placed the order, CarlosBobadilla sent a sketch of the character. They asked a few specific questions: did I want to show the astronaut's hair, and should she be tethered to a spacecraft?
I appreciated the creator's attention to detail, as it helped set them apart from the two other freelancers and get the illustration just right.
They submitted the final version of the illustration about 24 hours later, well in advance of the two-day deadline. This was the fastest project to complete, which is impressive given the creator's high level of detail and shows that a bigger investment can speed up the process and get you a professional result.
Although it was also the most expensive design, this is my favorite design.
Plus it's a high quality, full-body artwork, with some serious attention to detail and a fast turnaround (along with those extras that were included in the price). For those reasons, it should be the winner here… But that's my subjective opinion, so let's look at this objectively. As you have now seen, you can get an excellent piece of anime artwork for a low price too. In fact,
Udelart provided the best value for money of the three
, since their package included an anime-style character in full color for just $15.
If I'd purchased a color version from the most expensive creator, I would have had to pay $420
– a massive increase over Udelart's budget-friendly prices! To put that into perspective, you could commission Udelart a staggering 28 times for the price of one full color piece of artwork by Carlosbobadilla. If you can afford a bigger budget, then I'd recommend considering a creator with a standout style or a short deadline but remember to look around at what else is out there.
Hiring a Freelancer for Anime Character Design on Fiverr
I've found that using the Fiverr marketplace provides me with several nice perks. There's a reason it's one of the
top freelance platforms
and why it scored
4.9
out of 5 in
our Fiverr review
:
It works for a wide range of budgets. Many Fiverr gigs cost just $5, $10, or $15, so they can easily fit a small budget. If you can afford to spend more, you can browse gigs from Verified Pro sellers. They often include more complex deliverables or higher-quality results, and they may cost hundreds or even thousands of dollars.
It makes searching for freelancers easy. Whether you're most focused on price, style, ratings, or other factors, you can use Fiverr's advanced search options to find the right freelancer. You can enter a budget range, filter by seller credentials, and then scroll through the gigs to compare the creators' portfolios and reviews.
It offers custom quotes. With so many available gigs on Fiverr, you can often find exactly what you want with a quick search. However, if you want to add on an extra feature or receive your order faster, you can ask any seller for a custom offer that meets your needs.
The 10 Best Anime Character Designers in 2023
I searched tons of anime design gigs to find the best artist in this category.
My top choice is
CarlosBobadilla
 because of their high quality design, attention to detail, fast work, and added value. Check out the rest of my picks for top 10 anime character designers:
FAQ
Can I get cheap anime characters designed on Fiverr?
You can definitely order cheap anime artwork on Fiverr. Pricing starts as low as $5, and there are thousands of anime gigs priced at $15 or less. In fact, the vast majority of the options I found on Fiverr were $30 or less, so it's easy to get great work on a smaller budget.
Do more expensive Fiverr sellers produce better quality work?
In some cases, the most expensive Fiverr freelancers do higher-quality work and deliver better value. However, this isn't always the case, and many cheaper sellers do excellent work – for instance, just look at the $15 seller I tested out above. In my colleague's Fiverr logo design review, he actually preferred the cheapest $5 option.
When do you pay for a Fiverr gig?
Fiverr charges you as soon as you confirm your purchase. Then the platform holds the funds for a 14-day period before paying the seller.
Is Fiverr easy to use?
Fiverr is easy to use and navigate – as we found out when we tested it for our review of Fiverr –  even if you're new to this type of marketplace. You can start by selecting a category and browsing relevant gigs, or you can type what you're looking for right into the search bar. You can find anything from digital marketing and programming gigs to more unusual services like development for streamers. When you find a gig that meets your needs, you can place your order and confirm the deadline within minutes. If you can't find a gig that's just right, you can always message a seller to request a custom offer.
Which is better – Fiverr or Upwork?
When you want to hire a freelancer for creative or technical work, Fiverr and Upwork are two of the most popular marketplaces. I think Fiverr is better because it's easy to search for and purchase the type of gig you need. The visual layout helps the best freelancers make a great impression. I also like that Fiverr gives the most successful creators credentials like Top Rated Seller, which helps them stand out from the competition. In addition, Fiverr gigs are often cheaper, since they start at just $5.