There are so many freelance musician platforms to choose from, it can be hard to know which site is best
. Only a few of them have large pools of professional musicians and even fewer offer talent scouting services. Some lack a serious vetting process, so they become a cesspool of scammers and unreliable freelancers.
I tested most of the popular freelance sites to find the best ones for hiring freelance musicians
. I focused my attention on those that have a wide range of talent and the tools needed to quickly filter through a list of potential candidates. Buyer protection and the quality of customer support played an important role as well. I concluded that
Upwork is the best option for most businesses. You'll find a wide range of musicians for every budget
and can hire highly skilled freelancers for super-low prices. I've also listed other useful websites that make the search for the right talent easy by allowing you to filter musicians by instrument or genre.
Short on Time? These Are the Best Freelance Websites for Musicians in 2023:
Upwork – A diverse global pool of musicians who offer good value for money.
Fiverr – Thousands of experienced musicians who work at affordable rates (starting from $5 per project), plus intuitive filters to help narrow down results.
Bark – A job board with hundreds of talented local musicians looking for all kinds of gigs.
What We Look For in the Best Freelance Websites for Musicians
When testing these websites, I zeroed in on specific features that helped me find qualified musicians quickly and at a lower cost.
Low fees. Some sites come with expensive monthly subscriptions or high fees attached to them. I looked at those that don't require yearly memberships or upfront payments to use their services.
A wide range of musicians. I selected the platforms that offer different kinds of musicians, including singers and instrumentalists, so you can find precisely what you're looking for.
Freelancer portfolios. Anyone can claim they're a musician. I looked for freelance sites that allow freelancers to publish their work history, music samples, and previews. That way you can quickly evaluate various musicians before interviewing them.
Client protection. I only recommend platforms that protect your interests by playing an active role when there's a dispute between you and the freelancer.

With thousands of freelance musicians to choose from, Upwork is
one of the largest freelancing platforms in the world
. However, this can also be a drawback – you could easily spend hours or even days looking through proposals and lists of freelancers. Many musicians are also jacks-of-all-trades instead of specializing in one field, which can be a good and bad point at the same time. On Upwork,
there are three options for finding a musician: Talent Marketplace, Project Catalog, and Consultaions
. You can search by "talent" using the search bar and the appropriate filters, or by project.
The downside is that you need to navigate to each freelancer's profile to view their work samples
because they're not available in the preview.
Alternatively, Upwork's team of recruiters can scout the talent for you
. The best thing I found about Upwork was its
intuitive user interface and project management space
. You can
hire musicians on hourly or fixed-price contracts
, communicate securely through the platform, and send files back and forth in real-time.
Features
One of the best filtering systems: Filter freelance musicians using a wide variety of parameters, such as genre, instrument, job success score, location, rating, and more.
Evaluate a freelancer with ease: Upwork helps you quickly determine the value and experience of a freelancer. Each freelancer has a Job Success Score that is calculated using the number of successfully completed projects and client feedback. Additionally, freelancers are rated with special badges, such as "Rising Talent" and "Top Rated" to give you an idea about their experience.
Detailed freelancer profiles: Freelancers fill out their own profiles which include information about their education, skills, experience, employment history, and much more. The profile page also includes a portfolio and their Upwork history so you can get a better idea about their experience and interaction with other businesses.
Direct access without upfront payments: Access is free – you don't need to pay a monthly membership fee to be able to post jobs or browse through the available talent. Instead, Upwork takes a small percentage when a project is completed and paid for.
Read our expert
Upwork review
for more details.
Cost of Hiring

5% processing fee

Review System

✔

(Job Success Score and profile badges)
Payment Methods

Credit cards, PayPal, US bank account

Pre-Screened Candidates

✘

Starting Price

$

3.00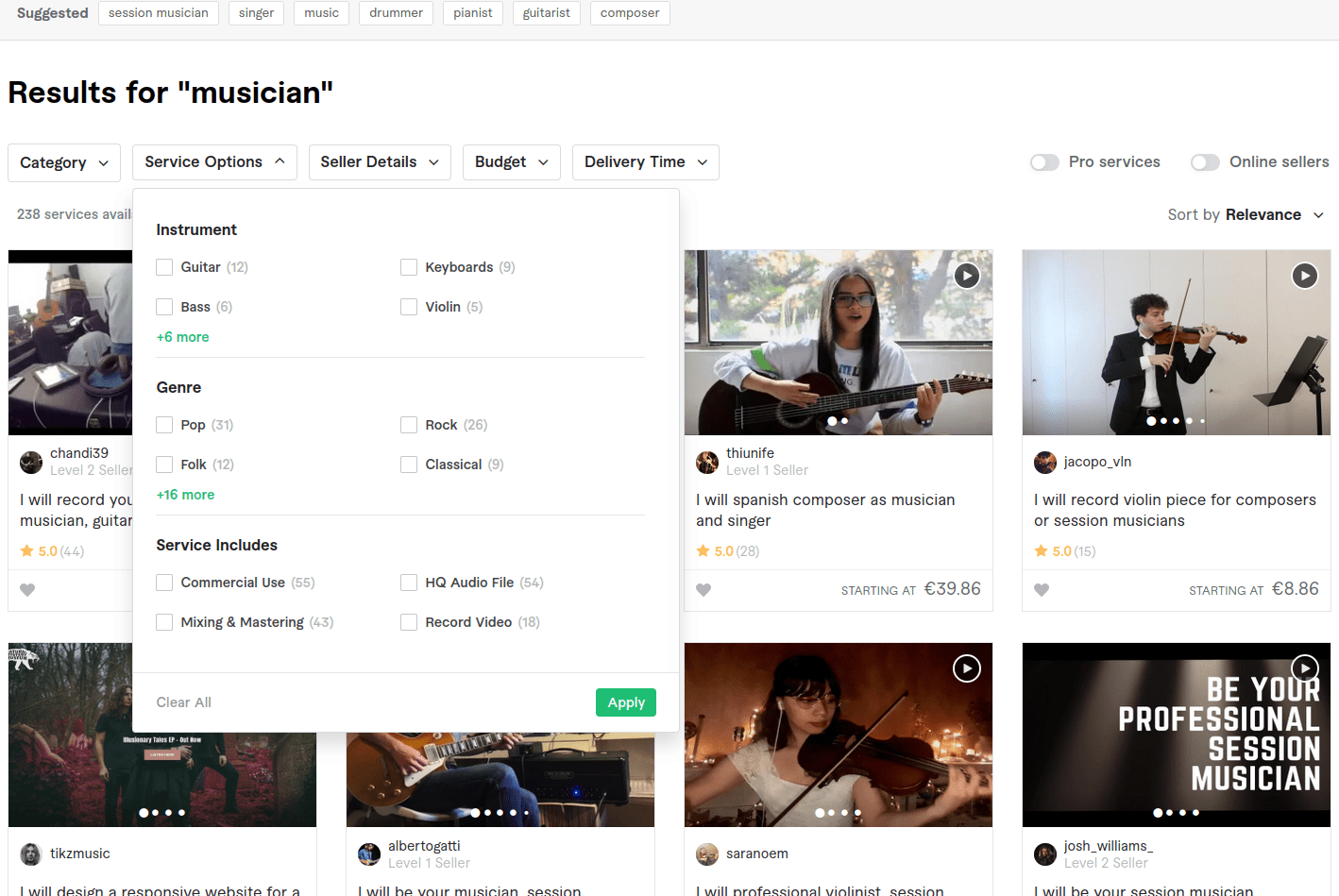 Fiverr is popular among both music professionals and hobbyists. You can
filter the sellers by genre and instrument, as well as budget and delivery time
.
Fiverr is easy to use and one of the best options for complementary music work that needs to be completed ASAP.
For example, if you already have a piece but need to add some strings to the melody, an experienced Fiverr violinist might only charge a few dollars to help you.
When you find a musician you like, you can check out their samples on their profile
. If you like what you hear but aren't yet completely sure about your choice, you can contact the musician for a brief chat about your project. As the name of the site suggests,
freelance
musician jobs start from $5
. This means there's a wide variety of freelancers who can work within any budget. While it might sound too good to be true,
you really can find talented musicians for super-low prices
.
Features
Custom offers: The gigs on offer won't always match your requirements. Fortunately, you can ask freelancers to create and send custom offers based on your exact needs.
Sellers are ranked: Freelancers are ranked based on their experience on the platform. You can clearly see who is a new or top-rated seller.
Post a request: If you don't have time to browse for services, you can describe what you're looking for and set your budget. You'll receive custom offers from multiple applicants in your inbox.
Fiverr Pro: If you're willing to invest a little more money, I'd take advantage of Fiverr's 'Pro' section. All of the freelancers here have been screened by Fiverr themselves and are verified professionals, so you can trust that you're getting an experienced freelancer or agency for your money.
Read our expert
Fiverr review
for more details.
Cost of Hiring
5.5% service fee plus an additional $2.50 fee for purchases under $75
Review System

✔

(five-star rating system and seller levels)
Payment Methods
Credit card, PayPal, Fiverr Credits, or Fiverr Balance
Pre-Screened Candidates

✔

(with Fiverr Pro)
Starting price

$

5.00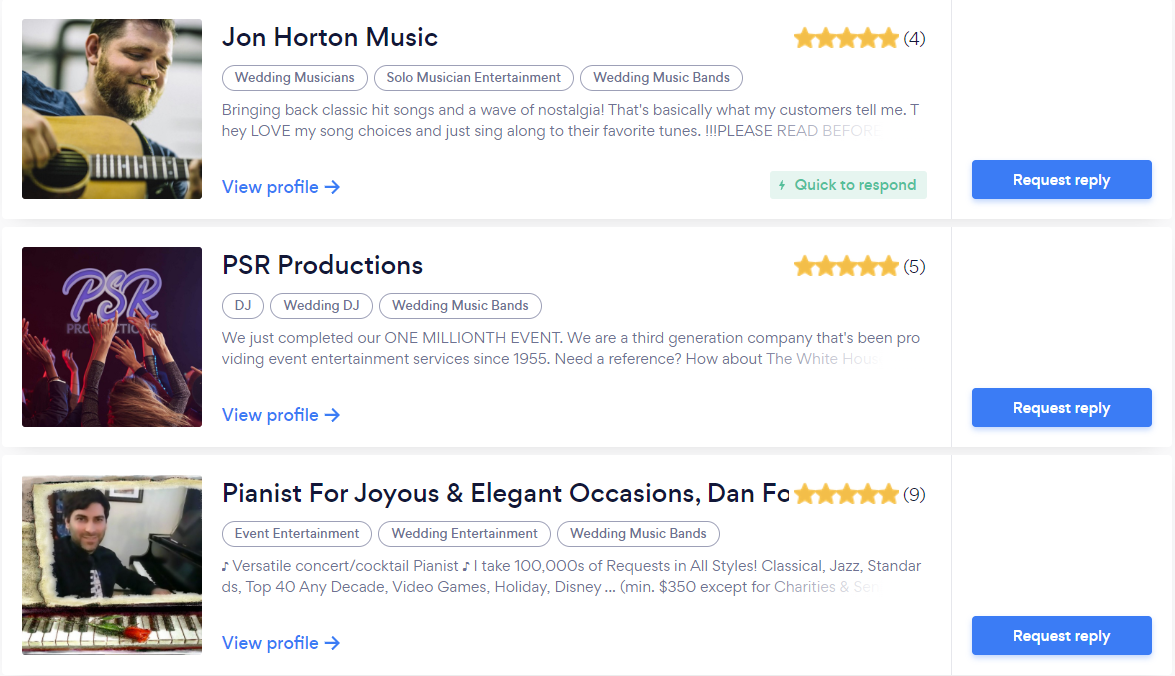 Do you have an upcoming event and need a local musician/band to help keep your guests entertained?
Bark should be the first place you look, with hundreds of agencies and solo musicians filtered based on their current location
.
The website is straightforward, with a clean interface and a clear purpose
. You simply post a request outlining your gig's requirements and wait for agencies and freelancers to make an offer. You can also browse profiles yourself and request a reply, which can save you a lot of time if you live in a smaller city. It's worth noting that Bark functions more like a traditional job board than a freelance website like Fiverr and Upwork.
It's completely free to use
 and doesn't charge any fees, but that also means you're responsible for drafting any necessary contracts and handling payments outside the platform.
Features
Detailed profile information: By selecting a profile that interests you, you can view in-depth information about the musician or band, including their platform activity, past gigs, client feedback, and a list of services offered.
Completely free: Posting on Bark is free, but the platform doesn't handle payments. The responsibility to negotiate and make payments lies with you, and there's no option for refunds through Bark.
Urgent requests: If you want to indicate that your request is urgent, you can press a little button at the top of your matches page. It will give your posting a slight boost, but interested musicians might quote a higher price.
Callback feature: Communicating via phone is a lot more efficient when hiring locally. Once a musician has replied to your request, the platform will reveal your phone number, and you can even request a callback.
Our
in-depth Bark review
explores the platform's features in more detail.
Cost of Hiring

✘

 (No fees)
Review System

✔

 (client feedback and rating)
Payment Methods

✘

 (Bark doesn't handle payments)
Pre-Screened Candidates

✘

Starting Price
$20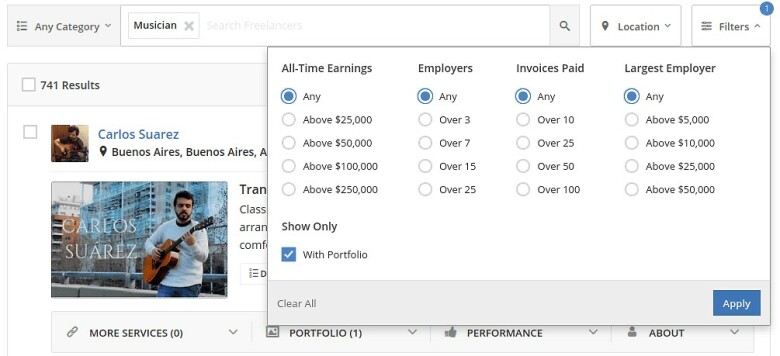 Guru is a flexible platform where you can either browse through a list of potential candidates or post a job and wait for the applications to come in. What I love about Guru is that you can also
manage multiple musicians working on the same project
.
There are WorkRooms available where you can build a whole team
. The site is easy to use, and it reminds me of Upwork when it comes to its design and filters. The filtering system is simple. You can downsize your list of potential candidates by choosing freelancers that have portfolios and a certain degree of experience. You can measure that experience through filters like "Largest Employer" or "All-Time Earnings." You can also filter musicians by their location.
Guru hosts musicians of all skill levels
. The downside is it can take some time until you find the right talent.
Freelancers aren't thoroughly vetted before being allowed to offer their services.
Features
Browse or post: You can filter through a list of freelancers or post a job for free. You can also select the "Featured Jobs" option to boost the visibility of your post.
Free access: You don't have to pay anything to get started – you can create your account for free and start hiring immediately. There's nothing to lose if you decide to change platforms.
Low fees: Guru charges a 2.9% handling fee that you can avoid if you use an eCheck or wire transfer to pay for the freelancer's services.
Arbitration service: If there's a conflict between you and the freelancer, you can request arbitration. A team will review the work agreement, transferred files, and communication log to establish a fair distribution of funds.
Read our expert
Guru review
for more details.
Cost of Hiring
2.9% handling fee (possible 100% cashback)
Review System

✔

(performance rating as a percentage)
Payment Methods
Credit cards, PayPal, wire transfer, check, Cash Account
Pre-Screened Candidates

✘

Starting price

$

0
5. SoundBetter – Best for Finding Music ProductionIndustry Professionals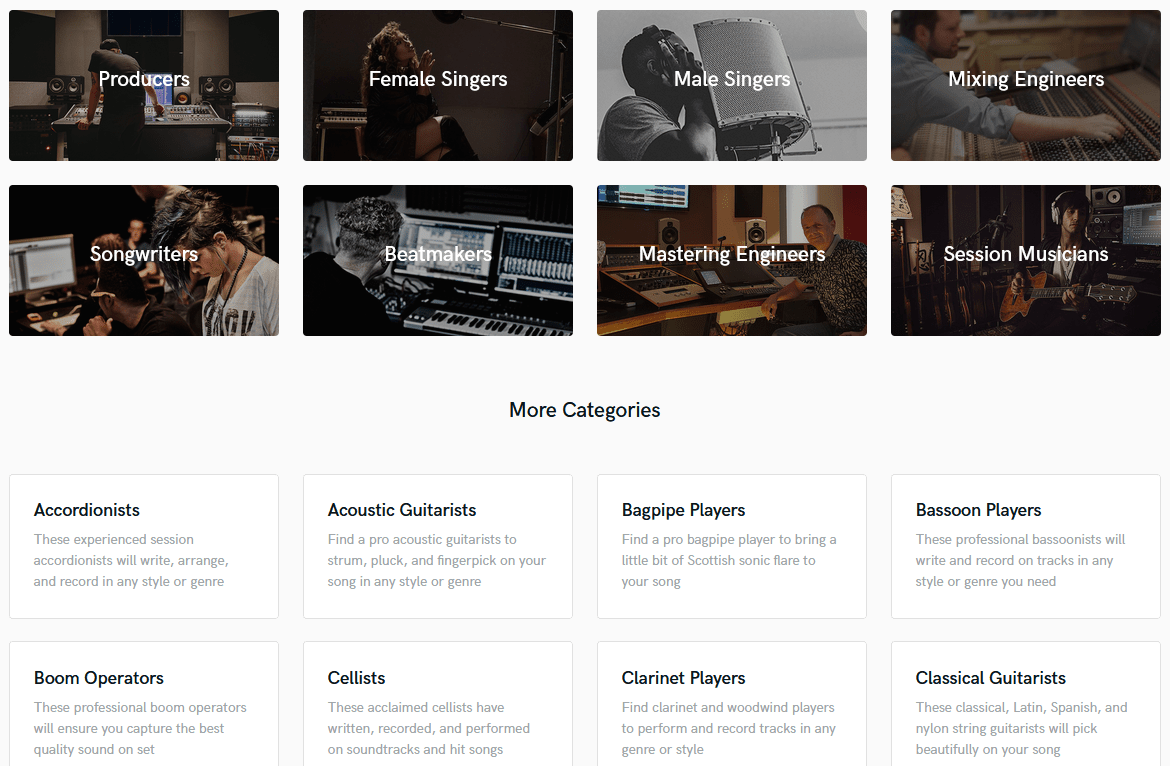 SoundBetter is a freelance musician website focused entirely on the music production industry. The site allows you to
filter freelancers by category, niche, and instruments
. Once you've made your selections, you can apply additional filters, like music genre, to narrow down your search. If you aren't quite sure what to look for, you can use the handy "sounds like…" option to easily find freelancers who sound like famous musicians. You can quickly form a list of candidates, listen to their audio samples from the search pages, and check their previous work credits. SoundBetter is a site for vetted professional musicians. As a result,
the rates you'll find are pretty high
. This could be a significant downside for some businesses. However, you can work with musicians who worked on multimillion-dollar ad campaigns for companies like Nike or collaborated with rock stars, indie sensations, and everything in between. This platform is ideal for high-stakes projects or businesses that don't have to worry about a restricting budget.
Features
Copyright protection: The platform maintains a record of all file exchanges between you and the musician for future reference while treating copyright infringement claims with utmost seriousness.
Clear ratings: All freelancers are clearly evaluated using a five-star rating system. Additionally, you can see which reviews are verified by SoundBetter. Verified reviews are from the clients that paid through SoundBetter, so can't be faked.
Request proposals: When you don't have enough time to search for musicians, you can request proposals for free. Describe the kind of work you need, upload sound files, and wait for freelancers to contact you.
License premade tracks and beats: If you need a track, you might not even need to hire a freelancer. You can buy an exclusive commercial license for your favorite track and use it to create your own song.
Cost of Hiring

✘

Review System

✔ 

(five-star rating system)
Payment Methods
Credit cards, PayPal
Pre-Screened Candidates

✔

Starting price
$30
6. AirGigs – Best for Finding Genre-Specific Musicians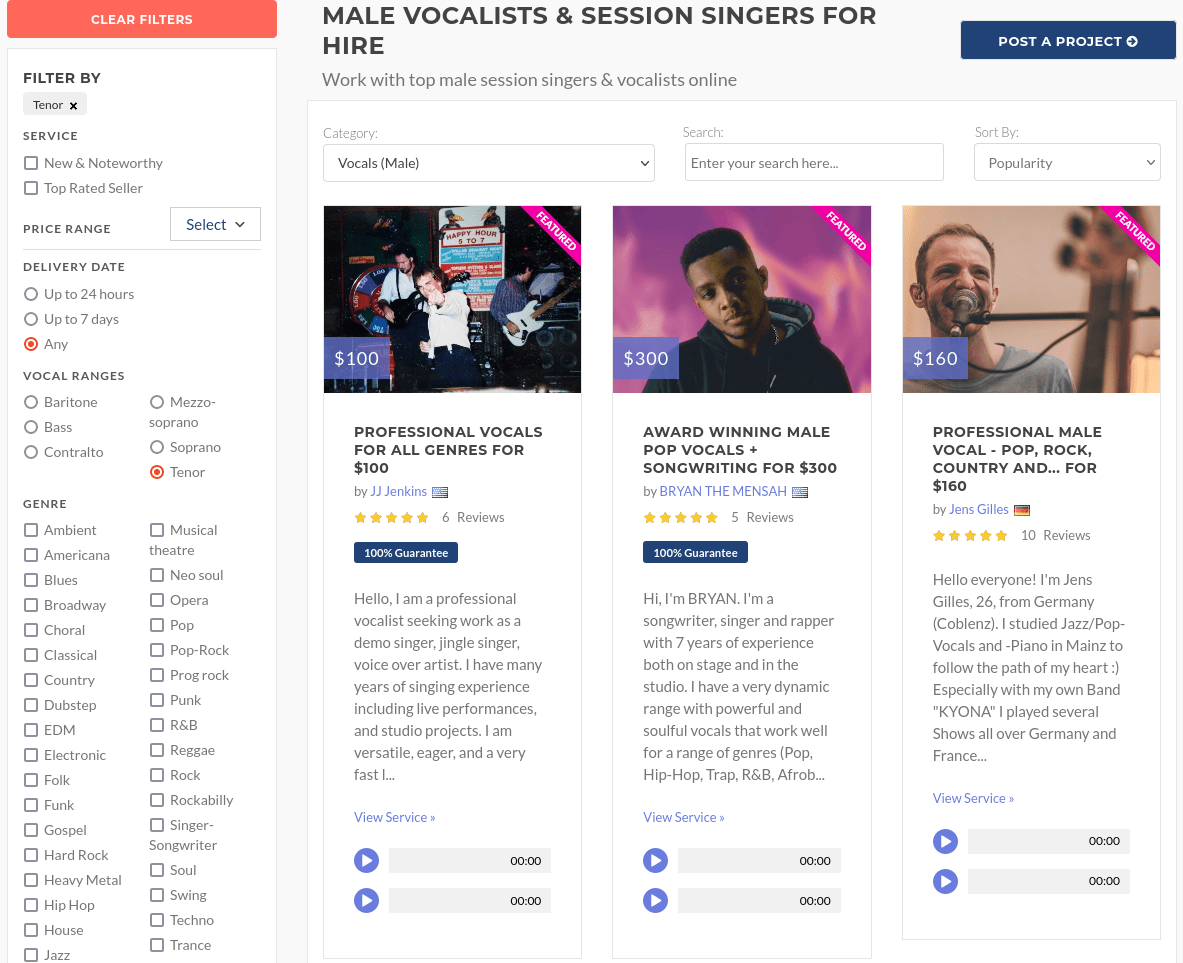 AirGigs is a freelancing platform where vocalists and instrumentalists are categorized by their genre. For example, you can specify whether you're looking for a classical guitarist or a country singer. That said,
what I love the most about AirGigs is that singers can also be selected based on their vocal ranges
. The search system will save you a lot of time. Another interesting feature is the play button at the bottom of each musician's preview window. You can
listen to a freelancer's audio samples without having to navigate to their profile
. Using this in combination with the great filtering system allows you to quickly see which musicians' sounds fit your requirements.
You'll only find professional musicians on AirGigs.
The downside is that you should expect higher rates than on other platforms.
I found affordable pro musicians with rates going as low as $20.
Features
The 100% guarantee label: Some services are marked with this label, which means you can get a full refund if you aren't happy with the work you receive. Not liking the final product is enough to make you eligible for the refund.
Post your project: If you don't have time to browse, you can post your project and wait for the right musician to come to you.
Video uploads on profile pages: Get to know musicians and see them in action. A video can tell you more about a freelancer than a simple audio track.
No subscriptions or upfront fees: Some platforms require payments in advance for the use of their services. On AirGigs, you can start your search for the right musician without investing anything in advance.
Cost of Hiring
3.9% or a minimum of $1
Review System

✔

(five-star rating system)
Payment Methods
PayPal, Payonee
Pre-Screened Candidates

✘

Starting Price

$20
Are You a Freelance Musician Looking to Sell Your Services?
I tested all the freelance platforms that host musicians and other music professionals.
Upwork is the best long-term solution
, mainly because
it's the only website that can reliably help you find clients and maintain a stable workflow in 2023.
Here's why:
Upwork's client network is the biggest in the industry
The platform is designed with ease of use in mind
You decide what your rate will be
As you earn more, Upwork's fees go down
You will always get paid on time
Most clients on Upwork are looking to hire long-term for bigger projects
You can use a desktop app to track your time and communicate with clients
You can stay on top of offers, contracts, and messages with the intuitive mobile app
Creating your profile on Upwork as a musician or singer is a breeze and takes just a few minutes. 1. Head over to the official Upwork site. Click the "
Sign up
" button situated in the upper right-hand side and select "
I'm a freelancer looking for work
" from the options provided.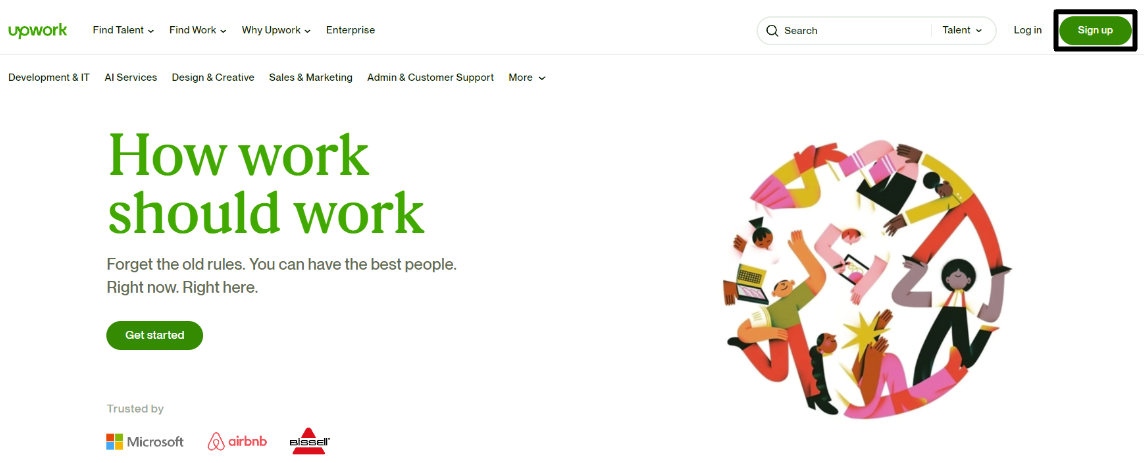 2. Enter your information, such as email, password, and username. To speed the process up even more, opt to link your Apple or Google account. 3. Confirm your email address and flesh out your profile by responding to Upwork's queries regarding your expertise and professional objectives.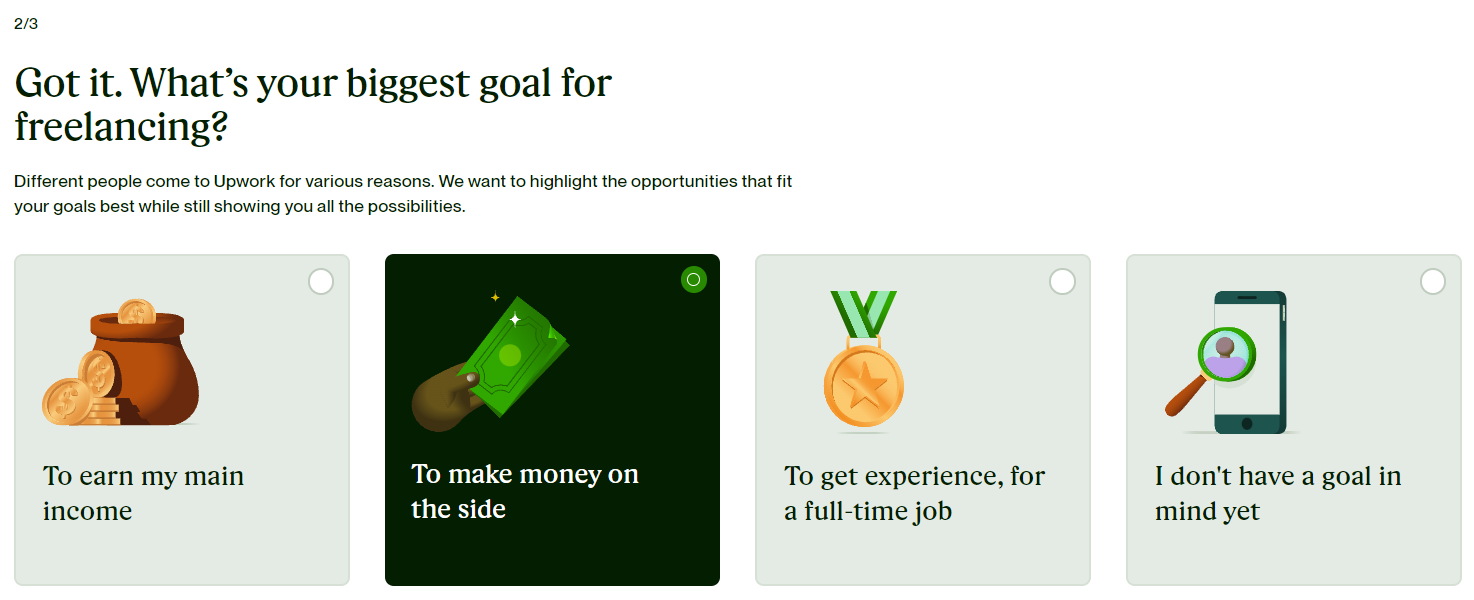 4. Complete your profile by uploading a professional picture, detailing your educational qualifications, and listing your skills. You must then write a brief bio, set your hourly wage, and update your work schedule. 5. Finally, submit your application for review. Once approved, you'll get a relevant welcome email, and you can start applying for jobs. Not all profiles are approved, so improve your odds by providing as much information as possible. Don't skip any sections!
The Best Websites to Hire Musicians Will Depend on Your Requirements
There are many freelance websites where you can find talented musicians, and they all have their own advantages and disadvantages.
It all depends on your project requirements, budget, and the amount of time you can spend searching for candidates. If you want to hire long-term and establish long-lasting work relationships,
I recommend Upwork
.
It features a massive talent pool, ready-made contracts, and many work tools. For quicker jobs and affordable rates, you can't go wrong with Fiverr. It's truly a pleasure to use, and its gigs
start at just $5
.
The advanced filter system is another big plus. If you're looking to hire local talent for an upcoming event near your area,
post a request on Bark
.
It's 100% free, and you'll have the opportunity to communicate the details with your musician/band over the phone.
| | | | | |
| --- | --- | --- | --- | --- |
| | Pricing | Best Feature | Best For | |
| Upwork | $ | Long-term contracts and advanced filters | Anyone looking to hire talented musicians for bigger projects | |
| Fiverr | $ | Low-cost and custom services | Budget-conscious people looking to hire musicians as quickly and painlessly as possible | |
| Bark | $$ | Location-based search | Anyone looking to hire local musicians/bands | |
| Guru | $ | Dedicated workspace for team collaboration | A wide range of businesses for 1-on-1 collaborations and team building | |
| SoundBetter | $$ | Copyright protection and commercial track license | Businesses with large budgets and high standards | |
| AirGigs | $$ | Vocal range and genre filters | Businesses looking for genre specialists | |
FAQ
What are the sites for hiring musicians?
You can find freelance musicians on many of the popular freelancing websites. For bigger projects, the best option is Upwork, with its ready-to-go contracts and easy-to-use work tools. Fiverr is an excellent alternative for one-off gigs and complementary music work.
What types of musicians can I find on Upwork?
On Upwork, you can find a diverse range of musicians, each offering unique skills and expertise. Among them, you can find instrumentalists, singers, producers and composers, sound engineers, arrangers, music teachers, and more.
What is the typical hourly rate for a musician?
That depends on many factors, including the freelancing website you're using. On Upwork, $20-30/hour is the standard. On Fiverr, you can find musicians who charge

$

5.00

for a brief recording. Freelance websites dedicated to hosting vetted music professionals (such as SoundBetter) are a lot more expensive.
How do I get hired as a musician?
If you want to share your talent and get paid for it online, Upwork is a great place to start. It only takes a few minutes to fill out your profile, and you can begin accepting jobs immediately once your account is approved. If you'd instead perform for a live audience locally, I recommend you check out Bark.