having the right website theme is essential.
Think of it as the cover jacket on your next album. You don't want to start building your website with a certain theme only to discover – oops! – you can't customize it properly, it's not mobile-friendly, or it doesn't support the type of audio file you need. To help you sort out the best from the rest, I've put together a list of
my favorite website templates for musicians and bands,
including both WordPress themes and
website builder templates
. And in case you're looking for something totally unique, I'll also share my tips for getting
a custom-made template at a great price
.
WordPress Themes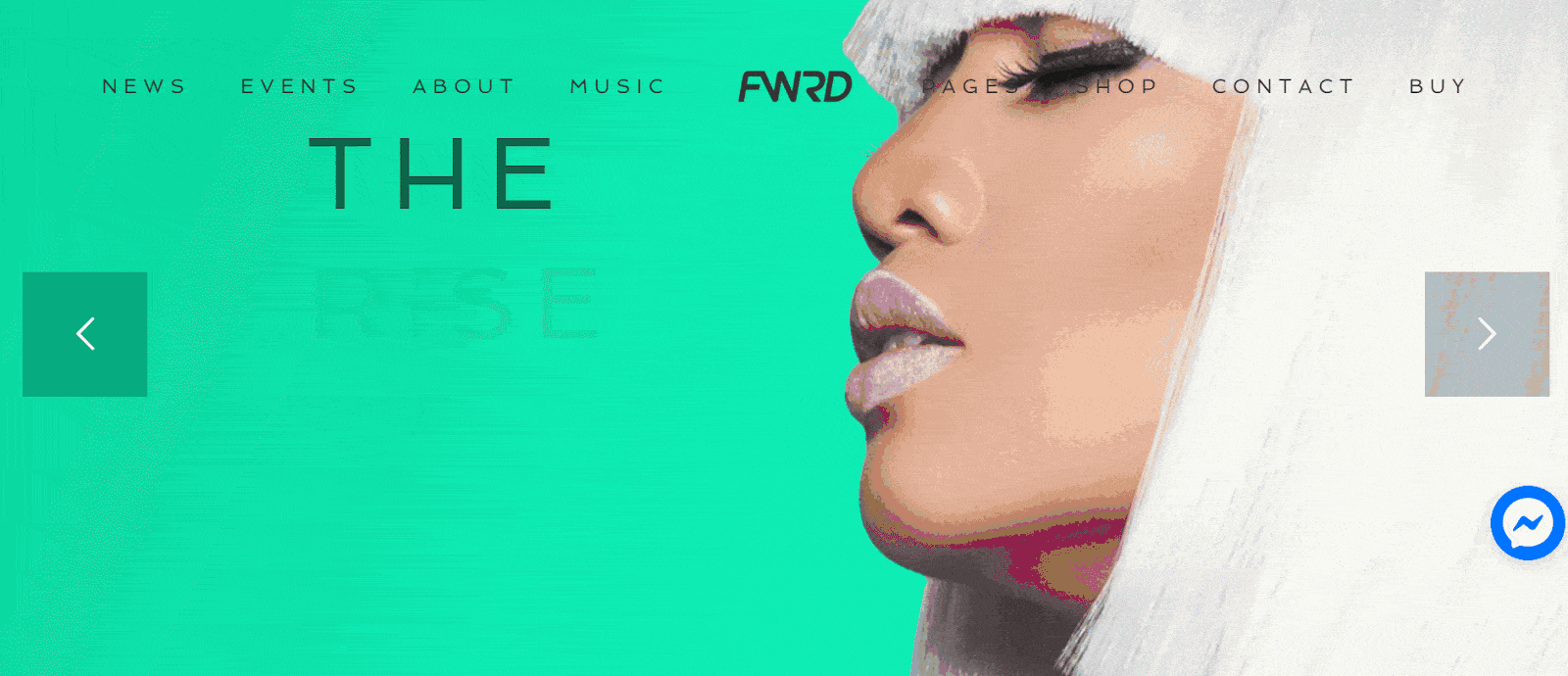 Available via
ThemeForest
, FWRD is basically
a drag-and-drop website builder for the WordPress platform.
 The pack includes five "demos," or themes, ranging from the melancholy, black-and-white feels of
The Fall
to the bold, eye-catching imagery of
The Peak
. My favorite has to be
The Rise
, which blends
bold colors and full-width images with cool video backgrounds and parallax scrolling effects
. The punchy visuals and call-to-action buttons will help pull your website visitors' attention. Each demo comes with the same functionality, and the
sky really is the limit
. There's a content block for displaying your upcoming events and gigs, and an audio player that integrates with SoundCloud, Mixcloud, and Bandcamp. There's even an online store that works by using the WooCommerce integration, so you can sell your merchandise and albums directly from your website. The "Hot Links" functionality also means this theme is suitable for simpler single-page websites, as it allows users to jump from section to section with a single click.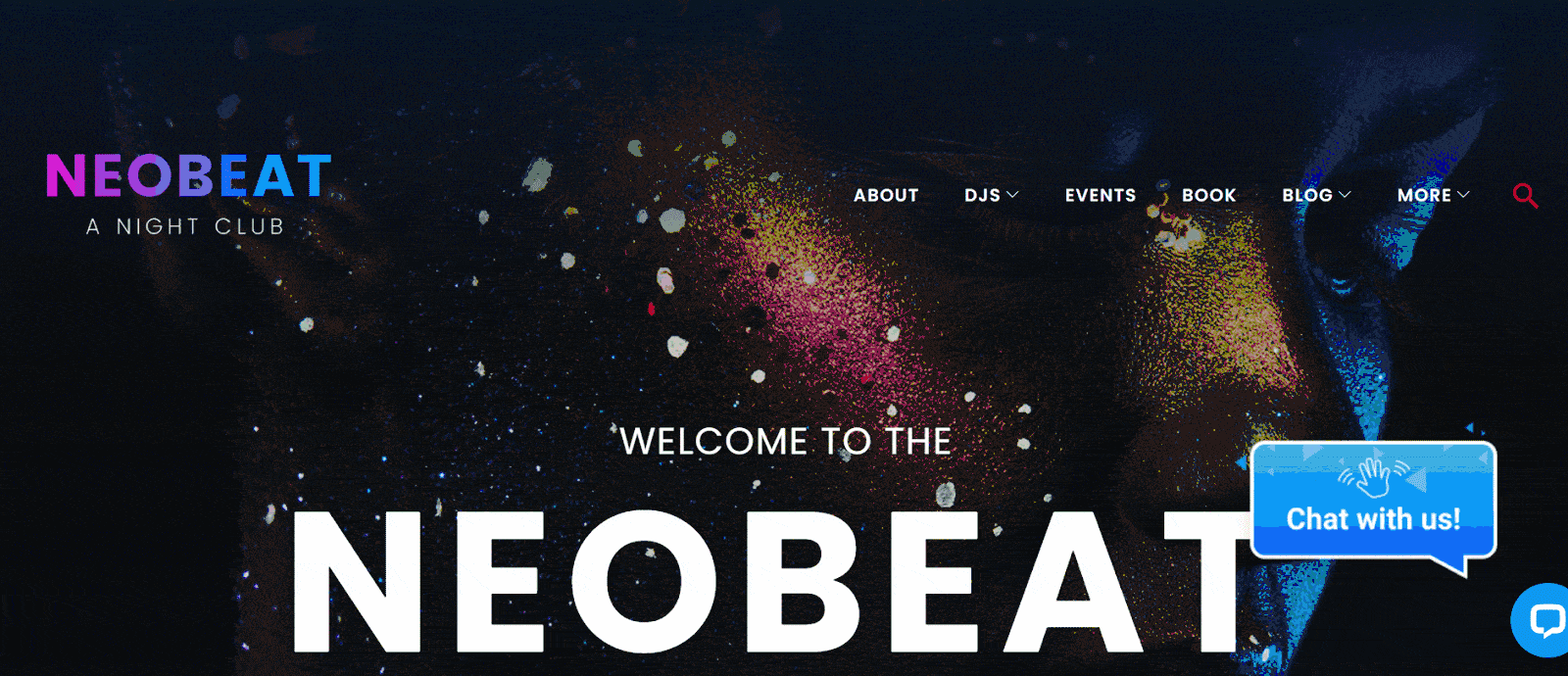 Another theme that comes with a drag-and-drop page builder (this time from
TemplateMonster
) is
Neobeat
. Specifically designed with musicians, DJs, and nightclubs in mind, this theme is
super clean and visually appealing
, with its high-contrast color palette and full-width background images. Not only does
Neobeat
feature a
fully-responsive design
 that adapts to all different screen sizes, but it's also super flexible, meaning you can customize it to suit your particular needs. The theme comes pre-loaded with a timetable plugin for creating concert or event schedules. If you've got merchandise to sell, adding an online store is a breeze. There are also custom widgets for everything from image sliders to social media integrations.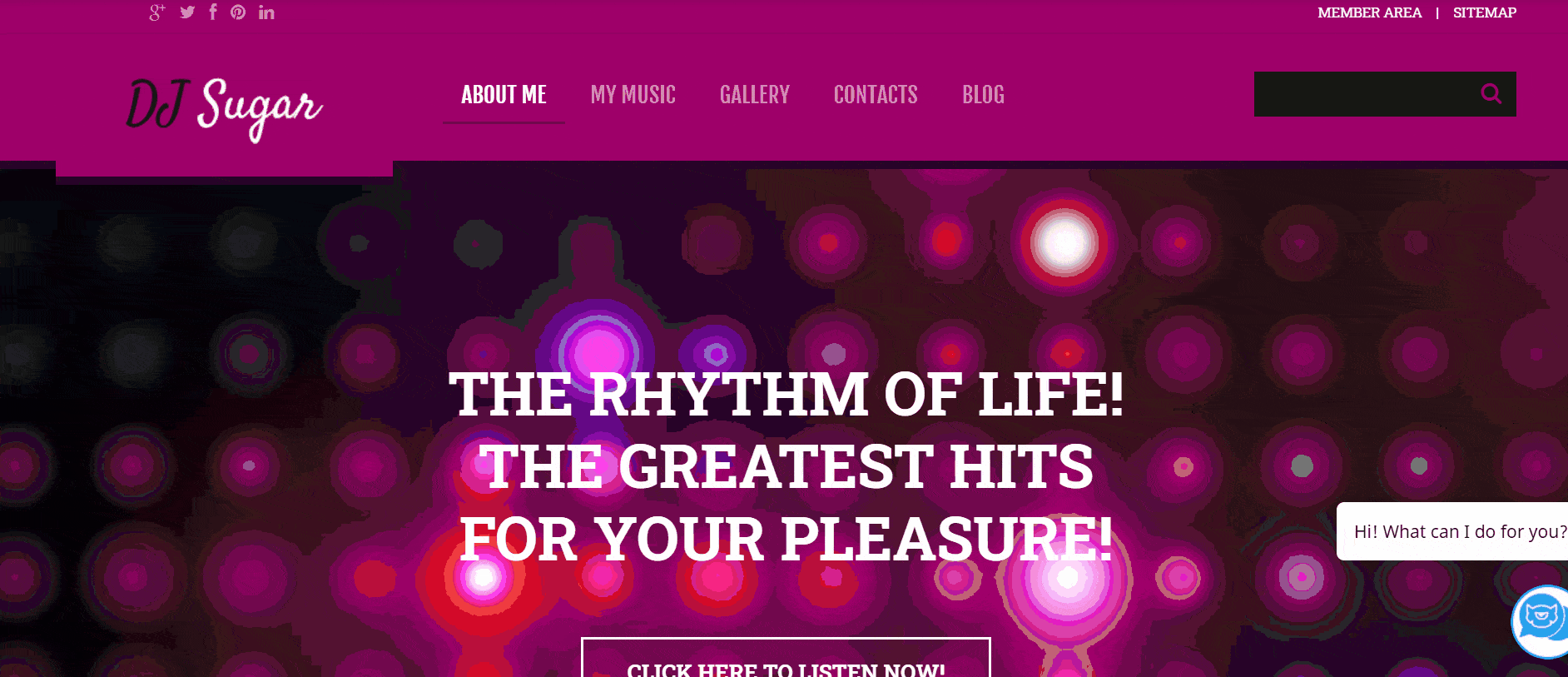 Okay, I'll admit, I'm not a huge fan of the cherry-purple color that dominates this theme from
TemplateMonster
(nor do I recommend that you call your band "DJ Sugar"), but let's try to look past that for a second. There are two reasons I included
Music Responsive
in this list. First, the purple can be changed with the click of a mouse. Second,
this theme is packed with all the features a musician could want!
Music Responsive
is a little simpler than the first two themes – it doesn't have snazzy parallax scrolling effects or videos playing behind the text. But if fancy isn't your game, you might love this theme's
clean lines, pithy text snippets, and abundant photos
. This theme focuses on the important stuff, like an embedded audio player for sharing your tracks (you could also increase functionality by adding a music plugin), and a gallery to help new fans picture what your concerts are like. There's a blog section too, in case you wanted to keep fans up-to-date with your upcoming gigs.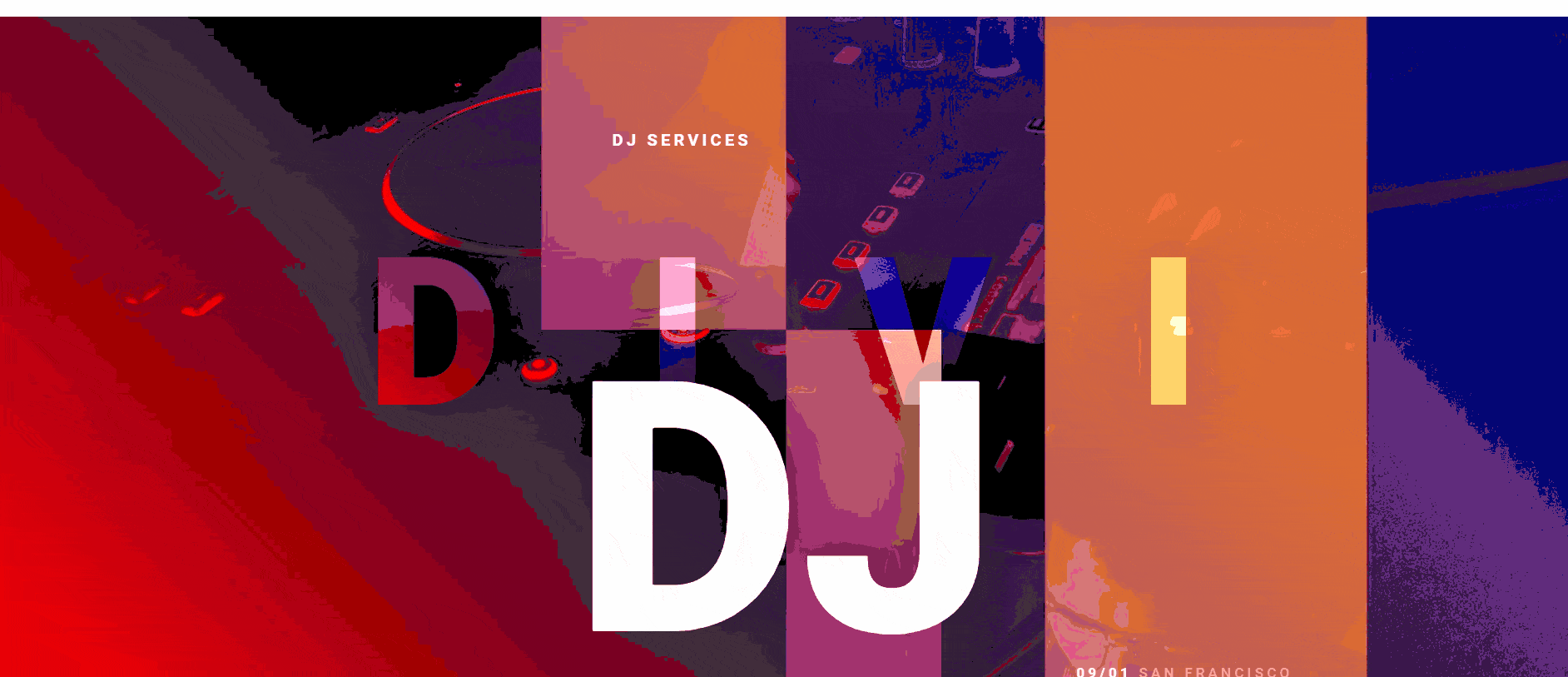 A lot of WordPress themes for musicians seem to favor what I'd call "the moody look" – dark backgrounds with splashes of bold color and plain fonts. So the
DJ Layout Pack
from ElegantThemes 
feels like a breath of fresh air
. It's colorful, vibrant and fun, with its quirky visuals, off-center placements, and gradient backgrounds. This theme is part of a drag-and-drop website builder for WordPress called
Divi
. Each Divi theme is called a layout pack, and each layout pack contains several layouts (think of them as pages). The
DJ
pack includes several pages that are perfect for – you guessed it – DJs, although they would work equally well for bands and other types of musicians. Besides your classic Home, About and Contact pages, you get an Events page, where you can list your upcoming tour dates and let visitors purchase tickets; a Music page, where you can embed audio files; and a Services page, for bookings.
Website Builder Templates
If you've yet to start building your website and your tech experience isn't top-notch (hey, you're a musician, after all, not a coder) –
you might consider using a popular website builder instead of WordPress
. You can think of building a website with WordPress like building with Legos – a bit fiddly, but flexible and ultimately rewarding. In comparison, using a website builder is a bit like using Duplo bricks – they're bigger, easier to handle, and less of a choking hazard for us kids. Added to which,
website builder templates are usually very customizable.
You don't have to take them exactly as they are right out of the box. Rather, you can change colors and design elements to match your band's brand – and revamp your design whenever you have a new album coming out. Here are my favorite templates from some of the
best website builders in 2023
: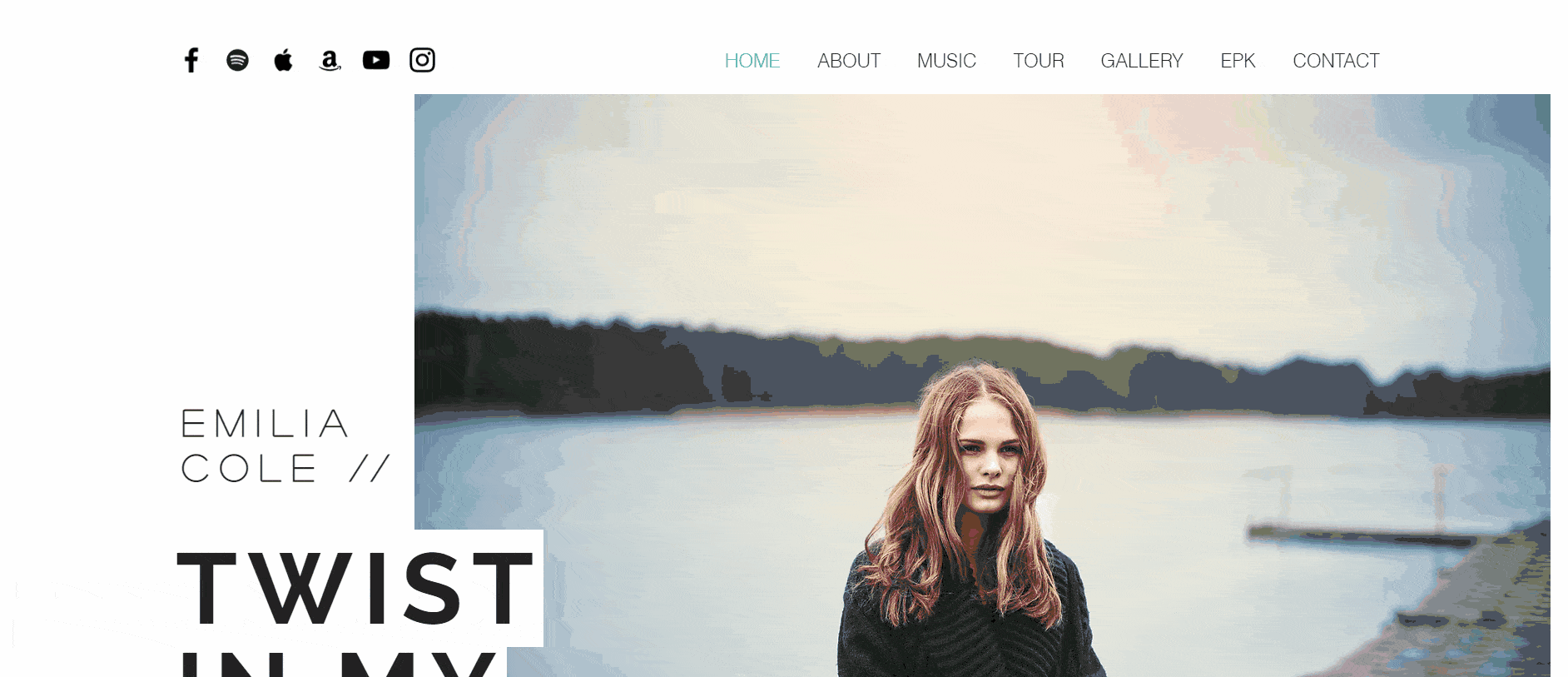 I love this template from Wix because
 its power lies in its off-key simplicity
. The relatively bare homepage (with just a photo and some bold, uniquely-placed text) invites your site visitors to browse through the top menu and start engaging right away. Best of all,
Music Artist
comes pre-loaded with a music player (complete with Wix Analytics for music sales, shares, downloads, and streams), content blocks for embedding your latest music videos, and a page where you can promote your tour and sell tickets via Bandsintown or Songkick.
Adding an online store for selling your merch is just a click away, too.
And, of course,
Music Artist
is totally customizable
. The only slightly frustrating thing with Wix is that you can't switch to a different template once you've already published your website. So for instance, if you drop a new album or update your branding, you can't completely transform the look of your website – you'll only be able to change the individual elements.

If you know anything about Squarespace, you'll know that
everybody gushes over their beautiful designs
. And their music websites are no different. All Squarespace templates tend towards cool, Apple-esque minimalism (seriously, they're all black, white and gray!), but my favorite is
Cruz.
This classy portfolio template is perfect for musicians, featuring sections for audio, video, a gallery, and a blog, as well as built-in social media icons. It's also packed with call-to-action buttons to encourage your website visitors to buy tickets for your next show, sign up to your mailing list, or just listen to your latest track.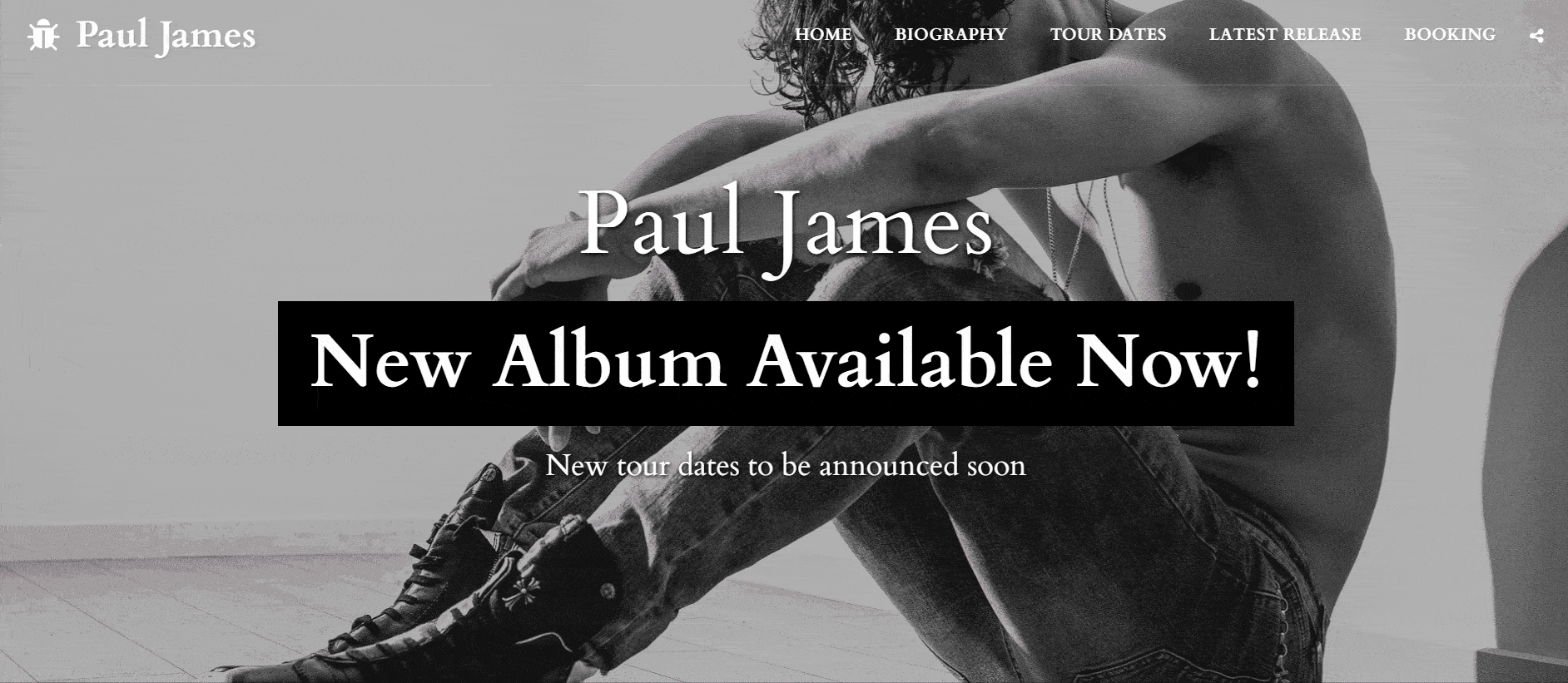 The
Paul James
template from SITE123 would be ideal for bands, solo artists, and DJs alike. It features a
dark color scheme with bold text blocks and black-and-white images
 – although if crooning power ballads isn't in your wheelhouse, you could always customize these elements to make this template more upbeat. Having said that, it's worth noting that
SITE123's templates are the least customizable on this list
. And as with Wix, once your site is live you can't switch to a different template. This simple template is mobile-responsive and fast-loading, plus it's got all of the features you could possibly need for your website, including blocks for tour dates, audio files, and a contact form. SITE123 also offers easy Bandsintown and SoundCloud integration.
How to Get a Custom Template for a Great Price
Clearly, there's a lot of great template options out there for musicians and bands. But what if you don't want something that's already been done before?
What if you want a website template that's totally unique
? It's totally possible! In fact, there are a bunch of talented freelance website designers out there who would be only too happy to put together a custom template for you –
and for a great price, too.
Head on over to Fiverr
and you'll see that
there are freelancers who can do just about anything
– from creating custom templates and developing entire websites to writing copy, doing your next band photoshoot, and heck, probably even writing songs for you. But I digress. If you're looking for a custom template,
just enter "website template" into the search bar on Fiverr,
and it will bring up a list of freelancers who are more than up to the task. For example,
wdstheme
has lots of 5-star reviews and promises to deliver a unique, responsive WordPress page template within seven days for just a few dollars. That includes your custom content, required plugins, unlimited revisions, and a money-back guarantee.

You can also get custom templates built for website builders, if you'd prefer.
Zykhanz
, who also has more than fifty 5-star reviews, can create a custom Squarespace template for you in just one day for less than the price of a cup of coffee. From his reviews, it seems he's super responsive and has lots of returning customers – always a good sign!

The Right Template Should Put Your Music Front and Center
Whether you opt for a WordPress theme or a template from a beginner-friendly website builder, you need a design that
matches your brand and the feel of your music, while also directing your website visitors to take action.
Otherwise, what's the point of having a website in the first place? Depending on your needs, the perfect template should let your fans easily stream your latest album, watch your new music video, buy tickets for your next gig, book you for their wedding – or all of the above! All of the templates on my list let you do just that,
plus they are highly customizable.
Not only can you change the colors and fonts, swap out the provided images, and insert your own text, but you can also ditch sections you don't need or add extra ones, as you like. And if you want a template that's just as unique as your song lyrics, now you know that it's perfectly possible to
find a freelance designer on Fiverr for a great price
.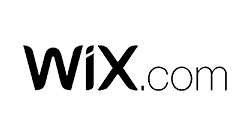 Save up to 33 % on your Wix plan!
Limited-time offer - Don't miss it!
Your Wix with your first % on 30/06/2023!
3901 users used this coupon!
FAQ
Does a musician need a website?
Let's put it this way: you don't have to have a website, but not having one just puts you on the back foot compared to all the other musicians and bands who do. A website isn't just a great way to share updates with your fans – it can also help get more ears on your music, spread the word about your gigs, and even make you extra money through merchandise and album sales. Plus, it's super easy to build a site with the right tools. We've tested dozens of options to put together this list of the best website builders for musicians and bands.
Is WordPress good for musicians and bands?
WordPress is a great platform for musicians and bands because it's so flexible and customizable (read more about it in our in-depth WordPress review). It literally has a tool for everything, whether you want to share your music, promote events, or sell tickets and merchandise. WordPress does come with quite a steep learning curve, so it may not be suitable for complete beginners. These top website builders are easier to use, and they come with many of the same features. Or, you can always search through the qualified web designers on Fiverr to get a WordPress website at a very low cost.
Is Wix good for musicians and bands?
Wix is a very easy-to-use website builder that has lots of features for musicians and bands. One popular feature is the Wix Music Tool, which lets you upload your tracks and sell downloads without commission fees. Another is Music Analytics, which gives you stats on your music plays, downloads, and revenue. Wix also has some pretty powerful email marketing tools that are great for musicians and bands. Head over to our expert Wix review to find out more.
Which free website template is best?
Some free website templates are good and others not so much – but this will largely depend on what you want from your website. For example, all of Wix's 900+ templates are free, and I personally love the Music Artist template for its chic simplicity. However, you might be interested in a different style for your site. Not all templates offer the same features either, so you should consider functionality as well as design. Also, keep in mind that while many site builders offer a free plan with tons of templates, you might want to upgrade to a paid subscription to get more customization features or add your own domain. Before you do, check out these great coupons to see if you can lower the cost.