We've used both Fiverr and Fiverr Pro extensively, and we even did a side-by-side comparison of a $5 logo design and Pro design in our search for the best new Website Planet logo.
So we can tell you that on Fiverr, you get what you pay for – to an extent.
Fiverr Pro guarantees you're working with a professional, but those $5 logo designers and article writers have some serious skills too.
 It's entirely possible to get high-quality work without using Fiverr Pro. Something important to note before we get started: Fiverr has dozens of categories (
including some pretty weird ones like this
) but Fiverr Pro only runs in six of these categories. I'll be focusing on those shared categories to keep it fair.
1. Platform Structure & Workflow
Browse Categories to Find the Right Gig – and Keep an Eye Out for the Pro Badge
Fiverr is set up for you to browse gigs (service packages) that offer a specific deliverable at a fixed price. For example, you might find a logo design for $10, a 5,000-word article for $50, or an animated video for $150.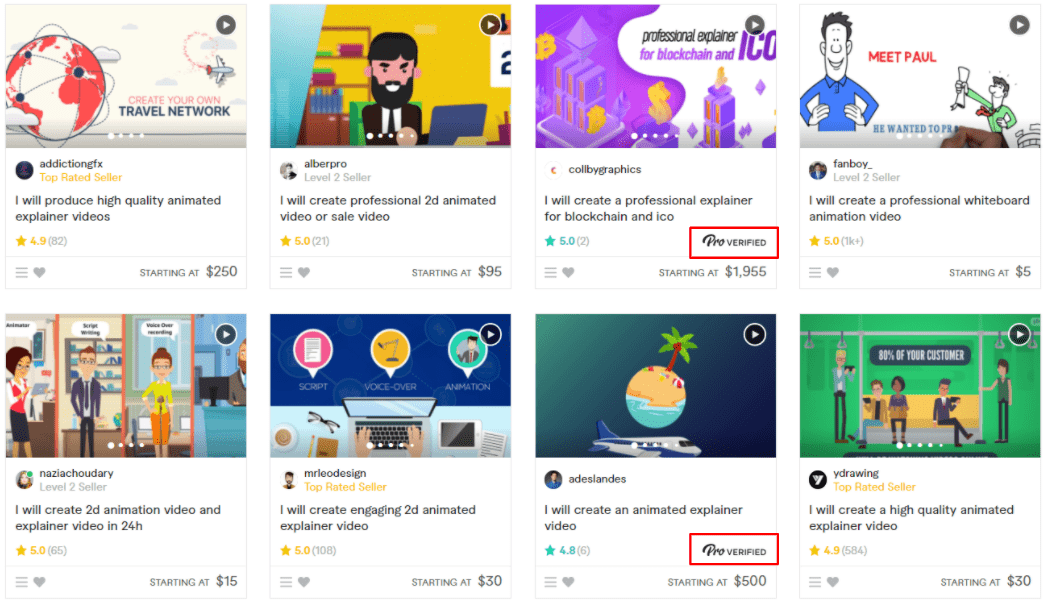 Every seller, even the Pros, have to
set up gigs
to work on Fiverr. While you can browse seller profiles,
the gig setup helps you narrow in on the freelancers who are best suited for your project
. It's the difference between looking for a top-rated email marketer and looking for someone who's an expert in creating automated email sequences on Mailchimp. You can
browse Fiverr gigs
 in any of the dozens of categories, and you'll see Pro sellers and regular gigs listed side by side. This is really handy for comparing gigs, especially if you're unsure of whether the higher price is worth it for your project. To help in your browsing, Fiverr has some of the best filter options I've ever seen – as we found out in our
Fiverr review
. You can set a budget, delivery time, and the seller's location and language, but
each category also has a whole menu of specific criteria you might need for those gigs
. Think file types, design styles, or tools you'll need your freelancer to provide to complete your project.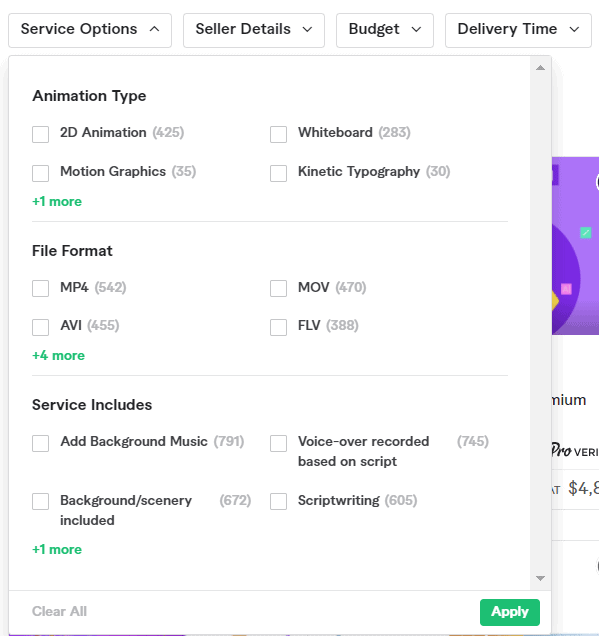 These filters are some of the most detailed and useful options I've found on this type of website (and I've looked at a
lot
of websites). They help you communicate more effectively with your sellers and get exactly
what you need – not just something that's close enough. You'll search for Fiverr Pro gigs the same way. You'll find them sprinkled throughout the regular gig categories, or you can switch to browsing only Pro sellers with a single button. All other filters and information are exactly the same on both Fiverr and Fiverr Pro.

Technically, you can also go to the Fiverr Pro page and browse gigs in a slightly different layout with multiple categories on one page, but this is pretty annoying, so I'd stick with the options above. As I mentioned earlier, you won't find Fiverr Pro gigs in every single category. These gigs are currently only available in seven categories:
Graphics & Design
Digital Marketing
Writing & Translation
Video & Animation
Music & Audio
Programming & Tech
Business
More categories are being added regularly, but for now, you'll have to live with the fact that you can't hire a Pro-verified celebrity impersonator. Sorry. Once you've purchased a gig, whether it's from a Pro seller or a regular Fiverr seller, the workflow is the same.
Each gig will have a dedicated order page where you can provide additional information to the freelancer, request updates, and get the final product.
Payment for the gig will go into escrow once you make a purchase. The seller won't receive the funds until you approve the final product, including any revisions you might request. It's a good way for you to guarantee you'll only pay for work you're happy with.
One difference you might encounter if you choose a Pro seller is a higher chance of using milestones to pay your freelancer.
 Milestones split large projects into smaller pieces to be delivered and paid for in stages. For example, a video production gig might have milestones for writing a script, creating a shot list, shooting each scene, and editing the final version. Since Pro sellers typically work on larger projects like this, you're more likely to see this setup on those gigs. It helps sellers get paid more quickly, true, but milestones help you too:
if the first milestone doesn't meet your standards, you can find another freelancer to finish the project
without the risk of losing a huge sum of money on a deliverable you don't like. As a bonus point for Fiverr in general, its mobile app is one of the best. Anything the website can do the mobile app can do too, so you can hire freelancers on the bus or while waiting for the previews to start in the movie theater. Just put your phone away when the movie starts.
Freelancer Verification Standards
Fiverr Sellers Only Verify Identity, While Pro Sellers Must Prove Their Skills
Every single Fiverr seller, Pro or not, has to verify their identity. You'll always know that the person you're buying from is who they say they are. That's the end of official verifications for regular Fiverr sellers. To assess which one is best for you, you can look at their ratings and reviews, skills tests, and Fiverr levels (more on that in a minute).
Pro sellers have to go through a much more rigorous verification process.
 It's similar to a job interview in many ways, and
Fiverr claims only 1% of applicants actually earn the Pro designation.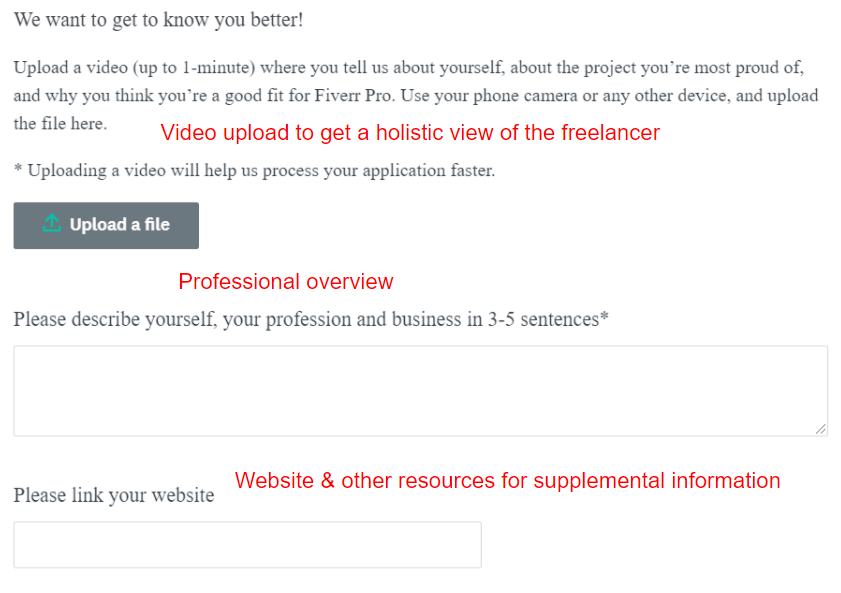 Sellers who want to upgrade to Pro have to fill out a fairly detailed application form and submit samples of their work and a video overview of their experience.
This information is then manually reviewed by the Fiverr team, who decides which sellers are worthy of the Pro designation.
 It's all the benefits of a job application process without the hassle of doing it yourself. Now let's talk about Fiverr levels. Where the Pro designation tells you about a seller's professional experience and skills, Fiverr levels help you understand their reliability, responsiveness, and rate of customer satisfaction.
This means that any seller, Pro or not, can earn any of the levels ratings – even the Top Rated designation.

Fiverr levels are based on a calculation of orders completed, money earned, and high ratings over a rolling time period. These are always being calculated in the background and are updated automatically when a seller earns a new level or, in some cases, loses one. There are three Fiverr levels with different thresholds for the same criteria:
Level One sellers have been active for 60 days, completed 10 orders, and earned $400
Level Two sellers have been active for 120 days, completed 50 orders, and earned $2,000
Top Rated sellers have been active for 180 days, completed 100 orders, and earned $20,000
Additionally, all sellers levels have to maintain a 4.7 out of 5 overall rating and a 90% rate for responding to customers, completing orders, and delivering work on time. In this system,
it's entirely possible to find a Pro seller who hasn't even earned a Level One badge and to find a seller with a bunch of $5 gigs who has earned the Top Rated level.
You'll have to weigh both kinds of criteria as you search for your freelancer. I love Fiverr's level system because it tells you the most useful and objective information about a freelancer: if they'll respond to you quickly and if they're consistently good at what they say they can do. However, in this round,
 Fiverr Pro just takes the top spot
. Knowing you're working with a highly experienced, and manually vetted freelancer, who is hopefully a Top Rated seller too, give you greater peace of mind when entering into a new gig.
Freelancer Profiles
Fiverr Pro Sellers Get Some Extra Goodies on Their Profiles
Seller profiles are essentially the same between Fiverr and Fiverr Pro.
Both show you some basic stats and information, current gigs, and ratings and reviews
 that you can sort by most relevant, most recent, or positive or negative reviews. You can see gig-specific reviews and even work samples on the pages for each gig.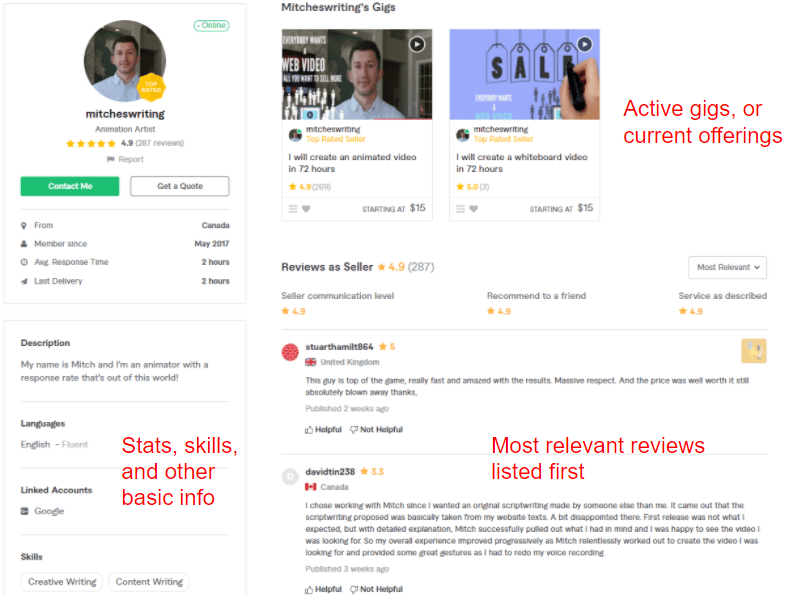 Like most profiles – whether they're on Fiverr, LinkedIn, or whatever dating app the kids are using these days – they're only as good as the subject makes them. Some write a lot in the description section, others just include a sentence or two. This isn't necessarily an indicator of their quality of work, but it's worth paying attention to. Fiverr Pro profiles have the same layout, but with a few extra sections:
 links to their professional and social profiles, a list of notable clients and projects, and most prominently, a Fiverr Pro badge that lists their Pro verified skills.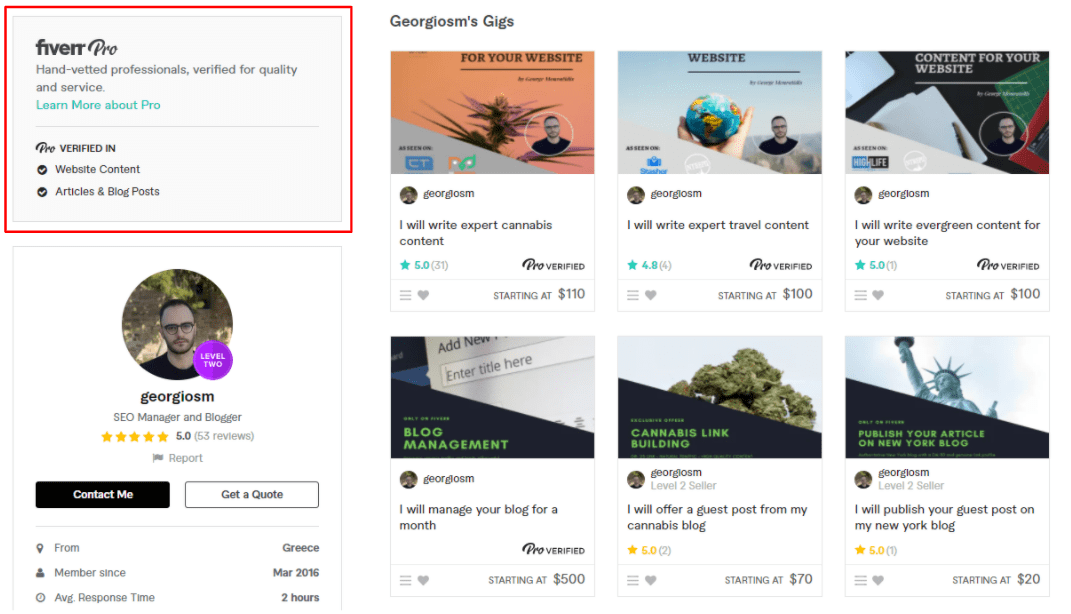 Some Pro sellers may also feature their portfolio on this profile, which is a relatively new feature. It's that extra level of information that makes you more likely to invest in a Pro seller, and I appreciate these extras… as long as the seller commits to making them the best they can!
Pricing
Pay $5-$50, or Pay…A Lot More Than That (For Good Reason)
Fiverr is free to join, and buyers don't have to pay any commission fee for their orders. This is true for Fiverr Pro, too – the only thing you'll pay is the listed price of the gig. It's really that simple, and it's one of the main reasons I like Fiverr so much. In case you haven't already picked up on this, you're going to pay a
lot
more for Fiverr Pro gigs than gigs from regular sellers.
A typical non-Pro gig can be as low as $5, although you'll find most are in the $20-$40 range.
 Pro gigs usually start somewhere in the triple digits.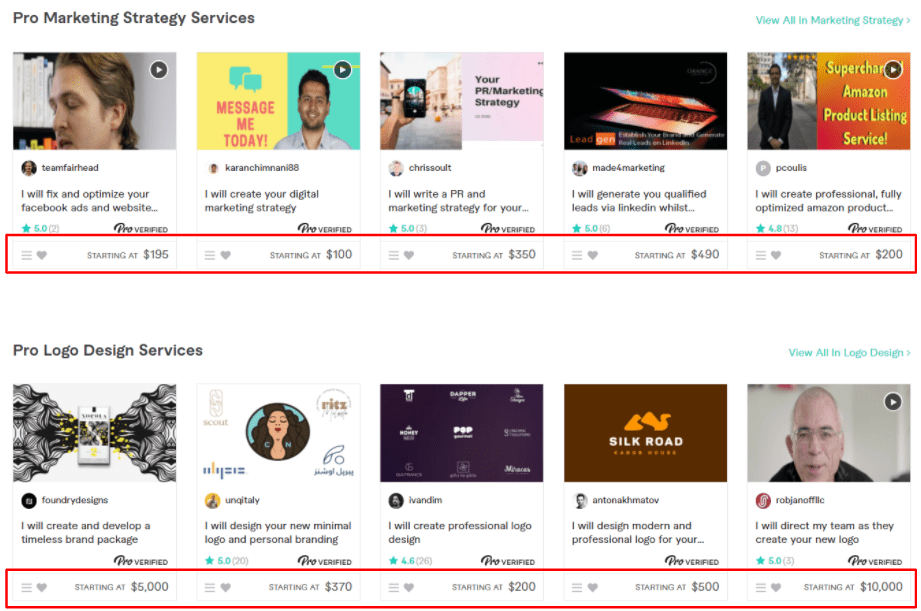 Pro gig prices vary widely, depending on the category and level of service you need.
Pro writers may charge as little as $70 for an article, but video production gigs quickly climb into the thousands
, with a good number of prices set at the Fiverr limit of $10,000. Because Fiverr only operates on a pay-per-project basis, you won't run into situations where projects take longer and cost more because you're paying by the hour. If your requirements change after you purchase a gig, the seller may revise your order price to include extras, but since everything is laid out clearly before placing your order, this situation doesn't happen often. You can see what really happened when we put the service to the test in our
in-depth Fiverr review
. If you're on a budget and want work completed quickly, there really is no beating Fiverr. If you want more complex work, and experience,
 and
 you've got the money to spend, Fiverr Pro is worth browsing, but freelancers from $5?! You can't beat that.
Dispute Resolution
Use a Recommended Solution to Solve the Problem on Your Own
Fiverr has one of my favorite dispute resolution processes, because it gives you concrete options for resolving the issue on your own before bringing in customer support. On your orders page,
you'll find a dispute resolution center that lists possible solutions in the event of a late order, unsatisfactory work, or another issue.
 Each solution has a defined time frame in which the seller has to respond before the order is canceled and/or you get a refund.

Sellers will see some options too, but in general, you'll have the advantage as the buyer, mostly because you have a longer time to respond to the suggested solution.
 You can request to cancel the order, extend the delivery time-frame, or request an update.
If the dispute resolution center does not yield the desired results, you can directly reach out to our customer support team for assistance in resolving the issue. It's important to note that there isn't an expedited process for this, even for Pro sellers. However, due to the elevated level of professional experience among Pros, their likelihood of requiring dispute resolution is reduced.
Fiverr Pro Is Worth It, but It's Not the Only Way to Get Quality Work
Ultimately, you can't go wrong on Fiverr. Whether you
choose a $5 gig
 or a much pricier Pro package, you'll still get all the good that Fiverr has to offer.
Fiverr Pro
is a great way to guarantee you're working with freelancers who have the experience you need to get the job done. You get the benefits of going through your own application and vetting process without having to put up with the hassle. But in many cases, especially in categories that don't have any Pro sellers, you'll still find great work no matter the price tag.
Criteria
Fiverr
Fiverr Pro
Easy to browse freelancer profiles
Skills & experience verification
Built-in dispute resolution
FAQ
What is the difference between Fiverr and Fiverr Pro?
Fiverr and Fiverr Pro are part of the same freelance platform, but Fiverr Pro sellers go through an extensive verification process to prove their skills and work experience. Pro gigs cost more than a typical Fiverr gig due to the high level of experience, but nearly every other facet of the platform is the same for Fiverr and Fiverr Pro. Our in-depth Fiverr review breaks this down further.
What does Fiverr Pro offer?
Fiverr Pro offers highly skilled freelancers with verified experience in an easy-to-use platform. You can browse gigs in six major categories. While Pro gigs have a higher price tag, they're usually worth the cost due to the level of professionalism they offer. If you're looking for alternatives to Fiverr or Fiverr Pro, don't forget to check out our list of the top freelance websites for 2023.
Is Fiverr Pro worth the money?
For many people and businesses, Fiverr Pro is worth the money. You get peace of mind knowing that you're hiring someone with a professional skill set, and get high-quality work as a result. You can still get high-quality work from non-Pro sellers, too.
How do I use Fiverr Pro?
To hire a freelancer on Fiverr Pro, choose your category to browse gigs or type keywords in the search bar. Make sure you're filtering the results to only show Pro gigs. Once you find the right gig for you, place your order, and provide any necessary information to the seller. Use your orders page to get updates and receive the final product.
What is a "Level 2" seller on Fiverr?
A Level 2 seller on Fiverr has been active on the platform for 120 days, completed 50 orders, and earned $2,000. They've also maintained a 90% rating for response time, order completion, and on-time delivery, and a 4.7 overall rating from their buyers.