Most platforms that advertise super-low rates don't tend to attract the most talented writers.
However, a low price isn't always indicative of low-quality work.
A writer who's just starting out and building up a reputation might charge less but still manage to deliver decent content.
Yep, that does sound a lot like me five years ago! Platforms that offer detailed profiles and robust rating systems make the hiring process much easier.
Writing tests and other vetting procedures are a huge plus
as well. And if you're willing to pay a little more, well, you're halfway there!
I set up writing projects on all the popular freelance websites
to see which would deliver the best content at the best price. Here's what I found.
Short on Time? These Are the Best Freelance Websites for Creative Writing Services in 2023
Fiverr – Creative work in every niche imaginable at the most competitive prices.
Upwork – Best platform to hire creative writers long term and project manage.
Textbroker – Great for completing multiple orders as quickly as possible at an affordable price.
What We Look For in the Best Freelance Websites for Creative Writing Services
Many websites offer creative writing services, but few actually deliver great writing. I hired several writers for various projects and ranked their corresponding platforms based on the following criteria:
Cost and quality. Cheap is good, but it's not always the most important thing. I found that extremely cheap writing gigs often led to misinterpreted briefs and spelling mistakes. Skilled writers don't charge $0.01/word, so paying a little more for quality is usually the wise choice. My top recommendations deliver results without breaking the bank.
Number and detail of writer profiles. Creative writing is a pretty broad term, and there are often thousands of profiles to go through. The platforms on this list offer detailed writer profiles, making it easier to spot experienced writers who have previously completed similar projects.
Timeliness. Writing can take time, especially when creativity is thrown into the mix. I understand, but if I brief someone with a short story prompt, I expect them to respect the deadline. All platforms listed here encourage and reward timeliness.
Payment security. I didn't have problems with most writers, but during my tests, I did receive a few articles that looked like they came out of a content spinner. I've only included websites that protect buyers with secure payments and convenient money return policies.
Note: Creative writing is an art!
The platforms on my list offer a wide range of writing services, which is why I didn't limit my orders to creative writing projects. After all, art is subjective – and my poetry is mediocre. I explored these websites from several angles and tested various different writing services to give you a better idea of what their writers are capable of.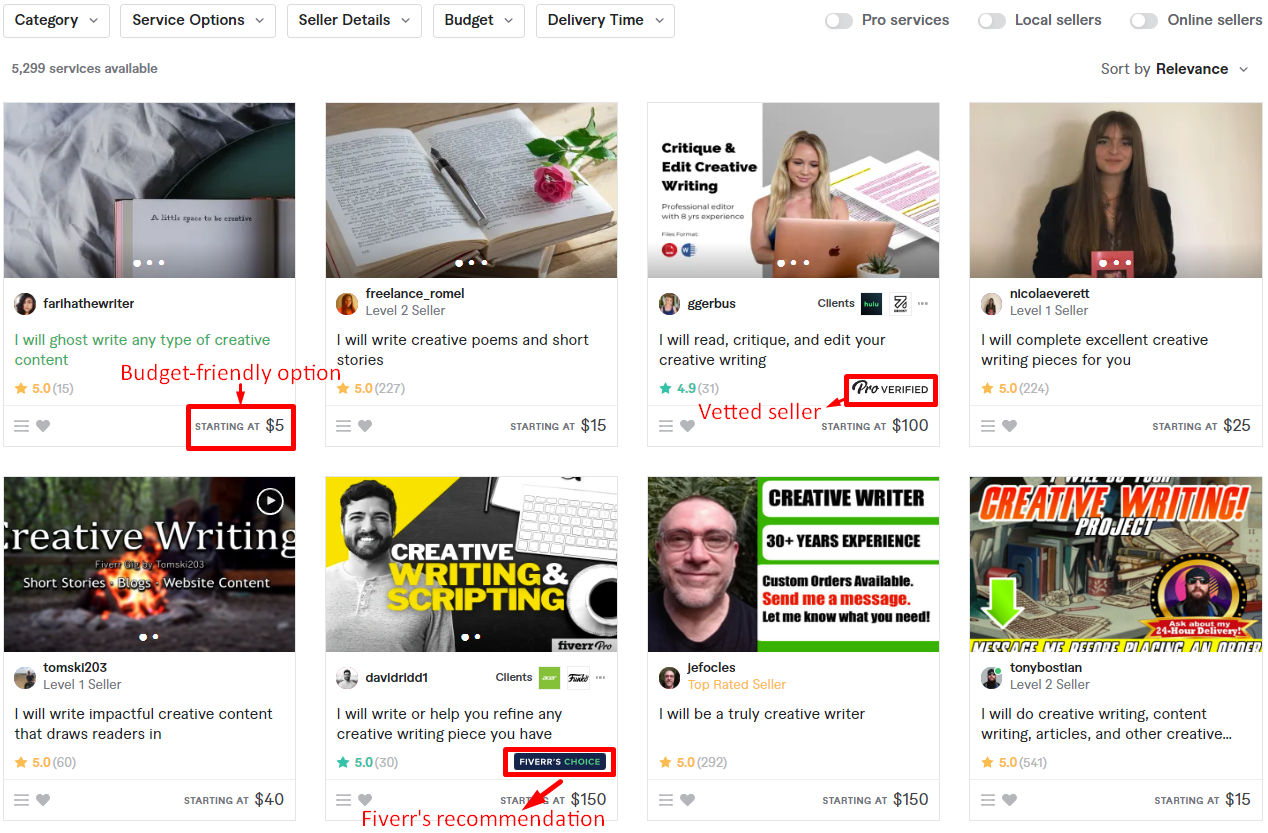 Fiverr is arguably the most popular freelance platform on the internet, and it's always the first place I visit when looking for skilled freelancers.
Fiverr's easy-to-use interface
and advanced filtering system have simplified the hiring process. It takes just a few minutes to place an order, and creative writing work is usually delivered within 48 hours.
If you're wondering, some writers do still charge just $0.01/word on Fiverr (or $5/500 words).
That's excruciatingly cheap, but I can't say I'm shocked, either – creative writing work is severely undervalued. I was reasonably satisfied with the cheaper essays and custom short stories I ordered on Fiverr, but I spent less time editing texts from more expensive gigs I ordered. In retrospect,
even these pricier gigs were quite affordable, so I'd definitely use Fiverr again
if I was on a budget.
Features
Dozens of categories. For creative writing, I counted over 11,500 sellers producing letters, emails, poems, short stories, worldbuilding prompts – you name it. All other writing categories (such as resumes, cover letters, script writing, technical writing, or white papers) are also covered.
Fast delivery. Fiverr offers quite a few add-ons with each purchase, one of which is one-day delivery. If you're on a tight deadline, you'll appreciate having the option to expedite the writing process for a few extra dollars.
Free revision. Most Fiverr writing packages come with at least one revision, allowing you to ask for changes after the piece has been delivered. Some sellers offer unlimited revisions even with their cheapest package.
Secure payments. I've never had any issues with payments on Fiverr. Canceling orders is quick and painless, and sellers will always communicate with you to ensure they receive a high rating. If it all goes south, filing a dispute and getting your money back is also straightforward.
Read our comprehensive
Fiverr review
to learn more about these features.
Writing services

Articles and blog posts
Letters
Game scripts
Poetry and lyrics
Resumes
Books & ebooks
Technical

Rating system
Seller level + star rating
Payment security
Easy dispute and payment resolution
Starting Price
$5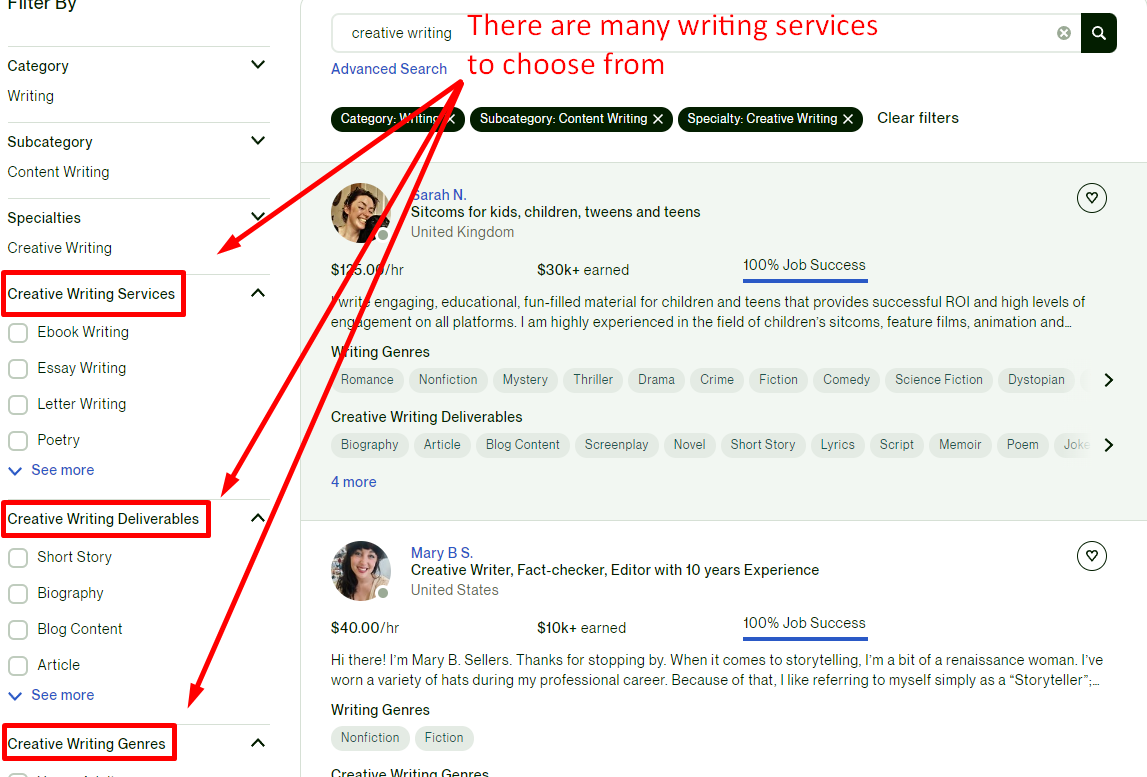 Upwork stands out from the competition as the online platform that's the closest thing we have to an online workplace.
I usually turn to Upwork when I'm working on a more complex project and I know there's going to be plenty of work involved. Think larger chapters, extensive guides, small ebooks, and the like. In other words,
if you're looking to establish a long-term relationship with a creative writer, Upwork is probably the platform for you.
Freelancers are rewarded with lower fees for accepting long-term contracts and working with the same clients.
Upwork's UI is easy to navigate,
and you can publish your first job posting in less than an hour. Writers then apply to your job, and you can interview them one by one through chat or video.
Features
Many hiring options. Upwork is known for its traditional approach to hiring, but you can also browse through freelancer profiles yourself with the "Discover" feature. A marketplace with jobs posted by freelancers (much like Fiverr's gigs) was also recently added to the platform.
Detailed profiles. Upwork offers thousands of super-detailed profiles that outline everything you'd want to know about a writer, including their education, work experience, and other similar projects they've worked on.
Work tools. Since most work is delivered through hourly contracts, Upwork has developed its own time-tracking tool and easy-to-use work diary.
Easy dispute system. Problems with fixed-price projects are easily fixed – payment isn't released without your approval. For hourly contracts, you need to make a habit of reviewing your writer's work diary weekly.
Our expert
Upwork review
includes more detailed information about the platform.
Writing services

Ebooks
Essays
Letters
Poetry
Professional and business writing
Sales and marketing copywriting

Rating system
Job success + top rated status
Payment security
Easy dispute and payment resolution
Starting Price
$5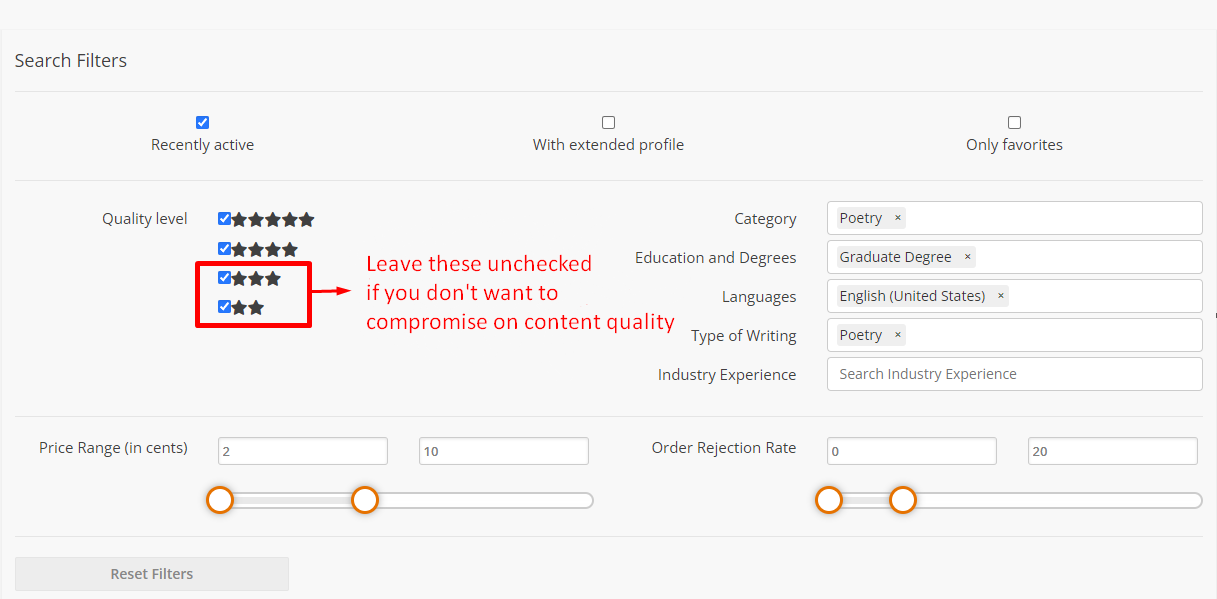 Yet another content farm that made this list,
Textbroker stands out due to its great rates and quick turnaround times.
There are three levels of service based on author level, ranging from 3 stars (starting at $0.022/word) to 5 stars (starting at $0.08/word).
Even the premium 5-star option is quite cheap, and the content quality is on par with other similar services.
I used Textbroker to order a few 5-star short stories and received solid work that hit the mark with a couple of edits. Textbroker's 4-star option is worth a mention, too. I'm not the type to compromise on quality, but not all briefs require professional-quality writing.
The rewrites I got from my 4-star orders were much better than I expected.
Read our expert
Textbroker review
to learn more.
Features
Multiple order options. Aside from open orders, which are available to all qualified writers, Textbroker allows you to pitch directly to one author of your choice. You can also create a team of writers and pitch the job to all of them at the same time.
Quick delivery. Most articles below 1,000 words have a processing time of 1 day. Although processing time isn't the same as turnaround time (for instance, a second writer might jump in if the first one cancels an accepted order), small orders are often completed within 48 hours.
Writer work samples. Most Textbroker profiles include short writing samples that can help you gauge a writer's skill and help with your decision.
Easy brief templates. Depending on the type of content you choose, Textbroker will automatically populate certain sections and help with the briefing process. There's even an option to add relevant keywords, which can make all the difference from an SEO perspective.
Writing services

Letters
Poetry
Blog posts
Product descriptions
SEO pages
Social media
ebooks
Poetry

Rating system
Star level
Payment security
Unlimited Revisions
Starting Price
$0.022/word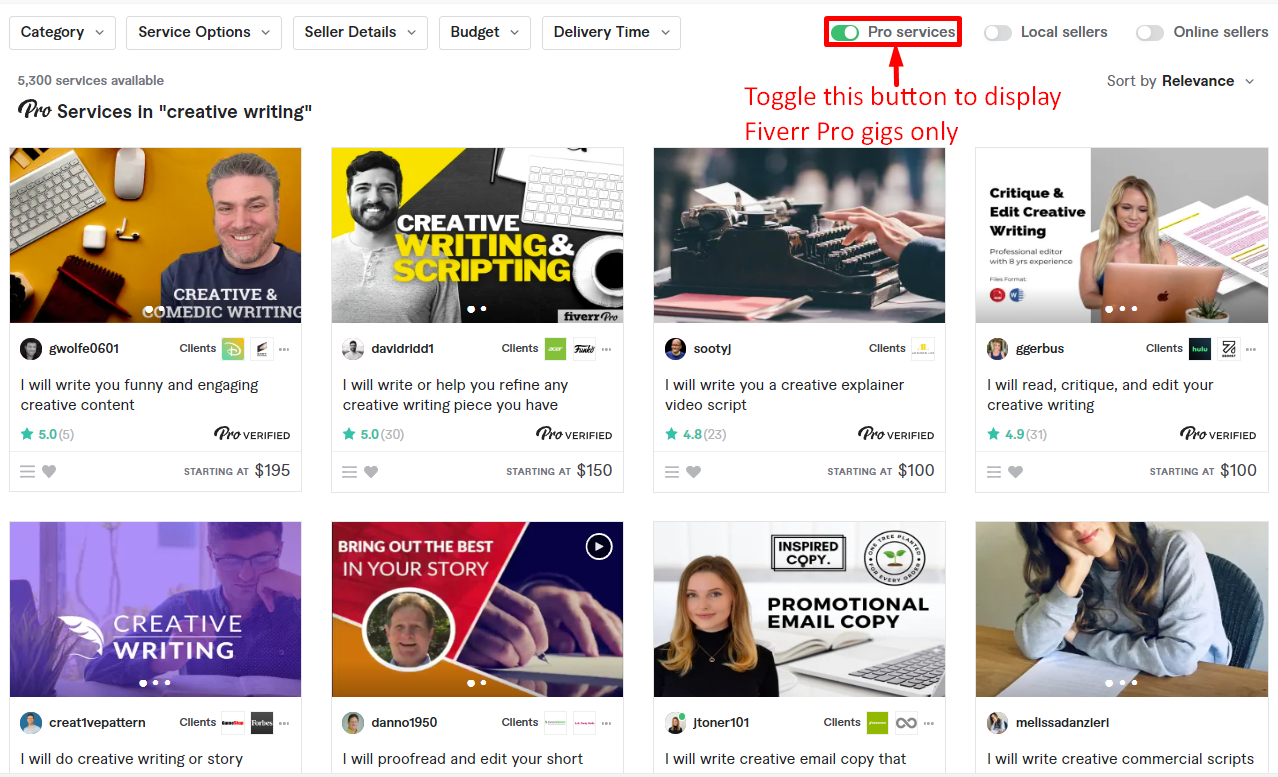 Although Fiverr and Fiverr Pro share the same website, the two service levels are distinct from each other. If you've used Fiverr before, you might have come across writers with the "Pro Verified" Badge under their username.
Pro Verified freelancers have been vetted by Fiverr and proved their expert skills, securing a spot in Fiverr's exclusive Pro program.
Essentially, the work produced by Pro sellers is excellent, but that bump in quality comes with a higher price tag.
If you can afford to hire the best of the best, then why settle for less?
Learn more about the
differences between Fiverr and Fiverr Pro in our
expert guide
.
Features
Excellent quality. Fiverr Pro writers are adept at creating eloquent, engaging content that will captivate your audience. If that's what you're looking for, then Fiverr Pro is the way to go.
Save time. Not all $5 and $10 gigs are necessarily bad, but sifting through them can be a time-consuming process. Turning the Pro switch on will automatically filter out all low-quality gigs.
Portfolio. Pro sellers can showcase their skills by adding a portfolio. That will give you a better idea of what a writer is truly capable of.
Access the 1%. All Pro sellers have a high rating (4.7+) and a 90%+ response rate. Aside from that, the vetting process is long and includes several different tests. We don't know the exact criteria with which Fiverr accepts sellers into the Pro program, but we do know that only 1% of applicants earn the Pro Verified badge.
Writing services

Articles and blog posts
Letters
Game scripts
Poetry and lyrics
Resumes
Books & ebooks
Technical

Rating system
Seller level + star rating
Payment security
Easy dispute and payment resolution
Starting Price
About $75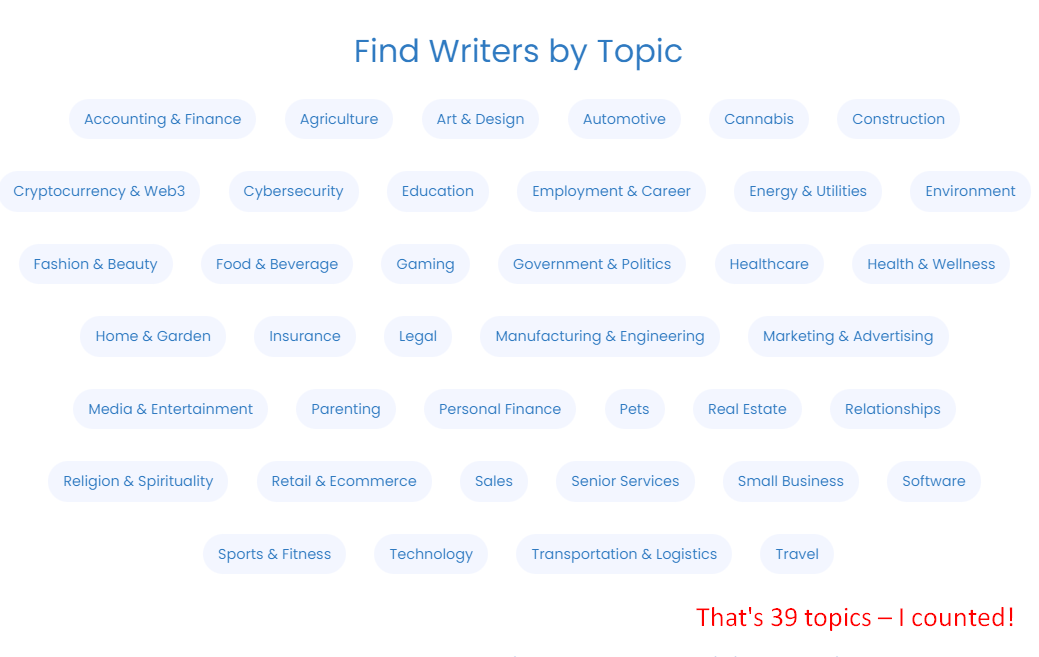 Scripted is a content mill, albeit a good one.
Its writers produce large quantities of content in a variety of industries, and the quality of the work is solid. Scripted only offers writing services, and its
pre-vetted writers cover almost every niche
imaginable, including creative writing. You can
hire experts either by ordering content through the platform or by browsing profiles on your own.
What's the catch? Well, you can't just jump onto Scripted and order a blog post whenever you feel like it.
Most writers charge around $0.15/word, and you also need to pay a monthly subscription to access the service, driving the cost up even further.
If you own an agency and need content on a regular basis, Scripted might just do it for you. You can test most of the platform's advanced features with the
30-day trial
.
Features
Different hiring options. You can find vetted writers in almost any niche with one of the most advanced filtering systems of anywhere I looked at. Alternatively, you can place an order and Scripted will invite writers to submit a proposal based on your content requirements.
Recurring content services. Scripted offers discounted bundles for recurring content creation. If you're looking to produce large quantities of content, these bundles might help you save quite a bit.
Performance analytics. The Premium subscription tier utilizes Google Analytics to come up with useful data and insights on how your content is performing.
Satisfaction guarantee. You don't actually have to pay your writer until you're 100% satisfied with your order. A piece of content could theoretically keep going back and forth for edits indefinitely until it meets your standards.
Writing services

Ad copies
eBooks
Whitepapers
Newsletters
Press releases
Social media
Editing

Rating system
Star rating
Payment security
Pay only once you're 100% satisfied with the result
Starting Price
$199 ($99/month subscription fee + $100 in content credits)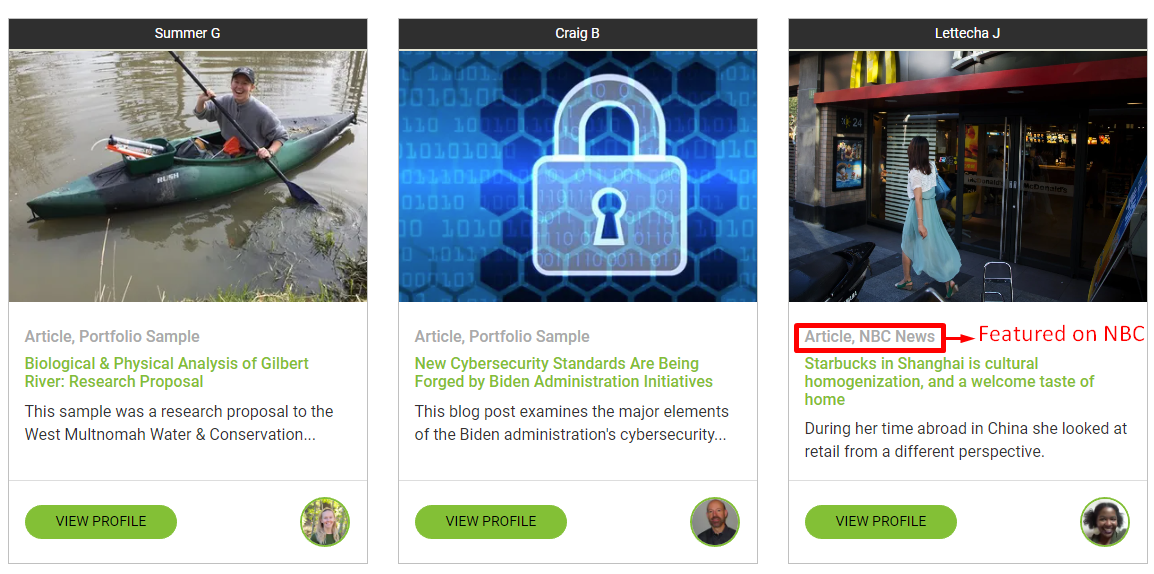 Writer Access is another popular content mill, but it's
much more accessible to individuals and smaller agencies.
You still have to
pay a monthly fee to access the platform
, but its entry plans are considerably cheaper than those of Scripted. Ordering content through Writer Access is pretty straightforward. You
select your content type and industry, pick your desired rate ($0.04 – $0.10/word), and you're good to go.
The add-ons (such as social media posting, metadata, and proofreading) are handy, too, but they can quickly bump up the price. Again, the subscription model might put you off, so if you only need content occasionally, I recommend sticking to Fiverr.
Features
AI-powered search tool. I thought this was a gimmick, but I was pleasantly surprised. Writer Access has teamed up with IBM and Cambridge University to create a powerful AI. This analyzes your existing content to find writers that will match your brand's style and tone of voice.
Find talent feature. Not into AI? You can still look at writer profiles the traditional way and find the right match yourself. I appreciate the fact that this option hasn't been phased out, despite the success of the AI tool.
Quick delivery. The standard delivery time for a 1,000-word article is 10 days, which is on the longer side. But if you're in a pinch, there's the option to pay a couple more dollars and receive your content much faster.
Workflow tools. Writer Access integrates with Google Analytics and several content management tools, such as Clearscope, Copyscape, BuzzSumo, and Spyfu.
Writing services

Books and ebooks
Blogs and web content
Copywriting
Technical writing
Legal writing

Rating system
Star rating
Payment security
Unlimited revisions
Starting Price
$39/month +$0.04/word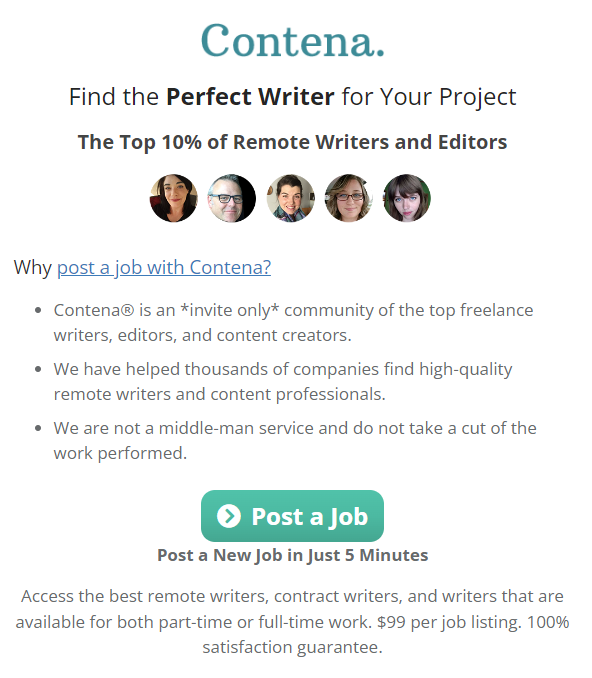 You can think of Contena as a huge job board service that connects clients to talented writers in various niches.
Unlike other websites on this list, Contena isn't a middle-man service and won't take a cut of the work performed. It costs $99 to post a job and access
Contena's pool of creative writers
. But why pay when you can post jobs for free on websites such as Indeed? Well, your posting will receive a boost and appear at the top of the website's search results.
Contena's writers also pay to access the job boards, so you know they're serious about work.
Obviously, Contena isn't ideal for one-off projects. But if you're just looking to hire, it will help you collect a large number of applications as quickly as possible.
Features
Quick job posting. It takes less than 5 minutes to post a creative writing job on Contena, and then the first few applications will start pouring in.
Thousands of writers. Contena is like an exclusive club solely made up of dedicated writers. The website even offers an extensive course that helps writers improve their skills.
Various niches. Besides creative writing, Contena's writers cover a huge variety of niches, including finance, business, education, health, sports, and technology.
Writing services

Books
Ebooks
Poetry
Biographies
Scripts
Much more

Rating system
N/A
Payment security
N/A
Starting Price
$99/job posting
Are You A Creative Writer Looking to Sell Your Services on Fiverr?
Creative writers who are just starting out and looking for entry-level creative writing jobs can sign up to Fiverr and set up their first gig in less than half an hour. In fact, writers of all experience levels can find success on the platform as long as they're willing to put in the work. Fiverr hosts thousands of freelance creative writing jobs, and there's a good reason why:
The platform's super easy to use. Signing up takes a maximum of five minutes, the UI is well designed, and there's a massive knowledge base filled with helpful articles.
It's a niche-thriving platform in a huge industry. Do you specialize in writing resumes, cover letters, or something else very specific? Well, Fiverr's gig database is massive, so you're rewarded for focusing on your preferred type of content.
You gain access to performance analytics. Not only does Fiverr help you reach your target clientele with helpful SEO tips, but it also offers a complete analytics suite to track your gigs' clicks, impressions, and other stats.
Explore all of Fiverr's features here
. Here's how to start selling on Fiverr:
Step 1:
From Fiverr's homepage,
click the "Join" button
to get started. You can sign up either by using your email or by connecting through your Facebook, Google, or Apple account.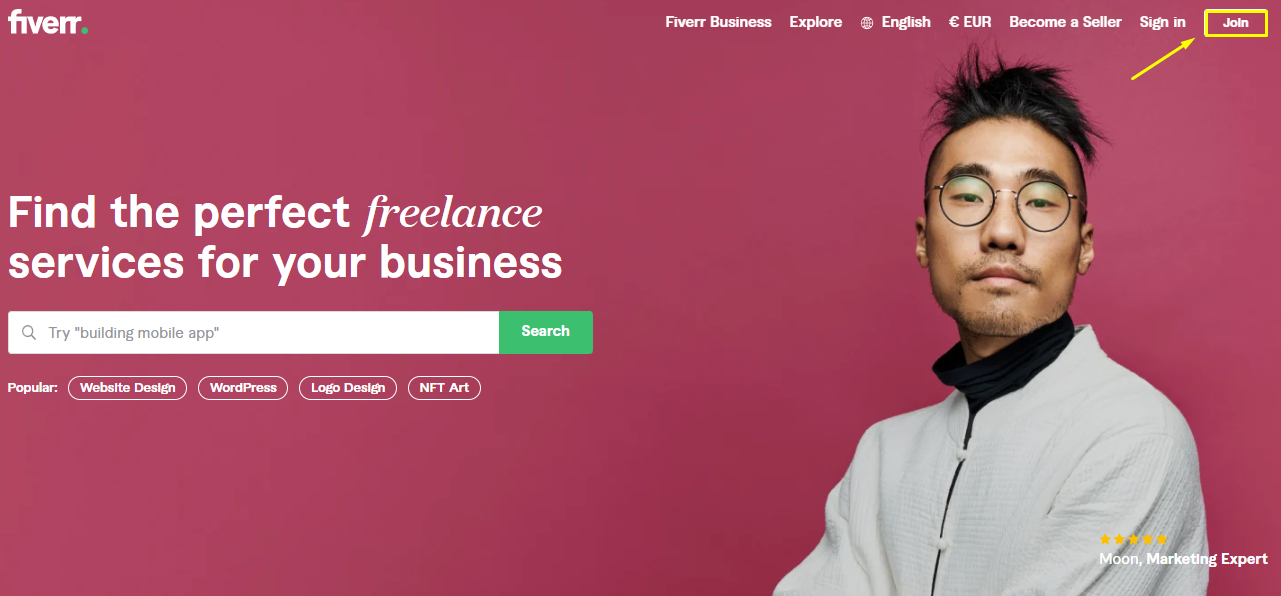 Step 2:
Choose your username and password. Bear in mind that your username is how clients see and find you, so make sure it's something you're comfortable with.
Step 3:
Head to your email inbox and click on the link Fiverr sent to activate your account.
Step 4:
From Fiverr's homepage, click on your profile icon and select "Become a Seller."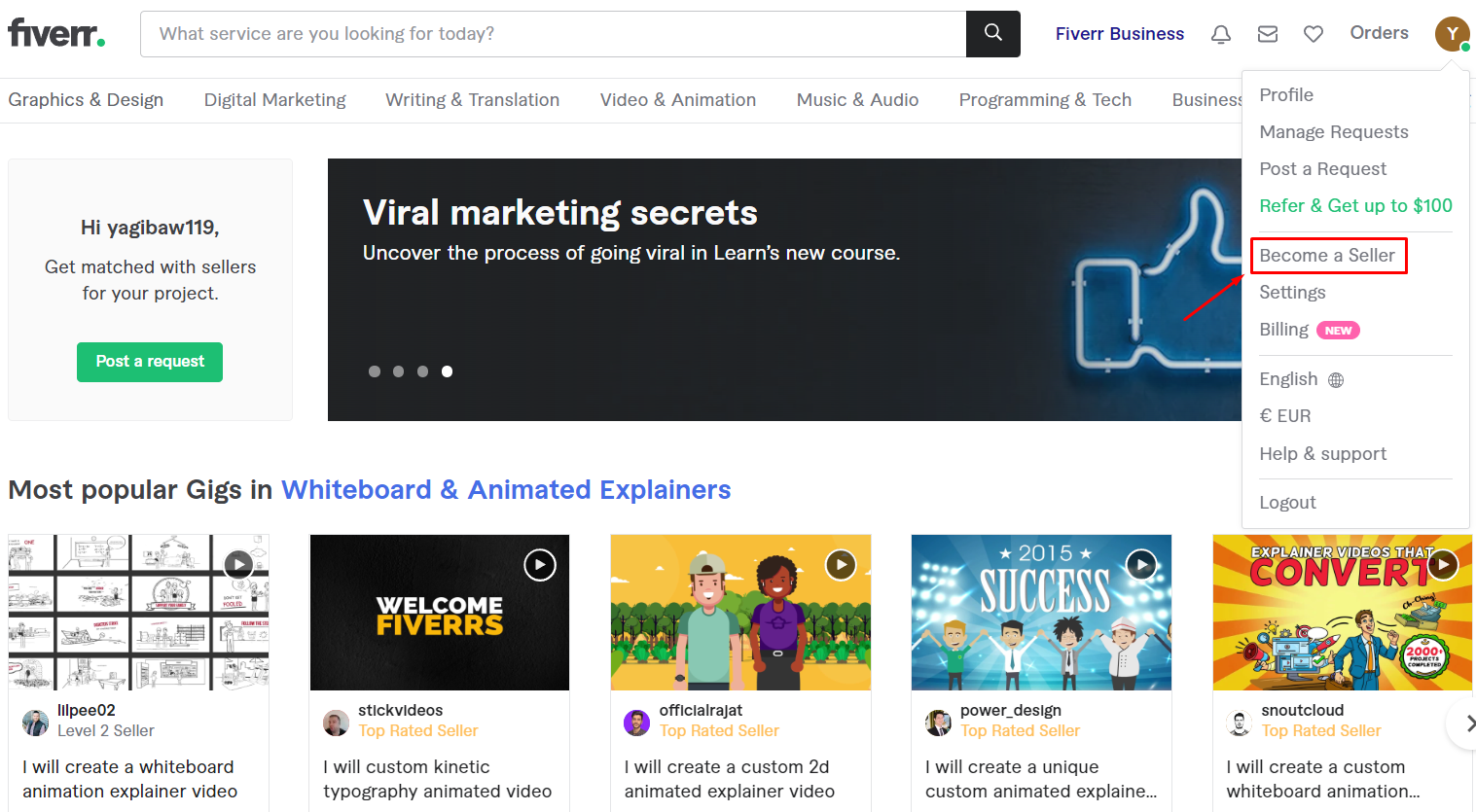 Step 5:
Fill out Fiverr's seller form by adding as much information about you as possible. Aim for a completion rate of 100% before setting up your first gig.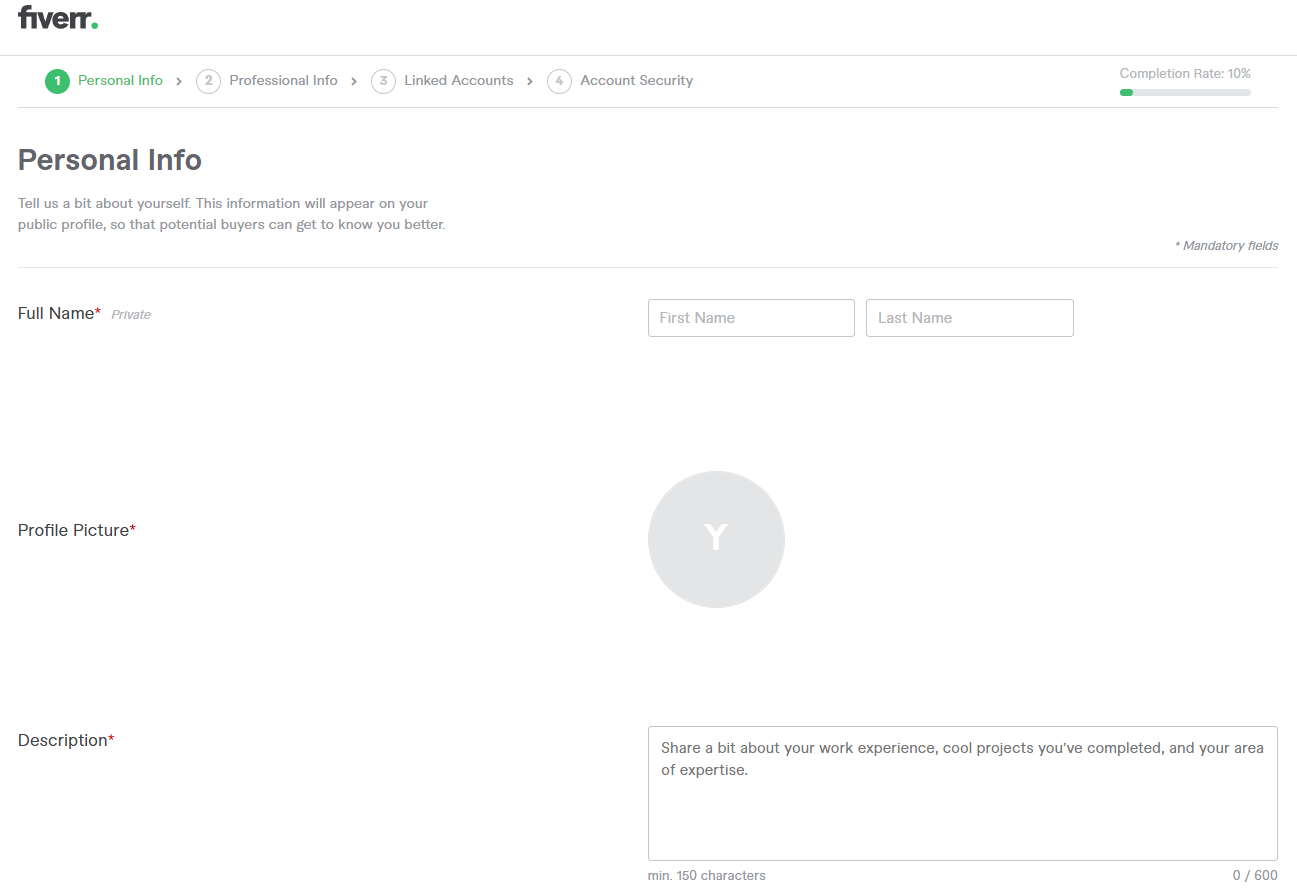 Step 6:
When you're ready to begin your journey as a seller on Fiverr, click on the "Create a new gig" button on your profile page. To start off on the right foot, check out our
updated Fiverr for freelancers guide.
The Best Websites for Creative Writing Services
There are dozens of platforms offering creative writing services these days, and hundreds of thousands of writers looking for online work opportunities. When you don't know where to look, things get overwhelming pretty quickly. If you're working on small projects and have a tight budget, I recommend you
check out Fiverr's gigs
.
From web copy to blog posts, essays, letters, and even poetry, Fiverr's got it all. The prices are unbeatable, the advanced search filters save you time, and orders are always completed on time. If you're working on bigger projects (such as books or detailed guides), it makes sense to hire writers long-term. In that case,
Upwork's useful work tools
 will help you manage more demanding projects efficiently. If you're looking to produce large volumes of content for your business or organization,
Scripted's content services
and content management will probably work best for you. Let's take a quick look at all the websites we've explored so far:
| | | | | |
| --- | --- | --- | --- | --- |
| | Pricing | Best Feature | Best For | |
| Fiverr | $ | Good quality content at the best price | Simple, one-off pieces | |
| Upwork | $$ | Detailed profiles | Long-term/ongoing writing projects | |
| Textbroker  | $ | Quick turnaround | Completing multiple orders as quickly as possible | |
| Scripted | $$$ | Advanced filters | Agencies that need to produce a lot of content | Browse >> |
| Fiverr Pro | $$$$ | Top-quality content from vetted and experienced creative writers | Professionals and agencies that only want to hire the best | |
| Writer Access | $$ | AI-powered search tool | Professionals who need large volumes of content | Browse >> |
| Contena | $$ | Access an exclusive online writers club | Quick hiring for job positions/recurring work | Browse >> |
FAQ
What is creative writing?
Creative writing is a lot trickier than professional, academic, or technical writing. It's a process defined by creativity and expression, often relying on narrative, character development, and plot to tell a novel story or evoke a feeling. Many platforms offer creative writing services, including novels, essays, speeches, poems, plays, scriptwriting, and autobiographies. Here's what we look for in freelance websites when hiring creative writers.
Where can I hire a creative writer?
If you're looking to hire a creative writer as quickly and painlessly as possible, I recommend you check out Fiverr's enormous selection of gigs. For more demanding, long-term creative writing projects, Upwork will probably work best for you. Check out our list of the 7 best freelance websites for more options.
How to find remote jobs in creative writing?
There are thousands of creative writing jobs online, but if you're just getting started, Fiverr has all the tools you need to find success. For more experienced writers, Upwork's job postings make for a great alternative. Unless you can write thousands of words daily, content mills are probably not worth your time.
What is the best website for writers?
It all depends on your experience, the type of content you write, and several other factors. The competition on Fiverr can seem overwhelming, but if you keep at it, you can level up and increase your revenue much quicker than you would on other freelance writing websites.
What are the best online creative writing courses?
Contena offers a comprehensive 9-unit writing course to all writers that sign up for a membership. Other useful websites offering courses to help you improve your writing include Coursera, Udemy, MasterClass, and The Novelry.