some offering packages for as little as $5
. I found each of these freelancers using
my all-time favorite hiring solution
, which is home to hundreds of thousands of talented creatives from across the globe.
9 Best Content Writers for Hire in 2023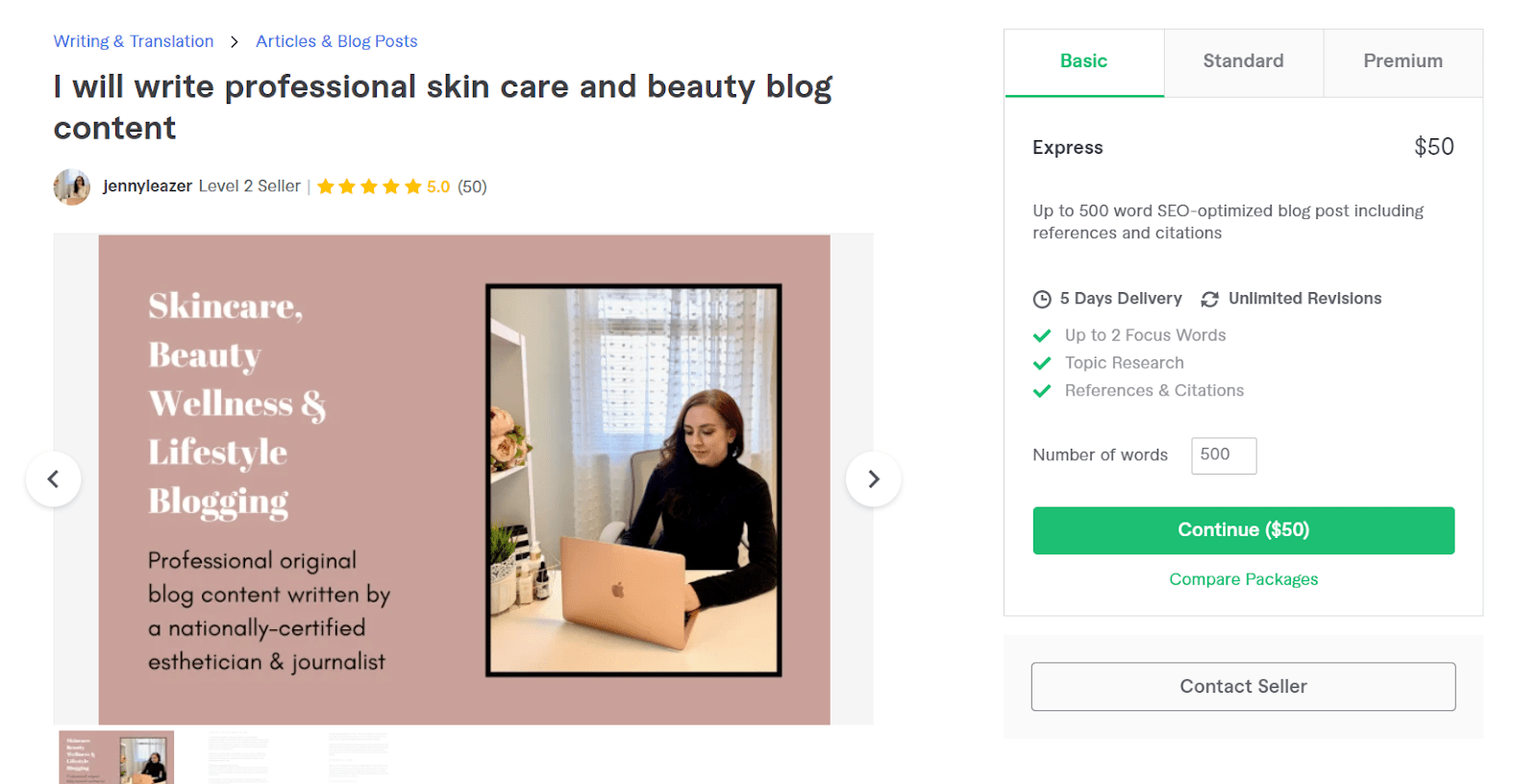 Jennyleazer, who has received Fiverr's Level Two status, meaning she has consistently delivered work on time and received good feedback, specializes in skincare and beauty content. She's a licensed esthetician with several years of industry experience and a degree in journalism. That expertise shows through in her writing – it's informative and interesting, with a tone of authority that works well for the beauty industry.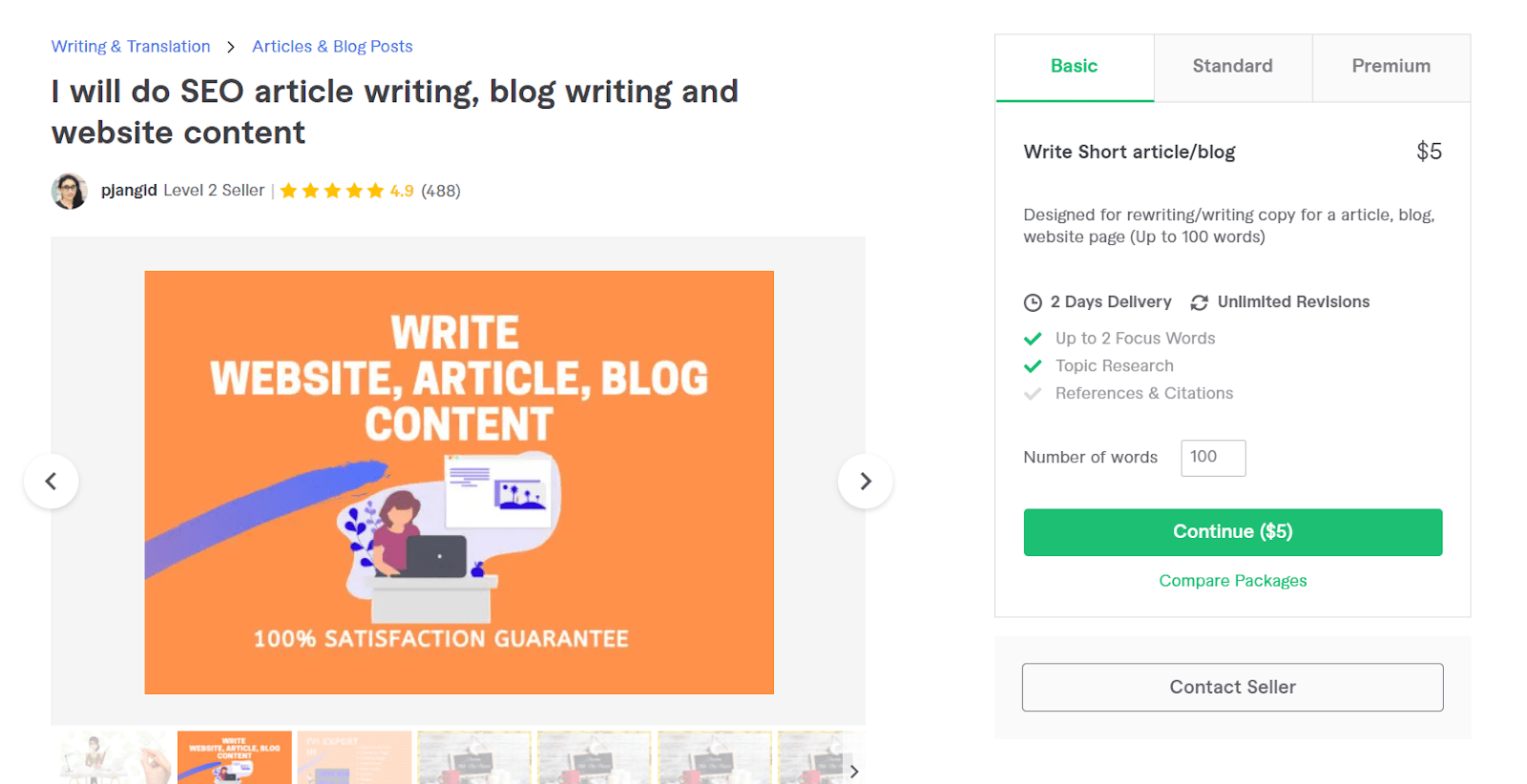 With a degree in communications and a master's in business informatics
Pjangid is a good choice if you need someone to explain difficult concepts
 or write 'how to' type articles. She offers technical writing services as well as the more standard SEO and conversion content. I like that
Pjangid has a high percentage of repeat buyers
. It shows – even more than the high rating and good reviews – that she's offering good value for money. One point to note is that Pjangid's basic package only includes 100 words. That's a very short piece, and while her other packages offer longer articles, the price increases to match.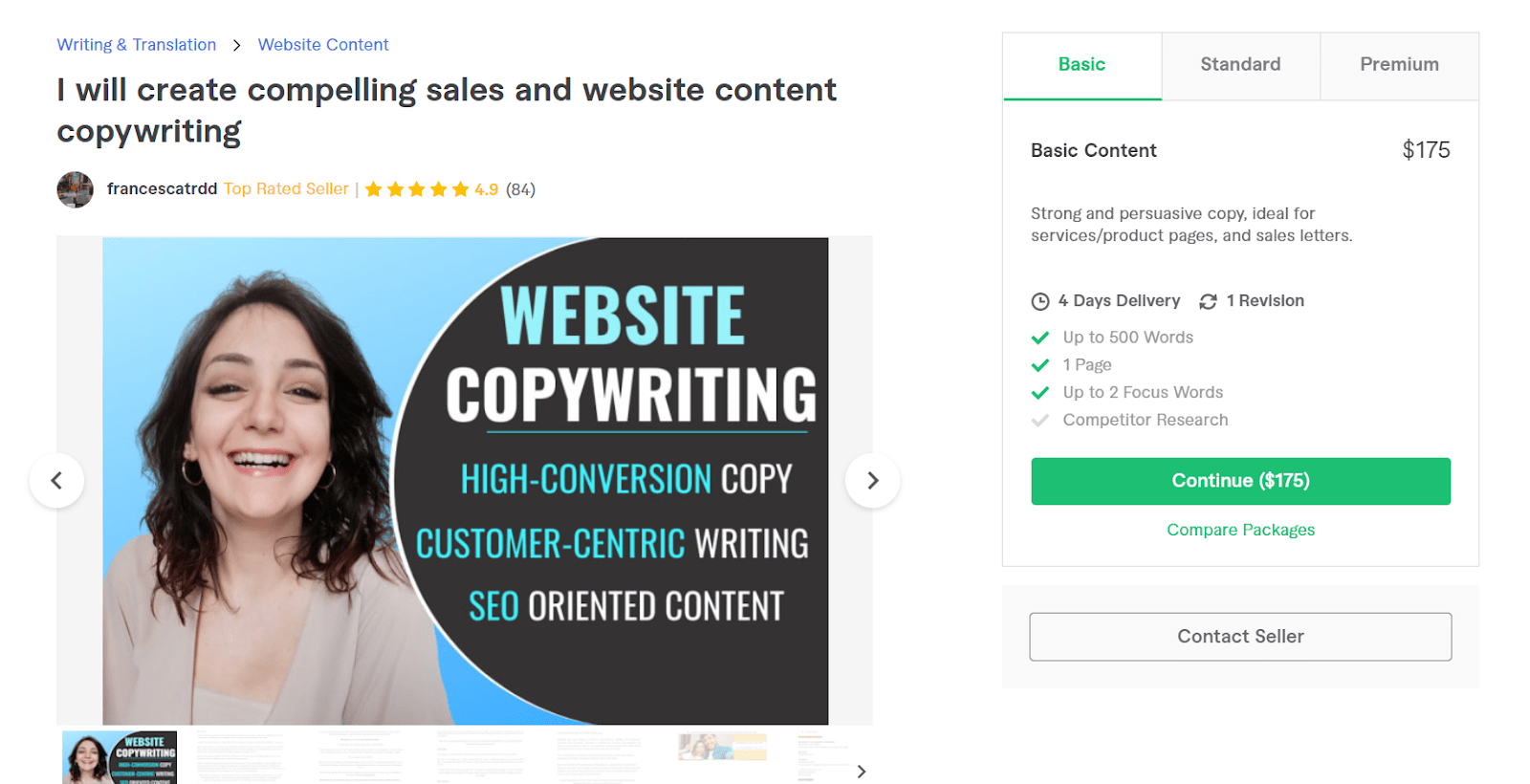 Francescatrdd is a Top Rated Seller (meaning she's earned more than $20k on Fiverr) with almost 1,000 finished projects and positive reviews.
 Her specialty is conversion optimization, rather than the more common search engine optimization. If you need to persuade people of the value of a product or service once you've caught their interest, this could be ideal for you. I particularly liked that Francesca offers a range of copywriting gigs that are tailored to specific platforms and purposes. Landing pages, nurture sequences, product pages, and advertisements all need different types of copy. It's easy to pick a gig that provides exactly what you need.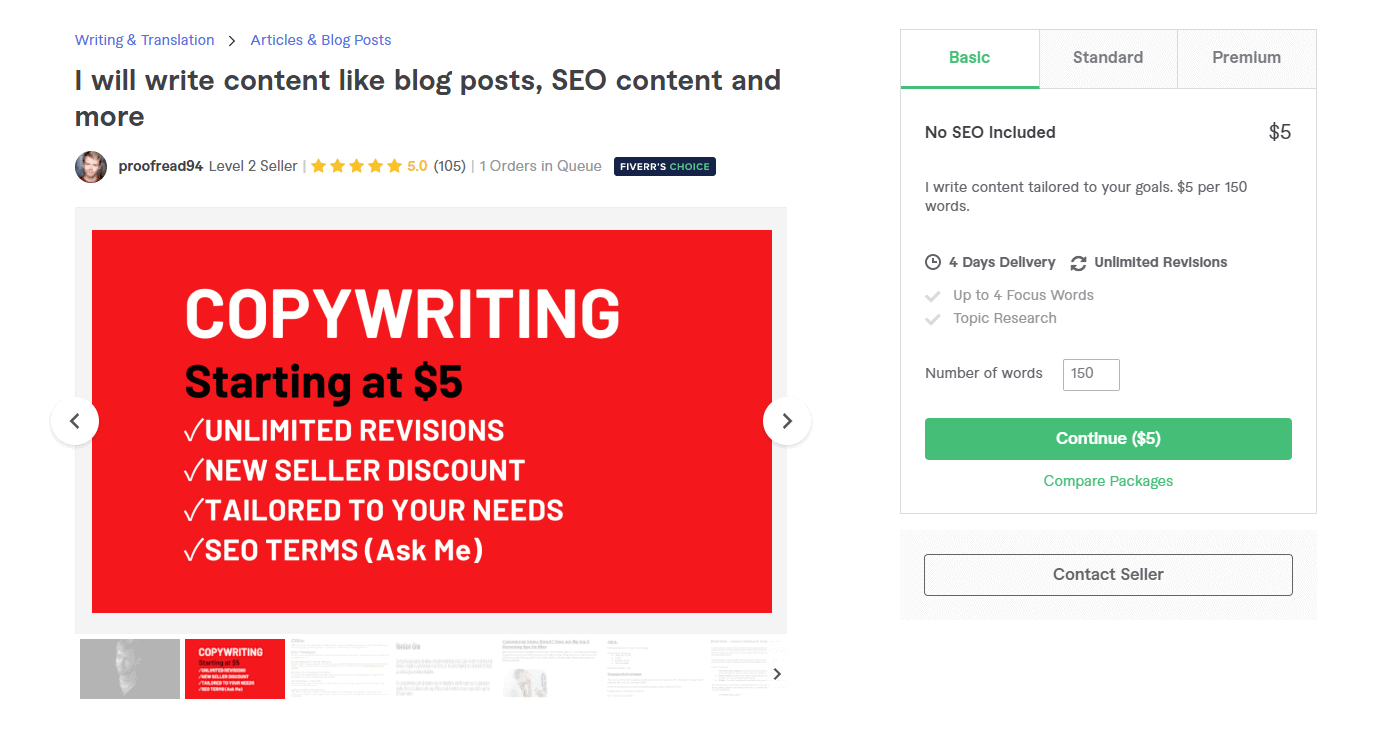 Not all content needs optimization for search engines. And if you don't need your content to rank in online searches, Chris's basic package might be ideal. It includes simple, non-SEO writing, charged per 150 words.
And at the time of writing, he's been awarded the coveted 'Fiverr's Choice' badge which means Fiverr has highlighted him as a great freelancer to hire.
Move up to his standard package if you'd like longer content (with up to four focus words), or opt for the premium package for six focus words and targeted topic and SEO research. I especially enjoyed reading through Chris's portfolio of work. He included some entertaining and interesting snippets that perfectly highlighted his writing skills.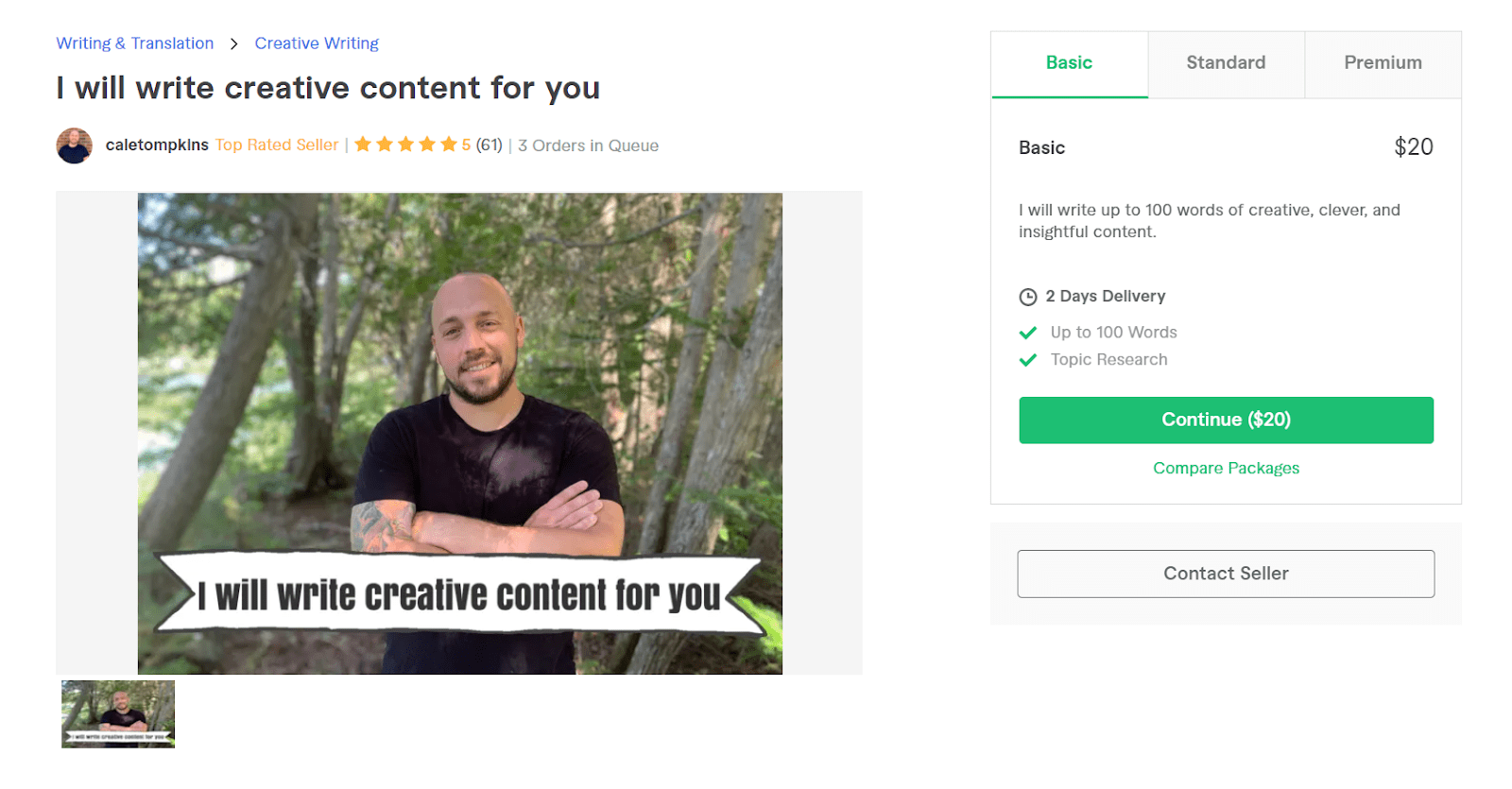 Top Rated Seller Cale Tompkins has extensive experience as a copywriter and content creator. He has spent almost a decade writing creative pieces in the television industry. If you're looking for scripts for a video or podcast, Cale would be a good hire. Cale's reviews show a history of high-quality writing, great communication skills, and an ability to meet tight deadlines.
His Basic package includes 100 words of content – ideal for micro-conversion optimization or product summaries.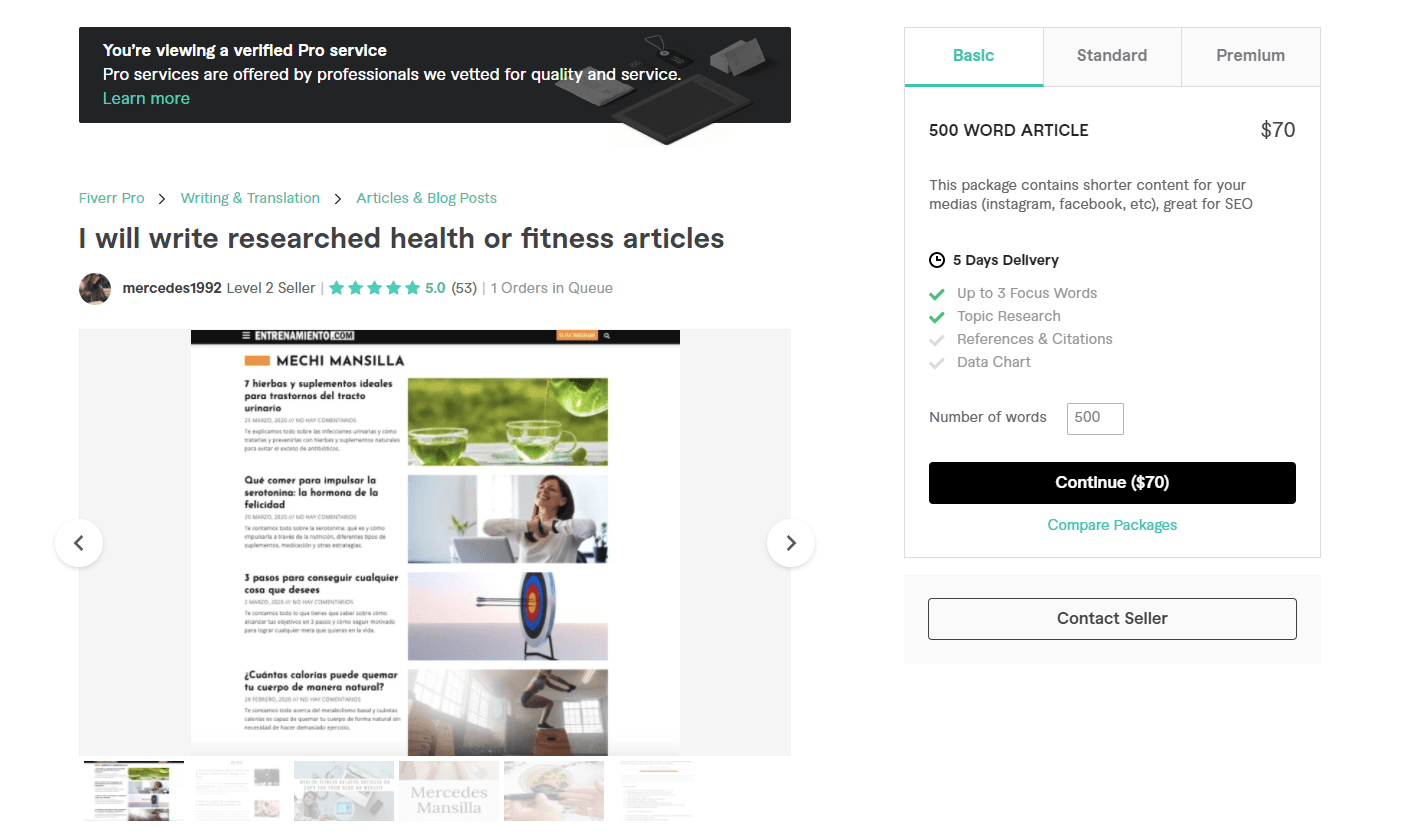 I like using Fiverr Pro sellers where I can, because they're manually vetted and have a history of great customer service.
Mercedes1992 is a Fiverr Pro but manages to keep her package pricing surprisingly economical.
 I also like the way she sets out her gigs to offer a good range of options to pick from. Because Mercedes1992 is a personal trainer who's studying nutrition, she's a good hire if you need quality nutrition or health content. She's also an SEO expert, so you can get your new content ranking as high as possible in searches.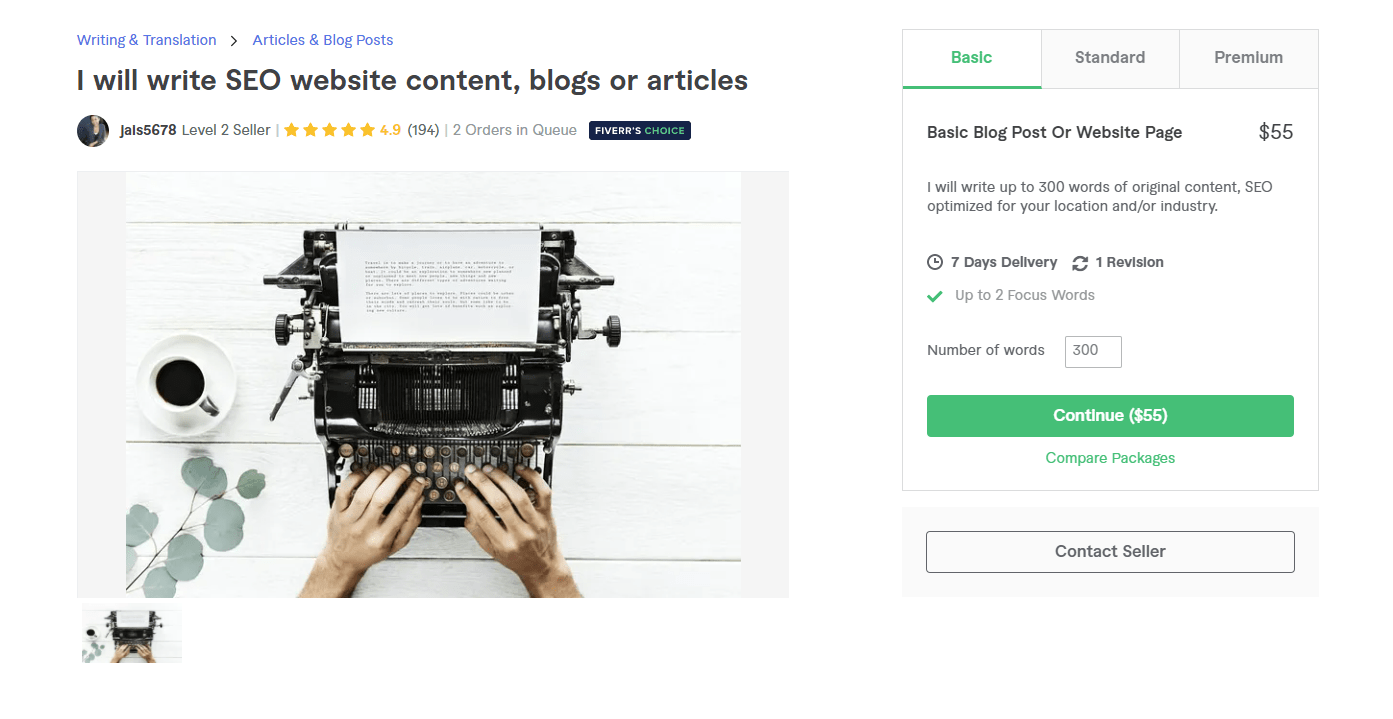 Jais5678 is a Level Two Seller with over 2,000 reviews and a 4.8 star rating
. Her Fiverr's Choice label is a method Fiverr uses to recommend popular freelancers with a great track record who specialize in the service you searched for.
Jais5678's basic content package includes a 300-word SEO blog post, article, or webpage, with two focus words
. Her delivery time of 7 days is longer than some other writers, but if you're not in a rush, you might find that you end up with a better-quality product.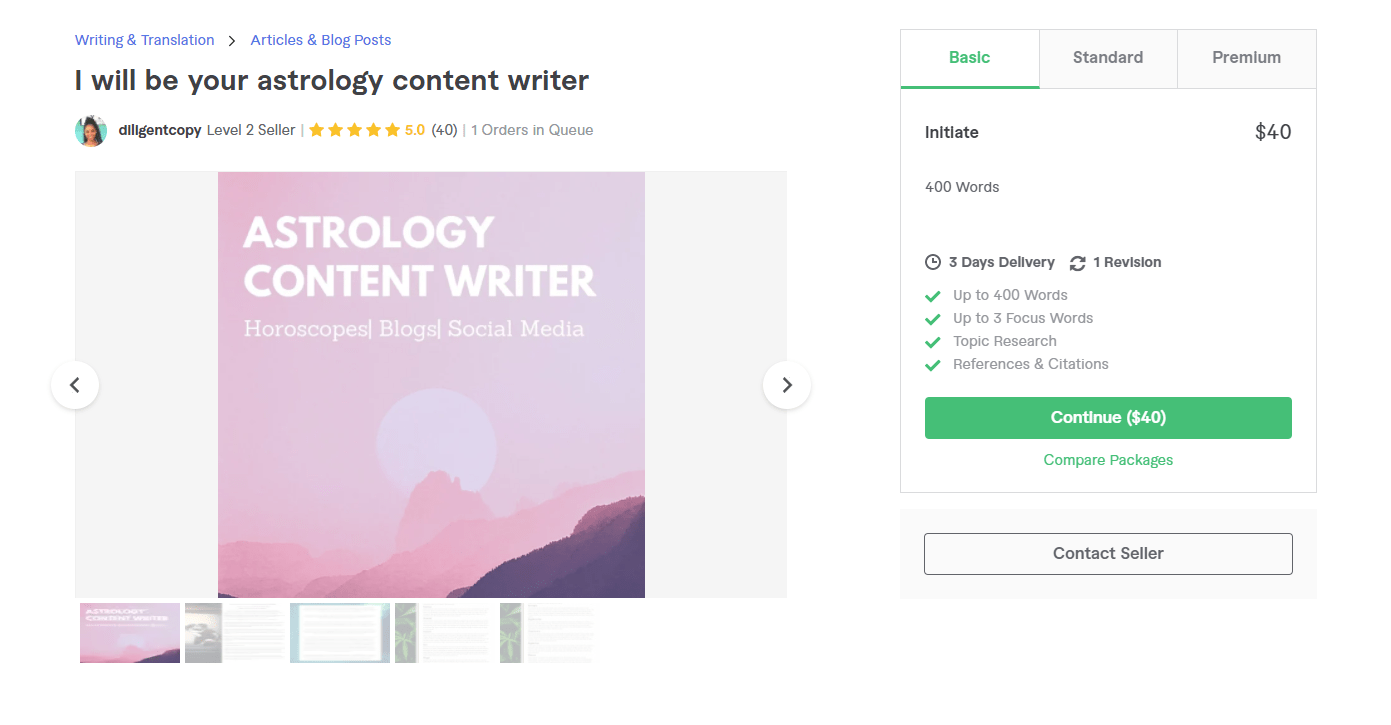 Specialist writers can be a great resource if you need articles that go deeper than the basics. If you're looking for "out of this world" content, check out Diligentcopy. She can provide you with astrology content, including horoscopes, chart analysis, and planetary profiles. I liked the sheer enthusiasm and passion that comes through in this writer's description and samples.
Her basic package includes references and citations, topic research, and up to three focus words for a 200-word piece.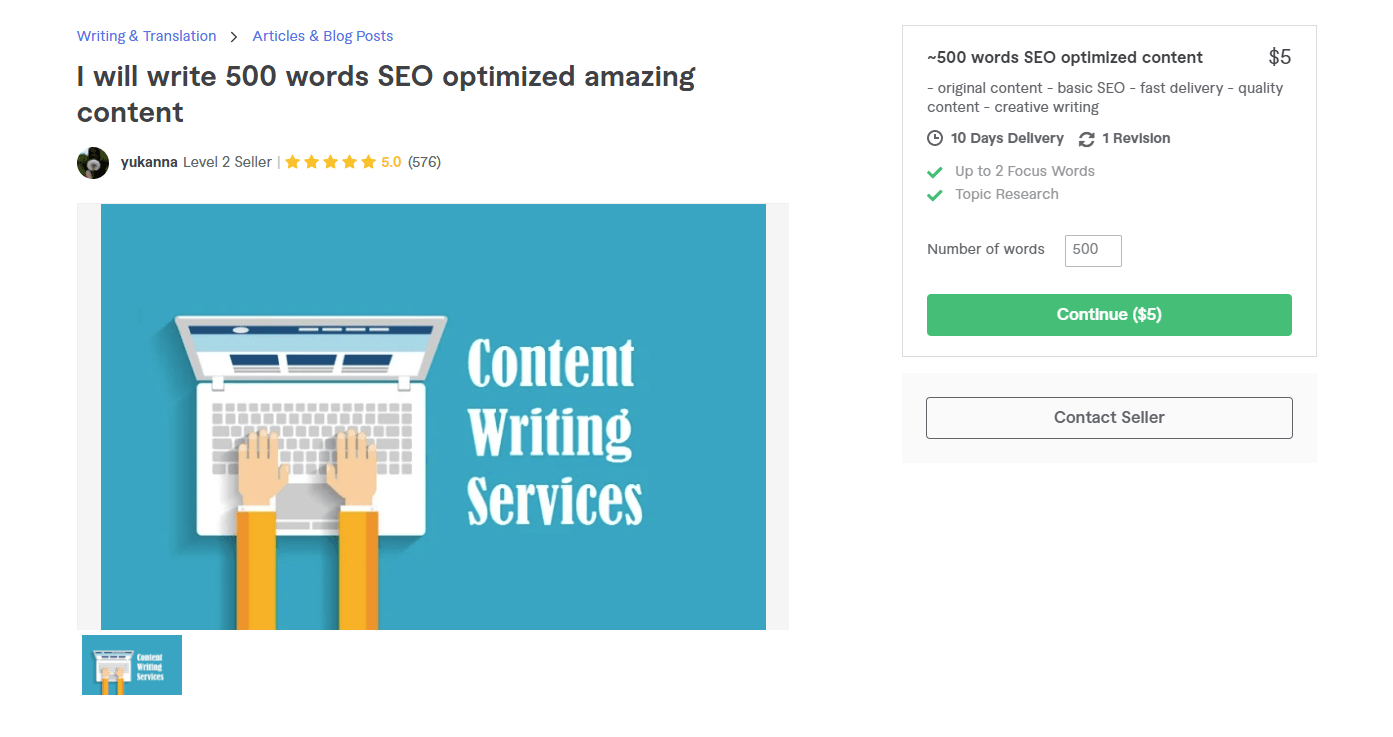 Yukanna offers just one package: SEO content, charged per 500 words.
 While I wouldn't pick above some of the other freelancers on this list for in-depth articles, she's a great choice for putting together very affordable content on simple topics. Each package includes two focus words and topic research for each piece. If you need a longer article, type the number of words into the word count box to see how much the package will cost you. You can also request faster delivery – three days instead of ten – for an extra cost.
How to Hire a Freelance Content Writer on Fiverr
Whenever I need to find a talented freelancer for my projects, Fiverr is my go-to hiring platform. It's a freelance website that hosts hundreds of thousands of professionals from all over the world. These experts have a range of experience and expertise, which makes it incredibly easy to find someone that meets your project's needs – just see how it got on in
our Fiverr review
.
You can hire Fiverr freelancers for as little as $5
, which is the cost of the lowest-priced package. This makes it easy to stop worrying about overspending your budget.
To search for a content writer, head to the Fiverr homepage and type "content writer" into the search bar
. If you need to find someone for a particular genre, search on a more specific phrase, e.g. "sales content writer". Alternatively, use Fiverr's built-in filters to refine your search results. You can filter by topic, language, and article type, as well as more general options like budget, delivery time, and seller details.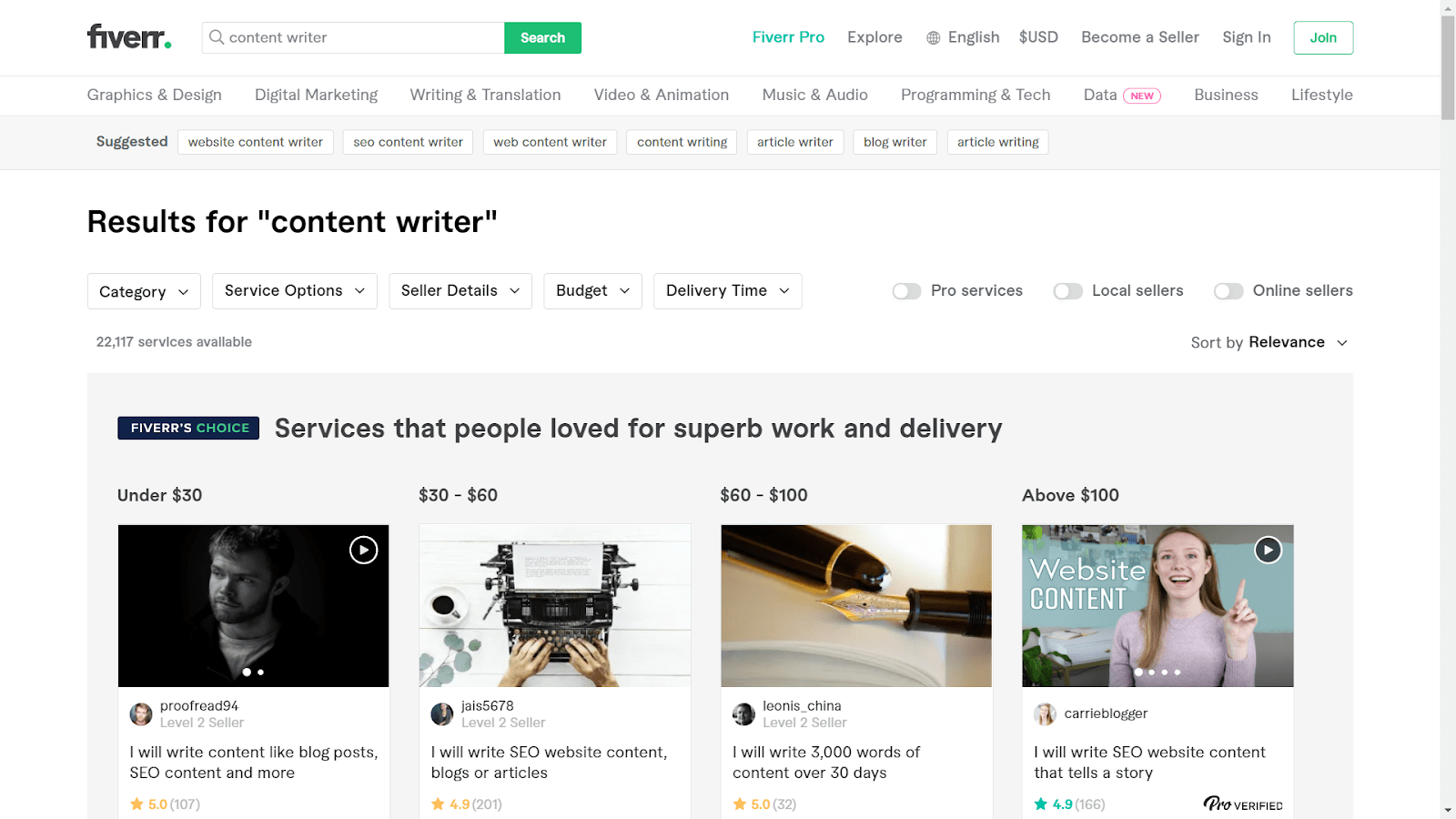 When you see a gig with a seller rating and portfolio that interests you, click on it to open it in full view. Take a look through each aspect of the gig, like the
About This Gig
 section, to get a feel for what the seller is offering.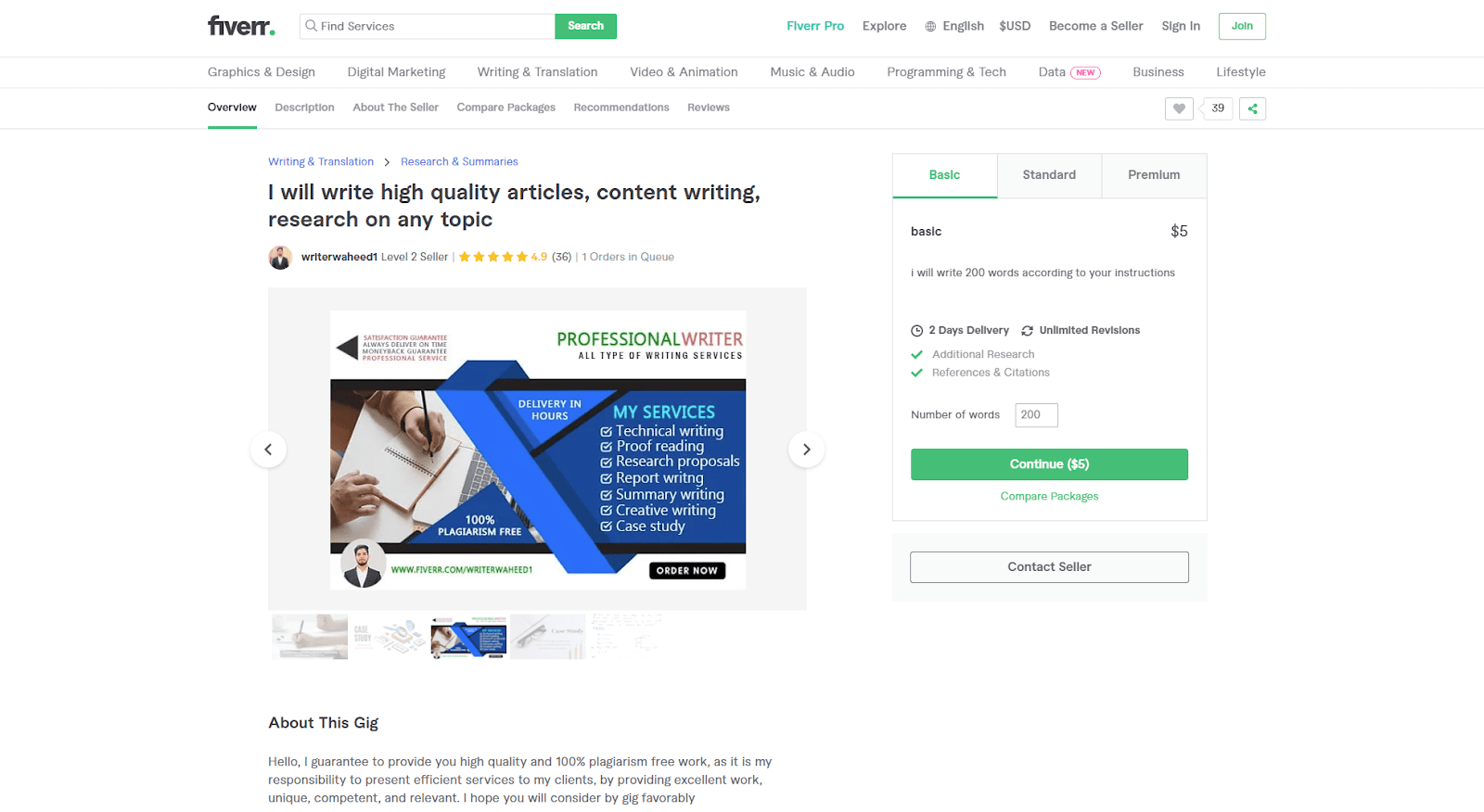 To see the pricing and services information, click the tabs at the top of the box on the right. You can see each package's details separately or click the
Compare Packages
button to see them in a table form.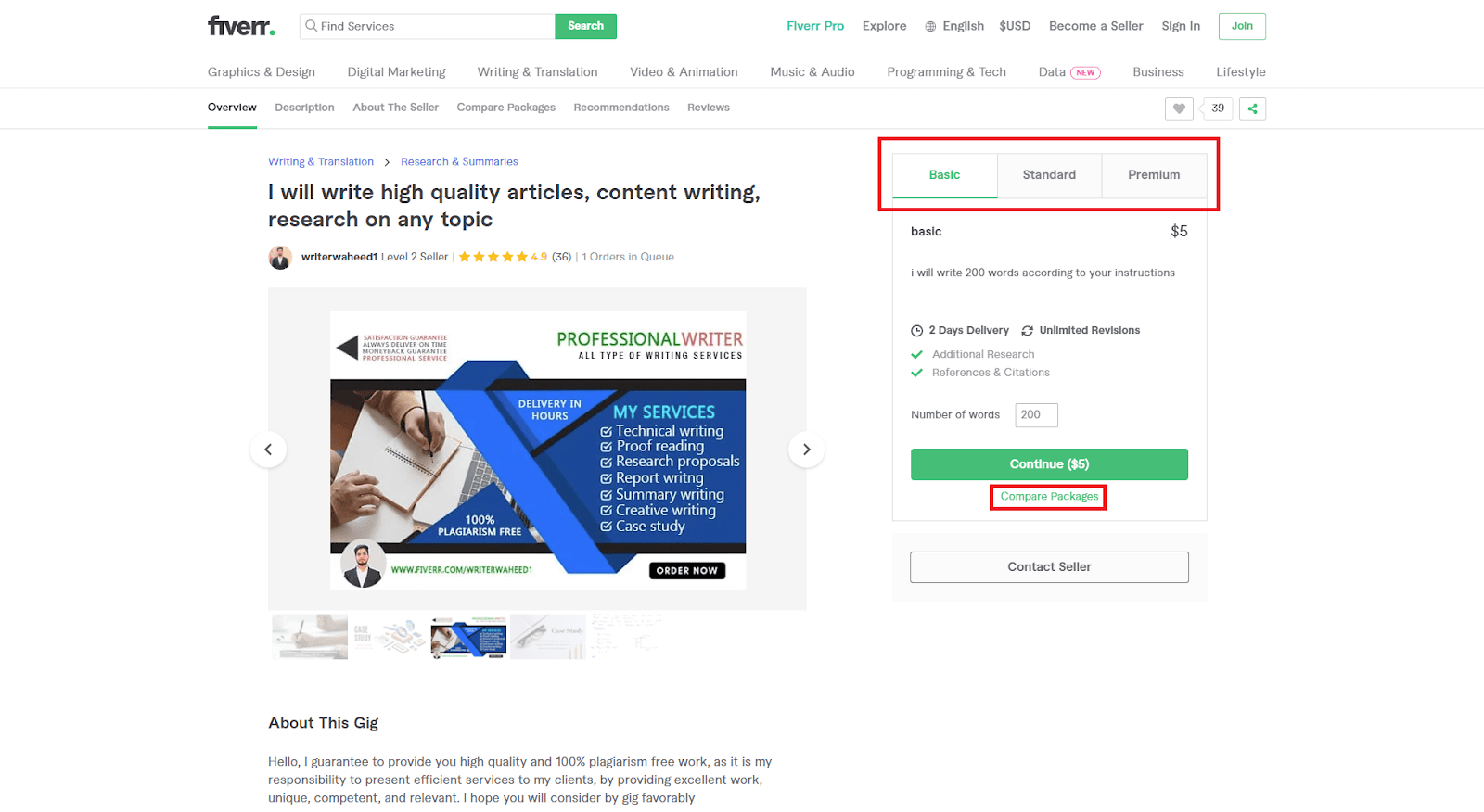 It's generally a good idea to reach out to the seller before you hire them to check their availability and your project requirements. To start a conversation with a freelancer, click the
Contact Seller
 button to send them a direct message.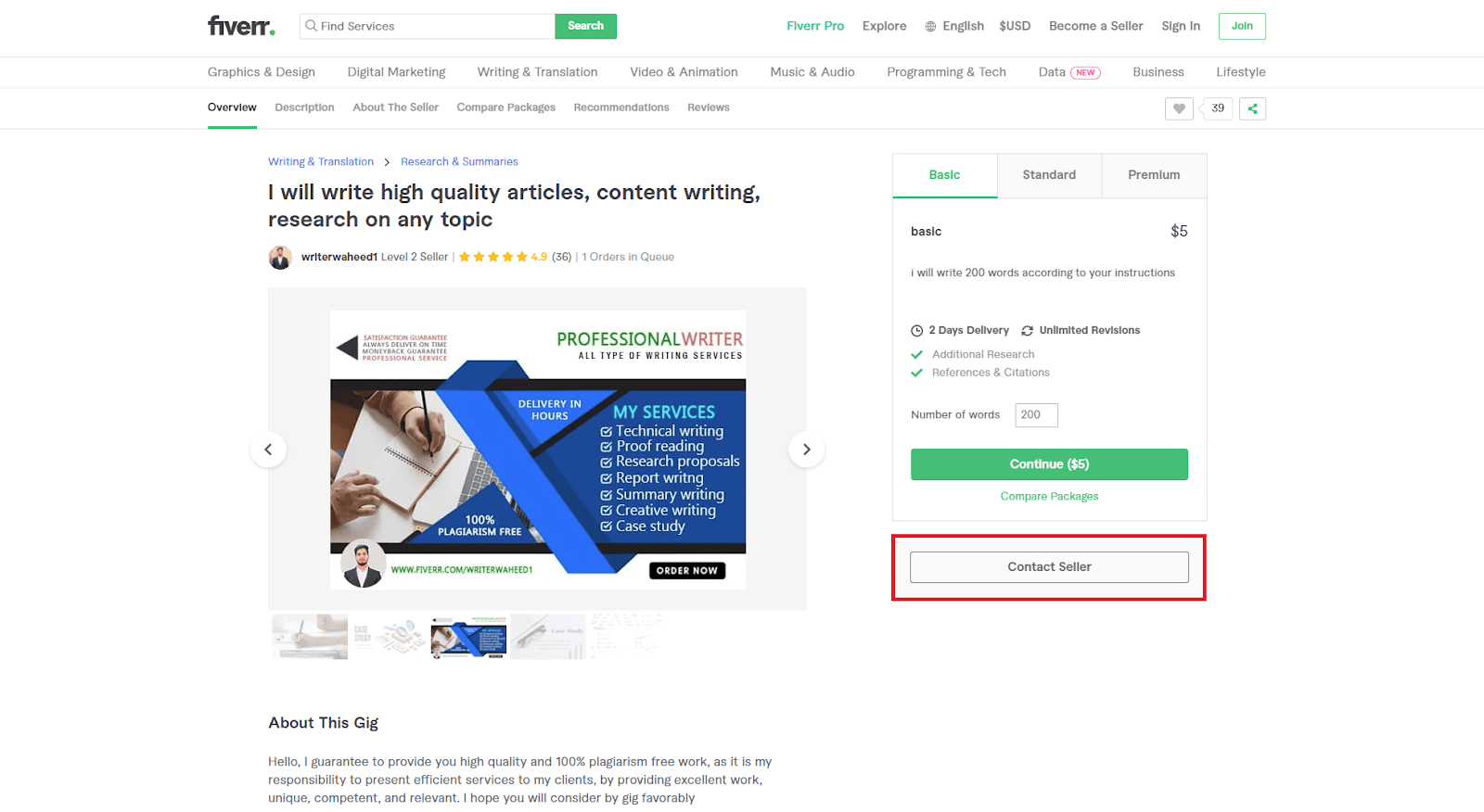 When you're ready to commission your writer, click the
Continue
 button to head to the payment preview page. On this page, you'll be able to
review your final costs, add package extras, and confirm your purchase.
Once you've reviewed your costs and added any extras, hit the
Continue to Checkout
 button to enter your payment information.
Fiverr holds each payment in escrow until you approve it
, so you can be 100% sure you'll end up with a final product that you're satisfied with.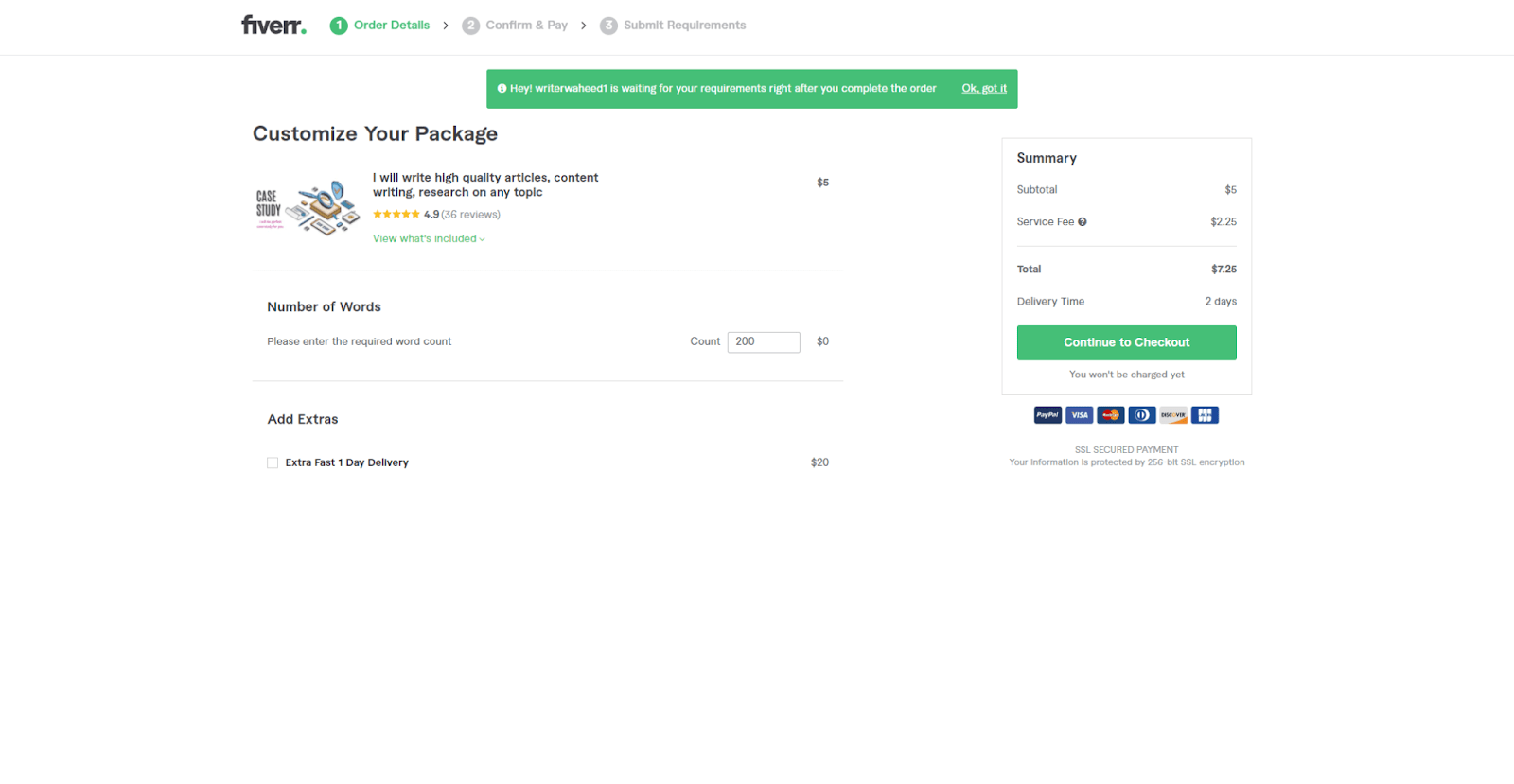 What to Look For in a Freelance Content Writer
If you've never hired a writer before, understanding the qualities that make a talented professional may be tough. Hiring for any project can be a challenge without guidelines, so let's dive into a few essential qualities your content writer should have. Ideally, a talented content writer should:
Have experience writing in your required niche and for your target audience. If you need a writer with specific industry knowledge, you can check for their experience below the About This Gig section under Topic. The writer you choose should have a strong background in creating content for an audience that closely reflects your project's target audience.
Understand both standard writing principles and Search Engine Optimization (SEO). No matter the genre, sellers should have a deep knowledge of the principles that produce high-ranking content. Sellers usually include work samples in their portfolio, but if they don't, click the Contact Seller button to request samples to assess the quality of their content.
Possess outstanding customer service and communication skills. Check the seller communication level under the FAQ section of the seller's profile to see how past buyers have rated their communication skills.
Consistently meet deadlines and produce accurate, error-free content. Look through customer reviews to see how effectively the freelancer creates content free from grammatical mistakes. Keep an eye out for comments that praise the seller's timely content delivery and ability to follow project guidelines too.
Offer content revisions. Check the package services to the right of the overview page to confirm how many revisions are allowed in each package. A seller that offers revisions is more likely to be focused on ensuring their customer's satisfaction with the final product.
Have native-level language skills in your language of choice. Although your seller doesn't necessarily need to be a native speaker in the language that the content is written in, they should have above-average proficiency. The Language tag (also found below the About This Gig section) lists each language the seller works in. You can also find this information on the seller's main profile, where you'll also be able to verify their proficiency level for each language.
Are You Interested in Selling Your Freelance Content Writing Services?
Selling on Fiverr as a freelancer is just as simple as finding a freelancer to hire for your project. Fiverr sellers have access to thousands of potential buyers each day. A gig is purchased by a client every four seconds – adding up to over 20,000 hires a day. Becoming a seller on Fiverr is a great way to build a strong portfolio and work towards a steady client base, which can eventually translate to a stable source of income. To get started with Fiverr,
head to the Fiverr homepage
 and click the
Join
 button to sign up. If you'd like to get some more information before you begin, you can also click on the
Become a Seller
 button to better understand the platform's mission and to read testimonies from other sellers.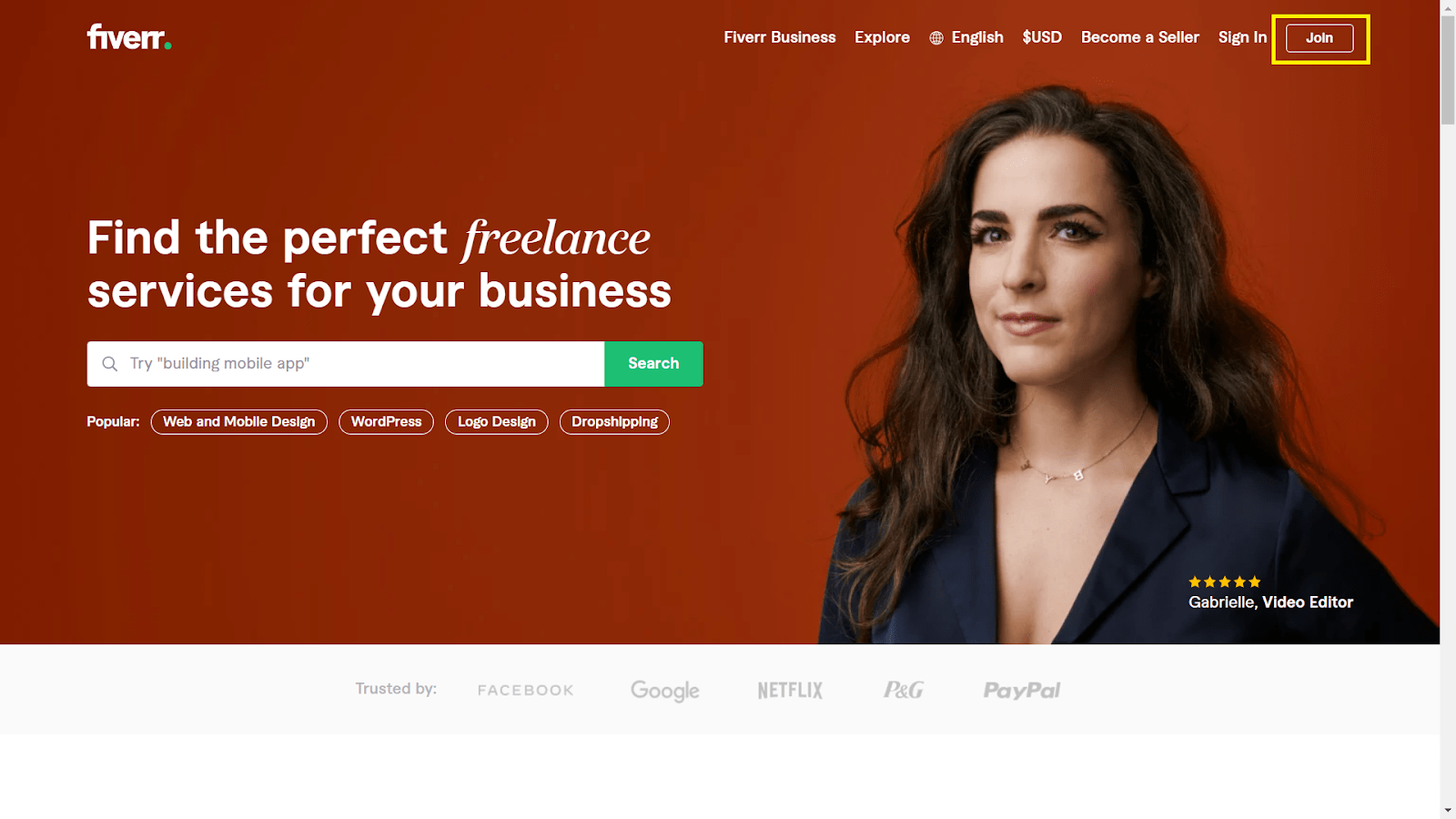 Once you've verified your profile, head to your seller dashboard and
click the circle icon in the top right to navigate to your profile
. Here's where you'll be able to upload a photo and add any skills and languages you speak, along with any professional and/or academic achievements.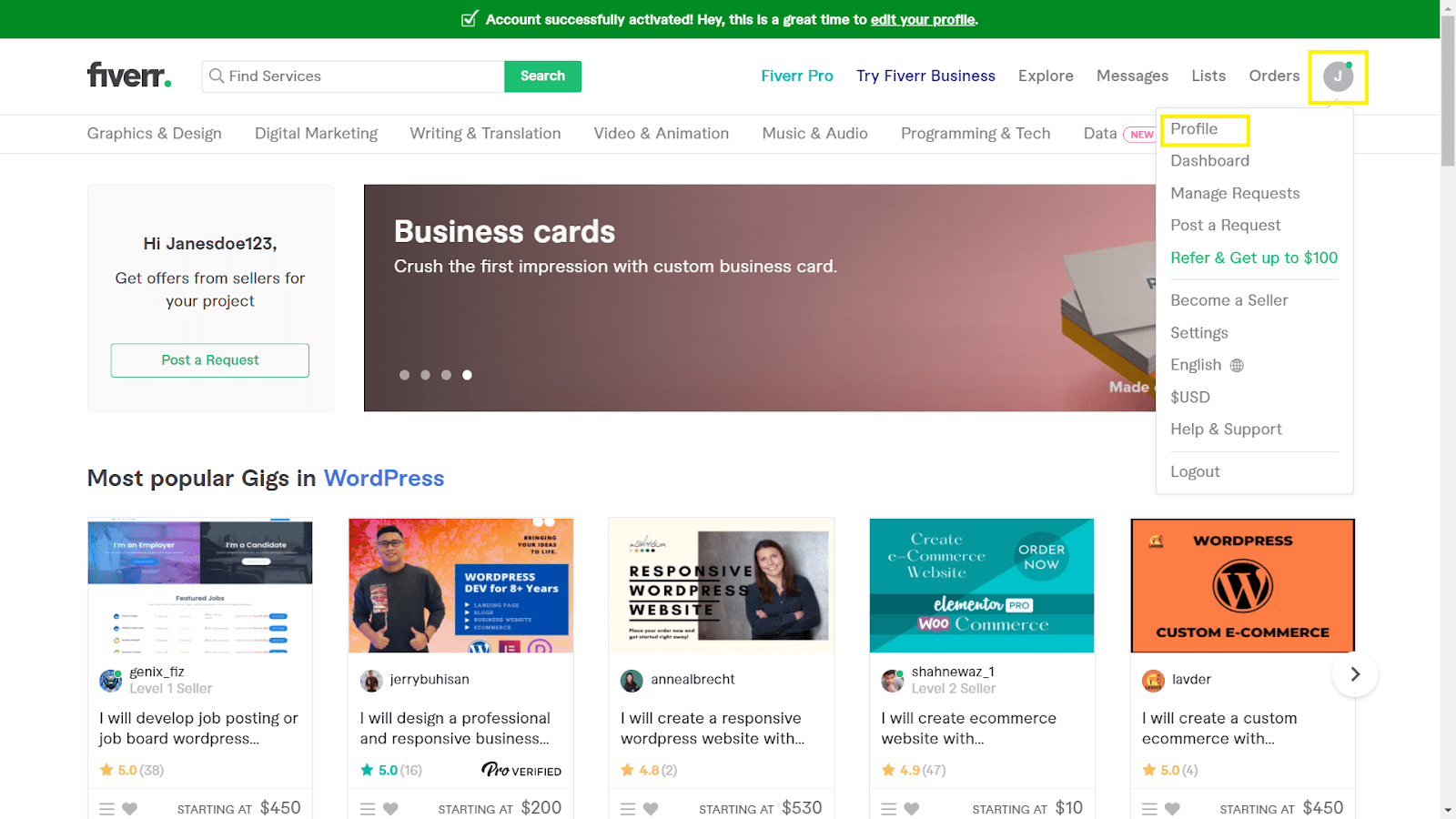 Now that you've updated your profile, it's time to create your first gig. Luckily for you,
we've already put together a step by step guide on how to create a successful Fiverr gig
. If you don't have time for that, here are the basics… Hit the
Create a New Gig
 button to get started.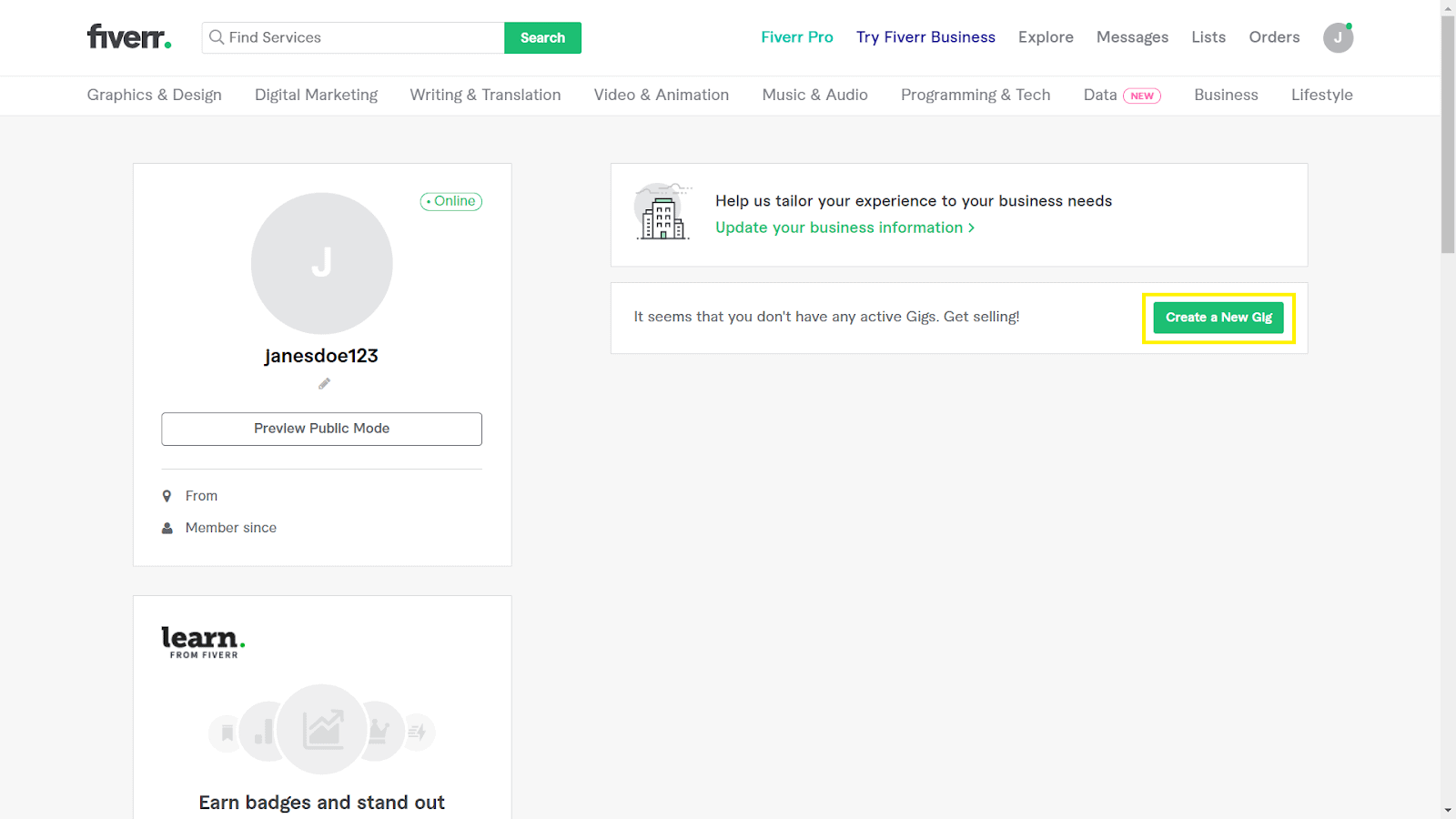 Title your gig and choose a category and subcategory to help personalize your gig offering. As a content writer, you'll want to choose the
Writing & Translation
 category and then select from the various subcategories that pop up, which include
Articles & Blog Posts
,
Website Content
, and
Ad Copy
.
Add a name and description to each package tier
and fill in or select needed information, like the word count and the number of focus keywords per package, before setting the pricing for each tier. You can also use this page to add extra paid services like additional revisions and topic research. Write up a detailed description of your gig and include any FAQs that would help inform your buyers.
Use the
Requirements
 page to add questions for your buyers and upload media (like screenshots and pdfs) to the portfolio/gallery to support your experience
. After adding your media, the final step is to publish your gig to take it live and make it viewable during searches. And, just like that, your first gig will be up and running.
My most important bit of advice for new sellers interested in optimizing their profiles is to
hire a seller of their own
. By going through the buying process yourself, you'll get first-hand experience that helps you better understand what buyers are attracted to when they search for an expert. Many Fiverr packages are super affordable, so you can choose to go big with the package you choose, or keep things conservative and stick to a smaller budget. Hit the
Switch to Buying
 button next to the circle icon (in the top right) to begin your search for the perfect freelancer. You can type your query directly into the search box, or, if you aren't yet sure what you're looking for, click through the categories at the top of the page until you find something that piques your interest. Once you've commissioned a freelancer, switch back to your selling profile to integrate some of the high points of the gigs you encountered into your own profile.
Wrapping Up
Fiverr's user-friendly interface helps make it
my #1 freelancer hiring solution
, and that's why it tops the list of our
best freelance websites in 2023
 too. I love being able to hire experts from virtually every industry in an easy to navigate platform, with
packages available from just $5
. Since you can filter search results by budget, service options, and seller details, finding the right freelancer takes less time, which means you can get your project started quicker. Fiverr sellers are also placed into levels based on their on-site experience and customer reviews, making it even easier to identify and hire professionals that can deliver high-quality work every time. And who knows, once you've found your new favorite content writer, you could use Fiverr for just about any job you need doing. It's one of the things I love the most about Fiverr. Here's what I'm talking about:
FAQ
Where can I find a freelance content writer for hire?
Fiverr is a top freelance website that connects you with thousands of talented freelancers from all around the world. These freelancers work in a variety of industries, so finding an expert for your specific project is easy to do and completely hassle-free. Just use search filters like seller details, budget, and delivery time to help narrow down which freelancer is right for you.
How much does a freelance content writer cost?
Although pricing varies depending on the writer's location, skill level, and service offerings, Fiverr packages begin at only $5. Ultimately, the final cost to hire your freelancer will depend on your project requirements and the price range of the freelancer you choose.
What skills should I look out for in a content writer?
Ideally, a talented content writer will be experienced in writing for your target audience and understand your content's niche or style. They should have a native writing level in the language of the content and produce work that is grammatically correct, mistake-free, and contextually accurate. A professional writer will have mastered key writing principles such as clarity, creativity, and brevity and know how to create content that appeals to readers and ranks well.