make
money too. Fortunately, this type of service doesn't have to be expensive.
I found several consultants with business plan packages starting at just $5 on Fiverr
.
 Check out my top choices and choose the best business plan writer to help you succeed.
9 Best Business Plan Writers for Hire
From freelancers offering simple business model canvases (BMCs) to consultants preparing complete five-year plans, these sellers have the knowledge and experience you need.
There's a gig for every budget on Fiverr; you can buy a business plan for as little as $5.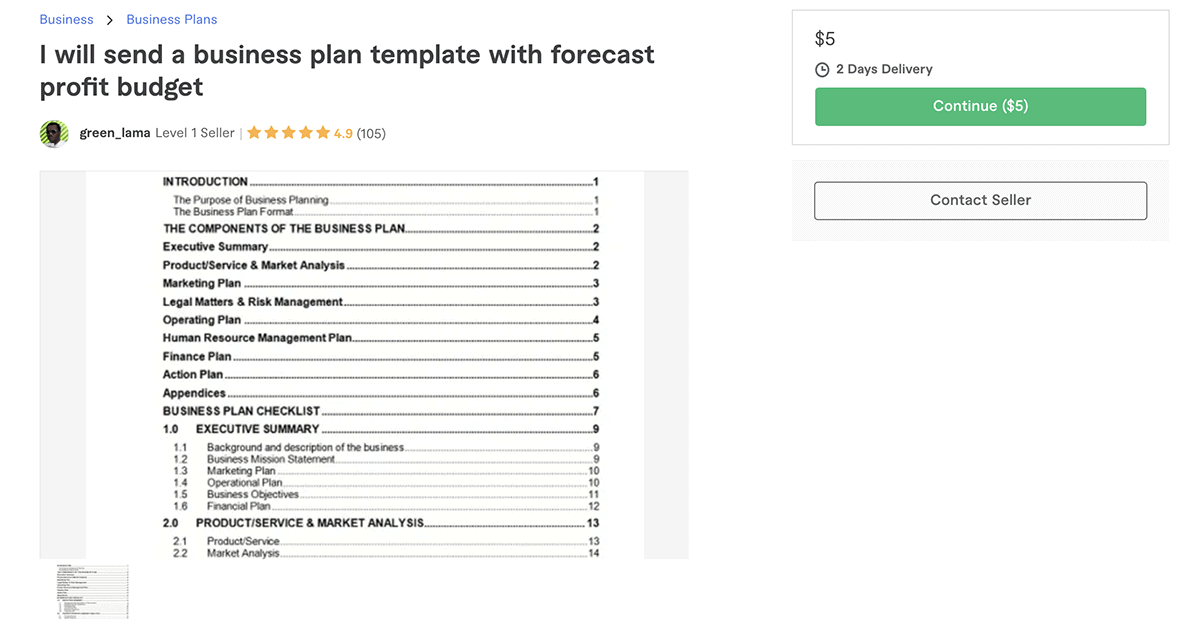 As a Level One Seller, Green_lama has completed at least ten orders, earning a 4.7-star rating in the process.
This freelancer specializes in business plan templates, and his gig costs just $5
. For this budget-friendly price,
you get a 63-page template
 that you can use to create your own custom business plan.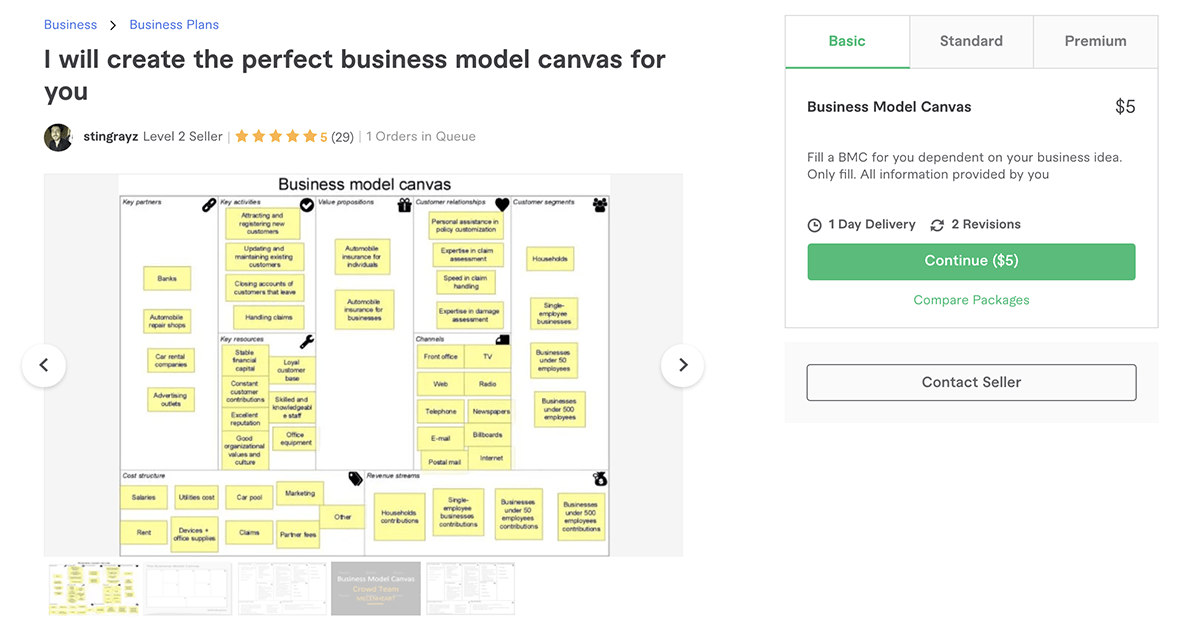 As a Level Two Seller, Stingrayz, run by Saad Khan has delivered at least 50 orders and maintained at least a 4.7-star rating, earning Fiverr's seal of approval. If you want a BMC to visualize your cost structure and revenue streams,
 this seller has
one of the most affordable offers
.
They prepare basic BMCs for $5
 and create more in-depth models for $75.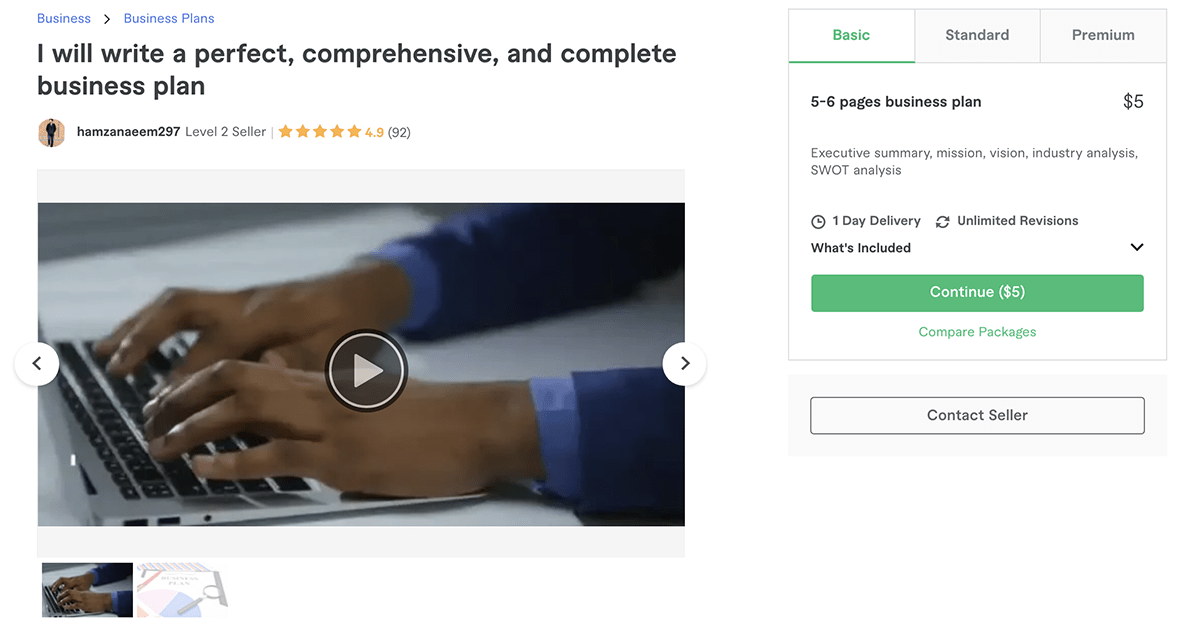 With a 4.9-star rating and more than 90 excellent customer reviews, Hamza has a history of delivering high-quality work. This freelancer also provides incredible value –
his $5 basic gig includes
a five-page business plan with super-fast one-day delivery
. If you need more detail, you can purchase his 12+ page business plan gig for $40.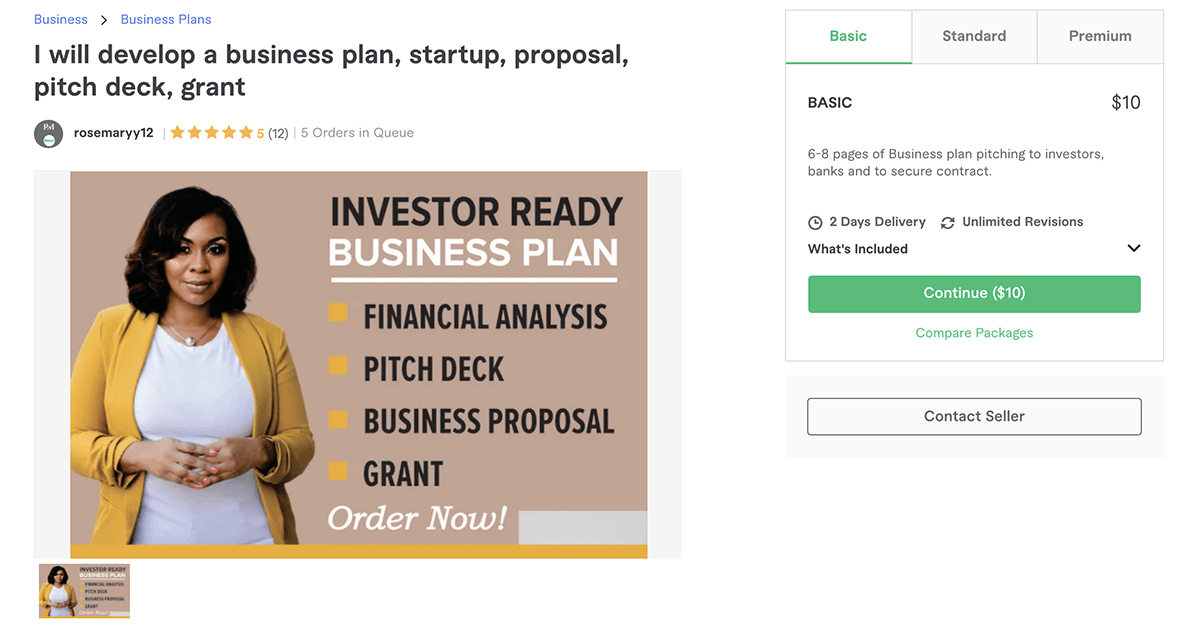 Rosemaryy12 has more than seven years of experience as a business consultant – the
5-star rating
 attests to her outstanding work. While some cheaper gigs rely on templates, this freelancer writes business plans from scratch –
a smart choice if you want a completely custom plan
.
Her $15 basic package includes a six-page plan
, and the $100 premium option comes with three to five years of financial projections.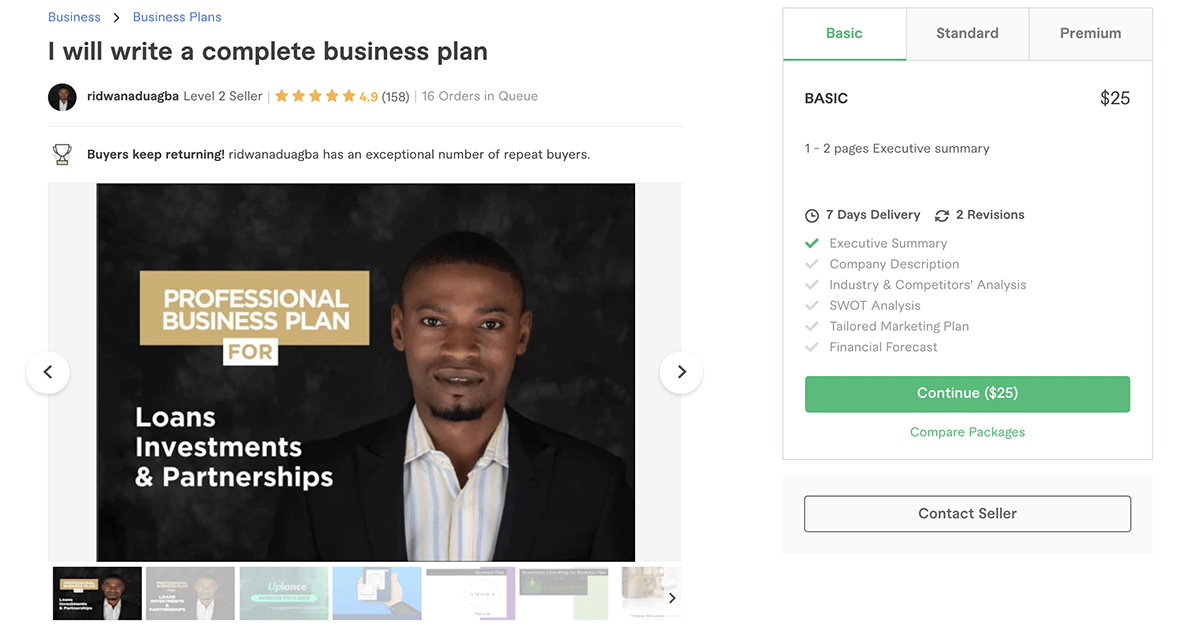 As a Level Two Seller with a 4.9-star rating and
more than 150 excellent reviews, Ridwanaduagba regularly attracts repeat buyers on Fiverr
. His basic plan costs a bit more ($25) and includes a bit less (only an executive summary) than other business plan gigs. However, the customer comments confirm the exceptional quality of this seller's work. For a complete business plan, consider upgrading to his $125 premium gig.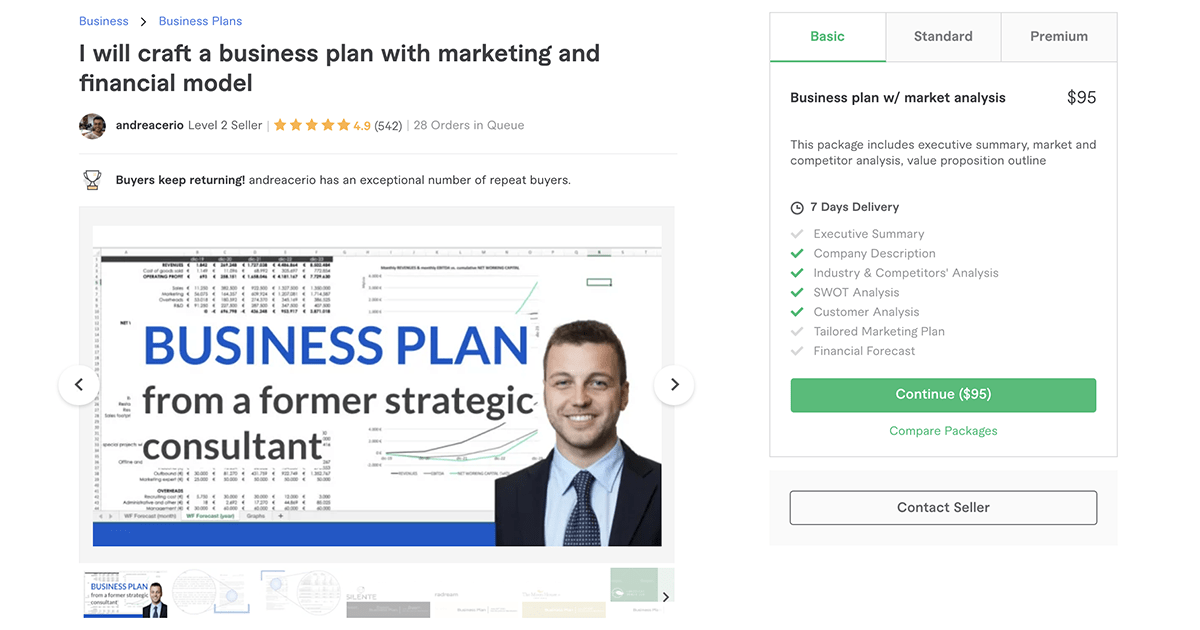 With more than 500 rave reviews from past customers, Andrea is one of the most prolific business plan writers on Fiverr. This seller has an MBA and
specializes in creating investor-ready business plans
, making this gig an ideal choice for startups. Go with his $95 basic package for a business plan with market analysis or upgrade to the $295 premium gig for a complete plan with a five-year financial forecast.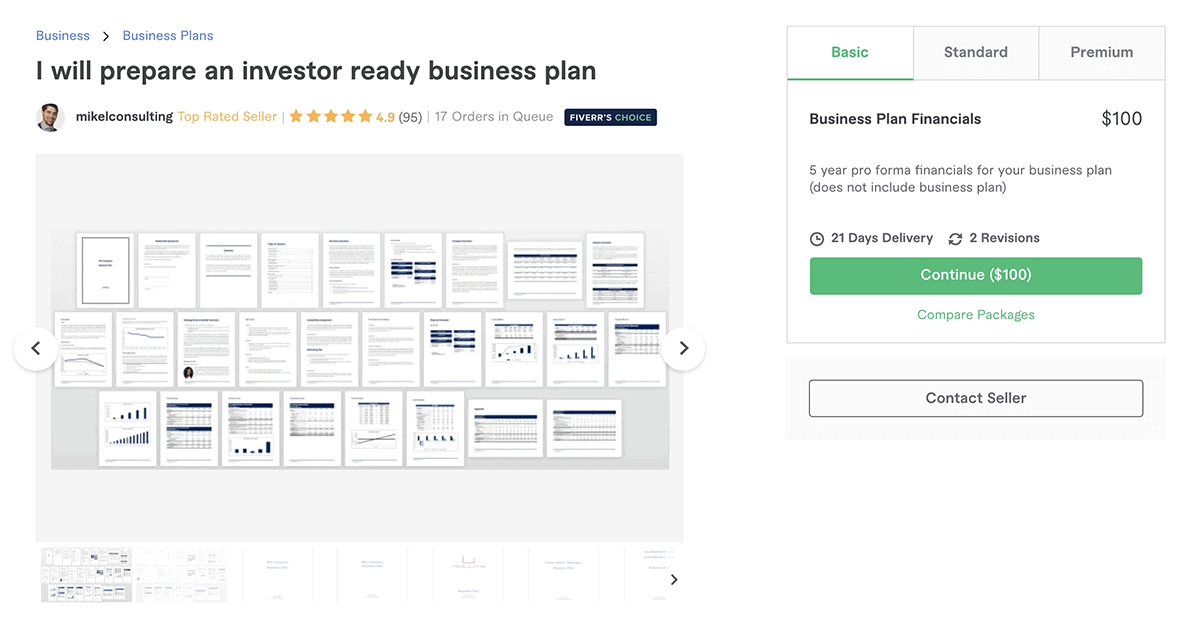 As a Top Rated Seller,
Mikelconsulting has achieved Fiverr's highest status level
, delivering at least 100 orders and earning $20,000 or more. His
4.9-star rating
 and over 100 rave reviews attest to the quality of his work. You can book the $100 basic gig if you only need pro forma financials, but to get a complete investor-ready business plan with market research, consider the $365 premium gig.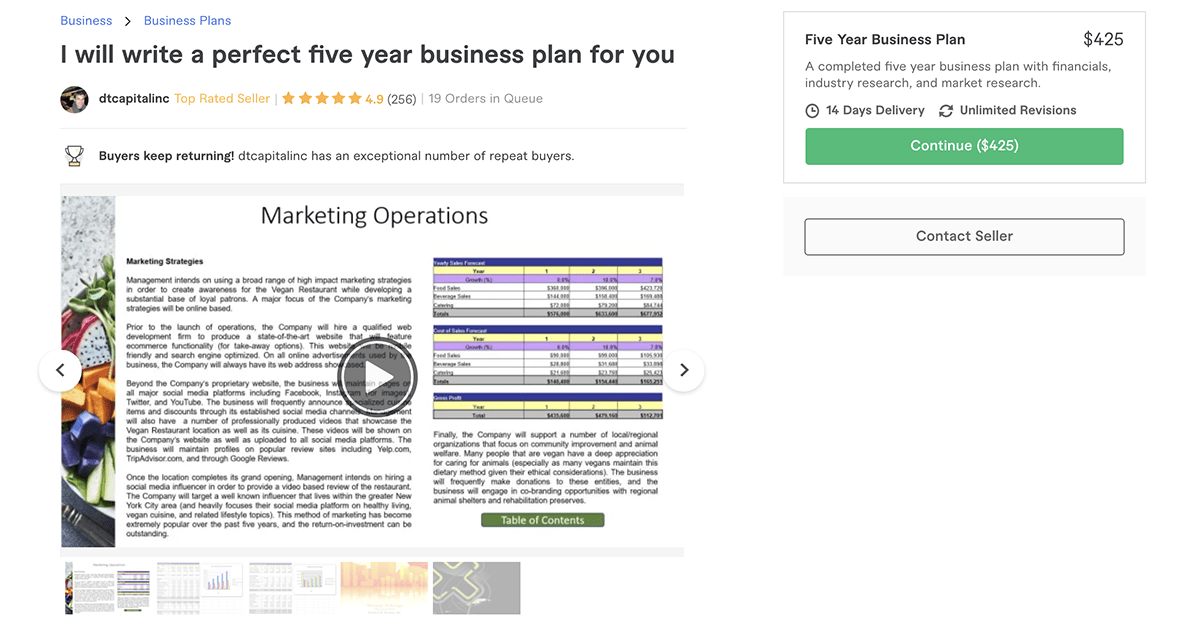 Dtcapitalinc easily stands out from the competition with
more than 250 reviews and a nearly perfect customer rating
. This Top Seller has 14 years of experience creating business plans and follows the Small Business Administration guidelines – which is ideal if you need a plan for a United States-based business. Purchase Dtcapitalinc's $425 gig for a five-year business plan with market research and financial projections.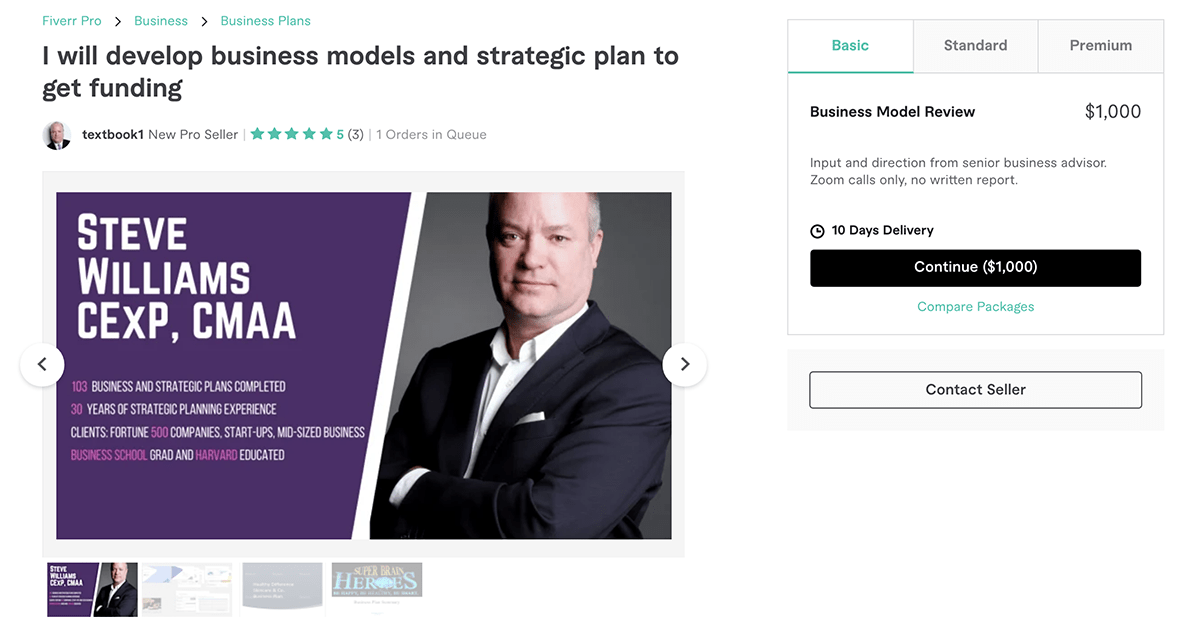 As a Pro Seller,
Textbook1
, also known as Steve,
belongs to Fiverr's most exclusive tier of hand-vetted freelancers
. This seller has more than 30 years of experience with business consulting, which is worth the investment if you need strategic planning at a professional level. Textbook1's basic gig costs $1,000 for a business model review, and his $5,620 premium gig includes a complete business plan with financials.
How to Hire a Business Plan Writer on Fiverr
Fiverr makes it very easy to hire someone to write a business plan. Follow these steps to find the right freelancer in just a few minutes. 1. First,
go to Fiverr.com
 and type what you want into the search bar. Available services automatically populate as you type, so click on the one that matches what you need.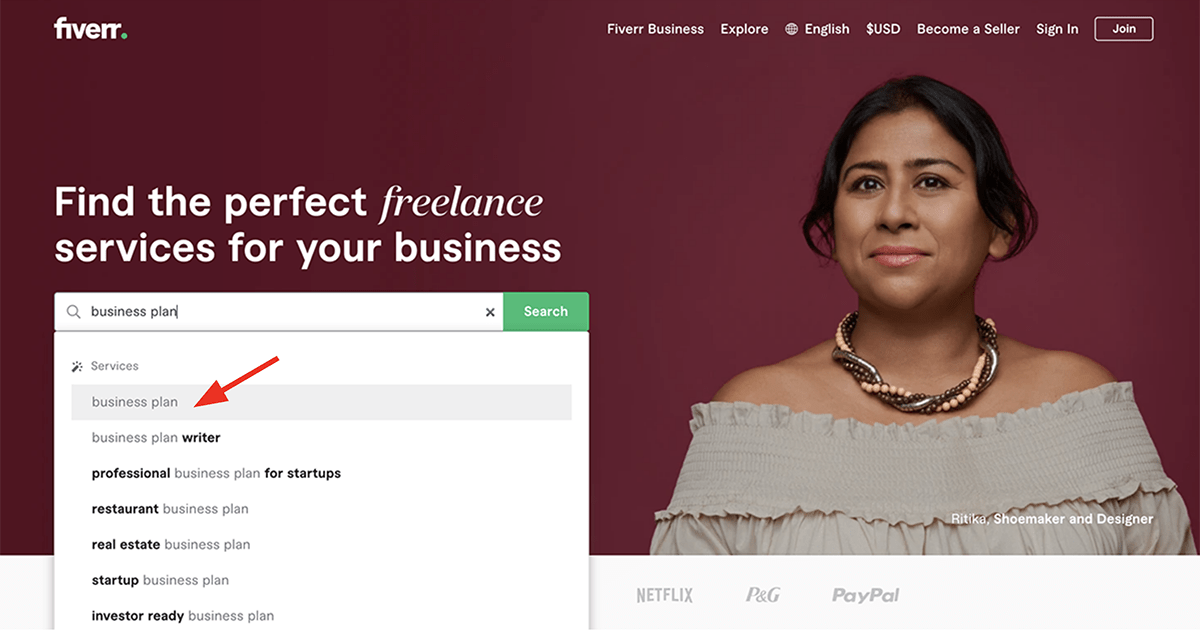 2. Start browsing the available gigs, which are automatically sorted by best-selling offers. With a quick glance, you can see the freelancer's name, star rating, and number of completed orders – as well as the gig name and price.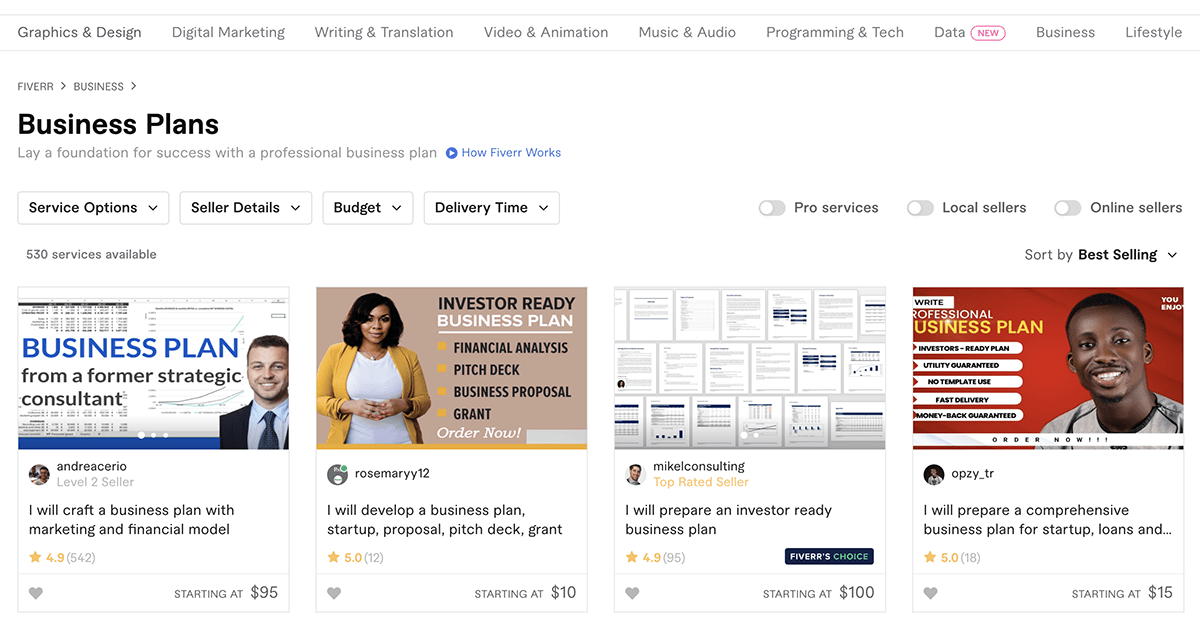 3. If you need a business plan quickly or if you're on a strict budget, you can filter by budget and delivery time. To find the best freelancer for your needs, you can also limit the results to sellers who specialize in plans for specific business types – such as startups or nonprofits.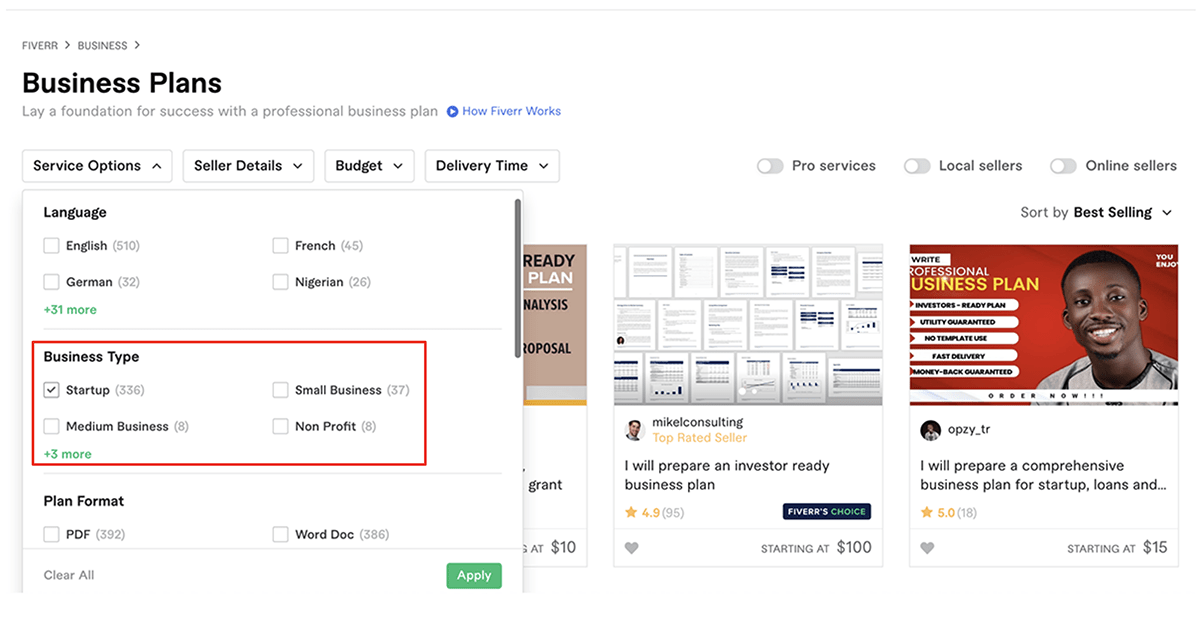 4. When you find a gig that looks promising, click on it to see more. You can scroll through the freelancer's portfolio to see examples of their business plans and read a complete description of what's included in the gig.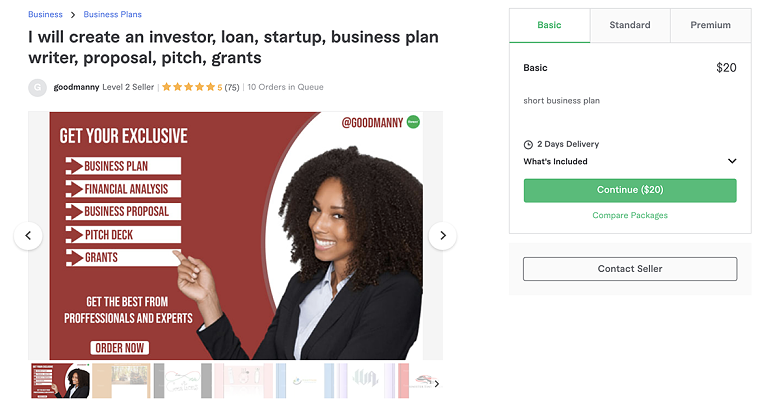 5. Many business plan writers offer three-tiered gigs that give you some flexibility in terms of price and deliverables. Click the green
Compare Packages
 button to see which package has the deliverables you need for the price you want to pay.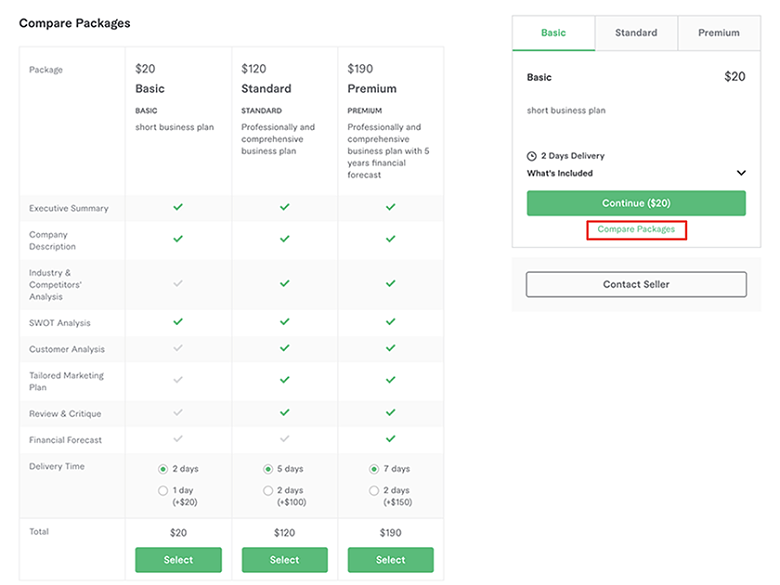 6. To get a better sense of what to expect from a business plan writer, scroll down to read past customer reviews. You can see what customers liked or disliked about a freelancer and assess their strengths and weaknesses.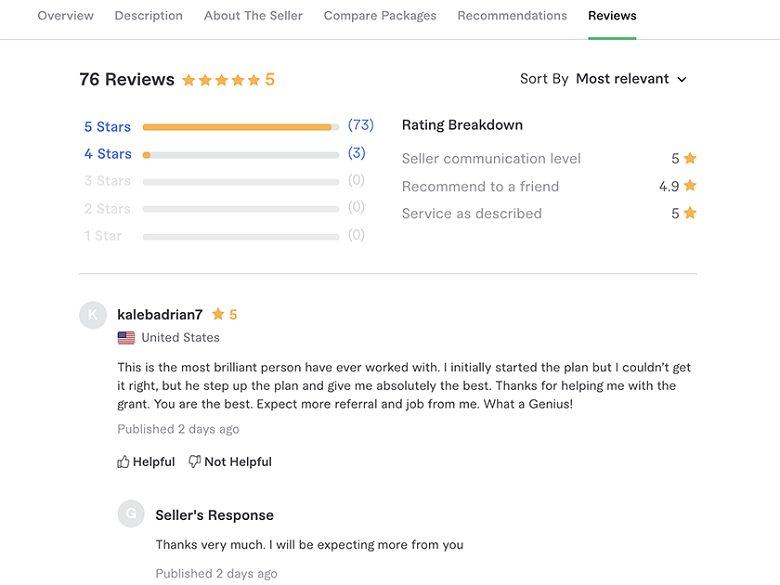 7. To message a freelance business plan writer before placing an order, click the gray
Contact Seller
 button. You can ask the freelancer for more details about their experience in your niche or even request a custom offer if necessary.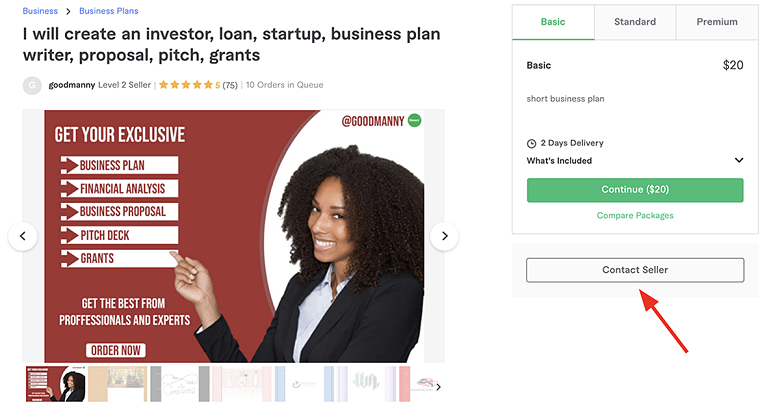 8. When you've found the gig you want, click the green
Continue
 button to place your order. If you want to add on a faster delivery time or an extra deliverable like a financial forecast, now is the time. When you press the green
Continue to Checkout
 button, Fiverr will automatically process your payment and ask you for all the information the seller needs to start writing your business plan.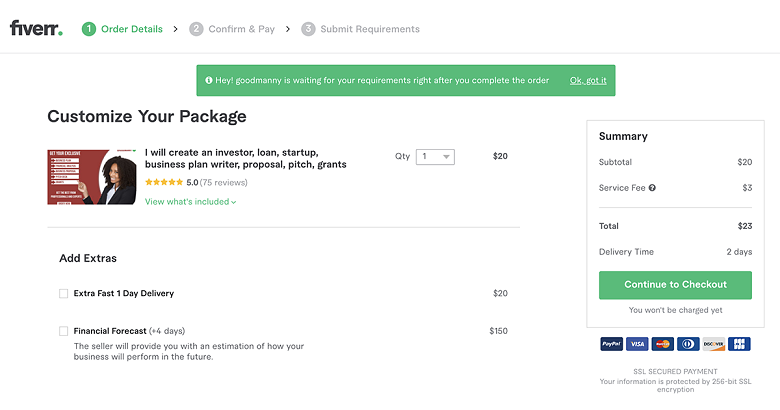 What to Look for in a Business Plan Writer
Fiverr has hundreds of business plan writers for hire, so making a choice might seem difficult. To make sure you choose the right freelancer to meet your needs, look for these qualities:
Sufficient experience: While some freelancers have written countless business plans, others have professional experience as business consultants. Read through the freelancer's bio carefully to ensure they have the experience you expect.
Niche specialty: Do you run an established business that's seeking funding? Or are you launching a startup that needs to attract investors? Either way, you need a business plan writer who specializes in your business type and stage.
Relevant deliverables: Do you need a complete business plan or just an executive summary? Make sure the gig you choose includes the deliverable you want, or consider upgrading to a more expensive package.
Customer ratings: Reading about other customers' experiences is a great way to set expectations before working with a business plan writer. Make sure the reviews don't mention any deal-breakers, such as poor communication or ineffective plans.
Fiverr credentials: Seeing proven experience can confirm that you're hiring the right person. Look for freelancers with Fiverr credentials – such as Top Sellers or Pro Sellers.
Are You a Business Plan Writer Looking to Sell Your Services on Fiverr?
If you'd rather sell your business plan writing services, you can easily set up a profile and create a gig on Fiverr. It's easy to use for both freelancers and clients, which is why it scored so highly in
our Fiverr review
. Start by visiting the Fiverr homepage and clicking the
Join
 button in the upper right corner.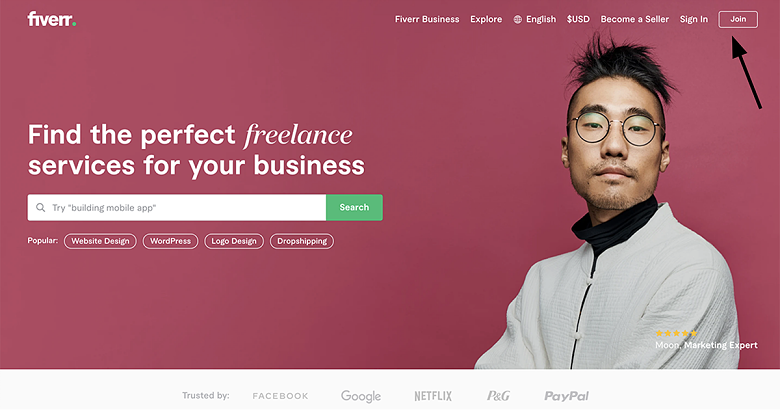 Choose a username and enter your contact information. Then navigate to your profile to upload a picture and write a short bio to introduce yourself to clients. Be sure to explain your experience with writing business plans or providing consulting. You can also add skills, degrees, and certifications to your profile.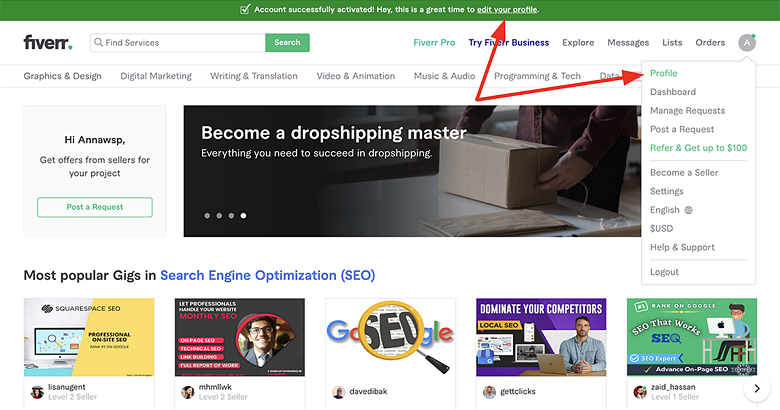 When you're ready to start selling, create a gig for your business plan service. Give it a descriptive title, select a relevant category like
Business Plan
, and
add search tags to make it easier to find
. Then tell buyers exactly what the gig includes and add some work samples so clients can see what you do. Set a price, and consider creating tiered packages with a basic, standard, and premium option.
We've put together a handy step-by-step guide to help you create a successful gig on Fiverr
. I'd recommend giving this a read before you start selling to give yourself the best advantage.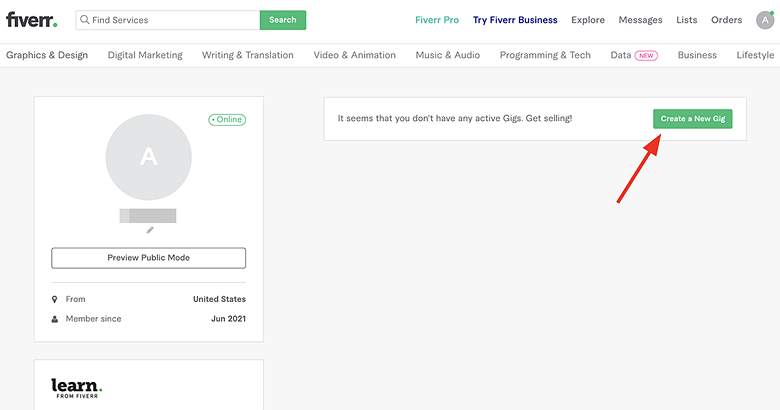 When your gig goes live, buyers can order and send you messages with questions or requests for custom offers. If someone buys your gig, Fiverr handles the payment and gathers the information you need to complete the job. This allows you to focus on delivering excellent work.
Pro tip:
 To create the ideal professional business planning offer,
 consider purchasing one from a Fiverr freelancer before publishing your own
. By going through the process of searching for a freelancer, comparing packages, and buying a gig, you can see what it's like to purchase business plans from a freelancer. Since this
quick test costs just $5
, it's a small but valuable investment.
Find a Professional Business Plan Writer for Any Budget
Creating a business plan is a critical step toward launching your company or getting the funding you need to succeed.
 Yet writing a business plan can be daunting, especially if you're not sure what guidelines to follow or how to do the research. That's why hiring an experienced business plan writer can save you significant time and hassle. When you hire a freelancer through Fiverr, you can find someone with the ideal mix of experience, deliverables, and price.
Since the Fiverr marketplace has business plan writers available for anywhere from $5 (for a BMC) to over $5,000 (for an expert plan), you can get exactly what you need on Fiverr.
I'd personally recommend hiring Andrea (andreacerio).
There's a reason this seller has more than 500 positive reviews and while they may be a little more expensive, the investment is surely worth it when it comes to your own business.
FAQ
How much does it cost to have someone write a business plan?
You can find business plan writers cheap on Fiverr since basic gigs start as low as $5. If you need an in-depth plan covering five or more years, you'll want to budget at least $50.
What do business plan writers do?
Business plan writers prepare documents that outline your company's goals, structure, and operations. To complete these documents, most use the information you provide about your business. Some business plan writers also do independent research regarding your industry or your target market to add more value.
How do I find someone to write a business plan?
With Fiverr, business plan preparation couldn't be easier. The marketplace is home to hundreds of professionals offering business plan writing services. Hiring someone to write your business plan is as easy as searching the marketplace for a gig that fits your budget and placing an order with your freelancer of choice.
Who can help you write a business plan?
It's easy to get business plan help when you hire an experienced freelancer on Fiverr. Simply search the marketplace for business plan writers, browse the available gigs, and choose one with the deliverables and price you want.
Is Fiverr easy to use?
As one of our top freelance websites, Fiverr is super easy to use – even if it's your first time visiting the online marketplace. Start by searching for the service you want, and then take a closer look at the available offers until you find one that meets your needs and budget. You can communicate with sellers, place orders, submit payments, and accept deliverables through the marketplace to streamline the process. If you want to know more about the process, I'd recommend reading our Fiverr review. We've tested it to the max to make sure it's the real deal.