SEO copywriters cost as little as $5
. No gimmicks and no fine print.
Keep reading to find out which freelancers I chose for my list and how to hire your next SEO copywriter.
9 Best SEO Copywriting Services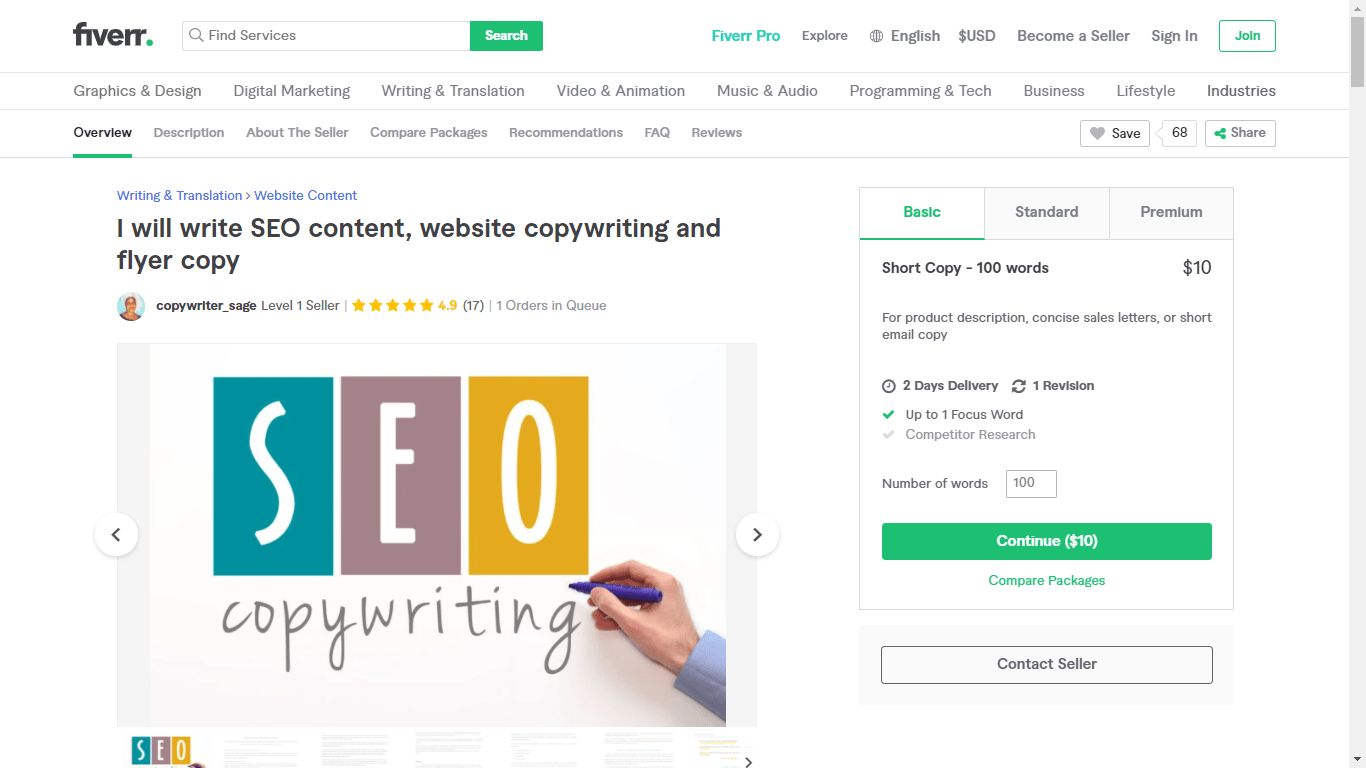 Copywriter_sage is a direct-response marketing copywriter.
Her writing is aimed primarily at generating new leads and closing sales
, a tricky area because it needs to be engaging and inspiring all in one. Thankfully, Sayge has over 10 years of experience in the field and a degree in Business Administration, which really shows in the work she produces. If you need sales copy that quickly converts readers, Copywriter_sage is a good choice.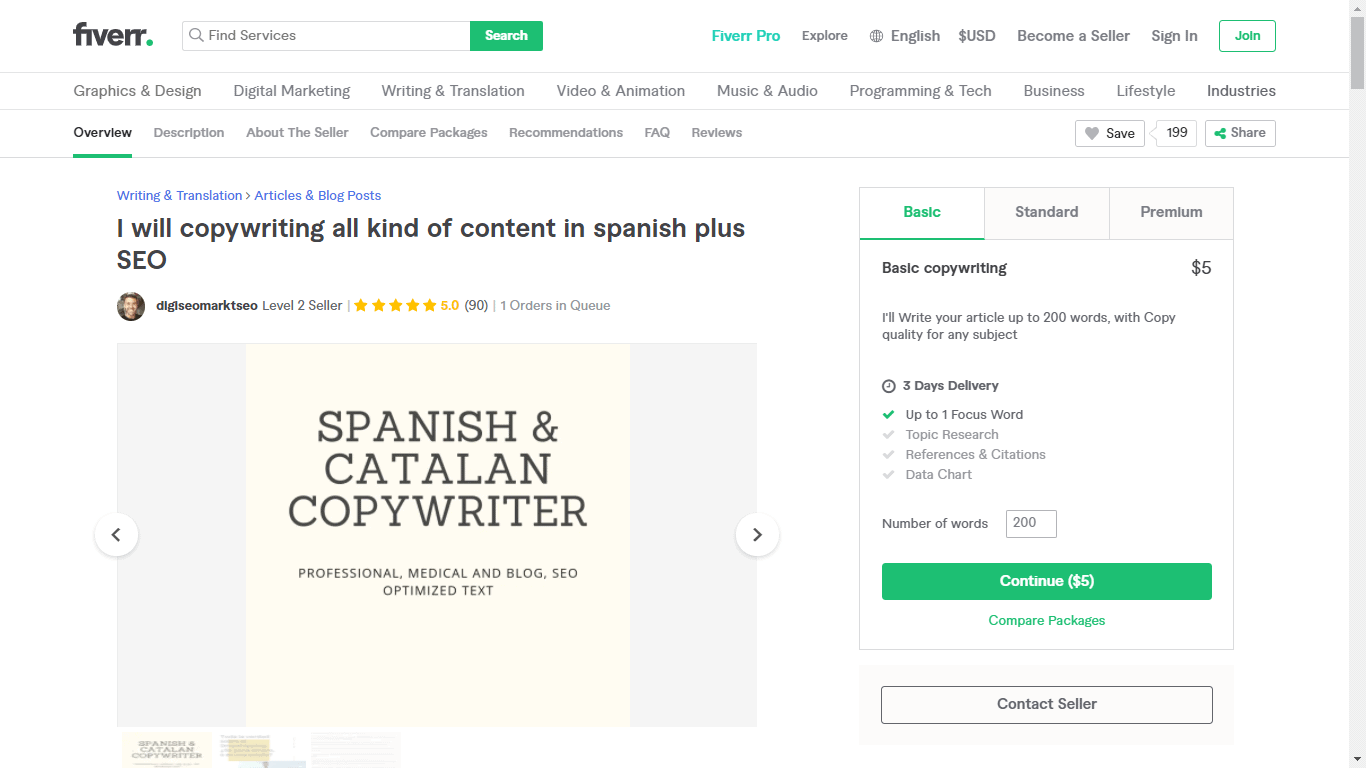 Freelancer Digiseomarktseo is a copywriter who
specializes in creating blog posts and articles in Spanish and Catalan (as well as English)
. This is particularly useful for businesses who want to reach out to a new market and Jose will also translate or rewrite articles into his specialty languages. While he's happy to write content in English, I think his primary value is in his foreign language expertise. I particularly liked that he has extensive experience in SEO and will optimize articles as he writes.
Every industry has its quirks, and you'll get better results if you hire a writer who knows your niche well. Enigmatic007 is a great example of this.
They offer a number of SEO content gigs in fields like health and fitness, SaaS, e-commerce, and real estate.
 While they're slightly more expensive than other options, they do offer some unusual perks to improve your pages, like royalty-free stock art and competitor research, which you should always look for in an SEO copywriter.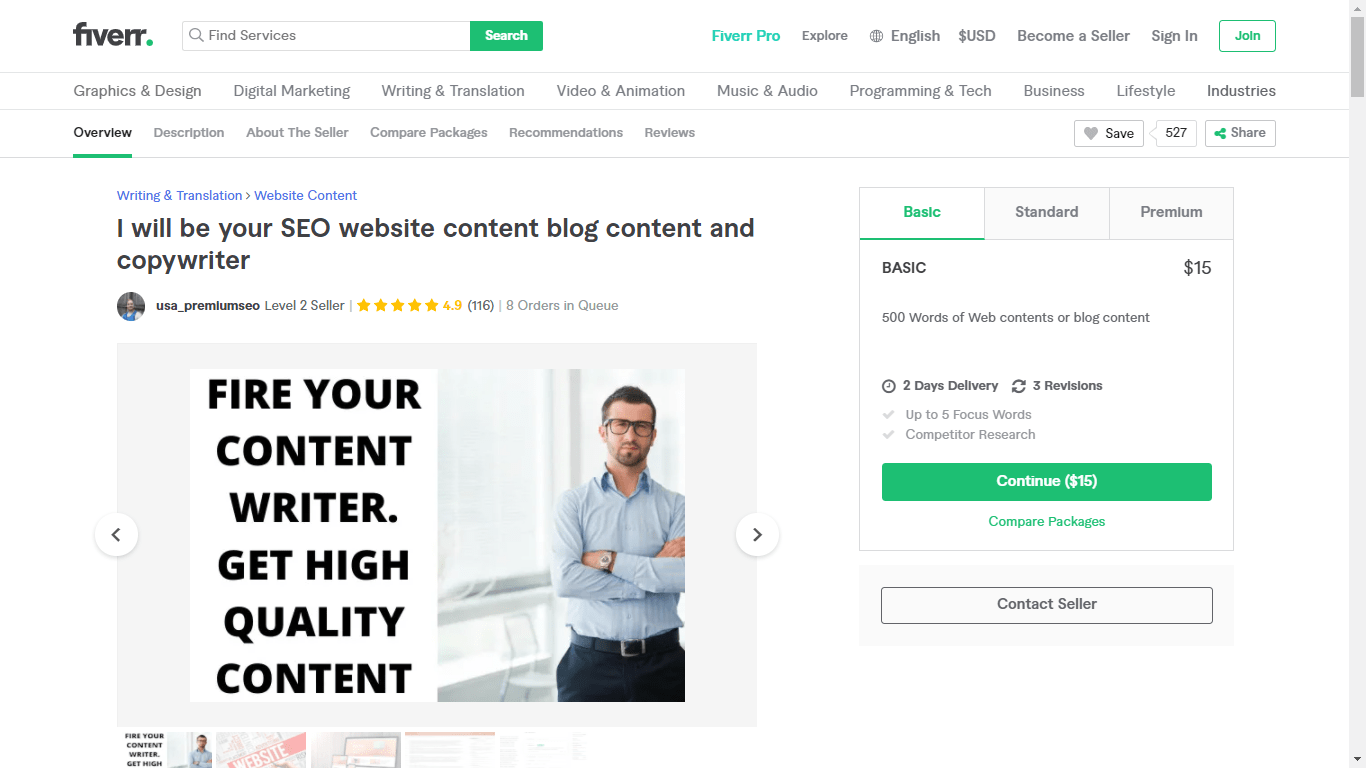 Usa_premiumseo offers SEO content for your website with some interesting options.
He offers a report from Copyscape
 – a platform that detects plagiarism and doubling-up of content –
to provide peace of mind that your content is unique and won't be penalized as duplicated content.
 This is not common in copywriters, as most leave it to the buyer to verify the content they receive. While you would assume original content would be the default, it's always worth checking. Usa_premiumseo also puts a focus on premium content that attracts and keeps readers on the site, as opposed to bulk, quickly produced but often low-quality content.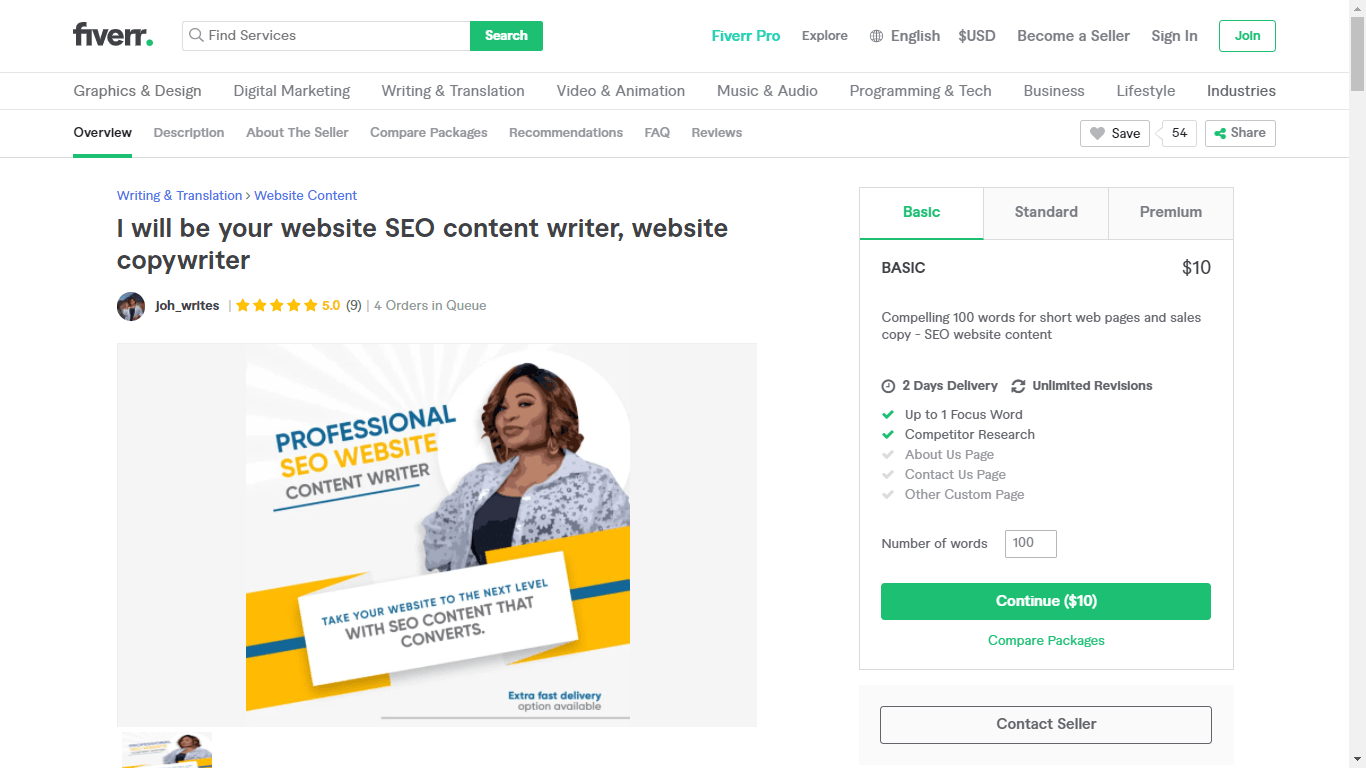 Joh_writes is a seasoned professional who specializes in content for B2B and B2C websites.
She'll write from draft content or take your company information and put together an entire website of content from scratch and the more you pay, the more copy you can get. Joh_writes offers express project delivery, an additional focus keyword, and industry keyword research as gig add-ons. Keep in mind that if you take the 'from scratch' route, to get the best results you'll need to provide some guidance on your company tone of voice, information that your customers need, and how you'd like to structure your website.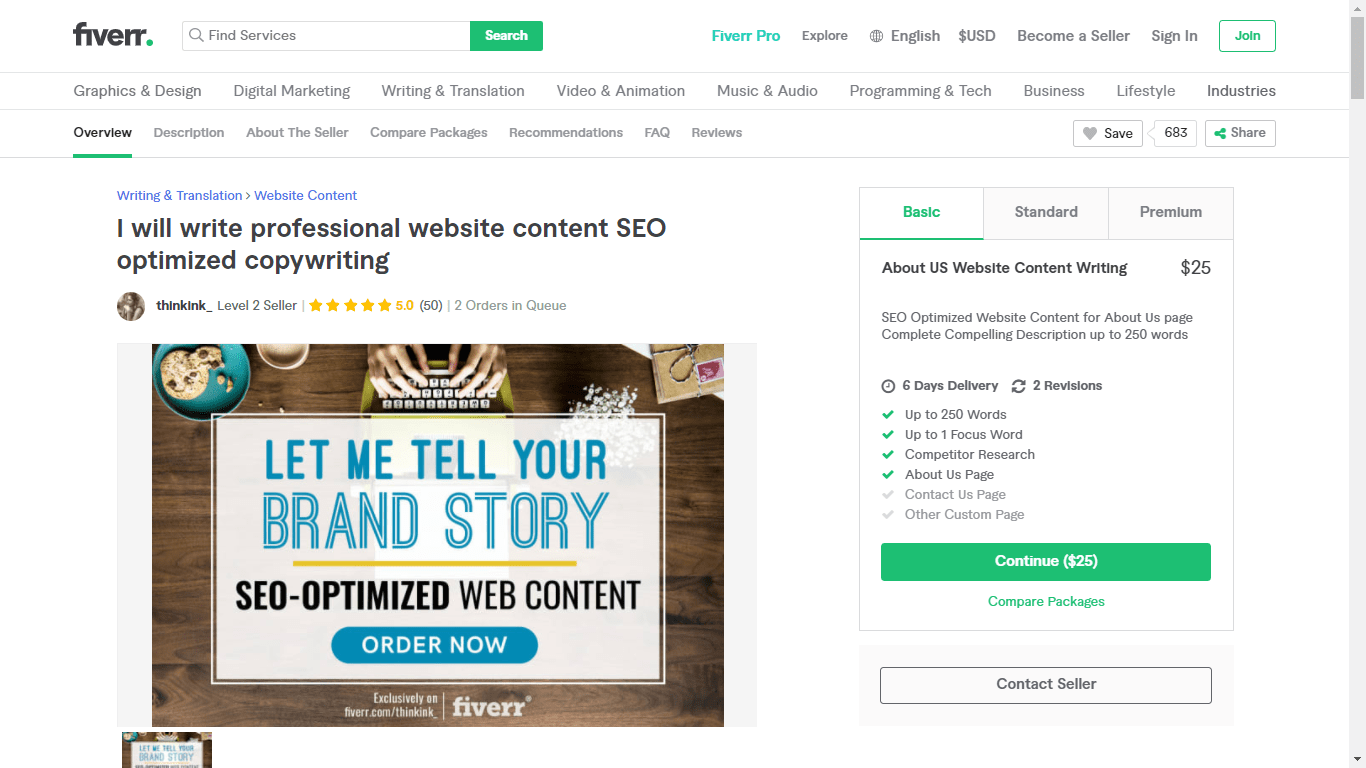 Thinkink_ has over a decade of experience as a digital content writer, which provides the perfect foundation for her expert SEO content. She promises well-researched, optimized content that will bypass Copyscape. While her turnaround times are longer than a lot of sellers on Fiverr (six days), based on her customer reviews, she also puts together content that's worth the wait. My one watch out would be with the premium package in which she promises to write content for an entire website,
up to
 1000 words. That's not a lot of words – about two full-length pages in Word. So, if you need something more comprehensive or with a much higher word count, I'd recommend talking to Thinkink_ first to discuss your needs.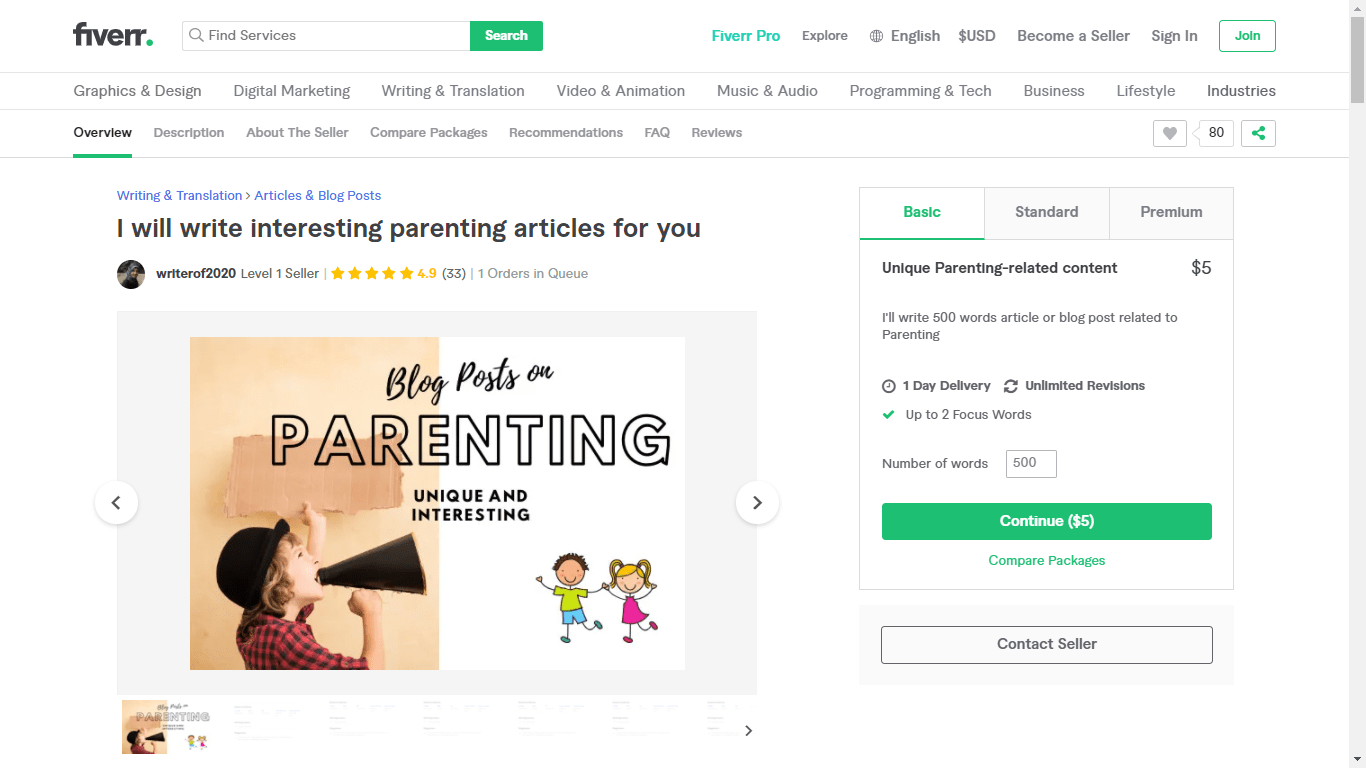 Writerof2020 is an experienced copywriter, and mother, who
specializes in articles around food, parenting, and childcare and will craft an article with up to two focus keywords for only $5
. She covers topics like pregnancy, caring for newborns and infants, and how to adjust as children age into teens and young adults. She's also one of the cheaper quality writers available. I chose Writerof2020 because of her niche expertise but was also impressed by her package setup.
She's made use of the Fiverr functionality that allows you to enter the number of words you want writing and then provides an instant price update
. It's handy functionality and makes the gig buying process so much faster.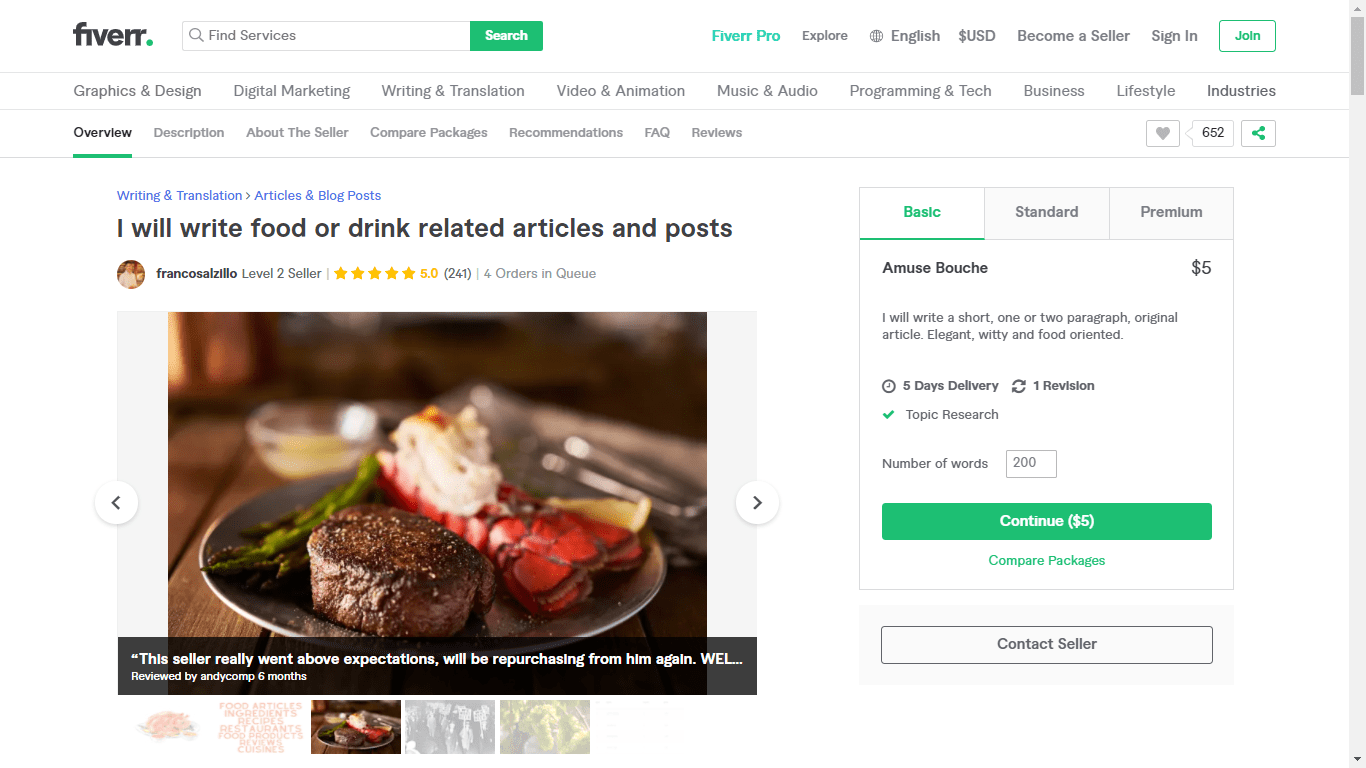 Freelancer Francosalzillo is a foodie and certified sommelier with a decade of experience in the hospitality industry. He's made use of that experience and has built a career around writing articles about food and wine. He manages to put out high-quality content at a low price, and his reviews are almost too good to believe. Almost. What I like about Francosalzillo is that
 if you want to learn more about writing compelling, SEO optimized content, he also offers one-to-one zoom sessions to teach you!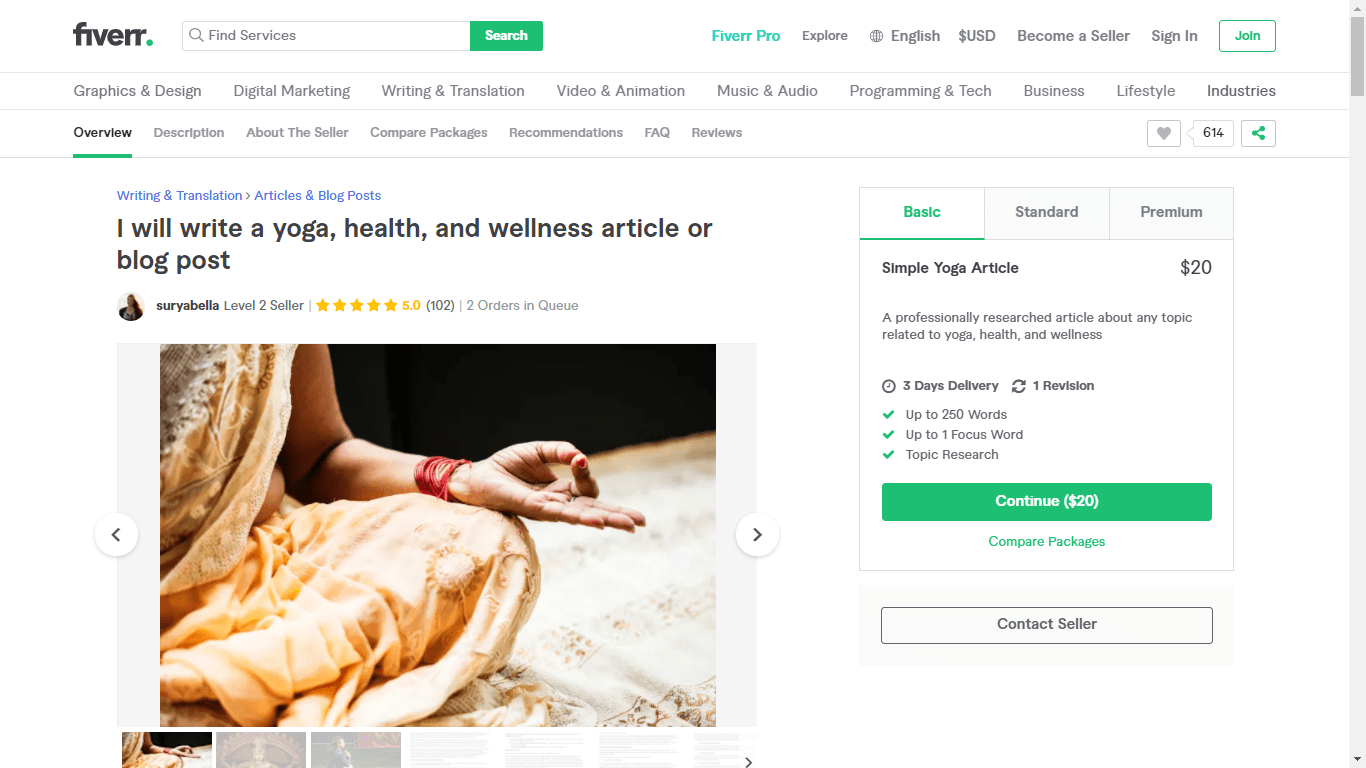 Suryabella's niche is health and wellness, with a focus on yoga and holistic wellness practices. While you'll find a lot of self-taught 'experts' in this niche, Suryabella stands out with a BSc in biology, psychology, and religion. I liked her focus on ethical teaching, as well as the range of gigs that she offers.
Suryabella will write anything from short blog posts to full-length ebooks and entire websites, all with a focus keyword and best SEO practices in mind.
 With her experience in teaching yoga, she's a good choice for in-depth articles on topics like yogic breathing, the Ayurvedic diet, and mental health or nutrition advice.
How to Hire an SEO Copywriter on Fiverr
Before discovering Fiverr, I would have been clueless as to how to secure a writer that met my writing needs and didn't drain my bank account, but thankfully, searching for an SEO copywriter can be quick and hassle-free. In fact, it scored
4.9
out of five in our
expert Fiverr review
. And better yet, freelancers on Fiverr can list
packages that begin at only $5
.
While other sites will make you create an account before you can search or look at seller profiles in depth, browsing gigs on Fiverr is completely commitment-free. All you have to do is
head to the Fiverr homepage
 and type in your search term to begin your hunt. You can search with a generic phrase like "SEO copywriter" or search for more niche services with phrases like "sports writer" and "health and wellness SEO writer". Scroll through the results until you find a gig you're interested in. Clicking on the gig will open it in full view, giving you access to a freelancer's portfolio, the
About This Gig
 section, and customer reviews.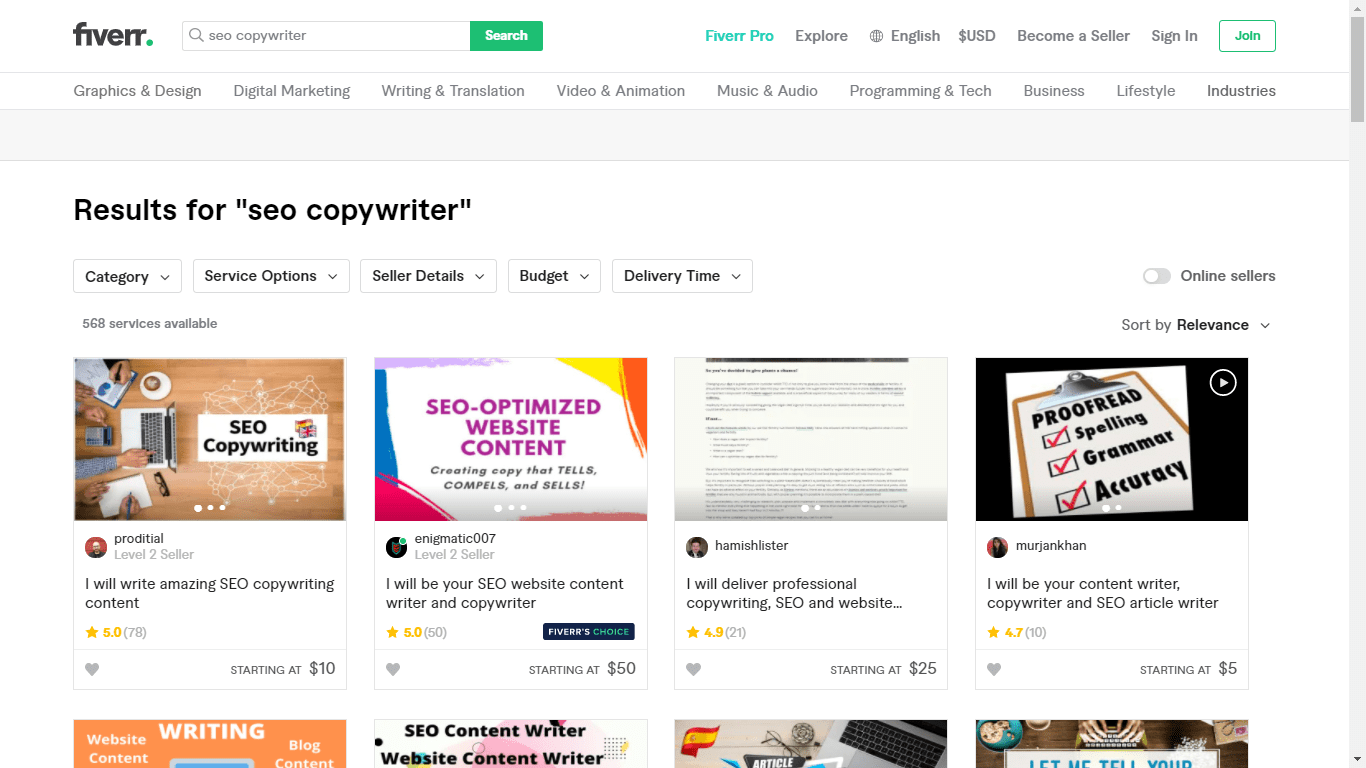 Take a good look at each freelancer's profile to find the right fit, paying attention to the seller description, education, and certifications.
 If their description, in particular, isn't engaging, the rest of their writing probably won't be either. Some writers include links to writing samples in their gig descriptions or screenshots of past work in their portfolios. Click on a gig to find out more about it. Many gigs have multiple tiers, named Basic, Standard, and Premium, each offering a different set of features increasing in price. Select the name of a tier to see its pricing and a summary of the features. Click the
Compare Packages
button to view this information in table form.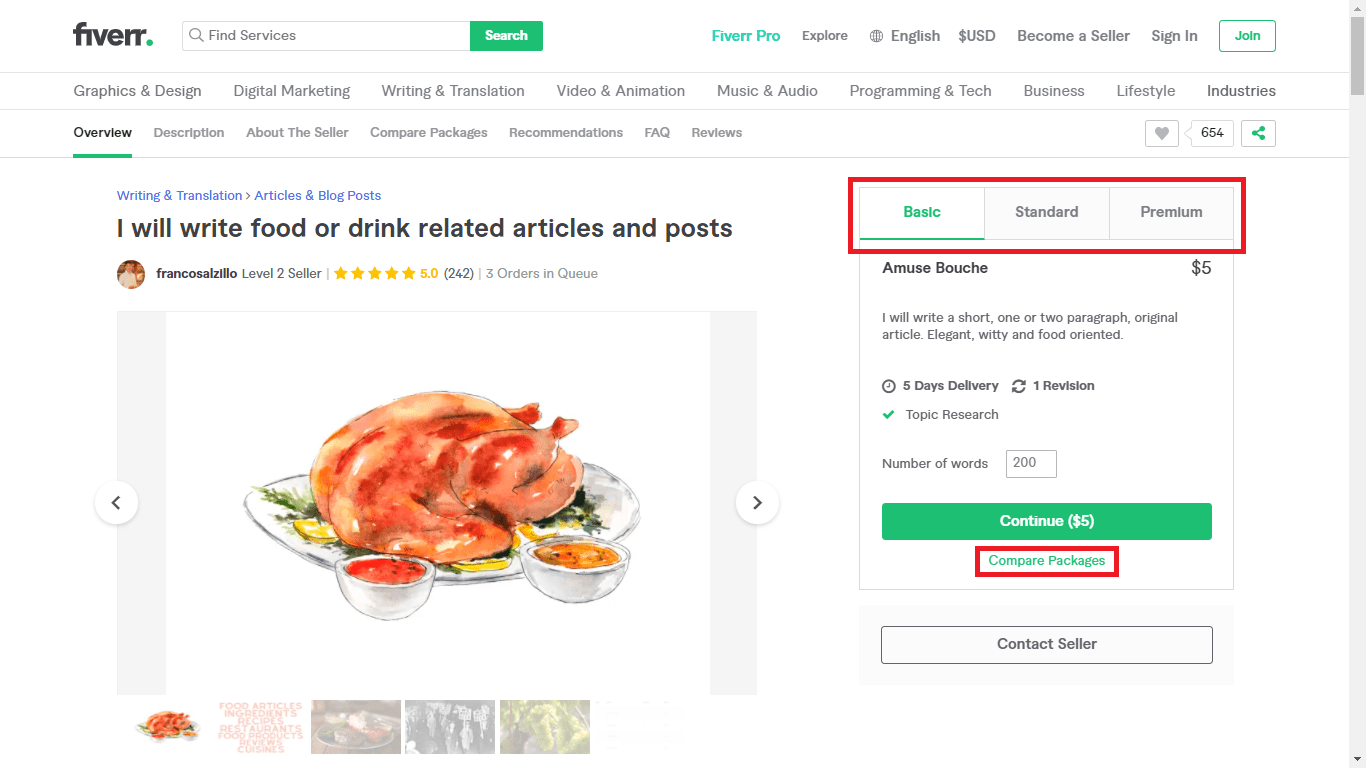 If you have questions for the seller or want to brainstorm an idea before purchase, click the
Contact Seller
 button. You can then send them a message with any queries or requests that will help build your confidence that they can meet your expectations. I recommend taking the time to complete this step before hiring so you can guarantee that you and the freelancer are on the same page.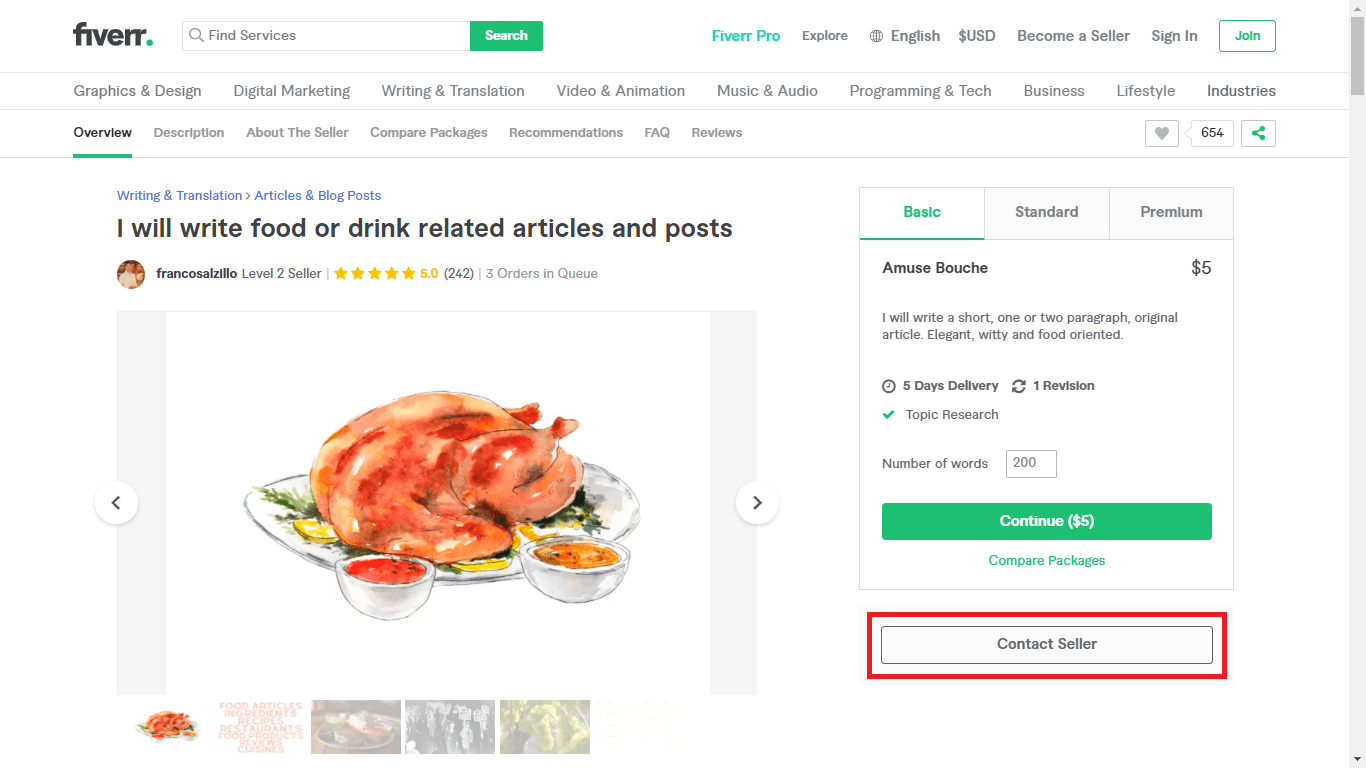 As soon as you know you're ready to hire, you can click the
Continue
button and head to the next page. This last page displays all the important gig information for you to review before you finalize the hiring process. The payment preview page is your last chance to review the gig information before commissioning your writer. Check that the offered services, pricing, and delivery timeframe match your needs.
Freelancers sometimes offer package add-ons which are displayed on this page and can be added to your total with just a click.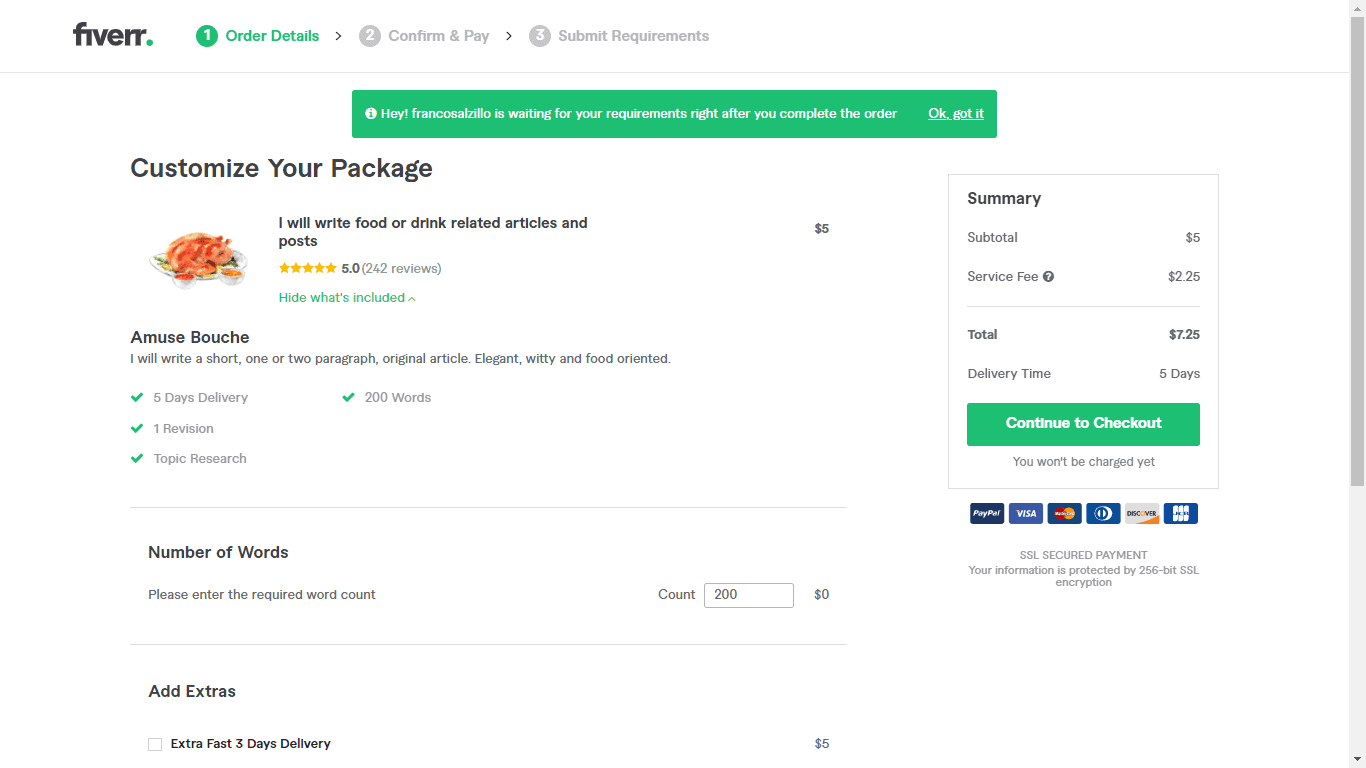 What to Look for in an SEO Copywriter
You may know that you need a writer who is skilled in their craft, but what exactly makes a writer "talented"? You should ask yourself a few questions before you begin your search. Think about what type of content you need, whether that's blog content, product descriptions or web pages. Think about whether you have a niche subject area and therefore need a writer who knows this niche well. Once you have the basics figured out, you can narrow down your freelancer search. In addition to your requirements, here are a few things you can look for to ensure that your SEO copywriter will deliver the content you're happy with.
An excellent seller communication rating: choosing a writer with demonstrated communication abilities increases your chances of receiving content that meets your expectations.
A strong understanding of SEO best practices: search engine optimization is something that changes on an almost daily basis. The type of content Google prioritizes and how keywords are used changes regularly so you need a writer who is up-to-date with the latest guidelines and algorithms. Their description box and About This Gig page should give you clues as to how 'in-the-know' they are.
An error-free profile: copywriters must be able to deliver content that is free from grammatical errors, spelling mistakes, and formatting issues. Their profile is a small showcase of their skills; do you see any mistakes?
Certifications or degrees in relevant areas: writers don't have to have formal qualifications to be highly skilled. However, having these qualifications shows a dedication to their craft and can help you find people with particular skills, like marketing. If they don't have the qualifications listed, look at their work experience and career background.
Examples of past work in their Fiverr portfolio, an online portfolio portal, or published links: every writer has a personal style and tone that they're most comfortable writing in. By viewing writing samples, you can assess a writer's style before contacting or hiring them.
Reasonable content delivery turnaround times and revision offerings: be sure to note how many orders are in their queue and what the delivery time is for the package you're interested in. You should also consider whether content revisions are included in your package, in case you need any edits.
Are You Looking to Sell SEO Copywriting Services on Fiverr?
If you've stumbled on this article as an SEO copywriter, you may be curious as to how you can offer your own services on Fiverr. Becoming a Fiverr freelancer is such a simple process that you can have your profile set up and your first gig posted in under an hour. To join as a freelancer,
head to the Fiverr homepage
 and click the
Join
 button in the top right corner to sign up with an email address or using a social media account.
Be mindful of the profile name you choose, since this will be displayed to potential clients on your gigs and profile page.
After verifying your account, you can open the main dashboard and click the circle icon in the right corner to access your profile. You'll need to personalize your profile before you can start selling or create your first gig.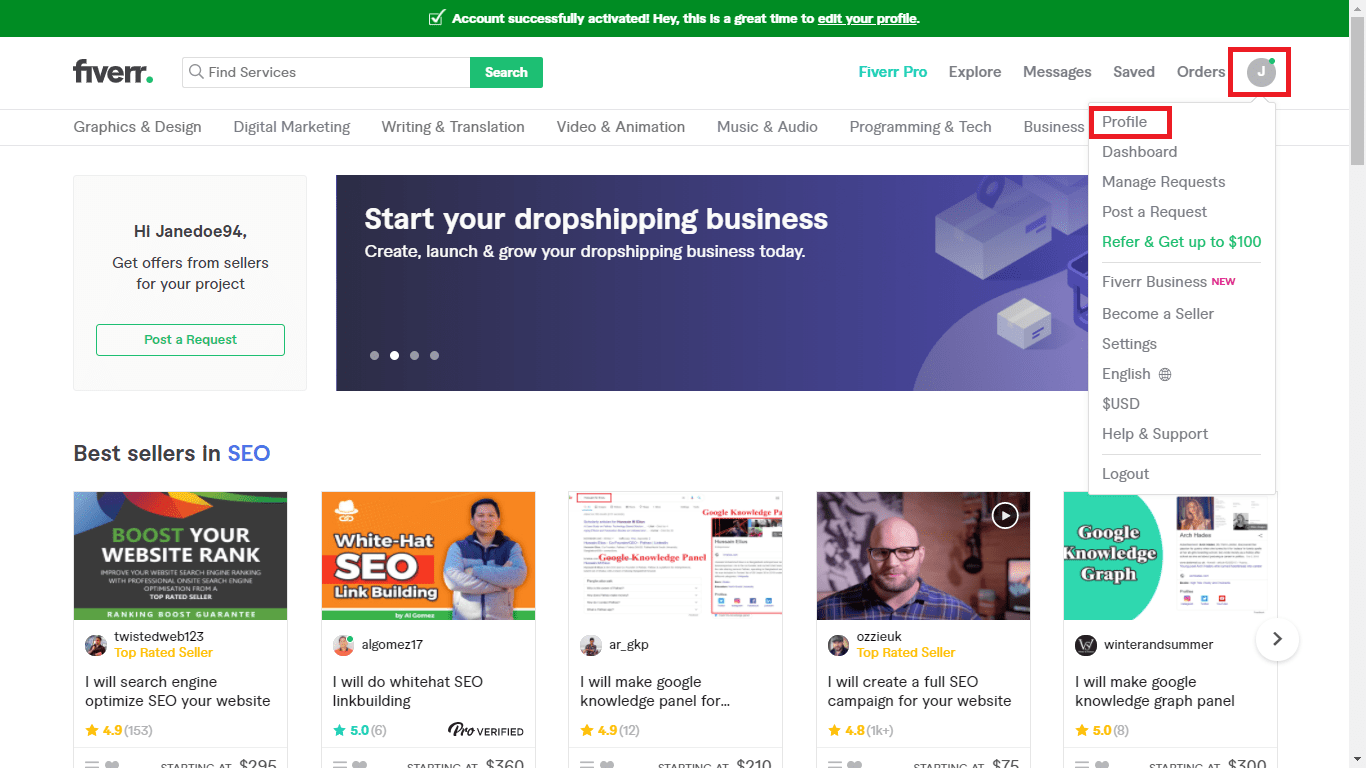 Add details to your profile like a photo, your qualifications and skills, academic achievements, and the languages you speak. You can also link a social media account and portfolio, fill in a profile description, and select what type of user you are, such as freelancer or employee. When you're satisfied with your edits, click the
Create a New Gig
button to add your first gig.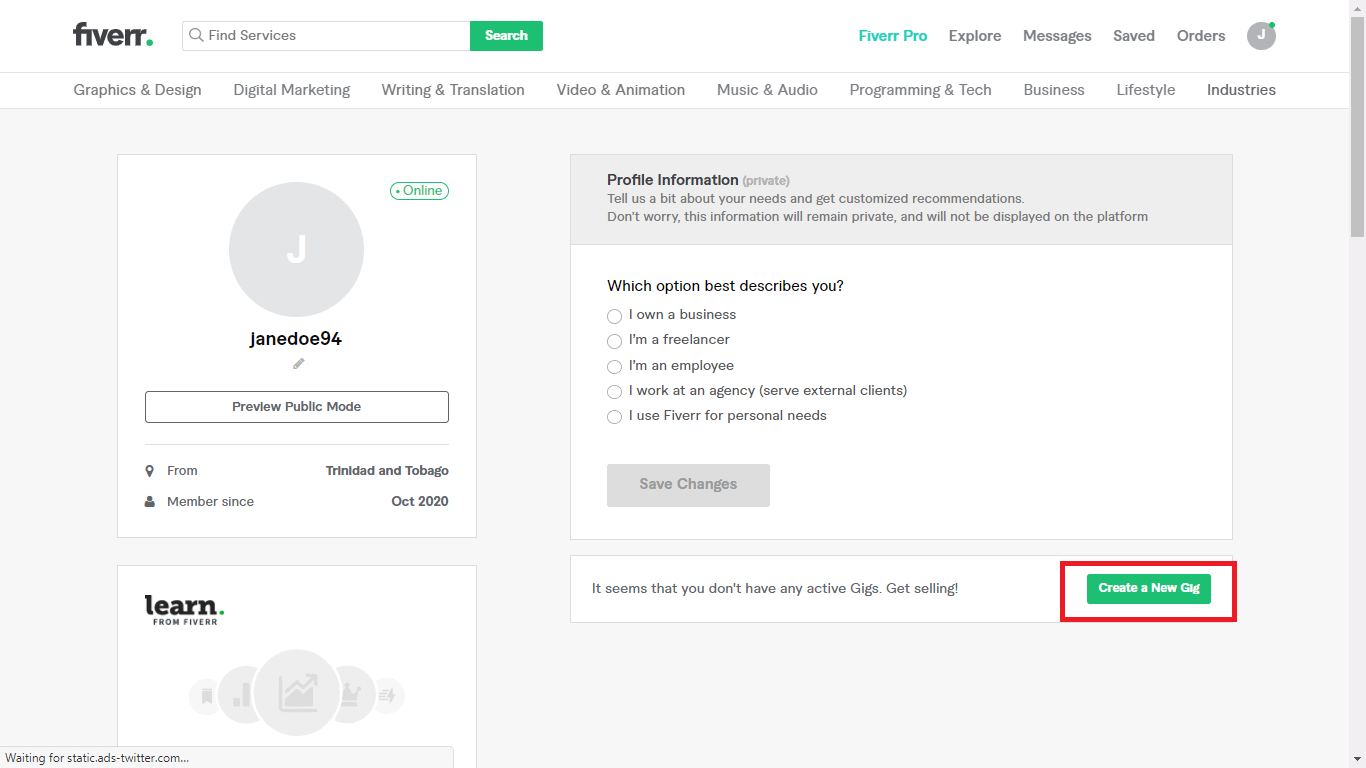 You'll be prompted to provide a gig title and to select the gig category, then set related search tags.
Before you can publish your gig, you'll need to create a name for each package tier, add a description of services, and select a price.
 Once published, your new gig will be viewable during searches and you can begin attracting clients.
You can gain more insight into how to create your profile by becoming a buyer and hiring a freelancer of your own. Switch to a buyer profile, then have fun exploring what type of service you'll get and choosing your freelancer.
 Once you've gone through the process, you can use your experience to improve and upgrade your profile to become more appealing to clients. When you
become a Fiverr seller
, you gain access to millions of buyers from all over the world. You don't even have to advertise your services – since Fiverr is one of the
most popular freelance websites
, simply being on the site is all the promotion you need. Finding clients is often the most stressful aspect of freelancing and Fiverr helps you to bypass a lot of that stress. The longer you spend on the platform, the greater your chances of building a strong client base and your ability to earn steadily.
In Conclusion…
Fiverr grants you access to a vast pool of proficient and cost-effective freelance professionals. With just a quick search and a few minutes of your time, you can easily discover your ideal freelancer. When you utilize Fiverr, searching for an SEO copywriter no longer needs to be a cumbersome or time-consuming process. Since some freelancers have
packages as low as $5
, using Fiverr is relatively low-cost, in addition to being incredibly user-friendly (as you'll see in
our Fiverr review
). What I love about Fiverr is the sheer volume of gigs and sellers on the platform. Now you know you can hire a freelance SEO copywriter easily, you might also be interested in these other SEO gigs I found:
You can hire a specialist to carry out off-page SEO and improve your website's overall ranking and traffic. Remember it's not all about the content on your website, there's a lot more to SEO than you might think and a specialist can help solve that headache.
You can hire a keyword researcher who will do a deep dive of your website and competitors to make sure you're maximizing your website's potential with the right keywords.
Now we're getting technical. Hire a technical SEO expert who will audit your site and make sure you have a strong technical SEO foundation to ensure your website performs flawlessly.
FAQ
Where can I find a freelance SEO copywriter?
When you use Fiverr, one of our top freelance websites, you have access to tens of thousands of talented freelancers from around the globe. All you have to do is head over to Fiverr and search "SEO copywriter" to view all of your options.
How much do freelance SEO copywriters charge?
Pricing can vary depending on the skill, experience, and location of the freelancer, as well as how much copy you want writing. With Fiverr, you can hire an SEO copywriter for as little as $5.
What are a few skills that an SEO copywriter needs?
A skilled SEO copywriter should have great communication skills, an accessible portfolio, qualifications that match their writing niche, a quick turnaround time with error-free work. But, above all, they should be up-to-date with the latest trends in search engine optimization and keyword research.