That's why I scoured the web to find nine talented voice over artists with different languages, accents, and specializations – some for as little as $5 a project.
 Yes, that's right, it is possible to find a quality voice over professional at an affordable price. I've looked at all number of factors including cost, specifications, turnaround time and of course, their overall rating by customers. I've also given you a step by step guide on how to hire a freelance voice over artist, as well as how to set yourself up as one on Fiverr.
9 Best Freelance Voice Over Artists for Hire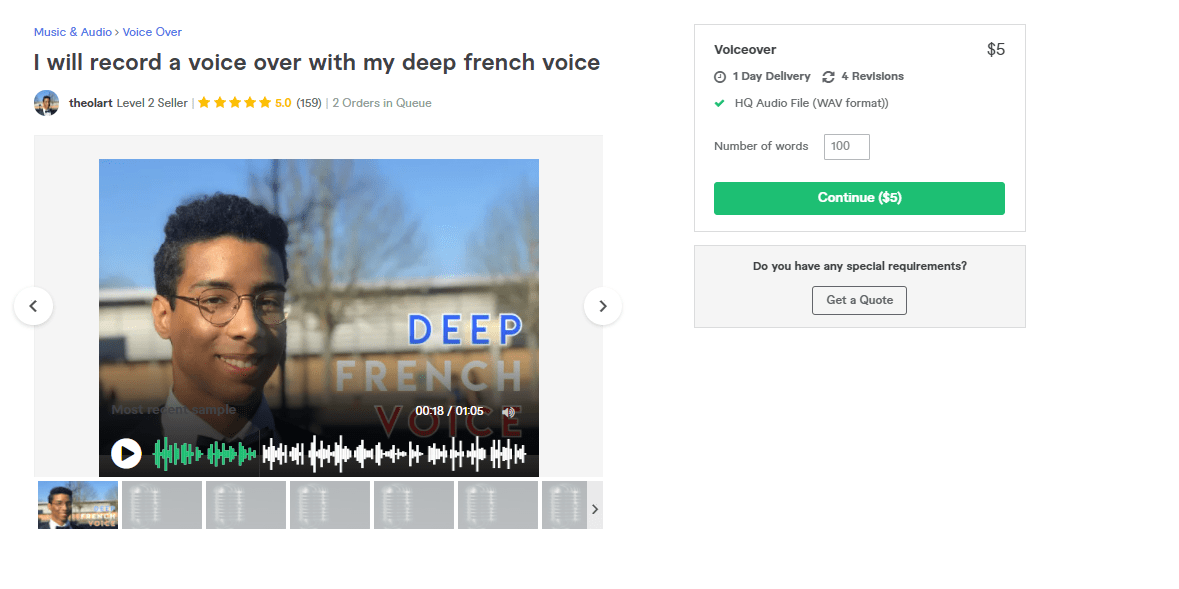 Theolart is a friendly
French voice over artist
 who specializes in recordings with a
deep, calming voice
. The Level Two seller has a stellar five-star rating and glowing reviews from hundreds of commissions. His voice over gig features one-day delivery and up to four revisions, which I was impressed with considering the low cost. Simply input how many words you'd like him to record and you'll be given a price – you can get up to 1,000 words for $5.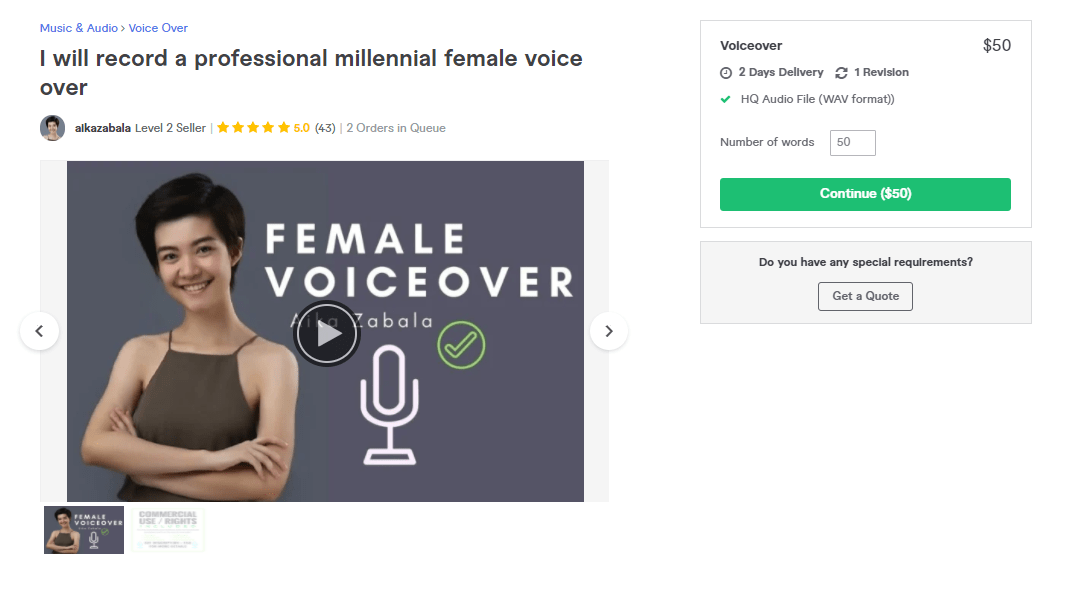 Aikazabala is great for projects that need a
young, fresh female voice
– her neutral
American-English accent
 is upbeat and friendly. This Level Two Seller has worked on projects ranging from video narration to e-learning materials, and with clients like Amazon and McDonald's so you know you can trust her work. Her gig includes the rights to commercial use, but you can add broadcast and advertising rights for an additional fee.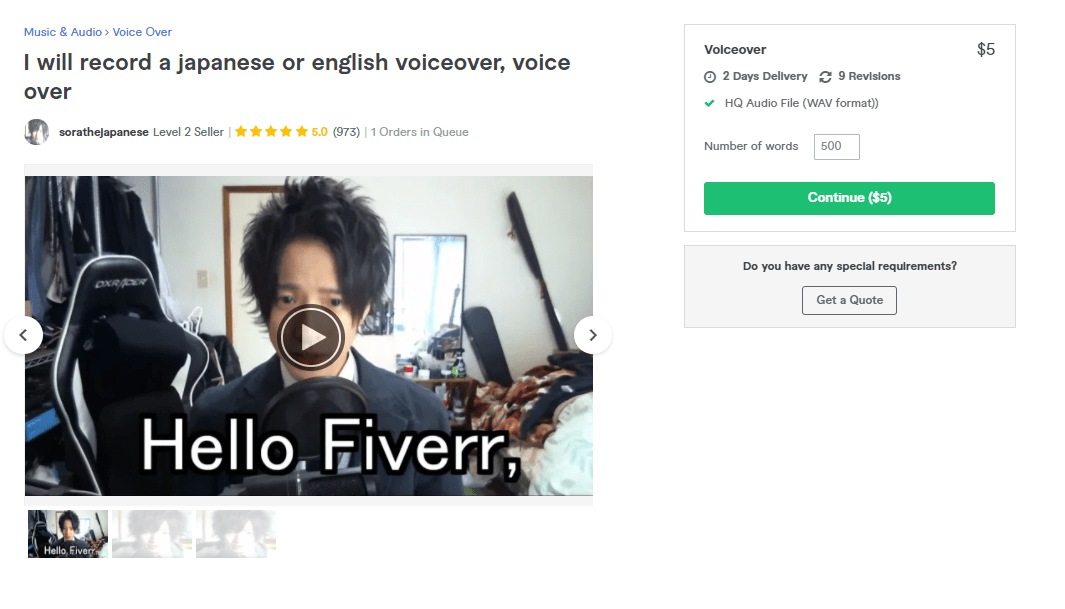 Sorathejapanese is a talented voice over actor who does recordings in his
native Japanese or fluent English
. His package is the one of the most affordable on this list, and previous clients rave about his quick response and turnaround times. Not only does this Level Two Seller offer a
range of voice styles
, but he also includes free unlimited revisions which I think is incredible for the price – you can get up to 500 words recorded for just $5.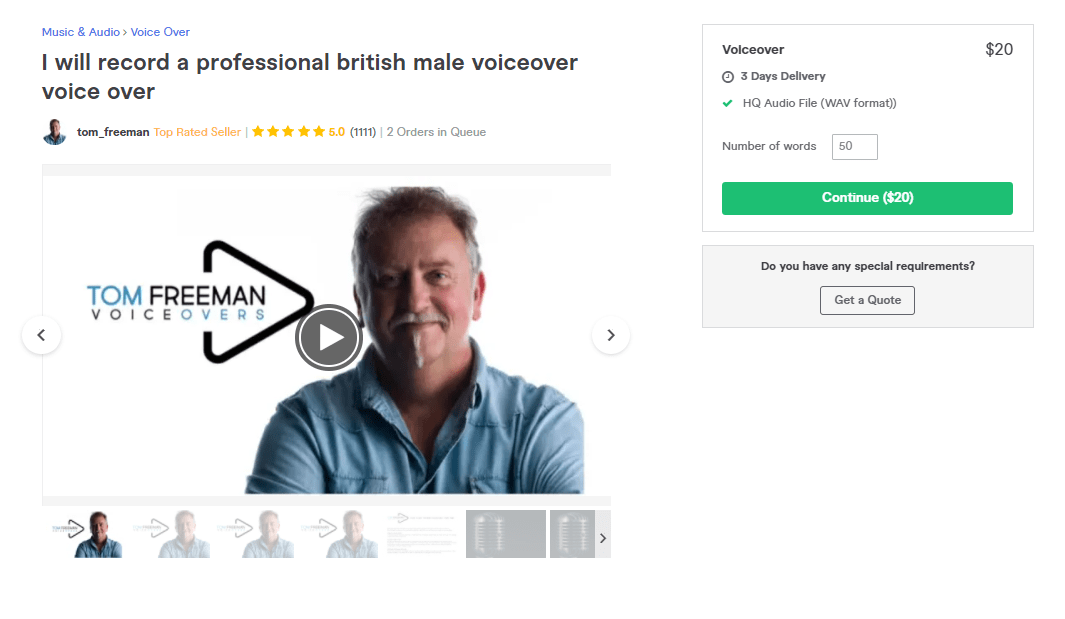 Tom_freeman has been a
professional British voice actor for over three decades
, working with companies like Hyundai, Samsung, and Google. Not only is he a premium Top Rated Seller (which means he has earnt at least $20,000 on the platform and that he's met some other pretty intense criteria), but he has a five-star rating for over 1,000 projects. Each recording comes in a high-quality WAV file, and you can add extras like script proofreading and background music. I was impressed that
such a seasoned professional offers such a low-cost gig
.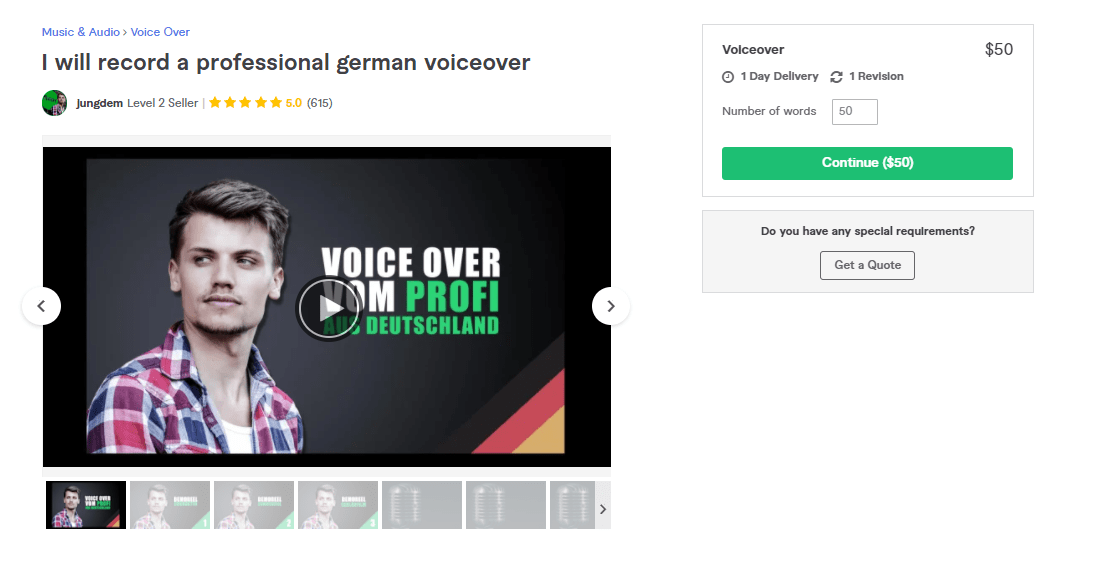 Jungdem is a
native German speaker
 with almost a decade of voice over experience, and has worked with major brands like BMW and Panasonic. I was impressed that the Level Two Seller offers
24-hour delivery for every order
. This means you can have your script professionally recorded and delivered just one day after purchasing – ideal if you're in a hurry.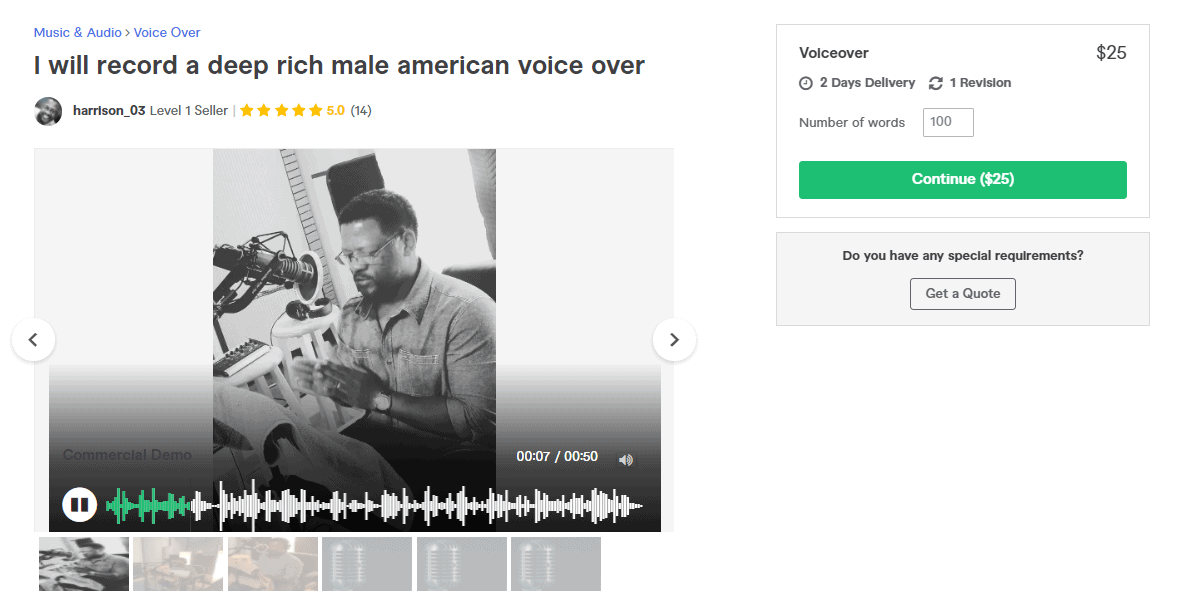 Harrison_03 is a
professional American voice over artist
 who has experience in commercial recordings for TV and radio. With his deep, commanding voice Harrison_03
can play a range of ages, from mid-adult to elderly
voices or characters. I love the versatility of this freelancer's voice and the way they adjust their tone according to each brand and script.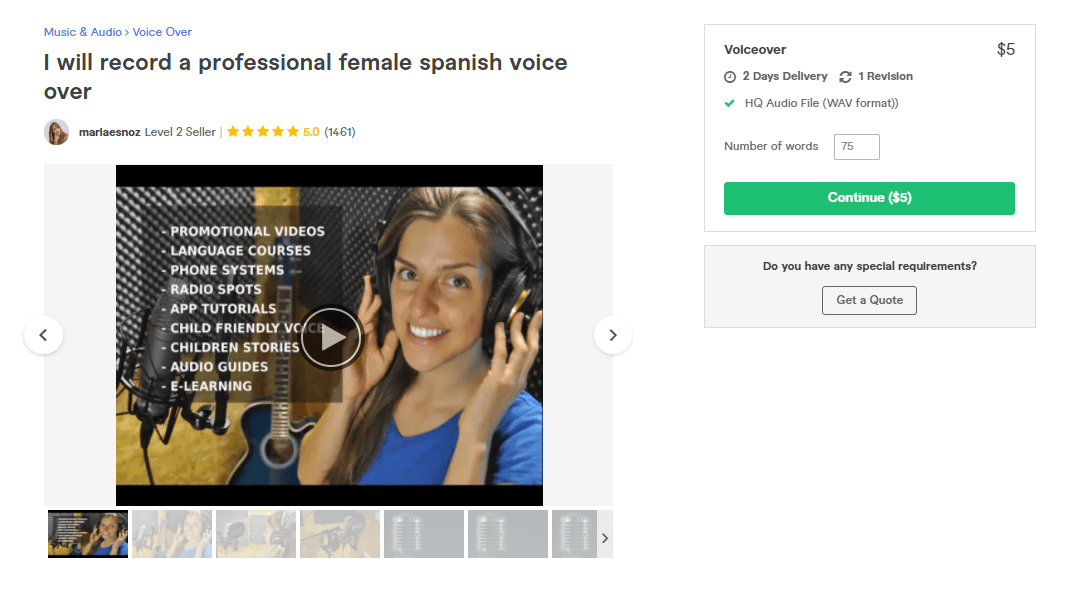 Mariaesnoz records audio in her
native Spanish as well as English
. With an
upbeat, Castilian accent
, she has worked on a variety of projects from commercials to explainer videos to children's stories. And, with a background in linguistics, the Level Two Seller also offers
script translations
. Mariaesnoz stood out to me with her five-star rating, glowing reviews, and low starting cost of just $5.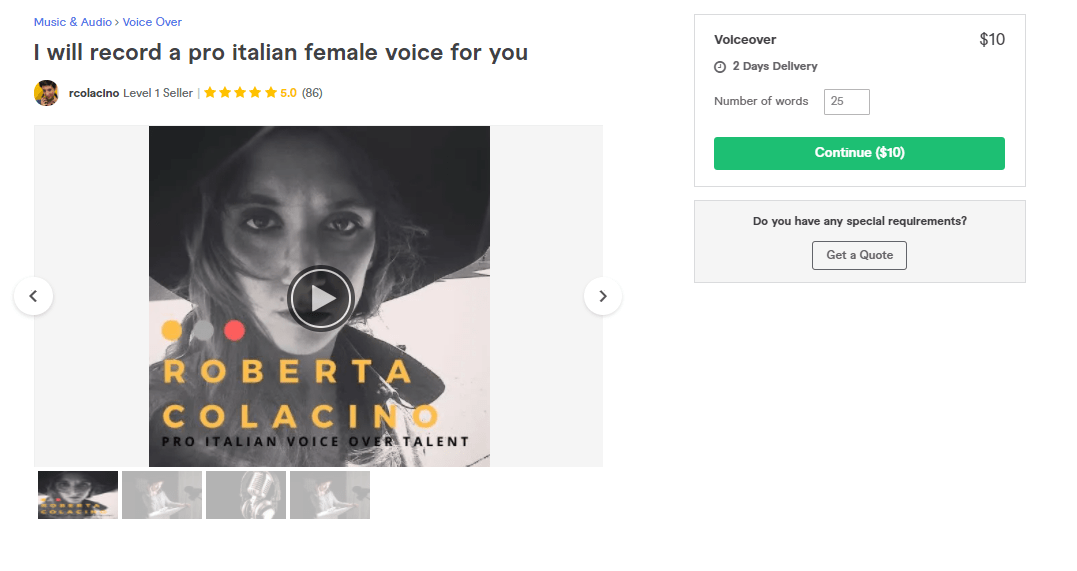 Rcolacino is an
Italian voice over artist
 who has worked with high-profile brands like Ikea and Mitsubishi. Her past projects include audio guides, corporate videos, and e-learning courses. As a Level Two Seller with a clear, neutral accent, I think her package pricing is
extremely good value for such a professional, high-quality result
.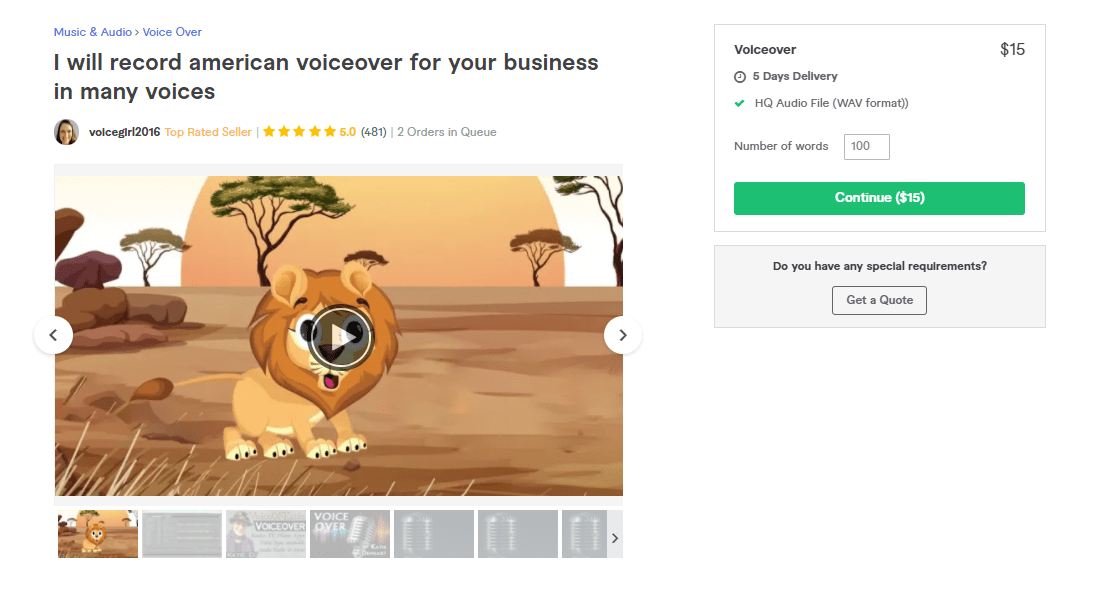 Voicegirl2016 is a professional voice over actor with two decades of experience. She offers a full-service gig, which includes a high-quality WAV file and commercial rights. As a
native American-English speaker
,
this Top Rated Seller specializes in character voice acting for children
, but also has experience with more serious, technical projects. I loved the creativity of her voices, which span across age groups and even animals.
How to Hire a Voice Over Artist on Fiverr
Using a
popular freelance platform
 like Fiverr, it's easy to find and hire freelancers for just about any project. We put it through its paces in
our Fiverr review
and it scored an impressive
4.9
out for 5 for ease of use, range of features, support and pricing. The platform hosts hundreds of thousands of talented professionals from every corner of the globe. Plus,
Fiverr gigs start at just $5
, so you're guaranteed to find someone for your project with the right skills and price point. 
To check it out for yourself, head to the Fiverr homepage and type "voice over artist" into the search bar to pull up relevant freelancers, or sellers. You can also search for the type of artist you need, like "Spanish voice over artist" or "voice over artist for kids". As you can see below, you can easily filter by language too.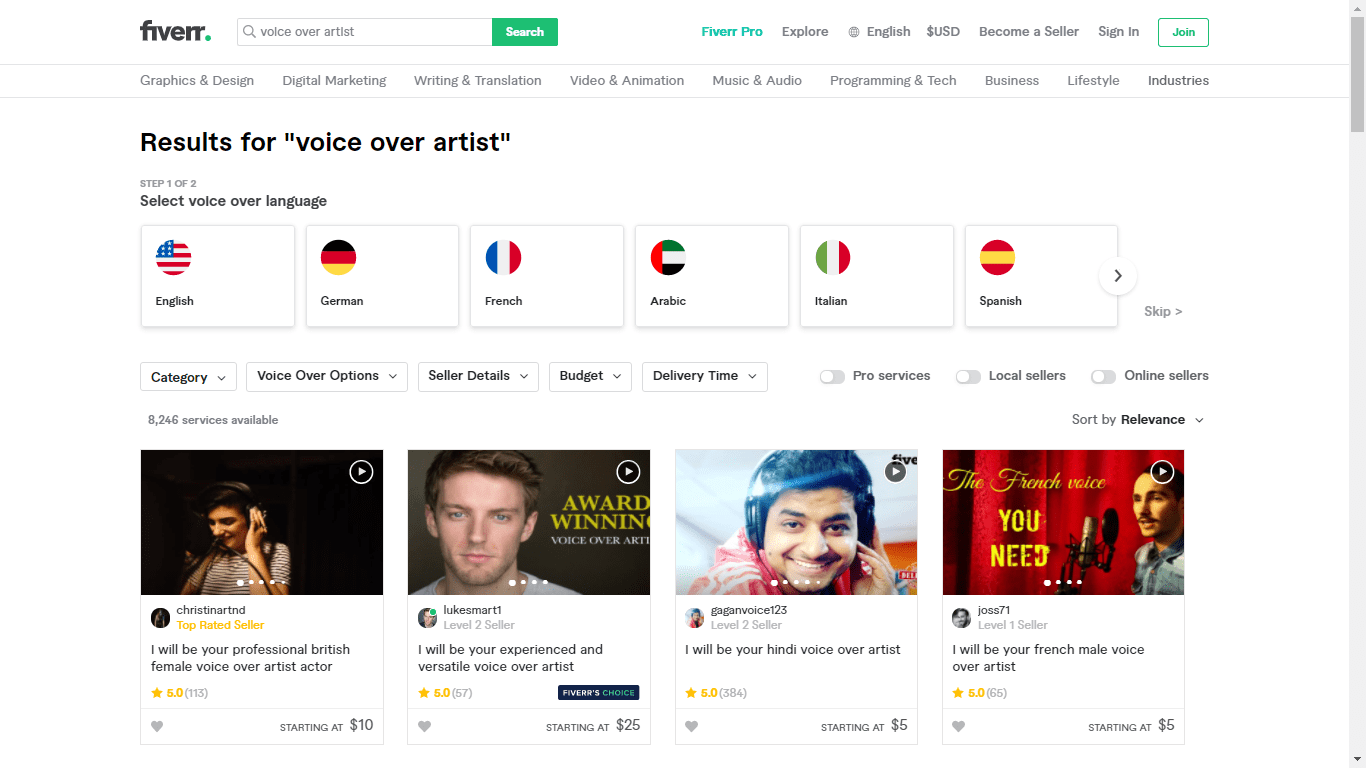 Click on a gig to see all the relevant details, including a seller's work samples and pricing information. You can also explore the
About This Seller
 section to learn more about their background, work history, and any specializations.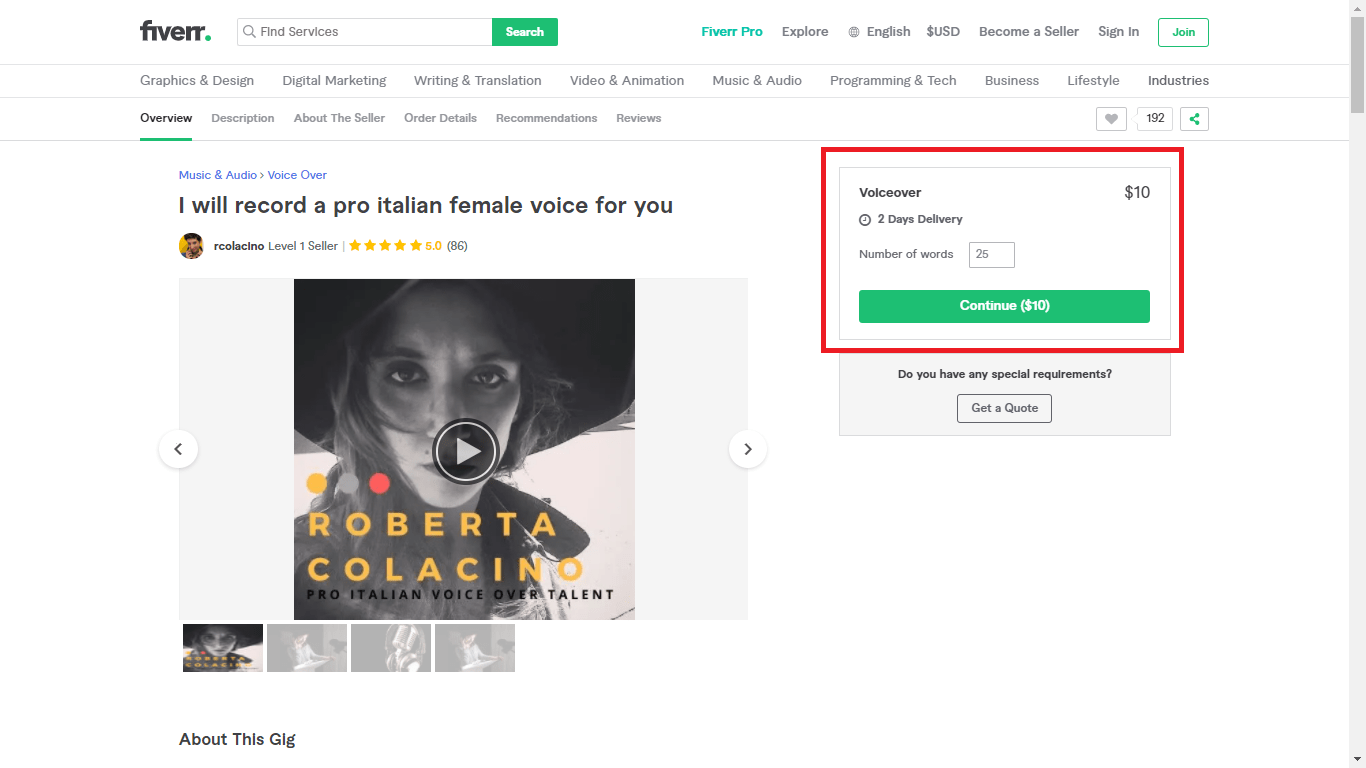 The pricing information for voice over artists is listed per word.
 If you don't see the exact service you need listed in any of the seller's packages, you can also contact them directly for a custom quote by clicking
Get a Quote
. Simply type in the number of words you need recorded and the price will automatically change. Many sellers prefer that you reach out to them to discuss project details before purchasing a gig, that way you can both make sure it's a good fit. Once you have your eye on a certain package, click the
Contact Me
 button in the seller's profile to message them before confirming your purchase. If you can't see a
Contact Me
 button, look out for a
Get a Quote
 button which will allow you to do the same thing.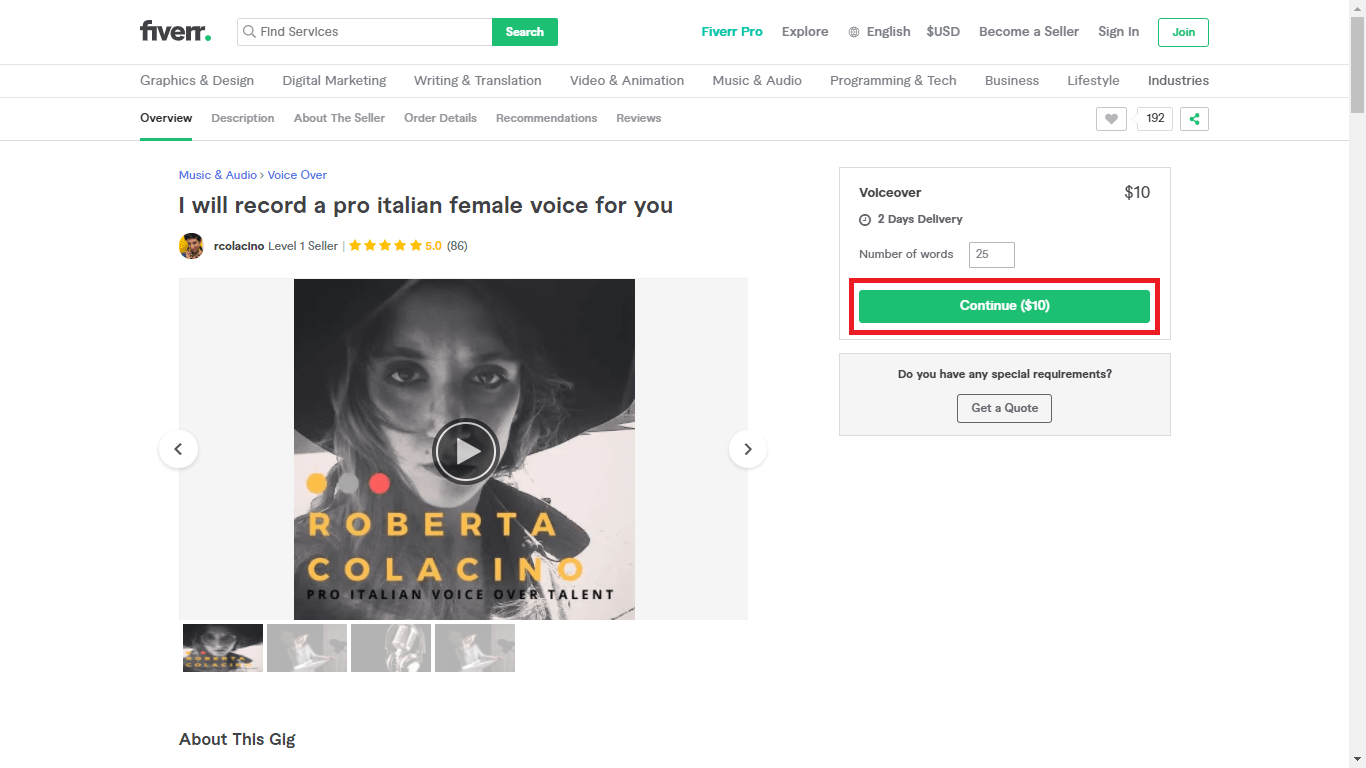 Once you're ready to hire, click on the package of your choice and then
Continue
. The payment preview page will display the final cost, services, and any add-ons the seller may offer. After reviewing your purchase, click
Continue to Checkout
 to enter your payment details.
What to Look For in a Freelance Voice Over Artist
The perfect voice over artist looks different project to project. Regardless of your niche or genre, here are some key characteristics that your target voice over artist should have:
Substantial experience in your type of project. Are you looking for someone to record an elearning guide or the voice over to a marketing video? Check the gig description and the seller's background for the types of projects they have worked on to make sure they align with your goals.
Professional recording equipment and/or professional studio access. If this information isn't explicitly stated, you can contact the seller to ask what type of equipment they use and where they record – ideally a quiet, dedicated recording space for a clear, professional end result. Nobody wants to hear rustling in the background or interference from the outside world.
Proficiency in the project language(s). The artist should have native or fluent proficiency in the specified audio language. Additionally, consider what type of accent you prefer. Think about whether you want a male or a female voice, someone upbeat or soothing. The style you choose will have a huge impact on the tone of your video/guide/audiobook etc.
Acting range and vocal flexibility. Voice over artists should also have basic acting skills. Check their past work, including different voices or characters they've used.
Exceptional pacing, vocal clarity, and diction. Pay close attention to the seller's pacing and pronunciation. Is their voice clear and do they articulate well. There's no point hiring a voice over artist if they can't communicate your message clearly and precisely.
Are You a Voice Over Artist Looking to Sell Your Services on Fiverr?
If you're a voice over artist, you might be interested in selling your services on Fiverr like the other creatives in this article. The good news is that signing up is just as easy as hiring. In our
Fiverr review
, we found it incredibly user friendly from both the seller and the buyers point of view. And
by advertising your services on Fiverr, you are visible to thousands of potential buyers each day – the clients come to you.
To get started,
head to the Fiverr homepage
 and click the
Join
 button in the top right-hand corner.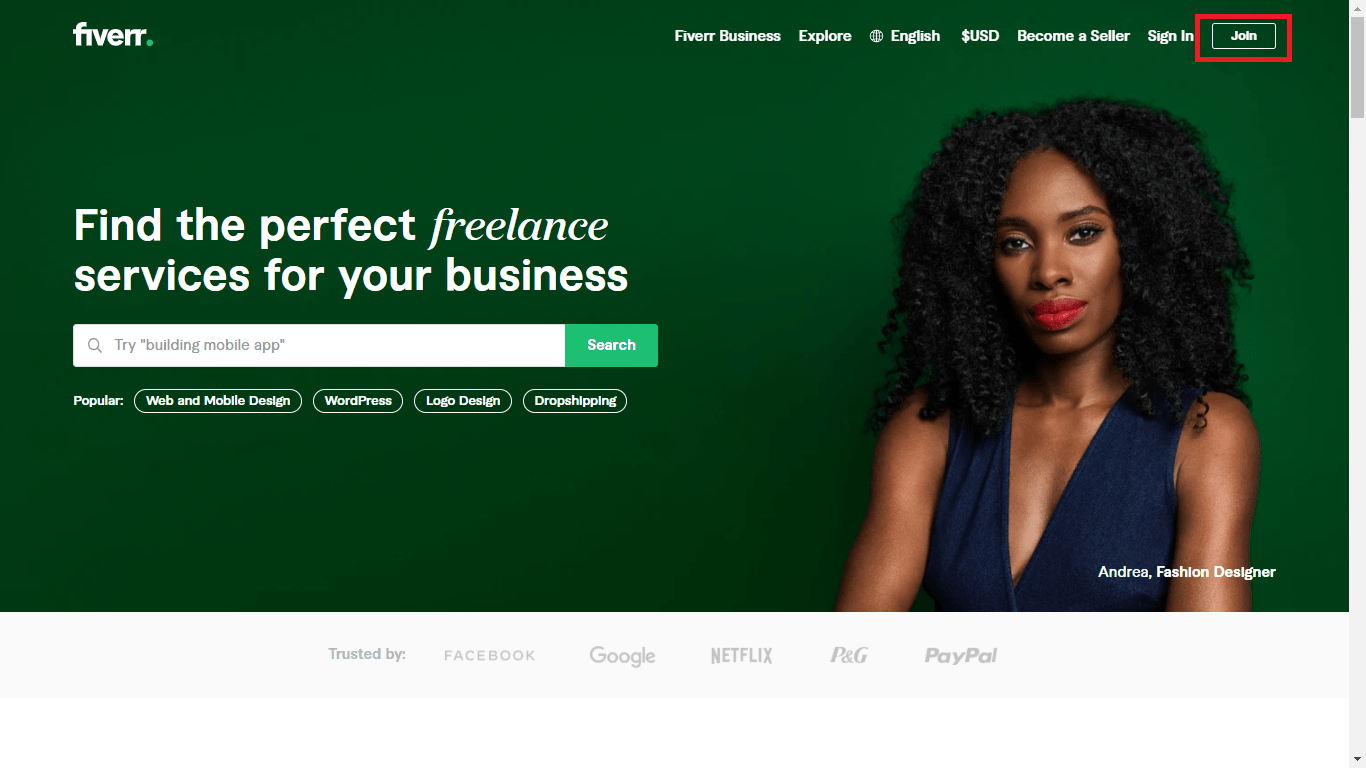 After verifying your seller account, select the circle icon in the top right. Click
Profile
 from the dropdown menu to start editing your personal information.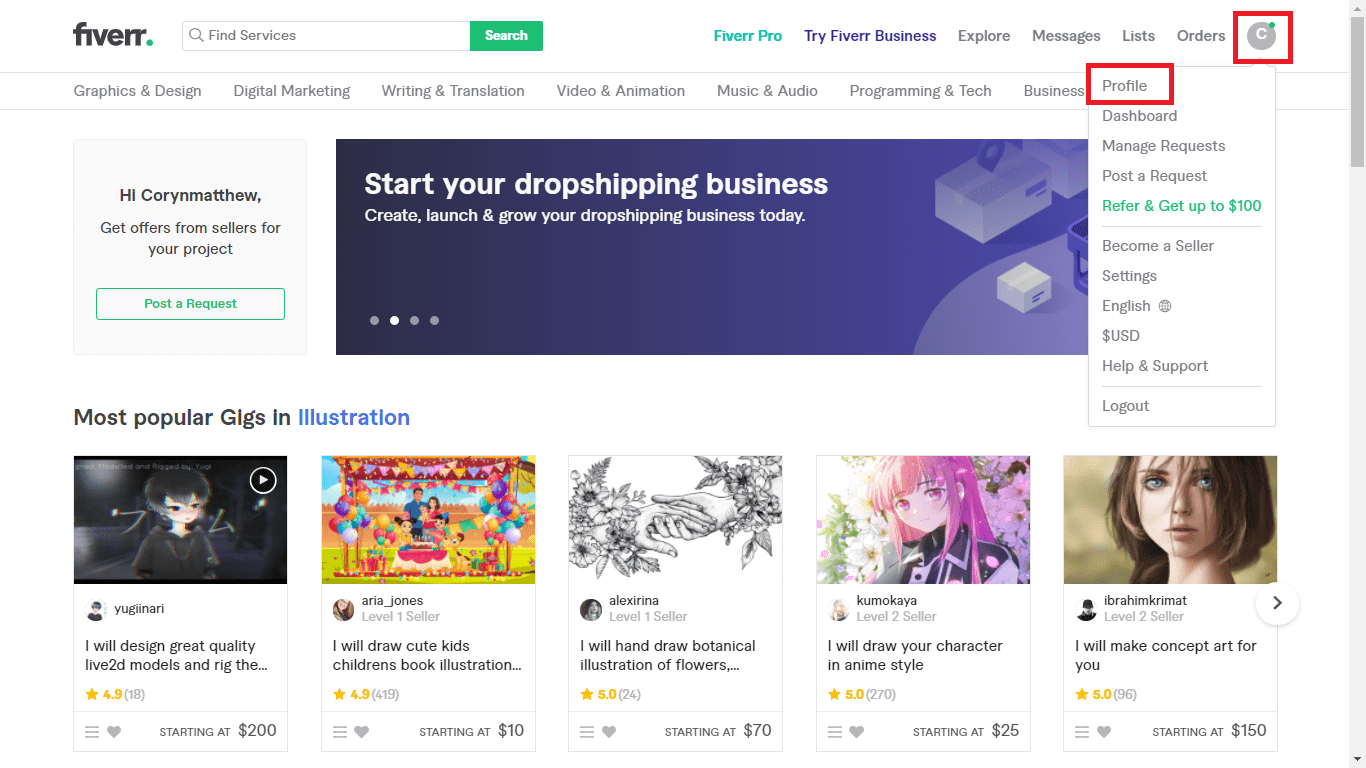 Please complete your profile by providing information about your academic history, certifications, and skills. Additionally, upload a photo of yourself, and connect any relevant social media accounts like LinkedIn or Facebook.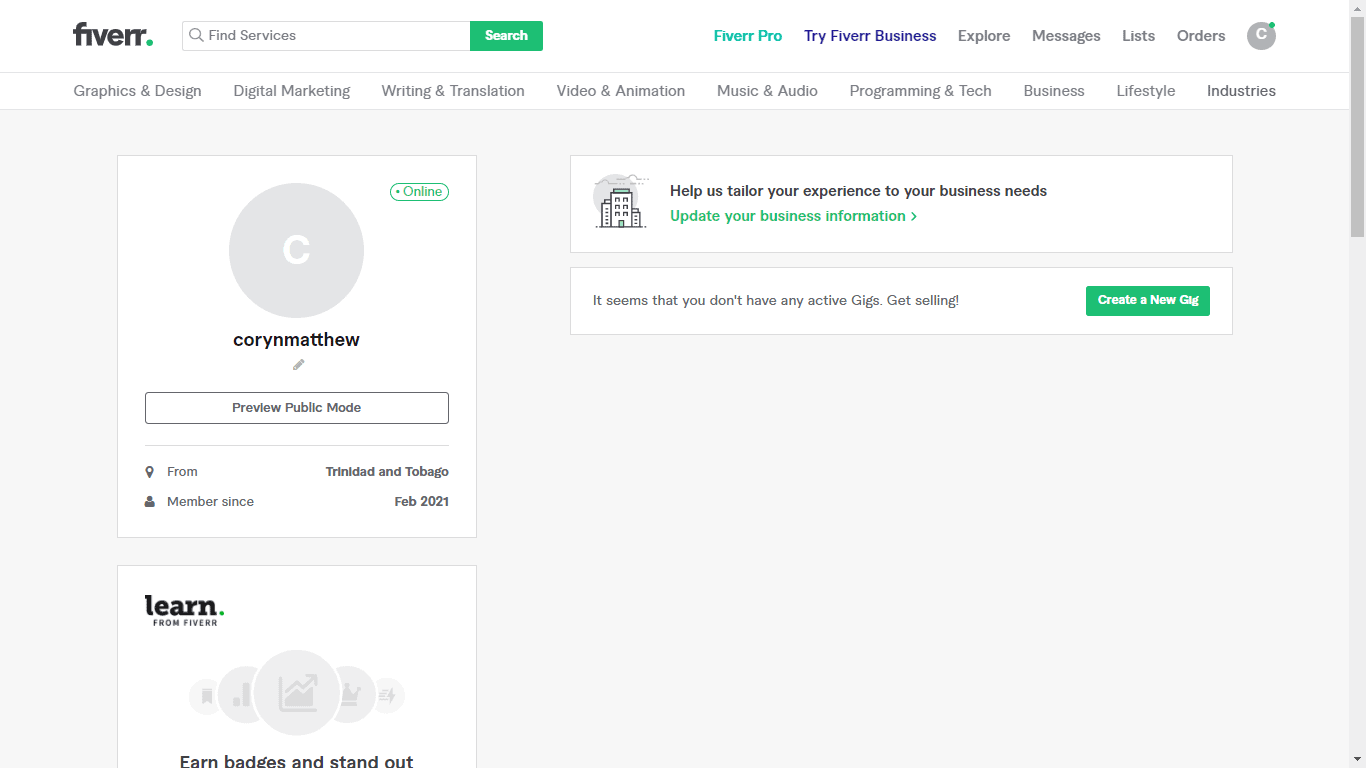 When you've finished personalizing your profile, click
Create a New Gig
.
 Choose a gig title, category, and any related search tags, like "voice acting", "voice talent", and "voice actor". You'll also want to fill out the metadata for your gig, including gender, language(s), purpose, age range, and tone. On the
Scope & Pricing
 page, determine your price per word and select the amount of revisions you'll allow per package. Add pricing for additional words and decide on a delivery time. You can also use this page to include any package upgrades, like one-day delivery or commercial rights for an additional fee. On the next page, describe your gig and answer any FAQs for potential buyers. Finally, upload past work to your portfolio and publish your gig to take it live. We've put together a guide on
how to create a successful Fiverr gig
, so if you want a detailed step by step on how to do it, follow this to the letter and you can't go wrong.
If you want to take your profile to the next level, consider becoming a buyer for a day and hire a Fiverr freelancer of your own.
 Have fun with it, and remember that gigs start at just $5 – so it's an affordable way to gain insight into the buying process.
Wrapping Up: Hire a Pro Without Breaking the Bank
Hiring a voice over artist through Fiverr is simple and affordable
; it's saved me tons of time on numerous occasions. Not only can you access thousands of related freelancers, but you can also get really specific about your ideal language, gender, or project type to find the right person. And you can set a budget range to make sure you don't overspend. And that's not all. Once you've found a voice over artist for your project and you're all set up on Fiverr, you might find you want to take things to the next level. It will astound you how varied the freelancers are on Fiverr so
I've pulled out a few more categories that I think might interest you
.
FAQ
Where can I find freelance voice over artists?
Fiverr, a top freelance website, is home to thousands of skilled voice over artists. To hire the right person for your project, search Fiverr using filters like language, rating, or budget. And if you want to learn more about how the platform works, we've covered it (in detail) in our Fiverr review (and I mean serious detail).
What do freelance voice over artists charge?
You can find quality voice over artists for as little as $5 per project on Fiverr. From there, pricing can vary depending on the artist's experience and length of your script.
What skills do voice over artists need?
In addition to finding an artist with experience in your project type, make sure they are proficient in your specified language. They should have professional recording equipment, exceptional pronunciation, vocal clarity, and pacing.