In a hurry?
I tested dozens of freelance websites to find the best pixel artists in 2023, but most artists I liked came from Fiverr.
There's a freelancer on the platform for every budget.
Pixel art is a subset of digital and physical art that isn't always highly represented, so I know that finding a talented artist can be challenging. Given that many artists specialize in one or two styles, it's even trickier to locate the right person for the job. To save you time and effort, I've put together a list of nine of the best pixel artists, each one with their own specialty. Not only are these artists talented and experienced, but using Fiverr, a top-rated freelance platform, you can hire some of them from as little as $5. As well as my top recommendations, I've also broken down how to find the perfect pixel artist using Fiverr. Read on to find out how it's done.
---
9 Best Freelance Pixel Artists
I've used all kinds of online platforms and services to hire pixel artists over the years. Some of them offer quality designs from experienced professionals, and others focus on offering cheap packages for bulk orders. But the value for money I get from hiring artists through Fiverr is unmatched. Nowadays, all it takes is a simple scan using the platform's clever search engine, and I can have my design ready in just a few hours. It's easy, cheap, and incredibly efficient.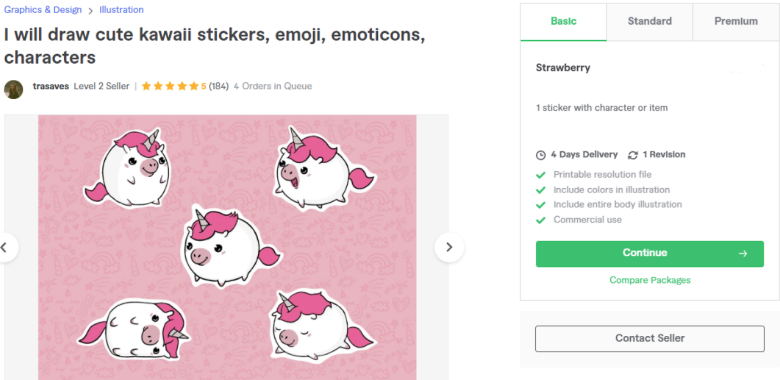 There are hundreds of pixel art sellers on Fiverr, but most specialize in simple character creation. If you're looking for full-body designs, Trasaves, or Nastya, can help with high-resolution stickers, emojis, and emoticons. They have a BA in graphic design and an MA in communicative design – and it shows. Because there's flexibility in terms of image size, this gig is ideal if you're working with bigger screens – and if you like the cute art style. Nastya works hard, and with you, to make sure the completed design matches your vision.
Diconcilio is a pixel artist for game characters, background and landscape tilesets, and sprite sheets.
He's also skilled at character creation and adaptation, so can help you to develop your game design ideas
. I like his flexibility; he'll work with the style that you need for a seamless result. One thing to watch out for, though: Diconcilio's gigs are very one-piece focused. If you need an entire collection of pixel art created for a game project, buying them one at a time could get surprisingly pricey. I'd recommend contacting him directly and asking for a package quote.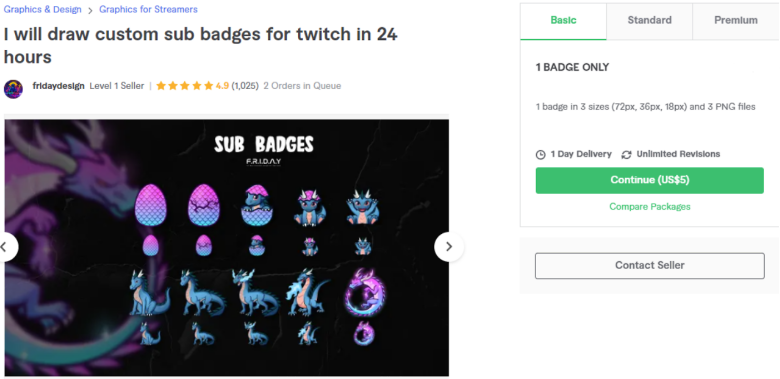 Fridaydesign can create beautiful sub badges for your Twitch stream in less than 24 hours. Each PNG design is transparent and comes in three sizes (18px, 36px, and 72px), meeting all of Twitch's badge requirements. On top of that, they offer unlimited revisions with all their packages. Fridaydesign maintains a score of 4.9 with more than a thousand reviews, which is, let's be honest, very impressive. I also like how Fridaydesign offers free consultations and will chat and discuss ideas before accepting payment.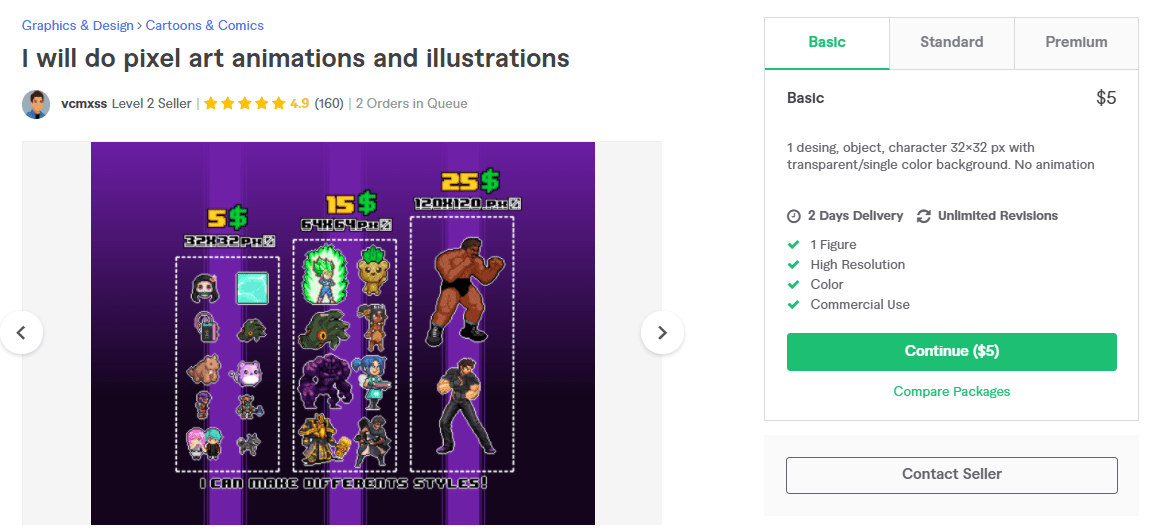 Kevin designs both static and animated pixel art characters and objects. 
He's been designing pixel art for more than 5 years, maintaining a flawless record and a rating of 4.9 on the platform.
With his lowest package tier,
you can get a simple 32×32 pixel design for just $5. Each of his packages offers unlimited revisions
, which allows you to tweak the design until you are 100% satisfied. It's important to note that his package pricing is for static art. If you'd like an animated design, reach out to him for a quote before making a purchase.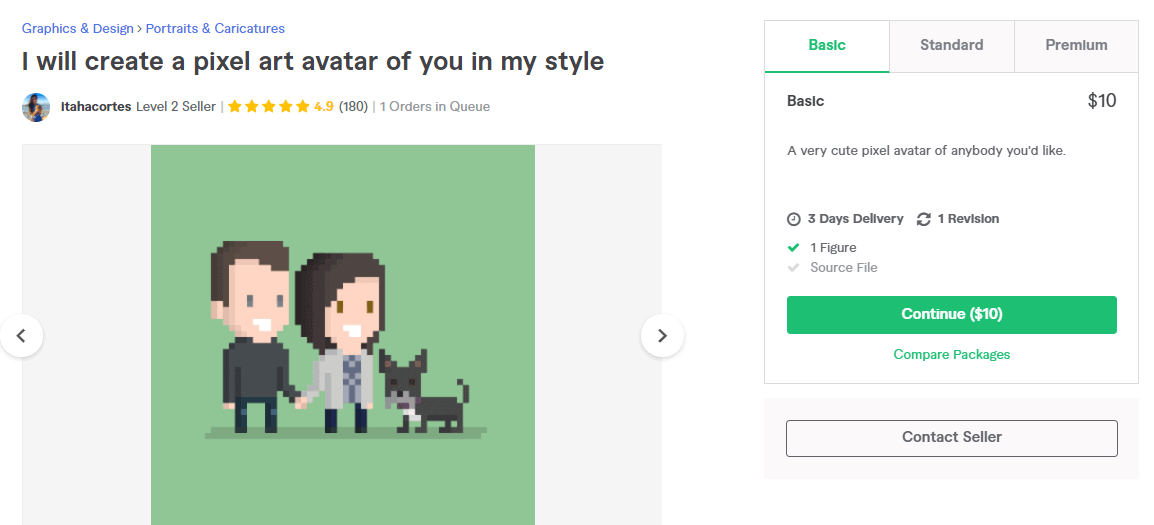 Itahacortes offers just one specialty gig, although judging from their profile, they could offer other custom services. They specialize in pixel art portraits: a cute gift idea for a partner, friend, or family member. I love that they can capture the essence of each person (and even pets!) so accurately via pixel art. Figures are delivered in high-resolution (1024×1024 px) PNG or JPEG format. One thing that impressed me is that
Itahacortes' Premium tier offers just a one-day turnaround.
 This is perfect for anyone who tends to forget gift shopping until the last minute.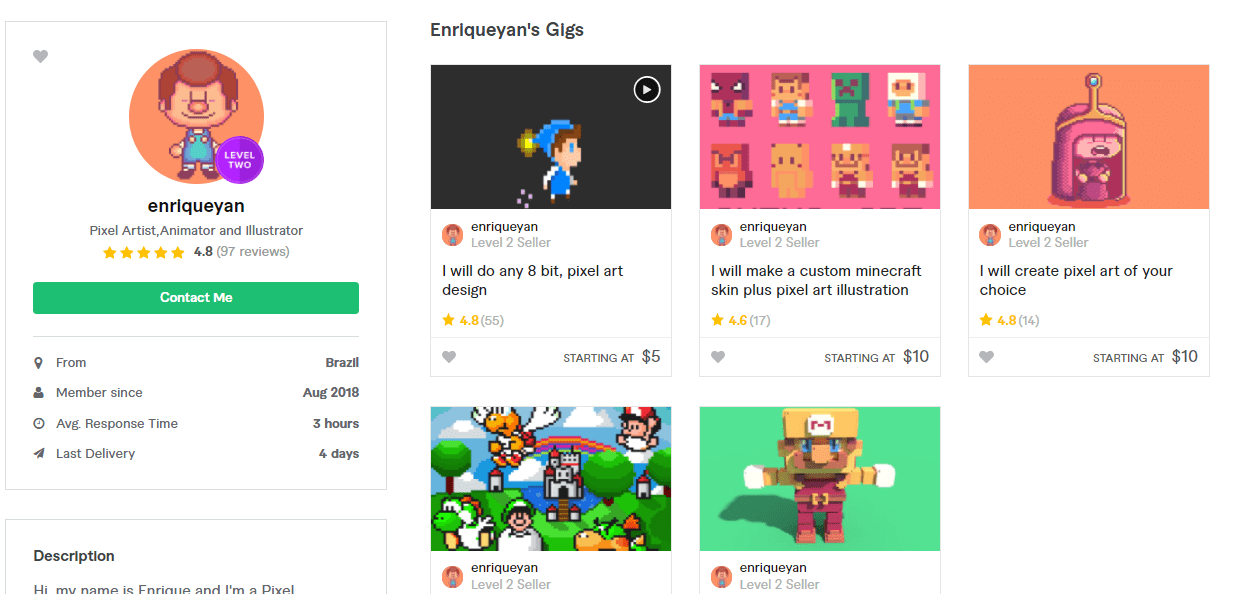 Enrique has some interesting pixel art gigs to offer, including voxel (3D) art and custom Minecraft skins. If you have children who play Minecraft, you might know that custom skins are a popular commodity. A custom skin for their character would make an unusual but popular gift. The higher tiers of Enrique's pixel art gigs include handy details like sprite sheets and backgrounds, so it's worthwhile checking them if you're after something more complicated. His package pricing is very affordable and his 4.9-star rating makes him an attractive seller for those who need a low-cost, but expert, design option.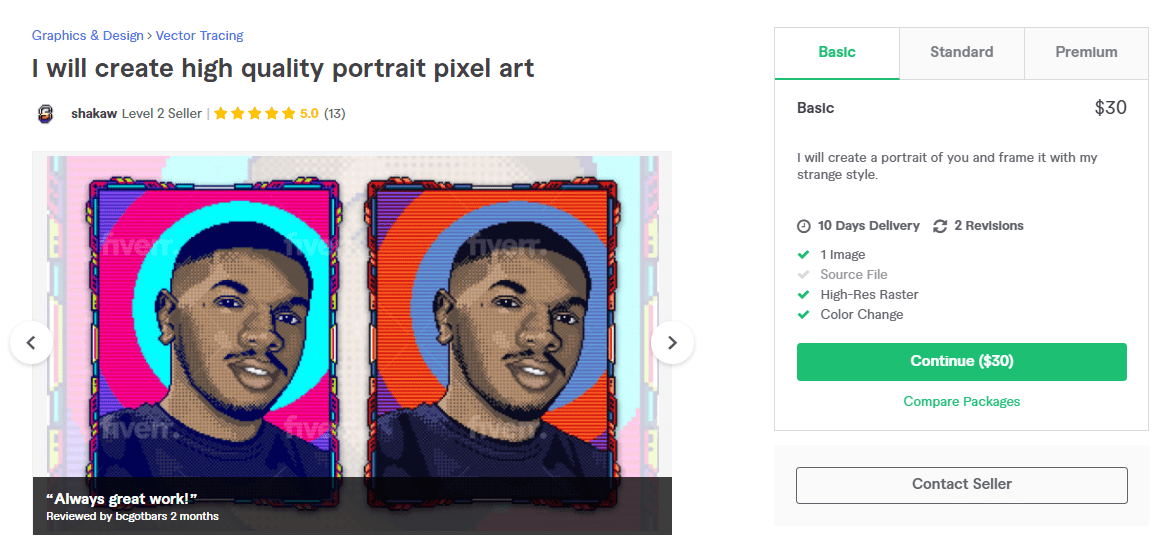 Most pixel art you'll come across is small – emojis, avatars, game characters, and the like. However, Shakaw offers something a bit different.
They take 80s/90s nostalgia and a retro palette and create large-scale pixel art. Their work is suitable for album covers and posters.
These pieces are created in Shakaw's own style, which ensures a uniqueness that you won't find anywhere else. Pricing is based on the complexity of your design, so contact him before hiring to share your vision and receive a quote. While his gig timeframes are longer than most, his work makes up for the wait.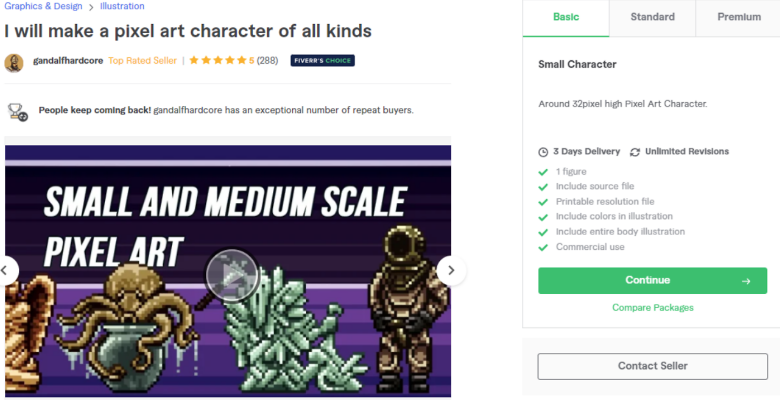 Gandalfhardcore is a top-rated seller who specializes in pixel art characters. They've earned the Fiverr's Choice badge and have an exceptional number of repeat buyers. They're an experienced pixel art specialist, and they profile features an impressive portfolio of projects in a distinctive style. With the Basic package, you'll receive a 32×32 px custom full-body character of your choice. If you'd like something bigger and more detailed, the Standard and Premium packages offer 50 and 100 px designs, respectively. You can also request to have your character animated but bare in mind that it'll cost you extra.
The seller offers unlimited revisions, so you can expect to receive a design that will hit the mark.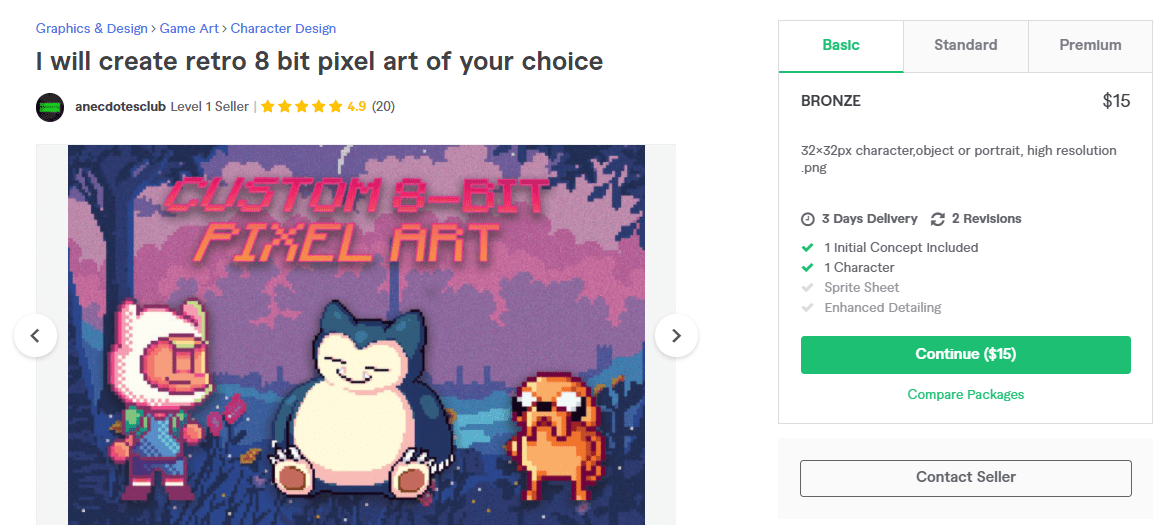 Retro-styled pixel art is Anecdotesclub's specialty. They can put together single static characters or entire animated scenes.
I'd recommend this artist primarily for 2D games work.
That sort of animation can get quite tricky, so finding someone who already has experience in the field can make life a lot simpler. They encourage custom orders, so if you don't see a package that matches your needs, just message them with your requirements to receive a quote. Note that unlike many of the artists on Fiverr, Anecdotesclub requires artist credit to be given if you use the work in a game.
How to Hire a Freelance Pixel Artist on Fiverr
Usually, the most challenging part of hiring a freelancer is
finding
 a freelancer. That's why I'm so happy to share the freelance hiring solution I discovered: Fiverr. It's one of the top freelance websites around – that's why it scored so highly in
our Fiverr review
. Fiverr gives you access to tens of thousands of talented creatives, including pixel artists, working on a freelance basis in all different countries. Some of these freelancers can even be hired for just $5, which is the lowest pricing tier available on the site, hence the name. When you use Fiverr, you're more likely to find a pixel artist that both matches your budget and is skilled in the style you want. Hiring through Fiverr is super simple and utterly commitment-free while you're still searching. Just
head to the Fiverr homepage
 and type "pixel artist" or "pixel art" into the search bar to bring up all relevant gigs offered by freelancers on the site.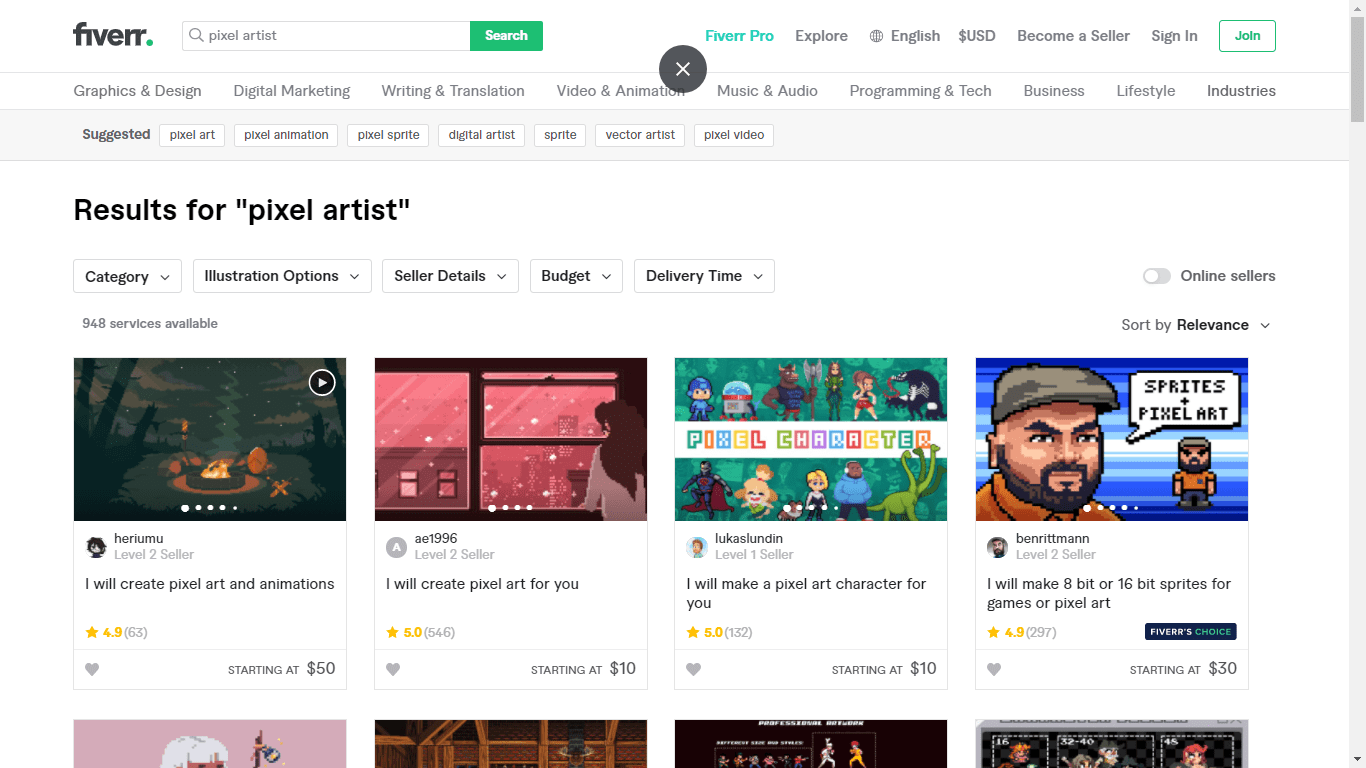 From there, you can explore the results until you find a gig that you're interested in looking at more closely. Clicking on one will open the gig details view, which includes an
About This Gig
 section, summary of the freelancer's portfolio, and customer reviews. Need to check out the pricing per package tier? Click on the package tabs at the top of the box on the side to see each package's price. If you click the
Compare Packages
button, you'll be able to view the pricing options in a table to more easily understand the differences between them.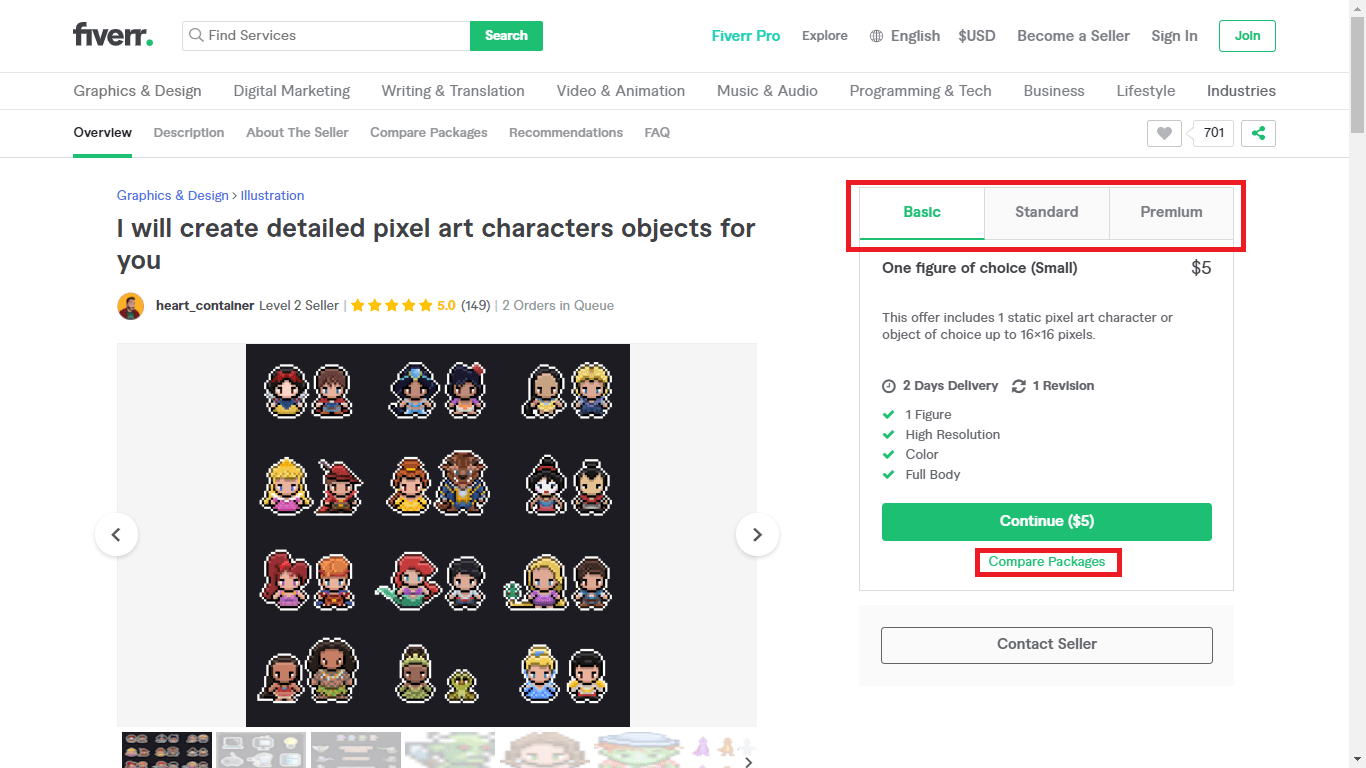 If you don't see a service you want or you feel the need to reach out to an artist, click the
Contact Seller
 button. This allows you to send a personal message with any questions or queries before you commit to hiring. Quite a few freelancers like sellers to message them first so they can be sure they're getting the package they need. When you're all ready to hire, just click the
Continue
 button and you'll be taken to the payment preview page.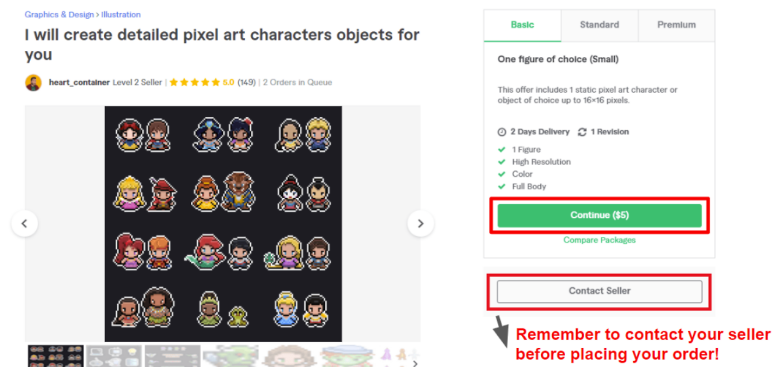 Here, the final pricing for your package and all services included will be displayed. If a freelancer offers a package add-on, like expedited delivery or unlimited revisions, these can be added on this page. Once you're satisfied with what you see, click
Continue to Checkout
 to enter your payment information.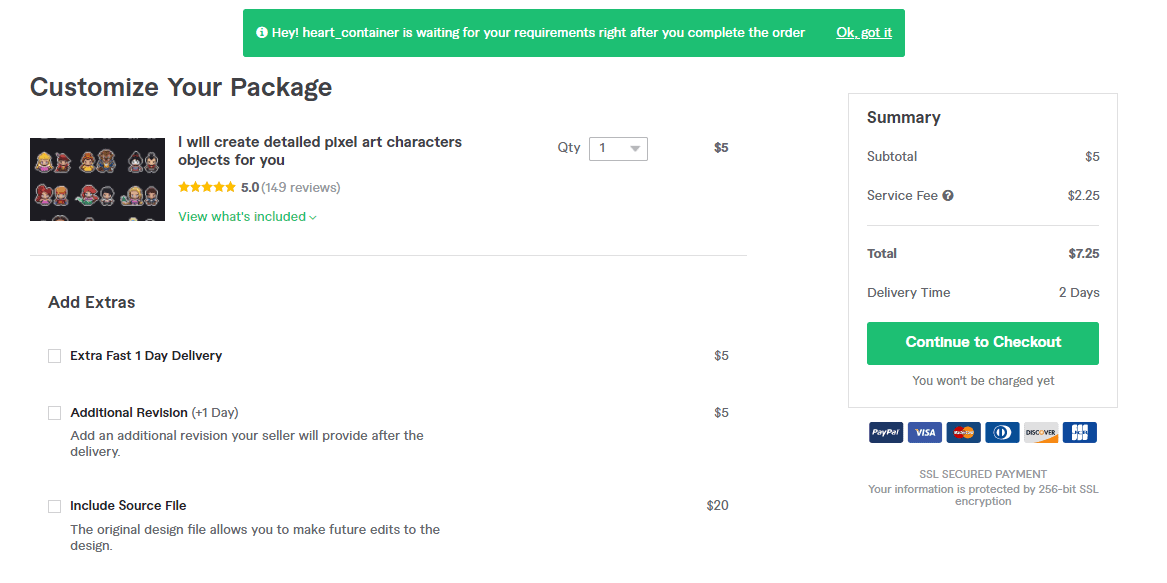 What to Look For in a Freelance Pixel Artist
Although you know you need pixel art from a skilled artist, how exactly do you measure the skills an artist has? If you're not used to hiring a freelance pixel artist, you may be looking for guidance on how to make the right choice. Let's begin by having you ask yourself a few key questions:
Do you need a specific style or type of pixel art?
How many components will your design have? For example, do you need characters and a background? Do you need multiple versions of your character?
What's your budget?
Do you have a design concept or are you willing to let an artist have total creative freedom?
Is your intended design replicating a real person or animal?
Before you begin your search, you can use the answers to these questions to identify what type of freelancer you need. Use Fiverr's various filters, like budget, seller details, and delivery time, to narrow down your results. Once your results match your base requirements, look for important seller characteristics such as:
Excellent color theory usage. Take a look through each freelancer's portfolio to assess how well they use colors, highlights, and shadows in their designs.
A five-star seller communication rating. How well does your seller communicate? Check their communication rating to see how past clients rated their skills out of five.
Timely and accurate content turnaround. An artist's ability to meet deadlines and deliver work that meets your requirements is essential. You can check a freelancer's "Service as Described" rating above their customer reviews to see how past clients rated this skill.
Experience in your desired style. A freelancer with extensive experience will understand the intricacies of certain genres, like the palette to use. Does your freelancer have a sufficient background in the style you've requested? If your vision is set, you'll want to explore a freelancer's portfolio to ensure that they have completed similar content in the past.
Commercial use. If you want to use your new pixel art in a commercial scope – for example, using it on t-shirts or in games – then you need to make sure your seller allows this usage. According to most copyright laws worldwide, the maker of a piece of art still owns it unless they specifically sign over their copyright to the buyer.
Are You Looking to Sell Pixel Artist Services on Fiverr?
If you are a pixel artist yourself, becoming a seller on
Fiverr is an excellent way to build a portfolio
and interact with a greater selection of clients. And signing up for Fiverr is incredibly easy to do! When you create a Fiverr account and publish your first gig, you gain access to the thousands of buyers that use Fiverr each day. Rather than having to look for clients yourself, you can simply take your gig public and let your work speak for itself. And then, rather than spending hours searching for new clients, you can focus on delivering high-quality work and mastering your craft. To get started, just
head to the Fiverr homepage
 and click the
Join
button. Sign up using your email or social media and verify your account to begin personalizing your profile.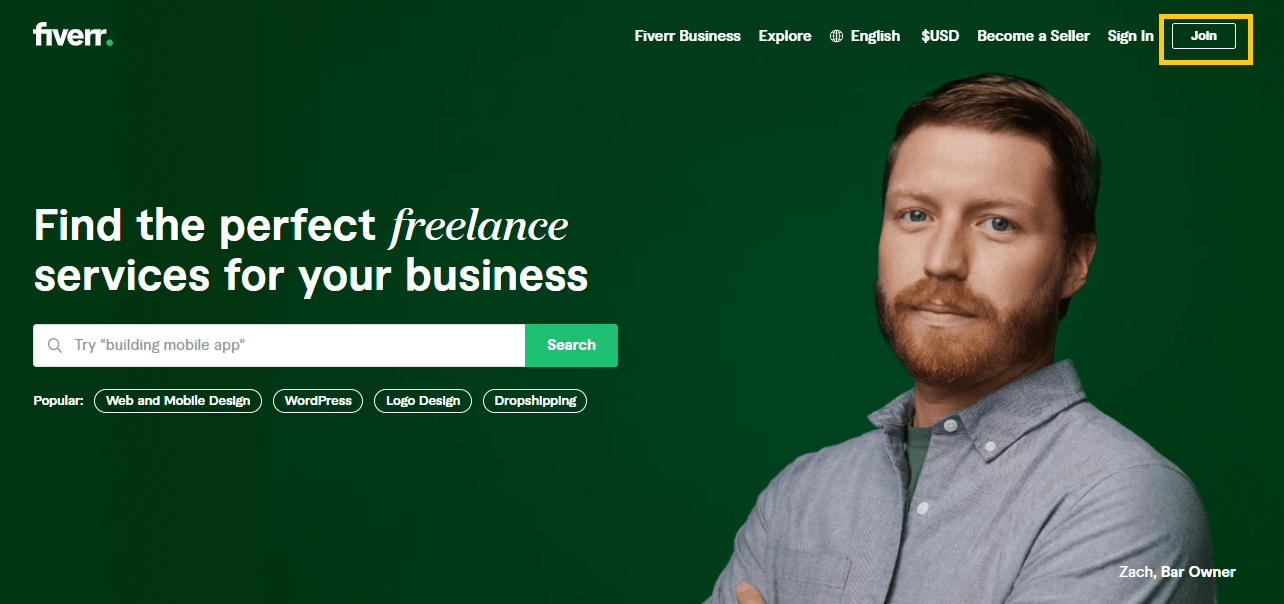 Click the circle icon on the right-hand side to find the
Profile
button and move to the profile editing page.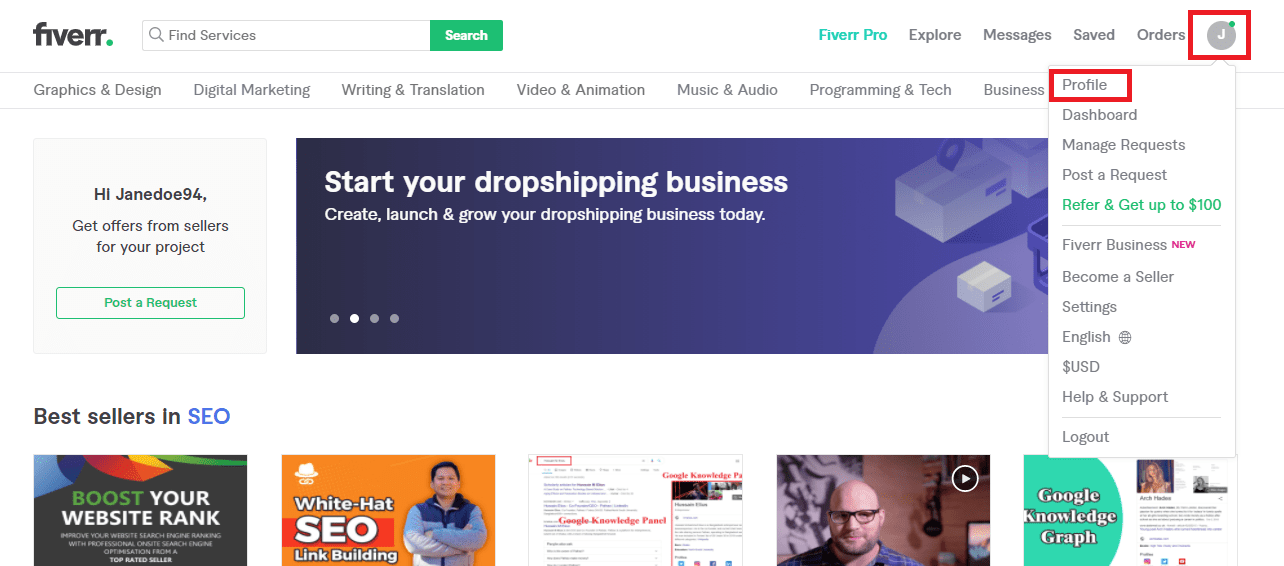 Here, you can add a photo and connect your social media accounts. Add your skills, certifications, and educational history to your profile. Fill in the description with a short bio explaining who you are and giving clients an insight into your personality. You'll also want to select what type of Fiverr user you are, with options ranging from freelancer to employee. When you're ready to publish your first gig, click
Create a New Gig
 to begin.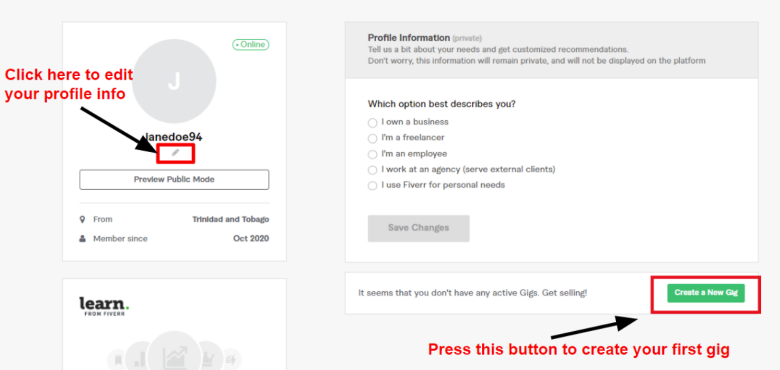 Choose a gig title, select a category, and add search tags to your gig to make it easier for clients to find it. Name each of your package tiers and add a description of services to each. Select a pricing structure for each tier that matches what you believe the service is worth. Once you've filled in all the relevant gig information, simply publish the gig to make it searchable by clients. The best way to understand how to structure your gig is to have first-hand buyer experience. You don't need to purchase an expensive gig to do this. Simply switch your profile to the buyer setting and search for a type of freelancer. Consider getting a new logo, or commissioning a portrait of a loved one. Once you've hired a freelancer yourself, you can use your buying experience to optimize your gig to be visually appealing and attractive to clients. Finding clients is often the most time-consuming and nerve-racking part of freelancing. With Fiverr, you can benefit from having your profile accessible by millions of potential buyers. Check out our
Fiverr freelancer guide
to learn more about how to get started and be successful on the platform.
You Can Count On Fiverr to Deliver Top-Quality Pixel Art
When you use Fiverr to find your new pixel artist, you get to choose from thousands of talented creatives with low-cost packages. Just
head to the Fiverr homepage
 and start your search and you're already halfway there. You're in control here – so set your budget and fill in the filter options to home in on your ideal sellers. Using the filters helps you save even more time on your search. One of the things I love about Fiverr though is the variety of sellers on the platform. Once you've found yourself a pixel artist, you might want to look around the platform and see what else you can find. I also found that:
Remember, you can spend as little as $5 when hiring an artist on Fiverr, so even a lower budget won't prevent you from getting high-quality work.
FAQ
Where can I find a freelance pixel artist?
Fiverr hosts thousands of amazing freelancers from a variety of industries. It even scored 4.9 out of five in our Fiverr review. Finding the right freelancer is as simple as heading to the Fiverr website and typing "pixel artist" into the search bar, then reviewing the available packages. Our category page features other top freelance websites ideal for hiring pixel artists.
How much will a freelancer pixel artist charge?
Every freelancer sets their prices differently, but with Fiverr, you're guaranteed to find artists that won't break the bank. Some even offer packages as low as $5. Package pricing will vary depending on the freelancer's location, skill, experience, and the type of services they offer.
What should I look for in a pixel artist?
Before you hire a pixel artist, there are a few criteria you should keep in mind. Be sure that they have adequate experience in the style of pixel art that you need. They should have mastered color theory and know how to optimally blend, mix, and match colors. Look for artists with extensive portfolios and a lot of positive reviews.
Can you earn money from pixel art?
You can, of course! Pixel art designs are always in demand as they're used in all kinds of digital media, video games, streaming websites, and more! If you're an artist, you can easily set up your own Fiverr account and begin selling your creations in just a matter of minutes.