You don't have to be an artist to sell NFTs.
Even though the concept of an NFT was originally developed to help artists make money, you don't need to be a Photoshop pro – or even be able to draw a straight line – to hop on the trend. Hiring an NFT artist to create your artwork for you has never been easier. You just need to know where to look. I'm here to help you find someone who'll listen closely to what you're looking for and provide you with a stunning NFT – that you'll actually own.
NFT Artists and Designers on Fiverr
I've been hiring freelancers for various different projects for a while now. I've tried using several top freelancer websites, but by far
the best platform for hiring freelance NFT artists and designers is Fiverr
.
With over 15,000 NFT art gigs, Fiverr has the widest range of NFT artists of all the websites I've tested. Plus you'll be able to find a fantastic NFT artist on Fiverr no matter what your budget is. Gigs start at $5, and I even commissioned some artwork from a graphic design agency for far less than I'd expected.
If you need a talented, reliable, and affordable NFT artist, Fiverr is the place to go.
I scoured the internet for the best NFT artists and selected a handful from the thousands I found.
I looked for artists who were reliable, affordable, and sold artwork that I could legally sell as NFTs.
I sent each artist a brief asking for artwork that referenced the GME "short squeeze" in January 2021, along with a list of characters and items artists could use as inspiration and a general color scheme.
Keep reading to see how each NFT artist put their own spin on our concept.
9 Best NFT Artists and Designers for Hire
After hunting across multiple websites and thousands of freelancers, I chose these 9 freelancers from Fiverr. Fiverr made it super easy for me to narrow down my search based on my budget, the sellers' ratings, and even whether I wanted the source file included in the gig. If anything, it was hard to narrow my list down to just 9 NFT artists since
I found hundreds of NFT designers on Fiverr
. I prioritized designers with the best artwork who were also affordable.
The most I paid was a few hundred dollars – still great value for money given that these artists are the best in the industry right now.
Some were even cheaper. So, let's take a look at the artwork I bought.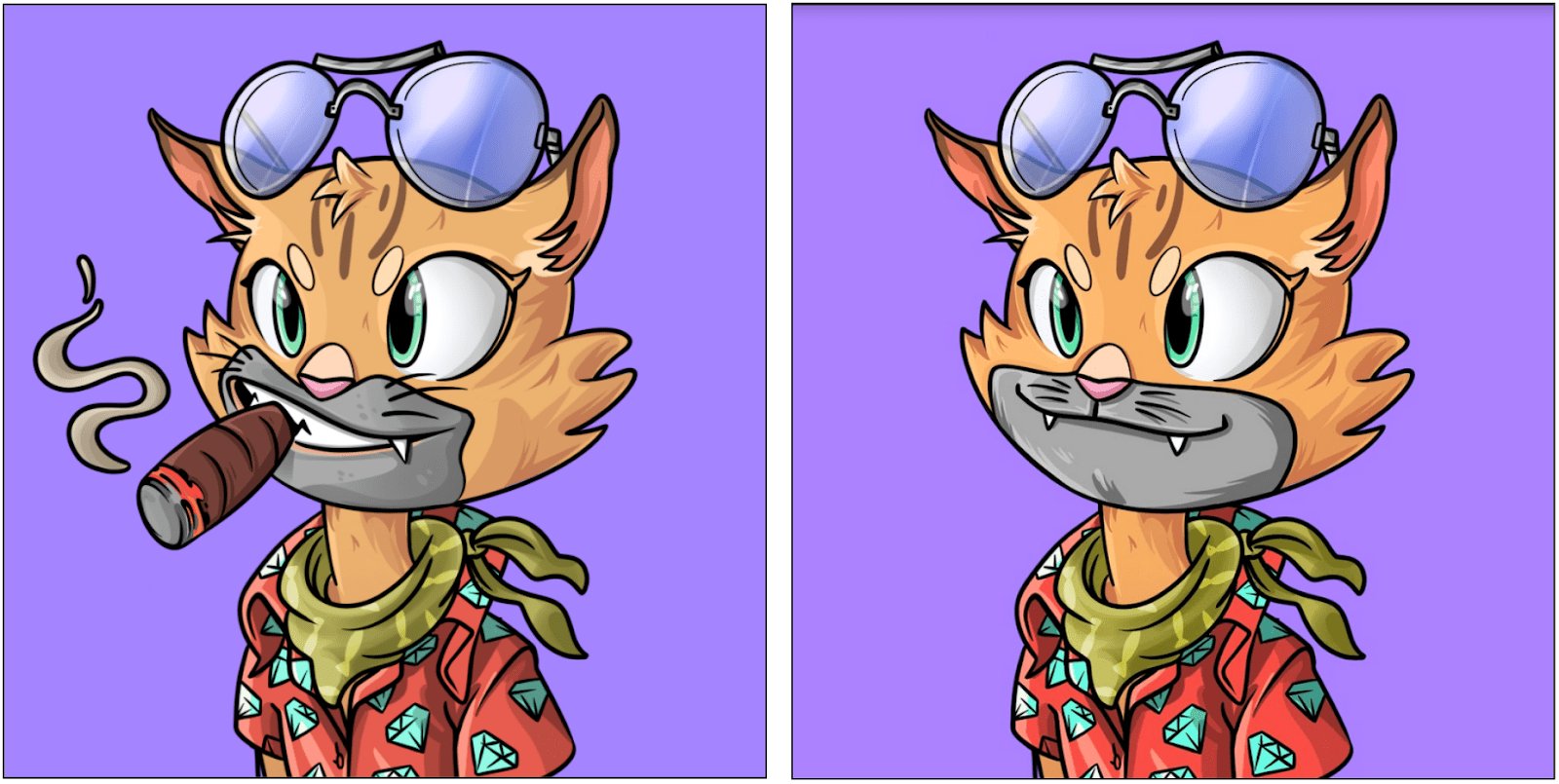 Right from the get go, Grahamfluber was fantastic to work with.
I inquired if he had space to take on a Basic gig for me, and he responded within 10 minutes. Despite saying he was busy, he sent me an offer later that day with an estimated four-day delivery time. To my surprise,
he delivered the project within 24 hours, and the artwork fit my brief perfectly.
He sent source files for the base character, layered assets, and a few pre-generated high-resolution JPGs of the base character with the assets applied. Not only is this freelancer super easy to work with, but
he's great value for money
.
I didn't have to order any revisions (although I was pleased to see he offers unlimited revisions for all gigs). He also explicitly offers full commercial usage rights upon payment with all gigs, which is needed in order to sell this base character with added assets as part of an NFT collection.
Price for the Basic Gig

$150

High Resolution

✔

 (all plans)
Access to Source File

✔

 (all plans)
Commercial Use

✔

 (all plans)
Delivery Time

3 days (Basic), 6 days (Standard and Premium)

Revisions Included

Unlimited (all plans)

Fiverr Rating
5 stars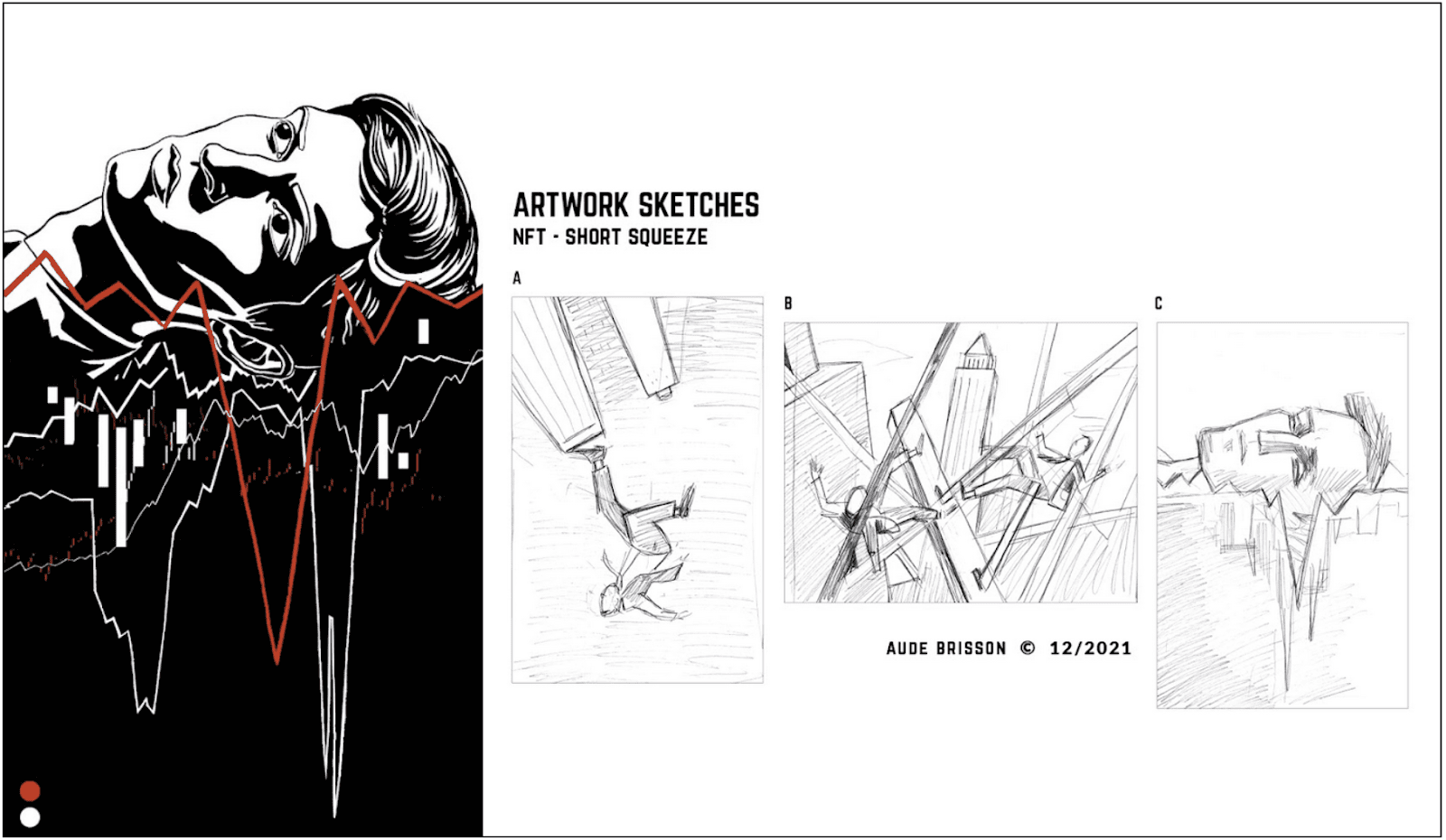 Given that the vast majority of NFT collections these days are various cartoon animals, I wanted to try something different – and O2brisson definitely delivered.
Her modern, brooding style is stunning
; she's one of the best artists I've worked with.
She answered my first question within an hour, and once I sent over the brief, she came up with a few ideas without needing much additional input.
She showed me some initial sketches the day after I accepted the gig and delivered the final piece within 6 days –
far ahead of the 10-day delivery time I was expecting for the
Standard gig
I paid for.
I loved the final artwork and didn't have to ask for any revisions.
Along with the artwork, I was sent a source file and full commercial usage rights. Honestly, I wouldn't hesitate to hire O2brisson again.
Price for the Basic Gig

$170

High Resolution

✔

 (all plans)
Access to Source File

✔

 (all plans)
Commercial Use

✔

 (all plans)
Delivery Time

6 days (Basic), 10 days (Standard), 14 days (Premium)

Revisions Included

1 (Basic and Standard), 2 (Premium)

Fiverr Rating

Fiverr Pro, Level 2 Seller, 5 stars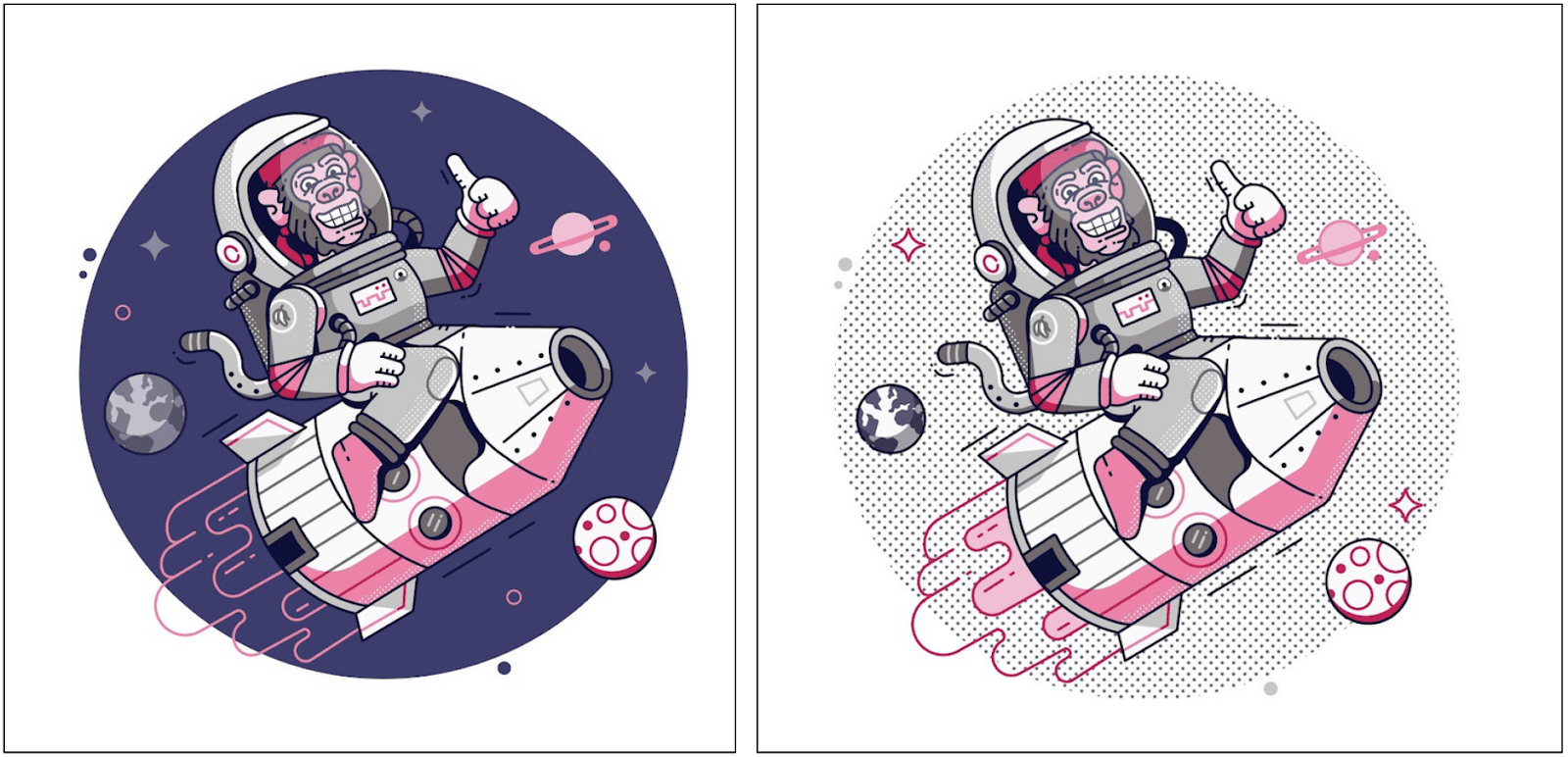 If you're after a single character collectible for your NFT drop,
Alex_krugli is a fantastic illustrator
.
While his work is on the expensive side for a single artwork, it's great quality and you get full commercial usage rights, so you can sell multiple copies or variations. Alex_krugli answered my initial query within an hour, and within 20 minutes of starting that conversation, we agreed on a concept and I accepted the hire offer. He delivered the project on time, and
even when we requested a revision to change the background color, this was done quickly and without any fuss
. At handover, the seller gave us a high-resolution PNG of the artwork, an SVG, source files, and even a macOS-compatible version.
Price for the Basic Gig
$180
High Resolution

✔

 (all plans)
Access to Source File

✔

 (all plans)
Commercial Use

✔

 (all plans)
Delivery Time

7 days (Basic), 14 Days (Standard), 21 Days (Premium)

Revisions Included

4 (Basic), 9 (Standard), Unlimited (Premium)

Fiverr Rating

Level 1 Seller, 5 stars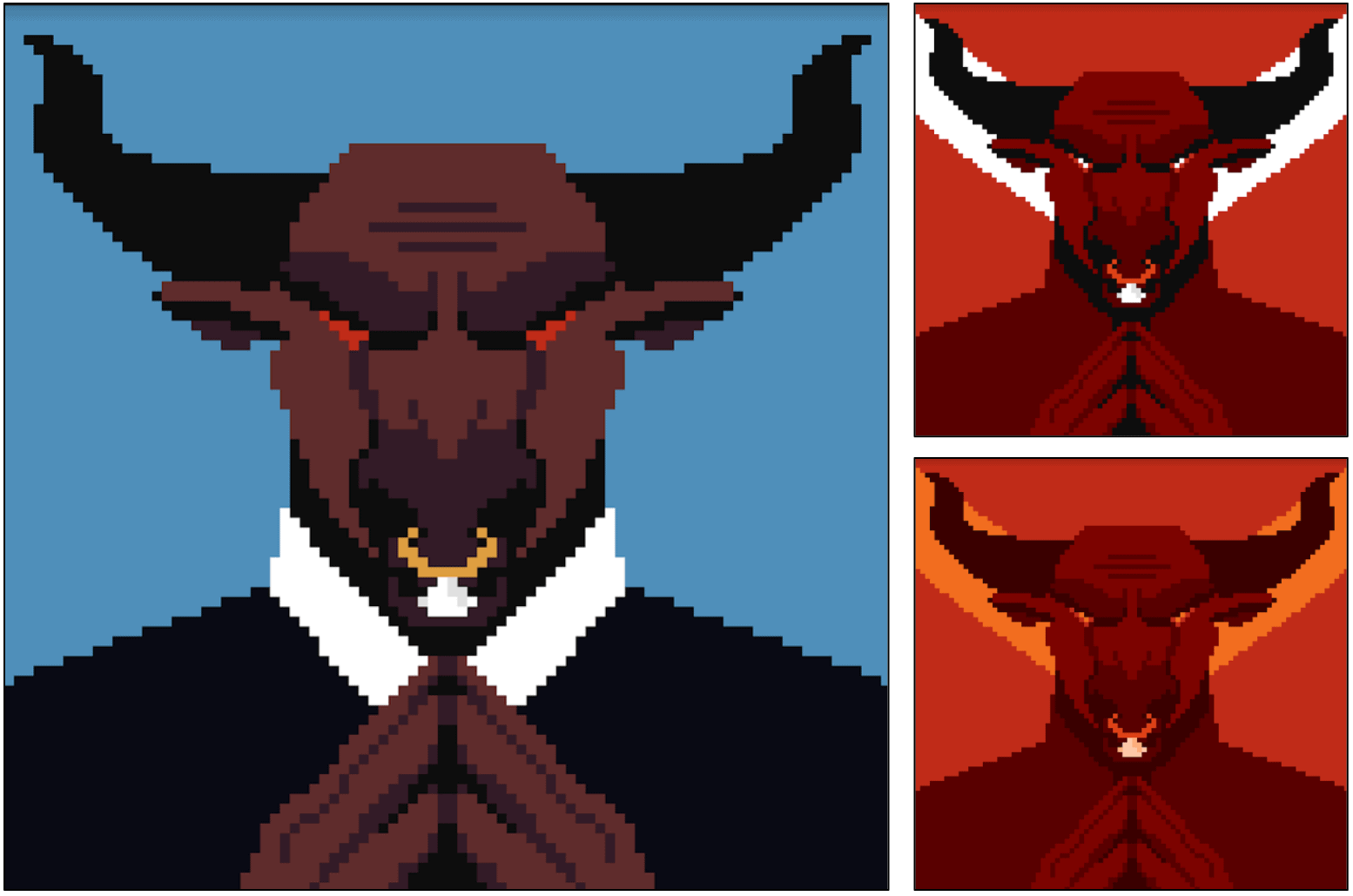 I really enjoyed working with Easternwestern
. She got back to me within several hours of my initial question, and we settled on the deliverables within two days.
When I asked her to change the color scheme, she completely changed the colors
. The only thing to note is that while I was happy with the dramatic final artwork, I wasn't sent the source files. That's not a problem if you don't want to tinker with the artwork at all – but if you want to create variations for a series of collectibles, this might not be the right Fiverr seller for you. It's also worth being aware
you'll have to buy a Standard gig to commission an NFT, and pay extra for commercial usage rights.
That said, it's still an affordable option.
Price for the Basic Gig
$60
High Resolution

✘

Access to Source File

✘

Commercial Use

✘

 (Available as a paid extra)
Delivery Time

21 days (all plans)

Revisions Included

1 (all plans)

Fiverr Rating

Level 1 Seller, 5 stars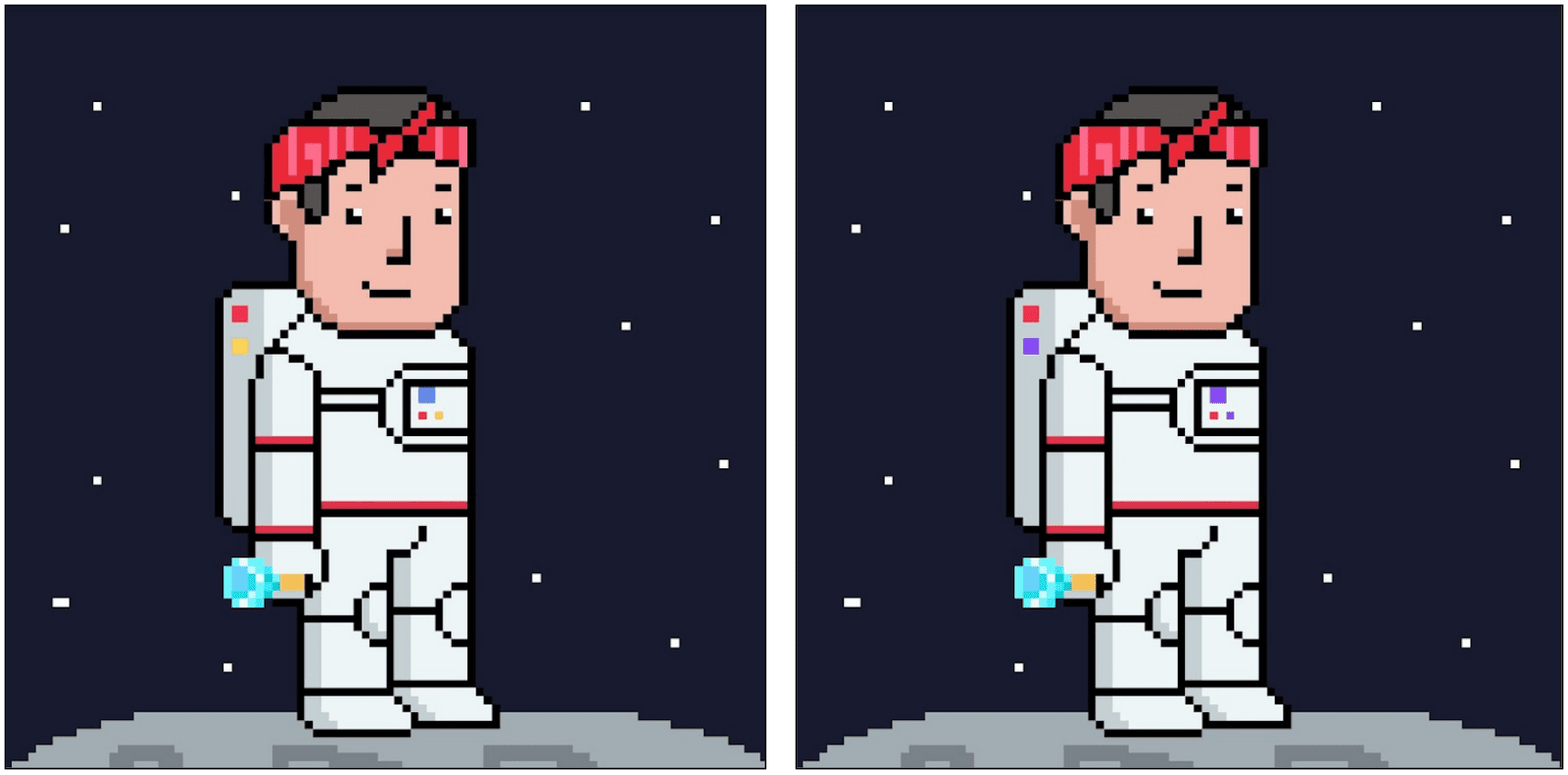 Karinadewi's artwork is lovely, and some of the best value I found.
It took a few rounds of revisions to get to something I was happy with, but we worked together to get the colors right, and for the price, I'm really happy with the quality of the finished artwork. Karinadewi wasn't as quick at getting back to me as some of the other artists I worked with – it took a bit of chasing to get an offer through – but
once I accepted the offer, they sent the deliverables through on the same day
, which was pretty impressive. This gig cost significantly less than some of the others I paid for, and I received both the source files and the PNG of the finished artwork.
Price for the Basic Gig
$15
High Resolution

✘

Access to Source File

✔

 (Standard and Premium only)
Commercial Use

✔

(all plans)
Delivery Time

7 days (Basic), 14 days (Standard), 21 days (Premium)

Revisions Included

2 (Basic and Standard), 3 (Premium)

Fiverr Rating

Top Rated Seller, 4.9 stars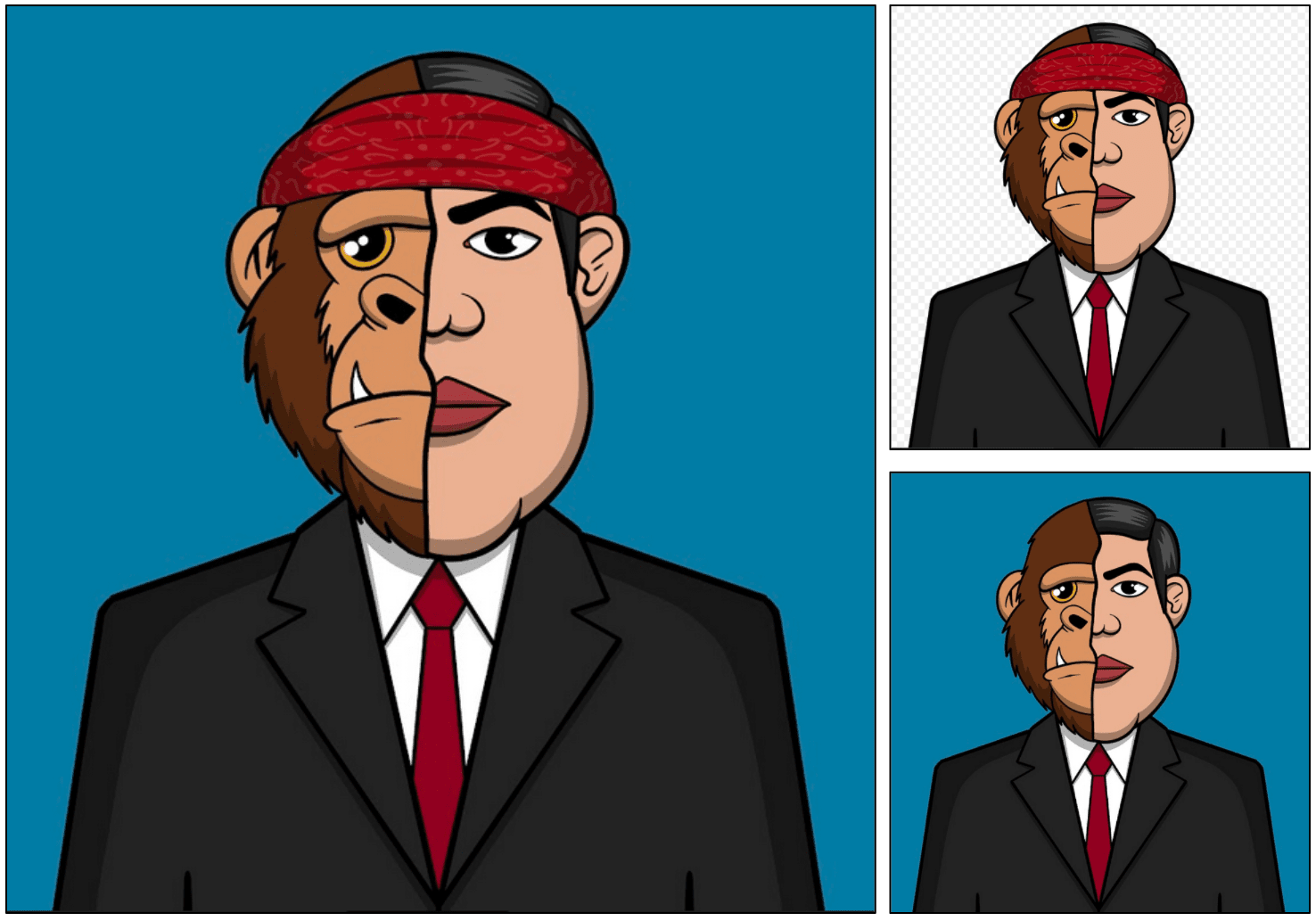 Nelvannazara's work is seriously fantastic for the price.
This was one of the cheapest gigs I could find, and I was really happy with the finished artwork. Plus they gave me full commercial usage rights, three versions of the character, and source files on handover.
One thing to bear in mind with this seller is that he's usually pretty busy
– I had to follow up with him a few times after we sent our initial brief. This is a good rule of thumb anyway, but I'd make sure you've got a super detailed brief for Nelvannazara to save you going back and forth over details. And keep checking in with him! It might take a little longer, but
Nelvannazara's artwork is definitely worth waiting for
– and once I negotiated an offer, the project was delivered within 3 days.
I only wanted a base character, but if you're looking for more, Nelvannazara also offers full NFT collections (for a considerably higher price).
Price for the Basic Gig
$50
High Resolution

✔

 (all plans)
Access to Source File

✔

 (all plans)
Commercial Use

✔

 (all plans)
Delivery Time

3 days (Basic), 10 days (Standard), 14 days (Premium)

Revisions Included

Unlimited (all plans)

Fiverr Rating

Level 2 Seller, 5 stars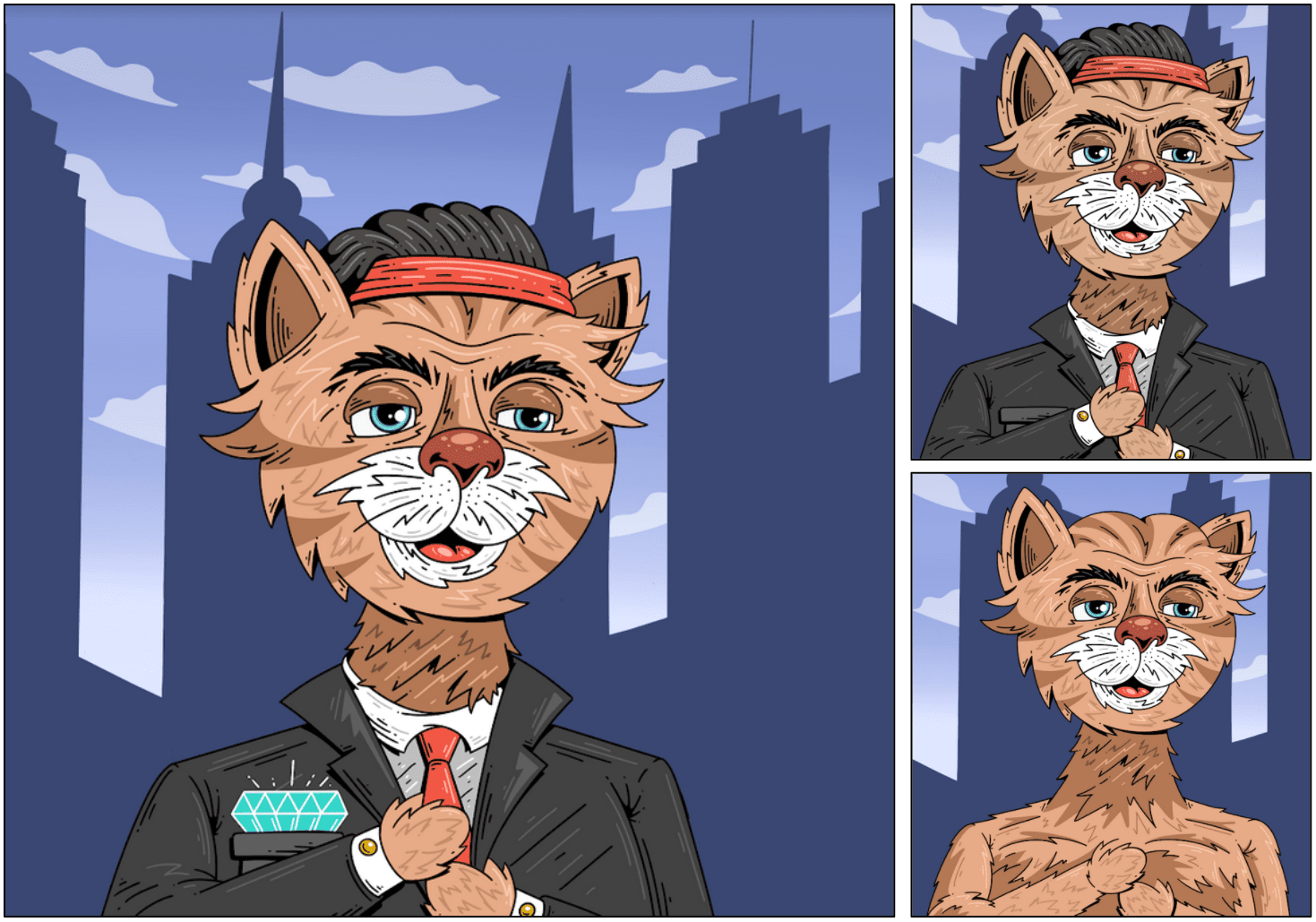 The first thing I have to tell you about Spiner144 is that his work is excellent.
It's clever and detailed. At handover, I got high-resolution PNGs of the character and some extra elements with source files and layer files. The second thing I have to tell you is that this guy's in demand right now – so you'll want to
make sure you get in touch with plenty of time before you need your finished artwork.
He told me at the start that he was busy and couldn't take on my gig for a month (which is fair), but even after that month had passed it took some time for him to send an offer through. Still, after I received an offer and placed the order, Spiner144 delivered within 5 days. When I asked for a revision to add and remove a few elements, he was open to feedback and completed this quickly. This is one of the most expensive gigs I paid for, but
the artwork was well worth it.
Price for the Basic Gig
$450
High Resolution

✔

 (all plans)
Access to Source File

✔

 (all plans)
Commercial Use

✔

 (all plans)
Delivery Time

10 days (Basic and Standard), 14 days (Premium)

Revisions Included

3 (Basic), 5 (Standard), Unlimited (Premium)

Fiverr Rating

Fiverr Pro, Level 2 Seller, 4.9 stars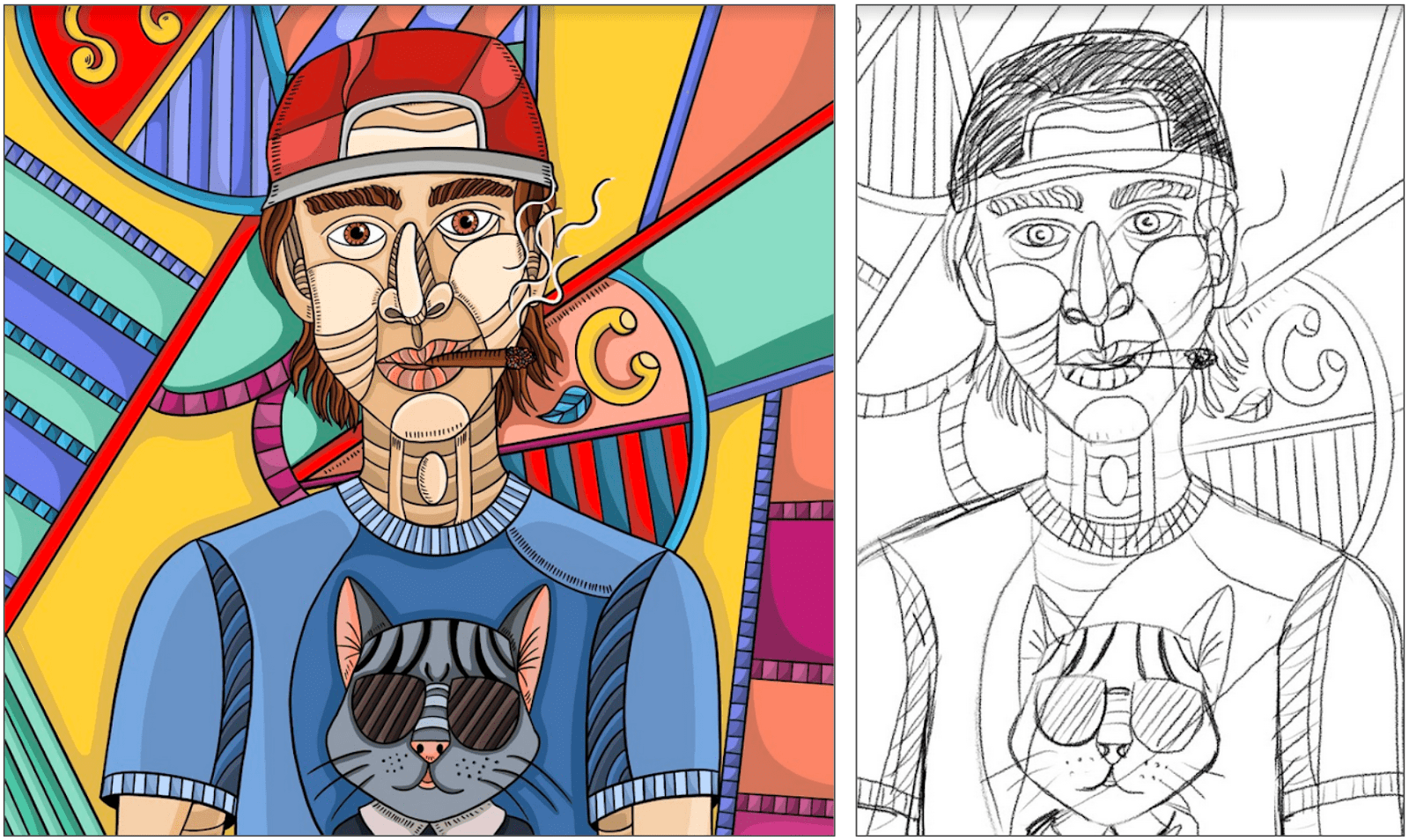 Artkrieg has a unique style, and I liked their take on my brief. In this case, I didn't even need to ask for any revisions. They also
delivered the project several days ahead of schedule
with a high-resolution PNG file and layered source file. As with a couple of other sellers on this list, it was difficult to pin Artkrieg down to a gig. Our initial conversation ended up taking several days, and I had to follow up with them a few weeks later for an offer. This mainly serves as a reminder of how in-demand NFT artists are right now so don't wait around. And I wouldn't want you to miss out on working with this seller – the quality of their art is next level. It's one of the more expensive gigs I paid for, but
Artkrieg's unique art is more than worth the price
.
Price for the Basic Gig
$320
High Resolution

✔

 (all plans)
Access to Source File

✔

 (all plans)
Commercial Use

✔

 (all plans)
Delivery Time

14 days (Basic), 21 days (Standard), 30 days (Premium)

Revisions Included

2 (Basic), 4 (Standard), 6 (Premium)

Fiverr Rating

Fiverr Pro, Top Rated Seller, 4.9 stars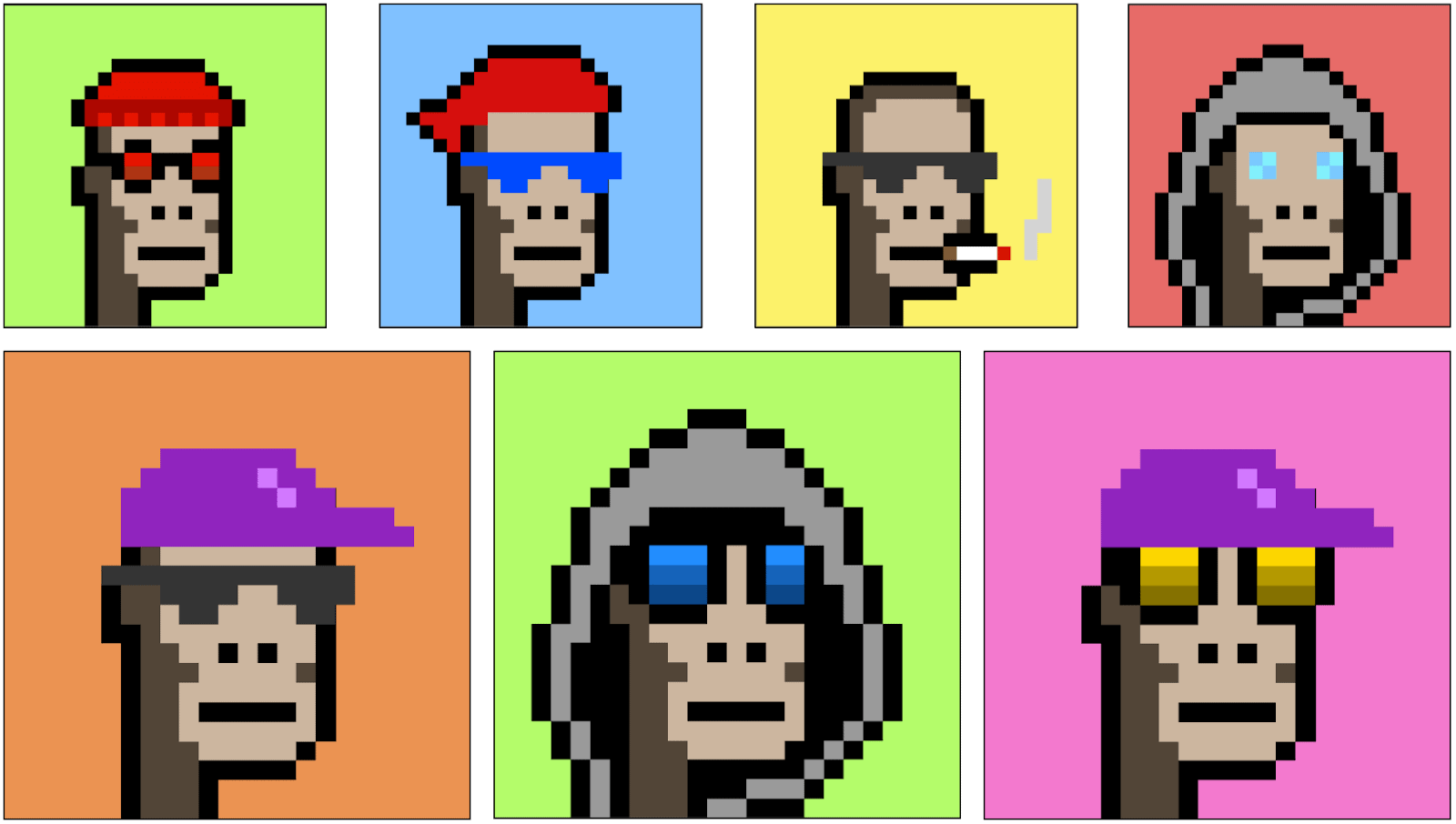 If you're looking to start an NFT collection, Tigerteamdesign has you covered.
Once we'd worked out all of the details, they delivered the whole of our collection within 3 days as expected.
I wasn't able to customize this collection as much as I could with other designers
, but they did throw in 50 additional NFTs for me, which was a nice touch. Usually, the more you pay, the more NFTs you'll receive so I appreciated the free extras. At handover, they sent the artwork, plus macOS compatible versions, an Excel metadata spreadsheet of all assets, and a JSON file for each individual image.
It's a bit more expensive given how simple the art is, but on the whole, it's a pretty good price for an entire collection.
Price for the Basic Gig
$250
High Resolution

✘

Access to Source File

✔

 (all plans)
Commercial Use

✔

 (all plans)
Delivery Time

3 days (all plans)

Revisions Included

Unlimited (all plans)

Fiverr Rating

Top Rated Seller, 5 stars
How to Hire an NFT Artist on Fiverr
Fiverr is my go-to website for hiring freelancers because of how easy the hiring process is.
Plus, it's super easy to find an NFT artist that suits your budget. You can find gigs for as little as $5, but even verified Fiverr Pros are affordable when compared to their non-Fiverr peers. To get started, simply
head to the Fiverr homepage
 and either type "NFT art" into the search bar or use the handy
NFT Art
button just underneath the search bar.
I definitely recommend using the filters beneath the Results header.
You'll be able to narrow down your search by your budget, the art style you want, or even if to specify you want a verified Fiverr Pro.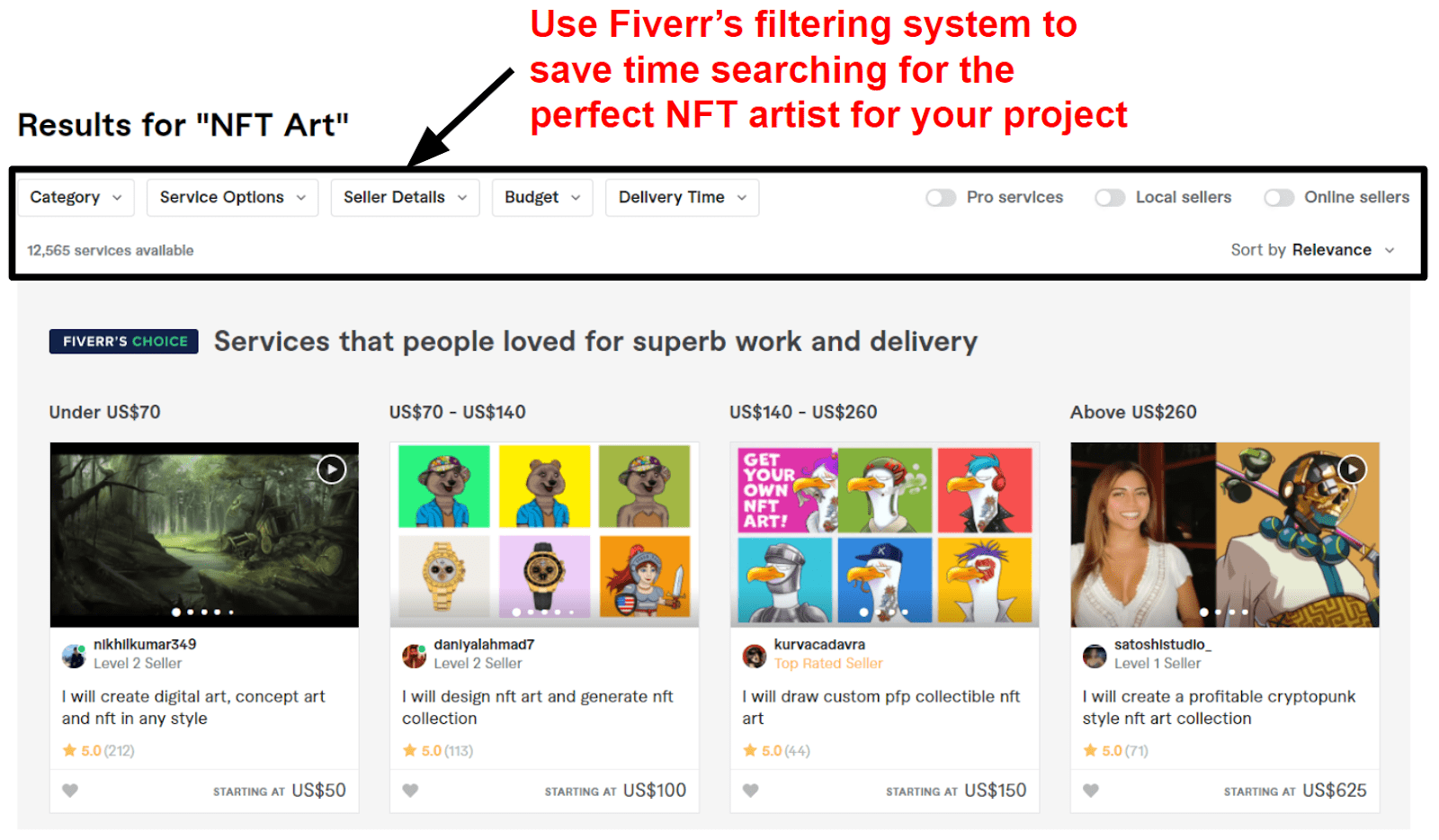 Next, click on a gig you like the look of.
The gig page will give you a quick overview of the artist's previous work, their Fiverr rating and reviews, and how much they charge for their work. Each gig typically has three tiers of service – Basic, Standard, and Premium.
It's important to review this closely as, while you own any work you commission on Fiverr once it's paid for, not every artist offers commercial usage rights.
Plus lower tiers may not offer source files or as many revisions as you need.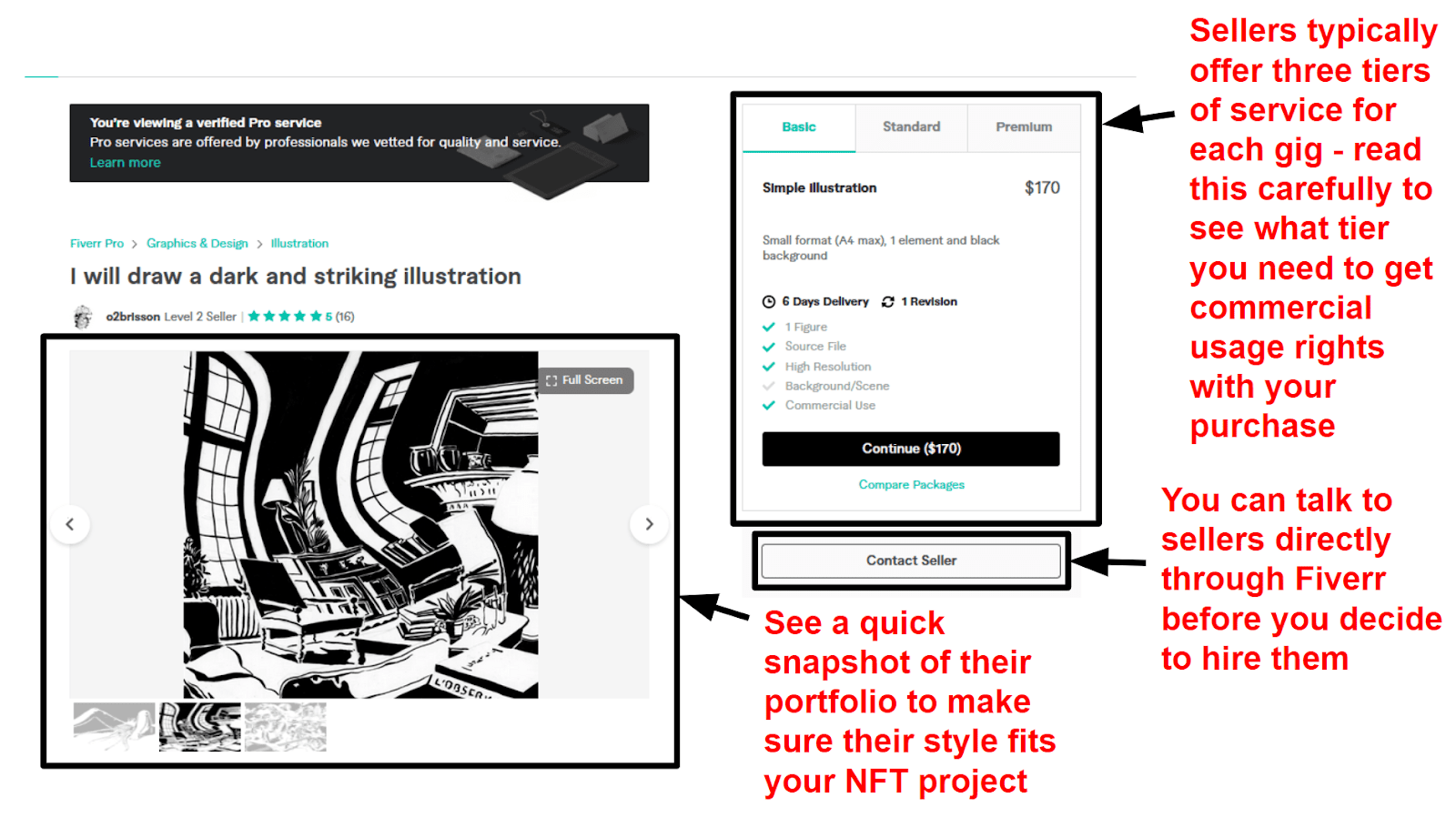 Once you've narrowed down your search to a few sellers,
get in touch to make sure they can take on your project.
Not every artist will have a style that suits what you're looking for, and some might not have time to take on any new gigs. Click
Contact Seller
on the gig page or a seller's profile to start chatting with them.
I can't stress enough how important this is if you're not sure whether commercial usage rights are being offered.
If the gig doesn't specifically mention commercial usage rights, then you need to get this in writing from the freelancer before you hire them. Even a simple message from them that says you get these rights once you've accepted the handover makes sure you're legally covered when you list your NFT artwork for sale. When you're ready to hire a freelancer, you can either
ask them for a custom hire offer or, on the gig page, click Continue under the gig package you'd like
(hint: I'd recommend taking a look at our
Fiverr review
to understand how the whole process works).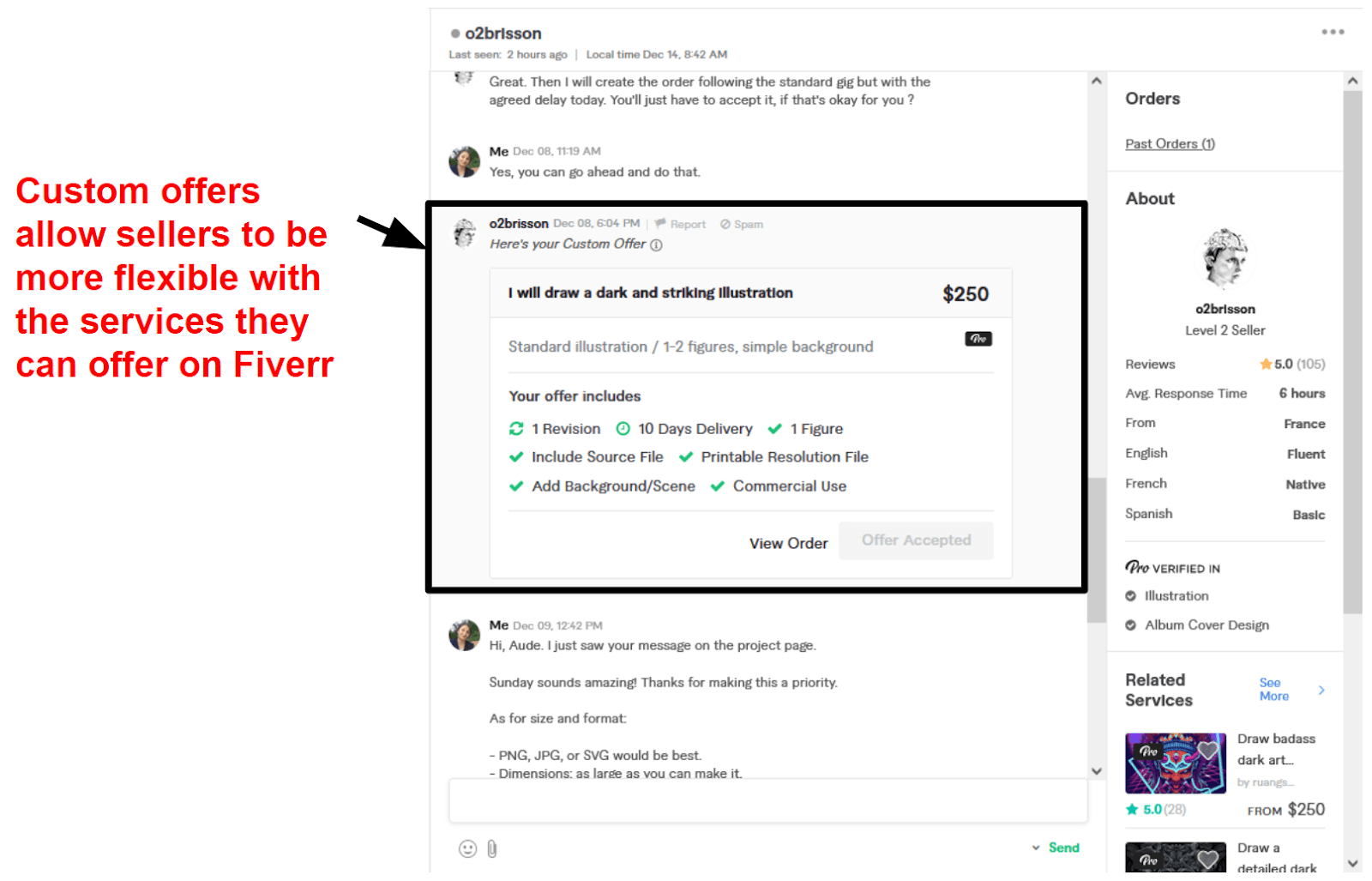 If you're hiring a seller from their gig page, you'll see all the available extras you can add to that gig after you click
Continue
. For NFT art, this is usually commercial usage rights, rush delivery, or extra traits and assets.
Once you've added what you want, click Continue to Checkout, sign in to Fiverr or make an account, and enter your payment details.
And that's it – your very own NFT artwork is now in the works!
Fiverr vs. Fiverr Pro: Which Is Better for Hiring an NFT Artist?
Fiverr is well known for having a massive range of freelancers with gigs starting at only $5. And
with such a wide range of talent, it was inevitable that some would rise above the rest
based on their years of experience, skills, and customer service. Thus, the Fiverr Pro program was born. While Fiverr sellers don't need to wait for verification before they start selling,
Fiverr Pros all have their skills verified by the platform.
Each applicant has to send in a detailed application form, supporting documents, and a video where they explain why they're Fiverr Pro material. According to the platform, only 1% of applicants are granted Fiverr Pro status. We've got a
detailed comparison of Fiverr vs. Fiverr Pro
– make sure you check that out for a full breakdown of what makes Fiverr Pro sellers the best of the best.
But is Fiverr Pro worth it for your NFT project?
Honestly, it depends. There wasn't a huge difference in terms of communication or reliability between Fiverr and Fiverr Pro sellers. The biggest difference was that Fiverr Pro sellers were more likely to have a unique style instead of following the typical NFT aesthetic of pixel art.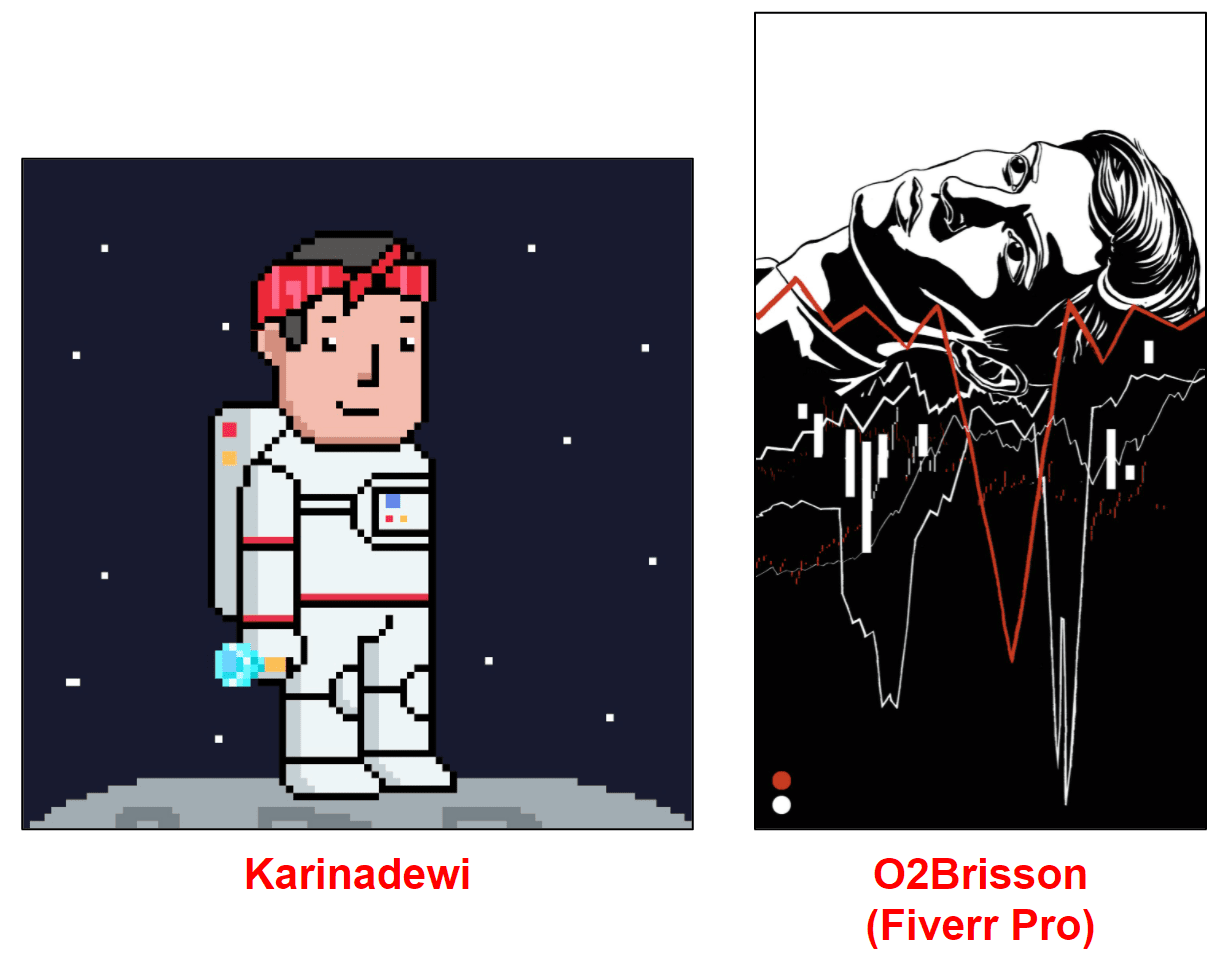 Fiverr Pro sellers are typically more expensive because of this
, but I definitely think the price is worth it based on how stunning the artwork I received was. However, if you want to build a collection of NFTs instead of commissioning single pieces, you might find the cost becomes too expensive.
What to Look For in an NFT Artist
Fiverr has thousands of NFT artists and designers,
and it can be daunting trying to narrow that down to just a handful of artists. I recommend using the following criteria when you're hunting down the best NFT artist for you:
Offers commercial usage rights. Whether this is included in the gig or available as a paid extra, having these rights in writing is vital for selling your commissioned artwork as an NFT. This can potentially save you a legal headache later on.
Source files as a deliverable. This is particularly important if you're commissioning an NFT collection, as you'll need the files to generate each variation of the base character.
The number of revisions. While ideally, everything will be perfect upon handover, sometimes we may lose or forget certain items along the way. Having a good number of revisions, with a minimum of two, allows the seller to make adjustments to the artwork according to your preferences before you accept it.
The art style. Some art styles, like pixel art and cartoon characters, are better suited for collectibles. On the other hand, unique art styles and subjects make fantastic one-off NFT drops.
Are You an NFT Artist Looking to Sell Your Services on Fiverr?
Now that Fiverr's added a dedicated NFT art category,
there's never been a better time for NFT artists to sell on Fiverr.
Head to the Fiverr homepage and click
Join.
From there, you can use your email, Facebook, Google, or Apple to sign up.

You'll need to verify your email address before you can do anything else. Click the link in the verification email from Fiverr, and it'll open a new Fiverr page.
Click the circle in the top right corner, and head to Profile.

The next step is to customize your profile.
This is your space to sell your skills as an NFT artist, so make sure you fill out as much information as you can.
At a minimum, I recommend adding a profile picture, a short bio, the languages you speak, and some of your skills. Once you've done this, click
Create a New Gig.
---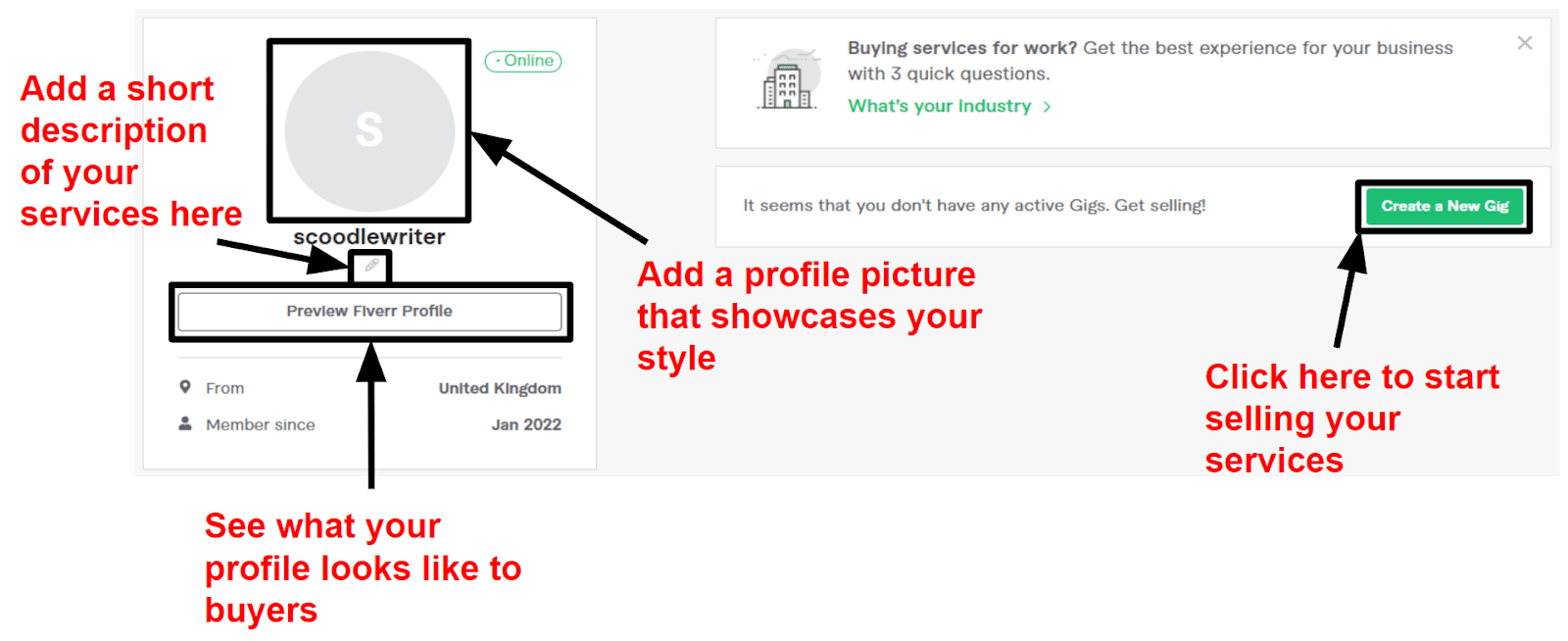 Creating a gig on Fiverr is simple, as we found in
our Fiverr review
.
First, you'll need to give Fiverr some more information about your business,
including your skills, the industry you work in, and some other personal information. From there, decide on a title for your gig and select a category and subcategory. Fiverr will typically suggest these based on your details, but
for NFT art, you'll want to select Graphics & Design > NFT Art for your primary category.
You'll also be able to add up to five tags to describe your gig. If you're not sure what to add here,
check out our full guide to creating a Fiverr gig.
Then you'll need to create your gig packages. These are automatically labeled as Basic, Standard, and Premium, but you can rename them if you want to.
You'll be given certain gig options based on your gig category
, which for NFT art will be things like source files, commercial rights, and the number of revisions. Finally,
fill out the gig description with information about you, the gig, the deliverables you're offering, and the information you need from the buyer.
You'll also need to add some portfolio pieces to the gig page to demonstrate your style and skills. Once this is in place, you're good to go!
Hire an NFT Artist or Designer and Make Your NFT Dreams a Reality
With so many talented NFT artists selling their work on Fiverr
, you don't need to know your way around Photoshop to hop on the NFT train. Fiverr is fantastic for intellectual property rights
.
Almost every NFT artist on Fiverr offers commercial rights as standard or a paid extra, and you can easily get in touch with them to clarify this if you need to. All you have to do is head to Fiverr's NFT art category and start narrowing down the thousands of gigs to find an art style you love.
FAQ
What is an NFT artist?
An NFT artist is someone who designs art to be used specifically as non-fungible tokens (NFTs). While any kind of artist can design works to be used as NFTs, more and more artists are refusing to do so because of art theft. So, some artists choose to specify that they're happy to design NFTs, and you can find a ton of these artists on Fiverr.
Who is the best NFT artist in 2023?
Mike Winkelmann, or Beeple, is one of the top-selling artists with an average price of $127,283 per piece. Mad Dog Jones is also well known in the crypto space for selling surreal and dynamic NFTs, and his work often sells for thousands of dollars. However, you don't have to pay this much to hire a great freelance NFT artist from one of our top freelance websites.
What are some of the bestselling NFTs?
The biggest-selling single NFT is Pak's The Merge, which sold for $91.8m in 2021. However, usually, the best-selling NFTs are part of a collection like Cryptopunks, Bored Ape Yacht Club, Cool Cats, or Doodles, as these often grant access to exclusive Discord channels and other membership benefits.
Can you make money selling NFT art?
You can, but given the constantly fluctuating gas fees and price of ETH (the cryptocurrency you need to trade NFTs), it can be difficult to make a profit. It's certainly not impossible, but it does take additional effort to plan what art you want to sell, how you're going to price it, and how much you're willing to pay to get that art commissioned. Here are the best artists we've found to commission for NFT art.