With so many different online form builders available these days, it can be hard to know which one to choose. Can a free form builder give you everything you need? Or are you better off investing in a paid plan?
Either way, since online forms are such an important part of your website – and your website is such an important part of your business – you want to be sure to choose the right one.
You want to be able to easily figure out how to get your forms to do everything you need them to do. And you certainly don't want to discover your database is too limited when it's too late to do anything about it, or that your form isn't attractive enough to get people to fill it out in the first place.
What might be the best online form builder for someone else isn't necessarily the best one for you. That's why we've tested and compared all the top form builders and put together this comprehensive list. Read on to find out which one is best for your needs.
Our Top Picks
Wufoo – Powerful free builder with excellent reporting and analytics features
Zoho Forms – One of the easiest free builders, with loads of integrations
Google Forms  – A 100% free builder with official Google add-ons
Leadformly  – A phenomenal set of tools to capture leads and increase conversions
Ninja Forms  – The best WordPress form builder with lots of add-ons and integrations
What We Look For in the Best Online Form Builders
Flexible: You want to be able to make different types of forms, from standard questionnaires to lead generation surveys and everything in between
Simple: Building an online form shouldn't take up hours of your time or require a how-to guide
Feature-rich: You should have access to all the functionality you need, including useful third-party integrations
Customizable: You want your forms to match your branding, to create a seamless customer experience
Free Online Form Builders
If you choose to use a free form builder, you're going to want one that doesn't limit you too much. Most of the free form builders on this list do have paid versions, but in this article, we'll be focusing on the features you get for free.
#1: Google Forms – Feature-Packed and 100% Free
Google Forms is one of the all-time easiest ways to build an online form, especially if you're already familiar with Google's other apps.
Standout Features
Google Sheets Integration. All of your form submissions are automatically saved into a Google Sheets spreadsheet instead of a local database – which makes it easy to keep track of your form submissions and share them with others.
Conditional Logic. Google Forms supports basic conditional logic, which means that the questions people see can be adjusted based on the previous answers they have provided.
Add-Ons. There is a range of add-ons to choose from, including formLimiter (which limits the number of times your form can be submitted) and Form Notifications (which allows you to customize the email notifications you receive).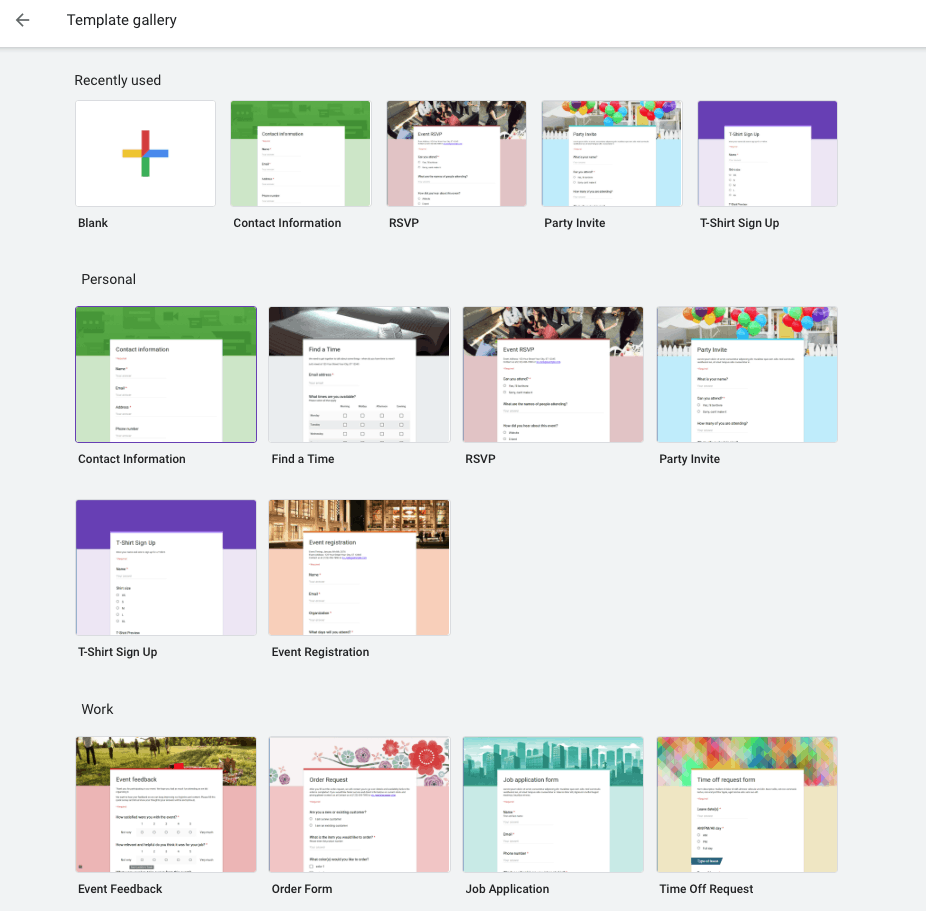 | | |
| --- | --- |
| Free Plan Restrictions | N/A |
| What You Get When You Upgrade | All features are included for free |
| Number of Templates | 17 |
#2: Wufoo – The Best for Advanced Analytics
As a featured Wix partner, Wufoo is a great choice. Although the interface looks super simple, its features are anything but basic. You can choose from a huge range of templates and easily customize your form's fields.
The downside Wufoo form builder's free plan is that the limits are pretty tight. For instance, you can't have more than ten fields on a form, and each option in a multiple choice section counts as a field, so they can add up quick.
Standout Features
Customization. Forget about having a generic-looking form. Some of the other tools on this list don't give you advanced customization options, but with Wufoo forms you can create a super personalized look. Adjust alignment, build custom themes, and select colors to match your website and make your form stand out from the crowd.
Predefined Choices. If you're collecting specific information from your website visitors (perhaps for a research project or as part of a survey), you can easily pre-populate common demographic options for a multiple choice field. Add gender, age, employment, income, and education options with just a couple of clicks.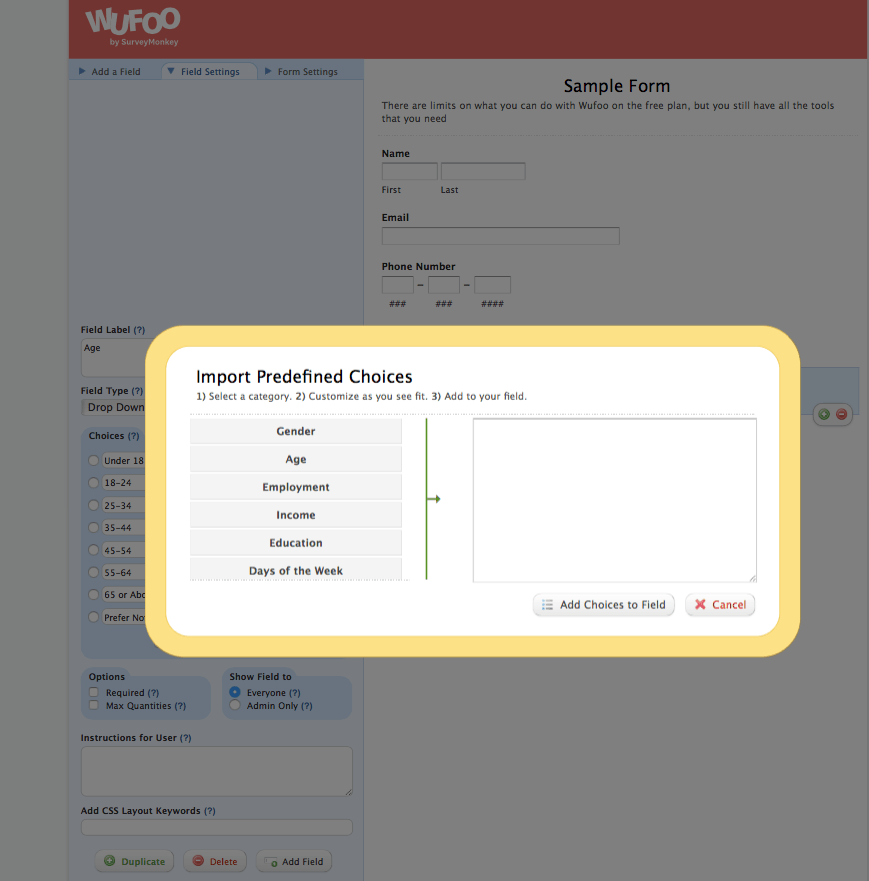 Reports. Instantly create detailed, graphic reports without even opening a spreadsheet app. Reports can be customized, too.
Want to learn more about Wufoo? Click here to read our expert review.
Free Plan Restrictions

5 forms
10 form fields per form
100 submissions/month

What You Get When You Upgrade
Access to features like DocuSign and file upload
Number of Templates
400+
#3: Zoho Forms – Tons of Features and 30+ Field Types
Zoho Forms is part of the Zoho family of apps, which includes CRM (customer relationship management), email, accounting, document editing, and more. The platform has also been designed to integrate well with third-party apps, like Zapier, which means you can automatically send your form entries to a custom database,even on the free plan.
Standout Features
Rules. Zoho Forms allows you to create specific field, form, and page rules. This lets you instruct Zoho Forms to perform certain actions based on the particular responses. For example, in the screenshot below, I've created a form rule for my email subscription form so that people are taken to a page explaining GDPR rules if they fail to tick the GDPR consent checkbox.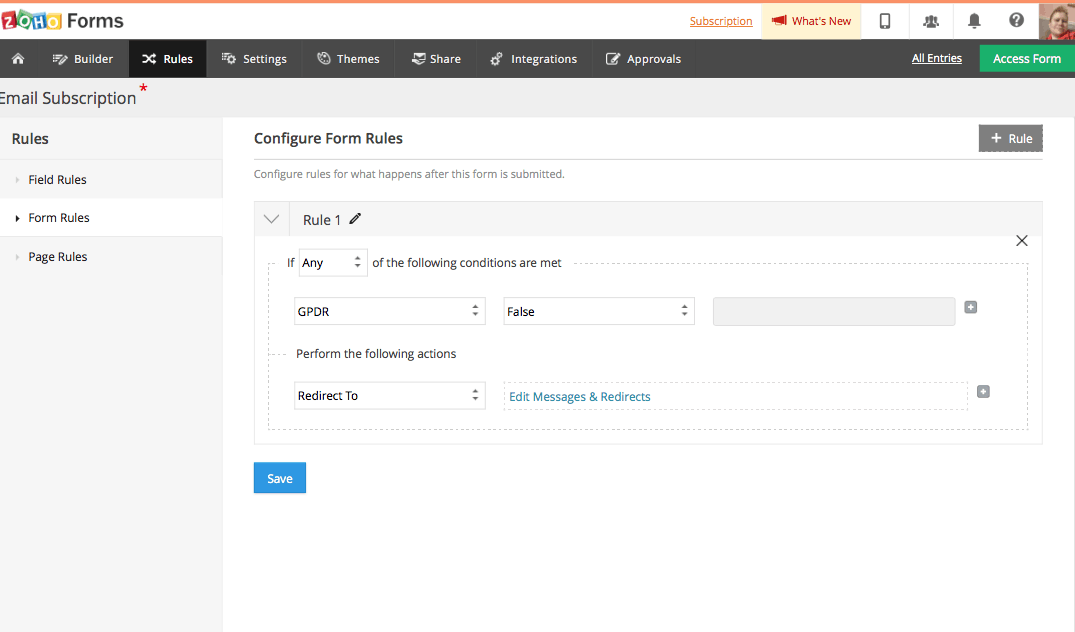 Field Types. There are more than 30 field types that you can choose from when you're building your forms, including geolocation, decision boxes, file upload fields, formulas, multiple choice, radio buttons, and checkboxes. With Zoho Forms, you're not limited to a certain number of form fields, either.
Notifications. As well as having your form responses stored in your database and automatically emailed to you, you're also able to send confirmation messages to your visitors' email addresses. Few free form makers offer this feature.
If you're interested in learning more about Zoho Forms, don't miss our expert review.
Free Plan Restrictions

3 forms
500 submissions/month
200MB file storage

What You Get When You Upgrade
Unlimited forms and up to 150,000 form submissions per month
Number of Templates
10+
#4: JotForm – The Largest Collection of Free Templates
With JotForm, not only do you get the tools to create great-looking forms, but you can also accept payments from 30+ different payment gateways (just keep in mind that you can only receive ten payments per month with the free plan). JotForm integrates with Dropbox and Google Docs, plus lots of other widgets that let you add extra features.
Standout Features
Visual Form Builder. JotForm uses an intuitive drag-and-drop builder. It's easy to customize styles, fonts, backgrounds, and color schemes.
Templates. There are more than 10,000 (yes, you read that correctly) free templates available. In popular categories such as registration forms, signup forms, evaluation forms, and contact forms, you'll literally have dozens of options to choose from.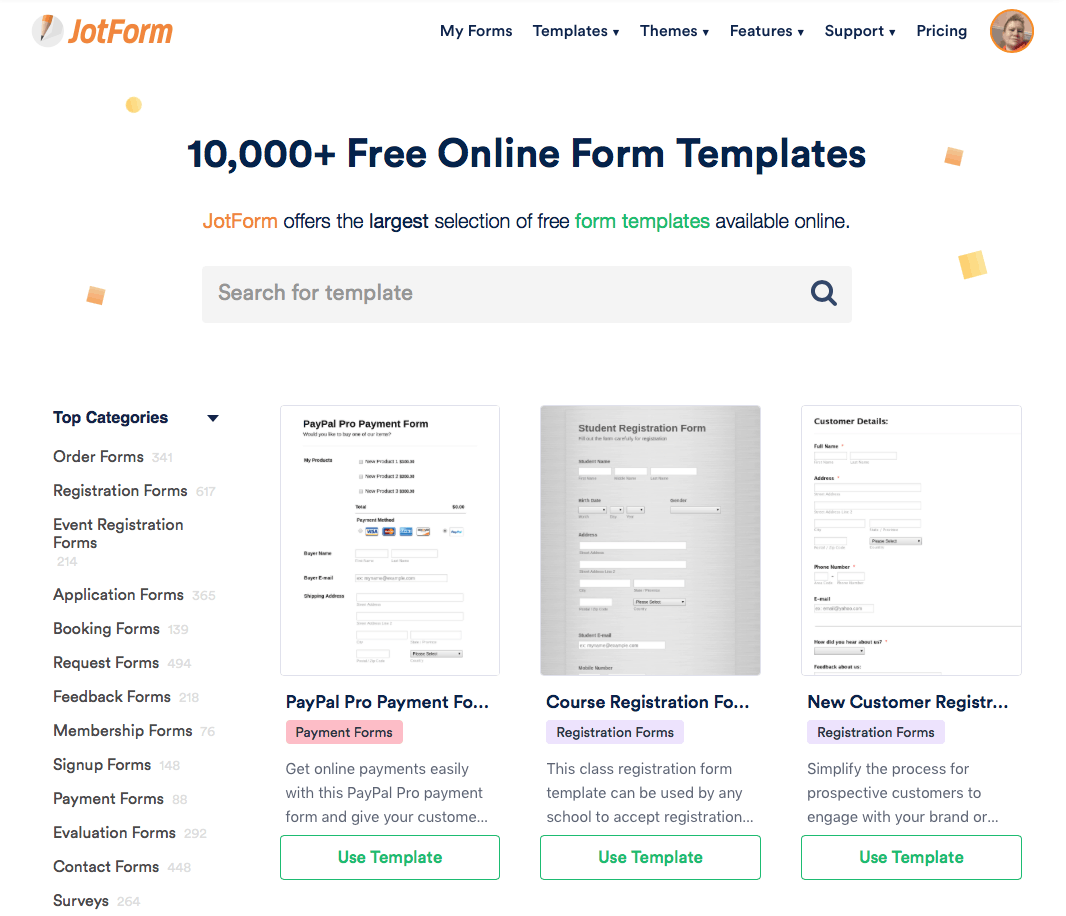 Mobile Forms. JotForm Mobile Forms is a new app-based form creation tool that enables you to create forms on the go. Plus, you can allow users to scan barcodes, take photos, and more.
For more in-depth information about JotForm, read our expert review.
Free Plan Restrictions

5 forms
100 submissions/month
100MB storage

What You Get When You Upgrade
Remove JotForm branding, plus get more submissions and HIPAA compliance
Number of Templates
10,000+
#5: Typeform – Great Design That Encourages Conversion
Designing forms that look amazing is a breeze with Typeform . There are more than 80 pre-designed, modern and stylish templates that you can choose from. The form builder integrates with Google Analytics so you can easily analyze your data, plus you can connect to Zapier.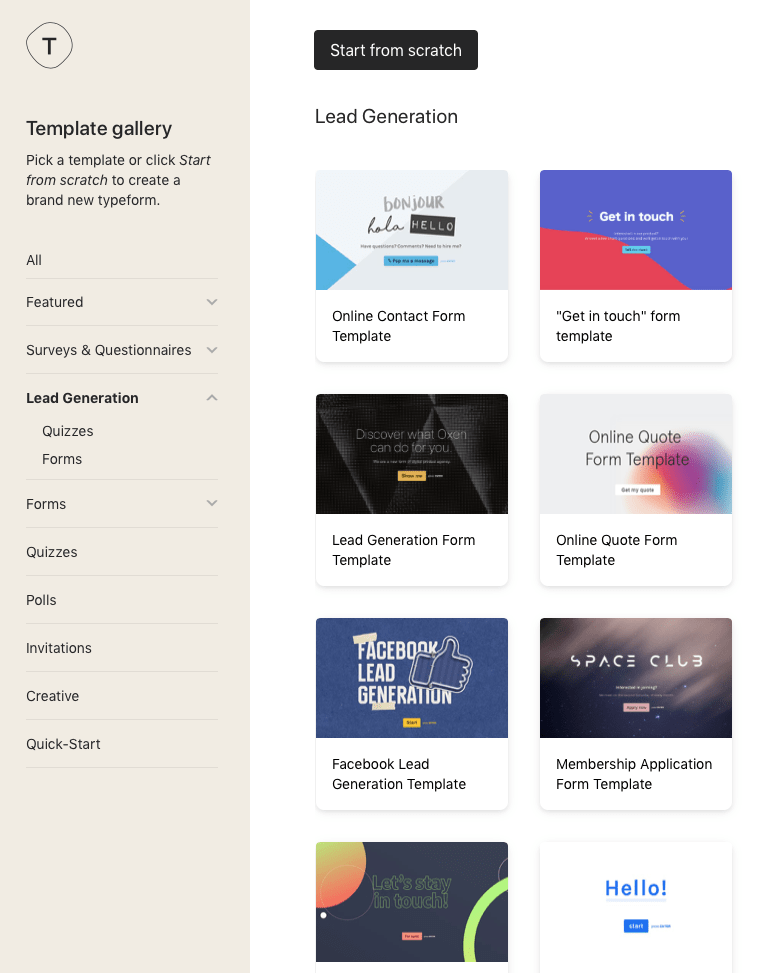 Standout Features
Unique Design. If you're tired of the same old form types, you'll appreciate the modern look of Typeform forms. Instead of displaying all questions at once, Typeform shows one question at a time, which can help improve completion rates.
Keyboard Shortcuts. Your visitors can fill out an entire form using only a keyboard. This includes selecting multiple-choice options, typing into dropdown menus to filter out the options, and pressing "Enter" to go to the next field. The result? More submissions!
Mobile-Friendly. The larger buttons on a Typeform form make it much easier for your visitors – especially your older visitors – to make selections and fill out your forms on mobile devices.
Free Plan Restrictions

10 questions per Typeform form
100 responses/month

What You Get When You Upgrade
Unlimited responses and questions
Number of Templates
80+
#6: 123FormBuilder – Simple, yet Full of Advanced Features
With 123FormBuilder , you get 200 templates to choose from, plus an impressive array of tools – including two-step verification, multiple fields on a row, and support for e-signatures. It integrates really well with platforms like Wix and WordPress so you can easily add forms to your website. Plus, you get full access to the HTML code.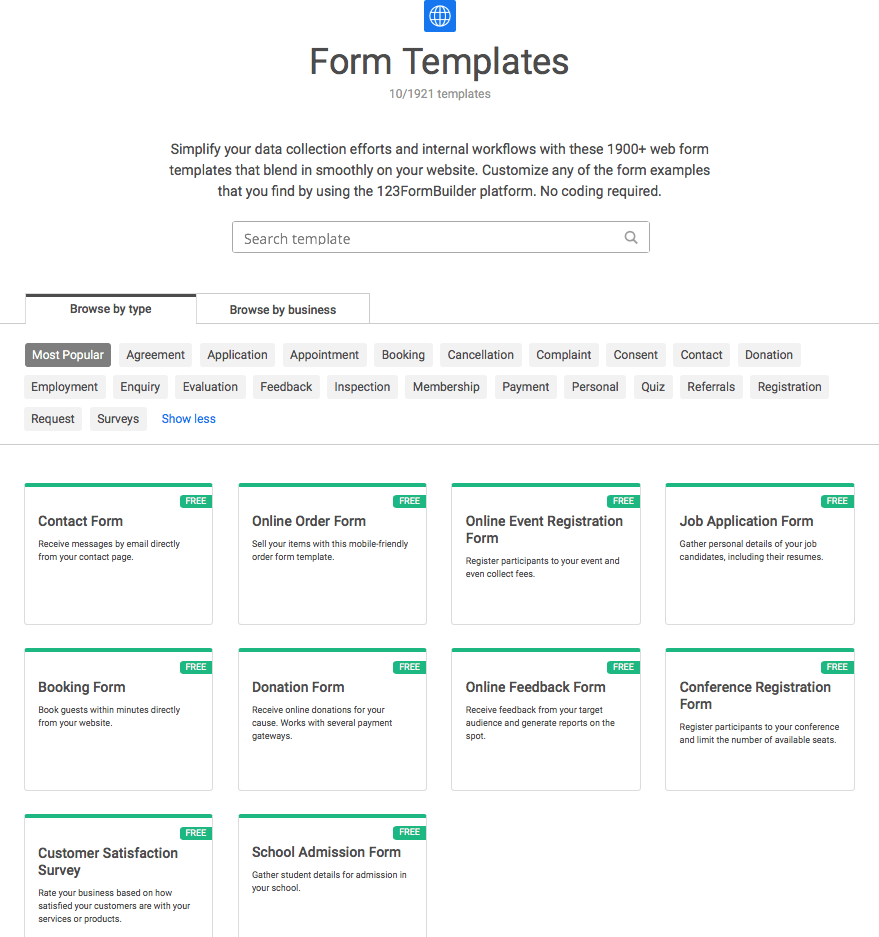 Standout Features
Multiple Notifications. While most website form builders have some kind of email notification system activated when a new form submission is saved to your database, 123FormBuilder has a more advanced system that allows notifications to be sent to three different email addresses on its free plan.
CSS Customization. Take the design of your online form to the next level with the ability to customize your CSS code. Change colors, styles, and more!
Theme Creation. Design your own theme to match your website's branding. Plus, you can save your theme to use on all of your future forms. The theme creation tool lets you create up to three custom form themes on the free plan.
Free Plan Restrictions

5 forms
10 form fields
100 submissions/month

What You Get When You Upgrade
Custom email templates, HTML blocks on your forms, and SSL encryption
Number of Templates
200+
#7: Formsite – The Best for Text Encryption
If you're looking for a more secure solution for your online forms – for example, if you're collecting healthcare responses – then Formsite is for you. Not only do you get text encryption, but you can also produce password-protected reports. Unfortunately, you only get a daily summary email (rather than email notifications) on the free plan.
Formsite offers a large number of form field options for free, plus you can upload files. The biggest downside? You only get ten results per form with the free plan.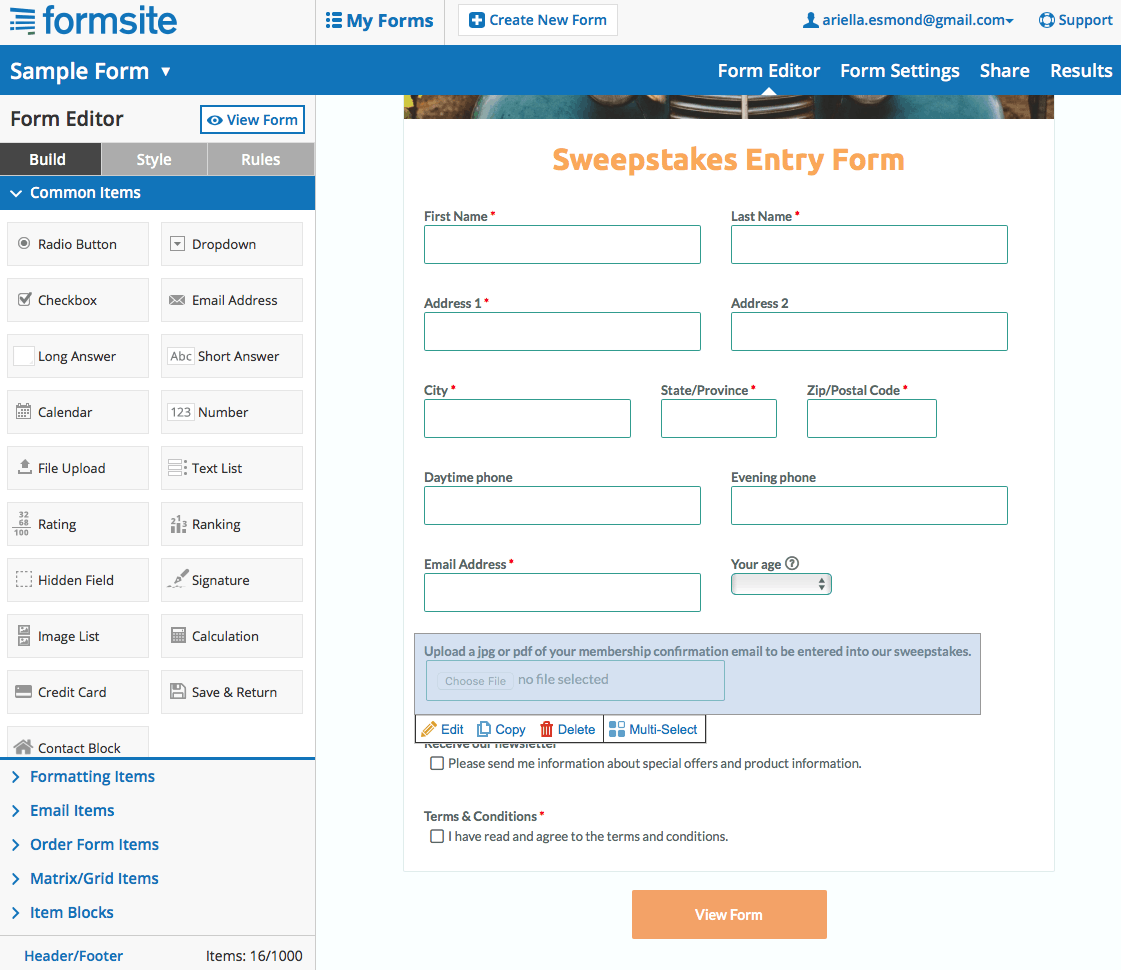 Standout Features
Spam Prevention. As well as being compatible with reCAPTCHA, Formsite comes complete with automatic spam protection for all forms. This feature ensures that every response you get is genuine, so your database isn't filled with spam entries.
Text Field Encryption. Free online form builders don't usually come with the level of security that Formsite offers. With text field encryption, you can assure website visitors that their data is safe – which means they're more likely to hand it over.
QR Code. Direct people to your online form using a QR code. Great for adding to leaflets and other physical literature, so you can reach people who might not otherwise find your form.
Want to know more about FormSite? Read our expert review.
Free Plan Restrictions

5 forms
100 submissions/month
50MB space

What You Get When You Upgrade
Payment integration and additional results
Number of Templates
30+
Paid Online Form Builders
Time to upgrade to a paid form builder? Maybe you need more monthly form submissions than what the free form builders offer. If you're running a business, being limited to 100 form submissions (or less) per month doesn't offer much room for growing your customer base.
Market research and lead generation are two of the most important things for businesses. The best form builders in the paid category are the ones that give you the tools you need to increase conversions and grow your business.
#8: Leadformly – The Leader in Lead Capture
Create great-looking online forms that give your business a massive boost with Leadformly. This super easy drag-and-drop builder comes packed with advanced tools that can help grow your business, fast.
Standout Features
Form Analytics. You get advanced data for an at-a-glance look at figures like conversion rates, the value of each lead, and the way that people respond to your questions.
Conversions. Leadformly has a reputation for increasing conversions – up to 212%. It uses over fifty conversion-boosting best practices, including lead segmentation. With Leadformly, you can achieve up to a 45% conversion rate.
Smart Spam. Instead of using Captchas, Leadformly has developed a "honeypot" spam trap. The intelligent spam filter has been designed to filter out spammers and give you more leads.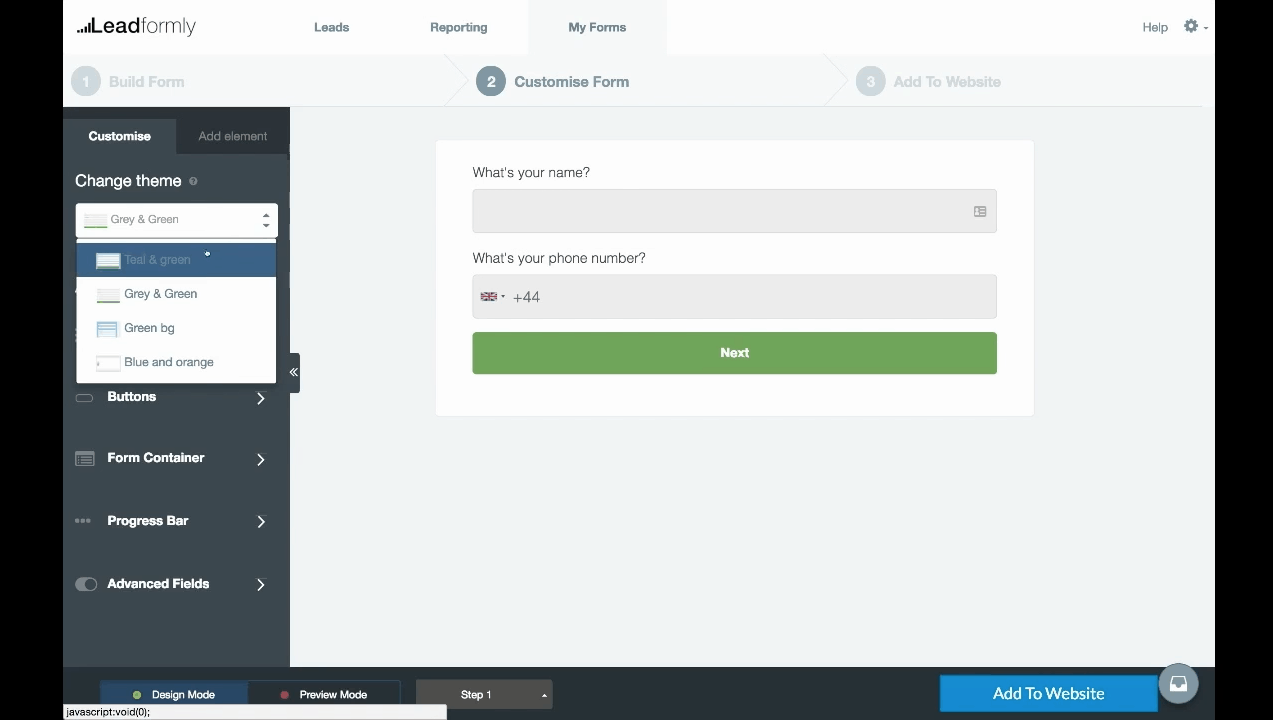 | | |
| --- | --- |
| Free Trial? | 14 days, but you'll need to provide credit card details |
| Number of Templates | 24 |
| Best For | Marketing |
#9: Ninja Forms – The Best to Use With WordPress
A flexible form builder designed especially for WordPress, Ninja Forms can be downloaded and installed for free. But if you want to use it for business, you'll need to either subscribe to a yearly plan or purchase some add-ons.
Standout Features
Add-Ons. With Ninja Forms, you don't have to sign up to a yearly plan. Add-ons can be purchased individually so you can pick and choose. For example, if you're on the personal plan and want to add a Zapier integration, buying the add-on would be up to 60% cheaper than upgrading to the next level plan.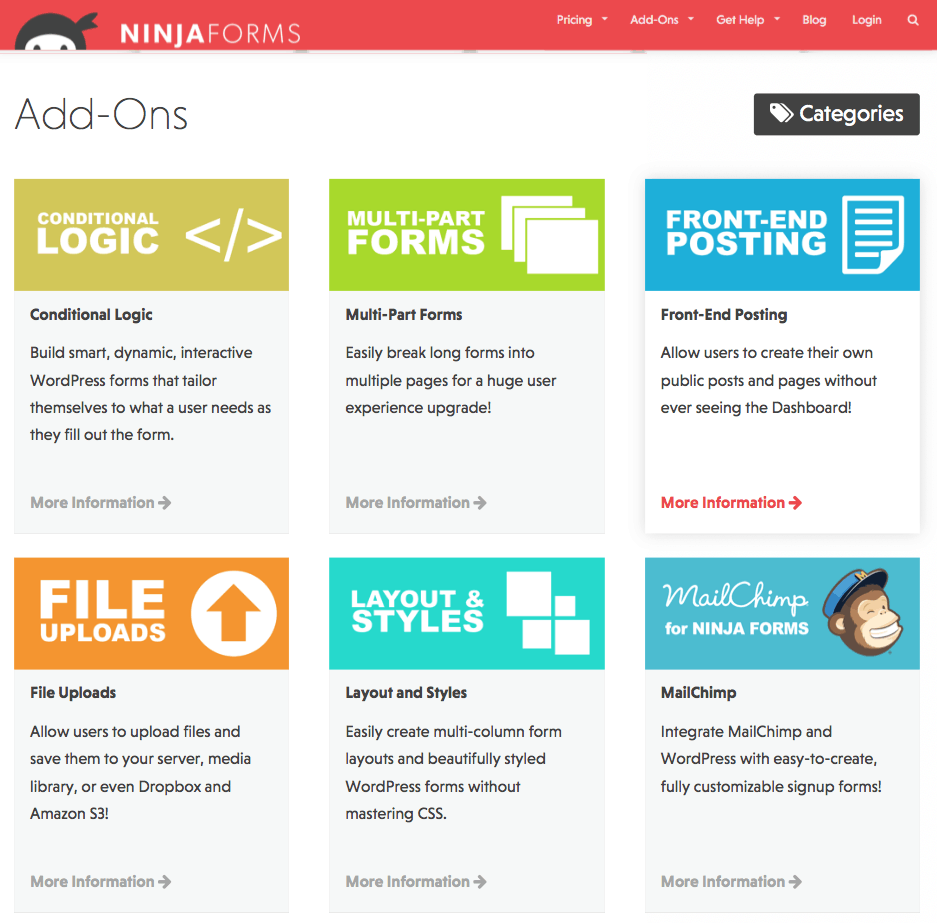 Add-On Manager. The Ninja Forms dashboard in WordPress has a handy manager that enables you to install the add-ons you've purchased with a single click, so you can quickly get started with creating advanced forms.
Widgets and Shortcodes. Ninja Forms only works with WordPress – but it makes adding forms onto your pages and posts in WordPress easy, like really easy. You can use shortcodes, widgets, and automatic content to give your forms the most exposure possible.
| | |
| --- | --- |
| Free Trial? | 14-day money-back guarantee on add-ons, plus you can download the plugin to try for free |
| Number of Templates | 12+ |
| Best For | Small businesses |
#10: Formstack – Perfect Solution for Regulated Businesses
With a stack of advanced tools for all types of businesses, Formstack is particularly useful if you have strict data rules you need to adhere to. Other features include A/B testing, accepting payments directly through the form, and custom branding. The interface is clean and easy to use, with a drag-and-drop-style builder that makes customizing your form a breeze.
While Formstack doesn't offer a free plan, you can sign up for a 14-day free trial.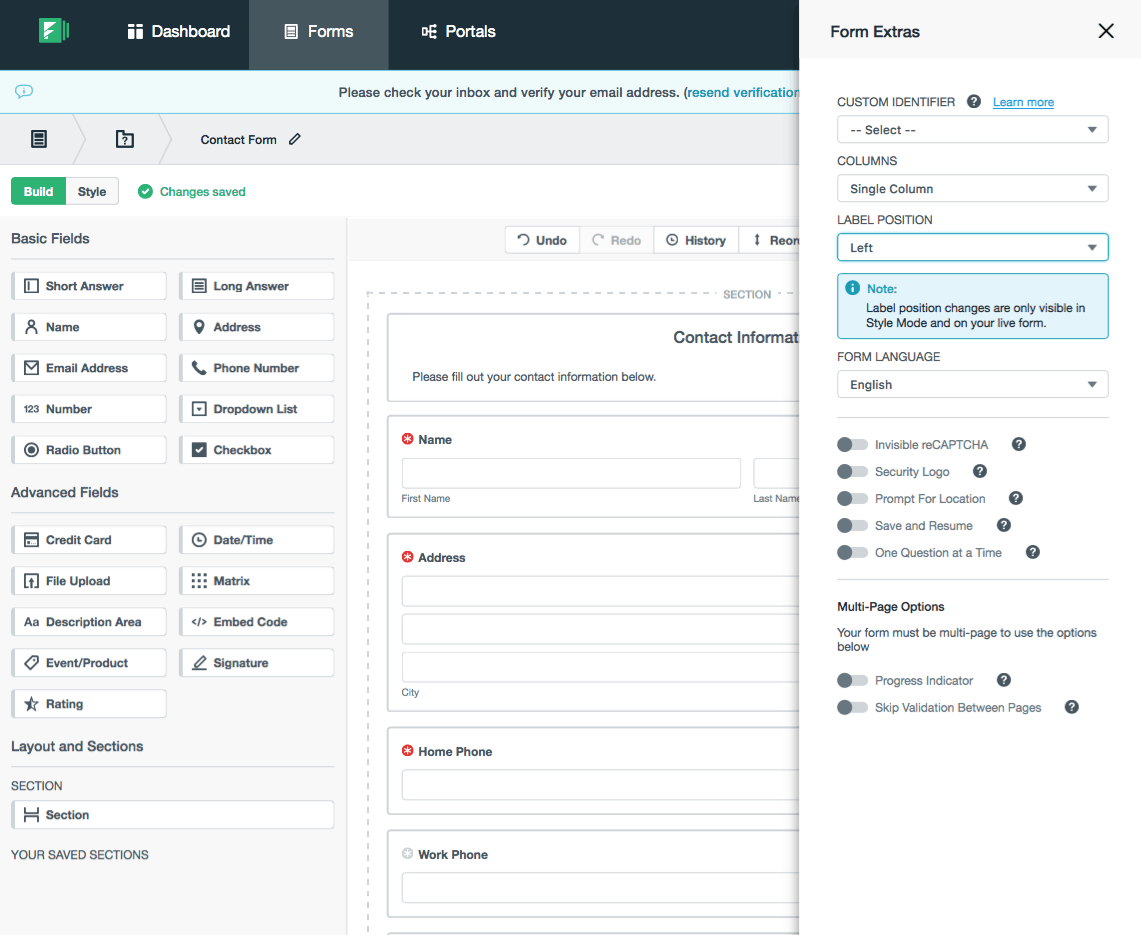 Standout Features
Compliance. If your business is subject to strict regulations, then Formstack offers you the peace of mind of being completely HIPAA compliant. It's also GDPR compliant, and will give you warnings if your form fails to meet Section 508 compliance standards (for users of assistive technology).
Advanced Code Editor. Take complete control of the look and feel of your online form with the theme creation feature. This includes an advanced code editor that enables you to directly edit CSS and HTML.
Approval Workflows. In a regulated business, you need to know that your data isn't being mishandled. In addition to being a HIPAA compliant form builder, Formstack offers approval workflows. These ensure that when form data is submitted it automatically reaches the right person, avoiding any data breaches.
Curious to know more about Formstack? Don't miss our in-depth review.
| | |
| --- | --- |
| Free Trial? | 14 days, no credit card required |
| Number of Templates | 40+ |
| Best For | Healthcare or other regulated businesses |
#11: Paperform – Forms That Look Like Landing Pages
If you're looking for a feature-packed builder that's designed to help you create great looking forms, Paperform is a solid choice. The interface makes it incredibly easy, and can be used for everything from contact forms to "landing forms" – where landing pages meet online forms, like in the screenshot below: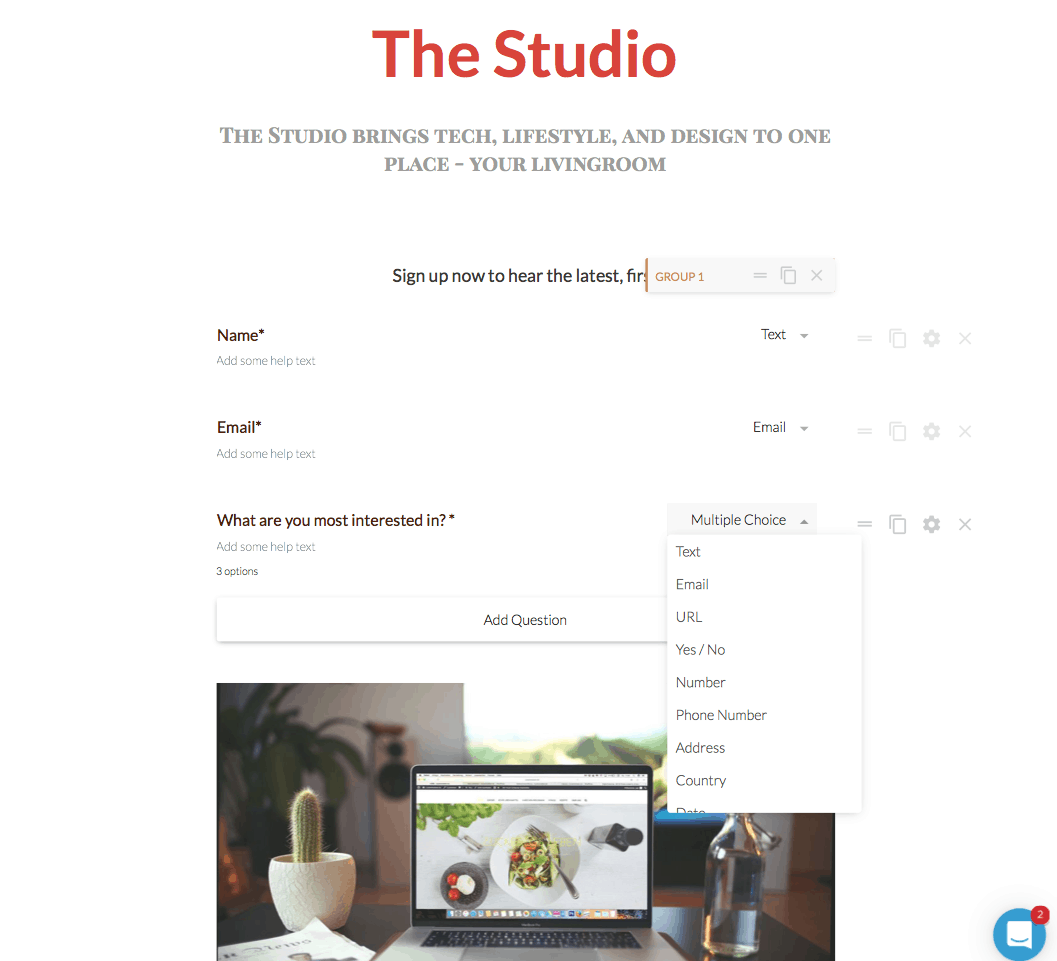 Standout Features
Payments and Subscriptions. It's super easy to accept payments. You can set up subscriptions and accept donations, too. Payments are processed via Braintree.
Simplicity. Even with its powerful tools, Paperform is amazingly easy to use. The editor has been designed to feel like you're simply writing a doc as you're building your form.
Onboarding and Application Forms. Paperform is perfect for setting up application forms and client-information forms (onboarding forms) directly on your website. It also makes the filling out process feel more enjoyable and like less of a chore.
| | |
| --- | --- |
| Free Trial? | 14-days, no credit card required |
| Number of Templates | 120+ |
| Best For | Marketing, onboarding, and recruitment |
Free and Paid Solutions for Fabulous Online Forms
With free form builders you do face restrictions, such as in the number of submissions you can receive or the number of forms you can create. Despite these restrictions, it can be surprising just how many features you can get without having to pay.
Need more tips? Here are some potential issues to avoid when creating an online form and tips for optimizing your mobile form design.
If you're running a business and are in the market for a paid online form maker, then you're much less likely to face restrictions. That said, not all paid plans are unlimited, so it's worth checking exactly what you're getting before you sign up. Extra charges, when you go over the limits, can quickly add up!
Online forms are really easy to create and have come a long way in terms of design in just a few years. With new ways of collecting data popping up every day, there's no excuse for having a boring, basic form on your website.
Our Recommendations
| | | | |
| --- | --- | --- | --- |
| Free Online Form Builder | Integrations | What You Get When You Upgrade | Standout Feature |
| Google Forms |  Google Sheets, 30+ add ons | N/A | 100% free |
| Wufoo | Only on paid plans | More form submissions and up to 13 advanced features | Form building is faster when you use predefined choices |
| Zoho Forms | All Zoho family apps, G Suite, Salesforce, Zapier | Unlimited forms and thousands of monthly submissions | Receive up to 500 form submissions each month |
| JotForm | Payment gateways, Adobe Doc Cloud, eSign, Google Docs | More form submissions and payment options | Choose from more than 10,000 free templates |
| Typeform | Google Analytics, 500+ apps via Zapier | Unlimited questions and submissions | User-focused, one-question-at-a-time, modern form style |
| 123FormBuilder | Wix, WordPress, e-Signatures | HTML blocks, more submissions, SSL encryption | Ensure form submissions aren't missed with the multiple notification system |
| Formsite | Only on paid plans | More submissions, workflow features, security compliance | Prioritize security with text field encryption |
| | | | |
| --- | --- | --- | --- |
| Paid Online Form Builder | Integrations | Pricing | Standout Feature |
| Leadformly | 1,000+ with Zapier | $$ – $$$ | 50+ conversion best practices incorporated into the builder |
| Ninja Forms |  Dependent on plan (Zapier included on higher tier plans) | $ – $$ | Pick and choose your add-ons rather than being tied into a yearly plan |
| Paperform | Payments, Zapier, direct integrations with Google Sheets, and more | $ – $$ | Build forms that double as landing pages without having to know a single line of code |