When trying to get feedback from customers, nothing beats a simple online form. They are fast, easy, elegant, and the best part is, there are plenty of free versions to choose from. The worst thing, though, is clicking on a supposedly free form builder only to be hit with a bunch of promotional advertising to BUY, BUY, BUY. Fortunately, there are still a few great online form builders that are true to their word of being gratis software (although, you can sign-up for a paid account to unlock additional features). Here are our top picks for REALLY FREE online form builders today.
#1: Typeform
Founded in 2012, Typeform has been around for a while. This is a platform that knows what users are looking for, and what works. It creates exciting, distinctive forms that are recognizable from a mile away. With a simple to use editor, Typeform offers pretty sophisticated features, including useful reporting and API access.
Best Features
Survey generator
Responsive forms
Drag-and-drop builder
Reporting
What We Like
Typeform offers online forms that are fun and easy to make. It uses the simple drag-and-drop builder with tons of different styles to choose from. Companies can build multi-step forms, implant hidden fields, and even use conditional logic to get the most out of each form. Typeform forms also have a lot going on behind the scenes including Zapier integration, the ability to run A/B testing, and useful webhooks/API.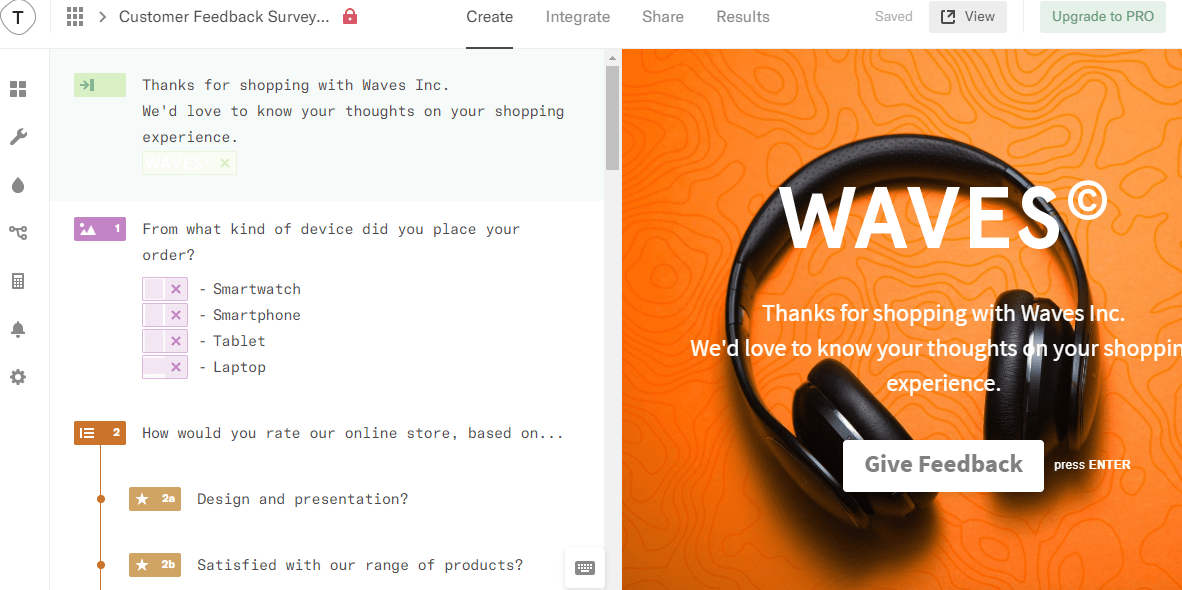 What We Didn't Like
Typeform has some amazing step-by-step guidance to help you build your forms. That said, it's not totally intuitive for beginners. What we didn't like about Typeform was how easy it was to get confused if you took a wrong turn. For example, when we tried adding a calculator function to the form we set up, Typeform told us a calculator couldn't be used here, but it didn't explain why.
Typeform has its own style, so if a business is looking for something that will promote their personal branding, this is not the place to search. Additionally, at the time of writing, Logic Map is only available in beta.
Extra Pay-For Features
Unlimited responses
Unlimited fields
Customize branding
Email notifications
Conditional logic
Calculator
Custom thank you screen
Hidden fields
Mailchimp integration
Best Suited For
Typeform is great for smaller businesses that are less concerned about brand consistency, and are just looking to collect data with fun and engaging forms.
#2: Cognito Forms
A small, family-style business, Cognito Forms is a powerful tool that allows businesses to create a professional appearance regardless of size or manpower. Forms have loads of functionality, and Cognito Forms really hands over the reins to its users. For example, you can add just about any type of input field including textbox, multiple choice questions, rating scale, and more. You can also specify when a field is shown, whether or not it's a required field, and add help text to your questions. All of these features help you customize the form to your exact needs.
Best Features
Repeating sections feature
PDF document generator
Unlimited forms, even on free accounts
What We Like
Cognito Forms offers responsive designs, drag-and-drop, multi-step forms, hidden fields, conditional logic, and more. This budget-friendly option is also super simple to use. Cognito Forms takes all of the guesswork out of form building by clearly spelling out each step of the process and displaying all of your options in a straightforward and uncomplicated screen view.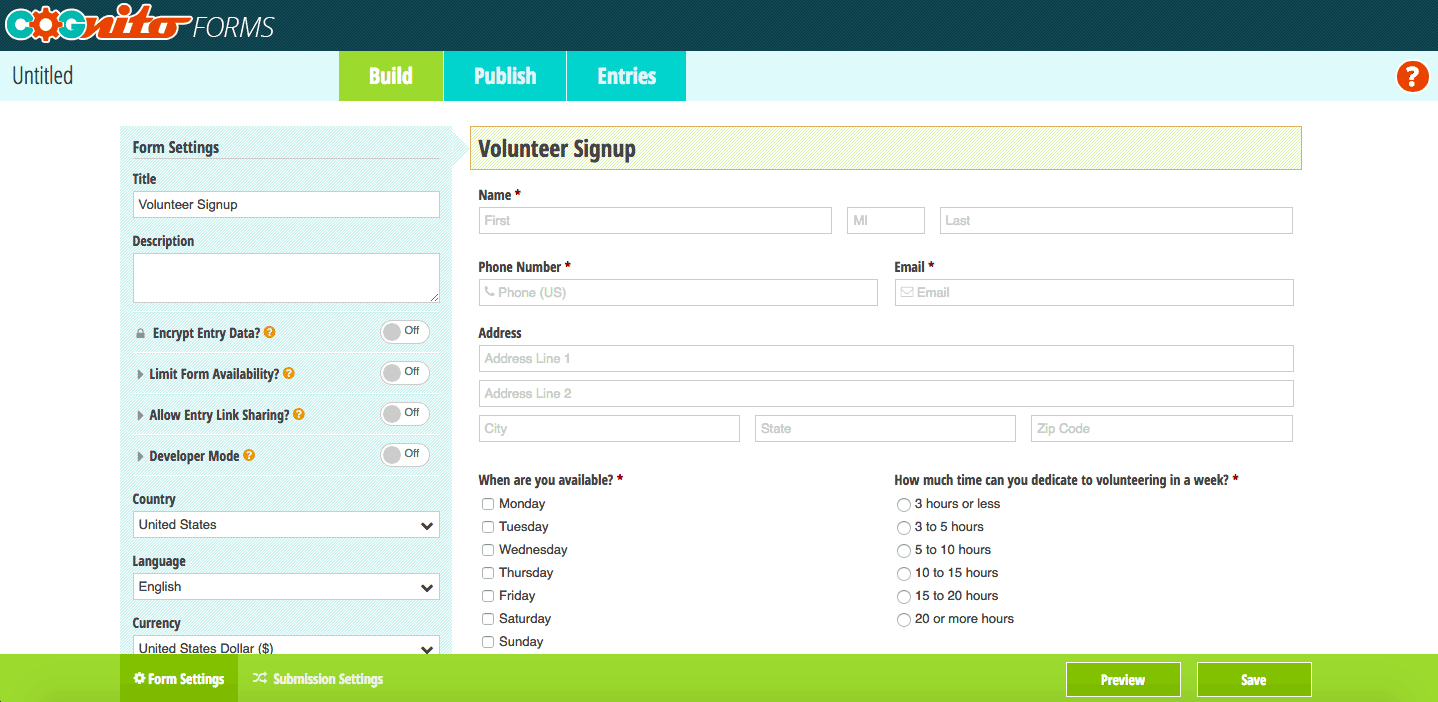 What We Didn't Like
Cognito Forms would do well to beef up its template gallery, which is quite limited at the time of writing. The biggest issue with the free version, however, is the lack of save functionality. You can't start creating a form, and then save it to come back to it later. If you don't publish on the spot, your work is lost. That's a real bummer.
Extra Pay-For Features
More entries
Email attachments
Form folders
Remove Cognito Forms branding
Save and resume
Best Suited For
Cognito Forms is an excellent choice for anyone looking to build professional forms on a budget. While every service on this list is pretty awesome, Cognito Forms is the most well-rounded option we
tried. It has a free option that can meet your most basic form needs, but for just a few bucks, you
can get much more out of the deal. Cognito Form plans continue to grow (in pricing and in features), so
it can really cater to any business, regardless of size or industry.
#3: JotForm
One of the oldest online form builders, JotForm started out in 2006 and is still producing flexible, attractive forms today. With thousands of themes and templates to choose from, businesses are anything but limited with this service.
Best Features
Payment integration available on all plans
Drag-and-drop editor
Setup wizard
Loads of data storage
What We Like
JotForm caters to e-commerce websites, giving them all of the tools necessary to create beautiful forms that function just as nicely as they look. It gives you the ability to use drag-and-drop payment tools like PayPal and Google Checkout, add loads of pictures, and process payments right there on the form.
We also really loved the flexibility of customization, thanks to JotForm's form designer. You'll see a little paint roller that is ever-present on the right hand side of the screen. Click on it, and all of the design options you could hope for pop up from themed color palettes to video uploading and more.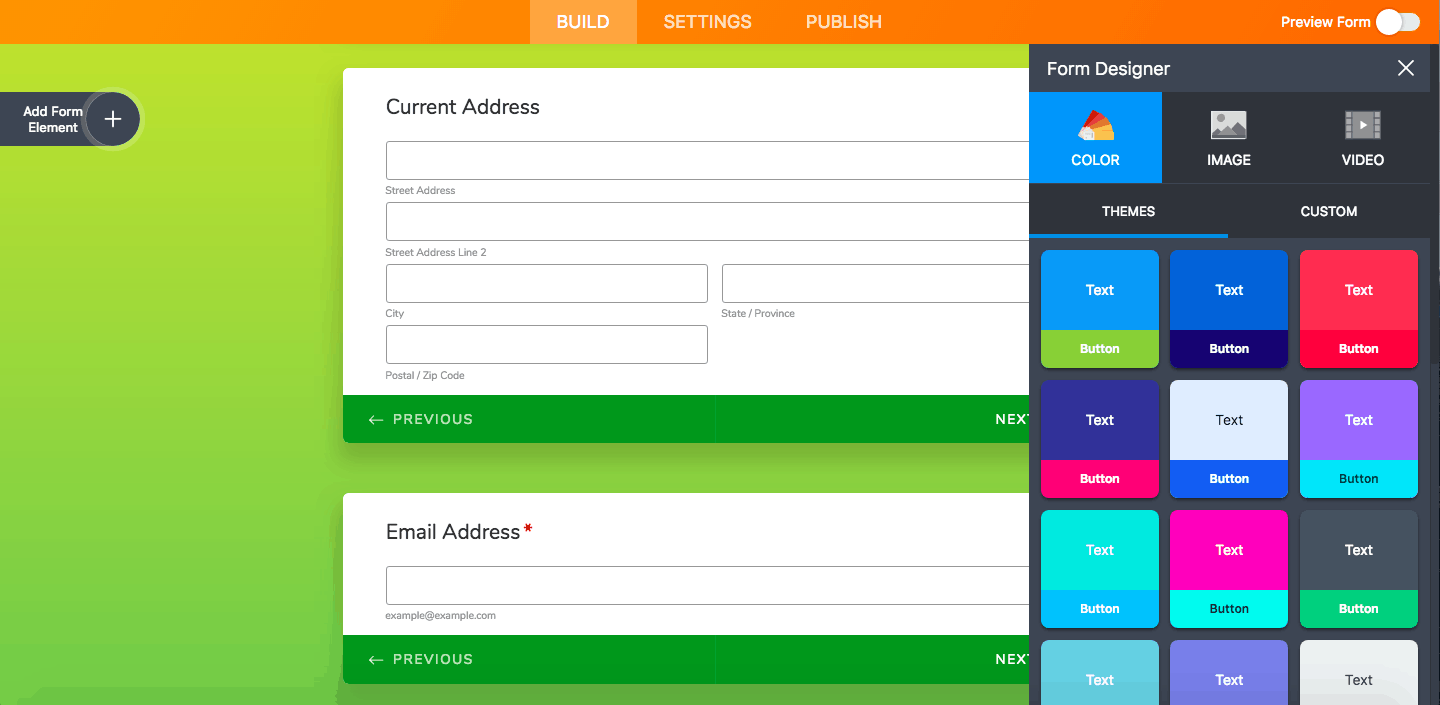 What We Didn't Like
We loved how much you can do with a JotForm form builder. What we didn't love is how long it took to figure all of this out. For one thing, the editing functionality is not found within the Build section of the form builder (somewhere you would intuitively think to put it). Instead, you have to go out to the Settings tab to edit the fields. What's more, getting the integrations to configure properly with your forms can be a bit of a runaround, answering question after question as more options are thrown at you.
Extra Pay-For Features
More storage
More E-commerce transactions
Unlimited form views
Unlimited submission storage
Unlimited reports
HIPAA compliance
Branding-free
Best Suited For
When it comes to e-commerce, JotForm just makes life easier. Any online business looking for a form builder to incorporate various aspects of their business will benefit from this platform. The forms are easily added to a web page, and come with automatic email notifications, PayPal integration, and conversion tracking tools built in. JotForm even has convenient product order form templates to help you get business moving faster.
#4: Formsite
Formsite/VendorExternalUrl] is definitely one of the most professional free form builders online today. It offers a ton of flexibility (depending on the plan you have), and businesses can easily scale forms to fit their needs. After trying out the tool, it's no surprise that so many companies around the world rely on Formsite to create and deploy their online business forms.
Best Features
40+ data fields
QR code option
Social sharing features
Additional storage space
Conditional branching
What We Like
We like that you can use Formsite's services to create a stand-alone form or embed one directly into your website. The interface itself is basic, but clean. You are able to create fairly complex forms quickly. Once you choose a form, adding fields, editing, and publishing is surprisingly smooth. We really liked that Formsite had little pop-ups explaining what to do next.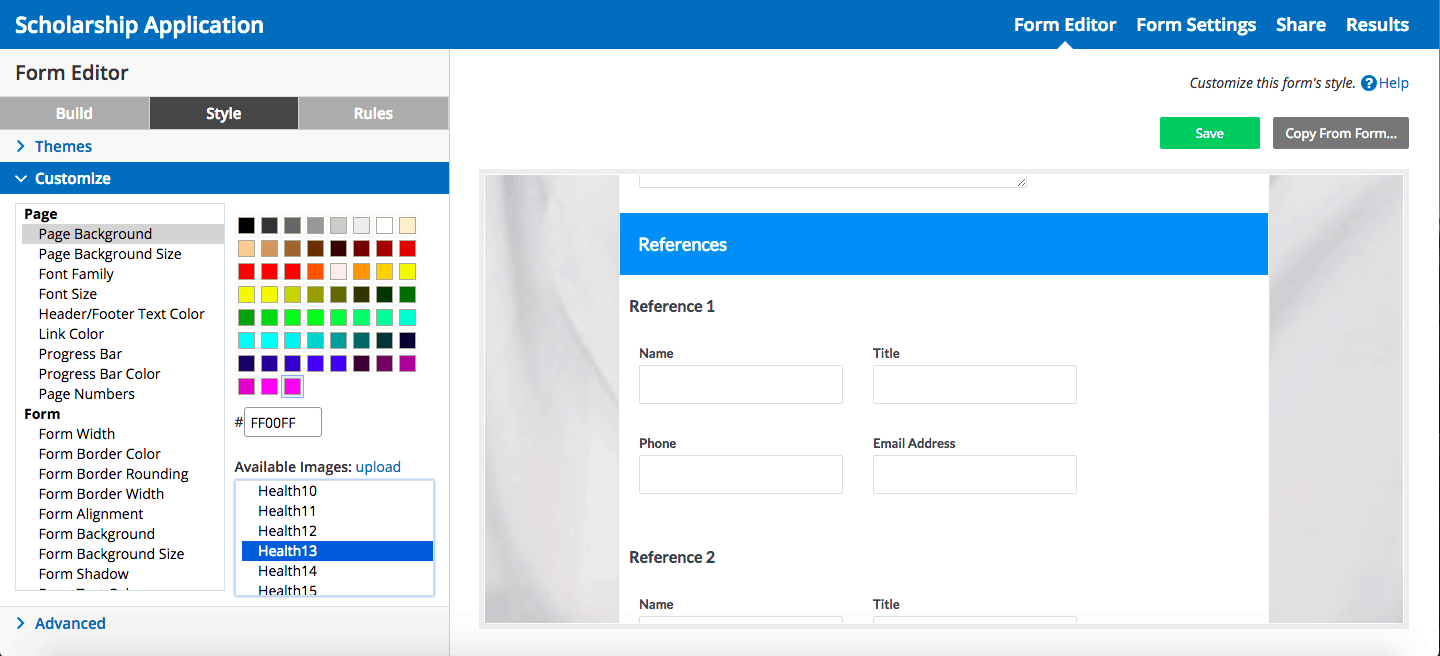 What We Didn't Like
Formsite starts you off with a free trial of one of its pro packages. This gives you access up front to many more features than you would typically get with a free package, which is nice, although it doesn't give users a real sense of what they will ultimately be left with when the trial period has ended. With the free version, we found the templates, usability, and results fairly limited and generic.
Extra Pay-For Features
More results per form
More forms
More file space
Ad-free
PDFs
Workflows
Sub-users
Best Suited For
Compared to the other platforms on this list, Formsite/VendorExternalUrl] has more of an advanced interface, with less of the "shiny" features and design options. This is good for businesses with an on-site tech person who knows what they are doing and are looking to create in-depth professional forms. However, it may be a bit much for someone looking for more basic and easy-to-use features for their small business or personal website.
#5: 123FormBuilder
123FormBuilder is a fast form builder that lets anyone make surveys, quizzes, polls, forms, and more in minutes. It has been designed to make this process simple enough for anyone to use, regardless of their expertise or background.
Best Features
Highly customizable
Email notifications
Accepts payments from popular payment services
Works with multiple languages
What We Like
123FormBuilder really delivers on that promise. Individuals or companies can have great-looking forms in minutes, but that's not all. 123FormBuilder allows users to create a variety of data-gathering tools including surveys, quizzes, polls, and more. Businesses with multinational clients will appreciate the fact that 123FormBuilder works with multiple languages flawlessly, too. We were also quite pleased with how nicely everything was laid out in a clean and uncluttered UI. Combine that with integrated payment processing, and this service makes the ideal choice for E-commerce websites everywhere.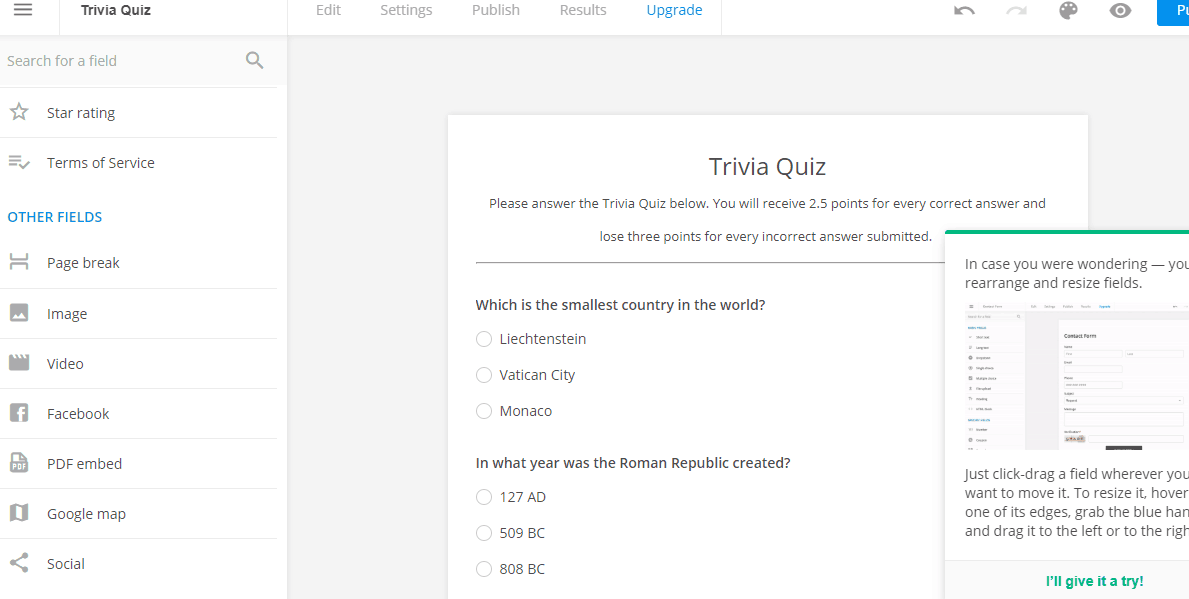 What We Didn't Like
Probably the biggest issue we had with 123FormBuilder was the filter functionality. It's somewhat limited in that you can't filter by status or search by name, for example. We'd like to see this top-notch form builder make it easier to sift through and sort the data being collected. Additionally, the free version of the platform has a limited number of data fields that can be added.
Extra Pay-For Features
More forms
More submissions
Third-party integrations
Best Suited For
This is a great platform that can service e-commerce websites of every size, not only with forms, but other interactive features (such as surveys or quizzes) which can help engage and convert potential customers. That said, you will be rather limited with 123FormBuilder's free service, and may find that you need to upgrade to really enjoy the full range of benefits.
#6: Wufoo
Wufoo is run by SurveyMonkey, so it's no surprise that this is a platform that knows what they are doing in terms of creating smart, visually appealing forms with the analytical power to convert. Servicing some "little" folks like Twitter and Y Combinator, Wufoo is serious business.
Best Features
Simple drag-and-drop editor
Total customization
Logo integration available
What We Like
Wufoo allows companies to create forms, collect data, share information, and review reports all with one simple tool. There's even a payment processor, so businesses can receive payments directly on their forms. And if you are good at design, Wufoo has customizable CSS, so you can get exactly what you are looking to get from your form.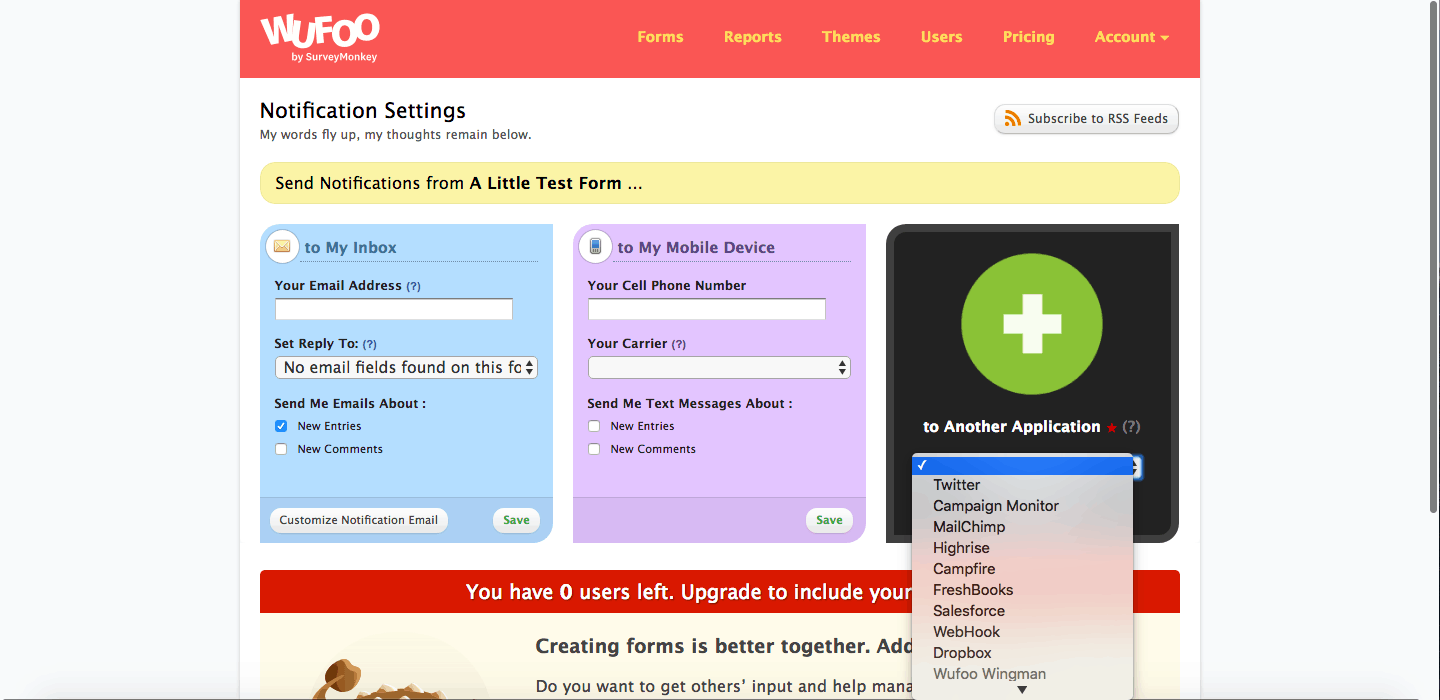 What We Didn't Like
This is a platform that was obviously made for the big leagues. The free version is quite striped down, and small time users would probably be better off choosing one of the other options on this list. Only three forms at a time are available on the free account, each of which are limited to 100 entries per month.
Extra Pay-For Features
If a business is willing to pay, unlimited possibilities open up. The reach a company has with Wufoo's form builder is unbelievable. It has one of the most flexible, user-friendly, and diverse offerings we've ever seen. And quite honestly, we aren't talking about major expenses. You can start unlocking some of Wufoo's impressive design features and functionality for less money than you may think, making this a viable option for small businesses and personal websites.
Best Suited For
Wufoo is generally best suited for bigger businesses looking to maximize their form potential (and who aren't afraid to pay for it). That said, there are cost-effective options available that can meet most every need.
One Last Word
Online forms are easier to design and institute than ever—and won't break the bank. So regardless of whether you are trying to ramp up awareness and sales for your small business or are looking to increase the following on your personal blog, with the right FREE form builder, you have the ability to take your data collection to a whole new level in no time.