Whether a company wants to get to know their audience better, identify trends in the market, or understand consumer sentiment on a particular topic, fill-in forms can be an incredibly valuable resource.
Nowadays, there are plenty of fantastic form builders out there, which allow users to quickly construct forms that can be added to a website
, disseminated through email, or hosted via online portals.
We gathered some of the best around and had a look at what they have to offer.
Regarding pricing plans and features, JotForm provides a very similar offering to that of WuFoo. However, one of its outstanding features—and where it arguably beats out the competition—is
the offering of incredibly modern and attractive templates.
It's important to appreciate how important aesthetics can be to completion rate; clean and modern forms instill trust in individuals who may otherwise be hesitant to share their personal information online.
Users can choose between standard one-page form templates or "card templates," where questions are delivered on cards one at a time with a progress bar at the bottom. This means that even with a free plan there is the ability to create some pretty functional and visually appealing forms.
The main limitations of the free plan are the number of forms (5), entries (100), and views (1,000) offered. With tiered premium plans, users can unlock:
Up to 100,000 submissions

Up to one TB of storage space

Unlimited forms and submission storage

HIPAA compliance (for health-related forms)

No JotForm branding
Almost like a website builder, Jotform allows for a
HUGE amount of integrations through plugin-like apps and widgets
. PayPal, Google Drive, Dropbox, and MailChimp are all there, plus dozens more. Users can also insert a Jotform form on almost any website or platform using the provided embed code.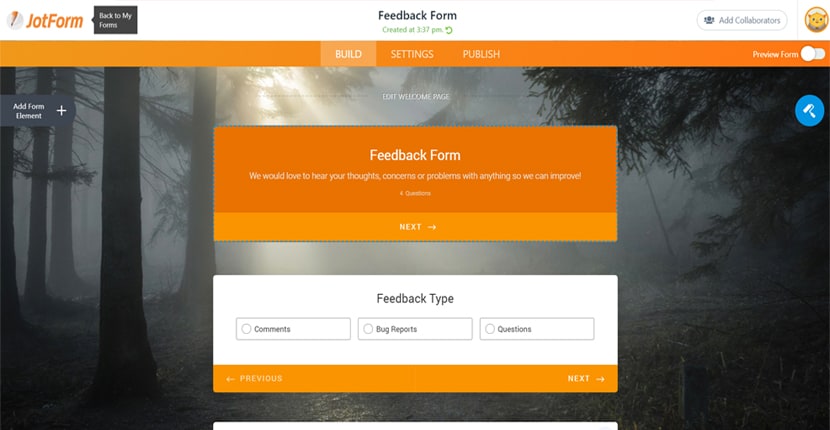 JotForm Form Builder (Card Form)
WuFoo is one of the best form builders out there, and includes a great range of integrations, payment methods, and a decent free account option. The tiered pricing plans allow users to unlock more forms, entries, and uploads, as well as utilize more advanced features, such as form logic.
A cool thing about this platform is that users can try out the form builder for free before signing up. WuFoo also provides premade templates as a starting point for users to create their own individualized forms.
Another great feature of WuFoo is that
it integrates seamlessly with a number of other popular platforms:
Dropbox:

Easily upload files straight into associated Dropbox accounts.

Confluence:

Embed WuFoo forms directly into webpages.

MailChimp : Add contacts to MailChimp mailing lists via WuFoo forms.
Salesforce:

The same as MailChimp.

Twitter:

Automatically update information (e.g., event attendance) within an associated Twitter feed.

Wix :

Embed WuFoo forms onto an existing Wix website.

Google Analytics:

Monitor conversions through advanced real-time tracking and metrics.
Users also have the ability to add payment methods to forms from trusted gateways such as Square, Authorize.Net, Braintree, Chargify, Freshbooks, PayPal, Stripe, and USAePay, which make it a fantastic option for small organizations and individuals looking to monetize online.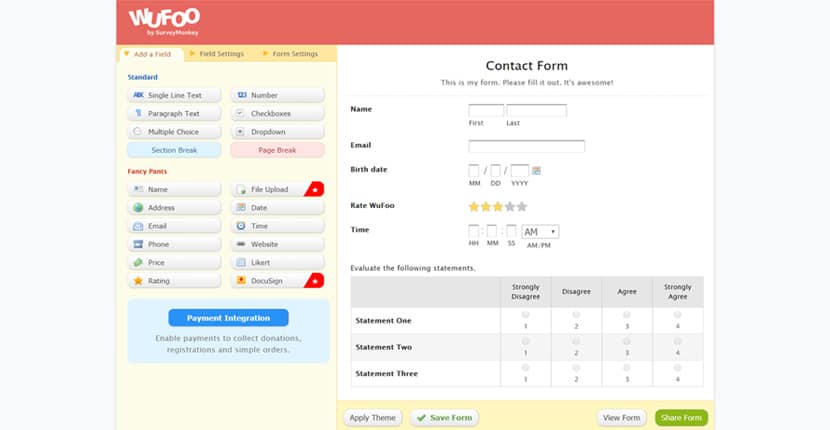 WuFoo Form Builder
Next up, we have FormStack. While FormStack doesn't have any free plans, users can try any plan for free for 14 days. The application offers very flexible pricing plans, which can be billed monthly or annually, offer a range of tiered features, and allow users to "add-on" key features to their selected plan.
FormStack's focus is on creating intelligent forms
. This means that users can:
Create workflows to automate the review, editing, and completion of forms.

Create personalized portals to provide access to saved forms.

Create offline forms that can be completed anywhere and submitted later.

Purchase the Conversion Kit add-on, designed to help businesses meet their goals through metrics and dynamic advice.
FormStack also shines in terms of integrations. Users can easily add FormStack forms to platforms like HubSpot, Drupal, TypePad, and  WordPress . Files can be automatically uploaded to Dropbox, Google Drive or other cloud storage. And, there is the option to accept payments from PayPal, Stripe, etc.
Users also have maximum control over their forms with an extensive form builder. While this may be more than many businesses or organizations are looking for, it is perfect for those who see value in endless customization and the ability to integrate into an established system.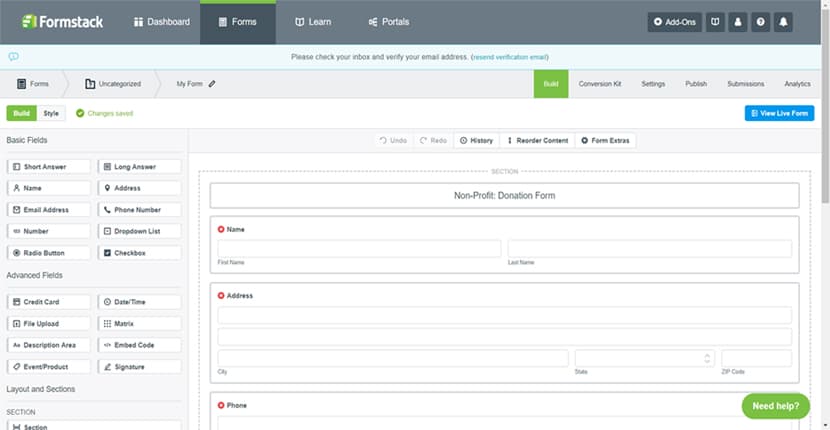 FormStack Form Builder
We then have Gravity Forms, which is
a WordPress form builder plugin
. The main feature of Gravity Forms—and the key differentiator between its tiered pricing plans—is the number of integrations through available "add-ons."
With a
Basic plan
, the most important integrations are:
With the
Pro plan
, users also unlock:
Agile CRM

Dropbox

Trello

Slack

PayPal
And, with the
Elite plan
, users have access to:
Authorize.Net

Coupons and surveys

Priority support

WordPress Multi-site
All plans provide unlimited forms and entries, conditional logic, and multi-page (or, card) forms. Luckily, users can demo the form creation tool before signing up. Gravity Forms also provides the ability to create forms in the WordPress dashboard, which may be a bit complicated for those who are less familiar with this platform.
The main drawbacks to Gravity Forms is that it's
only available on the WordPress
platform and that it has a much higher entry-level price. However, we have to say that it does offer added value in return. So, depending on the budget, it could be a great option.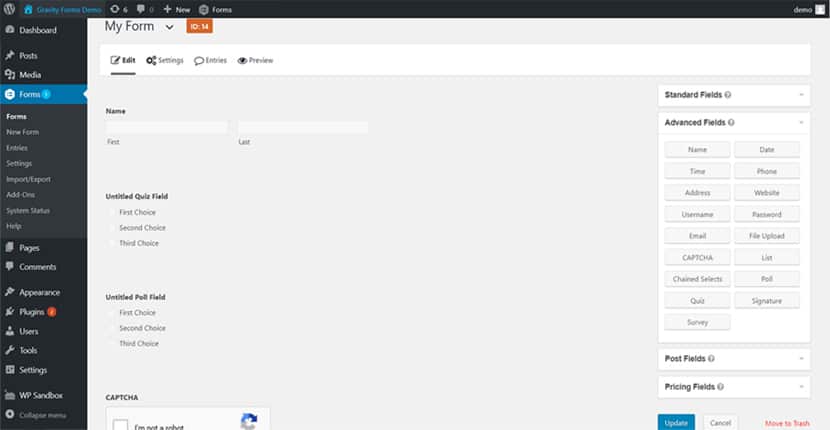 Gravity Forms WordPress Plugin
Form Assembly is the highest-end of all the form builders
on this list with the most costly pricing plans. It's meant for those who need to seriously incorporate forms into their existing online presence or business, and provides advanced integrations, features, and collaboration tools.
With the
Professional
plan, you get:
Salesforce integration

Payment options

Smart formulas to redirect users based on their input

Automatic email notifications and responses
At the
Premier
level, you unlock:
Advanced pre-filling of fields
E-signatures

CAPTCHA authentication

More integrations
Enterprise
is suitable for large corporations and includes:
Up to

three users
Better server infrastructure

Advanced authentication tools for users and participants
The Compliance plan builds on Enterprise with enhanced security, even better server resources and compliance with bodies like the HIPAA and others. In order to evaluate the platform, please initiate a demo request and arrange a suitable timing. Utilizing Form Assembly might not seem beneficial for an individual or if forms are not integral to your business operations. Nevertheless, it stands as a remarkable choice, potentially the best, particularly for sizable corporations or enterprises.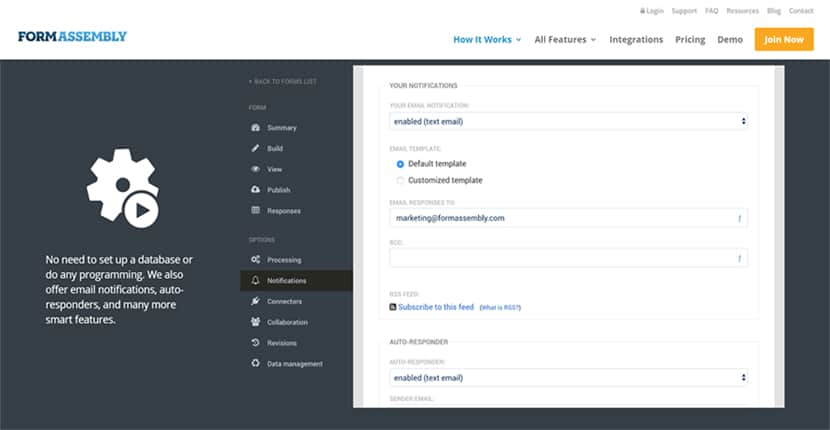 Form Assembly
Shorten the distance between your business and everyone else
In today's world, information is the ultimate commodity; no matter what business, industry or niche we are talking about. That makes collecting data in a way that's fast, efficient, and actionable more important than ever. It also makes the ability to integrate this data collection service into an existing system more important than ever. Take this to heart and invest in one of these excellent form builders that will help any business do just that, and sometimes even more!