In addition to viewing your projects and tasks, you should also be able to create, edit, and assign them, as well as communicate effectively with your team members
. On top of that, you'll want an app that's affordable and easy to use. After thoroughly testing dozens of popular options,
I found that monday.com offers the best mobile (and desktop) functionality
. It's easy to use, and it has an efficient organizational system that helps you visualize your workflow from top to bottom. Read on to find out more.
Short on Time? Here Are the Best Project Management Apps in 2023:
monday.com – Mobile app with intuitive interface and a high-level overview of your projects.
ClickUp – Stellar content creation and collaboration tools on the go.
Smartsheet – Feature-rich app solution for managing large projects.
What We Look For in the Best Project Management Apps
While testing project management apps for this article, I focused on the features you'll really need to successfully manage your projects from anywhere.
Compatibility. The project management app you choose should be compatible with your team's phones. All project management software on my list offer both Apple and Android apps that work on mobile phones and tablets.
Online and offline functionality. Top project management apps should have flexible task management tools, such as the ability to set due dates, change task status, and add reminders. Additional built-in features, such as collaboration tools and document storage, are also helpful – as is the ability to manage work without an internet connection.
User-friendly interface. Even if an app has the functionality you're looking for, a clunky interface can make it difficult to manage work. The project management apps I selected have an intuitive interface that makes it easy to view and manage your activity.
Security. When working out of the office, you may be at greater risk for security breaches. For this reason, a good project management app should meet rigorous security and confidentiality standards. Some of the security management certificates you should look for include Service Organizational Control (SOC) 2 Report, International Organization for Standardization (ISO), and General Data Protection Regulation (GDPR) compliance.
Affordability. All the project management apps on my list either have free plans that include access to most features or affordable paid plans.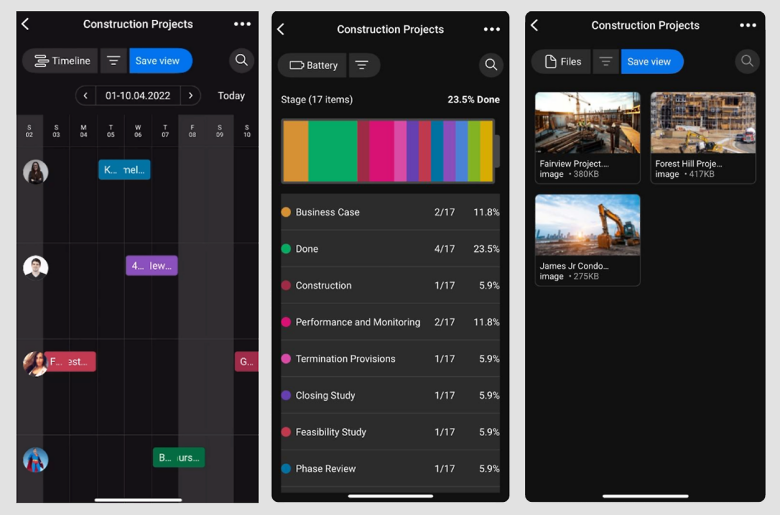 Monday.com's work management app has an array of tools to handle daily tasks as well as more complex, long-term projects. Your workspace consists of customizable boards, which include columns that display data (e.g., dates or files) and items that show individual tasks.
The app is just as intuitive as the desktop version, and it's well optimized to give you all the information from your boards on a smaller screen
. You can zoom in or out, scroll, or rotate the screen to view more columns at once. Also, you can drag and drop items and access your inbox. That said, monday.com's mobile app doesn't allow you to create and edit dashboards, which give you a high-level overview of your projects, including team workload and upcoming tasks.
If you sign up for monday.com's desktop version first, then download the app, you'll be able to
create a dashboard on your browser
 and view it in your app
. The free plan is a solid option for individuals, as it includes unlimited documents, 500MB of storage space, and the ability to add up to two users. However, teams will benefit more from monday.com's paid (but affordable) plans, which come with more storage and features such as automations and integrations. Every plan offers a 14-day free Pro trial to let you test the features.
Features
Multiple task views. To suit your visual preference, monday.com's mobile app offers nine ways to see your tasks. These include Kanban (displays your tasks as cards on a board), Map, Table, and Calendar, plus a mobile-only task view called Battery.
A wide choice of project templates. You'll get 200+ customizable templates, which cover diverse niches from sales and marketing to software development.
Workdocs. Workdocs on the monday.com mobile app are multimedia whiteboards your team can use to collaborate on specific tasks. While all mobile users can view and share the documents, only iOS app users can edit them from the app.
Unlimited free viewers. If you have collaborators, this tool will allow them to view all your boards, open files and read your updates, and more.
Read our full monday.com review
for more details.
Free plan

✔

Offline mode

✔

Security
SOC 2 report, ISO certification, and more
Starting price

$

8.00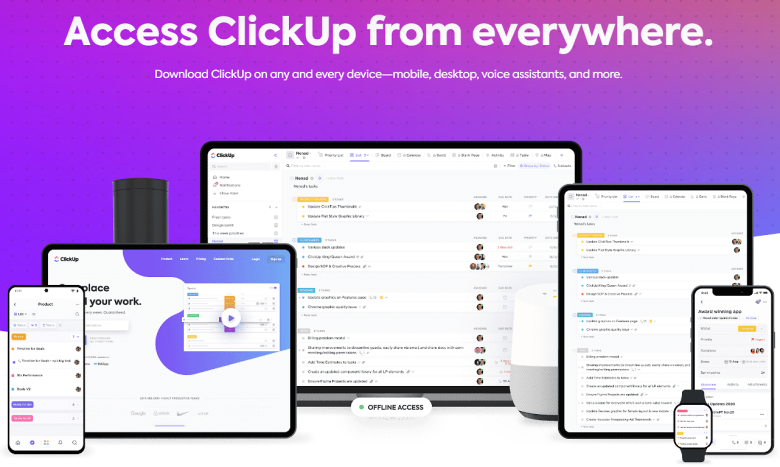 When it comes to content creation and team collaboration, ClickUp truly excels.
The Docs feature lets you create documents that you and your team members can edit together in real time.
You can also create and edit notes you can turn into docs or tasks with the Notepad function. ClickUp's granular structure lets you
organize your tasks and projects to the tiniest detail
. You can change the colors and layouts to personalize the look of your workspace, too. However, not all customization options are available on the app, so
to harness the full power of ClickUp, it's best to sign up on your browser first, set up and customize your workspace, then download the app
.
ClickUp has one of the most comprehensive free plans out there
, with limitations only in the number of times you can use certain features. That said, ClickUp's paid plans are quite affordable and provide more functionality. Even the cheaper plans include most of the premium features, such as integrations and guest access, offering great value.
Features
Quick Action menu. You can use ClickUp's Quick Action menu on the app to create tasks, reminders, and docs and access your Notepad.
Sidebar navigation. You can access all your work through ClickUp's unobtrusive Sidebar menu. From here, you can easily check comments and notifications, search for tasks and files, and access account settings.
Time tracking. ClickUp's built-in time tracking function lets you track time on tasks from the app. However, if you want to create time estimates on tasks, you'll need to use the desktop version.
Spotlight Search on iOS. Apple iPhone and iPad users can use Spotlight Search to quickly access recently viewed items in ClickUp.
Read our in-depth ClickUp review
for more information.
Free plan

✔

Offline mode

✔

Security
SOC 2 report, ISO certification, GDPR compliance, PCI compliance, and more
Starting price

$

7.00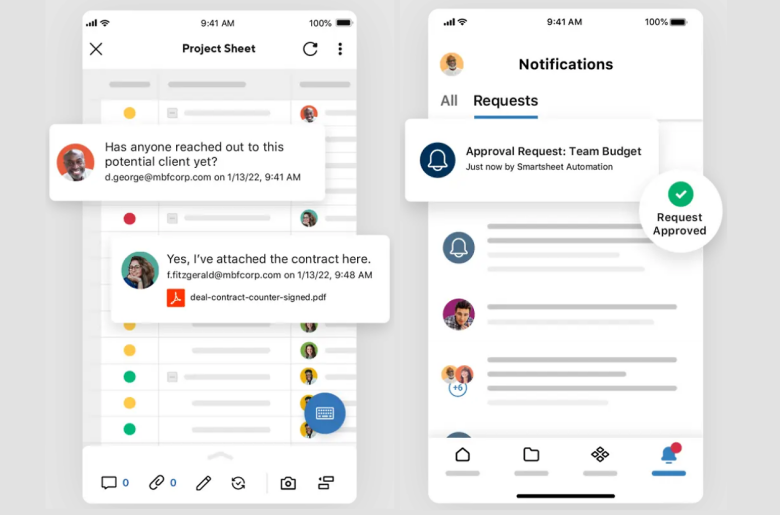 Smartsheet is a great app for more complex projects
, as its grid interface lets you manage big chunks of information quickly. You can add standard and configurable data columns, and even attach documents to individual rows within sheets. But even with this level of detail,
you can specify which key fields Smartsheet's mobile view will show in a card format so you can focus on the most important things.
To keep track of your work, Smartsheet lets you create dashboards you can customize by dragging and dropping widgets for charts, images, and more. That said,
you can only view your dashboard data in the app, so you'll need to use the desktop version to create and edit your dashboards.
Smartsheet's free plan only provides limited feature access (i.e., up to 2 sheets and 2 editors only), but you can sign up for Smartsheet's 30-day free trial to test all its features. With unlimited sheets and dashboards, task alerts and notifications, and up to 250 automations per month,
Smartsheet's entry plan will likely be enough for teams of any size
.
Features
Location marking. You can use your GPS to enter your current location into a sheet or a form field, which can come in handy if you're dealing with inspection reports.
Proofing. If your team often works with graphic design and video production, you'll want to try Smartsheet's Proofs feature, which allows you to edit files such as images and videos and add comments to specific sections within these files.
Offline forms. Smartsheet app allows you to mark forms such as requests and contracts for offline use so that you can submit them even if you don't have access to Wi-Fi.
Barcode scanning. You can scan a barcode or a QR code in your Smartsheet app to update or search for sheet data, which can be helpful for logging inventory.
Learn more in
our expert Smartsheet review
.
Free plan

✔

Offline mode

✔

Security
SOC 2 report, ISO certification, HIPAA compliance, and more
Starting price

$

7.00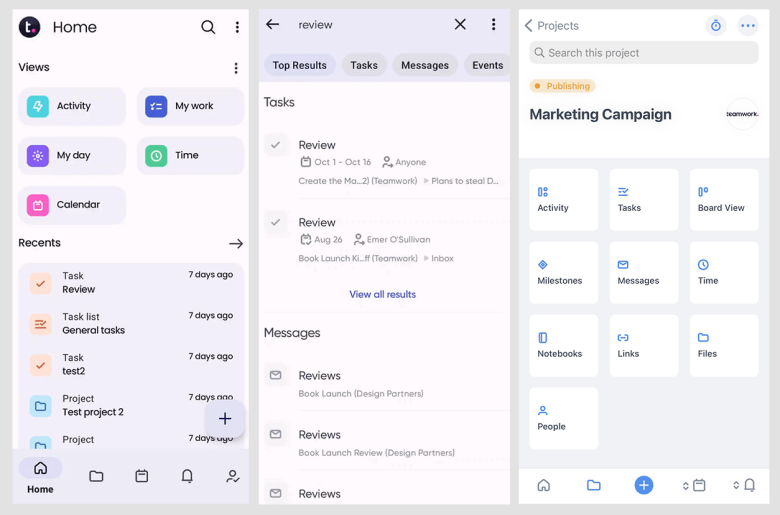 Even if you're new to project management software, Teamwork's interface is easy to navigate, which means you can focus on your work from the get-go.
The Home view on the Teamwork app lets you see the latest activity on all your projects, as well as your calendar, task list, and profile settings
. The app also lets you read and reply to messages, complete project milestones, log time on projects and tasks, and more.
Setting up a Teamwork account is even more straightforward when done on your browser, as you'll create your first project in the same window
. Teamwork guides you through adding tasks, creating task lists, and choosing your preferred task view. Also, the desktop version allows you to personalize your dashboard by changing colors and even adding a project logo. Teamwork's free plan includes core task management features, such as the ability to add milestones and project-specific subtasks, but you can only have two active projects at a time.
Upgrading to Teamwork's Deliver plan will bring you more functionality.
You can create up to 300 projects and get access to features such as project templates and time tracking.
Features
Quick Add Menu. You can easily add new messages, events, and single or multiple tasks through the app's Quick Add option.
Notebooks. This feature helps you gather contributions and feedback on texts – but to see it on your mobile app, you'll need to add it on your browser first.
Native product suite. Teamwork's suite of products includes tools like Teamwork Chat for instant messaging and Teamwork Spaces for content collaboration. Bear in mind that there's a separate mobile app for Teamwork Chat, so you'll need to download it if you want to use the chat function on your mobile.
Free collaborator seats. If you need to add more people to a project, you can set up free collaborator seats and assign user permissions (from your browser).
For a more in-depth look,
check out our full Teamwork review
.
Free plan

✔

Offline mode

✘

Security
SOC 2 report, ISO certification, GDPR compliance, and more
Starting price

$

5.99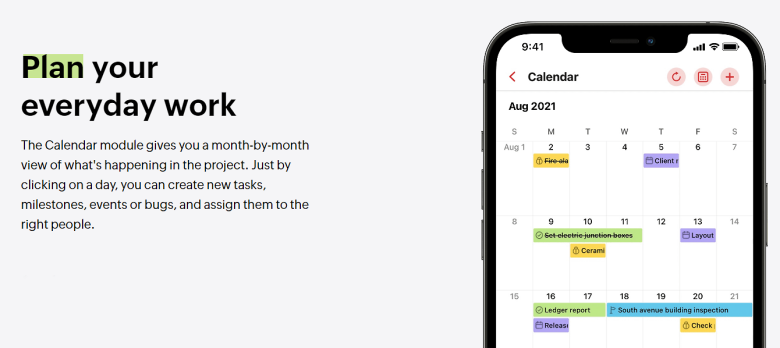 Zoho's mobile app provides a clear overview of your projects, tasks, timesheets, and feeds
so you can stay up to date with recent activity. For instance, you can use the timesheet module to track hours on tasks and see a daily, weekly, or monthly view of your logged hours. Though it supports both Android and iOS apps,
Zoho Projects currently offers more advanced functionality for iOS
. For example, iOS users can access the Calendar module and create and assign tasks, milestones, and events just by clicking on a chosen day. Also, iPad users can use Zoho's Doc Scanner to quickly upload documents. Zoho Projects's free plan includes built-in messaging and three project views, but it's still limited in terms of features.
The paid plans are cheaper than almost any other similar software, and you get plenty of functionality.
For instance, Zoho's Premium plan includes unlimited projects and features like time tracking and automations.
Features
Gantt charts for iPad. Zoho provides drag-and-drop functionality for iPad users. You can create Gantt charts and set dependencies between related tasks to ensure you always stay on schedule.
Communicate from anywhere. The Forums feature lets you interact with your colleagues via discussion threads. You can post a status on the go and stay updated on recent conversations.
Create and share content. Zoho's Documents allow you to either upload files or create them from scratch using Zoho Writer (for text docs), Zoho Sheet (for spreadsheets), or Zoho Show (for slide presentations). Also, you can upload multiple files at once to your app.
Zoho Encyclopedia. Keep all your project's information in one place with Zoho's Pages feature, which allows you to create your own version of a Wikipedia page.
Learn more about the app in
our full Zoho Projects review
.
Free plan

✔

Offline mode

✘

Security
SOC 2 report, ISO certification, GDPR compliance, and more
Starting price

$

4.00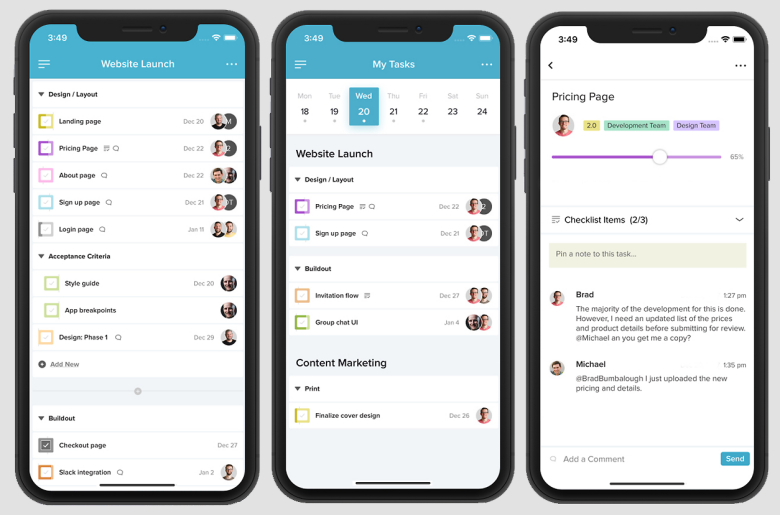 TeamGantt's simple but efficient set of features works well for smaller projects.
From the app, you can access all your projects and see their status as Active, On Hold, or Complete. Within a project, you can add new groups of tasks as well as drag and drop tasks to reorder them. However,
one notable thing that's missing from the app is Gantt charts – you can only view your projects in a list
. TeamGantt's app provides solid task management functionality. For instance,
you can update task names and dates, change task colors, add comments, edit checklists, and attach files
. Still, the best TeamGantt features come into play when you sign up for the desktop version. You can use templates to set up projects quickly, and you get access to features such as Portfolio, which lets you organize your work into folders. TeamGantt's free plan offers unlimited storage, but you can only have one project, and there's a limit of 60 tasks. The paid plans are worth considering since they're quite affordable and offer advanced features like workload management and time tracking.
Features
Calendar for mobile. TeamGantt's mobile-only Calendar page allows you to see a running list of current tasks across all your projects.
Time tracking and time estimates. On the Pro plan and above, the TeamGantt app lets you track time and add estimated hours for tasks.
Project roles. TeamGantt offers four user roles (Responsible, Accountable, Consulted, and Informed) to help you organize project responsibilities. On every task, you can assign different roles to each member of your project.
Discussions. TeamGantt's Discussion feature acts as a forum and lets you create threads that your team members can reply to.
See our expert TeamGantt review
for more features.
Free plan

✔

Offline mode

✘

Security
Database encryption, built-in safeguards, and more
Starting price

$

19.00
Choose the Best Project Management App to Stay Productive On the Go
All the project management apps on this list will allow you to plan and track projects and tasks and collaborate with colleagues on the go. However, the best project management app for your team will depend on your needs. If you want an easy-to-use app that provides advanced functionality, then
monday.com is my top recommendation
. The app's intuitive interface and customizable boards make it easy to plan and track projects, big and small. If you're looking for effective collaboration tools,
ClickUp is a great option
. ClickUp has a built-in document builder you can use to create content and collaborate with others in real time. Or, if you want an efficient solution to handle complex tasks,
Smartsheet is worth a try
. Smartsheet's grid interface helps you manage large chunks of information quickly and, thanks to the offline functionality, you can get work done even when you're not online.
Check out the comparison table below to quickly compare my most recommended project management apps.
Free Plan
Best Feature
Best For
Starting Price
monday.com

✔

Customizable boards for high-level overview of your projects
Day-to-day tasks and more complex projects

$

8.00

ClickUp

✔

Great content creation and collaboration features
Centralizing your work and collaborating with others in real time

$

7.00

Smartsheet

✔

Grid interface for managing lots of information
Managing multiple projects and submitting forms offline

$

7.00

Teamwork

✔

Beginner-friendly with a native suite of products
Fast project setup and easy access to all your data

$

5.99

Zoho Projects

✔

Affordable with great built-in tools
Advanced functionality for iOS users

$

4.00

TeamGantt

✔

Easy to use and effective task management
Simple projects and time tracking

$

19.00
FAQ
Which app is best for project work?
It depends on your needs. If you're managing large projects, Smartsheet offers advanced functionality to help you sort information. If you have collaborators and want efficient communication tools, ClickUp makes it easy to collaborate with others in real time.
What is the easiest project management app?
Even if you're a beginner, Teamwork's app is incredibly easy to use, although it doesn't have the most advanced set of features. On the other hand, the monday.com app has an intuitive interface and a wide range of tools to help you manage work on the go.
Are project management apps secure?
Most project management apps include built-in security features such as database encryption to keep your data safe. Also, they go through rigorous testing to meet the highest security standards in the industry.
What are some important features to look for in a project management app?
A good project management app should have a clean and intuitive interface that's easy to navigate. Core task management features are necessary to view and edit your data. Also, effective collaboration tools are essential to keep the communication and workflow going. Take a look at our list of the best project management software for 2023 for feature-rich but user-friendly solutions for managing projects on the go.