Teamwork and Smartsheet are popular project management software that market themselves as the ultimate, all-in-one solution. They both have advanced management tools and are ideal for all stages of a project, from planning to execution and sustainment.
Teamwork caught my attention with its user-friendly interface, seamless project management, and real-time communication.
It's a compelling choice for those who prioritize simplicity and gentle learning curves. While it may require more time to master,
Smartsheet delivers substantial value with its custom reports, expanded storage space, and powerful automation capabilities
. The question is:
Which one's better
for you
?
Would your team appreciate Teamwork's built-in chat functionality and time tracking, or would you rather opt for Smartsheet's custom reports and visual workflows? My goal is to equip you with the knowledge needed to make an informed decision based on
your
team's unique requirements. I spent weeks testing both platforms and ultimately,
Smartsheet's wide offering of templates, ability to create a variety of reports from complex data, and comprehensive plans eked out the win
. But Teamwork put up a pretty good fight. Try Smartsheet out for yourself, or dive in to learn more about each platform.
Features
Teamwork and Smartsheet Offer Similar Features, but Smartsheet Is Not as Restrictive
Teamwork and Smartsheet have four available views, although they're not quite the same
. While both share Gantt views, Teamwork offers board, list, and table views, while Smartsheet has card and calendar views in addition to its well-known grid (spreadsheet) view. Feature-wise, Teamwork and Smartsheet are very similar. They both include all the essential project management tools like various project views, automations, app integrations, forms, and analytic reports. However, while
Teamwork has a few extra features, Smartsheet provides more
.
Smartsheet offers over 280 templates,
and you can create as many additional templates as you want. On the other hand, Teamwork provides only 25, and the number of custom templates you can create depends on the plan you choose. In terms of automation, Smartsheet takes the lead once again. Even with its entry-level plan,
Smartsheet gives you 250 monthly automations, and there are no caps on higher-tier plans.
In contrast, Teamwork imposes a maximum limit of 10,000 automations, even with its enterprise option – and you're limited to List or Table views. Teamwork's storage limits are also pretty restrictive. You get 500GB on the most expensive plan, and that's it.
While Smartsheet only includes 20GB with its basic plan (versus Teamwork's 50GB), you'll get 1TB of storage with its mid-level subscription
.

Teamwork offers 18 integrations, including but not limited to Zapier, Google Drive, Dropbox, Slack, MS Teams, and MS Office. Again,
Smartsheet has more – you can integrate up to 33 apps and have access to 50+ connectors
(data sharing via APIs).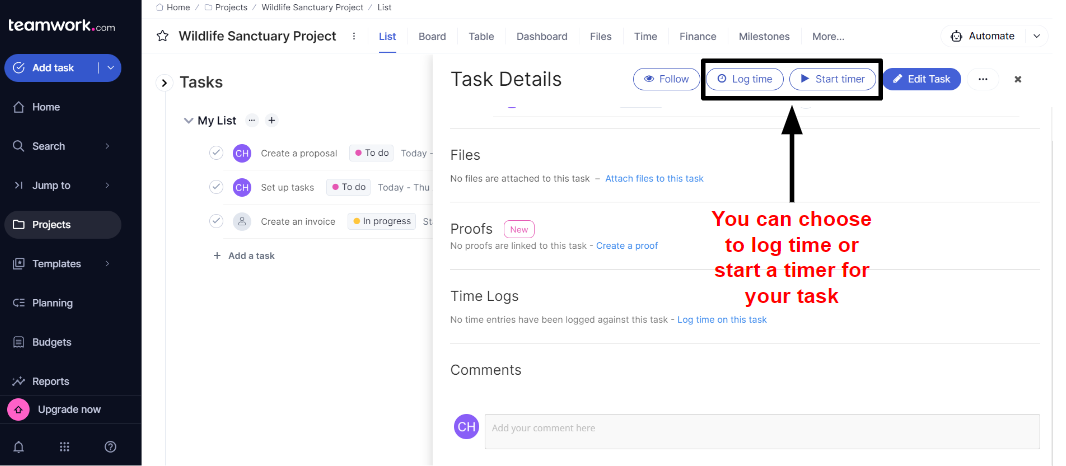 Teamwork does have one over Smartsheet –
its built-in time-tracking feature allows you to start a timer or manually log time
. It can also build reports based on time logs. If your team bills hourly or allocates a certain number of hours to tasks, this feature can go a long way. Overall, Smartsheet offers more features than Teamwork with fewer restrictions and that's why it wins this round.
Ease of Use
Teamwork Is Beginner-Friendly, While Smartsheet Takes Some Getting Used To
With an intuitive user interface and modern design, Teamwork is easier to use than Smartsheet
. That's not to say that Smartsheet is difficult – it just has a slightly steeper learning curve. To ensure a streamlined experience,
Teamwork put together a webinar that teaches you the fundamentals of using the software
– from creating a project to communicating within the app. You can access the webinar by clicking on the Help icon on the sidebar menu. Smartsheet also has a
Get Started
tour, but it's less comprehensive than Teamwork's. I liked that
Teamwork has keyboard shortcuts for several common actions
, depending on what view you select (card or column). You can switch views or manage anything task-related when the cursor hovers over a particular task. Smartsheet has no such feature. Instead, it uses symbols for many functions within a project task list, which might take some time to learn.

It takes only a few clicks to create a report with Teamwork
. You can generate reports on
Project Health, Planned vs. Actual, Burndown
(for sprints)
,
and time logs. Once generated, you can export reports in PDF, CSV, or Excel formats.
Smartsheet is more flexible with reports because you can customize them to your heart's content
. However, they're a bit more time-consuming to compile because you have to specify the source (sheet, columns, cells) of the information you want in your report.
Teamwork grabs this win as it's easier to use
. It has a more intuitive interface and better onboarding material.
Collaboration Tools
Similar Features, but Teamwork Offers Something Extra
Whether you choose Teamwork or Smartsheet, you can access similar, easy-to-use collaboration tools.
They both have task comment threads where you can tag team members with an @ and upload files.
However, Teamwork lets you choose who sees (and who receives notifications) when you comment.

One thing that Teamwork has that Smartsheet doesn't is a built-in chat
. You can create channels that include team members or communicate with specific individuals. There's also
a standalone Teamwork Chat app
with file-sharing capabilities. If you want a chat option with Smartsheet, you must rely on third-party integrations like Slack. However,
Smartsheet's sharing capabilities are much more straightforward.
If you want to share a project dashboard with someone outside your team, you just have to navigate to an existing sheet and send email invites. Teamwork complicates things because users need a collaborator account (standard/client) to view dashboards.
Smartsheet's mobile app is also better than Teamwork's
because it gives you access to almost every feature you get via the desktop app
. You can also import your phone's contact list and calendar to a Smartsheet grid. Teamwork's mobile app isn't as robust.
But when it's all said and done, Teamwork wins this one too.
I really appreciate its built-in chat app and extra comment thread-related features.
Pricing
Smartsheet Can Get More Expensive Than Teamwork but Offers Better Value for Money
Teamwork has three available plans – one free forever plan and two premium plans. There's also a customizable option for enterprises. Smartsheet has two premium plans, plus one for large-scale projects.
Both Teamwork and Smartsheet offer 30-day free trials, unlocking all the functionalities of the plan you choose to test.
Teamwork's Free Forever
plan is pretty limited.
It only allows up to 5 users and grants access to one integration (Zapier) and 100 monthly automations
. It doesn't come with project templates but gives access to all available project views. The storage is also limited to 100 MB, which makes sense since you can only create 2 projects.
Overall,
Smartsheet offers better value for money
. Its entry-level Pro plan costs
$
7.00
/user/month, has 250 monthly automatons, 20GB of storage, and allows up to 10 editors (users). It's a bit more expensive than Teamwork's Starter plan at
$
5.99
, but you'll get unlimited sheets, viewers, dashboards, reports, and forms.
Smartsheet's Business plan offers the best value
and is very convenient for larger teams. While Teamwork limits the automations to 2000/month and storage at 250GB with its Grow plan, Smartsheet removes the limit on automations and raises the storage to 1TB. A side-by-side comparison will better show just how similar their offerings are. Here's what their entry-level plans include:
Teamwork
Smartsheet
Starting Price

$

5.99

$

7.00

Views
4
4
Templates
10
Unlimited
Automations
1000
250
Collaboration tools

✔

✔

Forms
2
Unlimited
Teams management

✘

✔
Support
Decent, but They Both Could Both Do Better
Teamwork and Smartsheet's support channels include phone, email, and tickets. Teamwork also has a live chat option. However,
while Smartsheet's support is available 24/7, Teamwork's agents are only accessible during business hours, from 7:00 – 12:00 a.m. IST (India Standard Time).
Both project management platforms have extended knowledge bases, but unlike Smartsheet, Teamwork doesn't have a community forum.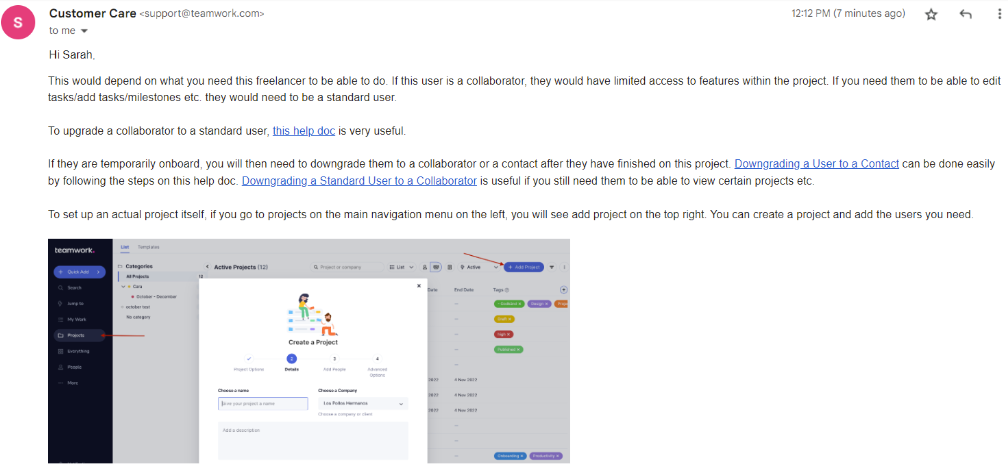 I contacted Teamwork's support via email, and the reply came about half an hour later.
I got the information I needed, plus screenshots with arrows to guide me.
One thing to note is that
Teamwork's website says there is a live chat, but I couldn't find it even though it was during business hours
. I gave it another try later, and what do you know? The chat icon appeared out of nowhere. The reply was almost instant, and the agent was helpful and attentive. Later that day, during business hours, the icon went missing again.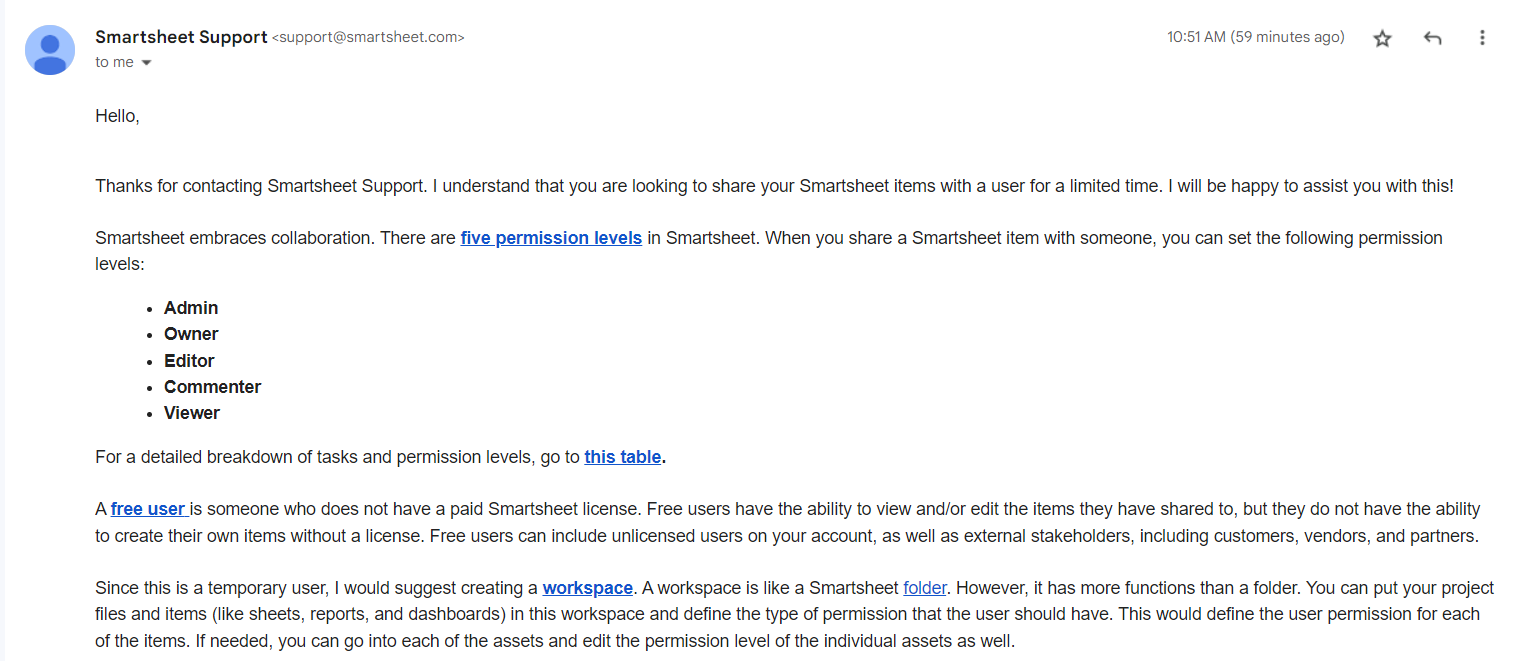 I decided to test Smartsheet's email support too.
I sent an inquiry around 7:00 p.m., and the reply came the next day at almost 11:00 a.m.
In its defence, Smartsheet sent me a confirmation email noting increased support requests. It took a few hours, but the agent answered my question with a very detailed email. Ultimately,
I think Smartsheet wins it by a tiny margin
. Teamwork took less time to reply to my inquiry, if only because I contacted support during business hours. Plus, it was disappointing that I couldn't find the live chat icon several times, even though it was supposed to be available.
It All Depends on Your Team's Needs
After testing Teamwork and Smartsheet, I believe they're both solid options that would benefit from better customer support. Depending on your unique needs, you could gravitate either way. That said, it's hard to argue with
Smartsheet's extensive features
 and excellent value for money. It has a learning curve but if you have some experience in project management, that shouldn't be an issue. On the other hand, if you're looking for ease of use and better collaboration tools, Teamwork's the way to go.
Features
Automations, 18 integrations, 4 views, forms, reports
Automations, 33 integrations, 50+ connectors, 4 views, forms, reports
Ease of Use
Intuitive and beginner-friendly user interface
Basic user interface with a learning curve
Collaboration Tools
Comment threads, @ mentions, file sharing, built-in chat
Comment threads, @ mentions, file sharing
Pricing
Free forever plan, two averagely-priced premium plans, one enterprise solution
30-day free trial, two averagely-priced premium plans with unlimited features, one enterprise solution
Support
Live chat, phone, email, and tickets during business hours
Phone, email, tickets, extensive knowledge base, community forum (email support only for basic plan)
FAQ
What makes Smartsheet different?
Smartsheet offers many essential project management features, and unlike other similar software, it offers more in terms of automation, integrations, and storage, without requiring an upgrade to an enterprise solution.
It's a simple yet efficient tool.
Is Smartsheet similar to Teamwork?
Yes, Smartsheet is similar to Teamwork, both in terms of features and pricing. With its 250+ templates and advanced features, Smartsheet is better for larger teams and projects. However,
Teamwork has slightly better collaboration tools
, is easier to use, and has a more modern user interface.
Is Teamwork better than Smartsheet?
It depends. For instance,
Teamwork is better than Smartsheet if you're a beginner
because it has a more intuitive user interface and guided tours. However, if you're looking for a simple project management software that offers more features and resources, Smartsheet takes the prize.
What is comparable to Smartsheet?
Many project management tools offer similar features to Smartsheet. Teamwork is one of them, but so is monday.com or ClickUp. For a more comprehensive look at the top alternatives, check out our list of the
top 10 best project management software for 2023
.