Workflow management software has become an indispensable tool for saving time and increasing productivity,
as well as handling the rapid growth of businesses. Whether you're a seasoned professional or a novice stepping into the digital world, finding a software solution that balances power and simplicity can be time consuming. And even when you finally find something reliable, you might end up paying a fortune. That's why
I've tested the most popular project management tools available in the market.
I've managed tasks, assessed features, and explored diverse pricing options, all with the objective of taking the guesswork out of your decision-making process.
monday.com consistently exceeded my expectations in terms of functionality, ease of use, and affordability.
This powerful platform offers unique features like flexible templates for various use cases, over 27 project views for real-time tracking, and custom automations, all aimed at boosting productivity and streamlining workflows.
You can try monday.com risk-free
or read on to see why it could be your ideal partner in managing your workflows effectively.
Short on Time? These Are the Best Workflow Management Software in 2023
monday.com – Affordable software with an easy-to-use interface for managing workflows.
ClickUp – Highly visual and customizable platform packed with automation integrations.
Smartsheet – Powerful features for workflows using large amounts of data.
What We Look For in the Best Workflow Management Software
I honed in on several crucial features for workflow management. These features play an instrumental role in streamlining operations, promoting efficiency, and enhancing overall productivity in your business.
Automation features. You need these capabilities to drastically streamline operations in workflow management. Automation can eliminate manual tasks, reduce errors, and speed up the workflow, which is why I've prioritized platforms that offer this capability.
Ease of use. This is paramount to workflow management because it minimizes the learning curve and encourages team adoption. My top picks offer intuitive interfaces and user-friendly navigation.
Affordability and free trials. Budget constraints are common in many organizations, making cost-effective solutions necessary. That's why I made sure to choose management software with free trials or free plans so your team has the chance to test the software before committing financially.
Integrations. Easily connecting with other software is crucial for workflow management. Integrations allow for seamless data transfer and collaboration between different tools, maximizing efficiency and reducing potential errors or loss of data.
Collaboration tools. They're a must-have for workflow management, especially with the rise of remote work. They foster teamwork, encourage transparency, and ensure everyone stays on the same page. I've ensured my top choices offer robust collaboration capabilities.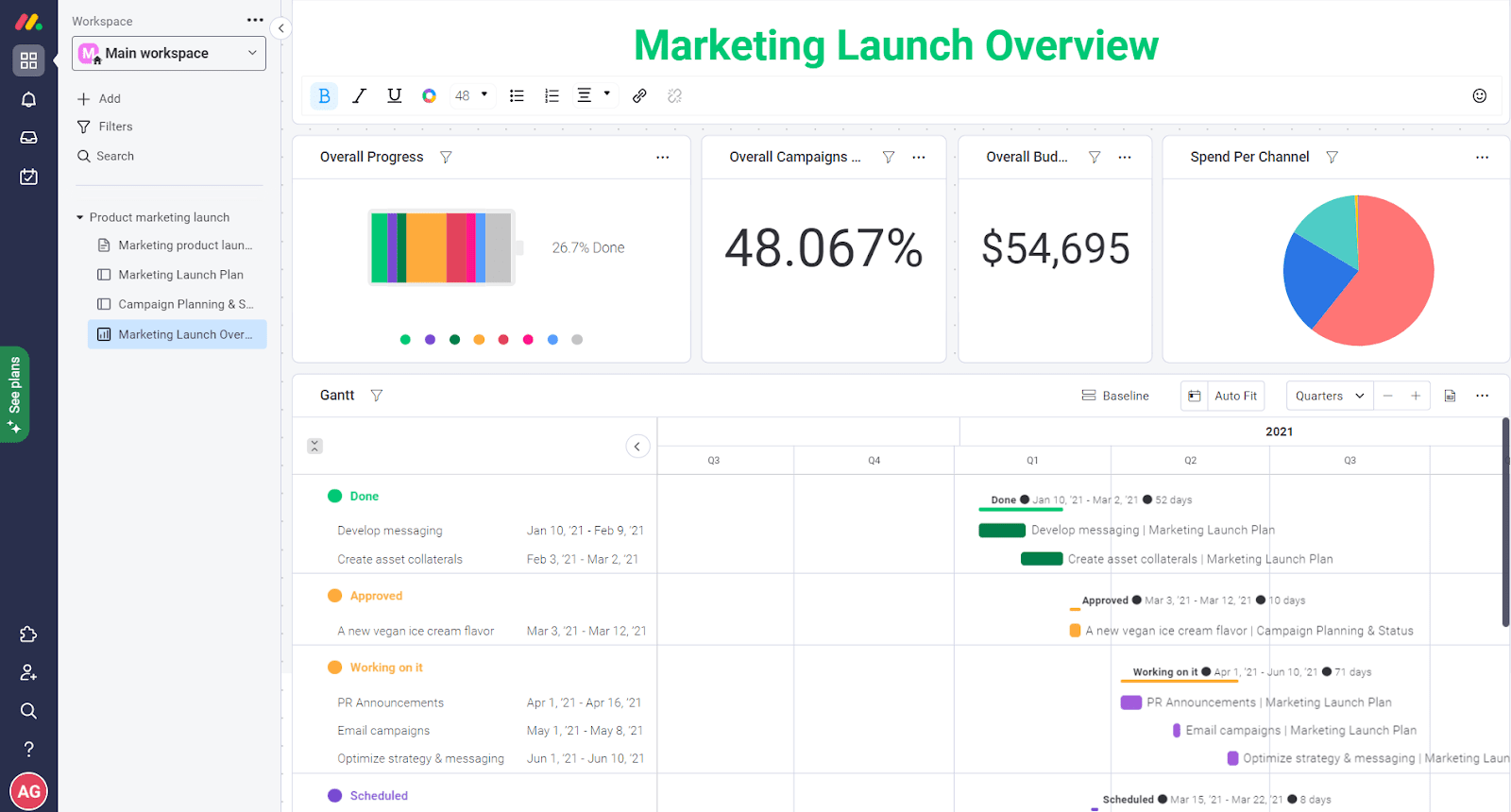 I have to say,
I was thoroughly impressed with monday.com's capacity for automating manual processes
. The platform offers
custom workflow automations and integrations
 with over 200 third-party apps, which significantly reduces time spent on repetitive tasks. This feature, combined with the ability to create customizable templates that you can use over and over again, truly stands out for boosting productivity and efficiency.
monday.com's drag-and-drop functionality allows you to quickly organize tasks and assign them.
You can also add custom columns and reorder them to suit your needs. Its intuitive interface is easy to grasp from the start – even if your team members aren't tech-savvy, they'll be able to swiftly navigate and make the most out of its robust features. With
over 27 different work views, including Gantt, Boards, and Timeline
, monday.com is a highly flexible project management platform that makes it easy to visually track your workflows. While you'll have to upgrade to a paid plan to unlock most of these views, monday.com's affordable Standard plan also includes up to 250 automation and integrations per month.
Features
Collaboration features. While monday.com doesn't have a built-in direct messaging feature, you can collaborate with team members through message threads and integrate platforms like Slack for direct messaging and Miro for real-time brainstorming.
Shareable boards. To keep clients and stakeholders updated on your project's status, monday.com allows you to invite guests to your board with a shareable link or embedded code. You can make boards private or share them so you're always in control when it comes to who has access to your project details.
In-depth reporting. monday.com's reporting tools help you manage budgets with advanced formulas and filters, visualize board data through charts, and leverage dashboards for insights. You can also add benchmarks and cumulative data for in-depth analysis.
Efficient support. monday.com lacks live chat support, it does offer a comprehensive knowledge base and 24/7 email support. You'll also receive in-app support and access to video tutorials.
Read our full monday.com review
for more features.
Free plan

✔

Max number of users on the free plan
2
Integrations
30+ including Slack, Outlook, Gmail, Excel, Stripe, and Dropbox
Starting Price

$

8.00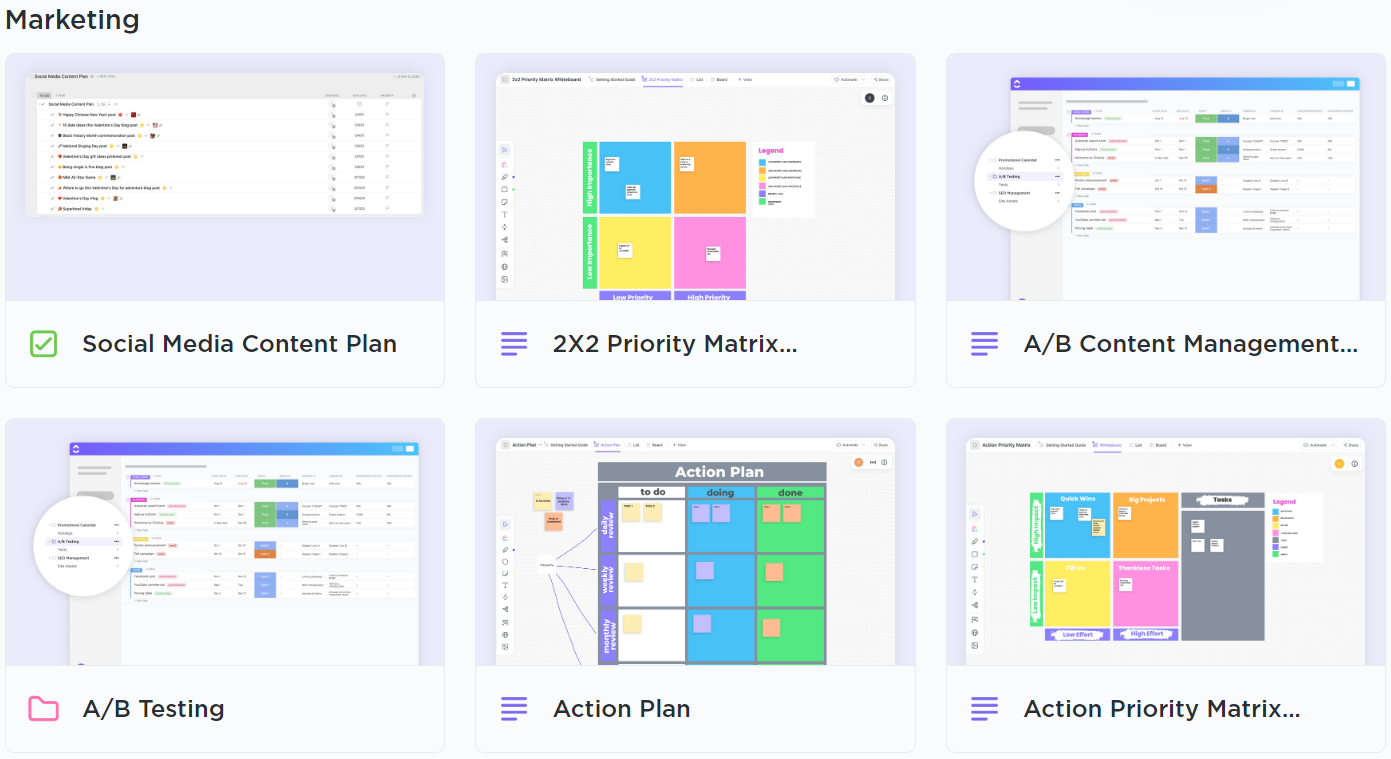 ClickUp shines when it comes to workflow automation.
You can automate workflows for recurring tasks and create, update, and remove subtasks.
The number of automations available will depend on your plan, but even on the forever free plan you'll be able to set up 50 active automations and complete 100 actions per month. Creating custom automations tailored to your needs is as simple as choosing an action from a list of selections.
You have the flexibility to automate actions, set conditions, and initiate processes using any kind of event as a trigger
– be it the creation of a new task or adding a specific assignee. If you prefer a quick solution, you can opt for any of the
100+ pre-built automations available
.
ClickUp emphasizes straightforward team communication with dashboards and Chat widgets.
This ensures that all messages related to a task are in one place. Additionally, the Whiteboards tool makes it easy to virtually brainstorm with your team, allowing everyone to share ideas and collaborate effectively.
Features
Easy file sharing. ClickUp features an integrated Docs app that allows real-time edits and commenting. You can also upload all types of files, from images and PDFs to videos.
Bulk action toolbar. Make your workflow even more efficient by bulk editing several tasks and subtasks – or even documents – at the same time. With this feature you can quickly merge tasks, update statuses, and change deadlines.
Complex checklist creation. Checklists aren't just your average to-do lists here, they're an essential tool for project management. You can create detailed task breakdowns that you can assign and monitor or load a checklist template from the Project Checklist library.
Layout customization. ClickUp offers customizable layouts for tailored navigation and workspace organization. You can also personalize color themes for your workspace or activate a Dark Mode for night-time work for an enhanced user experience.
For more benefits,
see our in-depth ClickUp review
.
Free plan

✔

Max number of users on the free plan
5
Integrations

45+ including Clockify, Google Drive, Slack, Dropbox, and Figma
1,000+ with Zapier

Starting Price

$

7.00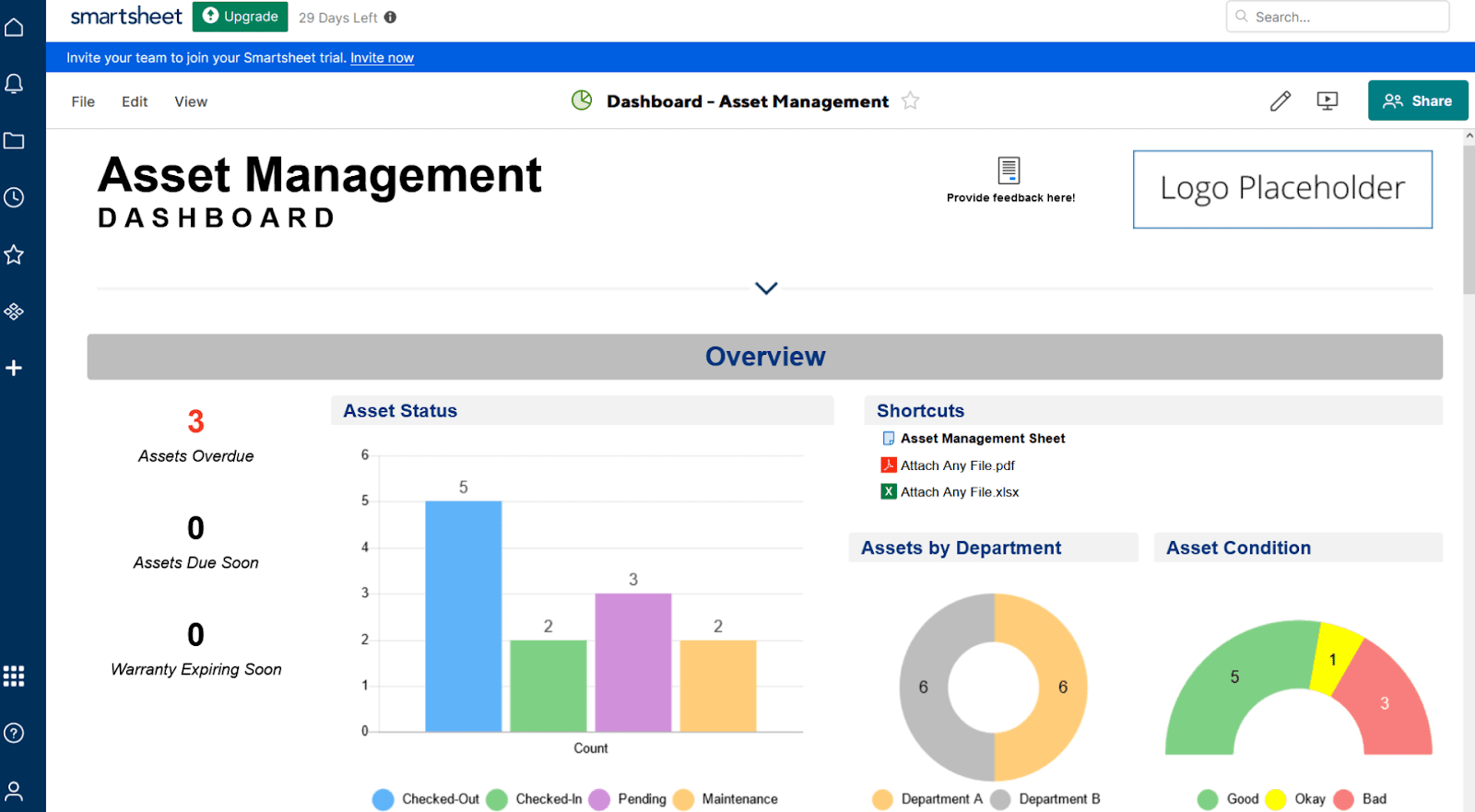 Smartsheet is a powerful alternative to traditional tools like Google Sheets and Excel.
If you're comfortable working with spreadsheets but require more complex project management capabilities, Smartsheet is an excellent choice. It merges the familiar grid layout with advanced features like Gantt charts, task automation, and much more.
Smartsheet truly shines when handling large volumes of data.
The platform's
DataTable feature allows you to create huge data sets
 (think millions of rows), combine information from multiple sources, and even automate uploads. By adding date columns, you can transition to a Gantt chart or Calendar view for a comprehensive view of your project's timeline, or opt for a Board view for a simplified look at tasks.
Smartsheet's workflows, triggered by cell values, are superior to standard spreadsheet functions
due to their scope across multiple sheets (projects). Using ClickUp's workflow templates, you and your team can set up workflows to lock rows, request approvals, auto-send forms, and even send alerts to your Slack channel.
Features
Multilingual support. Catering to global remote teams, Smartsheet supports eight different languages (including English, Spanish, French, German, and Japanese), ensuring that it's accessible to diverse teams across the world.
Forms for automatic data collection. Smartsheet's built-in forms feature allows you to distribute forms and automatically populate your chosen columns with collected data. Advanced settings, including conditional logic for question display, refine the process. Notably, form submissions don't require an account so you have the option to gather feedback outside of your team.
High-quality templates. Smartsheet offers over 250 templates and sets across ten industries, including retail, nonprofit, finance, and construction.
Mobile app. Rare for a project management platform, Smartsheet's mobile app offers almost every functionality of the web app. Plus, dashboards adapt to your screen size automatically.
For more on workflow features,
read our expert Smartsheet review
.
Free plan

✔

Max number of users on the free plan
3
Integrations
80+ including Slack, Teams, the Google suite, Webex, Translation App, and ChatGPT
Starting Price

$

7.00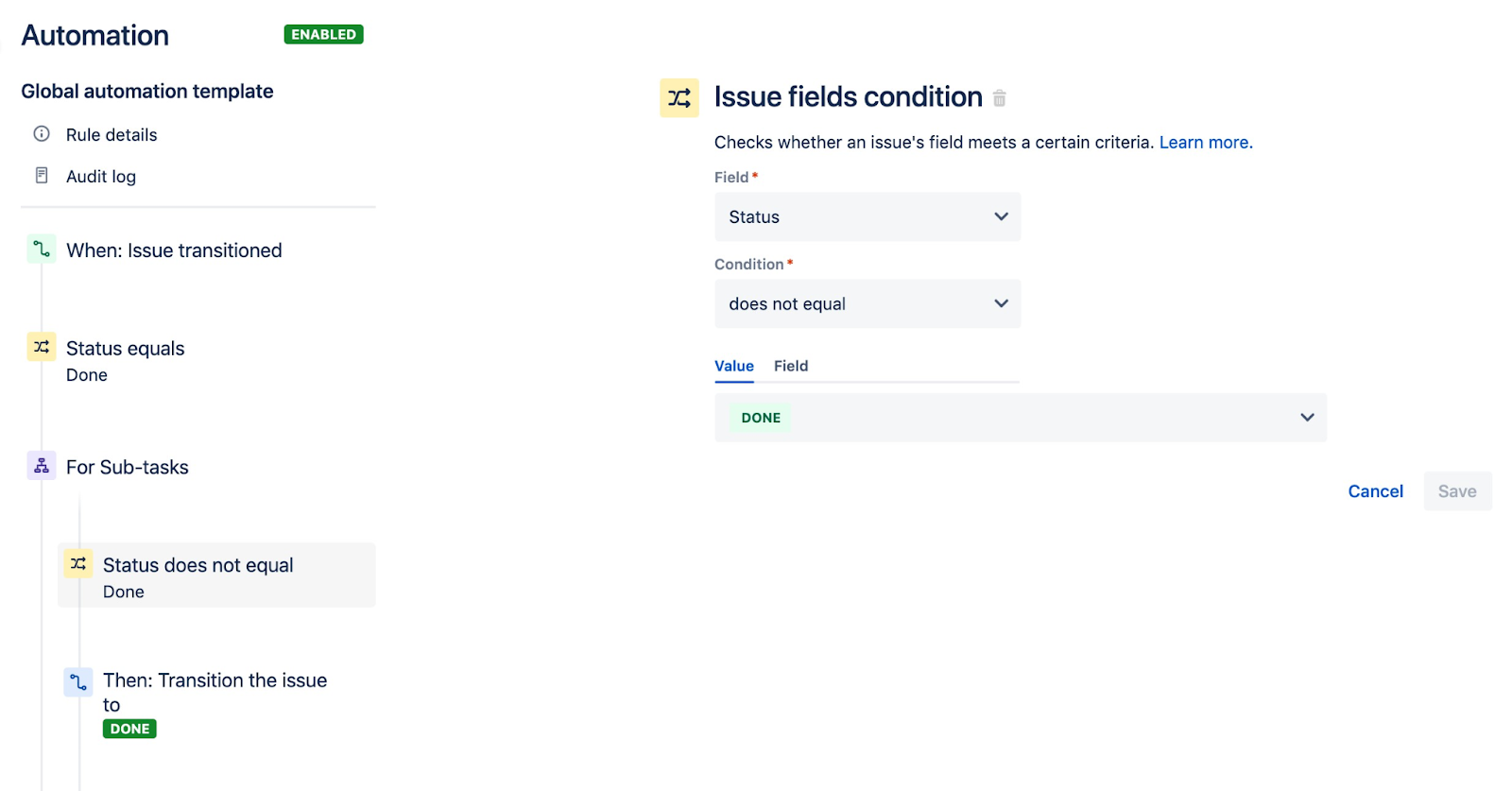 Contrary to popular belief,
Jira isn't just for IT teams
. It's based on the Agile methodology, which caters to a wide range of industries, including marketing, design, and finance. Given its seamless integration with team workplace platform Confluence, business teams can enhance cross-functional collaboration and information sharing. Jira is an exceptional tool for large teams managing complex workflows.
If your projects involve numerous tasks, dependencies, and stages, you can benefit from Jira's workflow schemes.
They can help streamline complicated workflows by associating them with different types of issues. Plus, you can save more time by applying the same workflow scheme to multiple projects.
One of Jira's standout features is its extensive automation library.
It allows you to automate niche and complex processes using its extensive set of rules. This includes the ability to create customizable workflows tailored to your unique needs, as well as use its rich APIs to build apps and integrations. The automation possibilities in Jira are virtually limitless, enabling you to customize the platform to best suit your team's workflow.
Features
Great IT templates to get started. Start working as soon as possible with templates for bug tracking, project management, web design, and marketing, just to name a few.
Components. Jira allows you to segment any project's tasks into sections to align with your workflows. This functionality aids in differentiating types of work, ensuring a clean, well-ordered project environment.
Different visualization tools. You can view your projects in basic or advanced mode, depending on the level of detail you want. You can also use the two agile boards available: scrum and Kanban.
Reasonably quick to learn. If you're familiar with other Atlassian products, working with Jira is easy after an initial learning curve. What's more, the color-coded "Your Work" dashboard helps you stay focused on your tasks without getting overwhelmed.
Read our in-depth review
to learn more about the Jira environment.
Free plan

✔

Create custom automations

✔

Integrations
1,000+ including Slack, Zoom, Clockwork, and GitHub
Starting Price

$

7.75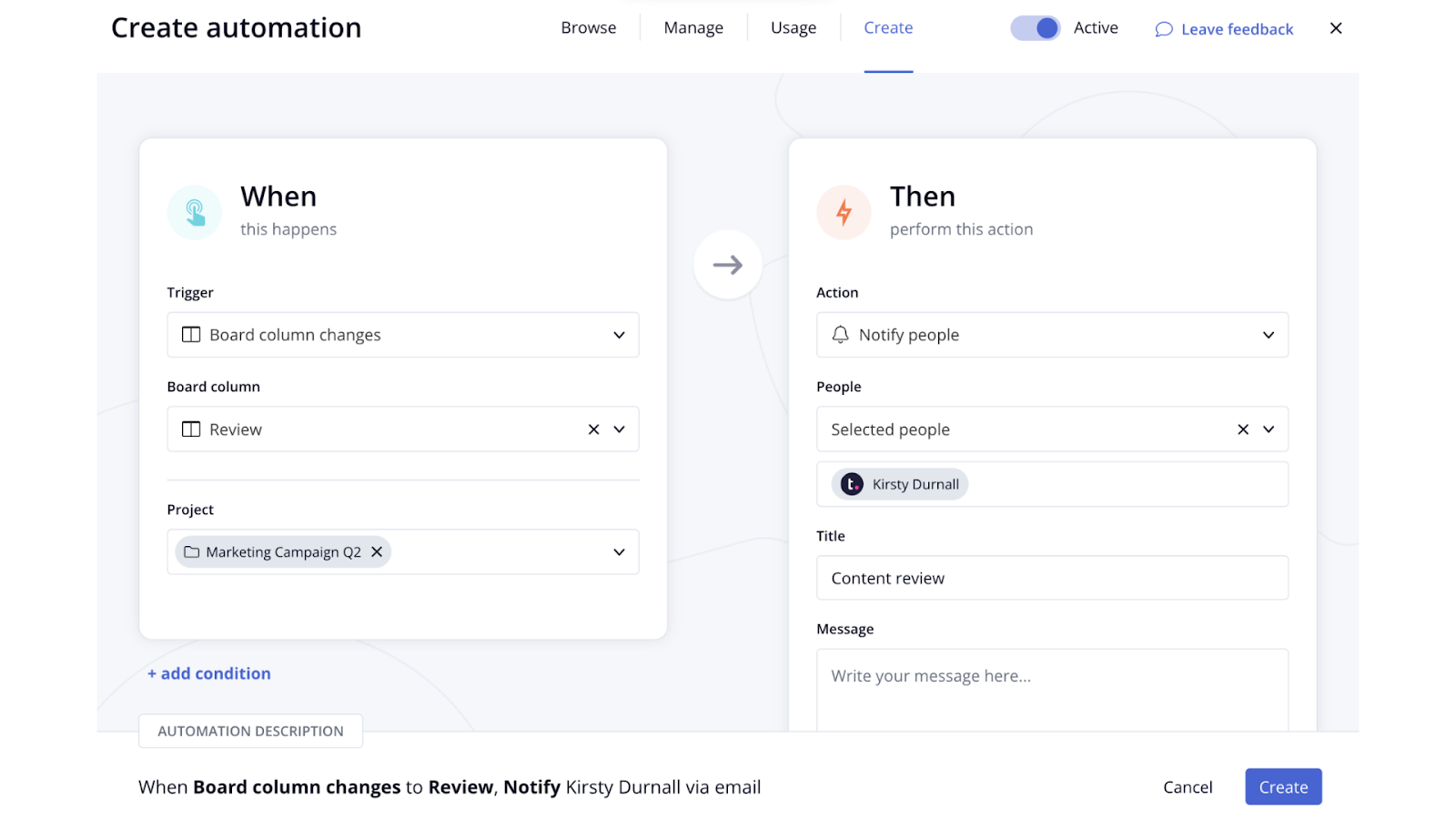 While Teamwork  may not be the most advanced project management software on the market, it does not fall short of providing solid project management capabilities. The platform offers
a high level of granularity and customization for tasks
, allowing your team to tailor the tool to your specific workflow needs. Specifically, Teamwork offers features like event-based triggers, time-based triggers, and custom automations. These features allow your team to automate notifications, task assignments, and status updates, reducing manual effort and increasing project efficiency.
Teamwork has a forever free plan for up to five users and a generous 30-day trial for all paid plans
, making it an attractive choice for teams that want to explore project management tools without making a significant financial commitment.
Features
Smart shortcuts. Teamwork's interface is intuitive and customizable, boasting shortcuts like the Jump To feature for fast transitions. Plus, you can add your company's branding and custom logos to each individual project.
Built-in time tracker. This feature is integral to effective workflow management as it enables you to accurately monitor time spent on tasks directly within the platform, eliminating the need to toggle between apps.
Extensive native integrations. The Teamwork ecosystem includes Teamwork Spaces, Teamwork Chat, Teamwork Desk, and Teamwork CRM. They all integrate seamlessly, but if you need more integrations from third parties, there are plenty of those available too, like Google and Microsoft apps, Slack, Zapier, and Dropbox.
Teamwork Chat app. Team collaboration is easy with the instant messaging app from Teamwork, although mobile app users will have to install a separate Chat app to use the feature.
Read our full Teamwork review
for more details.
Free plan

✔

Max number of users on the free plan
5
Integrations
80+ including Slack, Teams, Stripe, Google Drive, and Zapier
Starting Price

$

5.99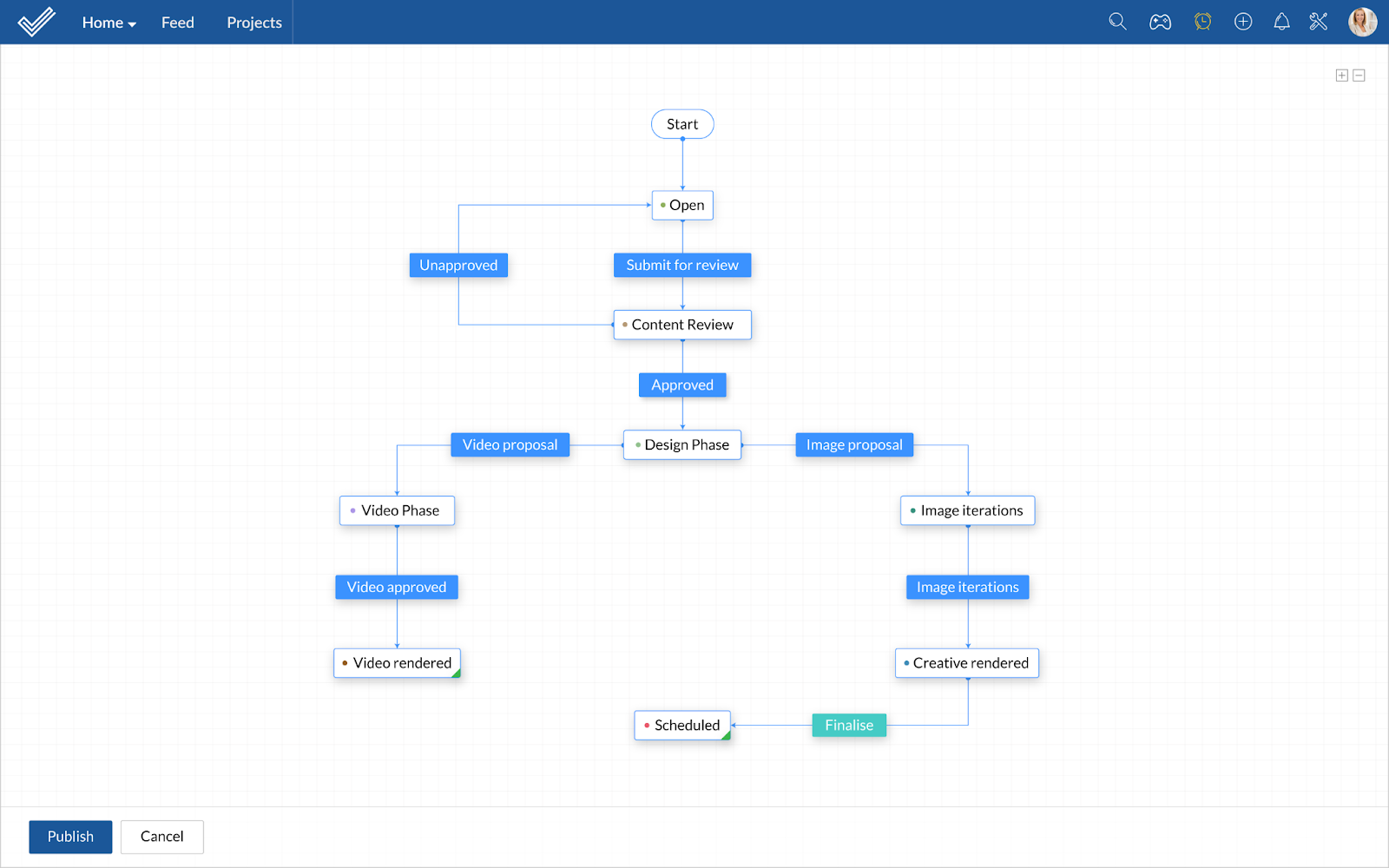 While it shines in handling everyday tasks,
Zoho Projects is also capable of managing more complex projects
. The platform's advanced features, such as event planning and strict timelines, not only work well individually but also significantly enhance productivity when used together.
You can
use the Critical Path feature to view the longest sequence of dependent tasks
, with critical tasks colored in red and non-critical tasks in blue on a Gantt chart.
Then you can use the Strict Project feature to stay on track
. It locks deadlines and tasks so your team won't be able to create new tasks or move milestones beyond the initial deadlines of your project. Although it's not as user-friendly as monday.com or ClickUp,
Zoho Projects stands as a comprehensive tool that can transform the way your team works
. The standout feature is its built-in chat function, where teams can create personal or group chat rooms for instant messaging. You can also post lengthier info on forums and create project pages to document information, record ideas, and post reference materials.
Features
Custom workflows. You can craft custom fields for project-specific issues, design tailored email templates, and establish personalized workflows with unique statuses.
Issue tracking automation. Zoho Projects allows you to set up automated alerts to keep relevant parties informed about issues or updates. You can also automate updates and custom rules to trigger events.
Blueprints. Regardless of your task processes' complexity, easily design workflows with the visual blueprint editor. Use drag-and-drop functions to set task statuses, assign team members for each stage, and ensure the right process is consistently followed.
Gantt charts and Kanban boards. The Gantt charts provide an interactive timeline of your projects, helping to map tasks and track progress efficiently. On the other hand, Kanban boards offer a visual workflow that allows easy task tracking and agile management of your projects.
Want to learn more?
Read our full Zoho Projects review
.
Free plan

✔

Max number of users on the free plan
3
Integrations
40+ including native Zoho apps, Google apps, Microsoft apps, Dropbox, GitHub, GitLab, Slack, Zapier
Starting Price

$

4.00
Choose The Best Workflow Management Software for Your Team
The right workflow management software can be a game-changer for your project efficiency and team collaboration. Based on my extensive research, here are my top recommendations. If you're looking for ease of use and customization options,
monday.com is my top recommendation
. It offers an intuitive interface and extensive customization capabilities, which are perfect for teams that want to streamline workflows without a steep learning curve. If collaboration and integrations are your main priorities,
consider ClickUp instead
. ClickUp is great for teams that need to collaborate across different platforms because it seamlessly integrates with various tools and offers robust collaboration features. Or, if you're after a powerful alternative to Excel and Google Sheets with additional project management capabilities,
go with Smartsheet
. It provides you with a familiar spreadsheet interface but supercharges it with workflow automation, collaboration tools, and more. It's ideal for teams transitioning from traditional spreadsheets to a more sophisticated solution.
Here's a summary of my top workflow management software recommendations:
Free Plan
Best Feature
Best For
Starting Price
monday.com

✔

Great automation templates to get you started, as well as customizable ones
Most teams that want a versatile workflow management  tool

$

8.00

ClickUp

✔

Integrated Docs app that makes it easier for teams to collaborate
Teams sharing multiple types of files, including video

$

7.00

Smartsheet

✔

Complex workflows that are triggered by cell values in a spreadsheet
Spreadsheet enthusiasts

$

7.00

Jira

✔

In-depth automation customization with no coding required
Large teams that use the Agile methodology

$

7.75

Teamwork

✔

Easy onboarding thanks to the visually appealing interface and handy shortcuts
Teams with different levels of experience with project management software

$

5.99

Zoho Projects

✔

Time-saving tools including strict timelines and workflow blueprints
Teams on a budget

$

4.00
FAQ
What is the best workflow management platform?
Monday.com stands out as the best workflow management platform. With its user-friendly interface, comprehensive features, and scalability, monday.com caters to businesses of all sizes, helping you streamline operations and boost productivity.
What is the top tool for workflow automation?
ClickUp is one of the top tools for workflow automation. It connects various apps and automates repetitive tasks, seamlessly integrating with workflow management software to create efficient and automated processes.
How do I choose a good workflow management software?
To choose a good workflow management software, you need to evaluate the ease of use, range of features, integration capabilities, scalability, and pricing. It's also wise to read user reviews and consider trying out free trials or demos to see if the software meets your specific needs.
Is Jira a workflow management tool?
Yes, Jira is a workflow management tool that's primarily popular among software development teams for issue and project tracking – though it's also a great tool for any type of team following the Agile methodology. It offers customizable workflows to help teams manage, streamline, and troubleshoot their processes effectively.