TeamGantt and Smartsheet are both powerful project management tools designed to make it easier for teams to collaborate and stay on top of tasks and deadlines. But despite offering some great features, are they suitable for
your
team's projects?
After extensive testing, I found that
Smartsheet's extensive features make it an ideal choice for projects of varying complexity.
While TeamGantt also has some of these features, Smartsheet offers more integrations, allowing you to connect with many other platforms as you streamline workflows. And while it's not the easiest PM tool out there, its user interface includes powerful automation features – something that TeamGantt lacks. On the other hand,
TeamGantt is a decent choice for beginners
and – unsurprisingly enough – teams that prefer Gantt charts over other layouts. Its user interface is great for visually interpreting project schedules that aren't too complex. Ultimately,
Smartsheet performs better overall.
Keep reading to learn why I think Smartsheet is better than TeamGantt, or start your Smartsheet trial now.
Features
Smartsheet Offers More of Everything, While TeamGantt Lacks Basic Features
TeamGantt and Smartsheet may share certain features, but these project management tools are not in the same league.
They both offer integrations, multiple project views, and project templates. When team members complete specific requests, Smartsheet's automation templates can notify people and reorganize tasks. Unfortunately, TeamGantt locks you into manual mode – there's no automation.
Both TeamGantt and Smartsheet have 4 available views
. While TeamGantt doesn't excel in all of them, it sure lives up to its name because its Gantt charts are
impeccable
.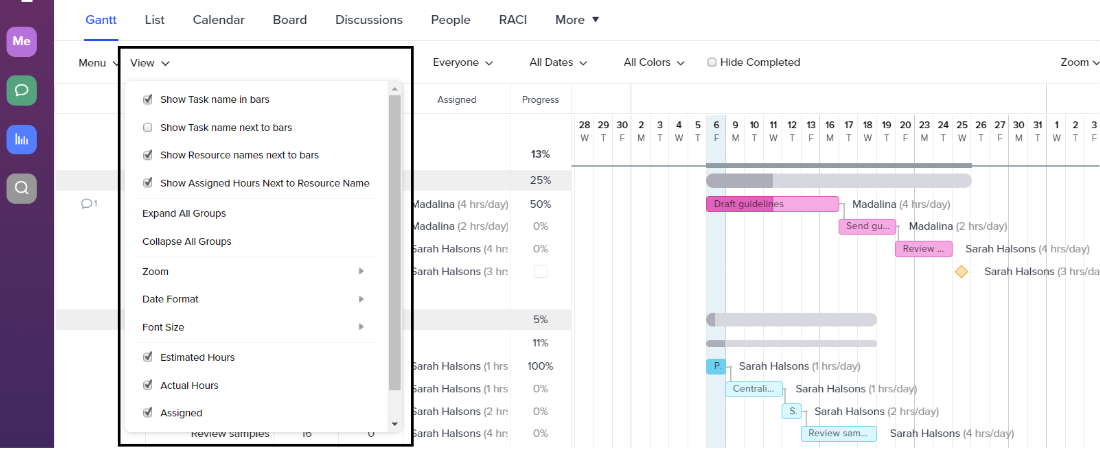 TeamGantt's Gantt charts are highly customizable
, allowing you to establish what they can and cannot show, such as assigned team members, estimated/actual hours assigned to each task, and progress percentages. In comparison, Smartsheet's Gantt charts seem downright rudimentary. TeamGantt has 30+ project templates covering six major niches. You're also free to create custom templates.
Smartsheet does the same on top of the 280+ project templates it offers in its library.

On the integration front,
Smartsheet takes the lead with its 33 integrations and 50 connectors
, making it easy to collaborate across various platforms. TeamGantt allows you to integrate with Dropbox, Zapier, and Slack, but that's pretty much it. You can, however, sync it with your Google Calendar, Trello, Outlook, iCal, and Basecamp 2.
Unlike Smartsheet, TeamGantt has a time-tracking feature
. You can log time or start a timer. A timesheet and a progress check are also available, showing how many hours each task takes. And lastly,
while Smartsheet allows you to collect data via forms, TeamGantt has no such feature
. The best you can do is connect to Google Forms via Zapier.
While TeamGantt excels in Gantt charts,
Smartsheet wins this round relatively easily
. It has forms, automations, more project templates, and more integrations.
Ease of Use
TeamGantt's Intuitive Interface Is Perfect for Beginners
I recommend TeamGantt if you're new to PM software because Smartsheet comes with a learning curve.
That said, once you spend a few hours getting the hang of things, you shouldn't have any issues with either platform.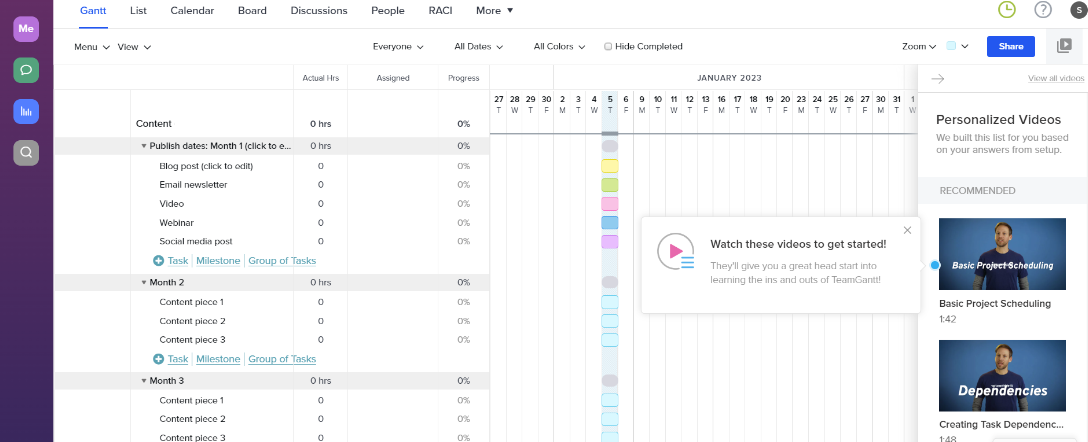 Once you have your TeamGantt account, you can take a virtual tour of the platform. What's even better is that
the video tutorials are personalized.
They change depending on your actions and selected view so that help is always available without turning to the knowledge base. Smartsheet offers a "Get Started" tour too, but it's not as extensive.
TeamGantt has a modern and intuitive user interface
. Its Gantt charts, in particular, are effortless to customize. For instance, you can create a task dependency simply by dragging the dot at the end of a specific task and dropping it at the beginning of another.
Smartsheet's user interface looks a lot like an Excel sheet.
That's not necessarily a bad thing, but its countless buttons and menus aren't that self-explanatory – which can cause confusion.
With Smartsheet, you need to learn what functions it offers and where to find them
. For instance, let's say I want to add another column to my project task list. First, I have to locate the symbol for that action and then I have to click on the column where I want the new column to appear. With TeamGantt, I would just click on the task's menu and select
Add a row
.
Creating reports is also more straightforward with TeamGantt
. You can easily access
Reports
from the left-side menu, select the report type, and choose the project you want the report on. Smartsheet requires you to select the specific cells that contain the information required for your report. It's a much more complex and time-consuming task – even if Smartsheet's reports are more thorough than TeamGantt's.
TeamGantt takes this one.
It has a more modern and intuitive user interface, and its features are easier to find and master.
Collaboration Tools
Smartsheet Has a Slight Edge Over TeamGantt
When it comes to collaboration, TeamGantt and Smartsheet are similar.
They allow you to communicate with your team members via comment threads, tag colleagues with @ mentions, and attach files
.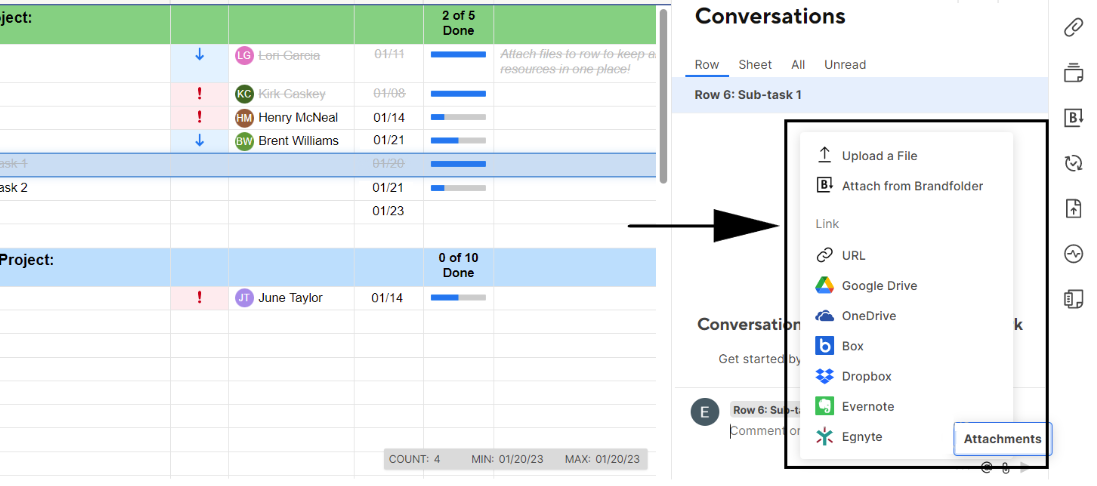 They both allow easy file attachment but Smartsheet supports more sources
, including Dropbox, One Drive, Box, Evernote, and Egnyte. Additionally, I noticed that TeamGantt's comment threads load slower and lack Smartsheet's polished design.
I particularly like TeamGantt's collaboration tool that allows you to request a progress update
. You can find it in the comment thread of a task, and only people assigned that particular task can see it. Sharing your project outside the team is also easy on either platform, but there are a few minor differences. On TeamGantt, you can invite people by clicking the
Share
button at the top of your project board or via the
People
page. Smartsheet requires a similar action that you can perform from your project task list page. While TeamGantt and Smartsheet are similar, I must give this round to Smartsheet. Its comment threads are easy on the eye and super responsive, and you can attach files from a variety of sources.
Pricing
Smartsheet Offers Better Value for Your Money
While Smartsheet's plans start at
$
7.00
/user/month, TeamGantt's start at
$
19.00
/manager/month, making Smartsheet the more affordable solution. Both project management tools have 30-day trials for all their premium plans except for the enterprise solutions. However, unlike Smartsheet,
TeamGantt requires you to provide a credit card before trying out one of its plans
.
Here's What You Get for Free
TeamGantt has a free forever plan, and while it's limited, it should be enough for small projects or teams.
The free plan has unlimited storage and allows only one manager and 2 collaborators
. As a free user, you can work on one project at a time with a maximum of 60 tasks. After completing your 30-day trial, you can continue using Smartsheet for free. Although you're limited to two sheets, 2 editors, and 500MB of attachments, you'll unlock reports and can create up to 100 automations. Overall,
Smartsheet's free plan is a viable option, while TeamGantt's free plan feels more like an extended trial
.
Here's What You Get If You Pay
TeamGantt and Smartsheet charge clients differently. While Smartsheet charges per user,
TeamGantt charges per manager only
, which can make it more affordable than Smartsheet under certain circumstances. For instance, if you choose TeamGantt's entry-level plan, you'll pay for 1 manager
and
up to 5 collaborators, meaning you can have 6 people working on one project using a single license. For the same number of people, Smartsheet charges more. However, Smartsheet is significantly more robust. Smartsheet's entry-level plan (Pro) includes 6 integrations, 280 project templates, automations, and 20GB of storage. In contrast, TeamGantt's basic plan (Lite) gives you access to multiple views, 3 integrations, and 30+ project templates – but no automations. The disparity is obvious here. The only thing that TeamGantt offers more of is file storage, which is unlimited.
Smartsheet offers the best value for money with its Business plan
. It starts at
$
25.00
/user/month and unlocks more integrations, the storage goes up to 1TB, and
you can create unlimited automations
. The most notable (but not too exciting) differences between TeamGantt's basic and mid-level plans are its time-tracking feature and priority support. Here's a quick comparison of TeamGantt's and Smartsheet's entry-level plans:
TeamGantt
Smartsheet
Starting Price

$

19.00

$

7.00

Views
4
4
Integrations

✔

✔

Automations

✘

✔

Collaboration tools

✔

✔

Forms

✘

✔

Storage
Unlimited
20GB
Customer Support
TeamGantt Responds to Requests More Promptly
You can contact TeamGantt's customer support via phone, live chat, and email.
However, don't expect to get a reply outside business hours. The live chat, for instance, is available Monday through Friday, and although you can send a message anytime, you'll only receive a reply during business hours. The knowledge base can be helpful if you need assistance during the weekend.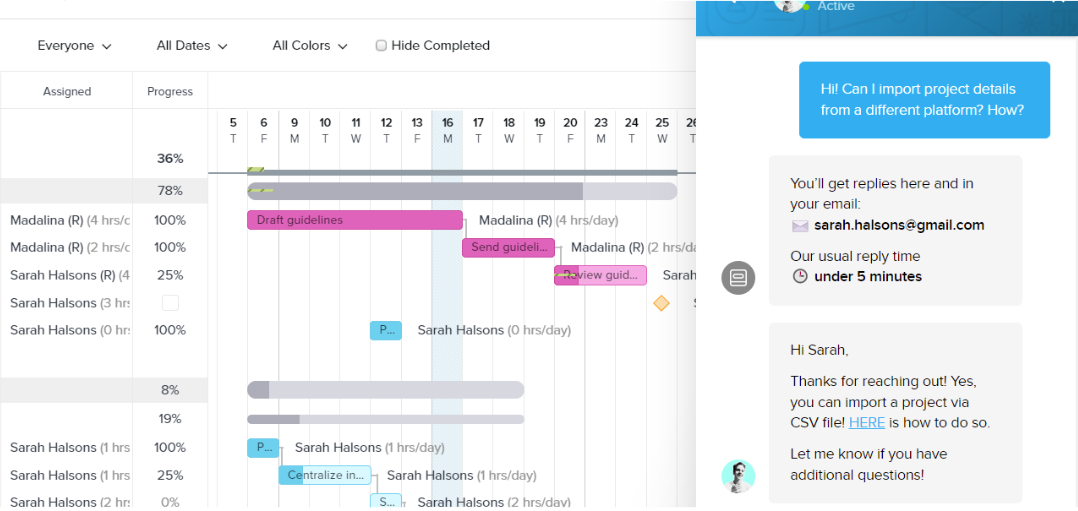 You can contact TeamGantt's support via an in-app messaging system.
The support agent replied within a minute
and gave me a straightforward answer. They sent me a link to an article that answered all my questions on the topic I was interested in.
Smartsheet doesn't have a live chat, but you can contact support via phone or through its 24/7 email/ticket system
. While you're supposedly guaranteed a reply in 60 minutes or less, that wasn't the case with me. On the other hand, its knowledge base includes tons of articles and video tutorials covering everything you need to know about Smartsheet. The community forum is pretty active too.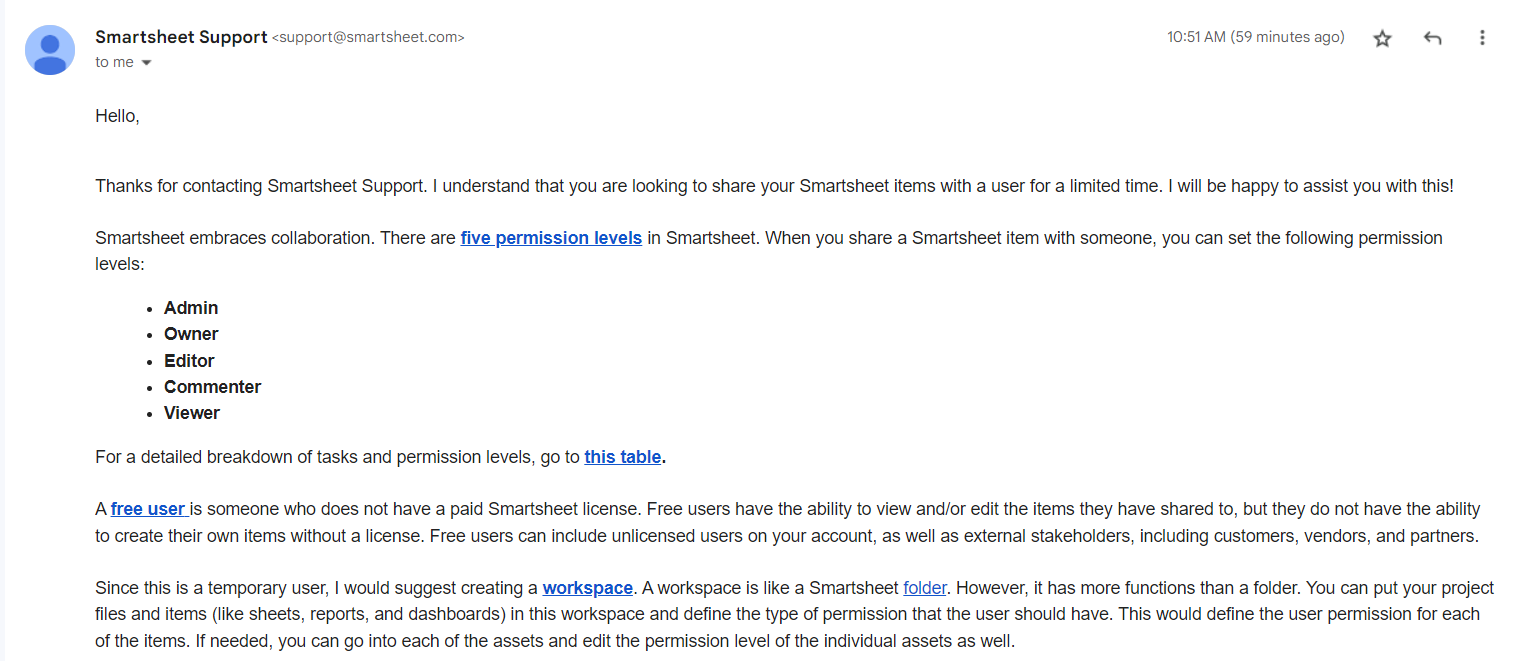 My experience with Smartsheet's customer support could have been better. They emailed me saying they were dealing with many support requests and would take about 96 hours to get back to me. Luckily, they responded sooner than expected.
I received a detailed response the next day, so it only took about 16 hours
. It's worth noting that I contacted support three times on different days and received the increased backlog warning every single time. While its customer support is available only during business hours,
TeamGantt wins this round
. It's faster and not at all inconvenient if you're like me and rarely work weekends.
Smartsheet Offers a More Comprehensive PM Solution
TeamGantt and Smartsheet have comparable features but ultimately cater to different audiences.
TeamGantt is better suited for teams that don't have a lot of experience in project management and don't require many advanced features. On the other hand,
Smartsheet is full of features
, which is why it will work better for most freelancers and agencies. That said, if you're working with more collaborators than managers and Gantt charts make you tick, TeamGantt is a decent option too.
Features
3 integrations, 4 views, reports, RACI, time tracking
Automations, 33 integrations and 50 connectors, 4 views, forms, reports
Ease of Use
Beginner-friendly user interface
Basic user interface with a learning curve
Collaboration Tools
Comment threads, mentions, file sharing
Comment threads, mentions, file sharing
Pricing
Free forever plan, 3 premium plans that charge per manager
Generous free plan, two averagely-priced premium plans
Support
Phone (Mon-Fri., 8:30 a.m. – 5:00 p.m. EDT), live chat (Mon-Fri., 7:00 a.m. – 7:00 p.m. EST), knowledge base
Phone, 24/7 email and ticketing system, extensive knowledge base, community forum
FAQ
What is TeamGantt used for?
TeamGantt is an easy-to-use project management tool that can help you visualize and keep track of your project. It's cost-efficient if you work with more collaborators than managers and creates some of the most detailed and streamlined Gantt charts.
How much does TeamGantt cost?
While not the most affordable project management software, TeamGantt charges per manager and not per user (as do most competitors). For instance, if you opt for the entry-level plan and you have only one manager, TeamGantt charges

$

19.00

. Each manager can work with up to 5 collaborators, meaning you can have up to six people working under the same license.
Is Smartsheet better than TeamGantt?
Yes, Smartsheet is better than TeamGantt. It has advanced features project managers need, whereas TeamGantt lacks automations and forms. Smartsheet also has better collaboration tools and offers better value overall.
What is Smartsheet similar to?
Smartsheet shares many features with others highly rated project management tools. It's similar to monday.com, Asana, and Teamwork, just to name a few. If you're looking for more alternatives, check out our updated list of the top 10 project management tools in 2023.