On the surface, monday.com and ClickUp are very similar.
They're both project management platforms that focus on offering workflow management tools in a collaborative online environment.
In fact, at first glance they even seem to have a similar user interface. When comparing the two, I realized I had a tough challenge ahead. For starters, they offer a ton of flexibility and features at similar price points, and they're suited for a variety of small and large projects. But while monday.com and ClickUp are reputable project management platforms,
monday.com won me over with its intuitive and functional interface, abundant features, and prompt support
. In contrast, ClickUp is great for collaborative tools but isn't as user friendly. Overall, it was a
very
close match between these two top contenders because the difference truly lies in what works best for your team.
If you think monday.com is a good fit you can try it for free right away
or read on to find out why I believe that monday.com outperforms ClickUp.
Features
monday.com Provides Robust Features, but ClickUp Offers More
To figure out how each of these platforms worked, I explored their features in depth. Similarities include task assignment and tracking, automation features, and the ability to attach files and notes to tasks and projects. Unfortunately, some of monday.com's best features are only available on the higher-tiered plans. Conversely,
many of ClickUp's comparable features are available even on the free plan
.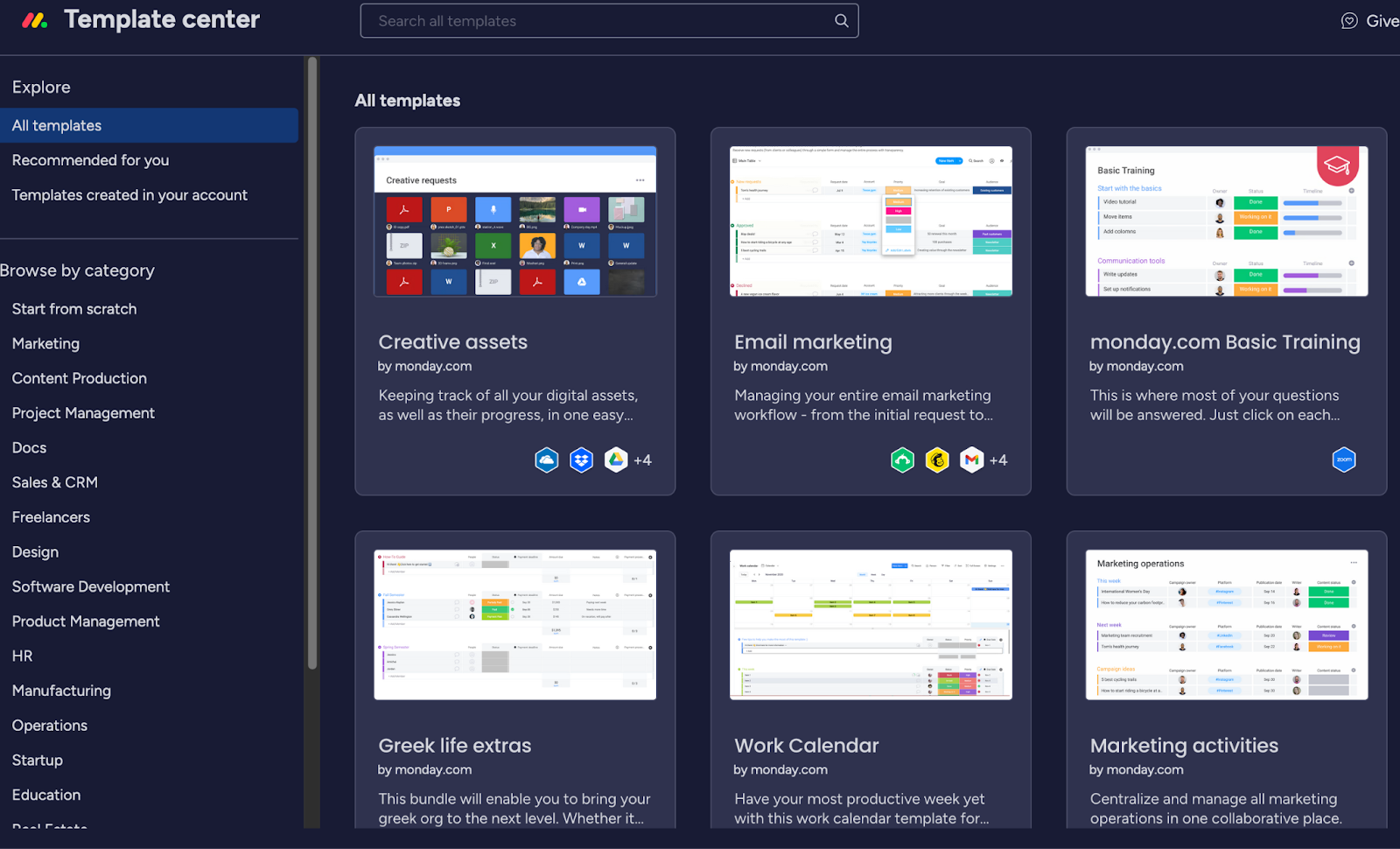 I chose to use a template for both platforms. monday.com has over 200 available, with specialty ones designed for specific industries like marketing and sales. On the other hand,
ClickUp has over 1400 templates to choose from
, ranging in complexity for beginner, intermediate, and advanced users.
The sheer volume means that you're likely to find one to fit your specific needs more readily.
ClickUp and monday.com offer a wide range of project views and integrations to make managing a project simple.
This includes Kanban, Timeline, Map, and Calendar view, so you can decide how your team works best. Additionally, they offer integrations with cloud storage services like Google Drive and Dropbox. You can also attach documents directly to the task, but for that you'll need decent storage. Luckily, ClickUp offers an impressive unlimited amount of storage for most plans.
But when it comes to the free plans, monday.com offers a much higher storage capacity of 500MB
(compared to ClickUp's 100MB).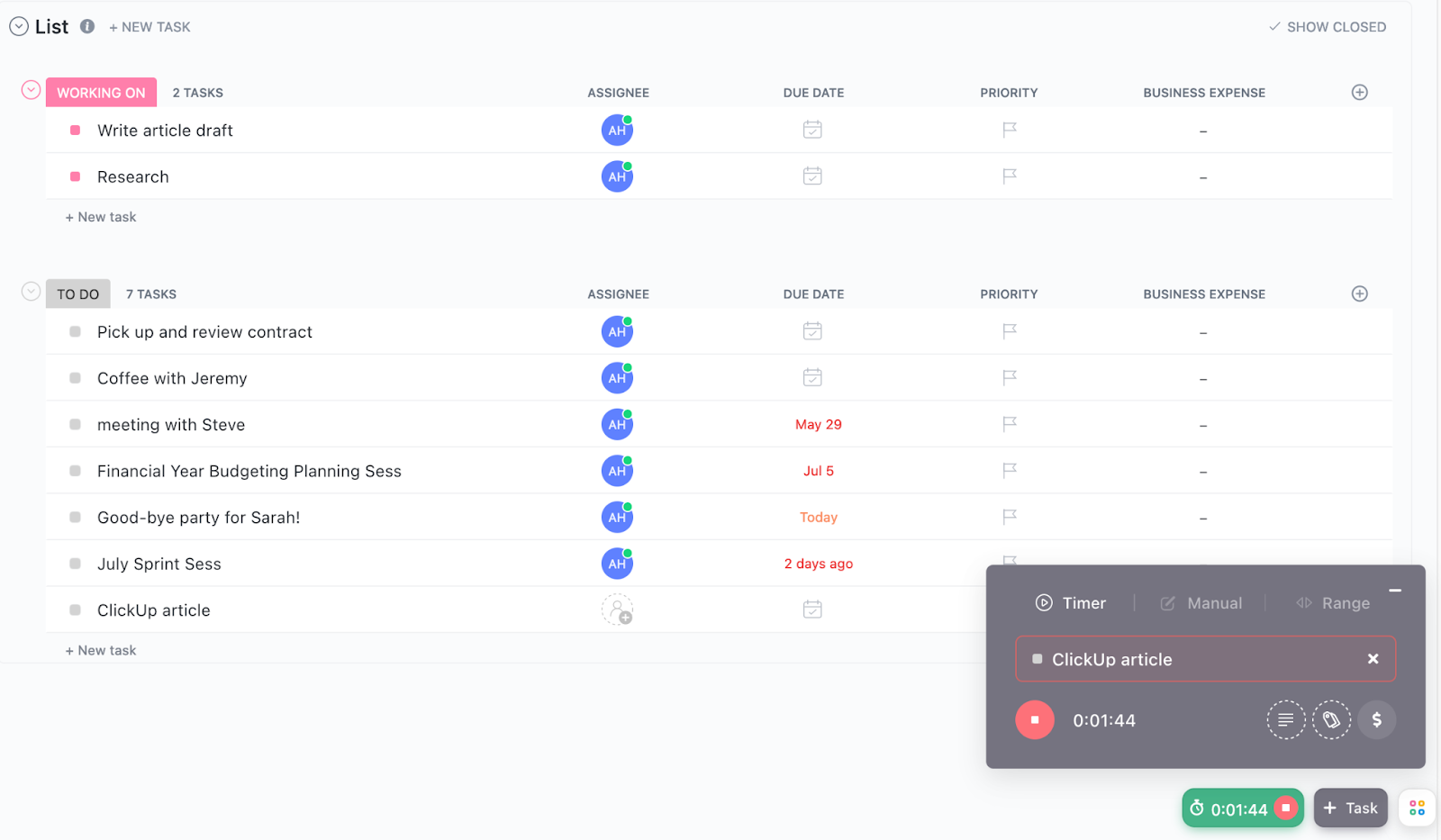 Despite this,
ClickUp does offer native time tracking on all paid plans and it's built into the workspace directly
, which makes it easy for you or your team to properly track schedules, create reports, and bill for time. You can also track time on monday.com, but you need to add a Time Tracking column that's only available on the Pro or Enterprise level plans. Also, ClickUp recently added a new feature that is sure to make your work more efficient: ClickUp AI. Though only available as an add-on to the paid plans,
this native artificial intelligence (AI) tool is ideal for marketers, content writers, social media managers, or anyone who needs to generate a lot of content
. Currently, monday.com only has a beta version of its AI assistant feature for task generation and topic summaries. Based on my personal experience, it's clear that ClickUp emerges as the winner.
While I think that monday.com has a lot to offer, many of its best features fall short of ClickUp's comparable offerings.
However, it's important to note that monday.com remains a strong contender, offering extensive customization options, a wide range of project templates, and a ton of automations.
Ease of Use
monday.com's UI Is Intuitive, Beginner Friendly, and Prettier
After using ClickUp and monday.com extensively, I must say that
monday.com takes the crown for its user-friendly interface and intuitive task management tools. You can easily create customized workflows
, assign tasks, and receive automated notifications.
One of the first things I noticed was how effortlessly I could navigate monday.com.
The ability to easily add tasks and subtasks, the drag-and-drop functionality to rearrange tasks, and the simplicity of communicating with teammates directly within a task made it easy to stay on top of my projects.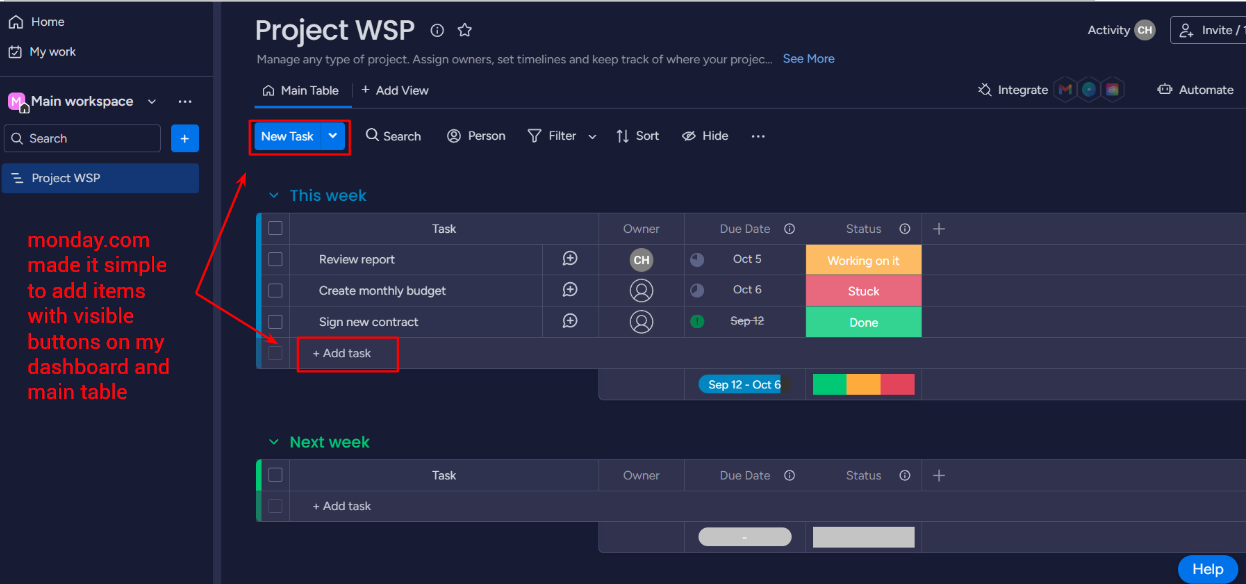 ClickUp, on the other hand, required a bit more tech-savviness to set up and navigate effectively.
When I first set up a workspace, I struggled with basic functionalities like creating a new task or adding a comment. Unlike monday.com, which offers clearly marked buttons on its main page, ClickUp is way less intuitive and more frustrating to master, which can be a detriment if your team has different levels of project management software experience. Each project management software also offers a mobile app, which is great for managing tasks on the go.
But just as with its desktop version, I found monday.com's app to be simpler to use.
I could easily swipe through items on my task list without having to go back to the main page. With ClickUp's app, I could only view one item at a time and had to exit a task in order to look at the next one. Overall, while both platforms had their merits,
I found monday.com to be the easier-to-use option
. Its visually appealing interface, intuitive design, and extensive tutorials made my project management journey a breeze. ClickUp was a strong contender but in terms of ease of use and user interface, monday.com stood out as the winner.
Collaboration Tools
ClickUp's Tools Streamline Communication Across Team Members
While monday.com offers better ease of use, collaboration is where ClickUp shines.
From assigning tasks to leaving comments and sharing real-time updates, ClickUp ensures that everyone stays connected and informed throughout the project.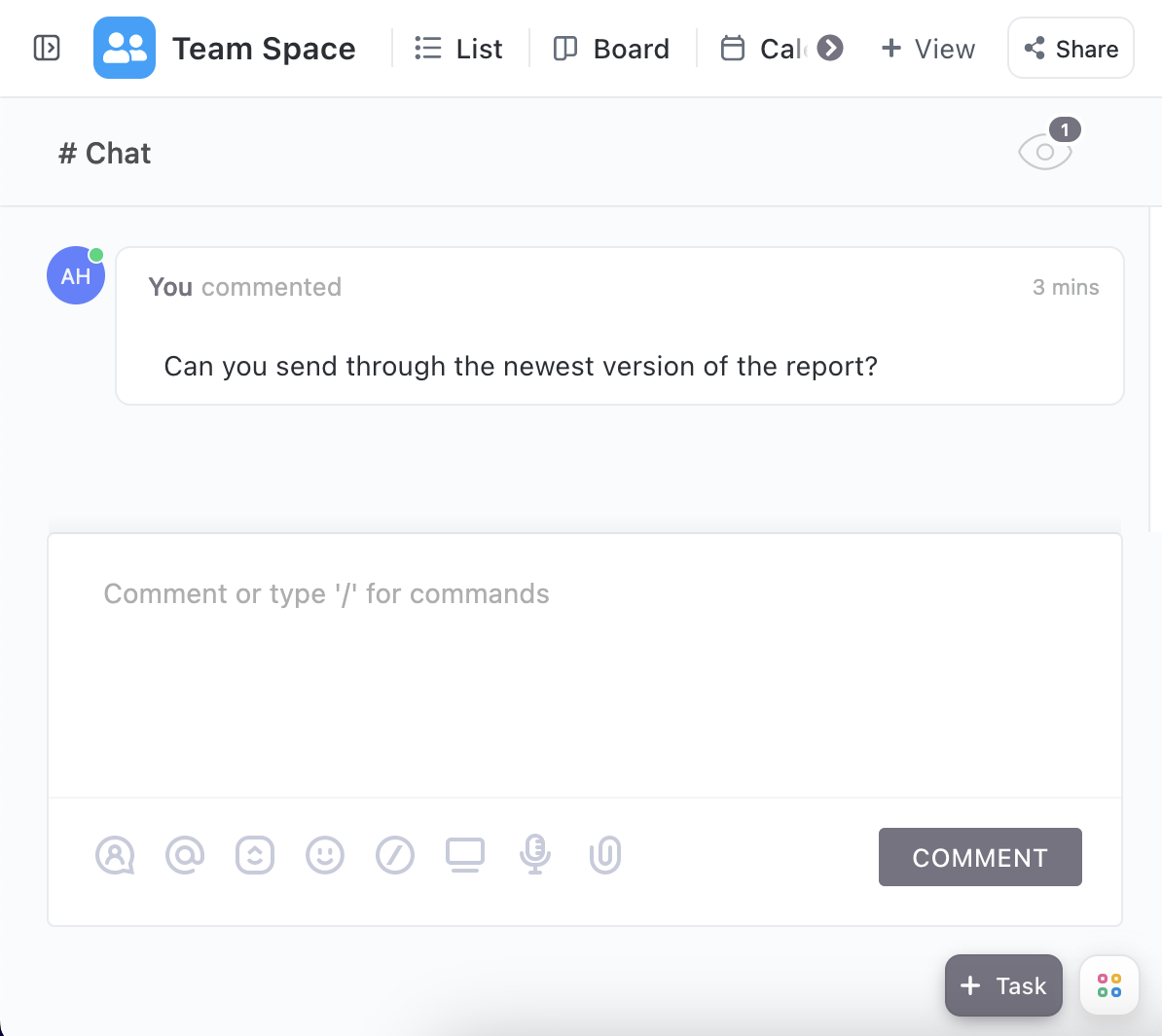 One feature that really stood out to me is ClickUp's built-in chat function.
This allows you to communicate in real time to stay on top of urgent tasks or brainstorm together as a team. Comparatively, monday.com only offers chat via comments or through integrations with third-party apps like Slack, which limits the ability to easily track and manage crucial information sharing in one place. Additionally,
ClickUp's convenient calendar function lets you schedule meetings and immediately integrate them into your workflow
. Having a built-in calendar allows you to better prioritize tasks and view your team's commitments at a glance. While monday.com also offers a calendar feature, it's only available on the higher-priced plans. For real-time collaboration, monday.com and ClickUp offer integrations to comment, edit, and proof documents within the software. However,
all monday.com plans offer unlimited whiteboard usage
while ClickUp only offers this premium feature on the Business plan or above. Although monday.com does offer some great collaboration features,
ClickUp goes takes it one step further.
ClickUp's in-app messaging system, calendar function, and unlimited storage make it the clear winner in terms of collaboration tools.
Pricing
monday.com's Plans Offer Great Value for Money at More Affordable Costs
In terms of pricing, ClickUp and monday.com offer forever free plans and a variety of paid options available to suit your budget and needs.
While monday.com's paid plans offer more value for money compared to ClickUp, I think ClickUp's free plan is better.
ClickUp has three paid plans: Unlimited, Business, and Enterprise. While the entry-level Unlimited plan at
$
7.00
per user/month is more affordable than monday.com's comparable Basic plan (which costs
$
8.00
per user/month), monday.com's higher-tier plans are overall more affordable. Plus,
monday.com offers a 14-day free trial for all its plans
, so you can try out its feature suite before committing. In my opinion,
monday.com is better valued for the features provided, especially for larger organizations that can afford to level up with the Standard or Pro plans.
For small teams or startups with only a handful of people, ClickUp's free or Unlimited plan is more affordable and still offers a ton of great functionality.
Here's What You Get for Free
The free plans have their limitations, but they do provide value if you're on a budget.
ClickUp's free plan is robust and offers a generous set of features, including unlimited tasks and members.
However, it does come with some limitations, namely in the areas of storage (100MB), integrations, goals, and custom fields. Comparatively, monday.com's free plan is a bit more barebones but offers 500MB of storage and up to 1000 items (these are board rows that you can add). However, unlike ClickUp,
it does limit the number of free users to 2 and the number of boards to 3.
If you're a solopreneur or in a partnership, this may work just fine, but for larger teams, you'll need to pay to access everything monday.com has to offer.
Here's What You Get If You Pay
When comparing paid plans,
it's clear that monday.com's Standard and Pro plans offer the most value
. With the Standard Plan, you'll unlock features like guest access, third-party integrations, and a calendar view. But the Pro plan takes it further with access to time tracking, formula creation for data reporting, chart view, and workload reports so you can fairly allocate tasks.
ClickUp's paid plans cater to different team sizes and provide robust project management capabilities
. The affordable Unlimited plan offers a ton of unlimited resources, plus native time tracking, AI tools, and guest visibility. ClickUp's mid-tier Business plan stands out for its additional features, which include timesheets, unlimited whiteboards, and customized branding on forms. Here's a table where you can compare ClickUp's Business plan with monday.com's Standard plan.
ClickUp Business Plan
monday.com Standard Plan
Starting Price

$

12.00

$

10.00

Max number of users
Unlimited
Unlimited
File Storage
Unlimited
20GB
Time Tracking

✔

✘

Collaborative editing

✔

✔

Live online trainings

✘

✔

Workload management

✔

✔
Support
ClickUp Doesn't Offer Live Chat for Its Free Plan, but monday.com Does
ClickUp's 24/7 live chat support is only available for paid plans.
On the free plan, you can only reach its support team through email. If you're looking for total support,
monday.com offers 24/7 live chat and email support for all plans
, plus phone customer service for billing issues only.
ClickUp and monday.com offer AI chatbots, detailed knowledge bases, and even videos
, which I found sufficient for most of my questions. However, I did try out these avenues for ClickUp and monday.com and discovered that neither is perfect. I started by using monday.com's chat function.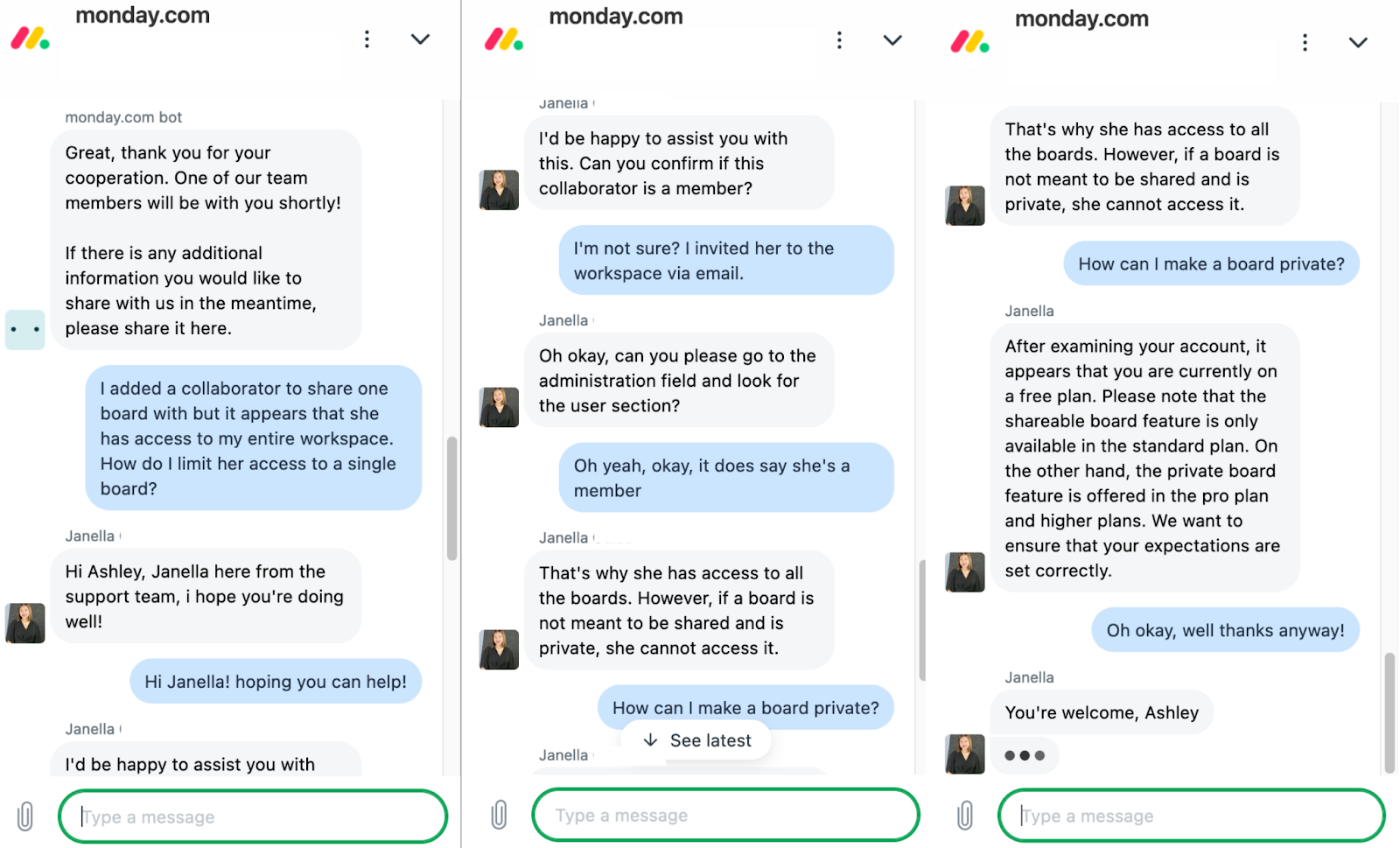 After the AI chatbot was unable to help, I waited nearly 15 minutes to speak to a person. The customer representative did answer my question, which was whether the function I was trying to complete was available on the free plan.
The support agent didn't offer any workarounds or additional support, but she did answer my question promptly.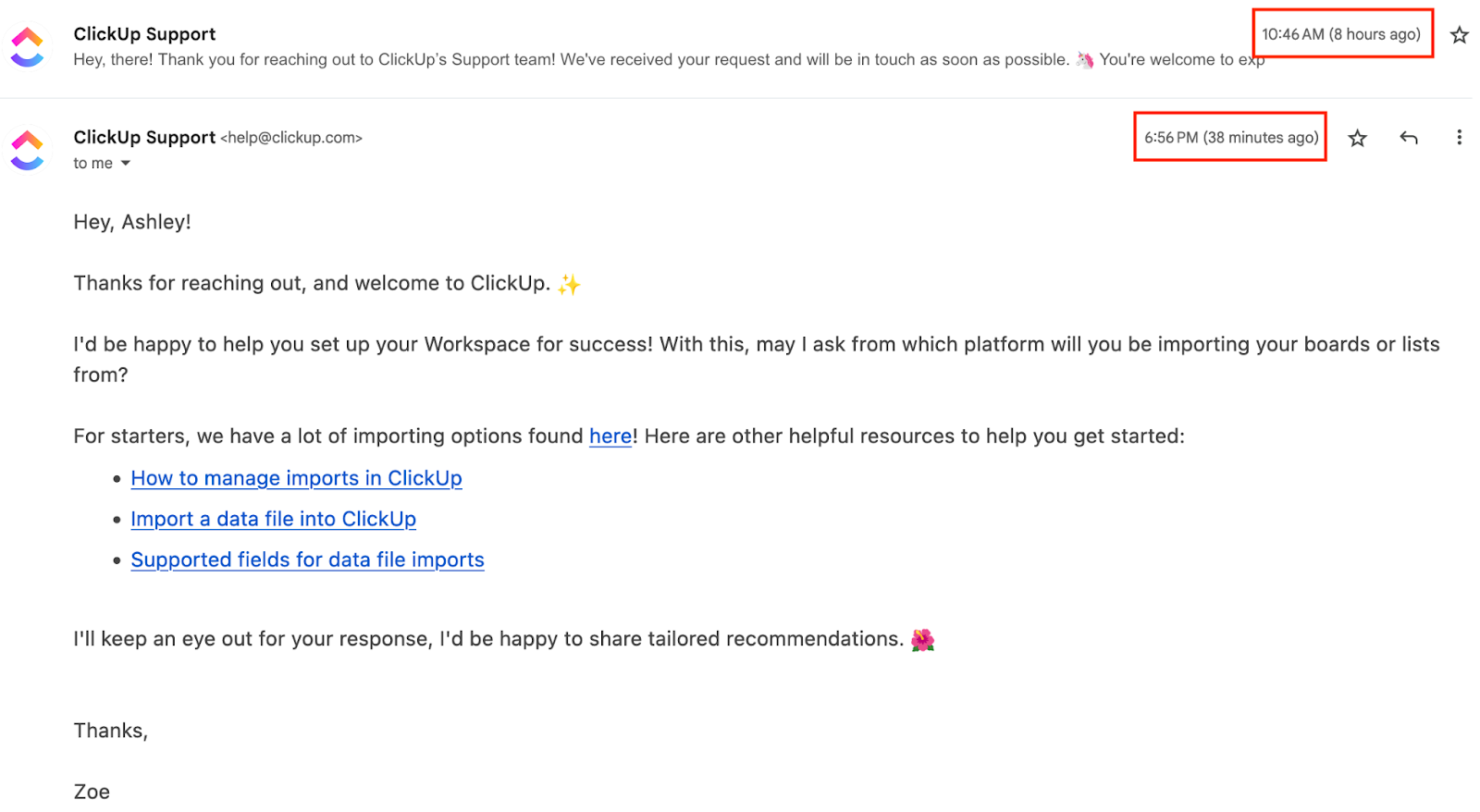 Then I tried ClickUp. After working with the AI chatbot, I decided to send an email ticket to support for further help.
I received a response nearly eight hours later – which for free software, isn't terrible
but still not great when compared to monday.com's 15-minute response. (I imagine it's even quicker if you pay for a plan.) Overall, when looking at support,
I feel like they both have pros and cons
. I appreciated that the live chat feature on monday.com was available for all plans. Unfortunately, ClickUp's delayed response means that monday.com just barely wins out for this category.
monday.com Is a Top-Notch Project Management Platform, but ClickUp Isn't Far Behind
Comparing these two popular project management software was definitely a challenge. While there's usually a clear winner, monday.com and ClickUp provide a variety of features and tools to help streamline any project.
Either one would be a huge asset to your business.
Ultimately, monday.com
just
beats out ClickUp. While both free plans offer enough resources to sustain a small team,
monday.com's paid plans provide much more value for less
, which may benefit larger teams with a bigger budget. Plus, with more prompt support and a beginner-friendly UI,
I found that monday.com is more flexible across the board
. However, that's not to say that ClickUp is without its merits.
ClickUp offers some fantastic collaboration tools and 24/7 support, along with a great free plan for solopreneurs or startups on a budget.
I particularly appreciated that there are no limits on users for the free plan – just limited functionality. Take a look at the two project management platforms side by side:
Features
A plethora of handy features for paid and free users
Helpful features that improve workflow, but many are limited to higher-tier plans
Ease of Use
A decent online dashboard and app, but it isn't great for beginners
An intuitive UI that's a breeze to navigate on a computer or mobile phone
Collaboration Tools
Excellent collaboration tools like in-app chat and calendar view
Limited collaboration tools, but unlimited whiteboards
Pricing
A robust free plan along with several paid options
A limited free plan, but lots of paid options
Support
24/7 support that's not very prompt
24/7 support and more channels for free users
FAQ
What's the difference between monday.com and ClickUp?
monday.com and ClickUp are both project management platforms, but they differ in key areas. monday.com focuses on visual collaboration and customizable workflows, while ClickUp offers a wide range of features and integrations, including time tracking and goal setting. Ultimately, the choice depends on your specific needs and preferences for project management tools.
Is ClickUp or monday.com better for small organizations?
ClickUp's free plan is great for newer small organizations on a tight budget, as there are no limits on the number of users and still a decent set of features. If you want access to more features, monday.com's Standard Plan offers a lot at an affordable price point.
What are the limitations of monday.com?
The biggest limitations of monday.com are its collaboration tools. monday.com severely limits its free features, including integrations, storage space, and privacy settings. If you're looking for a project management platform with advanced collaboration features, consider ClickUp.
Why should I use ClickUp?
You should use ClickUp if you're looking for a powerful and customizable project management tool for startups or those wanting lots of collaboration tools. If you're on a budget, its free plan is ideal. However, if you want something easier to use, you should go with monday.com.