Both TeamGantt and Wrike are project management platforms that allow you to schedule, prioritize, and track work. However, once you've familiarized yourself with these platforms,
you'll notice
fundamental differences between the two – especially in the features they offer and their target audience
. Wrike is a versatile and flexible platform with tailored solutions for different types of work and work styles. On the other hand, TeamGantt has a narrower focus and allows you to create amazing Gantt charts for simpler projects. While Wrike's flexibility is its strong point, it can also be its weakness. You can get lost in the abundance of features, and the exact pricing is hard to pin down. In contrast,
TeamGantt offers a simple but well-chosen set of tools
and affordable, straightforward pricing
. After testing the two platforms, I'd say that
TeamGantt is the overall winner, but Wrike is still worth considering, especially if you have a smaller team
. Find out why TeamGantt came out on top in my comparison.
Features
Wrike Is a Versatile Tool, but TeamGantt Provides Stellar Efficiency
Wrike's organizational system makes it easy to track your projects.
Your workspace is at the top level, and it contains themed "spaces," which include nested folders, projects, and tasks
. Each space comes with features designed for different types of teams and projects, so you're bound to find something ready-made for you.
TeamGantt, as the name suggests, offers Gantt charts, which enable you to view your project through a timeline
. This view helps you understand the distinct stages of your project better, as well as how they relate to one another. Even though it focuses only on Gantt charts creation,
TeamGantt offers a carefully curated selection of efficient and user-friendly tools
. You get a clear overview of your projects, tasks, and boards, and thanks to the Portfolio feature, you can organize your work into folders.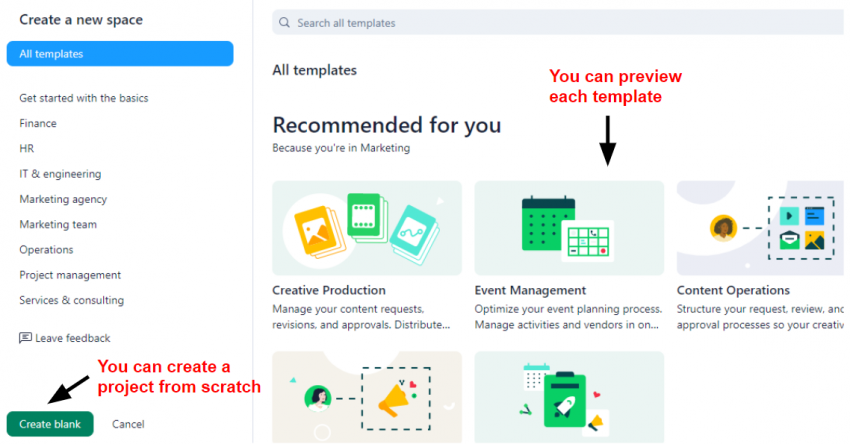 Wrike offers pre-purposed spaces (with 80+ templates) for various niches, such as marketing, IT, and finance
. Each space includes prebuilt templates populated with projects, sample tasks, and dashboards, which help speed up the process of assigning and managing work.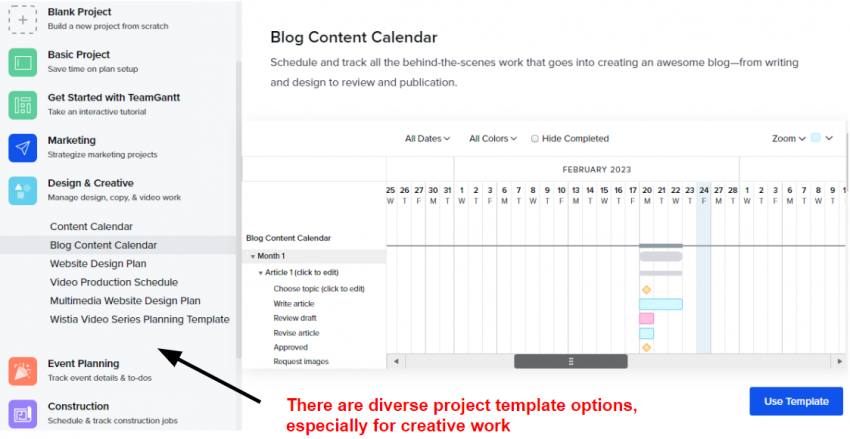 Compared to Wrike,
TeamGantt has a smaller template library that houses 30+ project designs, but I found them more versatile and better designed
. You'll also find some categories that Wrike lacks, such as construction and personal templates. TeamGantt's well-thought-out templates can easily adapt to your specific needs. Aside from the Gantt charts view,
TeamGantt also lets you see your projects in calendar, list, and board (card) view to suit different preferences
. Wrike offers a few additional options, such as Stream (real-time view of activities) and Timelog, which shows tracked time for projects and tasks.
In many respects, TeamGantt and Wrike provide similar functionality
. For instance, both have a built-in time tracking feature that lets you set up a timer to track work or add entries manually. Also, both provide workload management, which helps you ensure each member of your team has a fair number of tasks on their plate.
When it comes to third-party functionality, Wrike wins – its robust app market contains over 400 integrations, though not all of them are free
. TeamGantt doesn't offer as many options, but it still lets you add popular choices such as Dropbox, Trello, and Slack. Overall, Wrike offers extensive features, but TeamGantt takes a "quality over quantity" approach.
TeamGantt has a simple, but well-rounded and efficient set of tools to help you manage projects with clear goals
.
Ease of Use
Wrike Is More Customizable, but TeamGantt Excels at Being User-Friendly
Every time you launch Wrike, the homepage brings up an overview of your workspace.
Wrike's interface is convenient to navigate, and you can access everything at a glance, including your spaces, recent projects, and high-priority tasks. If you get stuck, there are visual prompts to guide you through the essentials.
Wrike lets you easily create and customize dashboards with widgets.
Also, Gantt chart, board, and list views are all interactive, so you can drag and drop elements to reorganize tasks. Aside from task management, you can personalize your workspace by changing the color scheme. Wrike is easy to use, but everything about TeamGantt was designed to make your life easier, whether you're a complete beginner or an experienced project manager.
With TeamGantt's intuitive drag-and-drop editor, you can quickly add task dependencies and milestones, create task groups, and use filters to display or hide information as needed
.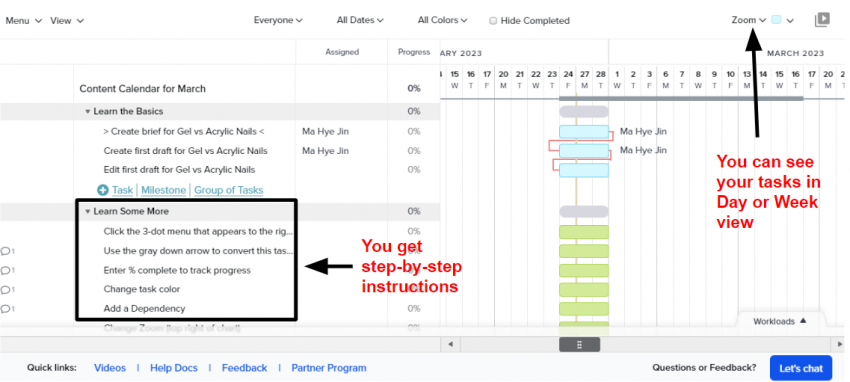 TeamGantt also provides an interactive way to learn.
For your first project, I recommend using the Get Started with TeamGantt template.
It's an interactive tutorial with instructions on how to master the Gantt charts. Plus, each task contains a link to the support page in the Comments section, so you won't get lost.

Another highlight for me is the
My Tasks view, which lets you access a quick summary of your current and upcoming tasks
. This feature is particularly useful for non-managers. You can streamline your activities even if you're not particularly familiar with the inner workings of the platform. Tools like this best show TeamGantt's user-oriented approach.
Collaboration Tools
Both Cover Essentials, but TeamGantt Provides More Storage Space
Wrike has all the essential tools teams require to coordinate and connect. Team members can communicate through comments and @mentions, and they can attach and share files. What's more, the Stream view lets you see all your team's activities as they happen.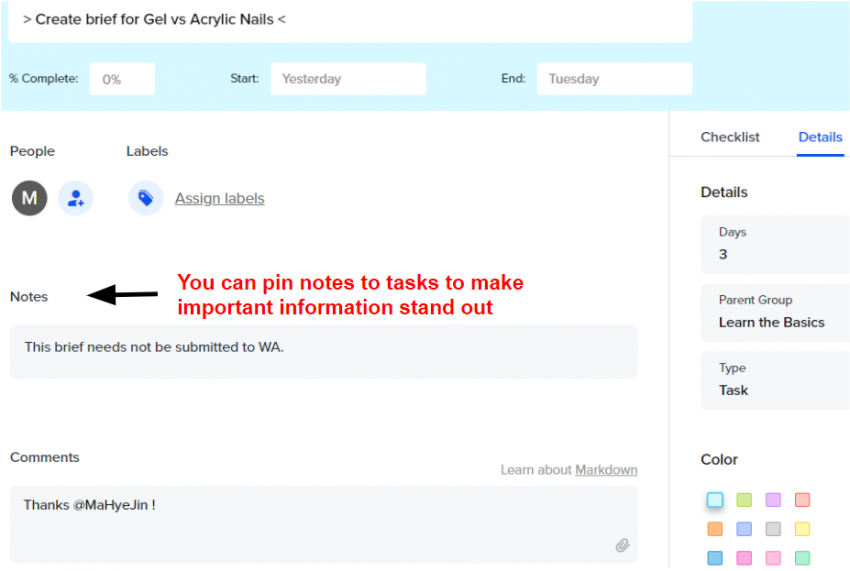 Similarly, TeamGantt allows you to leave comments and @mention colleagues on specific tasks and documents. However,
TeamGantt also has a Discussion feature, which acts as a forum and lets you create threads that other users can reply to
. It's important to note that
neither platform has a built-in chat function
, but you can always integrate a third-party app like Slack. When it comes to file sharing, both Wrike and TeamGantt allow you to upload and share files from your desktop or external storage solutions like Dropbox. Also, both let you attach files anywhere you need them, from tasks to dashboards. That said,
a big bonus for TeamGantt is that it offers unlimited storage on all plans, including the free plan
, while Wrike offers 2GB per account on the free plan and up to 15GB per user on enterprise-level plans.
Pricing
Wrike's Pricing Is Misleading, While TeamGantt Offers Quality Service at a Fair Price
Wrike offers a free plan and four paid plans: Team, Business, Enterprise, and Pinnacle. Also, you can try out all paid plans for free for 14 days. Similarly, TeamGantt has a free plan and three paid plans: Lite, Pro, and Enterprise.
Lite and Pro plans offer a 30-day free trial
.
If you're interested in the highest-tiered option, you'll need to schedule a consultation to learn more. When it comes to paid plans,
TeamGantt's pricing is pretty transparent, whereas Wrike's is a little confusing
.
Here's What You Get for Free
Wrike's free plan is a good option if you have a small team or you're a freelancer juggling multiple projects and clients.
You get 2GB of storage per account, three project views, project templates, and access to cloud storage platforms.
Compared to Wrike, TeamGantt's free plan is pretty restrictive.
Though you get unlimited storage space, you can only work on one project at a time, and there's a limit of 60 tasks. To make the most of TeamGantt, you'll have to sign up for one of its paid plans, but the prices are decent for what you get in return.
Here's What You Get If You Pay
Wrike's Team plan is designed for teams of up to 25 people. It provides additional functionality, such as shareable dashboards, unlimited projects and tasks, and access to Gantt charts.
Wrike's Business plan, however, will likely be the most desirable option
, as it unlocks additional features like time tracking, file and video proofs, and resource management That said,
Wrike's pricing isn't so straightforward
. The posted monthly fees for each plan are for a single-user license, and Wrike's Business plan is intended for teams of at least five people. This means that you have to purchase at least five licenses, and
the price of your subscription will go up depending on your team's total size.
Wrike also only offers annual subscriptions, so depending on the plan you choose, the upfront cost will be pretty high. With TeamGantt, things are much clearer, even if a smaller number of features are on offer. Suitable for smaller teams, the Lite plan offers 5 projects per manager, 150 tasks per project, and 5 collaborators per manager, as well as access to integrations. If you
upgrade to the Pro plan
, you'll get 20 projects per manager, unlimited tasks and collaborators, and more advanced features, such as workload management and time tracking. Overall,
TeamGantt provides better value for money, as the Pro plan will likely be enough for teams of any size
. Wrike's Team plan is only suitable for small teams, and its pricing isn't so transparent. If you decide to upgrade, you may end up paying more than you initially thought. Here's a comparison of Wrike's and TeamGantt's most popular plans, so you can decide for yourself which is the better deal.
TeamGantt
Wrike
Starting Price

$

49.00

$

24.80

Max number of users
Unlimited
200
File storage
Unlimited
5 GB per user
Unlimited collaborators

✔

✘

Workload management
 

✔

 

✔

Time tracking
 

✔

 

✔

Project portfolio management
 

✔

 

✔
Support
Wrike's Live Support Is Faster and Easier To Reach
TeamGantt offers three support channels: live chat, email, and phone. But as much as I tried,
I couldn't activate live chat at any time
. I resorted to submitting a ticket asking about importing projects and got a reply in a couple of hours. But then, two days later, I got the same reply via live chat, which activated on its own from within the app.

Not only was the method unusual, but I also didn't get an answer to my question. I asked if it's possible to import project details from other platforms besides using a CSV file (spoiler alert: it isn't). As you can see from the screenshot above, not quite the answer I was looking for.
In contrast, Wrike's live support is easier to reach, and it provides better answers
. Even on the free plan, you get access to email, live chat, and phone support. I contacted them via live chat and got a reply almost instantly.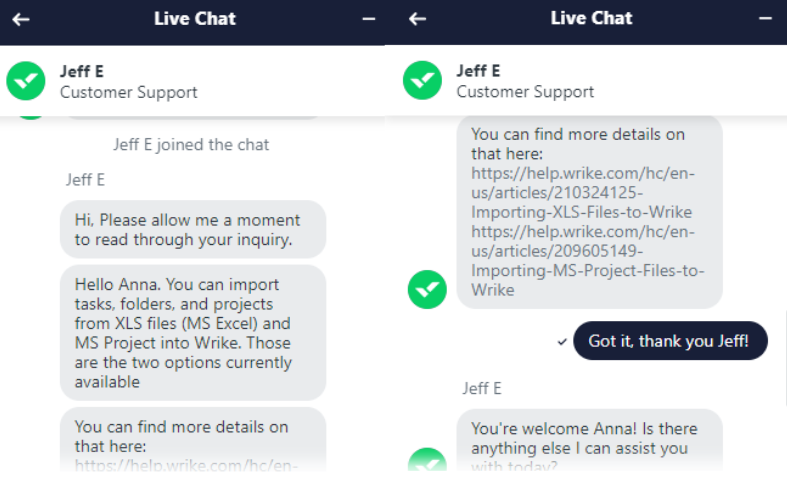 Both Wrike and TeamGantt have extensive knowledge bases with plenty of detailed articles and tutorials. Still, based on my experience,
Wrike offers faster and more reliable support overall.
Wrike Put Up a Good Fight, but TeamGantt Gets the Trophy
Wrike has extensive project management features, but its unclear pricing makes it hard to fairly evaluate all the free and paid options. On the other hand,
TeamGantt has a simple but effective set of tools to help you manage different types of projects.
Plus, its pricing is easy to understand.
Features
Smaller but efficient set of project management features
Wide array of project management tools
Ease of Use
Extremely easy to use, with interactive tutorials
Beginner-friendly interface
Collaboration Tools
Essential ways for teams to communicate, centralized file storage
Basic team collaboration through comments, mentions, and file sharing
Pricing
A free plan and three straightforward and relatively affordable paid plans
A free plan and four paid plans, but complex pricing means costs can ramp up quickly
Support
Live chat
Ticket system
Phone
Knowledge base
Live chat
Ticket system
Phone
Knowledge base
Community forum
FAQ
What is TeamGantt used for?
TeamGantt is a project management software that allows you to create detailed Gantt charts. It offers all essential project management tools, including time tracking and workload management.
How do you use TeamGantt?
TeamGantt is incredibly easy to use and you won't have trouble navigating its interface even if you're a beginner. All you have to do is sign up, choose a pricing plan, and start creating Gantt charts. TeamGantt has ready-made templates and interactive tutorials to help you speed up the process of setting up your first project.
Does TeamGantt offer collaboration tools?
Yes, TeamGantt offers essential collaboration tools for teams to connect. You can communicate with your team members through comments and discussion threads. You can also easily share files.
What is Wrike best for?
Wrike is a complete project management tool that's best suited for small teams or individuals juggling a lot of clients, but it can be pricey. For a more affordable option, you may want to consider TeamGantt or one of the other platforms on our list of the best project management software in 2023.